Jackson's room makeover is officially underway! This is the first time he's had full say (more or less) over everything happening in his bedroom, and so far, I couldn't be more pleased with the result.
We kicked things off last week by adding a faux wood accent wall to his room using vinyl wall & floor planks – and, y'all, it's good.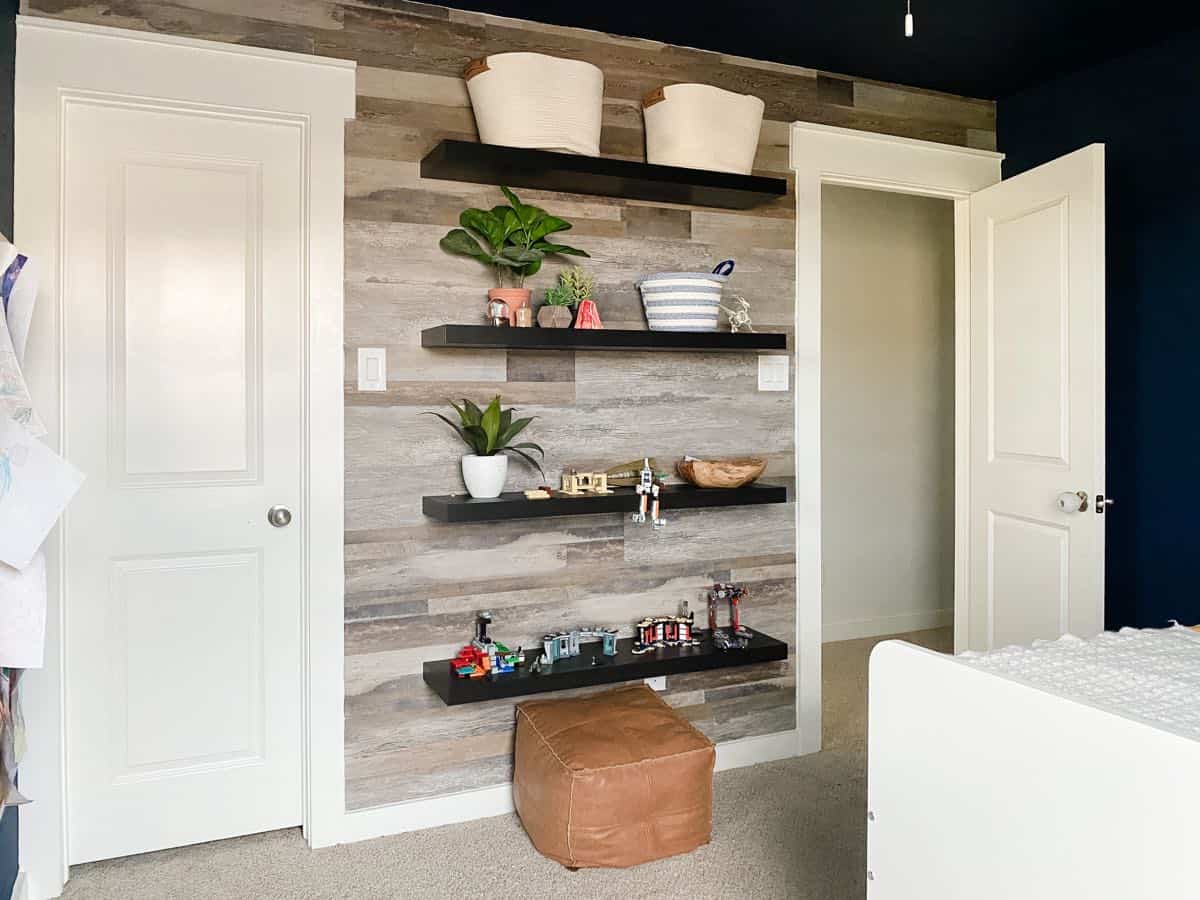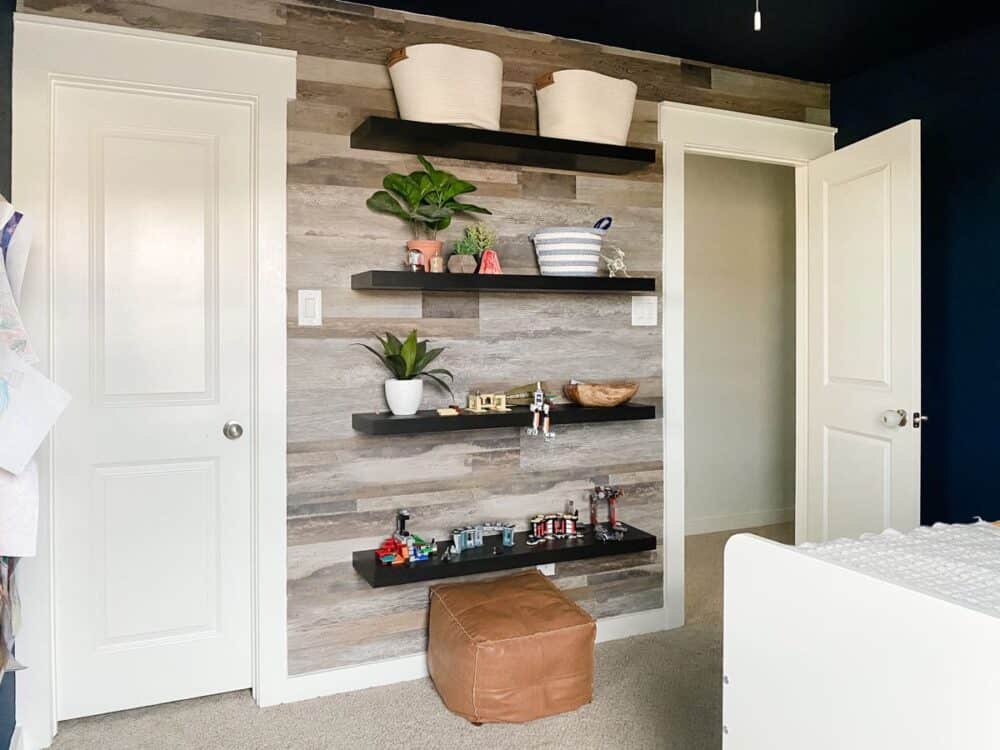 This post is sponsored by DuraDecor
I've worked with peel and stick vinyl plank flooring quite a bit over the years, but this was my first time putting it on a wall. I'll admit, I was a little nervous about how it would hold up (especially since our walls are lightly textured), but I was so impressed by how easy it was to install and how sturdy it feels!
And my goodness, it looks so fantastic in here!
Today I'm going to break down all the details on how to install this (faux) DIY wood accent wall with vinyl wall planks from DuraDecor. It was a super straightforward project that took me about half a day from start to finish.
DIY Wood Accent Wall with Vinyl Planks
Materials needed: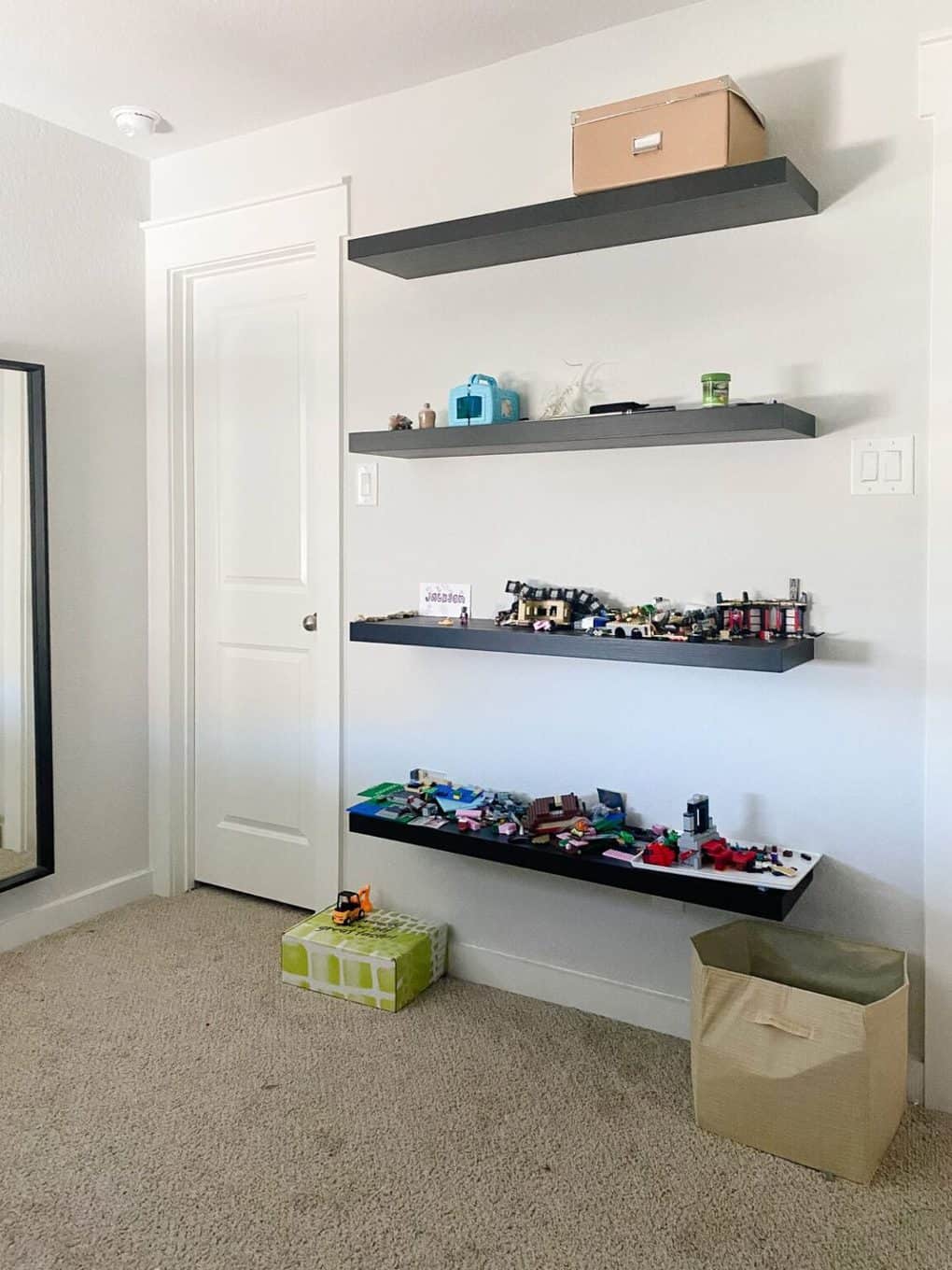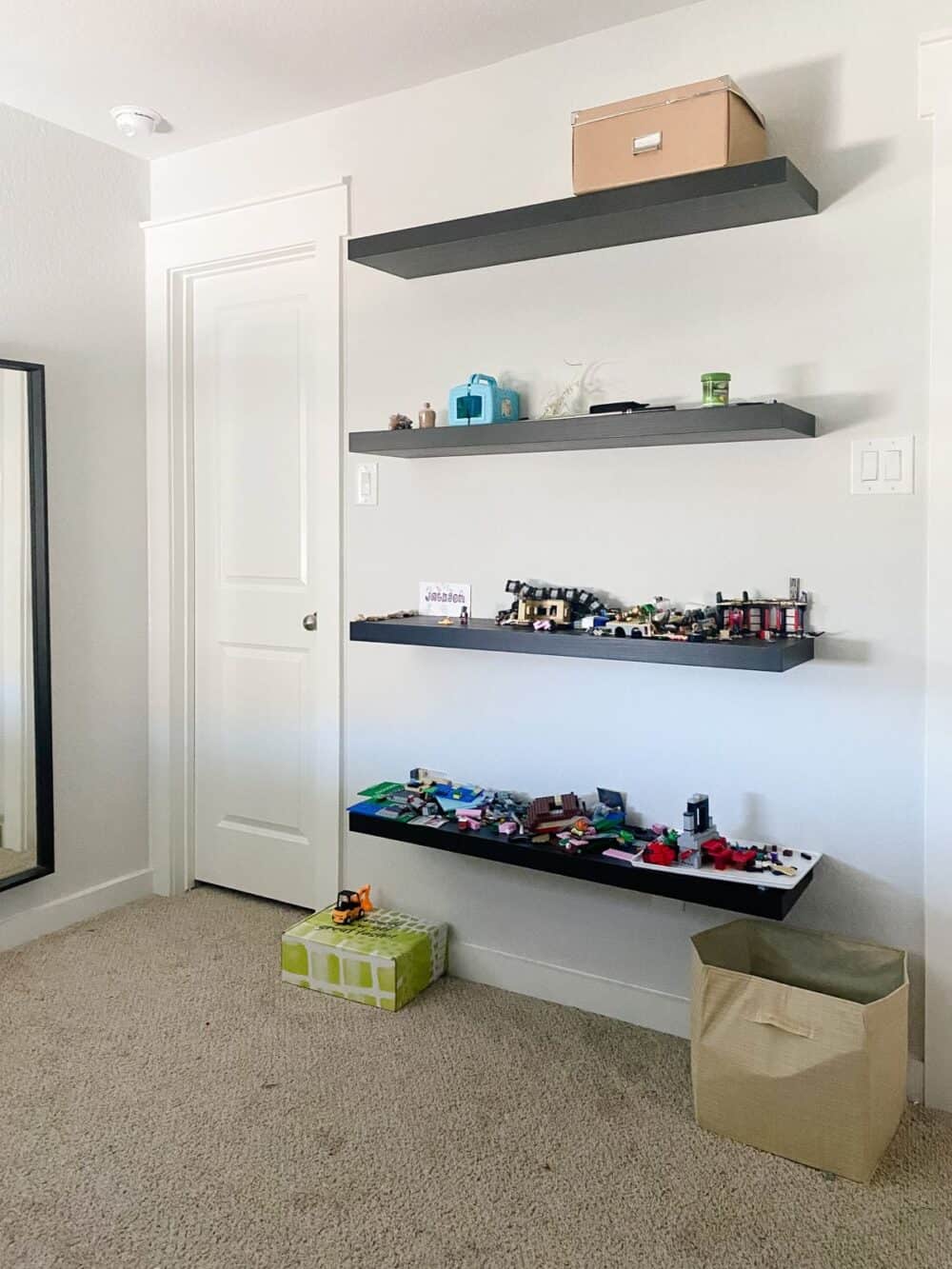 Prep & Plan
Start by cleaning and prepping your wall. You'll want it to be free of dust and imperfections, while patching any holes, and making sure that any paint has cured for at least 30 days.
Once your wall is ready, it's time to do some measuring. Measure the height of your wall mark the center of your wall (you can use a chalk line if you'd like). This mark or line will represent your starting row. Next, use the width of each plank to determine how many rows you'll need to cover the wall. If your top or bottom rows are shorter than half the width of a plank, you'll want to move your center "starting row" up or down half the width of a plank.
cutting the vinyl planks
Cutting the vinyl planks is easy – simply measure and mark on the back of the board where you'll need to cut; then, score the line using a razor blade and speed square.
Once the board is scored, you can snap it in half and it will break cleanly on the line!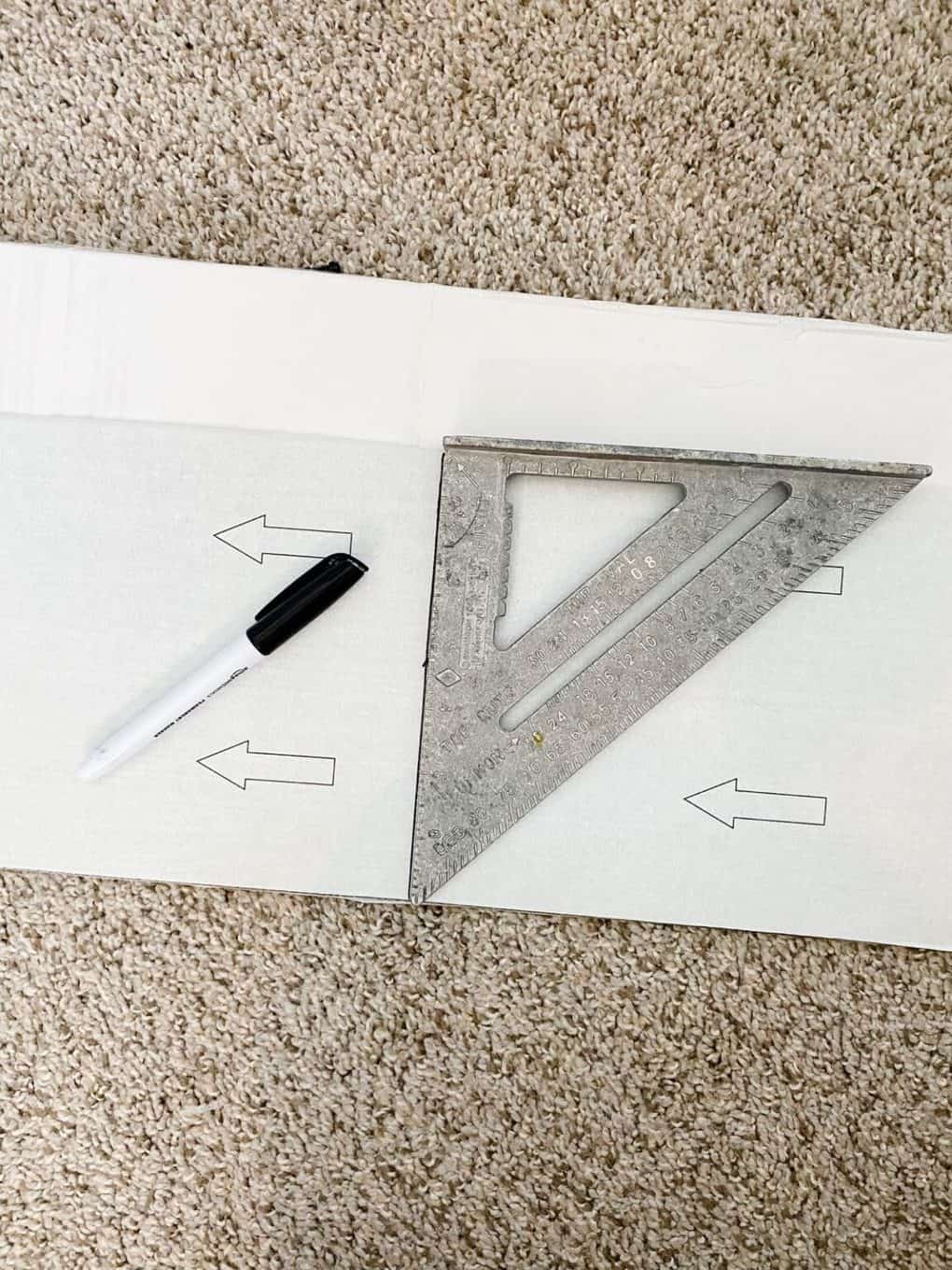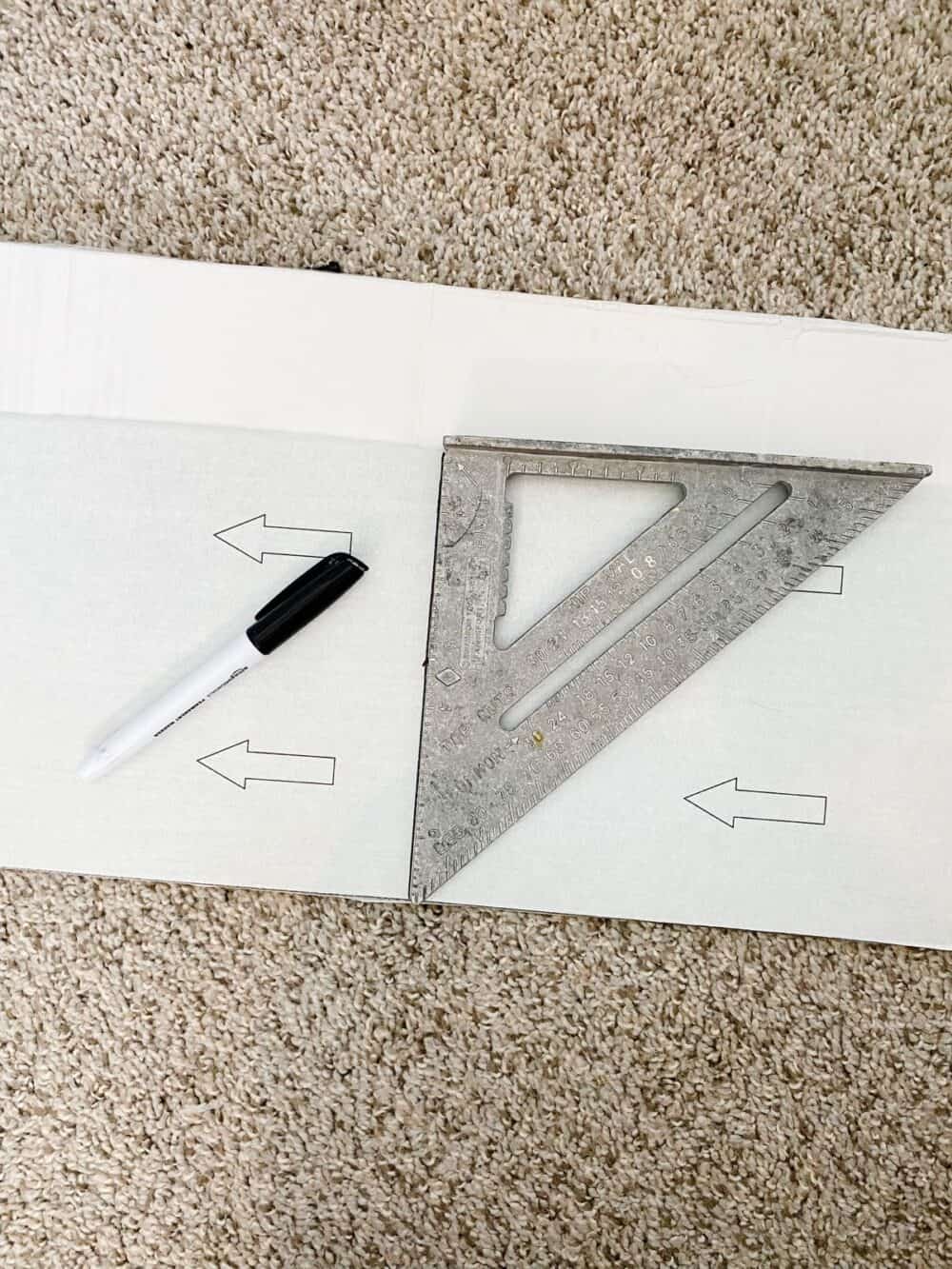 If you need to make any unique cuts (like around outlets or trim), it's the same process – just measure and use a pen or marker to draw the lines of where you need to cut (making sure to use your speed square to get a straight line), and then use your utility knife to cut the board.
Two of my boards had light switches directly in the middle of them, but I was able to cut a hole in the middle of the board with no issue! It required a little extra care to make sure the pieces at the top and bottom didn't break, but I just moved slowly and was able to pop it right out.
Installing the vinyl planks
To install the vinyl planks, just pull the paper backing off of each plank and firmly press it to the wall. If you have a seam roller, that's a great way to add some pressure to activate the adhesive. I just used the edge of my level to really press the planks onto the wall, and it worked great!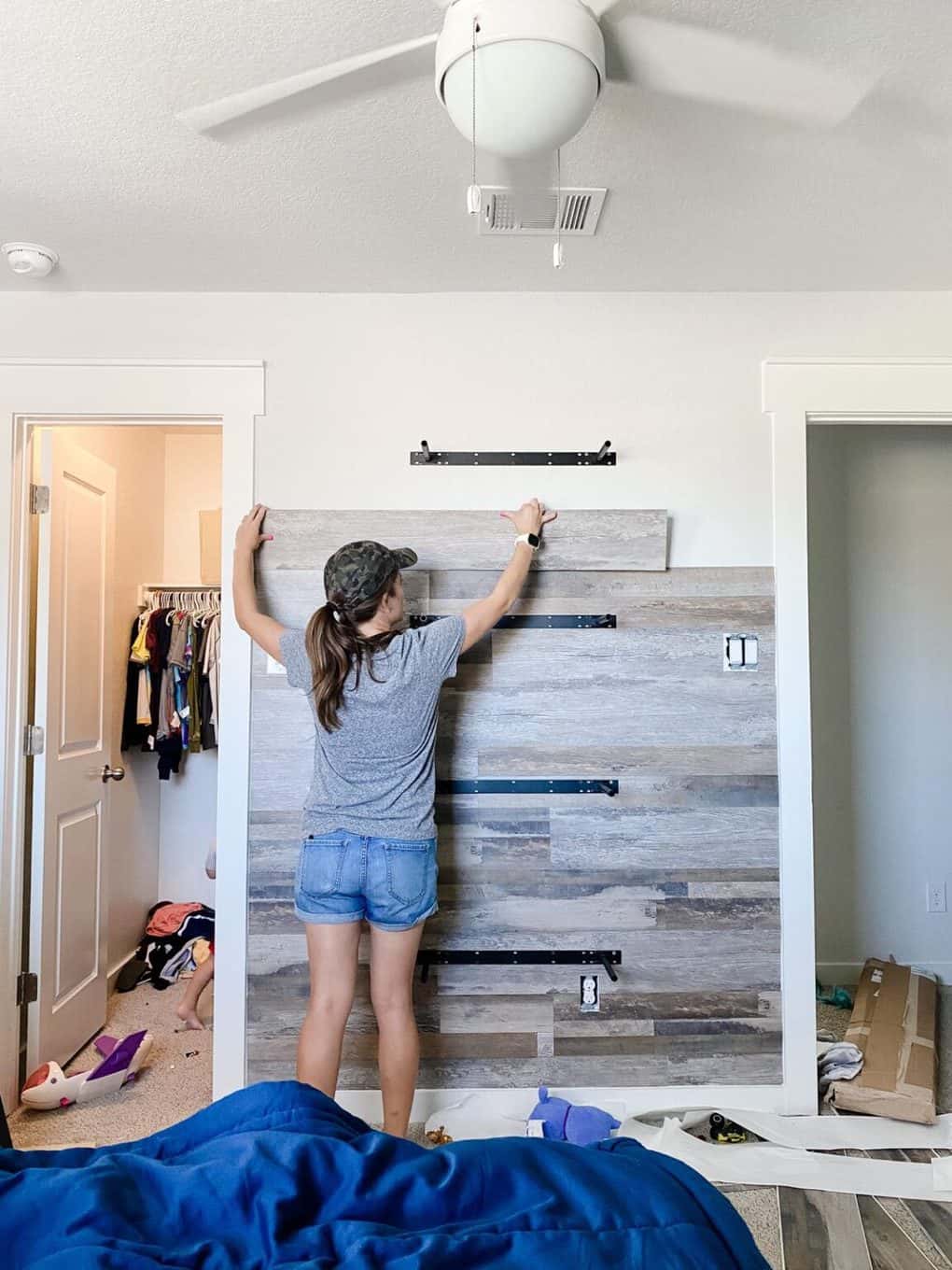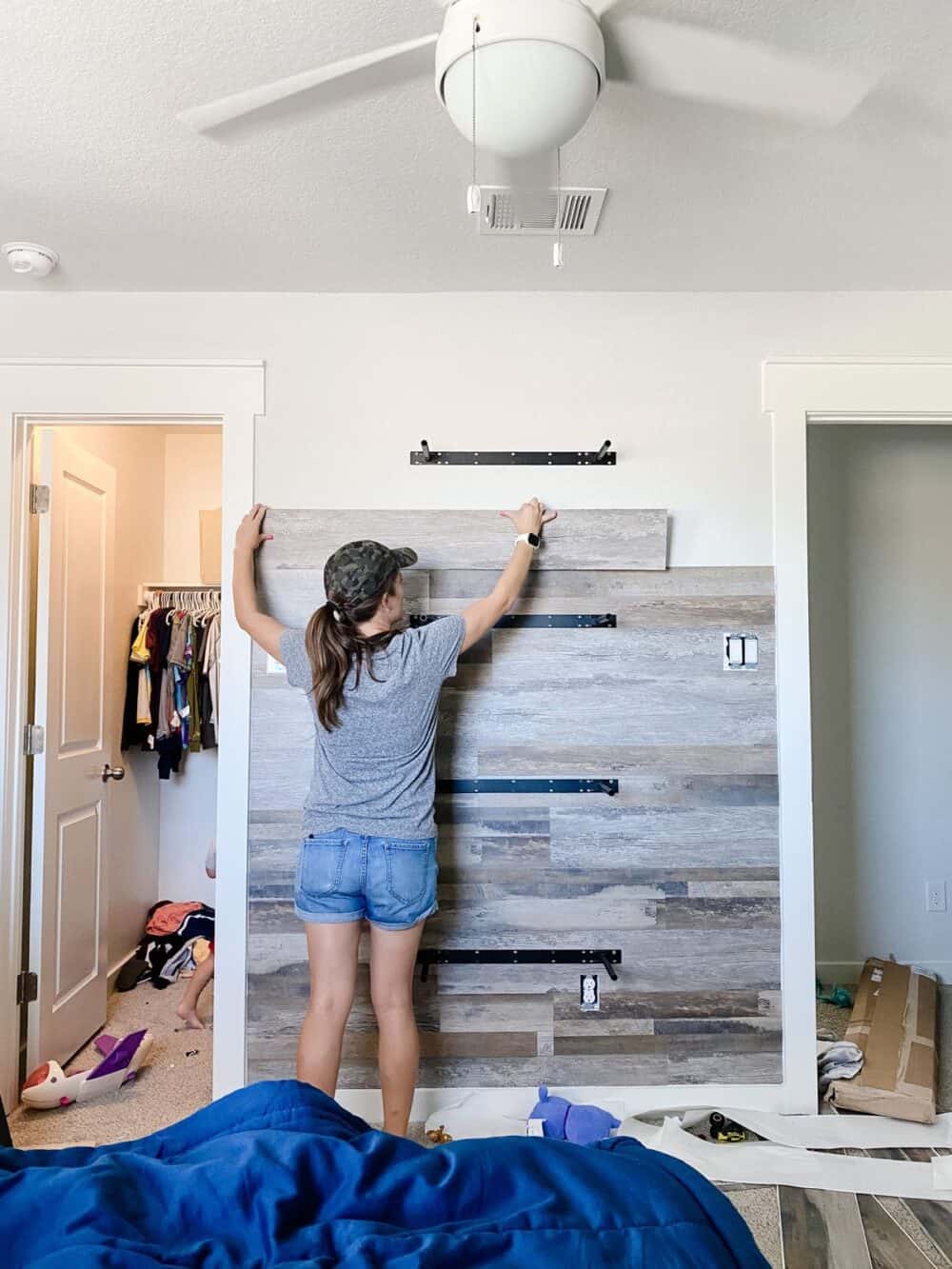 Speaking of the level – be sure to check that your boards are straight, especially on the first row. Your baseboards, ceiling, and floor may not be perfectly level so you want to double-check as you go to ensure you get the polished end result that you want.
Finally, be sure to leave a 1/32 inch expansion gap around the perimeter of the wall. This allows the vinyl planks to expand or contract in normal hot or cold temperatures. Without an expansion gap, planks could potentially buckle.
Finishing Touches
If you're installing these on a floor, the baseboards will hide all of the cut edges and and small imperfections, but when installing on a wall, you may not have trim to add around the edges. If that's the case, you can simply use a flexible and paintable caulk around all of the edges after the planks have been installed for at least 72 hours. This will hide any cuts that aren't perfectly straight, and makes it all look more uniform and finished.
You can click here to see my full guide to how to use caulk!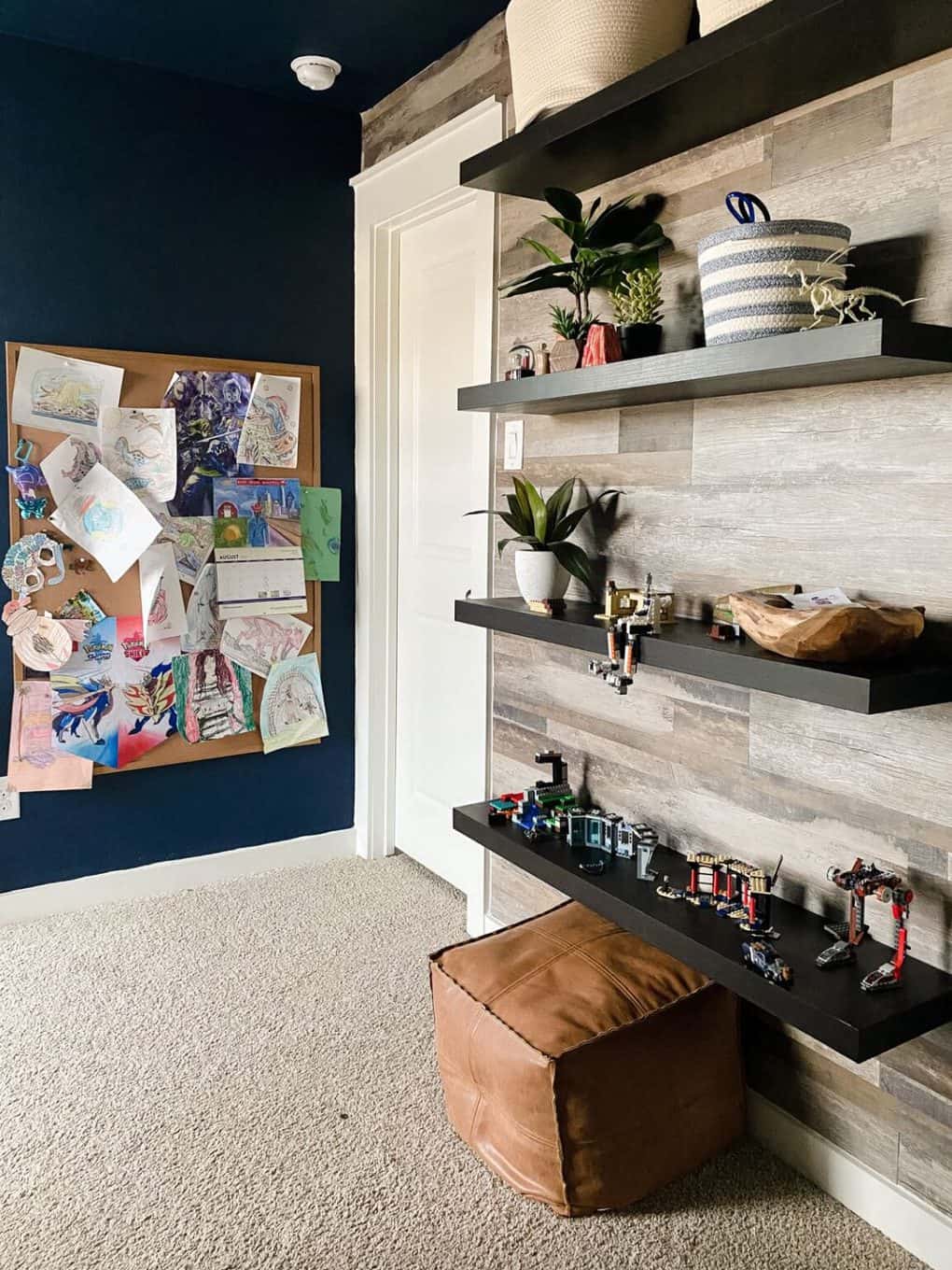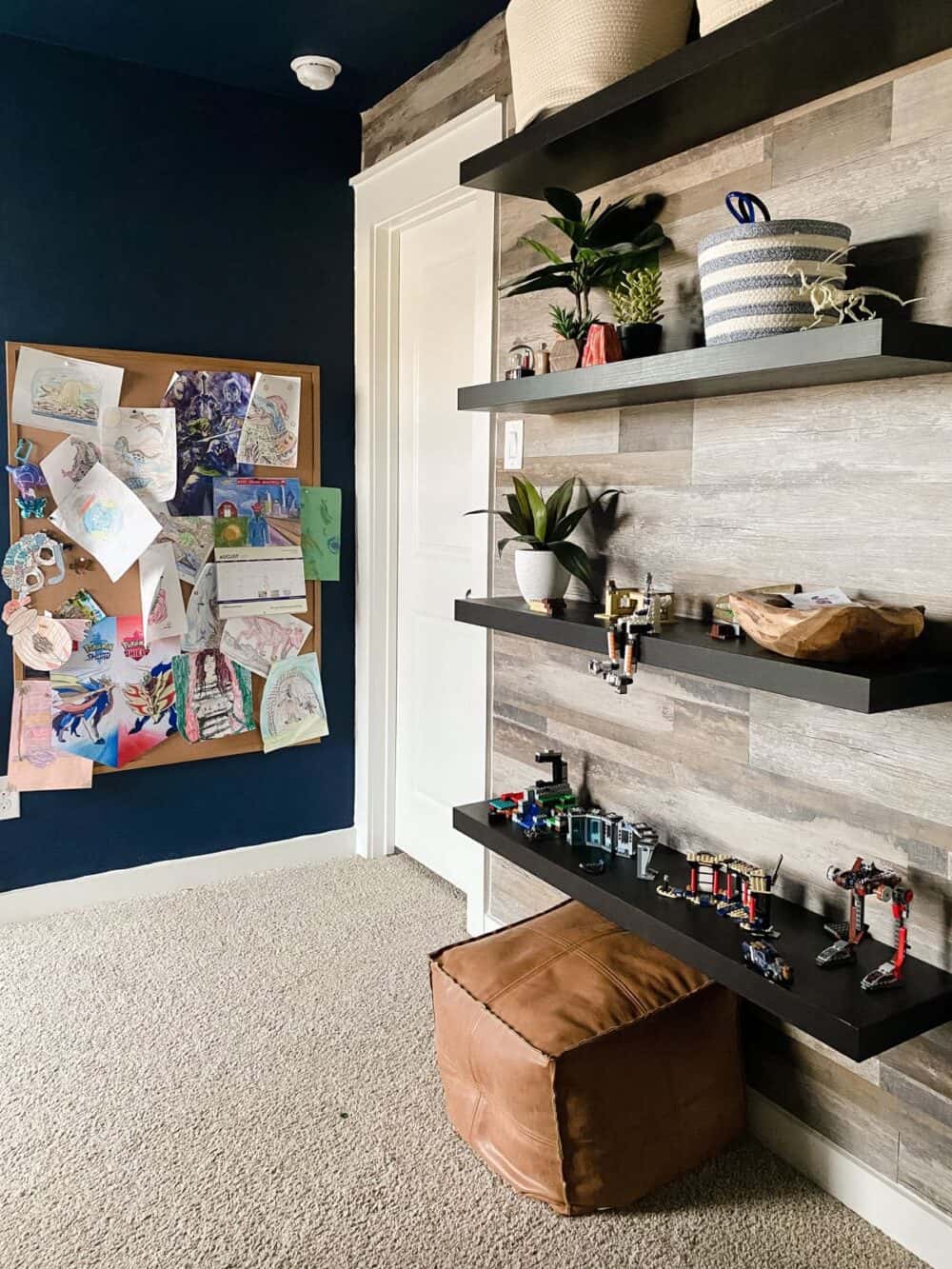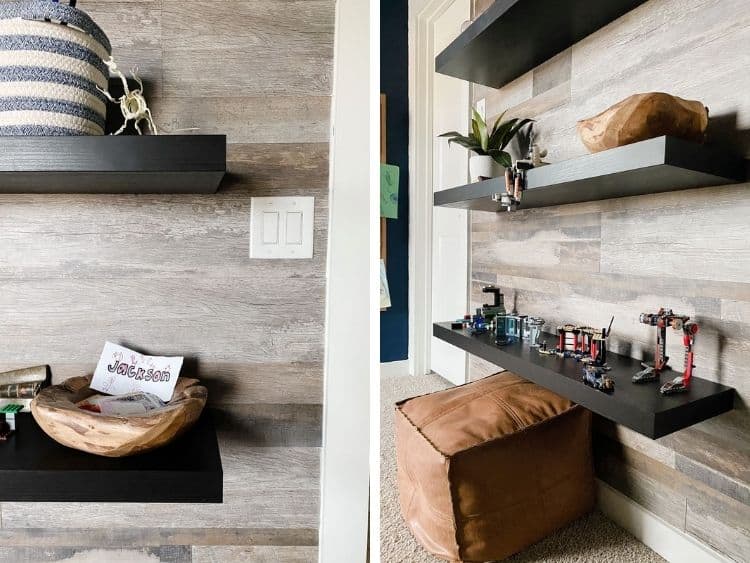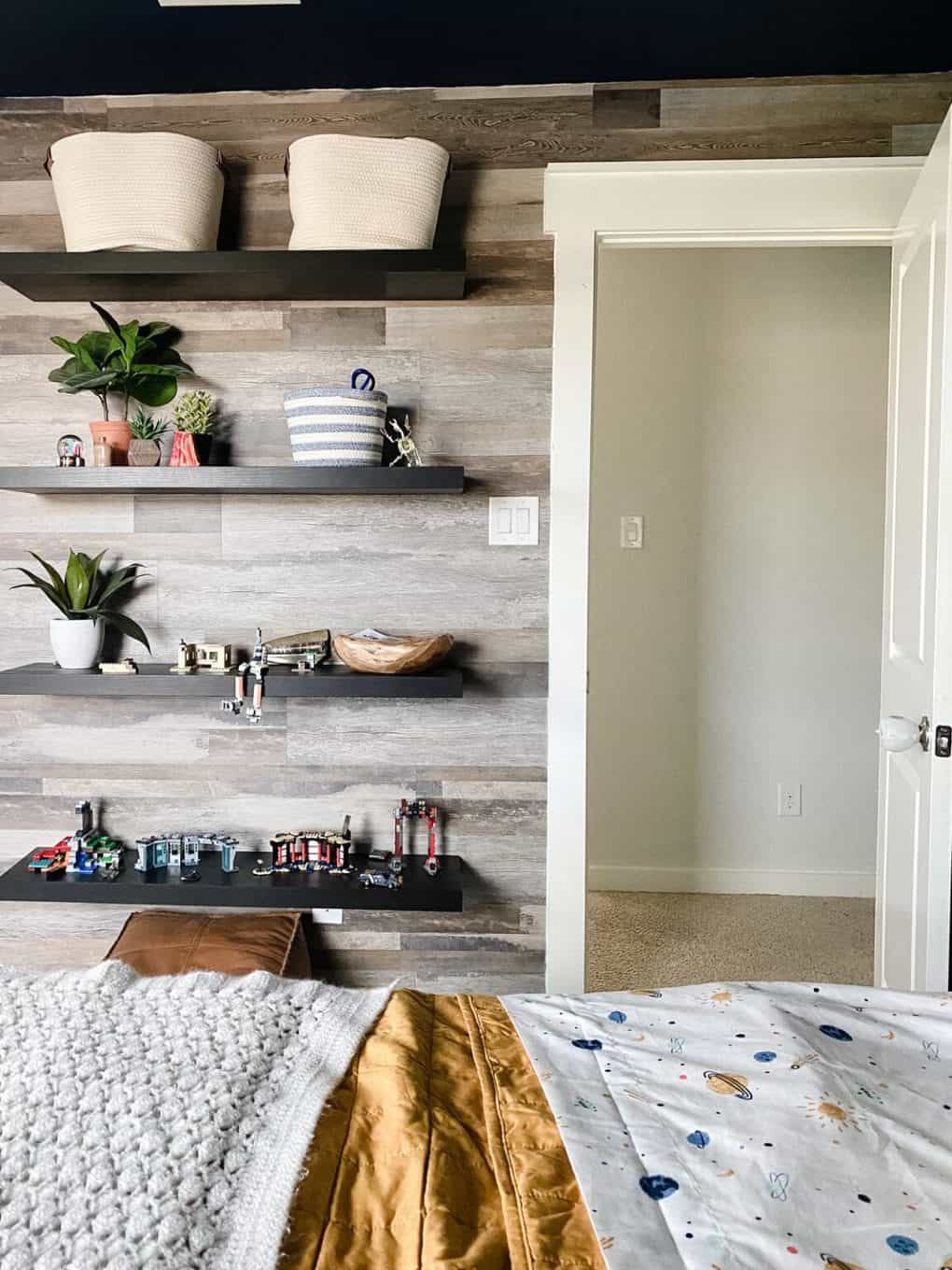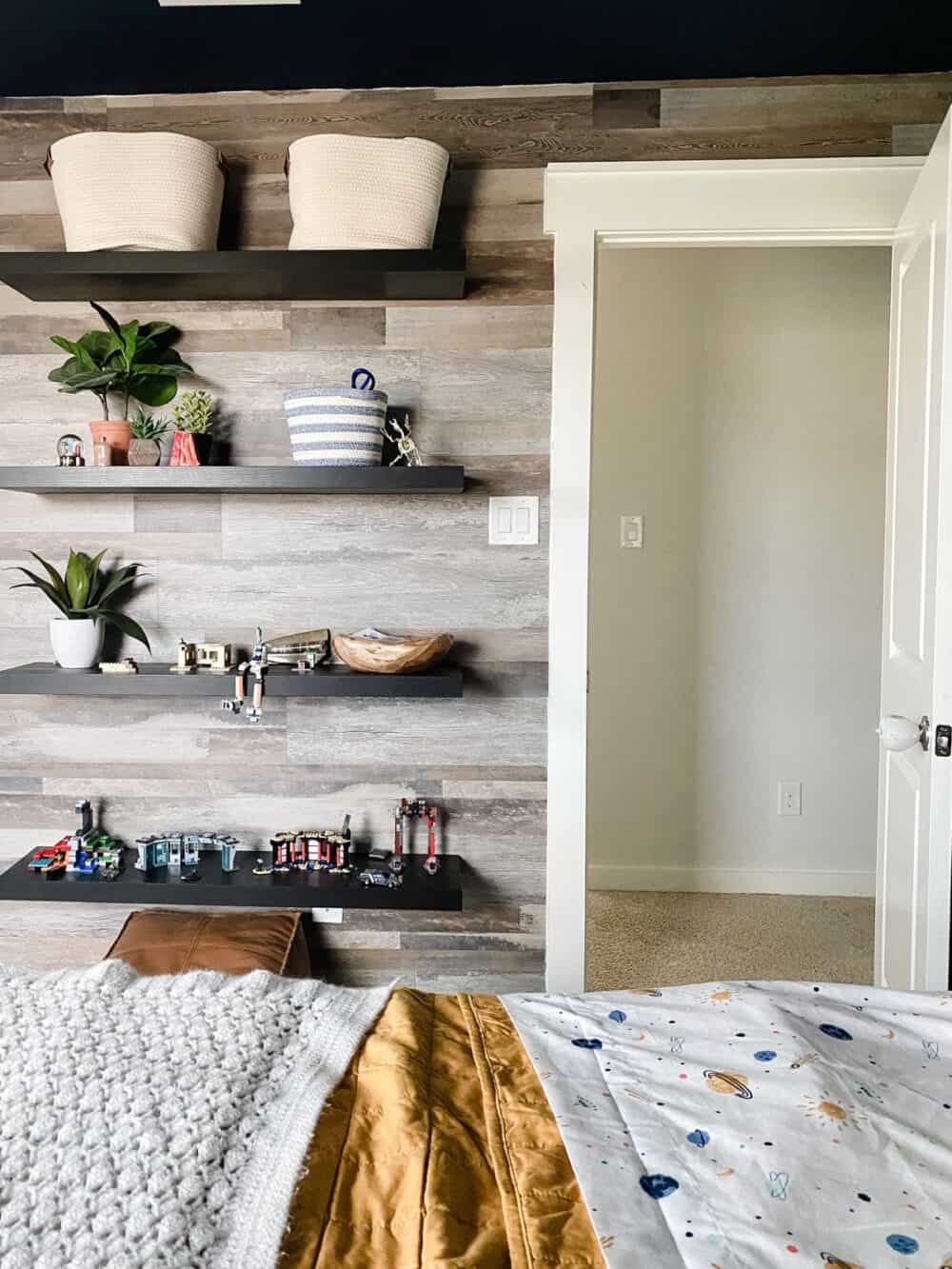 I'm so happy with how this wall turned out! It feels like the perfect start to this room makeover. We've got way more details coming over the next couple of weeks, including a super fun paint treatment, a gallery wall, and more!
If you want to learn more about how to create a similar accent wall in your home using DuraDecor, just click here to see all of their products, order a sample, or calculate how much you'll need! You can purchase DuraDecor directly from Home Depot as well, so it's really accessible and easy to order online, too.