Jackson's Space Themed Bedroom
Jackson recently declared that he wanted to change things up in his bedroom – he had a really cute striped wall in his room before, but he was itching for a space themed bedroom. I love playing around with the kids' rooms, so I jumped at the chance to change things up.
And, well, it turned out pretty dang adorable.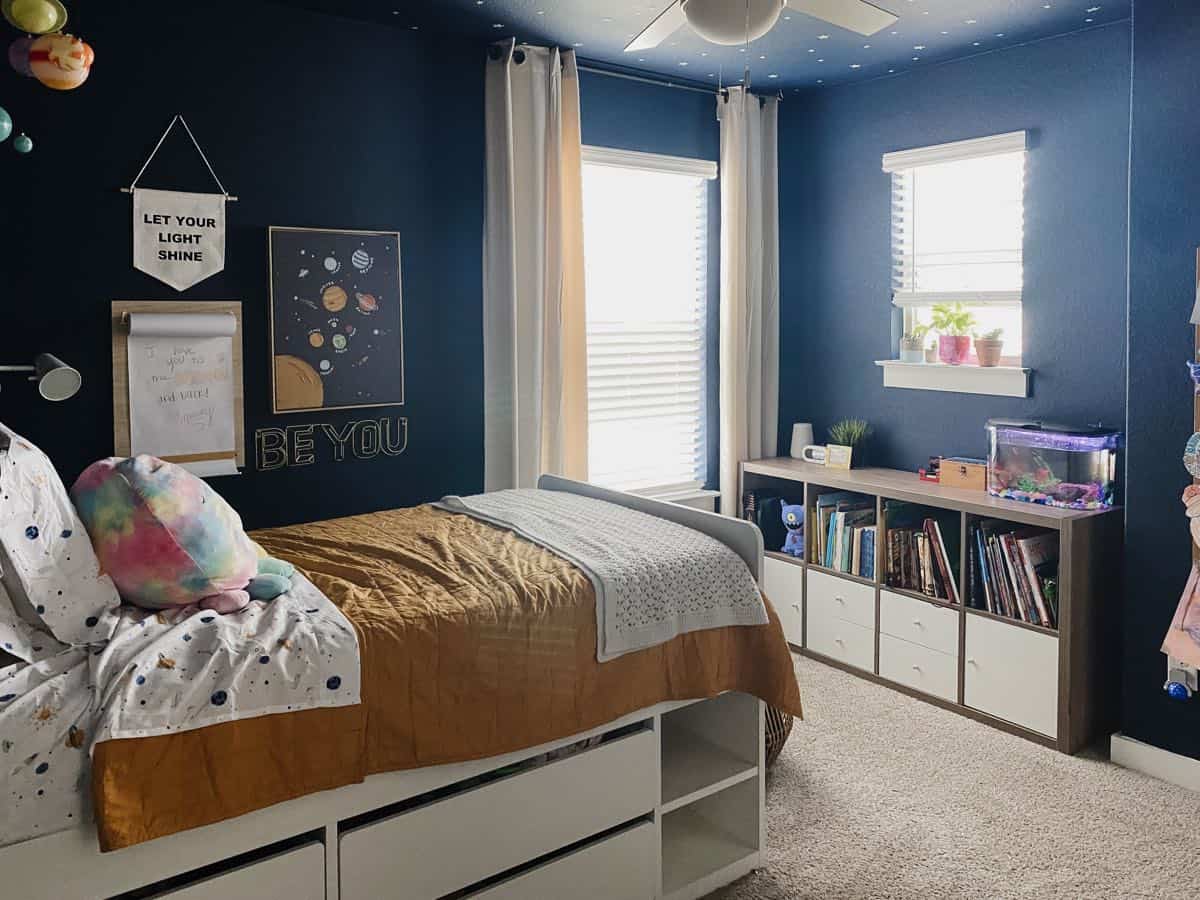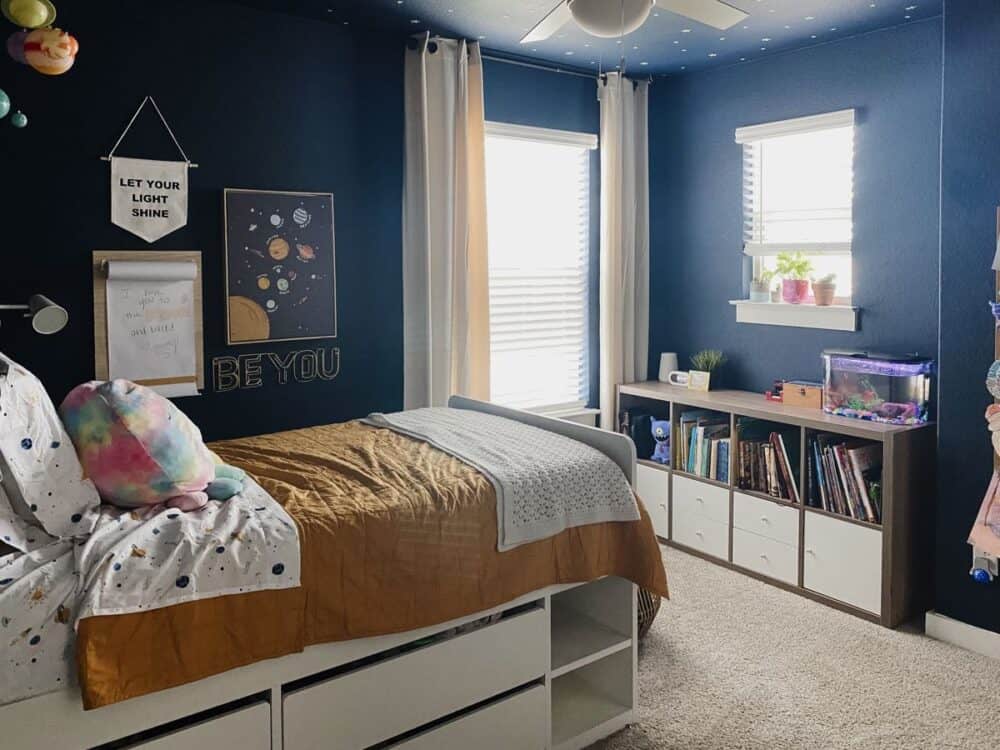 If you missed anything, here's everything that's been posted about the room so far so you can catch up!
This was a really quick and easy makeover (I did the whole thing in about a week), and he's thrilled with the result. Let's dive into some details.
Space Themed Bedroom: The Details
The idea for this room was born when Jackson cautiously asked me one day if I thought we could maybe paint his closet a dark color and paint stars all over it. I loved the idea and suggested that instead of just doing the closet, we do the entire room. He was shocked and delighted that I was on board, and the official planning began.
We kicked it off with installing vinyl wall planks on the wall behind his shelves to create a faux wood accent wall. It immediately made the room feel so much more polished and – sniff – grown up. I can see this wall growing up with him for years and years to come, and it will look great with just about anything we decide to do in here down the line!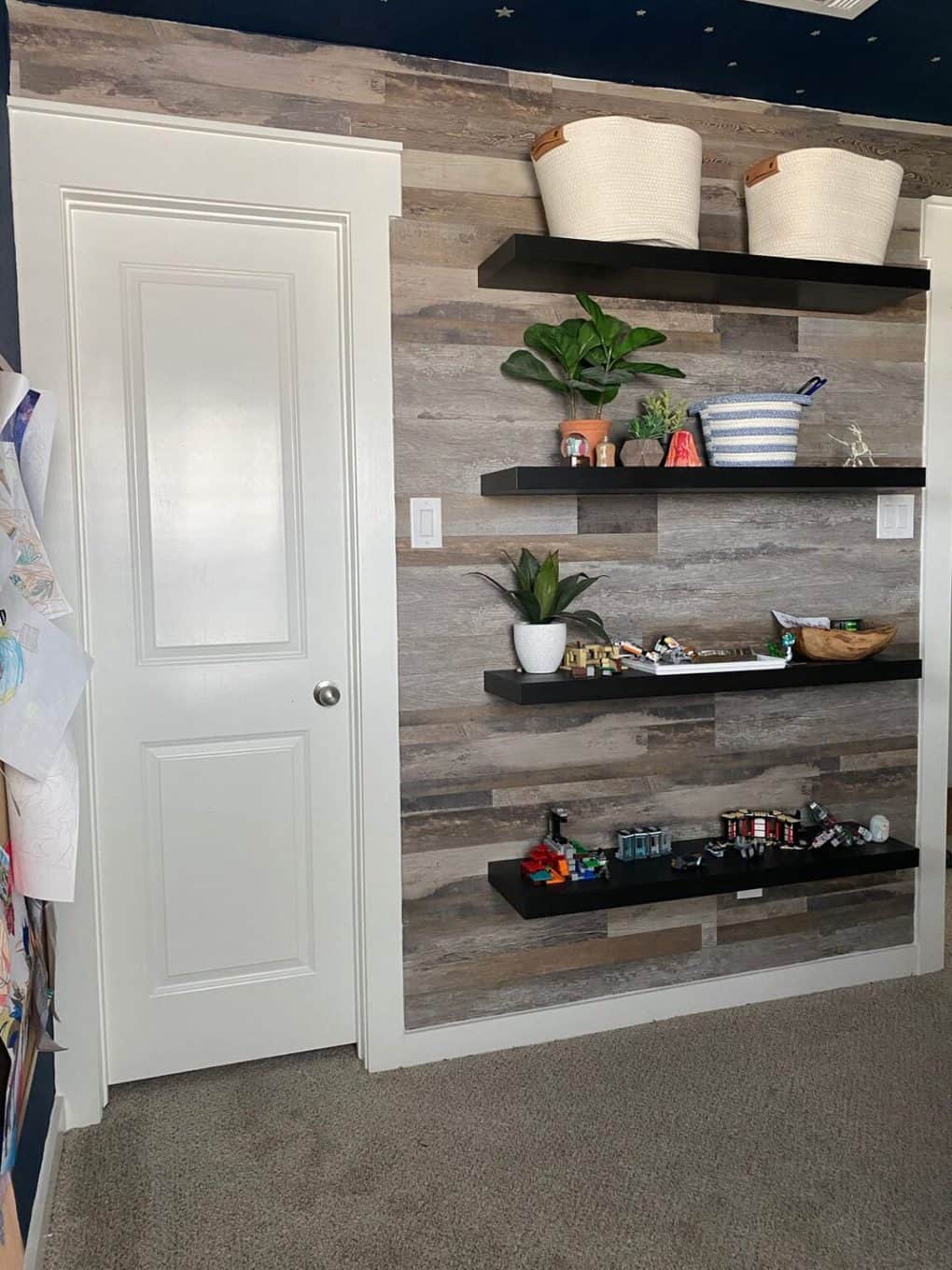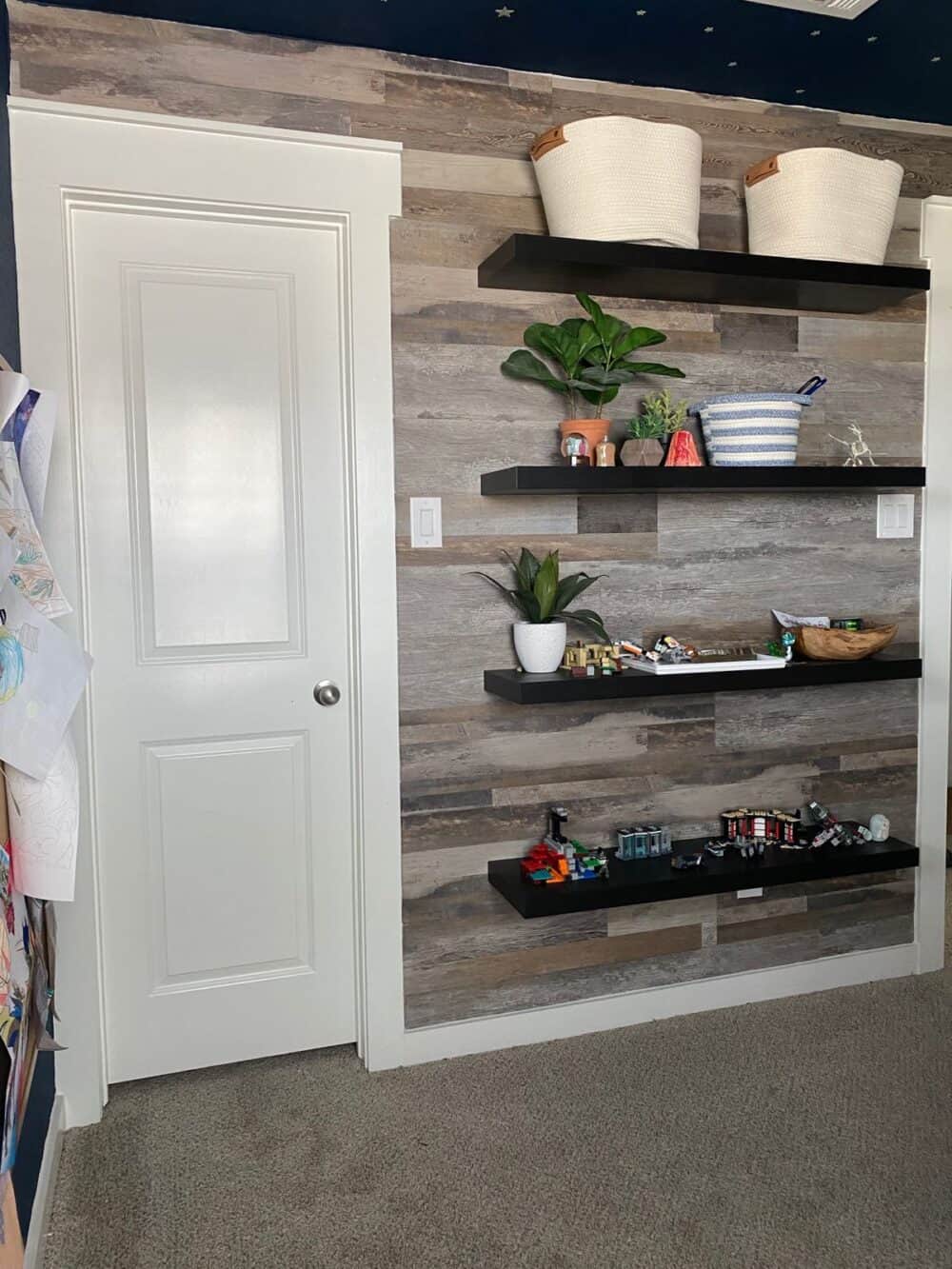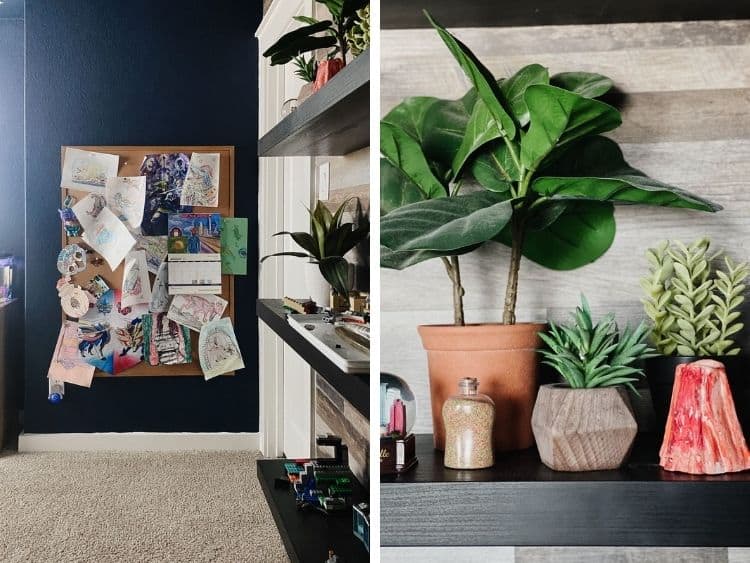 The shelves are one of my favorite features in his room because they add so much functional storage and they're a really great place for Jackson to display (and play with) his LEGOs. He often pulls a little pouf up to the shelves and plays with them for forever – he creates new little scenes all the time and loves to get creative with them.
On the top shelf we have some large baskets that store all of Jackson's special memories and trinkets. Things like art projects from his preschool days and the hat he wore home from the hospital. He loves to have me pull them down so he can rifle through all of it, and it's a great way to control the clutter a little (he can only save the things that fit in there)!
This is, of course, another intentional choice to add something that can really grow with him. As he grows, he can use these shelves to display other collections, for additional storage, or whatever he needs. I love that they take an otherwise not-super-useful space and make it incredibly functional.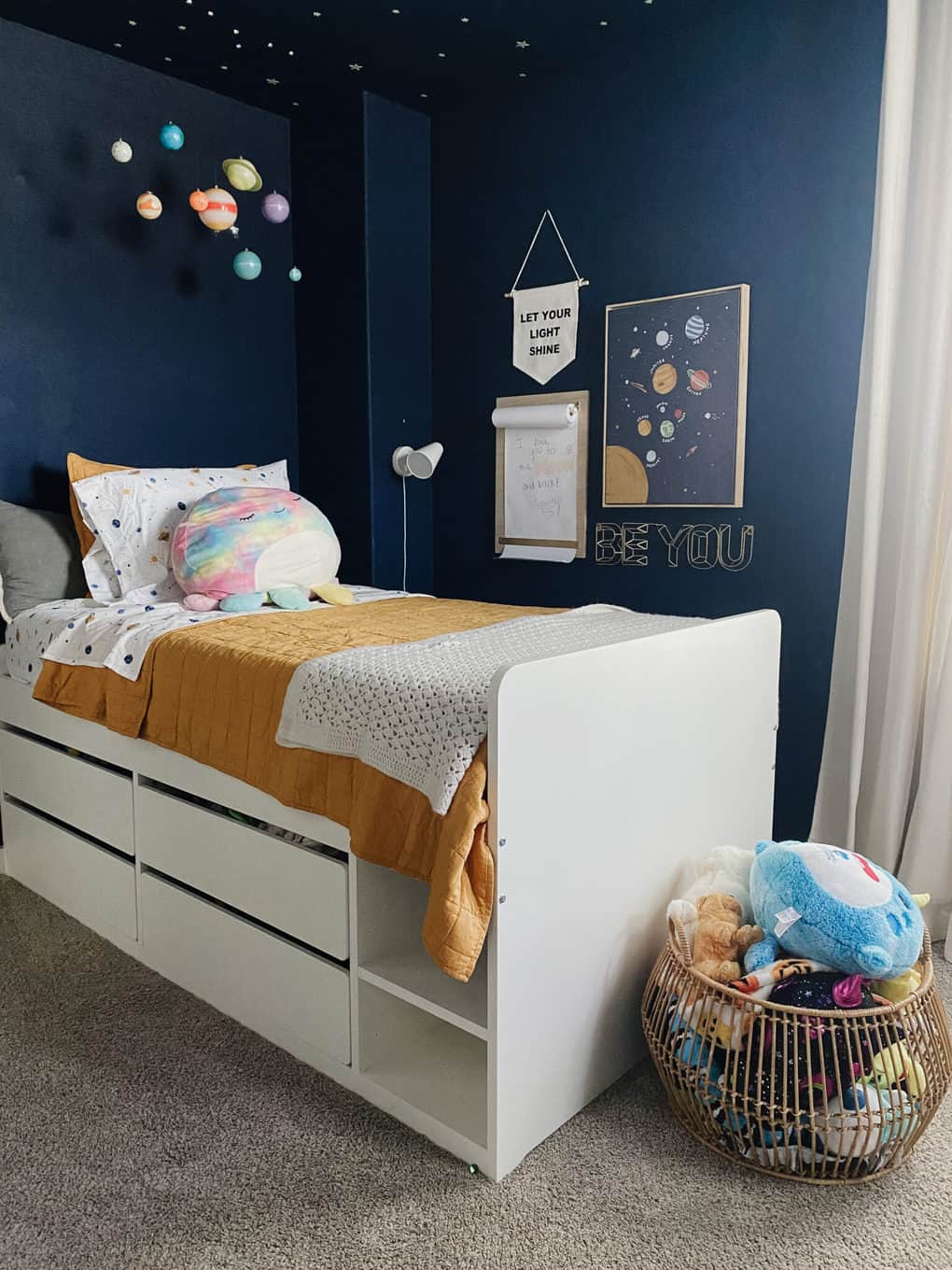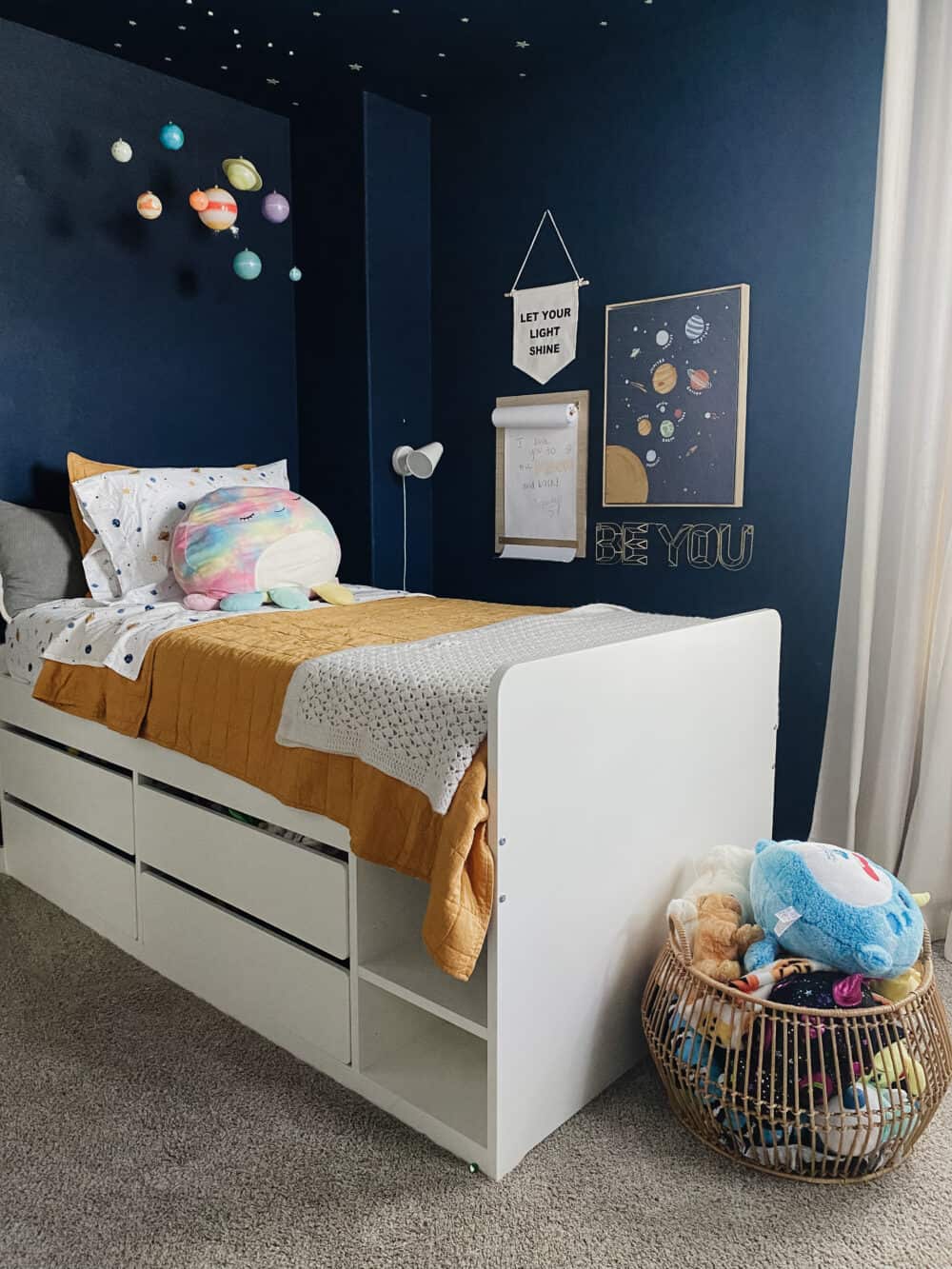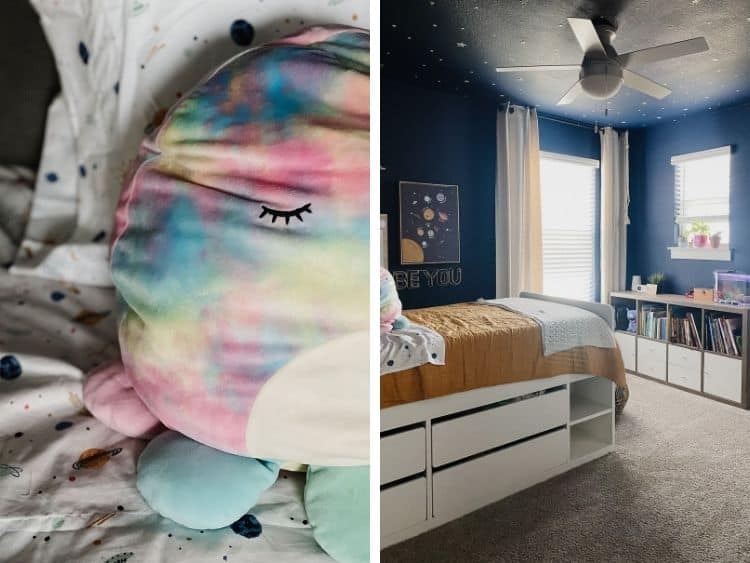 We also re-arranged the furniture in here. This is actually the setup we had when we first moved into this house, and after about a year of things being different, we realized we got it right the first time.
His room is a bit awkwardly shaped, which makes things tricky no matter what we do, but this feels like a really good set-up that should last. It makes great use of the little nook under the window (I loved his bed being there in theory, but in practice it didn't work at all) and lessens how intrusive the bump-out in the other corner is.
I also really really love that this setup allowed us to add curtains to the window – they make the room feel so polished (and, again, grown up – sniff sniff!) and they're the perfect finishing touch.
We added some space themed bedding (which is the cutest), stars all over the ceiling, and a little gallery wall to fill up the large blank wall.
I love that it feels clearly like a space themed room without being too theme-y. The stars on the ceiling are everyone's favorite part, but that yellow bedspread makes my heart sing too.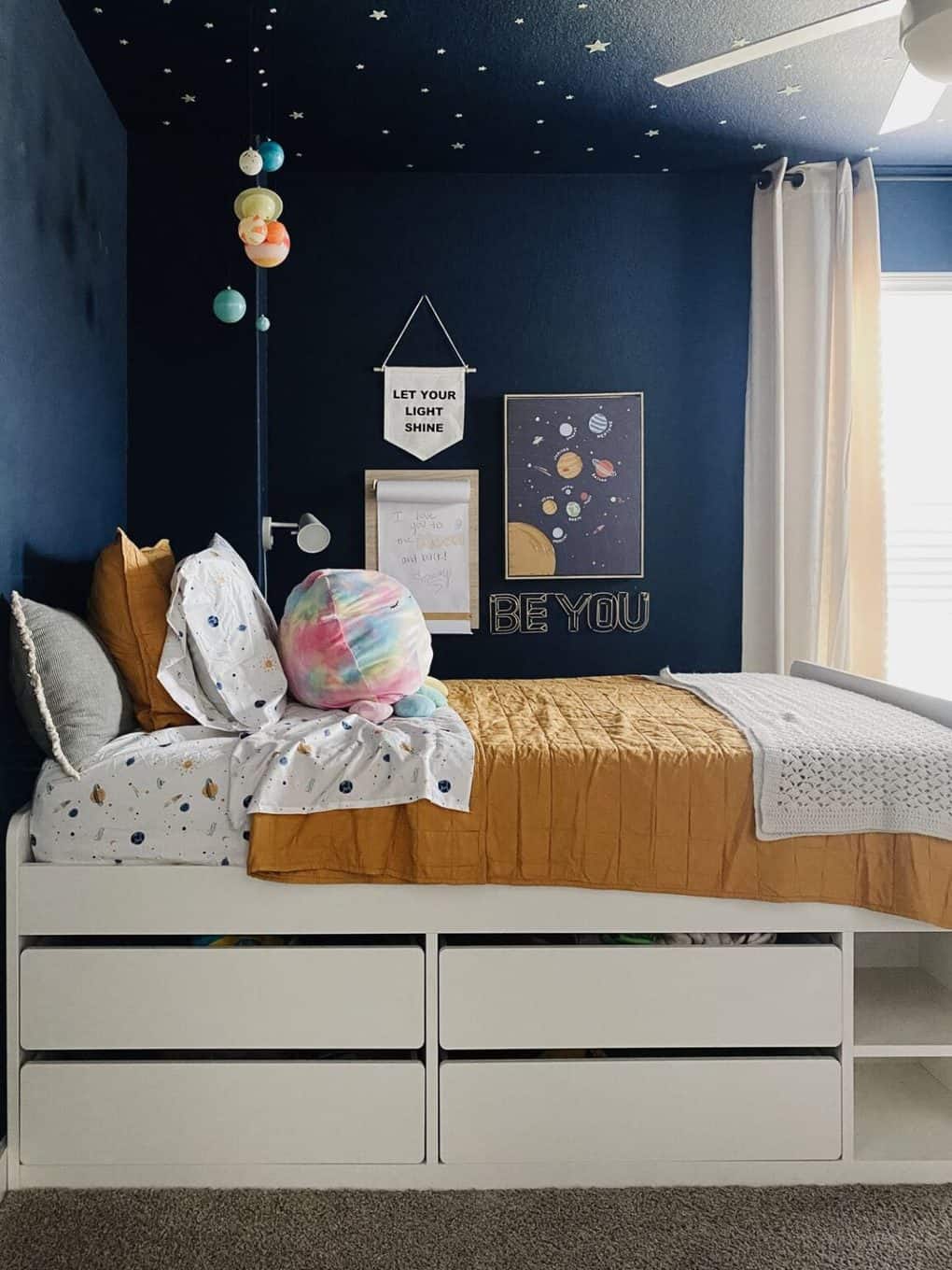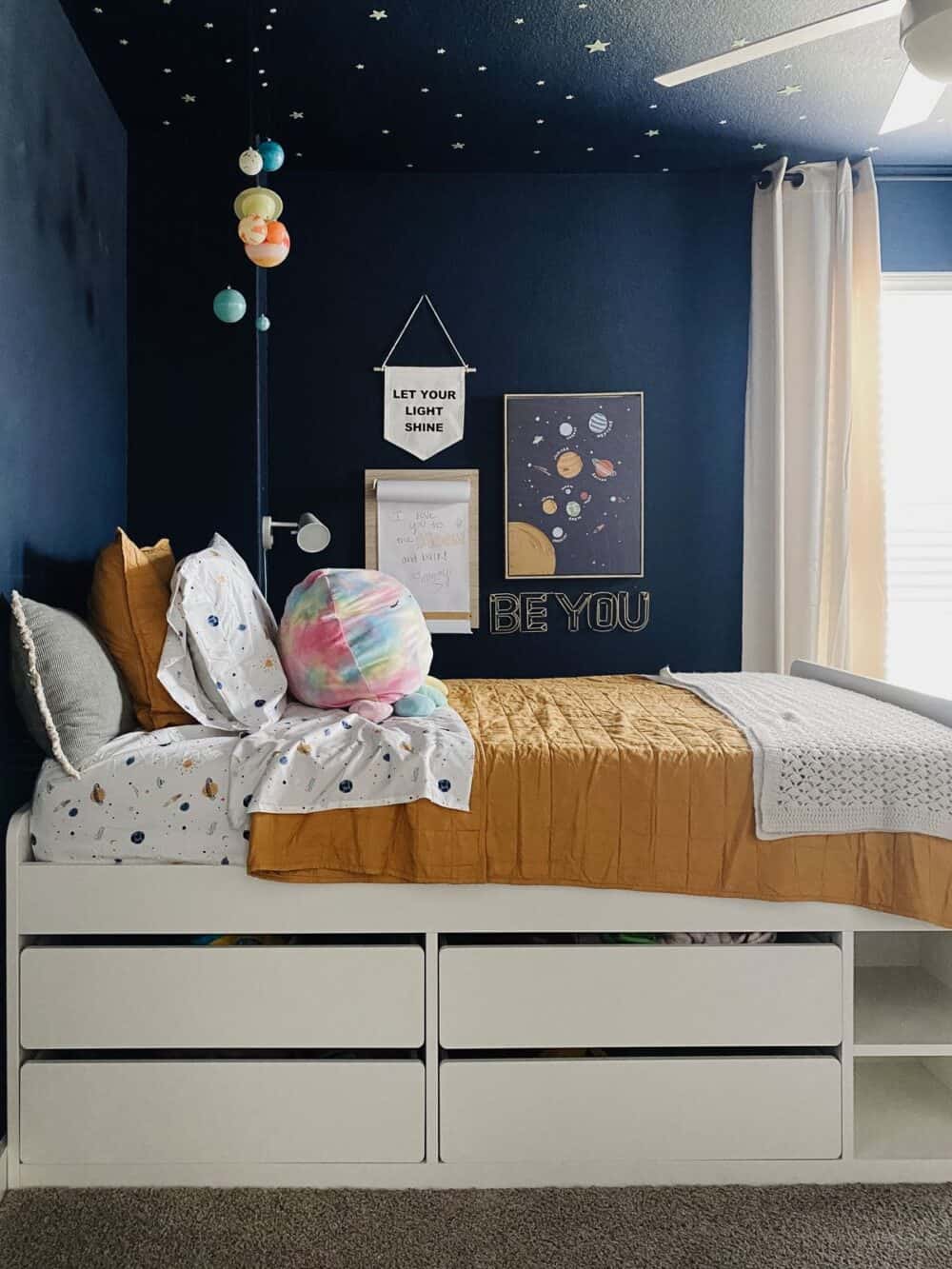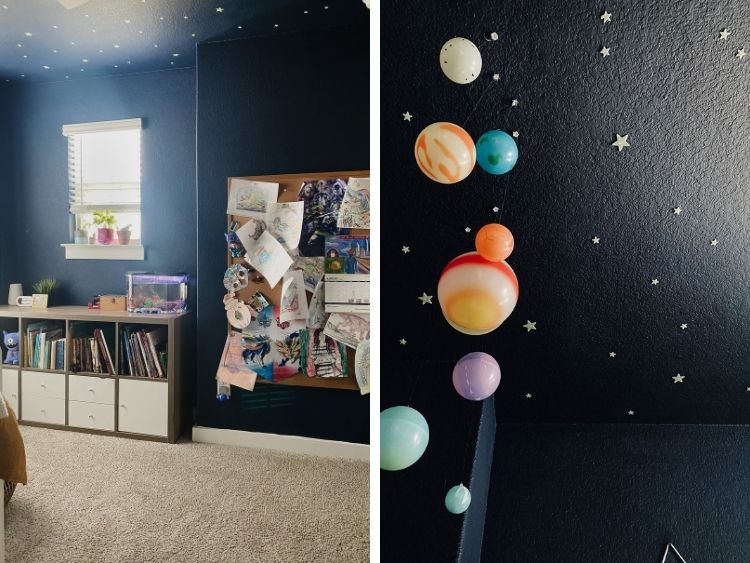 I fully expect that the space themed bedroom won't last forever. When I was a kid, I was constantly changing things up in my room and I'd love to offer the same flexibility for my kids. I try to only change things that are easily changed back (like paint, bedding, and smaller decor pieces) so that it doesn't break the bank when they want something new. But, it feels really grown-up and magical to me so I'm hoping he keeps loving it for at least the next few years!
I'll link all of the sources I have for his room below, but let me know if you have any questions or if I miss anything!
Space Themed Bedroom Sources