Christmas season is in full swing around these parts and I'm so dang excited I can hardly contain myself. The house is decorated (and I'll start sharing later this week!), we'll be starting our activity advent in a few days (sharing that tomorrow!), and I'm getting ready to mail our Christmas cards!
I don't even know how to contain myself right now. I'm like freakin' Buddy the Elf – jumping around and screeching about everything and singing Christmas carols nonstop. It really is the most wonderful time of the year, isn't it?!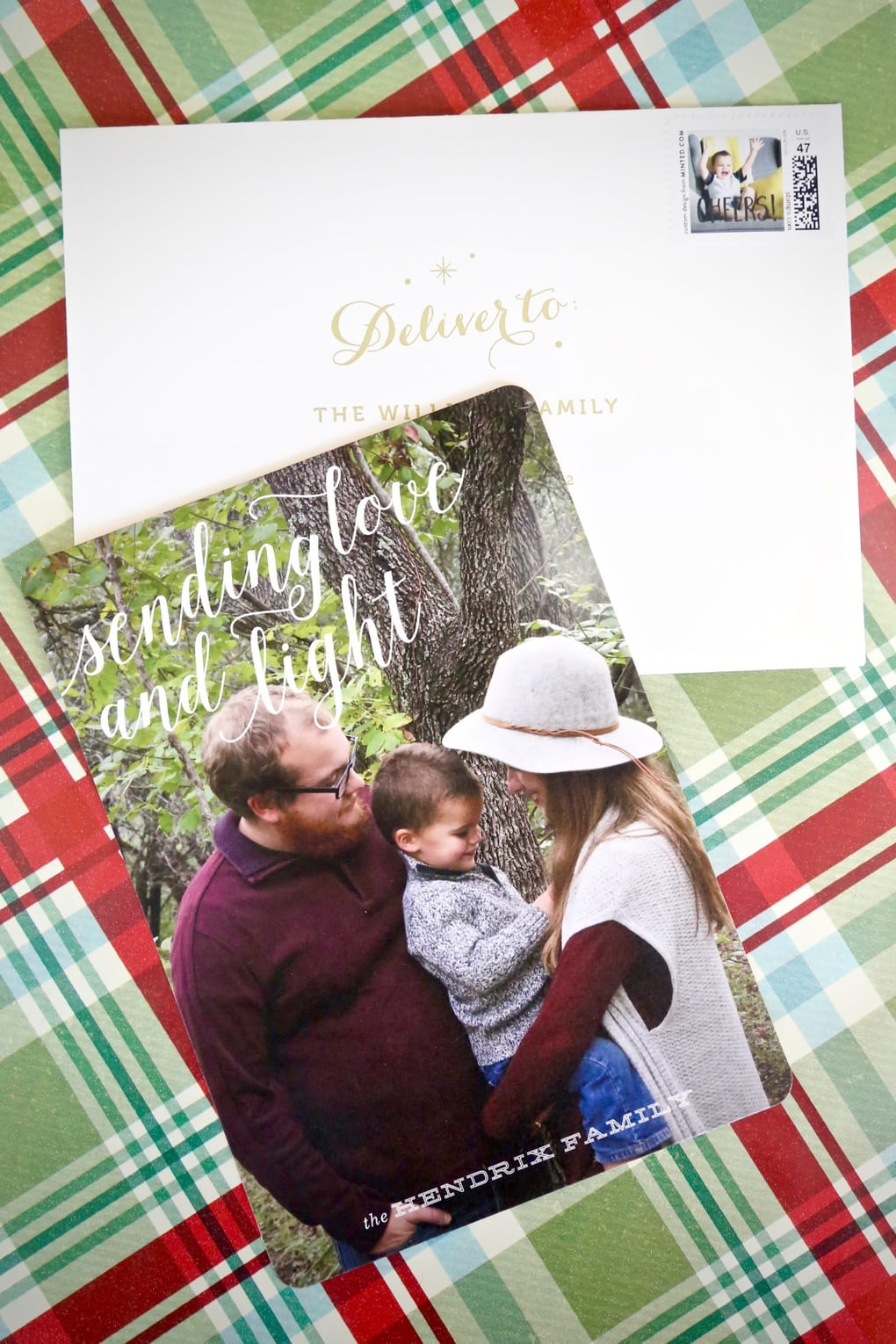 This post contains affiliate links. Click here to read my full disclosure policy.
If you'll remember, we're working with Minted this year for our cards and I'm so incredibly pleased with how they turned out. We went with the Simply Stated cards with the "Religious" text (when you go to customize it, there are several options as to what your card says) – we always love a simple card that really lets the photo shine, and this is a great one.
My favorite part of the whole process was the fact that they will address the cards for you for free. Free! I never love how my handwriting looks on envelopes (I'm perfectly capable of writing like an adult until it actually matters, then my writing looks like a second grader's) and I always consider printing my own envelopes but it's just such a pain! Minted has a ton of options for the design you use to address your cards, and it's totally free to have them do it for you. We had them address all of the ones we knew for sure we were sending and then left the rest blank because we know we'll have a few others that will come to mind later. It makes the process so much quicker because now all I have to do is pop the cards in the envelopes, seal 'em, and I'm done. I'm a major advocate of anything that makes my life easier this time of year.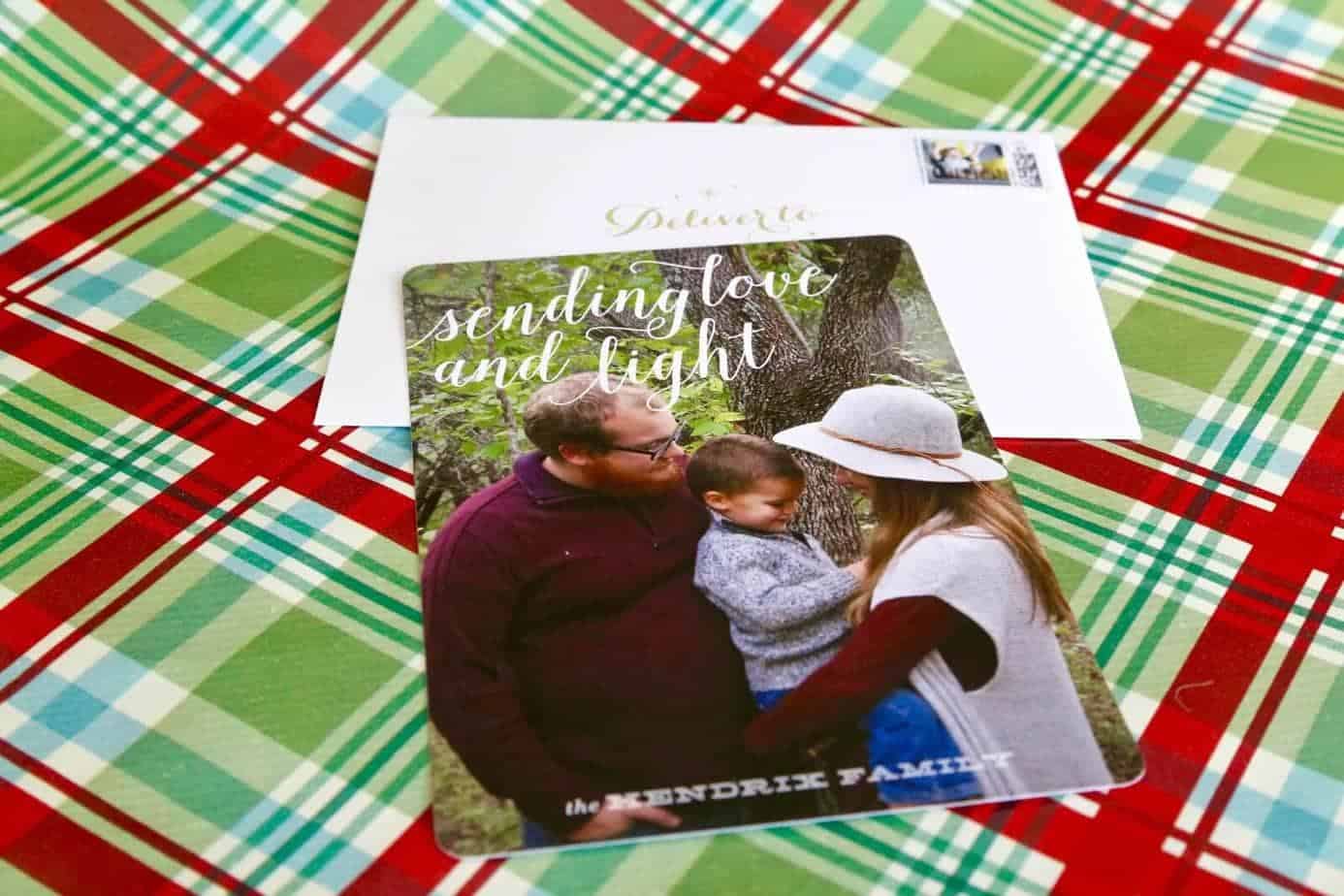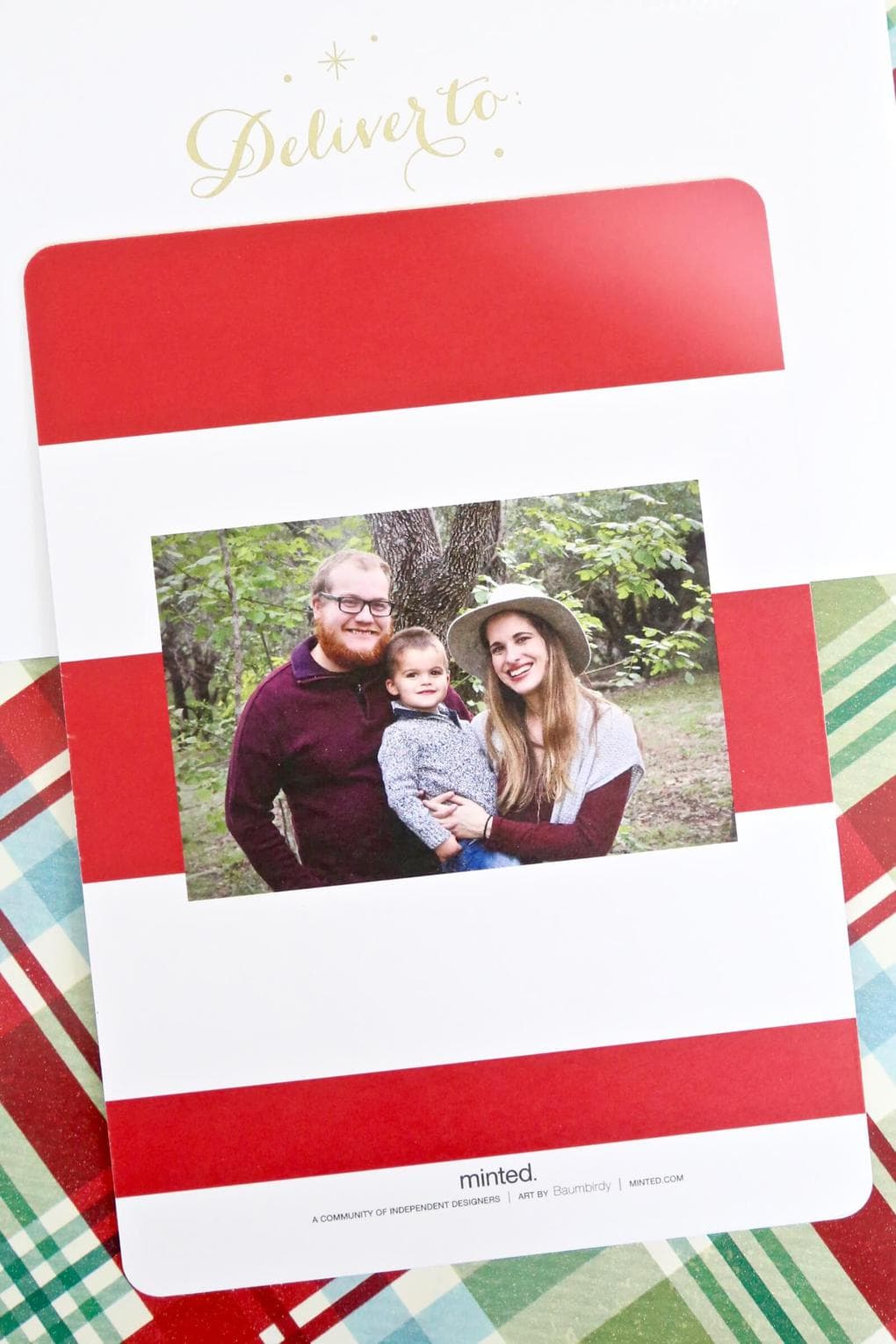 We've always had a really fun tradition of taking a Christmas photo every year, and this year we had my dad snap one for us. Jack wasn't thrilled with having to sit still and participate, but I promised him a piece of candy if he did a good job so he stayed relatively patient. It always makes me smile to look back at photos from years past and see how our little family has grown (and grown up!) and I cherish holding on to all of our old Christmas cards!
Oh, and there's another awesome touch – we ordered customized stamps. I mean, seriously – can you even handle the cuteness?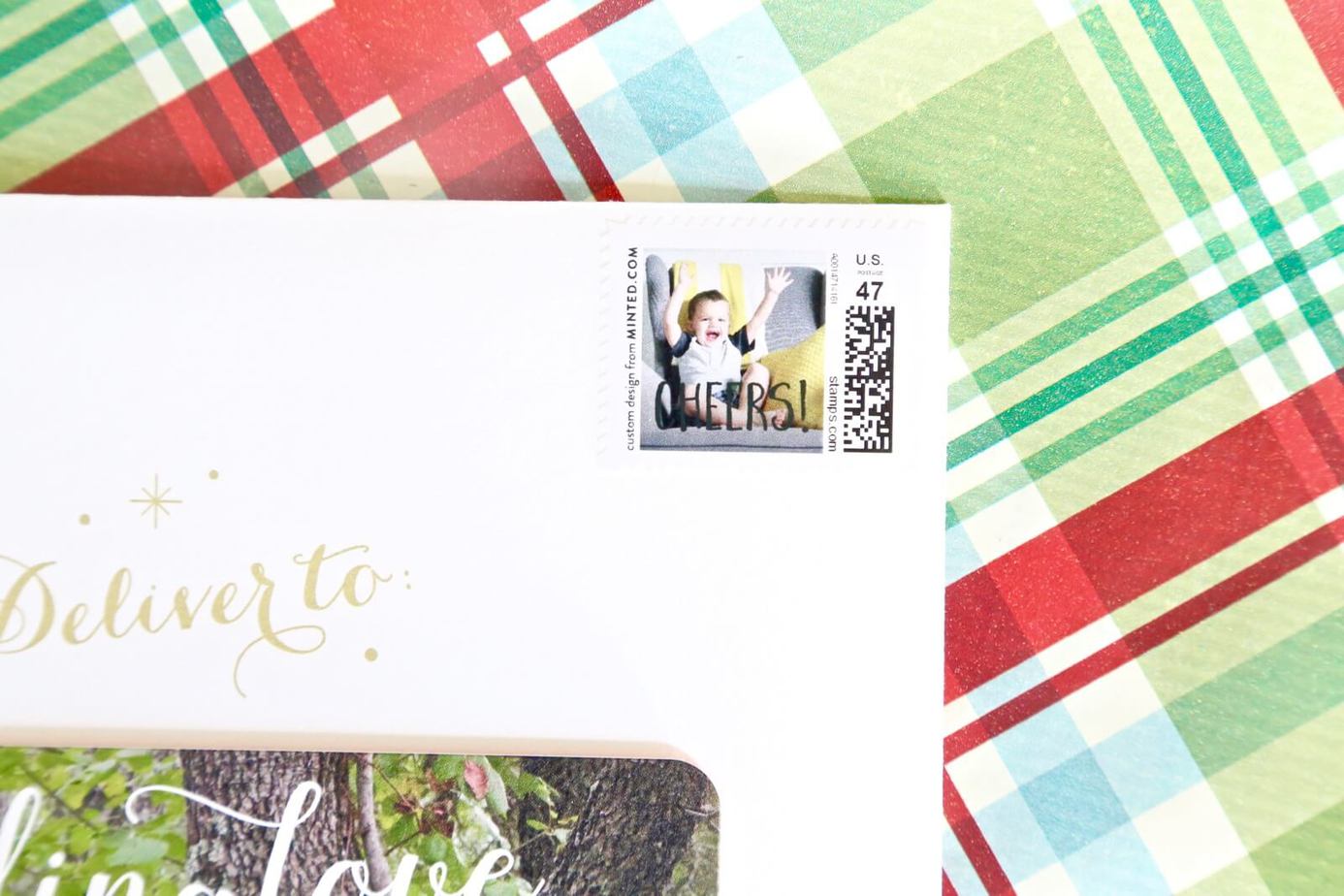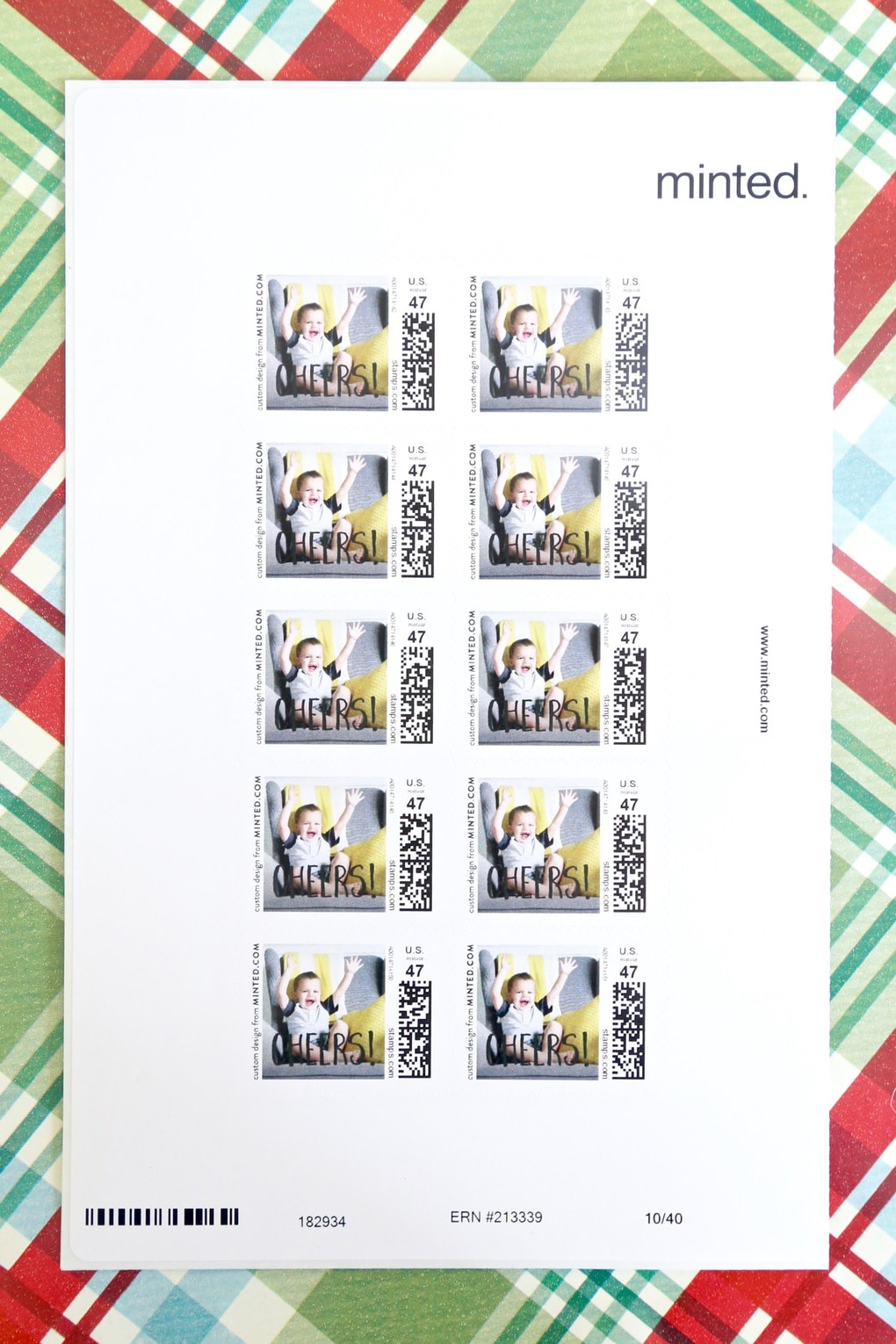 I'm planning on sending these later this week and I'm already looking forward to my yearly tradition of checking the mail every dang day and looking for Christmas cards. With the level of excitement I have surrounding this entire season, I basically I turn into a 7-year-old every December.
I'm curious – do you still send Christmas cards? Sometimes I feel like it's a dying art! It's one of my favorite traditions of the whole Christmas season so I can't see us stopping anytime soon, but we get fewer and fewer every year.