It's gifting season, y'all! My 2020 gift guide will cover just about every category under the sun. Read on for gift ideas for the adults in your life – including gifts for your husband or dad, gifts for your best friend, and gifts for your mom, sister, or neighbor!
I love shopping for gifts. It's one of my favorite things to do this time of year. There's something so fun and special about browsing around for the perfect thing for the people you love, and it's just so satisfying when you finally find the exact right gift!
I also love shopping early. I always try to have every last bit of my Christmas shopping done by the Monday after Thanksgiving. It's a lofty goal, but it always makes the Christmas season so much less stressful!
I always find gift guides on blogs or on my favorite store websites so helpful for those people in my life who can be hard to shop for, so I love putting these together for you each year! Today, we're tackling gift ideas for adults. I decided not to break it into men/women because, honestly most of the gift ideas I see on the "men" lists aren't things my husband would like. Instead, I'll just be sharing a ton of ideas for gifts in general, and you can decide if the men or women in your life would like them!
I always try to break my gift guides down by price so you can find something that fits your budget quickly and without clicking a ton of links and crossing your fingers it's cheap enough. Because ain't nobody got time to waste on looking at gifts that are way too expensive for you!
Ready? Let's just jump right in.
2020 Holiday Gift Guide: GIfts for men and women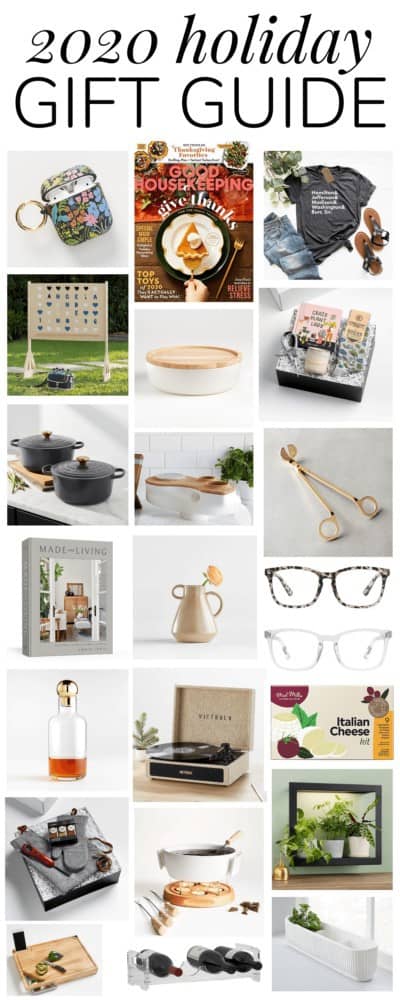 Gifts $25 and under
Gifts $50 And under
Gifts $100 AND UNDER
Gifts over $100
subscription gift ideas