Today, we're going to take a peek at how far our home has come in the year that we've lived here!
One year. Can you handle it? I can't. As of this week, we have officially lived in our home for one entire year, and it's kind of hard to wrap my brain around!
If you weren't here a year ago, let me give you a rundown of the story of this house. I think it's important to know the full story so you can grasp why this house means so, so much to us.
Back in 2017, we sold our beloved first home and relocated to a much smaller home in order to pay off all of our debt and get our finances into shape.
We lived in that tiny little house for two years, and we loved every inch of it…but it was always meant to be a stepping stone for us to something with a little more room. Click here to see the final tour of that home!
We had never planned on buying a new construction home (we love an older home!), but when you fall in love, it's undeniable. We put an emphasis on choosing a neighborhood that would be good for our small family, and we knew upon first sight that the 'hood we're in was the one for us. We decided to take a huge leap of faith and purchased this new construction home (it was a spec house, so we didn't choose any of the finishes aside from the flooring), and one year ago this week, we moved in!
We love our neighborhood, we love our house, and we regularly marvel at how wonderful it feels to have made it here. We've poured a lot of love into our house in the last year, and today I'm going to take you on a little tour of how much has changed since last year!
You can click here to see the first ever tour of our home, if you want a look at what things looked like on the day we moved in.
Let's start with the video tour – I tried to keep it exactly the same as last year's video, so if you want to watch them back-to-back you'll really get the full effect! (Just wait for the ad to play, then the video will start!)
Alright, now that you've gotten the video tour, let's do some photos! I'm only going to share the current photos, simply because if I included all of the before photos as well this post would quickly get out of hand! You can head to the first tour of our home to see what it looked like before!
I'll do my best to link to all of the projects we've tackled this year but…it's a lot! So, if I miss something that you're curious about, be sure to ask below in the comments and I'll do my best to update.
The EXTERIOR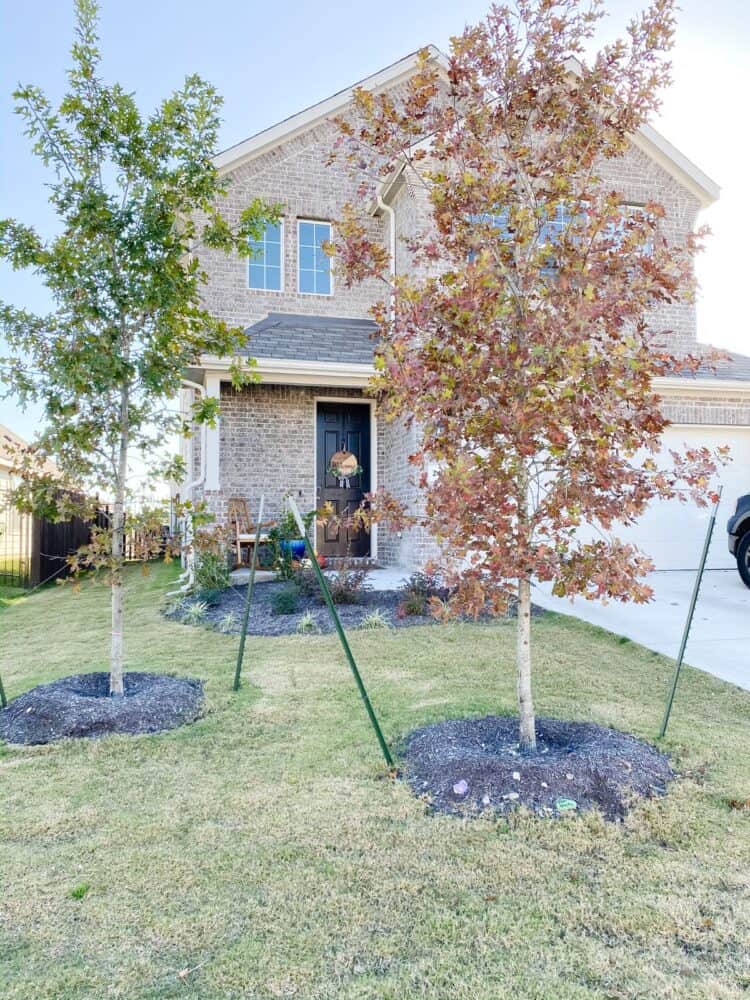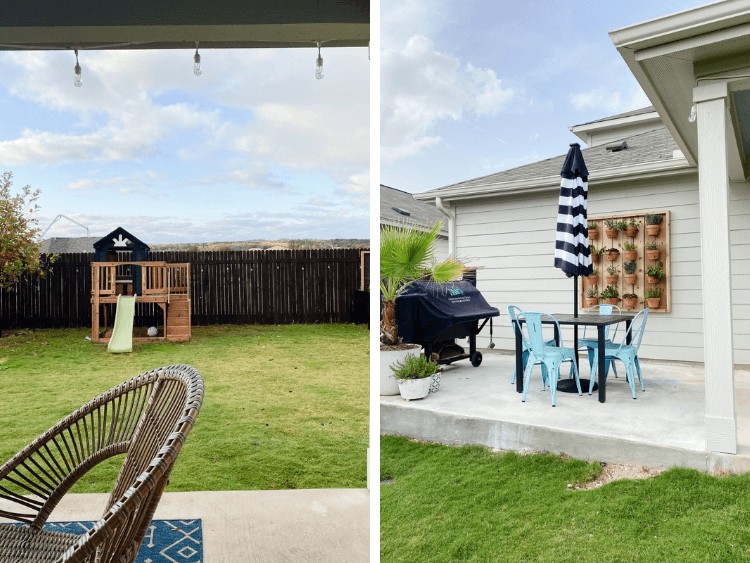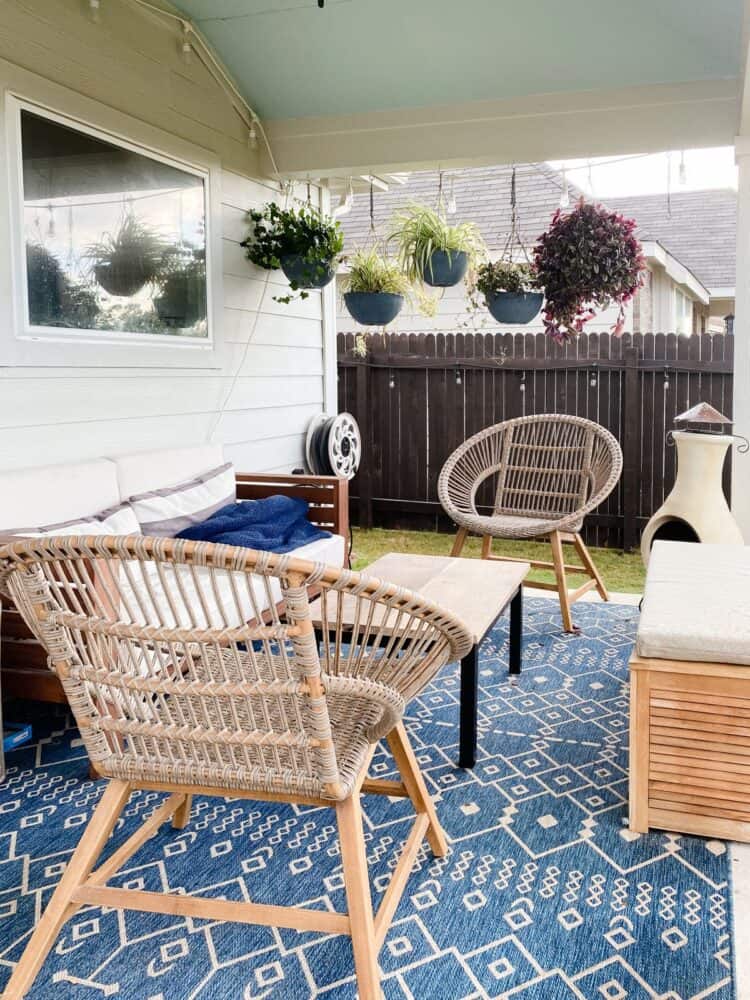 Not much has changed in the front of our home, other than a bit of decorating on the porch (I did paint the front door this year, but you can't really tell).
We have plans to add some stone borders around the flower beds and the trees, and I'm sure someday we'll update the landscaping a bit, but for now I actually really love the view of our home from the street!
The backyard is where you can really see a difference. We tackled a lot out here this year!
The backyard is still far (FAAAAAAR!) from done. We'd like to add a pergola over the new patio area, we'll probably change up the layout of everything on the patio, and we'd love to do a built-in kitchen situation someday!
Oh, and I still have a ton of landscaping I'd like to do – I keep picturing beautiful, tall bushes all along the side fence, and I think another tree or two is in order, for sure.
The entry, powder room, & Laundry room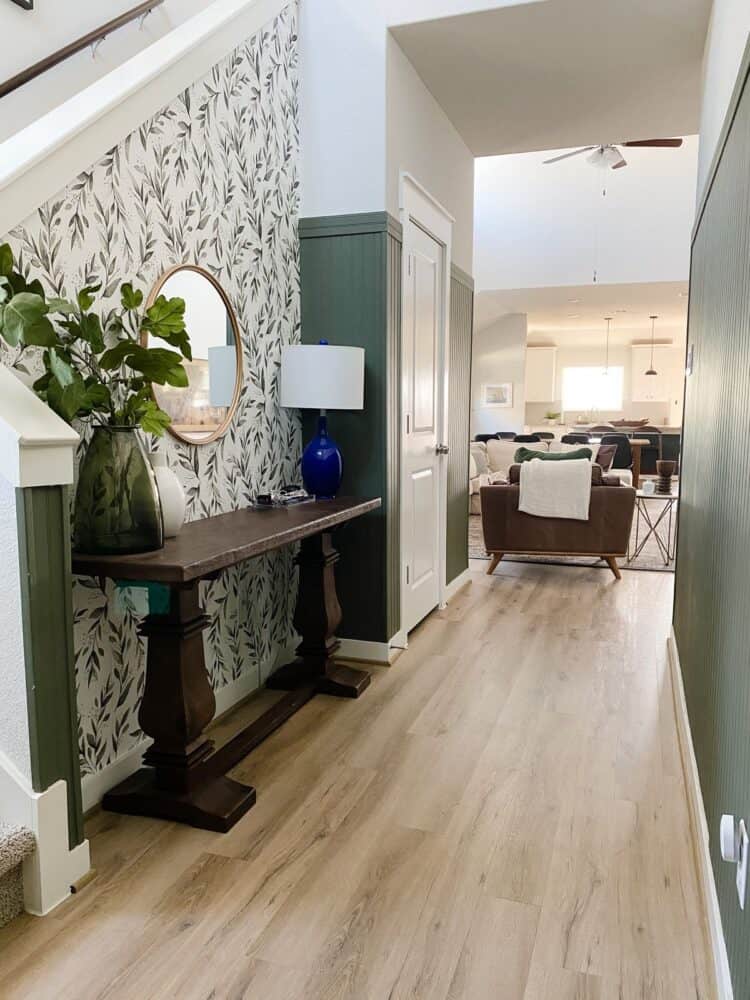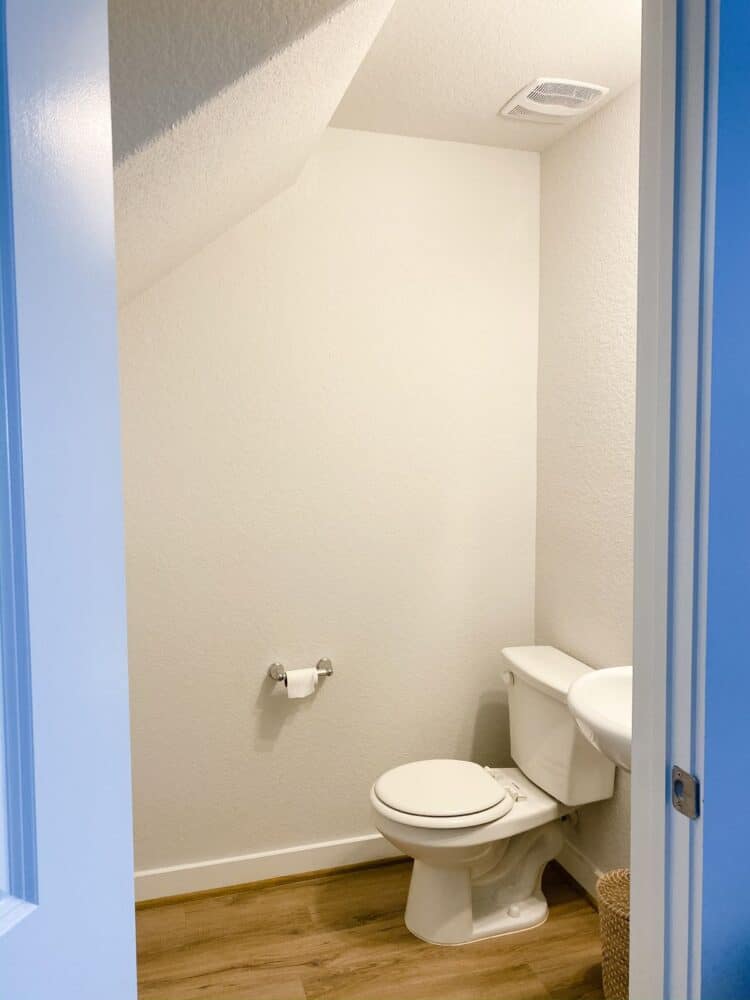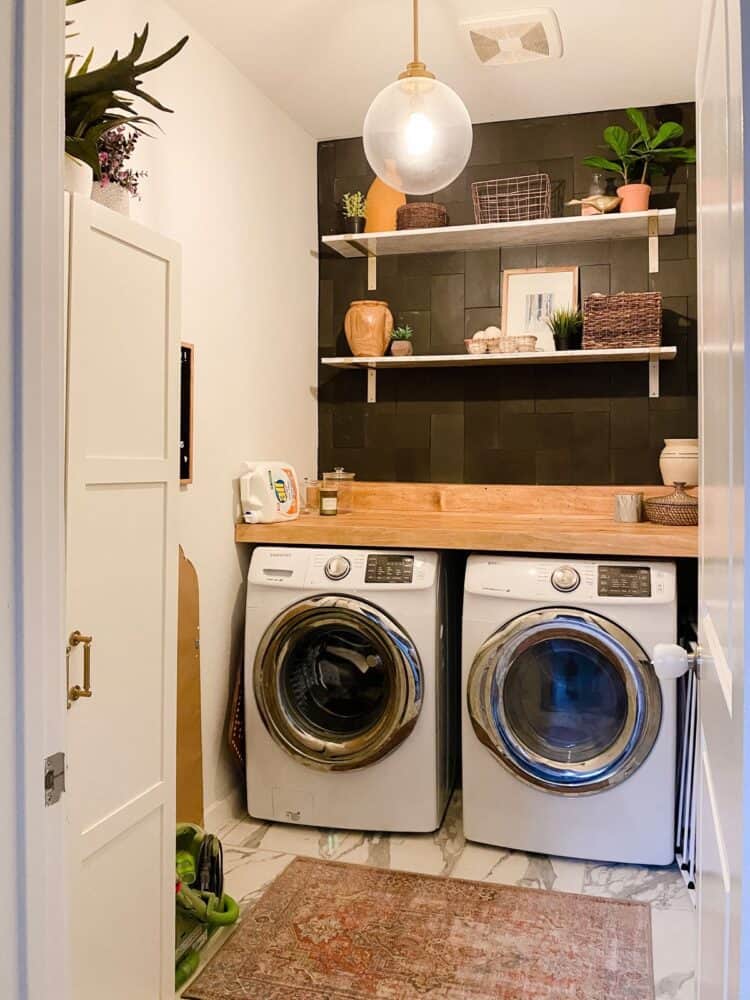 Both the laundry room and the entry saw major makeovers this year! And, on the complete opposite side of the spectrum, I did nothing to the powder room other than add a bottle of soap and a trash can!
The laundry room makeover was one of the most fun projects we tackled this year, even if it was made slightly more complicated by the fact that we were doing it in the thick of the spring quarantine when shipping was impossible, we weren't going into any stores, and it felt like our lives had just been turned completely upside down!
The entry, conversely, was the last big project I finished before the pandemic descended on us. I still think back to chatting with my friends about installing the beadboard while we were waiting for the kids to get out of school and kind of can't believe that was actually this year!
I'm really excited to tackle the powder room someday, but I don't know what I want to do yet so I'm going to sit on it for a while longer. I know that I want to do something really bold and fun because it's such a small space and it's a great opportunity to get creative…but we'll see where we land!
the great room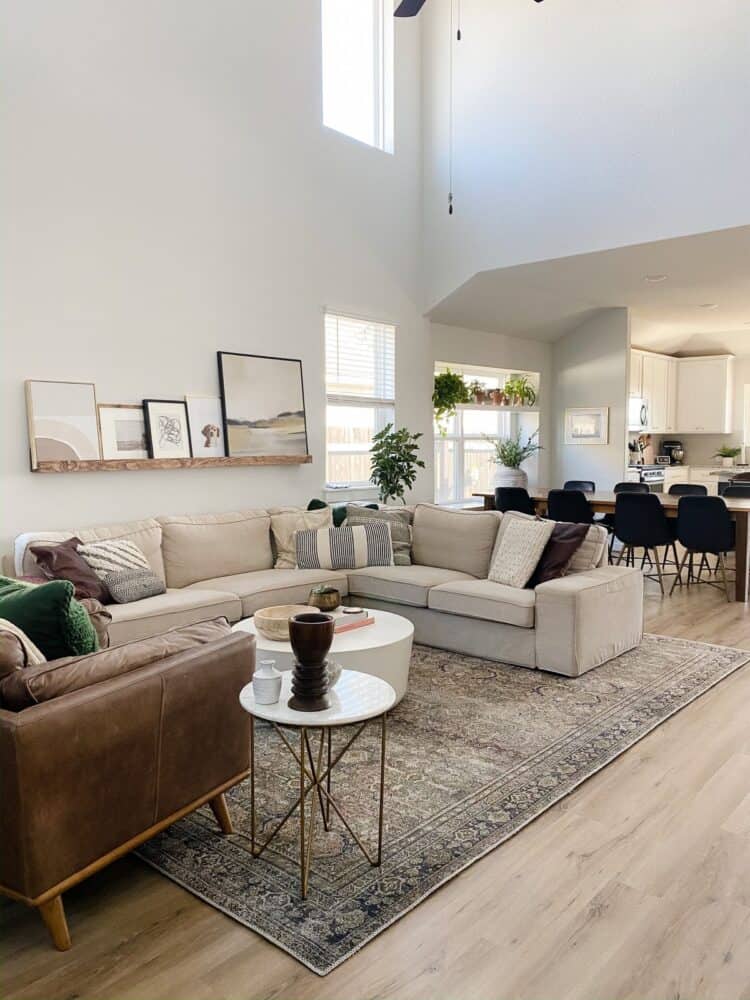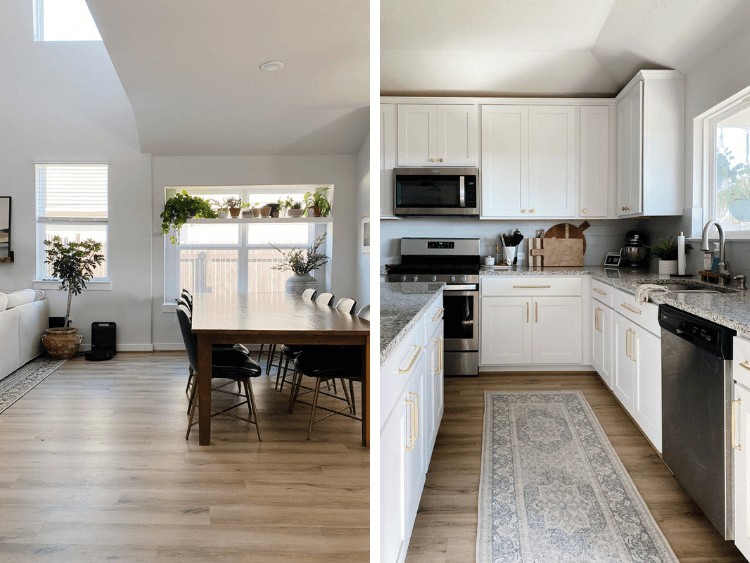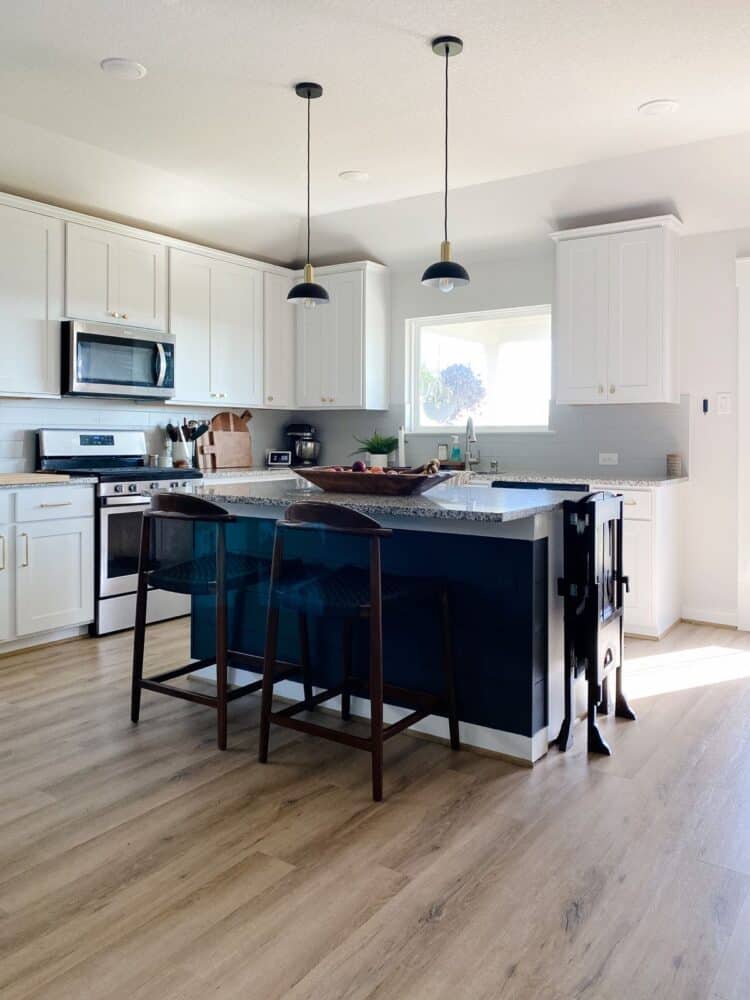 I feel like this space has come so far but I also feel like we've barely made a dent in all that we want to do!
In this space this year, we…
We still have plans to add a DIY electric fireplace across from the couch, along with a ton of other things we've tossed around but haven't made a decision about. We've intentionally taken it pretty slow with this part of the house, because we want to be sure we love everything we do. We don't want to rush anything just for the sake of getting something done, and we'd rather live with an unfinished space for a while than do something we regret in a few years.
the master suite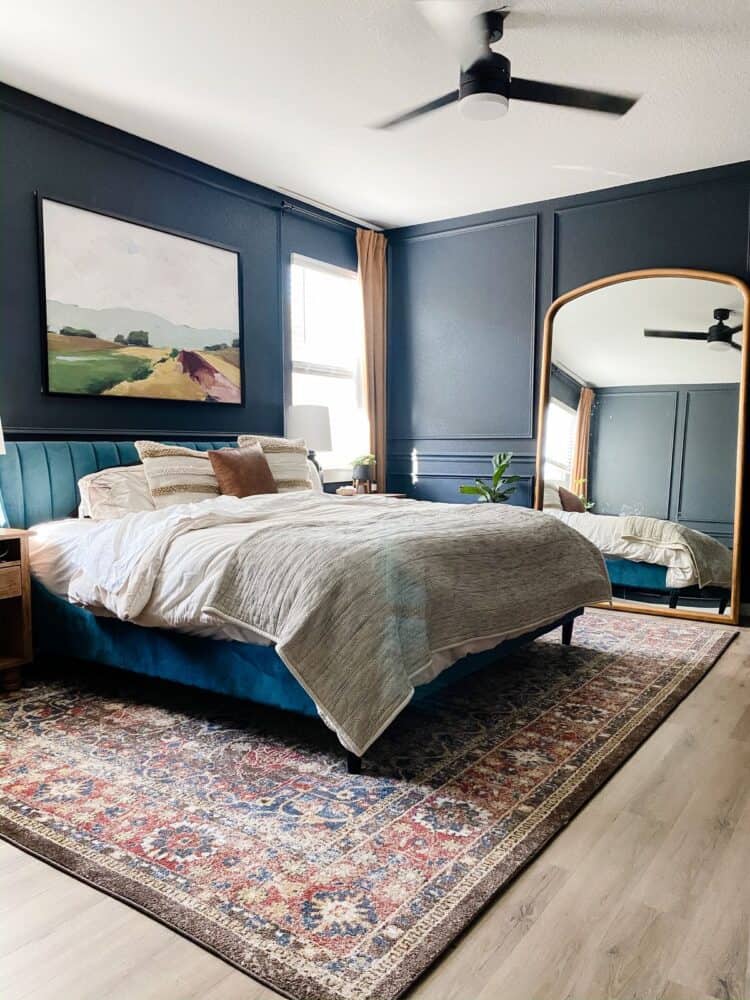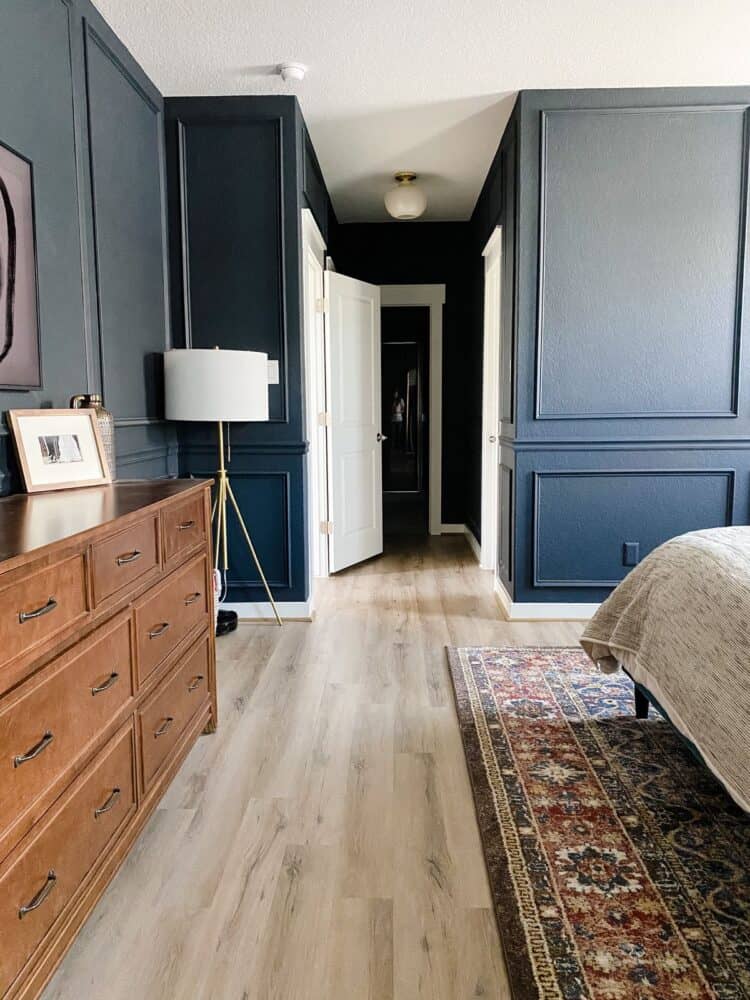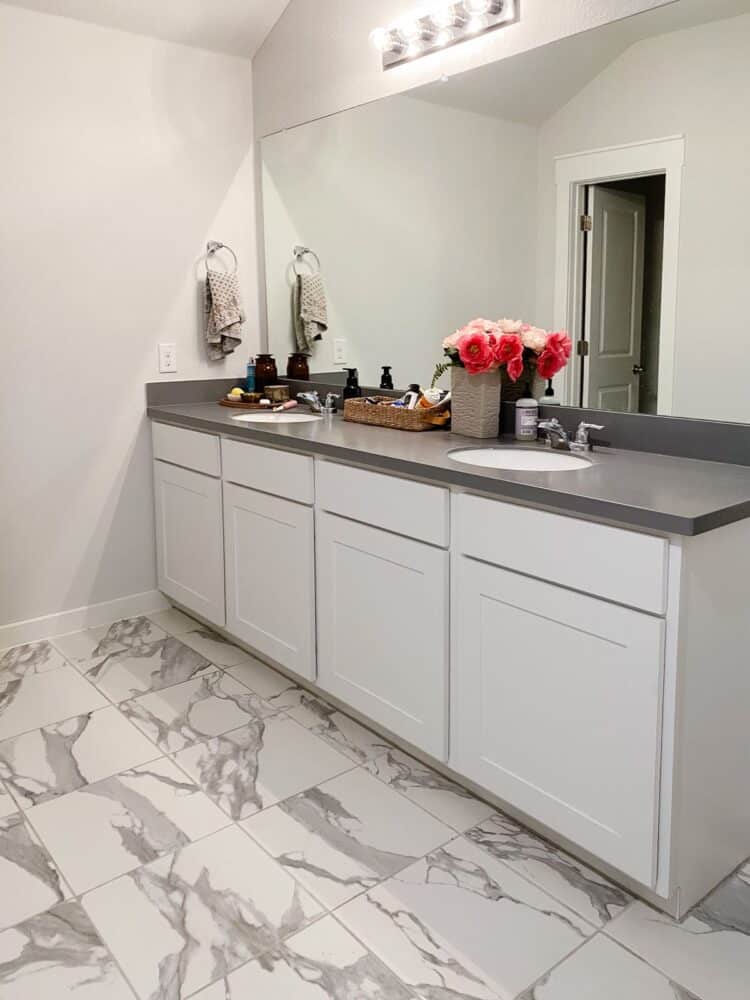 Oh boy, has this space come a long way or what?!
We really put a priority on taking care of our bedroom first in this house, and I'm so glad we did. This is 100% my favorite room in the house, and I don't see myself ever changing a single thing.
Of course, we all know I'll change a thing or two eventually. Because houses are supposed to change and evolve over time!
But man…I love this room.
Here's a rundown of what has happened in here:
Our bathroom hasn't been touched at all – it's perfectly fine for us for now, but I do dream of someday making some upgrades in the shower, adding a little color, and adding a biiiiiiiiiig ol' window on that blank wall!
All in good time, though. I'm in no rush!
The game room and upstairs hallway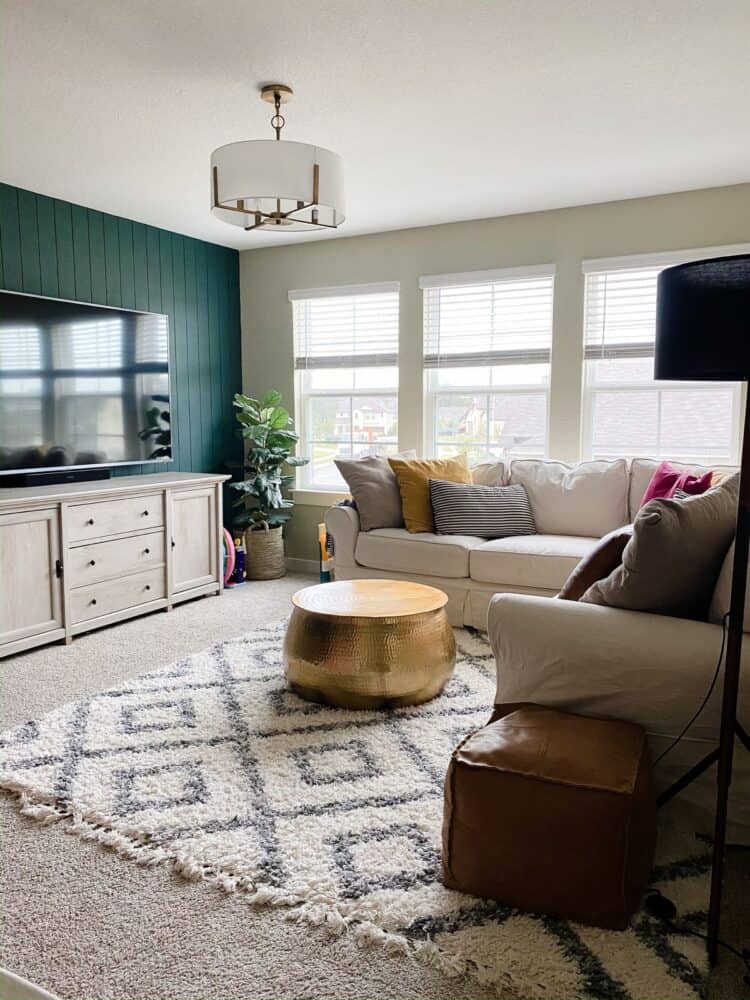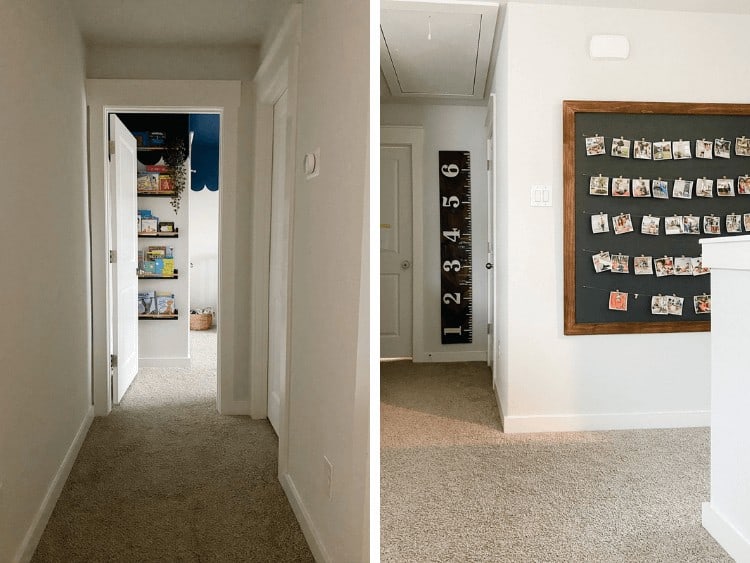 Ohhhh the game room. I am so glad we have this space. A play room was honestly our #1 non-negotiable space to have when we were house shopping – we wanted a place to keep the kids' toys, a place for movie and football watching, and a place where the whole family could gather and play that wasn't in the main living area.
This is one of the hardest-working rooms in our house, largely thanks to the huge makeover we gave it with our friends at Home Depot!
Of course, you might remember that this isn't actually the end game, though. Long-term, we'd love to to a huge built-in situation all along the TV wall with even more storage, and maybe even a nice long built-in desk with room for both boys to eventually do homework. But, thanks to the phase one efforts we made this year, we won't need to tackle that for at least a few years!
I still have dreams of doing something fun to the little hallway leading to the boys' rooms, but I haven't figured out what yet. It's dark and has a lot of stuff on the walls and ceiling between all of the vents, lights, and AC controls, so I haven't decided how to balance it all yet!
the boys' rooms + bathroom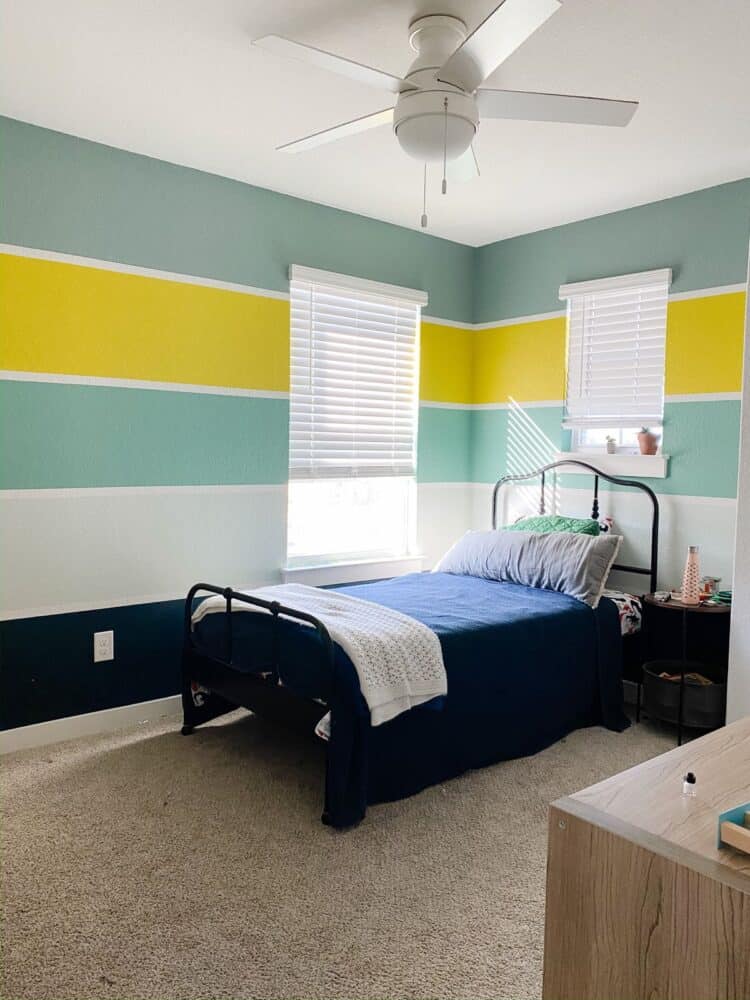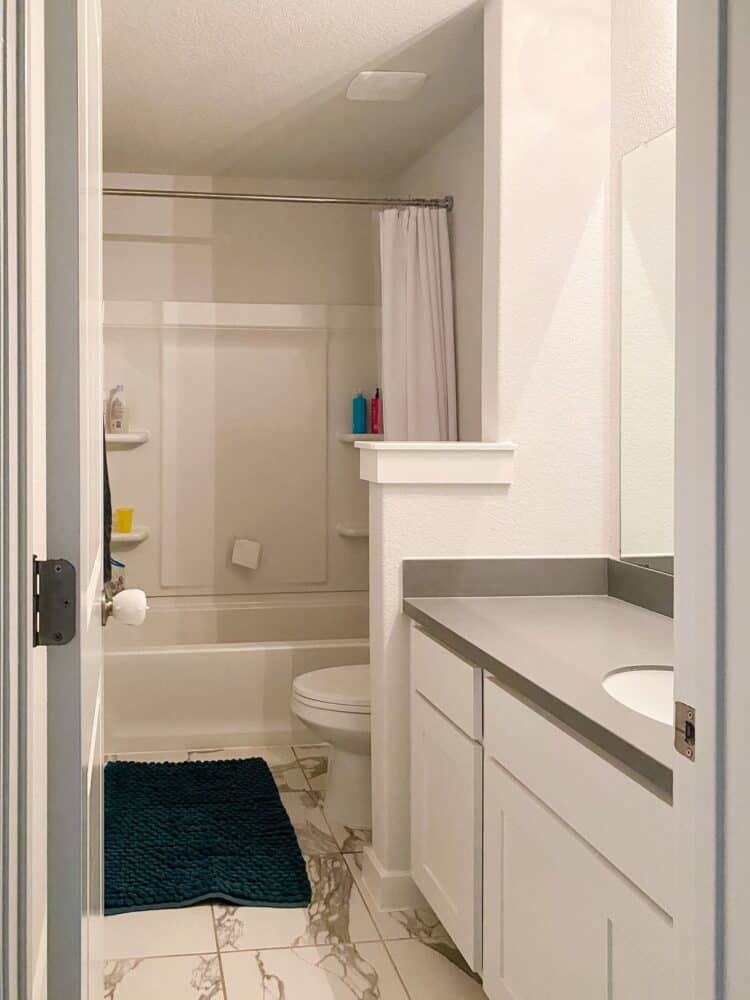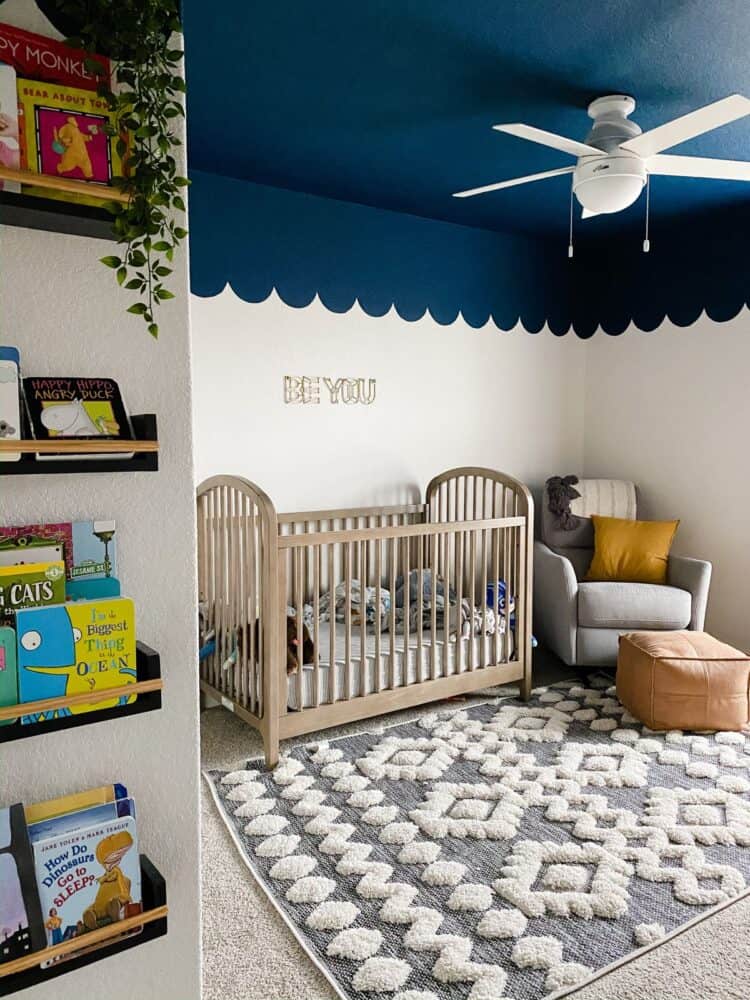 Both of the boys' rooms saw some major changes this year – and, in contrast to the rest of our house, they're bold and playful and just plain FUN!
We love to do a slightly more whimsical design in the kids rooms, because we know they'll want to change things up pretty regularly so it doesn't feel like much of a commitment! We added bold stripes to Jackson's walls and painted the ceiling in Grant's room (complete with a scalloped border). It's just paint, so in a couple of years when they suddenly decide they want a new look, it'll be no big deal to change it up!
Our general philosophy with kids' rooms is to keep the big pieces neutral whenever possible, and not to invest too much (time, energy, OR money) into any one piece of it. Because, in the end, we want our kids to feel like they have control over their space and that they are free to be creative and redesign it as much as they want (within reason, of course). My parents had a similar approach to my room as a kid, and I always had so much pride in my space and loved re-arranging and repainting it every few years!
The boys bathroom remains untouched so far, BUT I do have a very quick and small makeover planned for it in the next few weeks. It's the only room upstairs that hasn't had anything done to it yet, and I'd love to give it a small refresh to make it at least a little less bland. Long term, we'll probably be doing a big overhaul in here (including adding a window because whyyyyyy isn't there already one?!), but this will tide us over for now!
---
And that's it, friends! One again, I'd love it if you took the time to peek back at the before photos so you can fully appreciate how far this home has come! And, we often get questions about the layout or where specific things are, so be sure to watch the video so you can really get the whole picture.
If you have questions about anything in our home, you can find sources for most of the projects, furniture, and decor right here on the Shop Our Home page!
Later this week I'll be back with a big FAQ post about this home, what it's like to be in a new construction home, and all of the other burning questions you have!