30+ Easy Ideas for a Romantic Valentine's Day
Valentine's Day is not a holiday that I typically put a lot of time, effort, or thought into.
It's just a month after our anniversary and a couple of weeks after Jackson's birthday (and still so close to Christmas!) and honestly, by the time February rolls around I'm just a little tired of celebrating things. I'm ready for a break.
Thankfully, Corey agrees and neither of us take this holiday very seriously. Some years we'll make each other a little gift, some years we do nothing. Last year, he sent flowers to me at work, which was a lovely surprise but honestly probably the biggest gesture either of us has ever done for Valentine's Day.
But! This year I'm feeling a little more inspired. The last few months have been busy and difficult and exhausting for the both of us, and I think we could both use a little extra love this Valentine's Day. The only problem? After our big 5-year anniversary date and Jackson's birthday party, our budget for celebrations is at about $0. I figure I'm probably not the only one looking for some creative ways to celebrate on the cheap, so I rounded up more than 30 ideas for how you can make this Valentine's Day a little special, without spending a ton of time or money!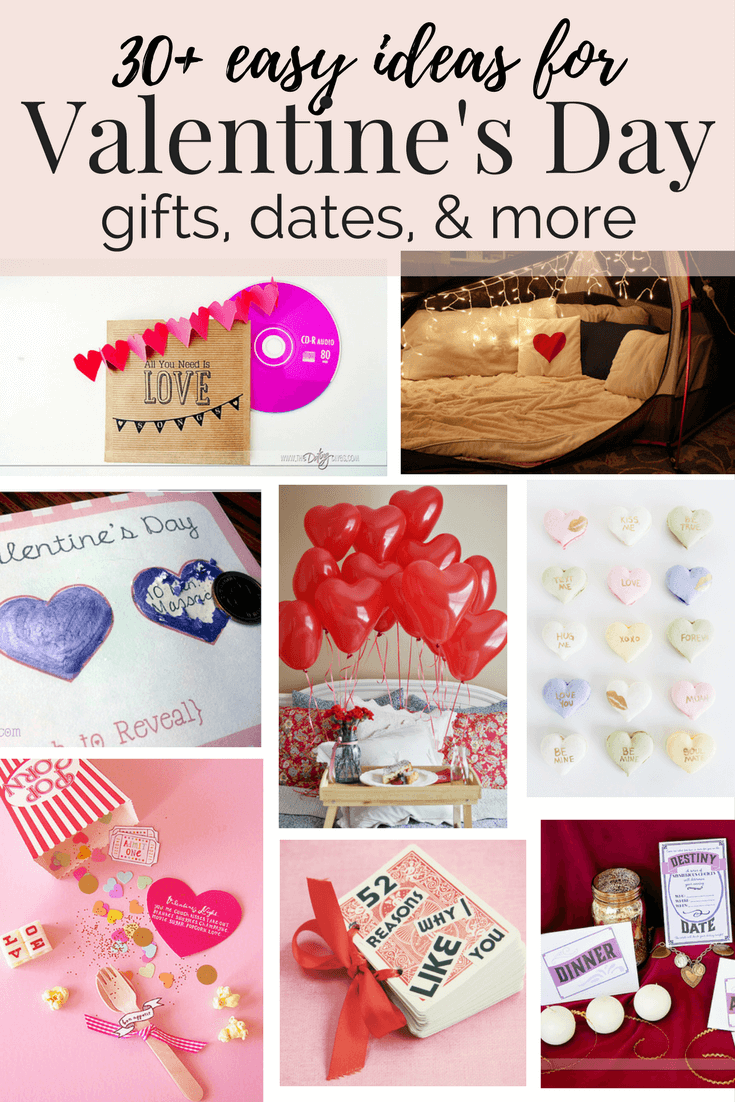 Make a date jar that will last all year!
Have a crazy awesome breakfast in bed.
Have fondue for dinner at home! I love this recipe, but this looks delicious and so does this!
Or, you could always cook a romantic dinner together. I'm drooling over this classic Coq au vin, these brown butter scallops, this seafood gnocchi, and this steak and lobster with garlic chimichurri butter.
Don't forget dessert! These cookies 'n cream brownies are so delicious…and these s'mores cheesecakes look awesome too!
Give each other massages.
Here's a super romantic, spontaneous, and fun date night all planned out for you.
Put together a quick sentimental DIY gift for your partner. I've done something similar to this "52 Reasons I Like You" gift, and this personalized eye chart is crazy adorable.
Recreate your first date! Ours would be dinner at McDonald's, a movie, and a trip to Toys 'R Us. So romantic!
Do a puzzle together – we used to do this all the time and I miss it! It's so fun to sit at the table together, turn on some music, and work on a puzzle together.
Challenge each other to an Iron Chef competition! Pick an ingredient and you can each plan a few dishes around it. Loser does the dishes!
Pour yourselves a glass (or two) of wine and browse fancy houses in your area online. Critique them, and choose your favorites!
Go old school and make a mix tape for your partner! I used to do this for Corey all the time in high school. Oh so cheesy!
Leave love notes all over the house – on the mirrors, in his pockets, in the car, even on his favorite snack in the fridge! Here are some free printable ones if you are feeling uninspired.
Lay in the backyard and look at the stars. While you're laying around, ask each other these questions.
Have a movie night – if that doesn't feel special enough, build a fort in the living room to watch the movies in! Don't forget the popcorn – we use this thing all the time! Here are some printables to go along with it!
Turn your house into a spa and pamper each other!
Turn off all of the lights and light a few candles. Who cares what you do after that – it will automatically feel nice and romantic!
Mail your partner a letter (snail mail!) a few days before Valentine's Day.
Play video games together – I know Corey would just about die if I suggested playing one of his favorite video games with him!
Pick out a book you're both interested in and read it to each other. Bonus points if you light a fire and snuggle up by it to read!
Make an easy DIY Valentine's Day card – I think I'm going to do one of these for Corey this year!
Make these DIY scratch-off tickets.
Stop on your way home from work one day this week to buy your partner's favorite treats! I love surprising Corey with cupcakes from our favorite bakery.
Sometimes all you need is a good old fashioned love letter.
Go out of the box and watch a scary movie together – on our first Valentine's Day we watched Saw at my parents' house!
If you're feeling ambitious, you can make these DIY conversation heart macarons. I'm terrified of homemade macarons but they sure look delicious.
Spend the day going out of your way to do small random acts of kindness for him. Make his coffee in the morning, wake up with the kids and let him sleep, bring him a glass of water, etc. The little things add up!
Do something special for your partner every hour all day long!
**********
What are your plans for Valentine's Day this year?