You guys, toddler toys are the bane of my existence.
Seriously.
I kind of want to just throw them all away sometimes, but that's not a very nice thing for a mom to do, so I restrain myself.
I don't know how it happens, but the toys seem to magically multiply. We put so much effort into keeping things minimal, but out of nowhere it feels like I'm running a freaking toy store. It doesn't help that we had Christmas and his birthday practically back-to-back and now the house is overflowing with way more toys than I know what to do with.
But! If you came into my house on any given day (assuming things aren't too chaotic and I've actually had time to keep it clean…) you wouldn't know that my house is stuffed-to-the-brim with toddler paraphernalia.
I manage to hide it pretty well.
What's my secret? Baskets.
Yup. Forget diamonds – baskets are this girl's best friend! They keep everything corralled, neat, and out of sight.
In particular, I'm currently obsessed with this new Ikea piece we got a few weeks back – it's the NORNAS sideboard and it's perfect. We've been wanting something new for our entryway for a while now, and after the Christmas season we knew we needed a better solution than just the big basket we used to have to house all of his toys – baby toys are nice and small and can easily fit into one basket but toddler toys? They're a whole new ballgame.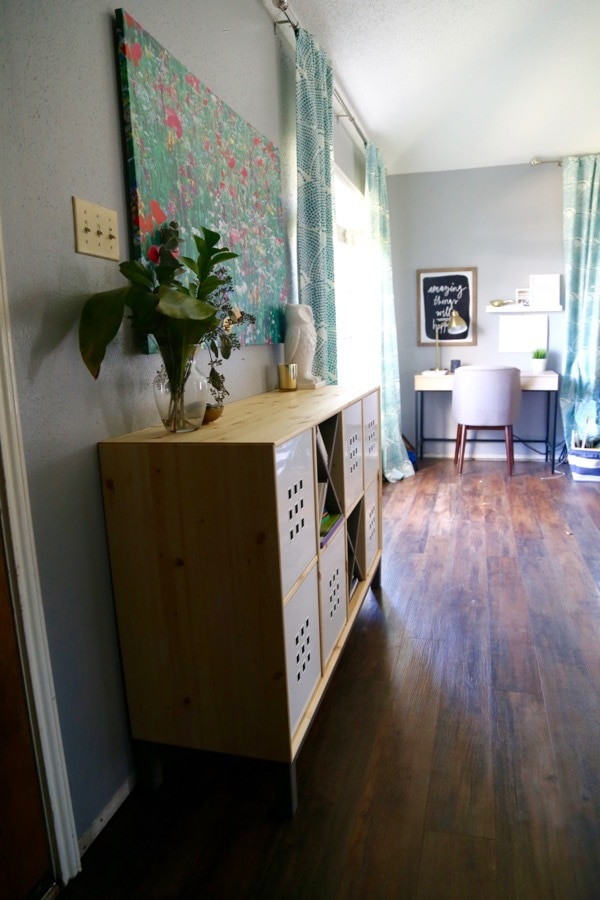 So, I did a bit of research and found this beauty and knew we had to have it. Corey had actually planned on building something himself, but this was only about $50 more than we would have spent to build it ourselves, so we were willing to throw a little bit of money at the problem to make it go away.
This piece comes in raw wood, and while I originally planned on staining it I decided to take a wait-and-see approach and I'm kind of loving the raw wood look! I oiled it up with some oil we have on hand for our kitchen island, and I haven't touched it since. I may still change my mind in a few months and decide to stain it, but for now I think it's perfect as-is.
Once we had it built and in place, it was time to get to organizing. I took all of Jackson's toys that used to be stored in a big basket and separated them out into the baskets in this unit. Now, instead of one big basket (plus one smaller one for Legos), he has four different baskets with toys – which means that when he's pulling out new toys, he's no longer dumping every toy he owns onto the floor at one time. It's just a quarter of them.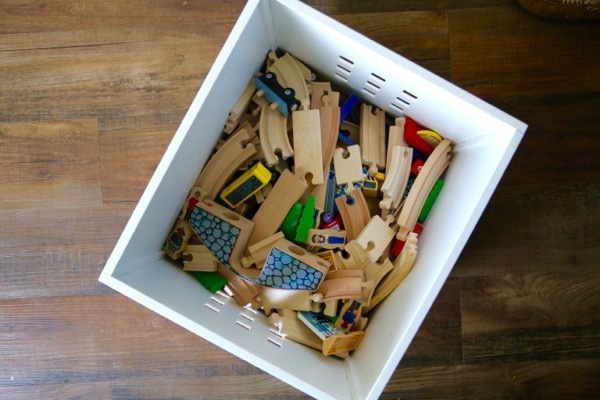 We also keep less-frequently-used toys upstairs in his bedroom. Every once in a while I'll rotate those toys in so that he doesn't get bored with that's available to him. Oh, and remember the gold bookcase that used to be in the living room? It now lives in the garage and stores some more toys so that he has something to play with when we're hanging out in there. It isn't our prettiest organization system, but it works and that's what matters, right?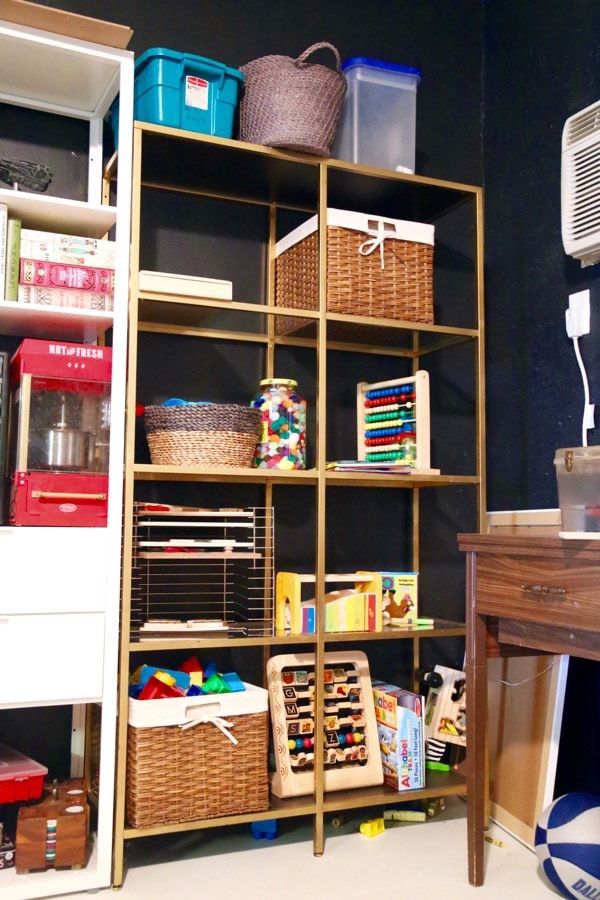 I'm thrilled with this new entryway table and I love how much cleaner my house stays now that Jackson's toys are spread out into more small baskets. I'm still debating how to decorate above it (that flower print won't live there forever) and whether or not I want to paint or stain it, but even if nothing changes, I'm still in love with it just for the organization!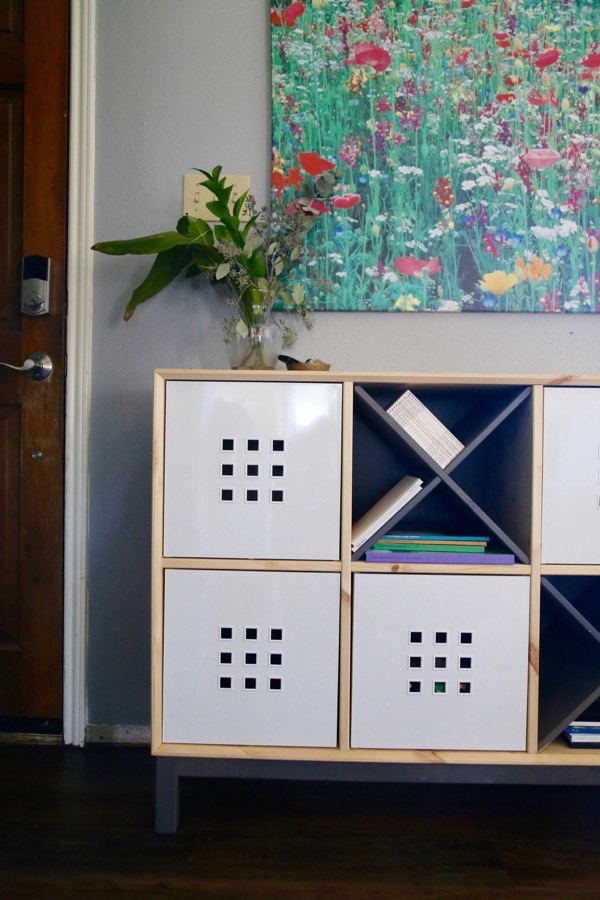 How do you keep toys organized in your home?