Creating A Home Office Nook
Lately I've been longing for a space to spread out, work, and focus. For the last few years I've been doing all of my blogging either at the dining room table or on the couch, and that's just not an environment that's conducive to actual creativity or getting anything done!
I recently shared some inspiration I'd been gathering for a little home office nook in our living room and today I'm sharing the finished product.
You ready for this?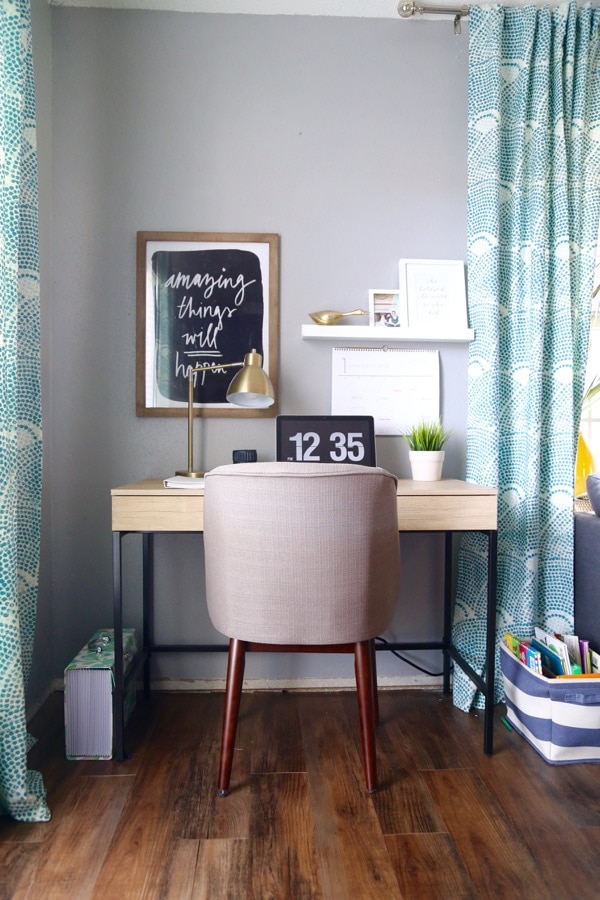 Swoon. I am so in love with this space, there aren't even any words.
Corey and I decided to create this space for me because I was working more and more on the blog, which meant I was spending more and more time working on my computer…at the dining room table. Or on the couch. And every time I wanted to work, I spread my stuff out all over the place and had to put it up again afterwards. It was hugely annoying, and it's next to impossible for me to truly focus in a space that isn't a dedicated work space.
So, we did something about it.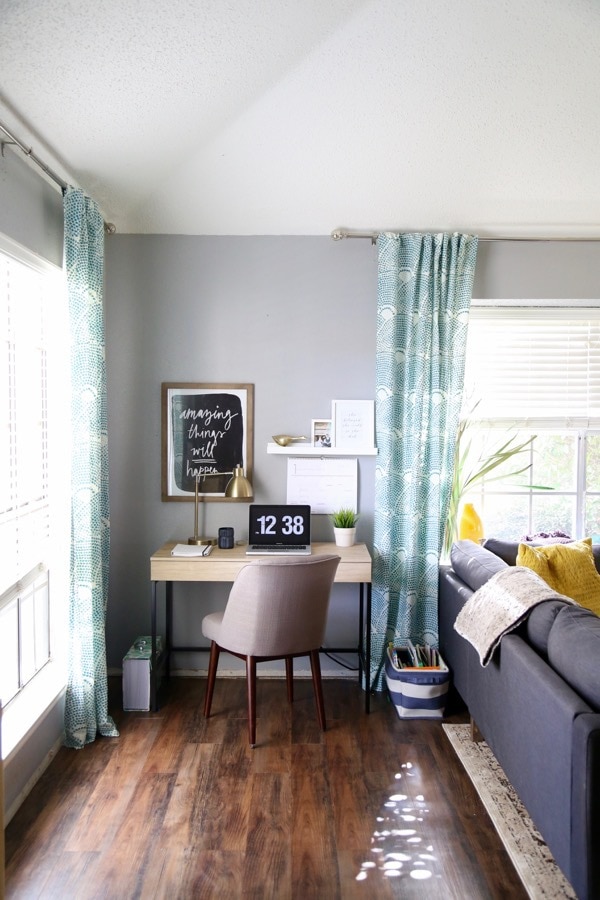 Now that I have this space to work, I find that I am so much more focused and organized. I can get so much more done in one sitting, and I genuinely look forward to using this space every time I need it. Who wouldn't want to hang out here?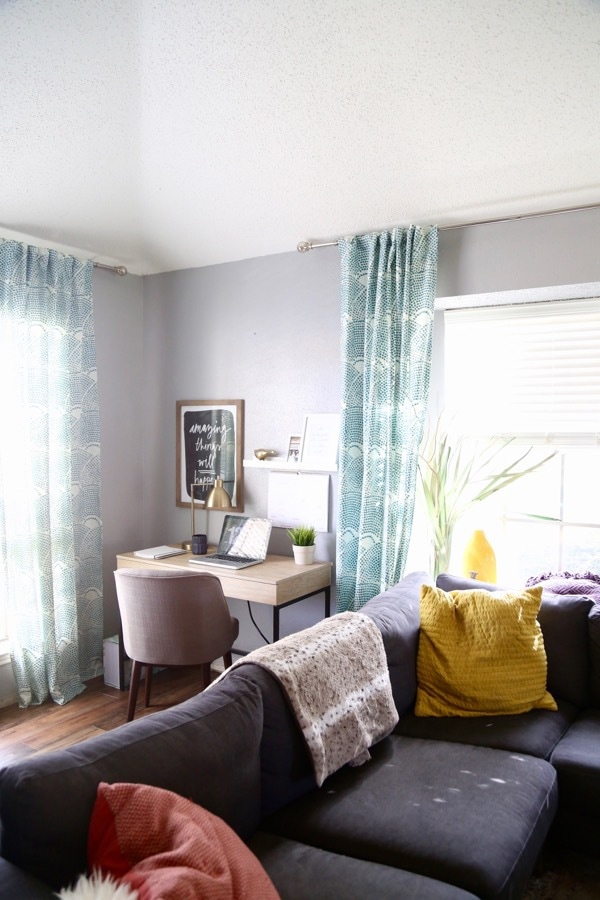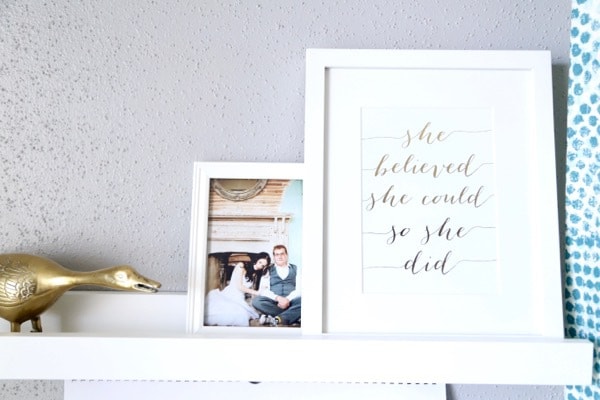 In addition to being a fantastic place to work and be inspired, this little desk area has also become the place where I organize all of our family stuff – I work on the budget here, I keep our days straight with the calendar on the wall, and little "to do's" that would otherwise get lost are now placed carefully in the drawers of the desk until I'm ready to deal with them. It's a lovely setup.
The shelf will probably be an ever-evolving place for me to display inspiration, tchotchkes, and other meaningful items, but for now I think we have a good start with my gold duck, a wedding photo, and the mantra I repeat to myself all day errday.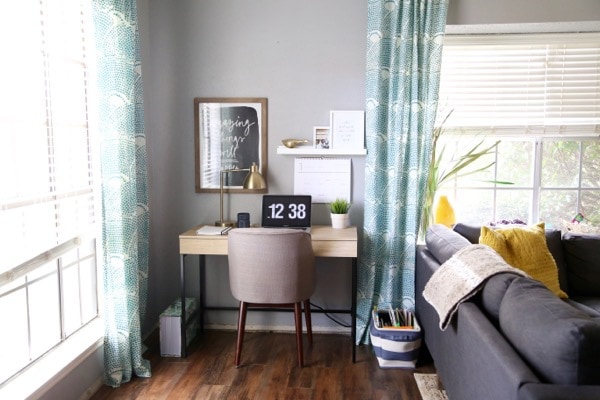 To the right of the desk I keep a little basket with a handful of Jackson's books, and some days he likes to sit on the floor next to me and read while I work on my computer.
Sometimes. Rarely.
Let's just say most of my work happens while he's sleeping.
So far this space has done wonders for me, and I'm so incredibly glad we decided to set it up. The gold bookcase that used to be in here lives in the garage for now, and I have to say I much prefer the look of the desk here to the bookcase – the whole room feels a bit less cluttered without the bookcase in here, and that's always a plus in my book.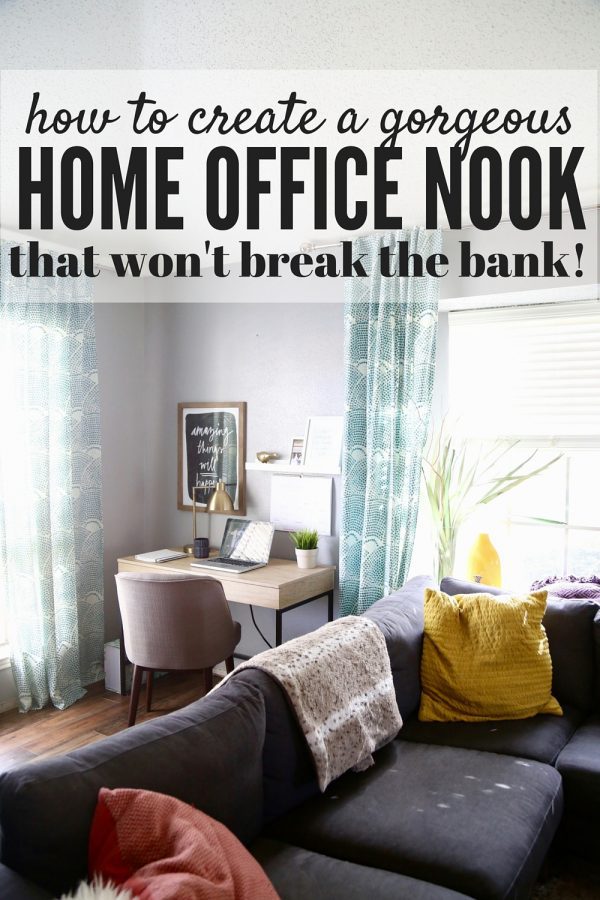 I'm so glad I decided to go ahead and create this office space for myself. I never felt like I was "important" enough to need one before, so it's about time I take myself seriously enough to give myself a place I love to get work done.
It feels so good to have a space in our house that is just for me, and I wholeheartedly recommend that everyone creates a similar spot in their own home! Maybe for you it isn't an office – maybe it's a reading nook, maybe it's an awesome bathtub, or maybe it's a mini backyard oasis. The point is, you need somewhere in your home where you can relax, focus, and take care of yourself. I waited far too long to carve out this space in my home – now that I have it I can't imagine life without it!
Do you have a spot in your home that's all yours?
In case you're wondering, here are the sources for everything in this little area: 
Desk // Target
Chair // Target
Gold lamp // Target
Sugar Paper planner // Target
"Amazing things will happen" print // Hobby Lobby
Wall calendar (similar) // Target
Gold duck // Flea market (sorry!)
"She believed she could so she did" print // CraftMei on Etsy
(Sharing at Link Party Palooza & DIY Like a Boss)