Last time I rounded up some of my favorite clothing items from Amazon, I got so many messages about how helpful it was. It can be so much to weed through all of the options on Amazon's fashion section. But, there are some great options on there for really affordable prices!
I've become a little bit obsessive about finding the best clothes on Amazon, so I figured I'd keep sharing some of my finds with you more regularly. Lately, I've been spending a lot of time thinking about spring clothes and looking for some cute and casual options for the warmer weather. So, today, I'm sharing 5 of my favorite casual spring (and summer) tops from Amazon.
spring tops I'm loving from amazon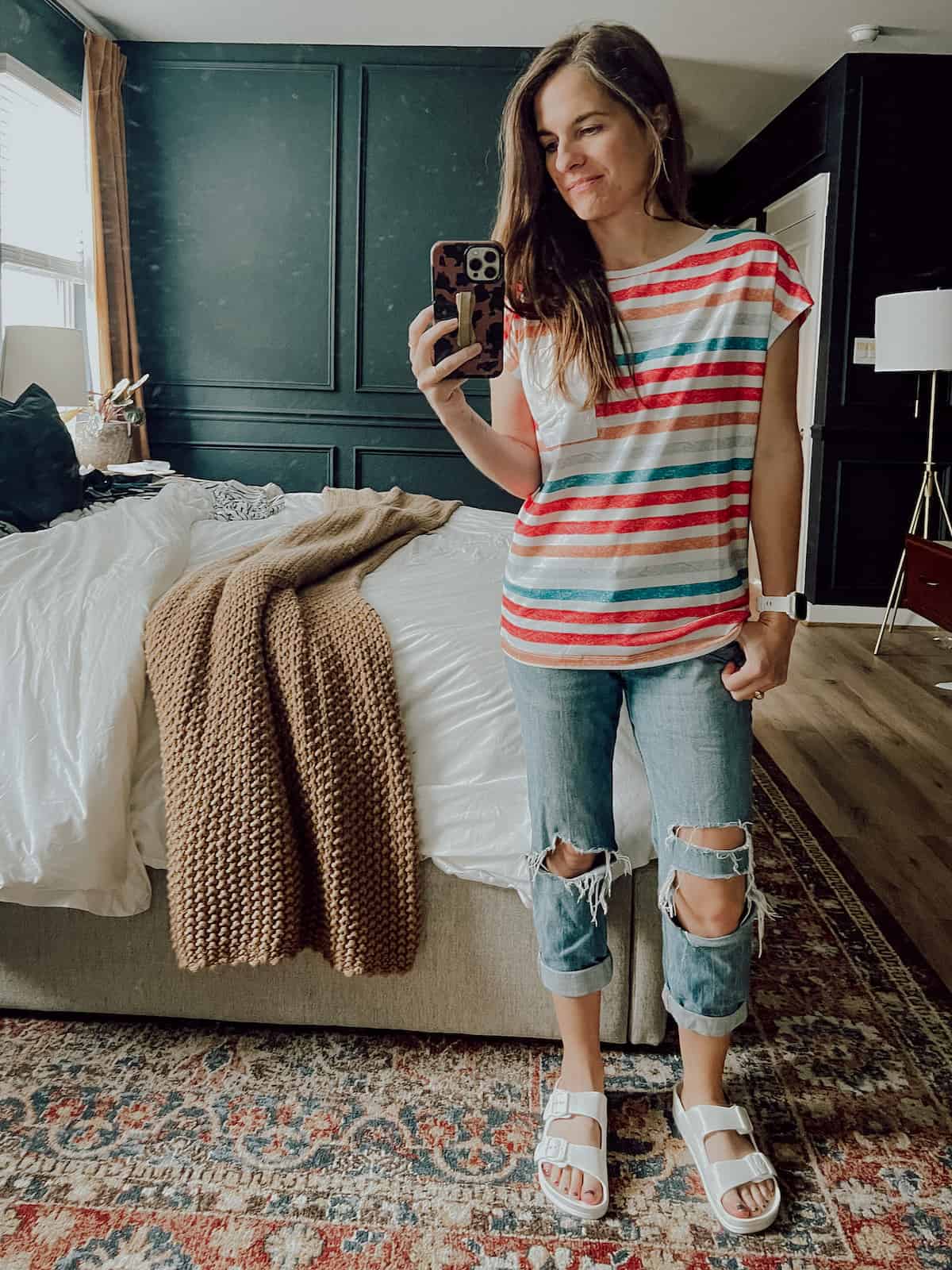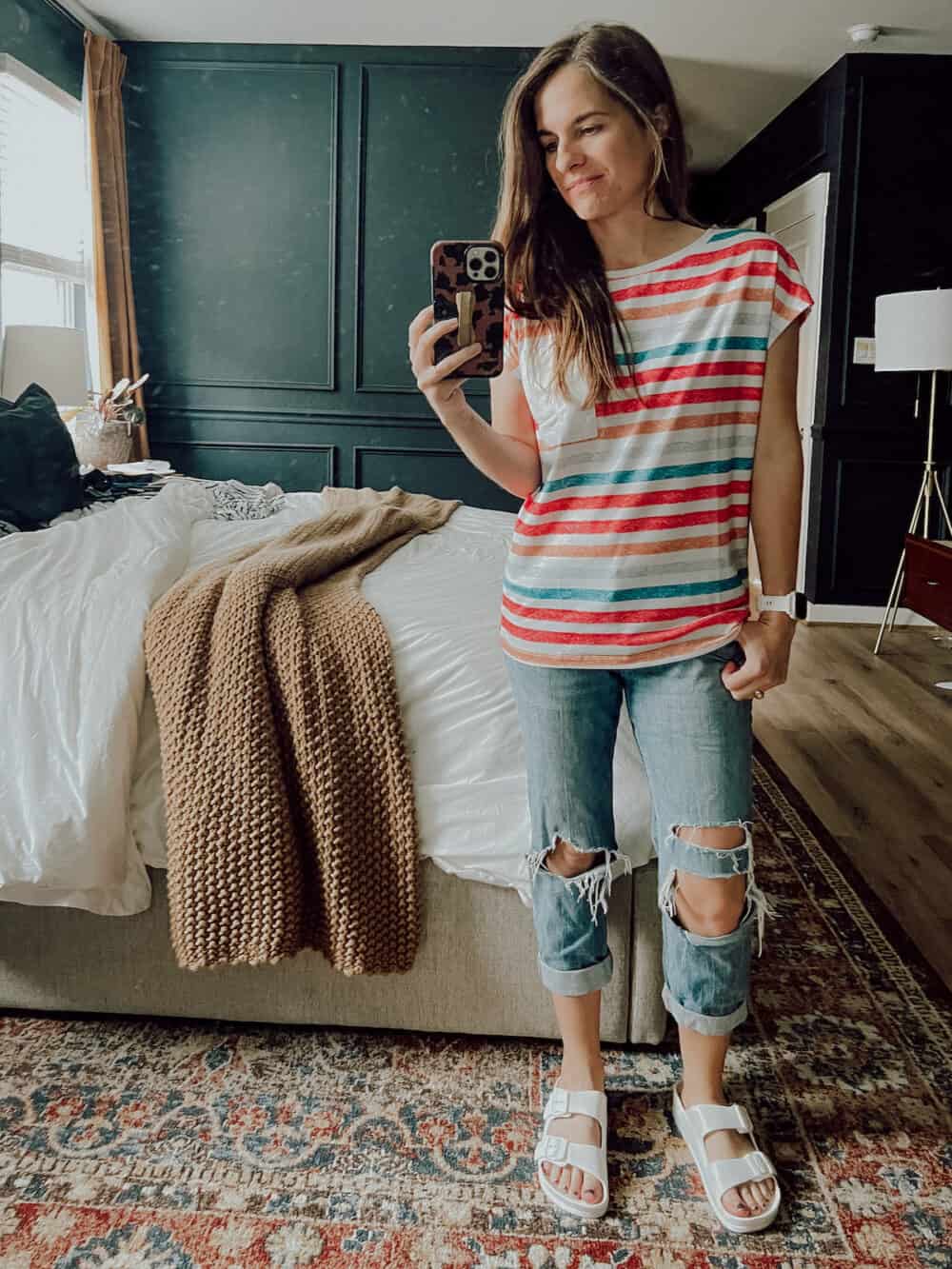 RAINBOW STRIPE TEE | BOYFRIEND JEANS (Similar) | SANDALS
This rainbow striped tee fits exactly how I love my casual tees to fit – loose and long, but still flattering! It's incredibly comfortable, and if I'm being honest it's probably going to be one of those shirts I buy in multiple colors. It comes in more than 30 different colors sooooo I definitely need another one. Or two.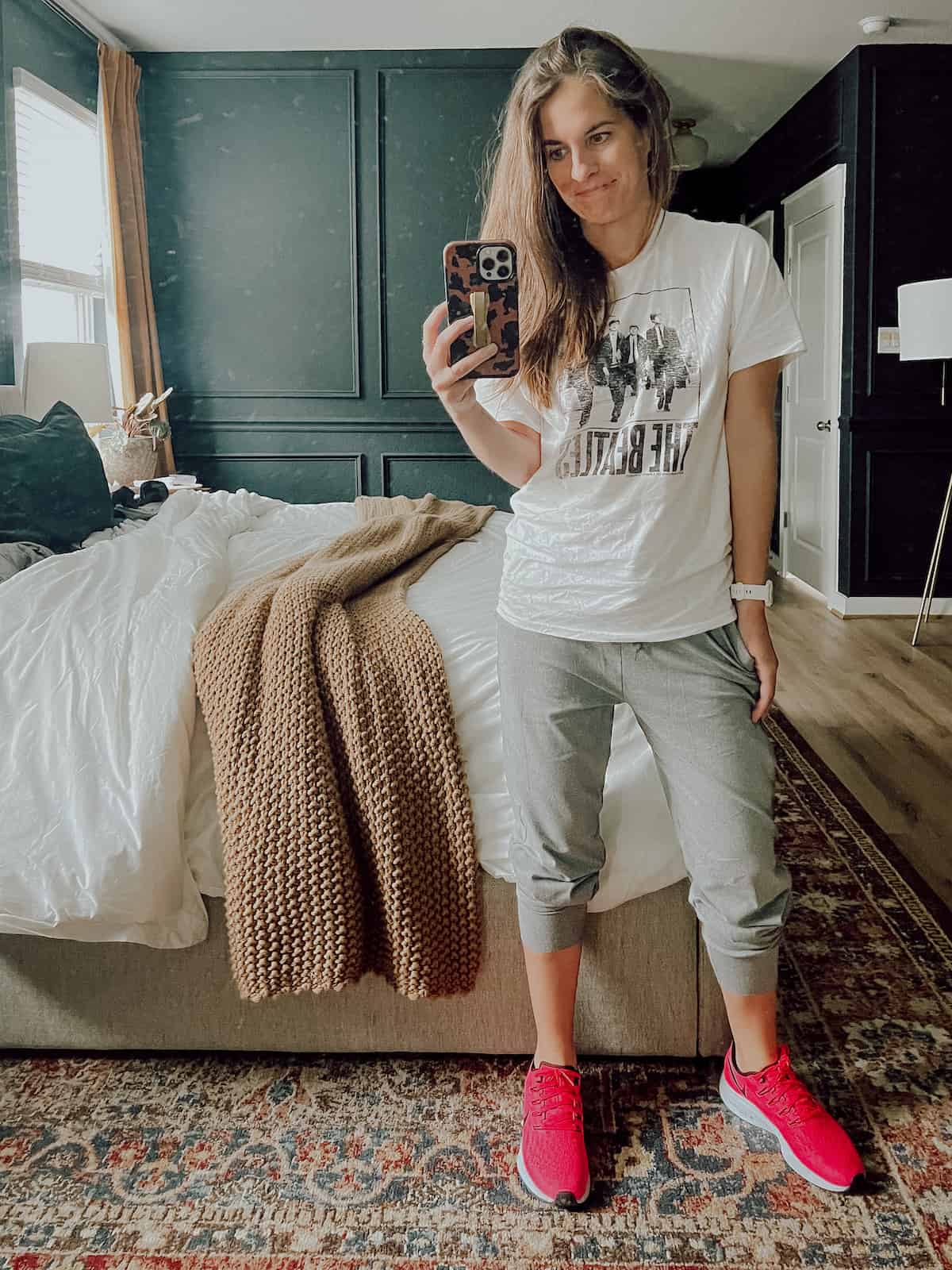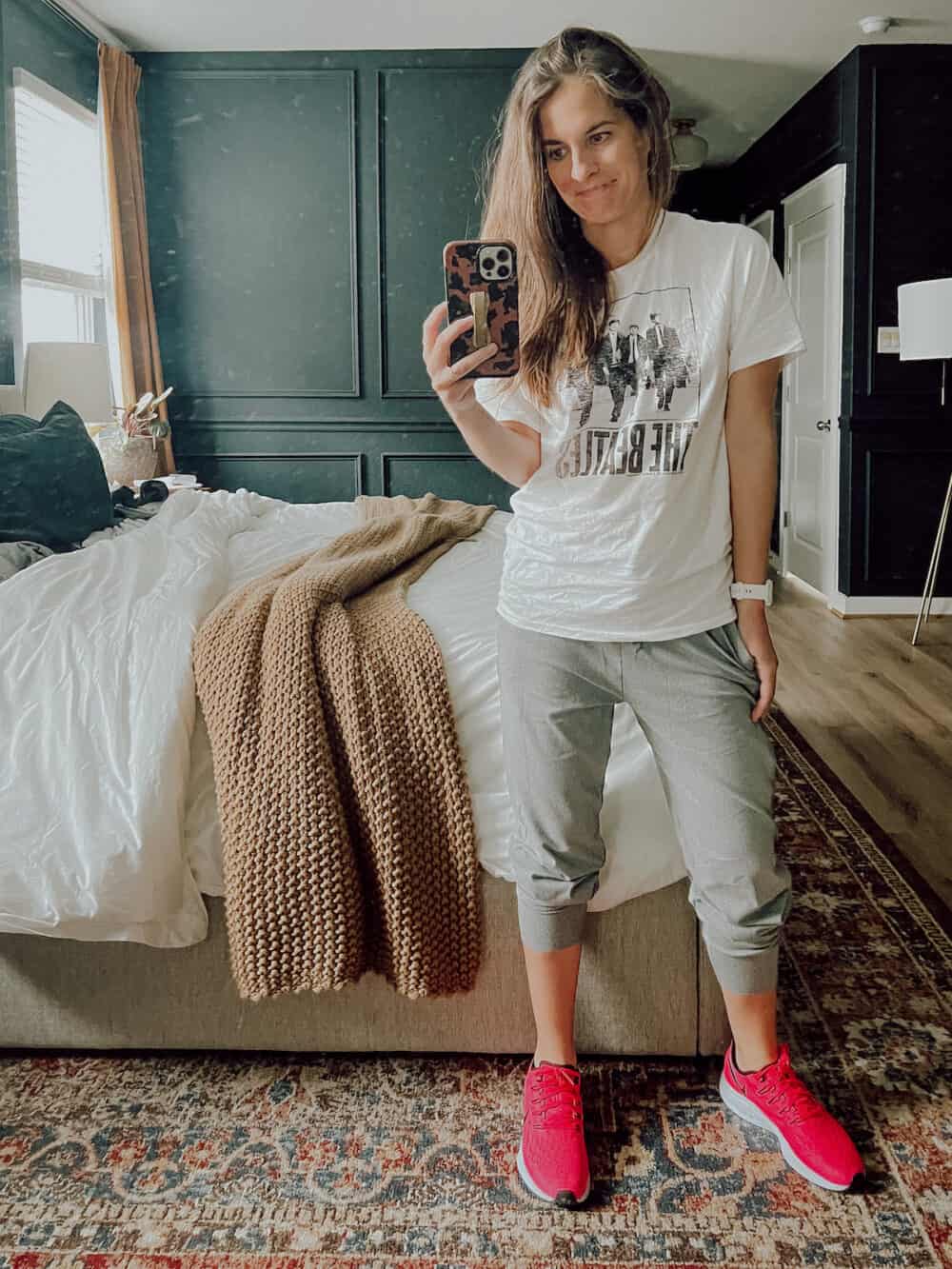 BEATLES GRAPHIC TEE | JOGGERS | SNEAKERS
Graphic tees are 100% the most-worn item in my closet. It's what I reach for most days when I don't need to dress up, and I just feel most like "me" in a casual graphic tee. I have several favorites from Amazon, but this Beatles one is the newest and it makes me smile every time I wear it!
Also, I feel like I should note I'm wearing a bright red bra under this and it's not at all visible. So, it's nice and thick, too!
Here are a few other cute graphic tees from Amazon I love: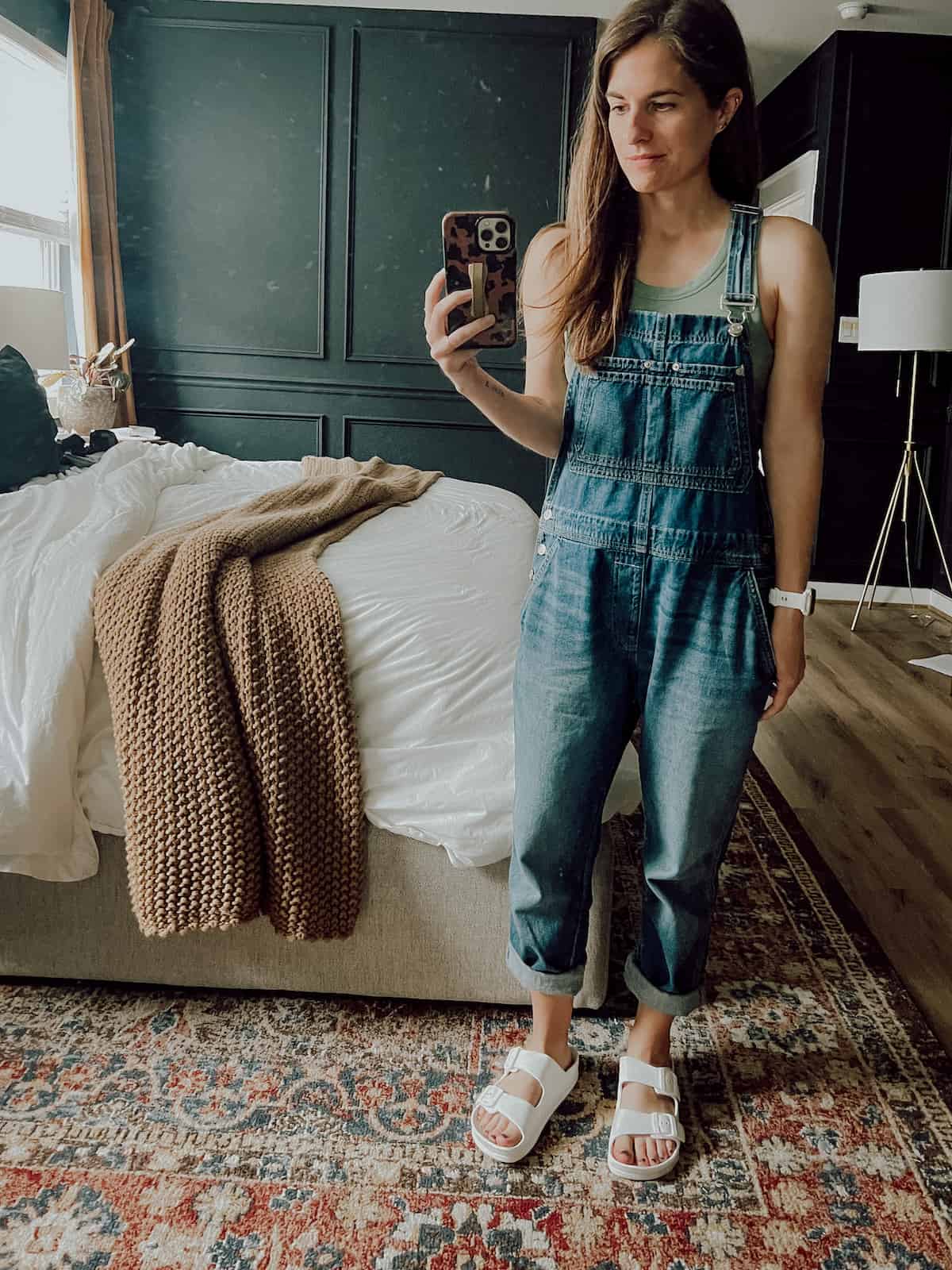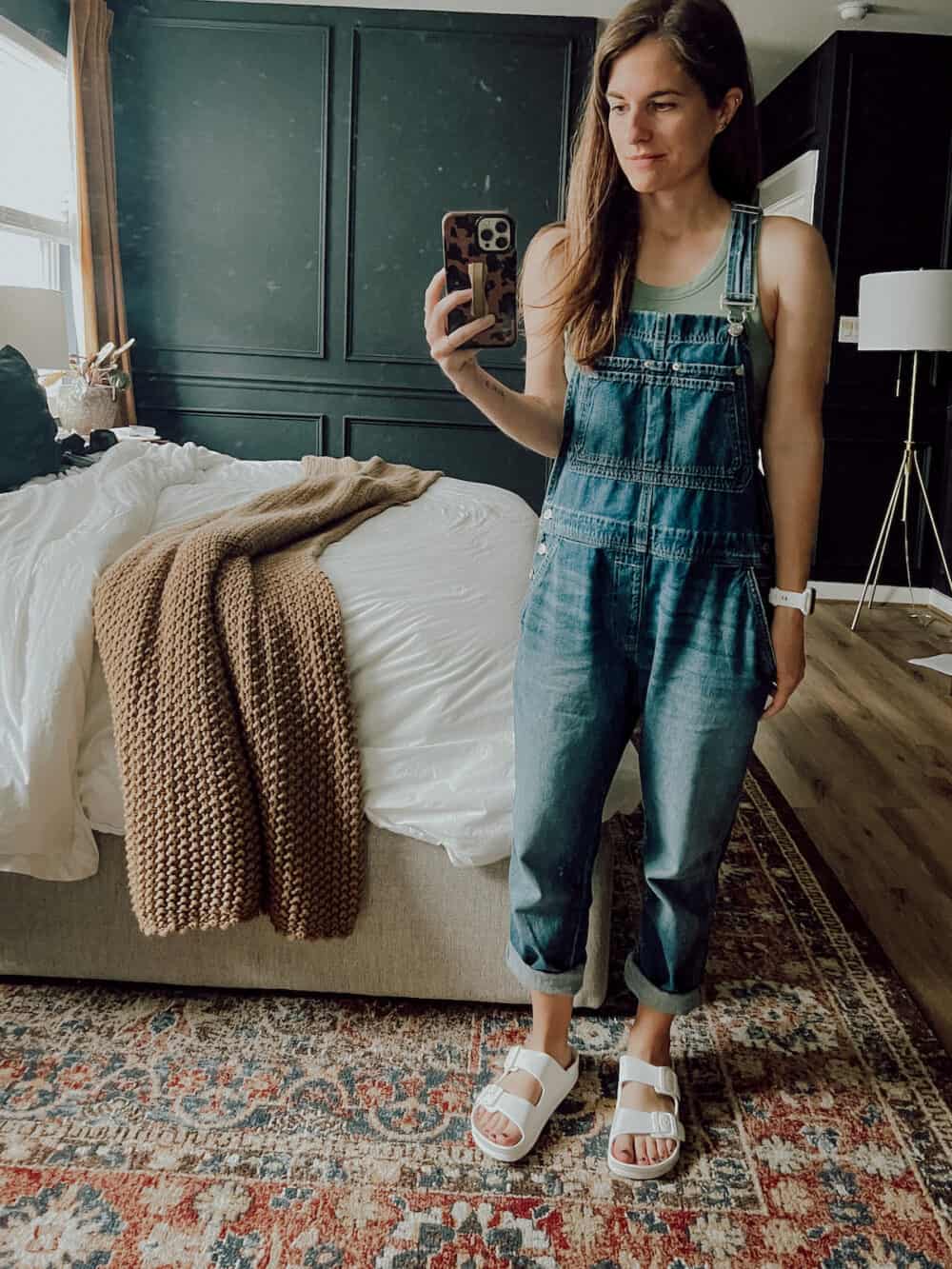 RIBBED TANK | OVERALLS | SANDALS
Overalls are one of my favorites to wear in the spring, and pairing them with a tank is the best way to make sure I don't get too hot. Because, you know, "spring" often means 85+ degree weather around these parts.
This is my new favorite tank top from Amazon – the colors are really great and it's the softest shirt I've bought in a long time. It does fit snug, so I'd recommend sizing up at least one size – two if you want a loose fit.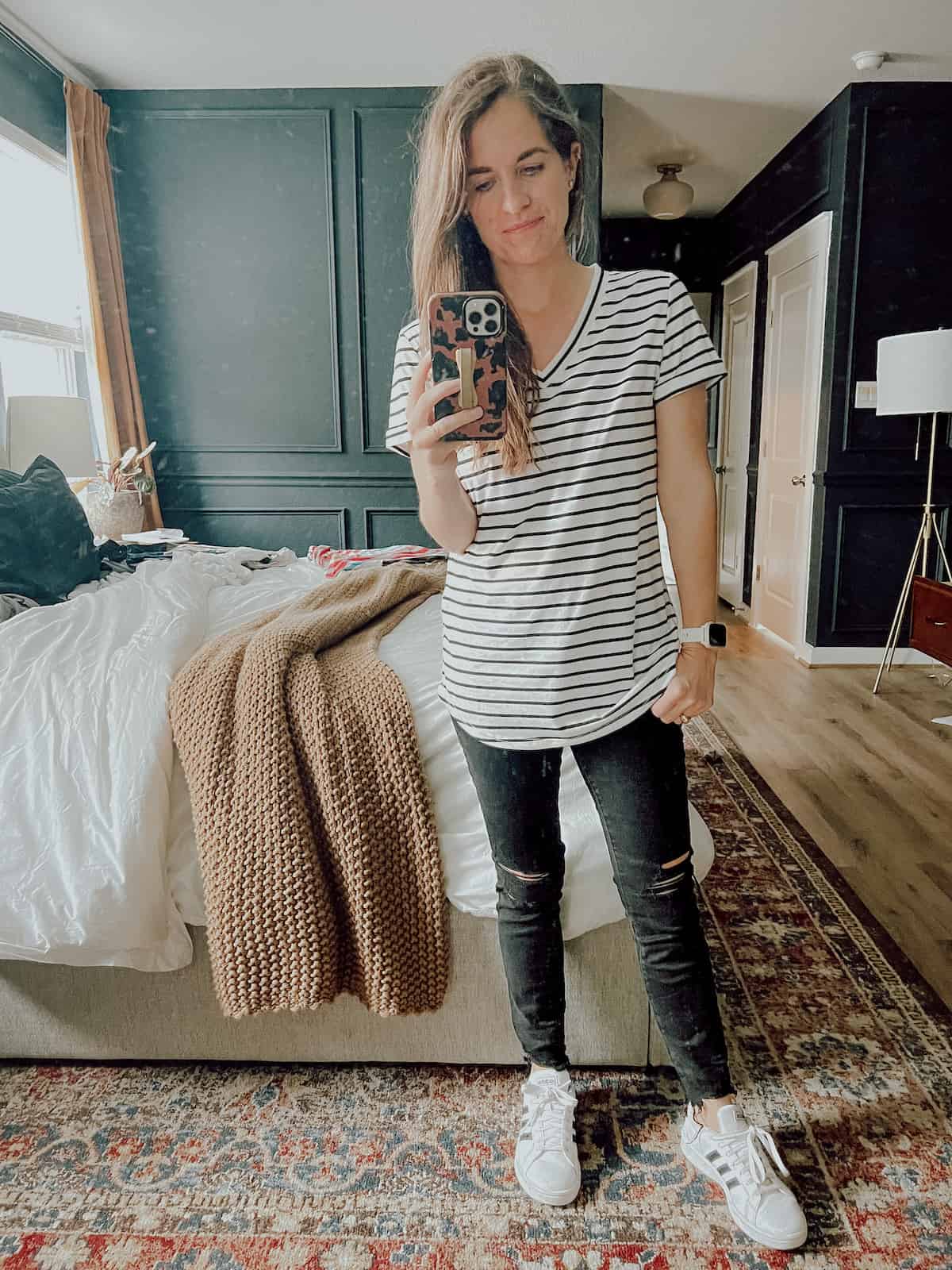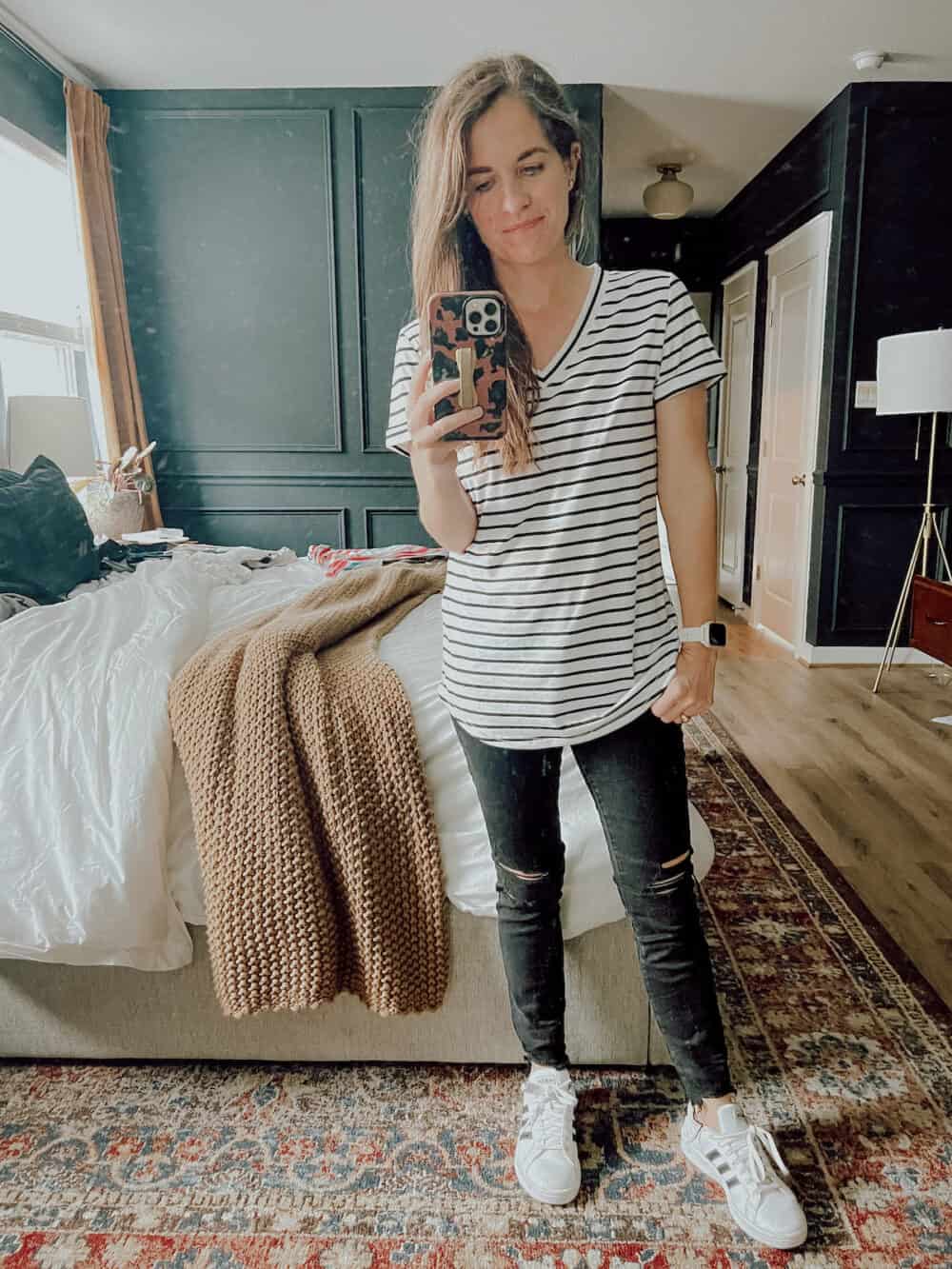 STRIPED TEE | BLACK JEANS | SNEAKERS
I've been looking for the perfect black and white striped tee for a while. I used to have one but I didn't love the fit so I got rid of it, and it turns out I wore it a lot because I've missed it! I tracked this one down on Amazon and it's exactly what I was looking for. The stripes are a good size, the fit is flattering, and I know I'll wear it with everrrrrrything.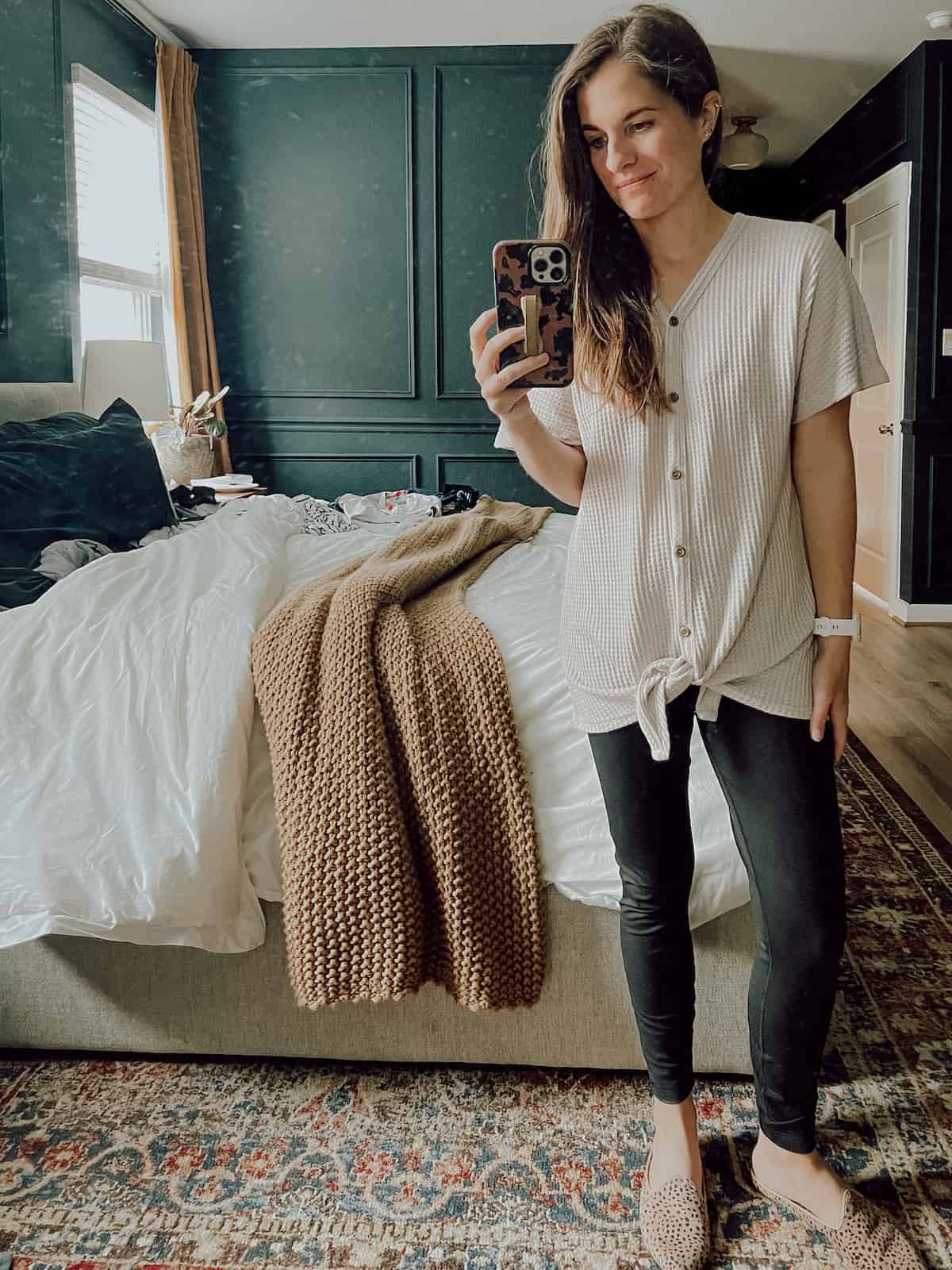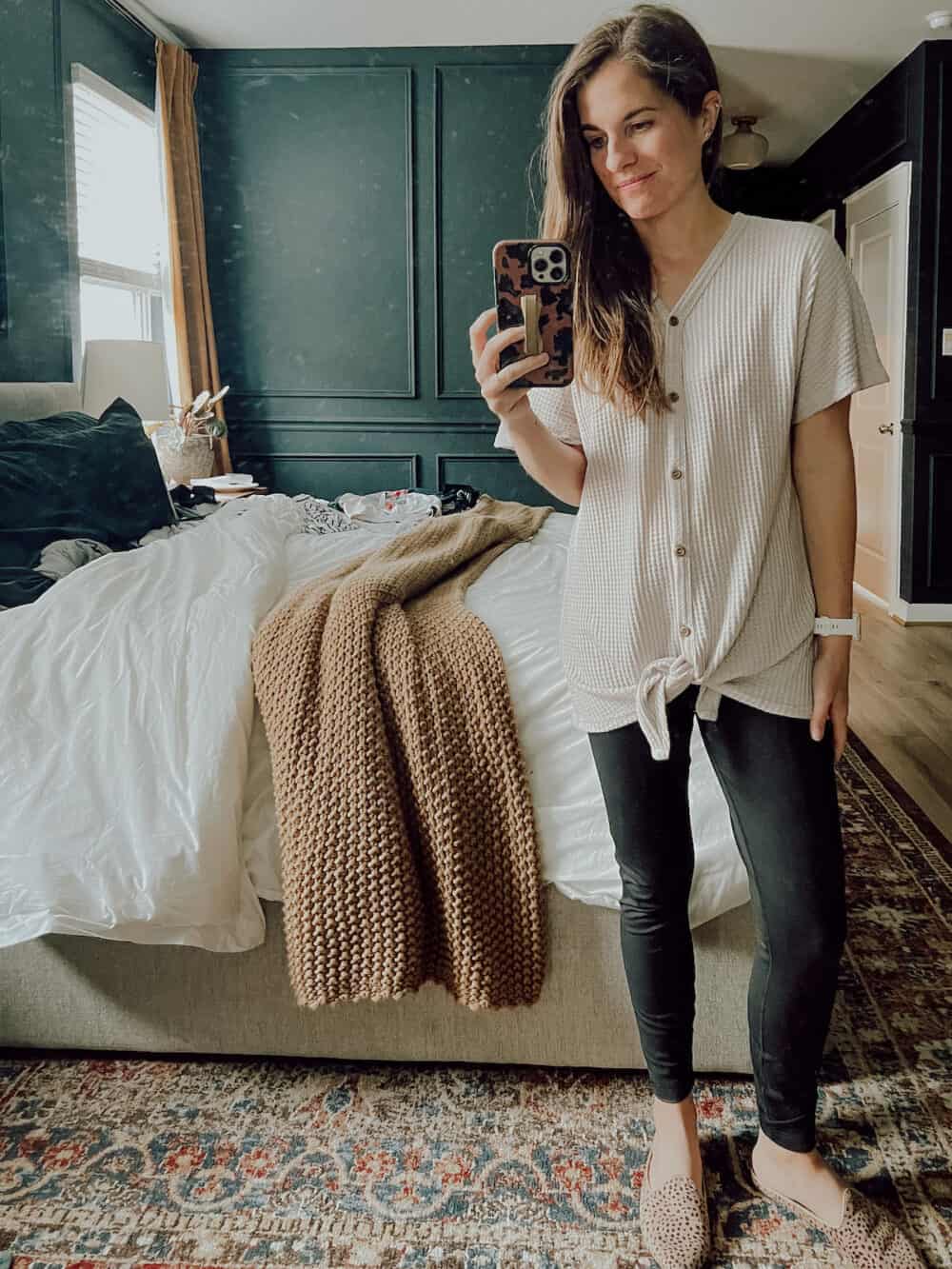 WAFFLE KNIT SHIRT | FAUX LEATHER LEGGINGS | LEOPARD SLIDE ONS
I love an outfit like this for a day when I want to be a little more put together but I also want to be comfy. Also known as all the time. These faux leather leggings are a great dupe for the Spanx ones, and the waffle-knit button down is so dang cozy but cute enough that I'd wear it on date night!
I have waaaaaay more I could share with you, but I'll leave it at that.
Okay. And these: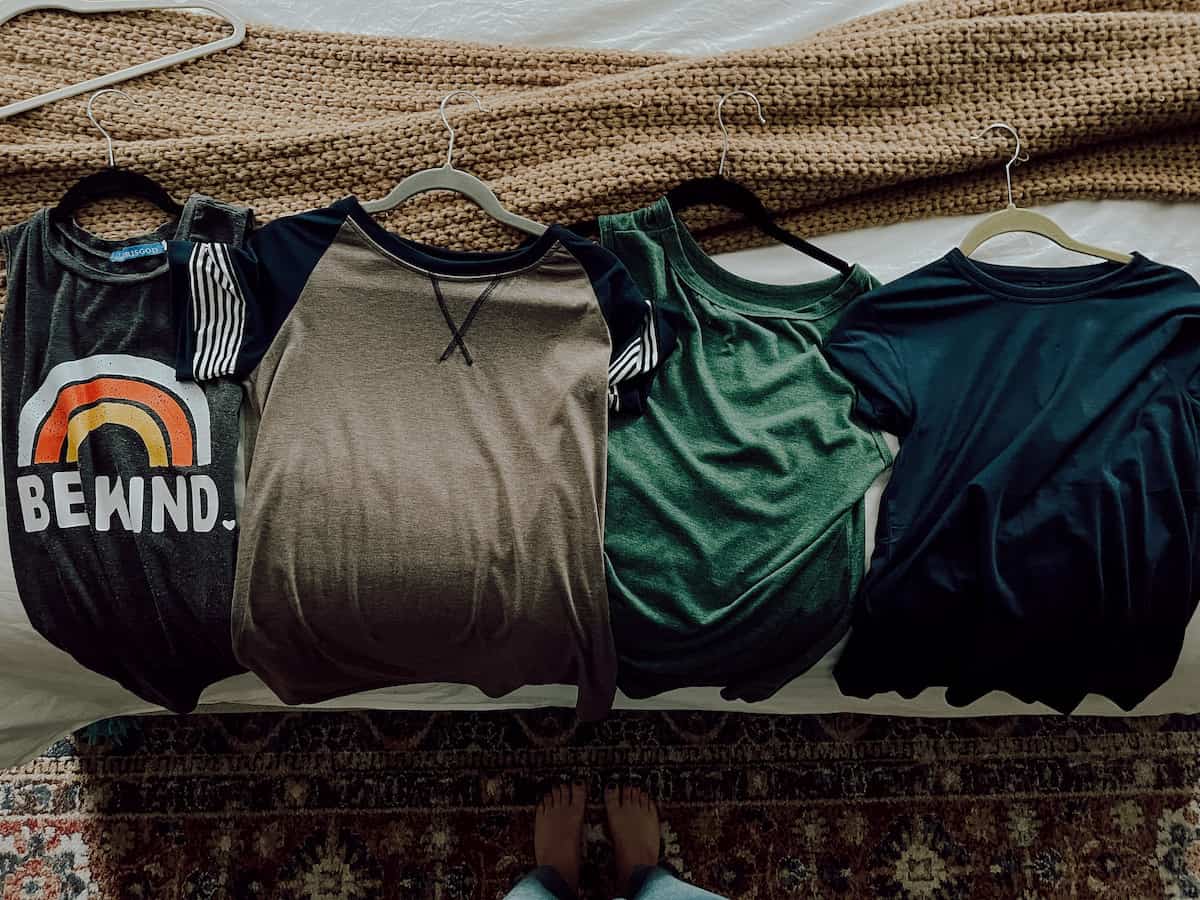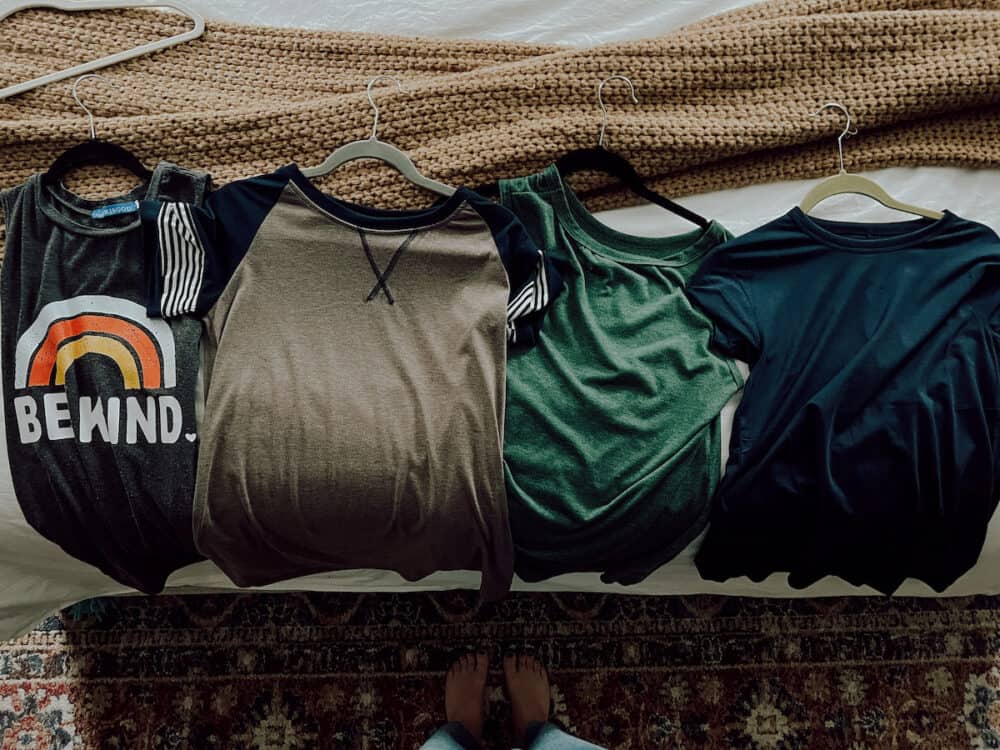 BE KIND TANK | COLOR BLOCK TEE | GREEN TANK | SOFT BLUE BASIC TEE
I have an Amazon storefront with all of my favorites, if you want more recommendations. I even use this as a place to keep all of the things I want to buy, so it's always being updated and added to!
I hope this is helpful for you! What category should we do next? Dresses? Shorts? Gulp….bathing suits???!
Be sure to drop your Amazon favorites in the comments below or send me a DM on Instagram. I'm always looking for ideas!