How to Install Chair Rail Molding
Just joining us for Grant's room renovation? Click here to get caught up and see the plan!
Grant's room makeover is well underway and today I'm here to share the first big step in the project – adding some chair rail molding! You'll notice that we've also added the corner bookcases already. Don't worry, I'll be circling back to talk about that as soon as it's all painted. But for today, we're going to focus on a really simple and affordable way to add some detail to a room – chair rail molding!
I do feel like I should warn you first, though – if you've come to this post all excited for some pretty "after" photos of chair rail molding…you'll be disappointed. This is very much an "in progress" project, and so are the photos.
But, if you came to this post hoping to see a bit of a real life look at what it looks like to install chair rail molding, and how sometimes you have to live in chaos during projects…you're in luck.
Because this is how things are looking right now.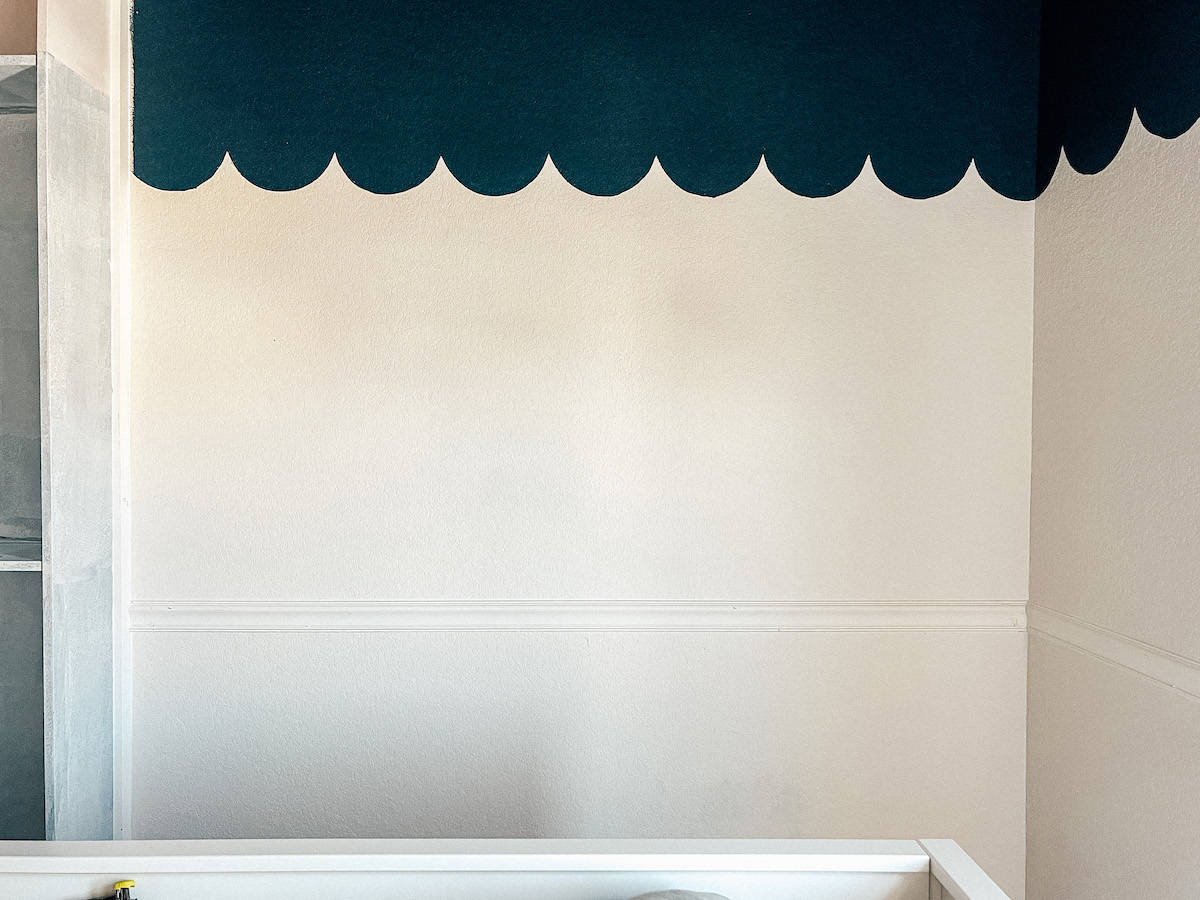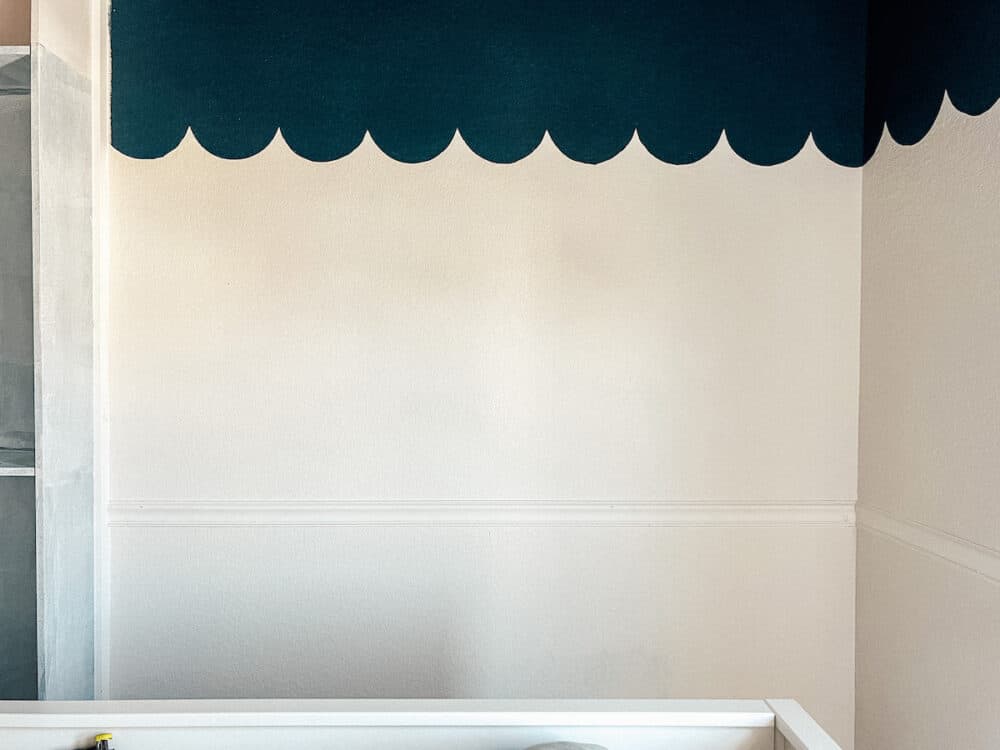 What is chair rail molding?
A chair rail is basically any piece of trim that runs horizontally around a room. It can be simple and clean-lined or a little more curvy and fancy.
Here's a link to the chair rail I used for this room. This is the same chair rail I used to go around our bedroom when I added trim in there.
I used a slightly different style when I added a chair rail in the dining nook at our last house – it's a little more clean-lined. And, when we added chair rail to Jackson's nursery in our first house, it was just a simple 1×3 board.
All that to say, you can get creative with the style and profile of the trim you use! I specifically wanted to use this in here because it's what we already used in another room in our house. Repeating these little details lends to a feeling of cohesiveness in your home! But, if you want a simpler look, or even a more fancy one, go for it.
what height should I install chair rail molding at?
This is going to be one of those questions where I give you an annoying "it depends" answer.
But, honestly, it depends!
"Standard" height for chair rail molding in a room with 8-foot ceilings is anywhere in the range of 28-32 inches.
But, guess what? I installed Grant's at 36″.
Because I wanted to.
There are no rules!
Generally speaking, it's most visually pleasing when you divide a room into thirds. So, if you have 8-foot ceilings, 32″ would be one third of the wall. If you have 10-foot ceilings, a third would be 40″.
But, some people prefer to do the chair rail molding a little lower than a third. That's why there's a standard range. And, for a 10-foot ceiling, many people prefer to do it around 30″ off the ground.
See what I mean? It depends.
Here are a few general rules of thumb to keep in mind when choosing your chair rail molding:
When in doubt, go a bit lower. Placing your chair rail closer to the ground will make your ceilings feel taller! In an 8-foot room, 32″ is almost always a safe bet. Buuuuut….
Consider the furniture. The main reason I went a bit higher-than-standard for the trim in Grant's room is because the furniture would have blocked it otherwise! At 32″, the bed and the dresser would have sat in front of the trim, and you'd be left with almost no visible trim.
Do what makes you happy. Try holding up a long piece of trim at a few different heights and taking photos (or have a friend hold it so you can look). Go with your gut here – there's no wrong answer. Feel free to break the "rules" if you like something else better.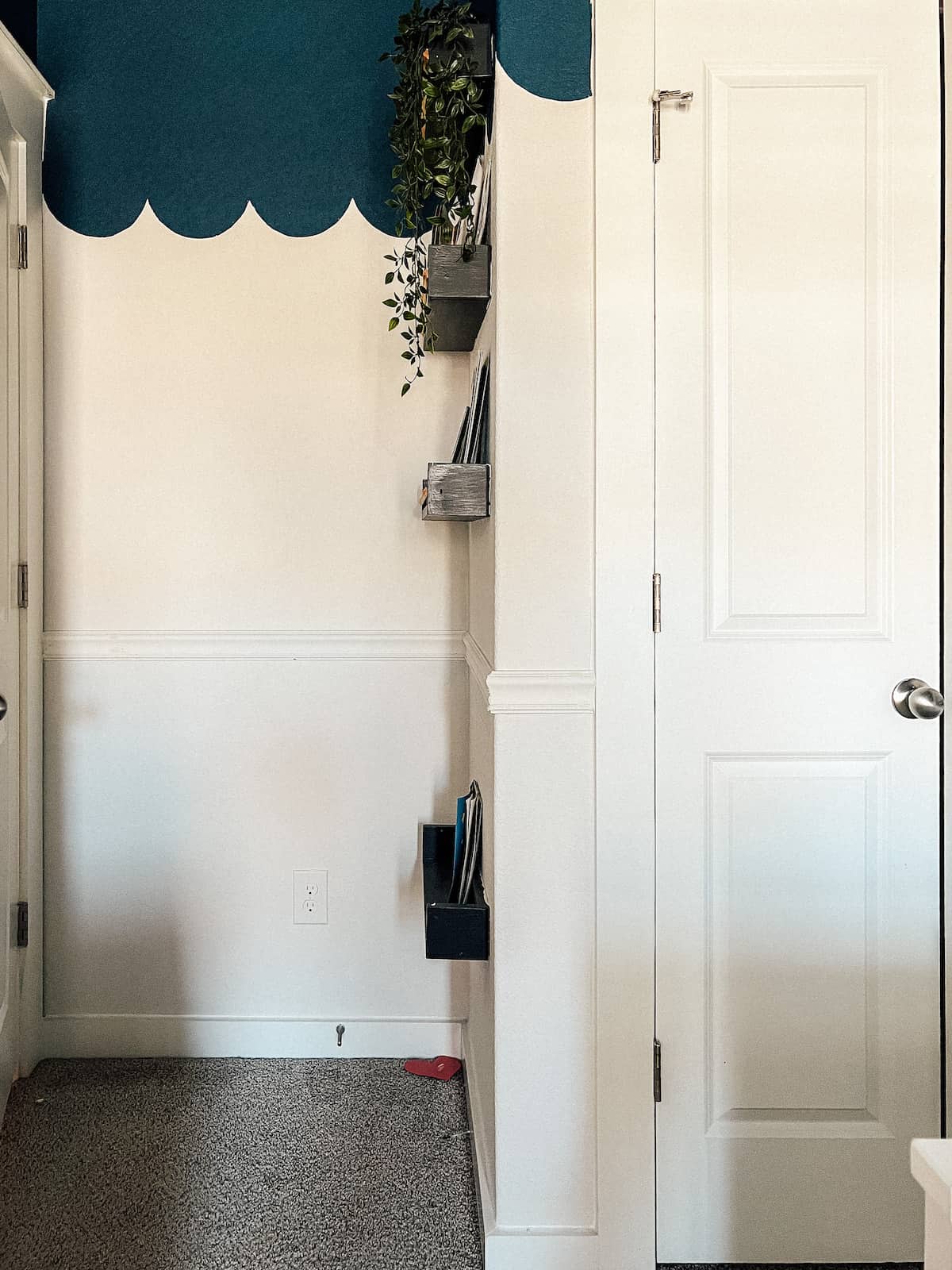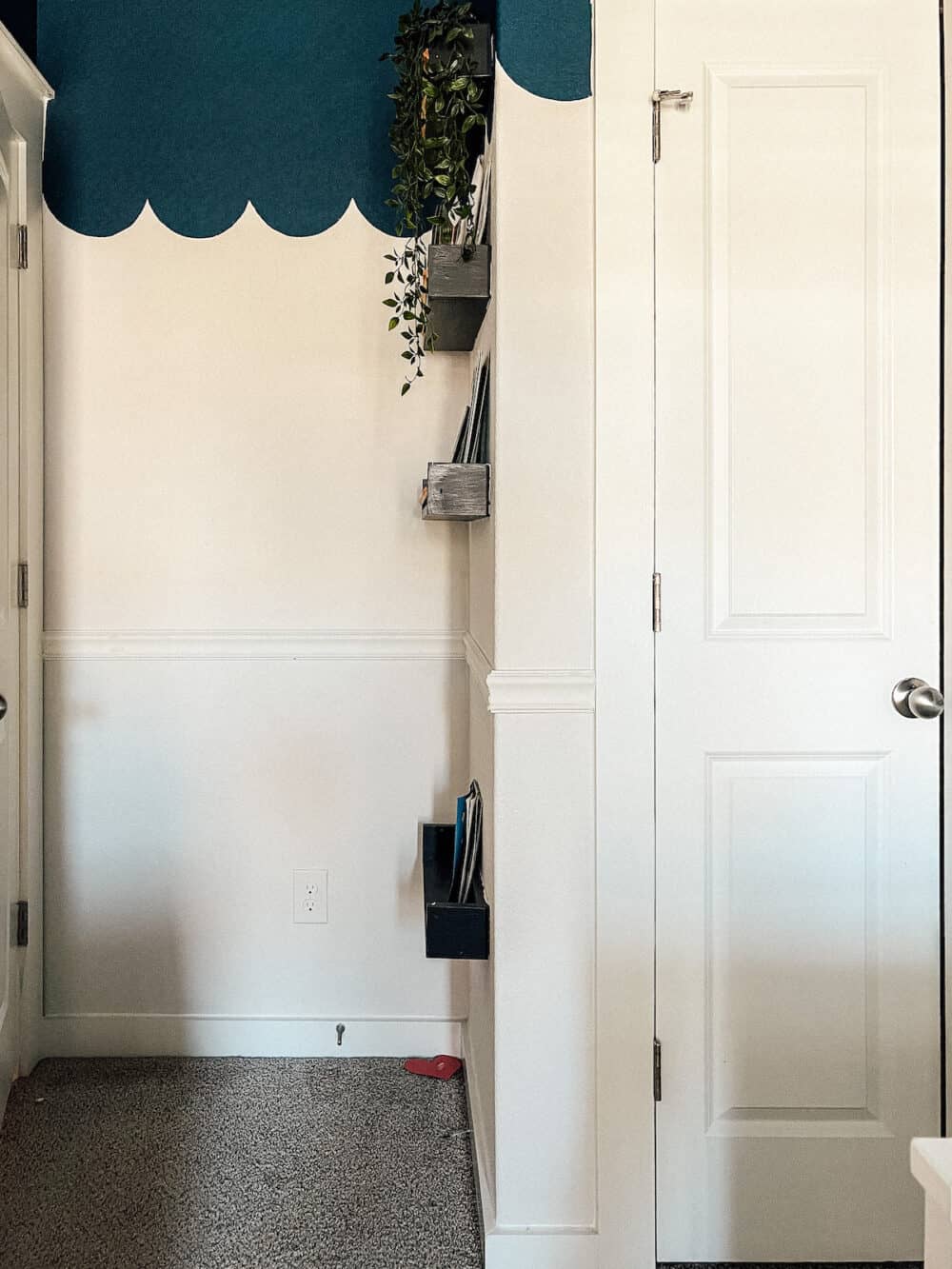 How to Install Chair Rail Molding
If you've ever installed trim on a wall before, you'll be happy to know that chair rails are just about the easiest type of trim you can install. It's just one board, it gets installed straight across the wall, and there's very little to patch or caulk afterwards!
But, if you're brand new to installing trim, it could feel intimidating.
So, let's take it step by step.
First, you'll need to know how to use a few tools. Don't worry, I've got tutorials for all of them.
necessary tool tutorials
Once you're comfortable with the tools, you're ready to dive in.
step one: measure and cut boards
Start by measuring all of the walls in your room and making a diagram. This is a lot faster than working piece-by-piece. I do, however, recommend test-fitting each piece as you work if you're new to this. It would be a huge bummer to cut a bunch of pieces and realize you made a mistake and they're all wrong! I've done a ton of trim walls, but I still took the time to run my boards up and check the fit after every three or four boards I cut.
Make sure as you work to consider how the boards will fit together in the corners. The end of each board should be mitered so that they fit together and create a corner when everything is installed.
Sometimes it can be confusing which direction the mitered cut should go – just remember to take your time as you work and you'll get the hang of it!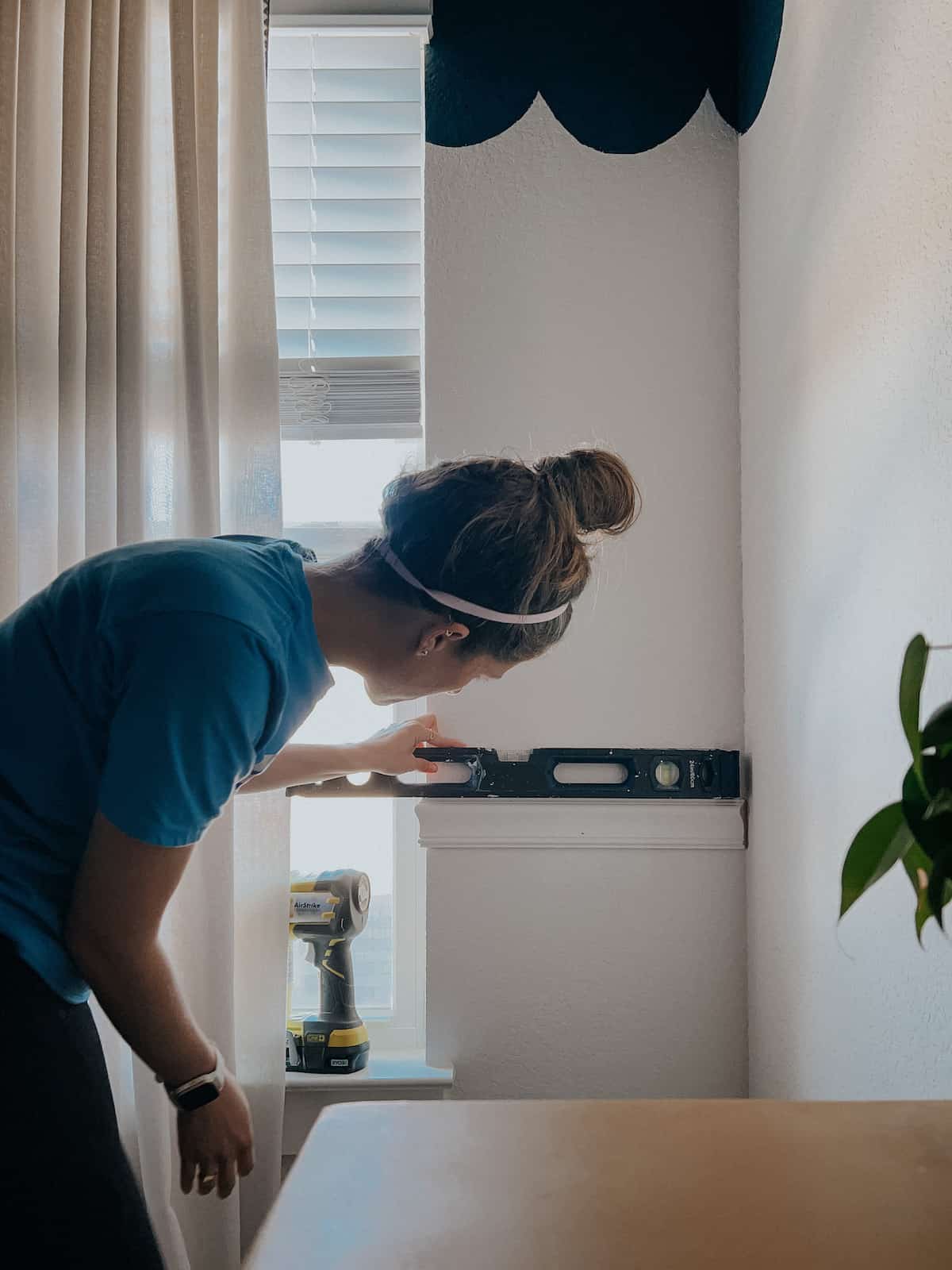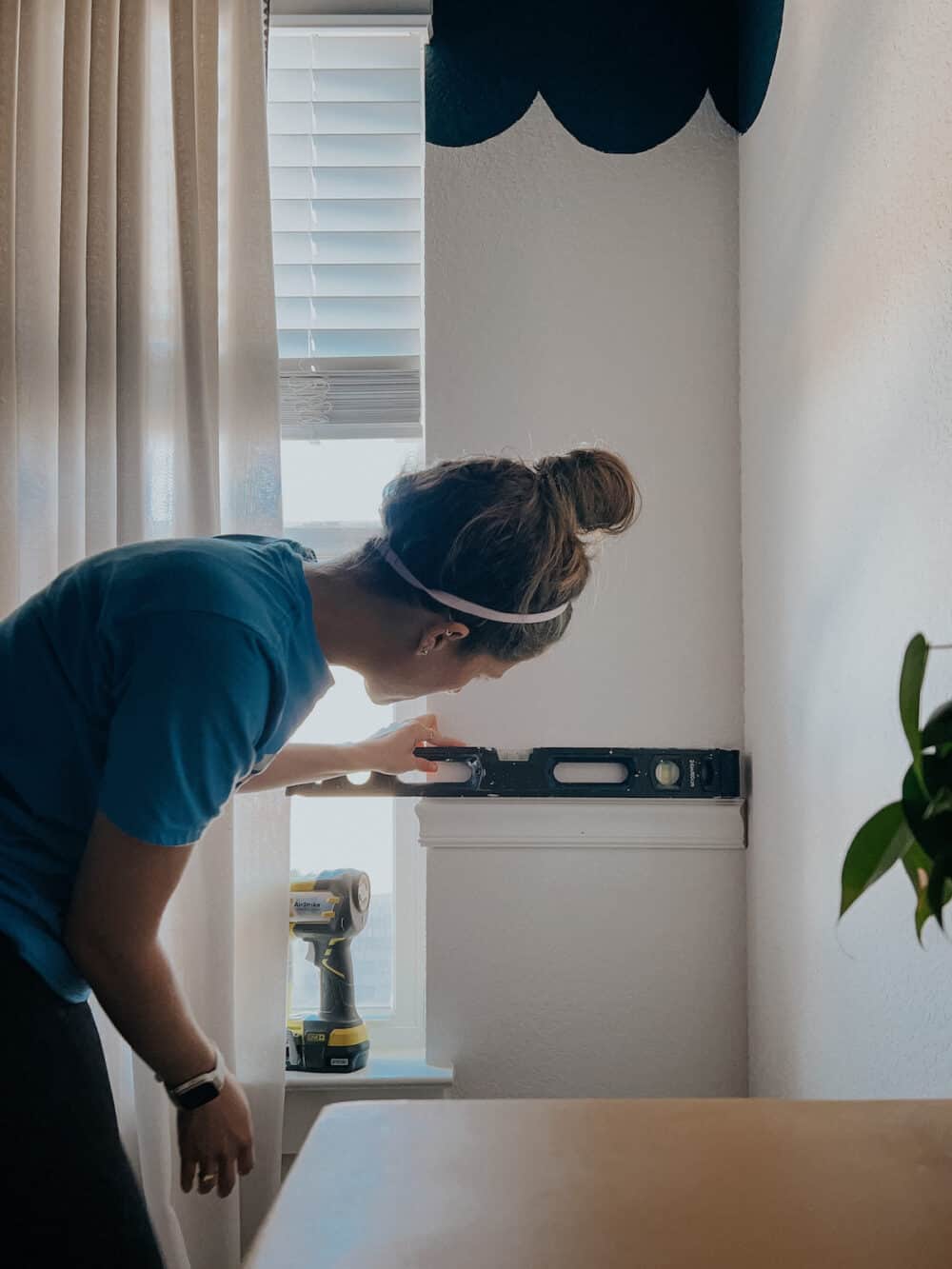 step two: install chair rail molding
Once you've cut all of the boards, it's time to install!
For this part of the process, in addition to your nail gun you'll need a level. Some people are fancy and use a laser level, but I always find I spend more time wrestling with them than actually using them, so I stick to a manual one.
All you need to do here is place your board at the height you determined earlier (for me, the bottom of my trim sits at 36″ from the floor), and place one nail in the middle of the board to hold it in place.
Then, using your level, adjust the board so it's perfectly straight. Then, nail it the rest of the way into place!
But wait! Don't I need glue?
Not necessarily. This trim is very lightweight, and if you prefer not to use glue, you can totally get away with it.
I generally like to avoid anything too terribly permanent in kids' rooms. If I used construction adhesive on this trim, it would damage the drywall if I ever removed it. Instead, I just use my 18-gauge nailer and shoot the nails in at an angle. This locks them into the drywall better than if they were shot in straight.
You should also take the time to find your studs and make sure at least some of your nails go into the studs. This will ensure the boards will be nice and sturdy!
Finally, once you caulk everything that will also help hold the boards in place – so even without glue, the trim won't go anywhere!
Step three: Caulk and wood filler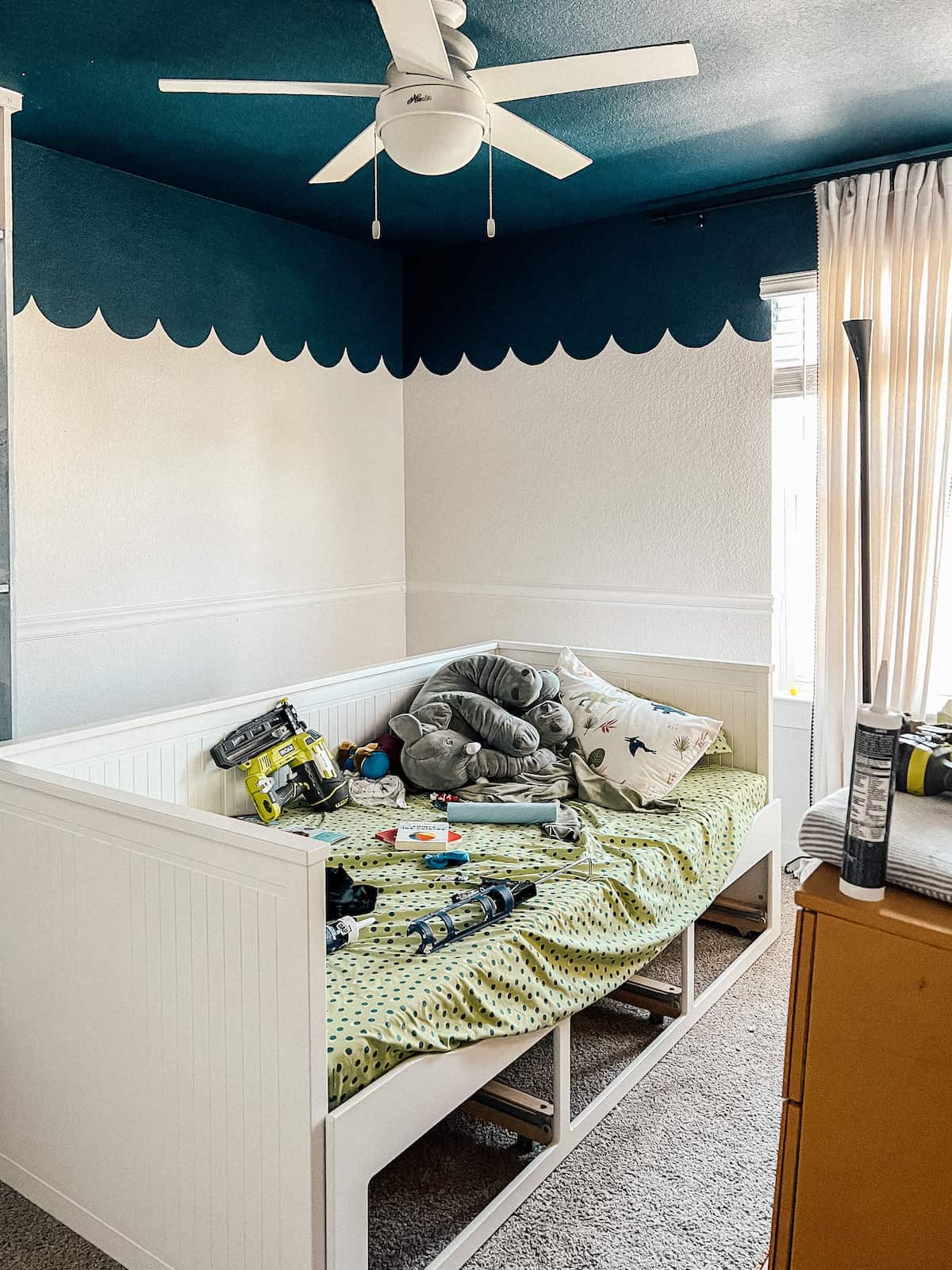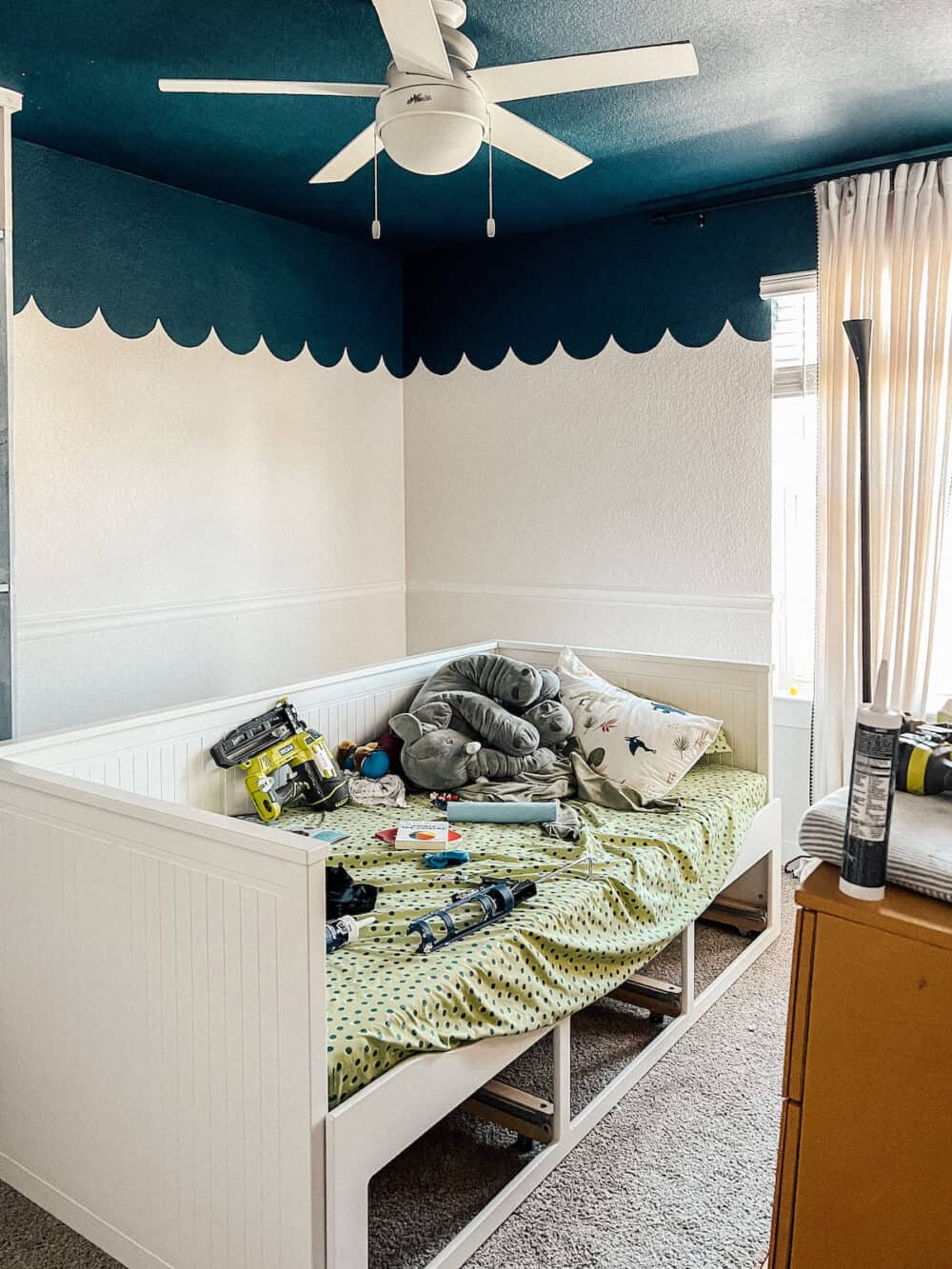 Once everything is installed, it's time to make it look great!
Caulk is your best friend when it comes to trim projects. It hides any little gaps between the trim and the wall and makes everything look much, much more professional.
If you aren't familiar with how to use it, here's a full tutorial for how to use caulk.
You should use caulk on all of the seams where two planes meet one another. For example, where the trim meets the wall, where the bookcases meet the wall, etc.
You'll also want to use wood filler. This is used on all of the nail holes, as well as on all of the flat planes. For example, if you have a seam in your trim.
I also use wood filler on the outside corners of my trim, even though it technically breaks the plane rule. Why? Because wood filler is sandable and caulk is not. So, after using wood filler on those corners I can sand the whole thing down to smooth it out, and it looks seamless!
After allowing your caulk and wood filler to dry for the required time, go back and sand your wood filler so that it's perfectly smooth. If you can feel any of the remaining wood filler on the board with your hand, you will be able to see the texture of it when you paint.
This is my least favorite part of the process, but it's also one of the most important. Don't skip it!
Step Four: Paint!
And finally, you're ready for paint!
I don't have finished photos of this step for you yet…but I will later this week!
if you need some help with this step, check out this blog post with answers to every question you've ever had about how to paint a room. And be sure to check back later for a look at how the paint turns out in here.
Ohhhhh okay. Fine. I'll give you a sneak peek.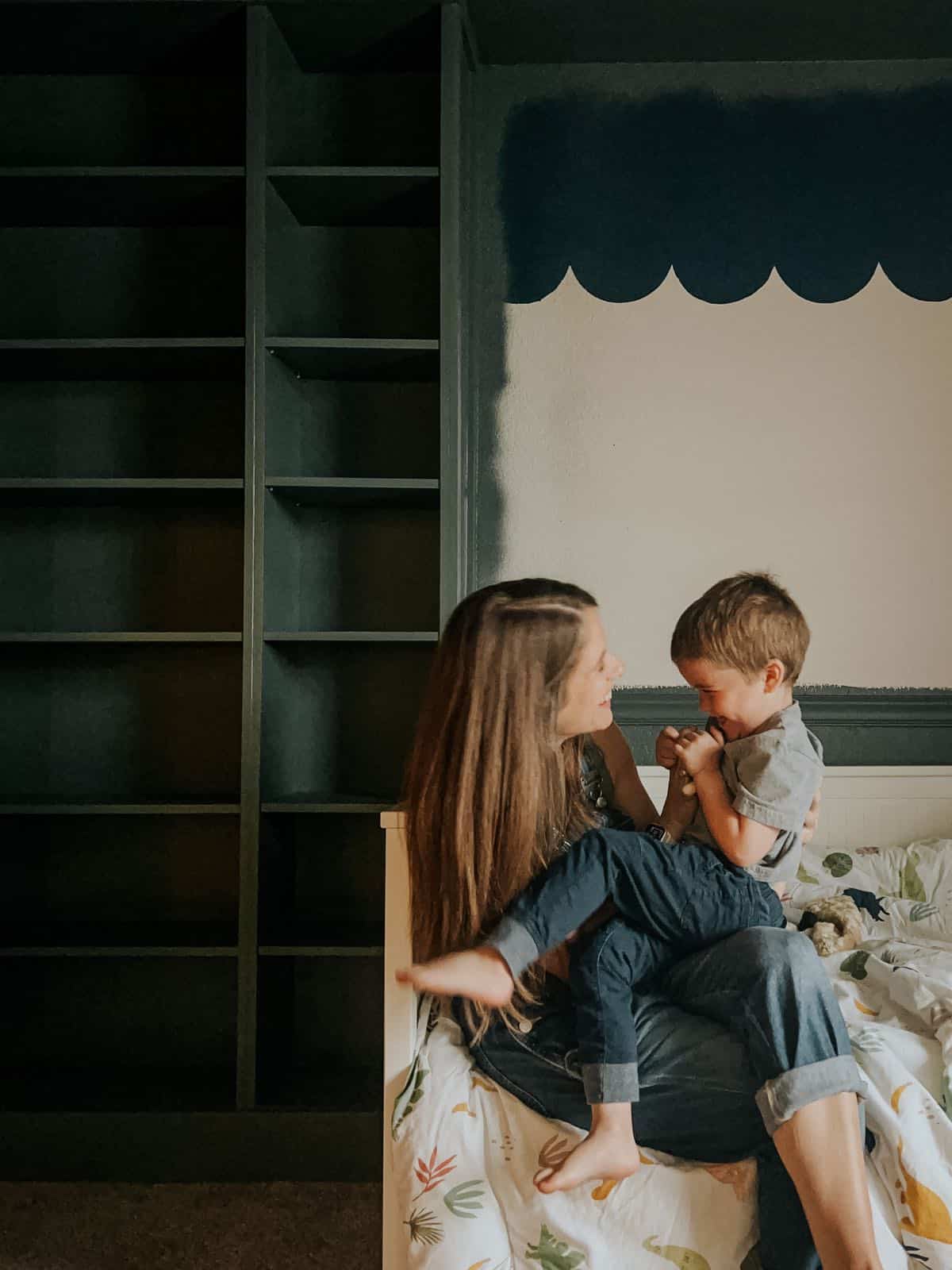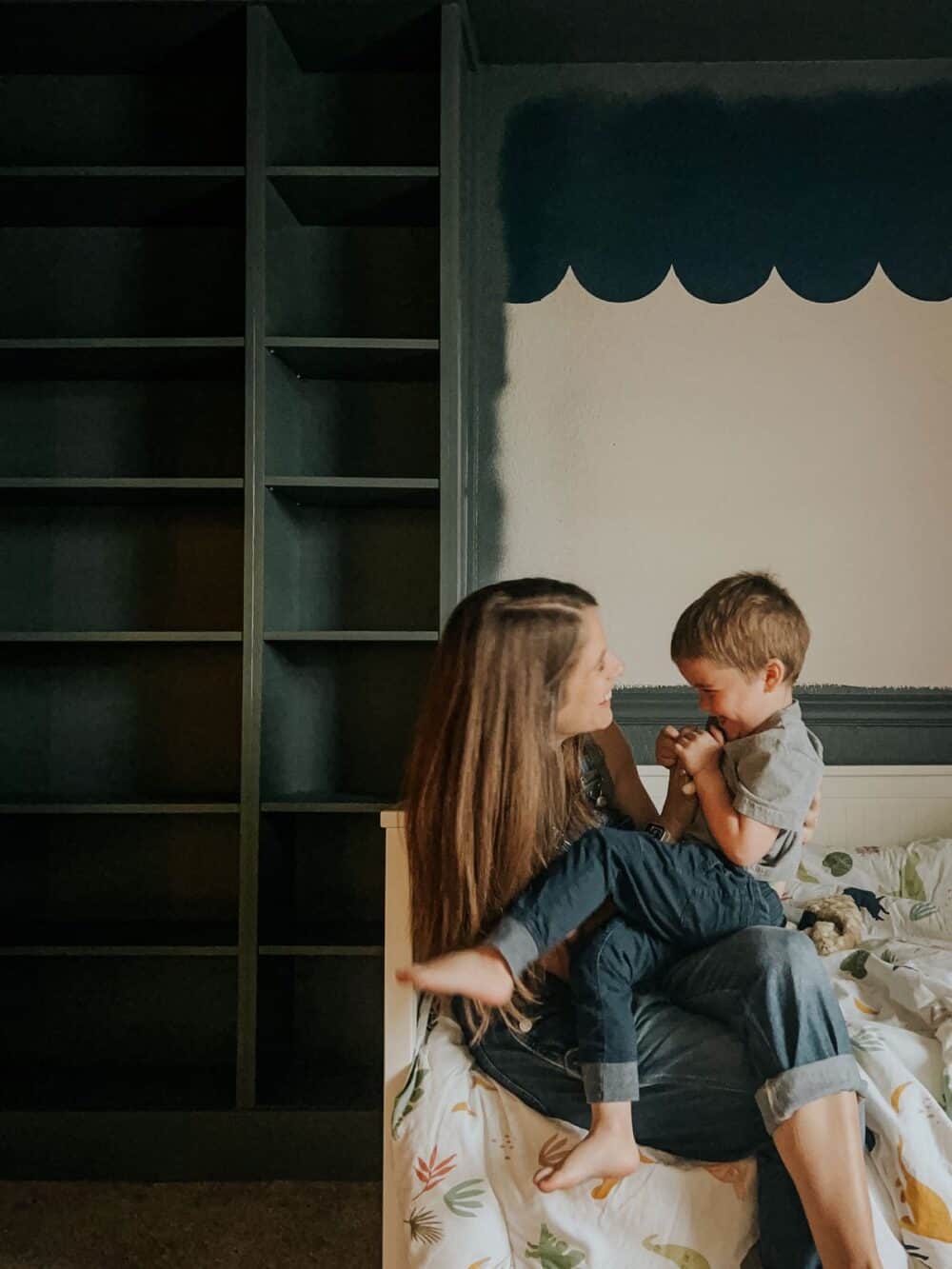 !!!!!!
More to come later this week, friends!