I feel like I should put a short disclaimer on this post before I get started. A slightly popular blog (coughYoungHouseLove) happened to post about this exact same topic (right down to the choice of color) yesterday, and I want you to know that I am totally not copying them.
I've had this post in my queue for a couple of weeks now, as this is one of the projects Corey and I tackled within days of moving in. Just wanted to throw that out there, since I'm not exactly quiet about my love for YHL's blog, and it's definitely not far-fetched that I would totally steal one of their ideas! 
You may or may not know that my favorite color in the whole world is yellow. It's just a happy color, and I think of our wedding when I see it, which is always a good thing to be thinking about, right?
So, before we had even moved in to our new house I made it very clear to Corey that our front door would be yellow and that he really didn't have much say in the matter. It's a bit of a bold choice, so I wasn't sure he'd be up for it, but lucky for me he loved the idea and we jumped right into the project as soon as we could.
I was so excited to get started painting the door that I didn't take a proper "before" shot, but you can see how boring the front door was in this photo from the first day we looked at the house.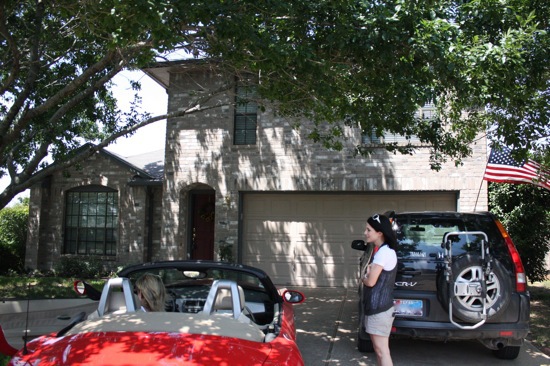 It was a maroon-y red, and the paint was chipped, peeling, and just in all-around bad condition. Because of the chips in the paint, we had to take the extra (annoying) step of taking the door off the hinge and out to our workshop to sand it. It wasn't fun, but we were in a fog of excitement over using our shiny new workshop for the first time (second if you count the not-so-exciting task of touching up and poly-ing our dresser-turned-media-console) and we didn't really care.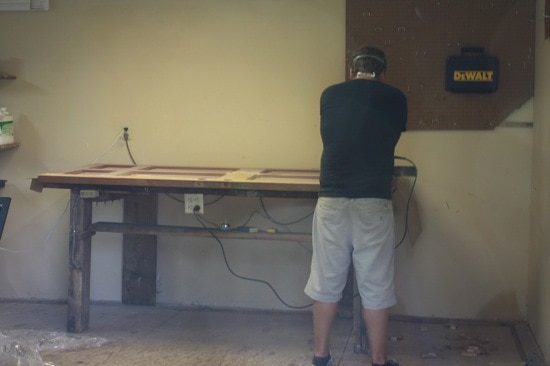 One coat of primer and what felt like a million coats of yellow paint later (it was probably only three), we had a yellow front door!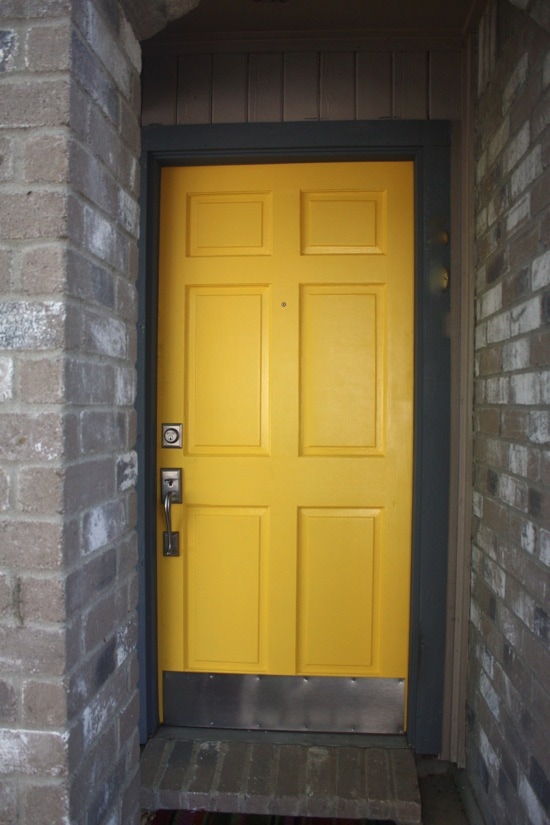 (If you're noticing the strange looking part to the right of the door, that would be our blurred-out house numbers)
We also updated the hardware from ugly, shiny brass to a much sleeker nickel finish.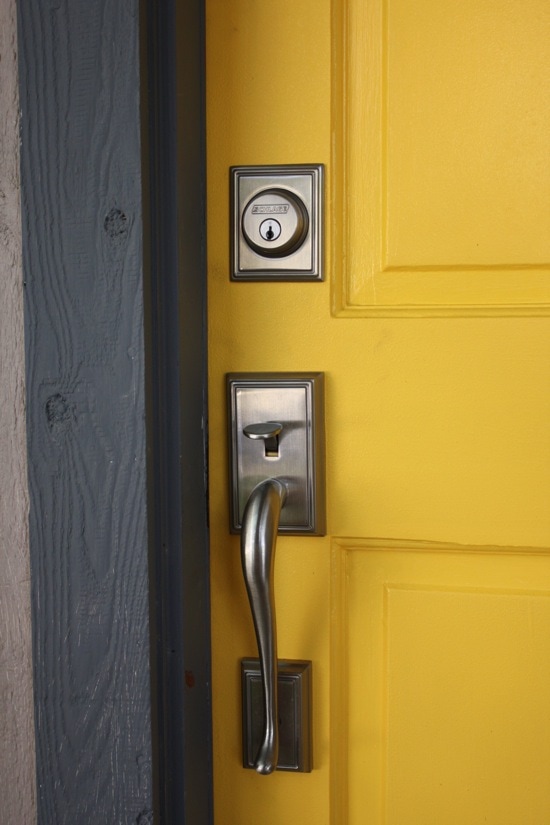 You might notice a bit of a sneak peek for one of next week's posts in the next two photos!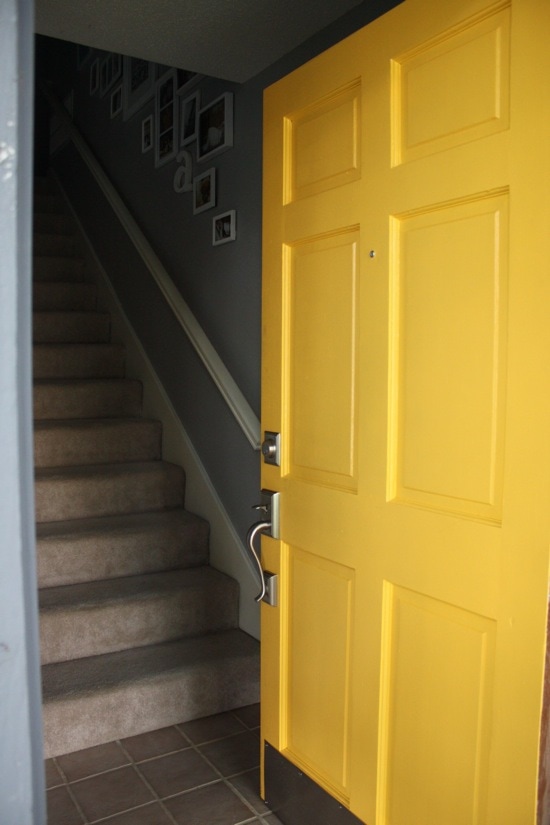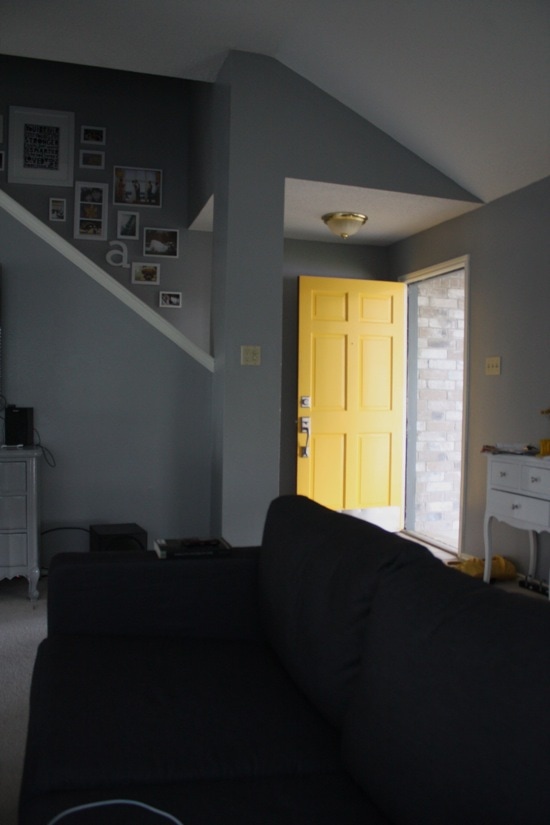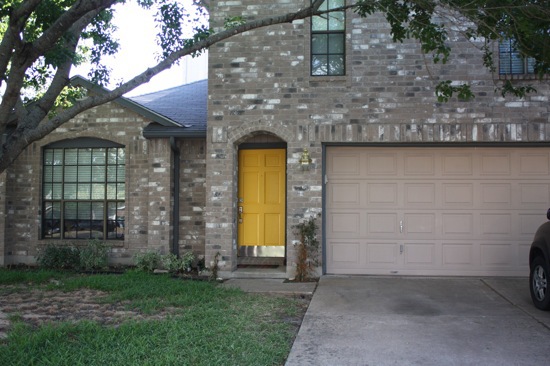 I love the way the door turned out, and it makes me smile every single time I pull into our driveway. Of course, now that we love the door color, the strange blue-ish gray trim is sticking out like a sore thumb, so that will have to be rectified soon.
And? Now that I'm looking at the photos of our door and getting a fresh perspective, I'm not loving the kickplate. I was on the fence about having one from the beginning, but we decided to go with it just because the door had one previously. But I kind of feel like it doesn't look right and I'm thinking the door would look much better without it. It's all about the trial and error, right?
What color would you like to paint your door? Also, I'd love some more opinions – kickplate or no kickplate?