DIY Succulent Centerpiece
We made this simple succulent centerpiece for our dining room table and it's an absolutely beautiful way to add some color and texture to your dining table without a lot of effort! If you want to incorporate some succulents into your table decor, this is a great way to do it! 
I am a plant killer.
I know. It's awful. I'm ashamed. But, the truth is I can't keep a plant alive to save my life. It's quite pathetic, actually.
But over the years, I have learned that some plants are more resistant to my murderous ways and can stand up to my lack of watering and providing proper care. At the top of that list are succulents. Not only are they hardy and easy-to-maintain, they are absolutely gorgeous.
That's why I decided to use them for my new dining room table centerpiece!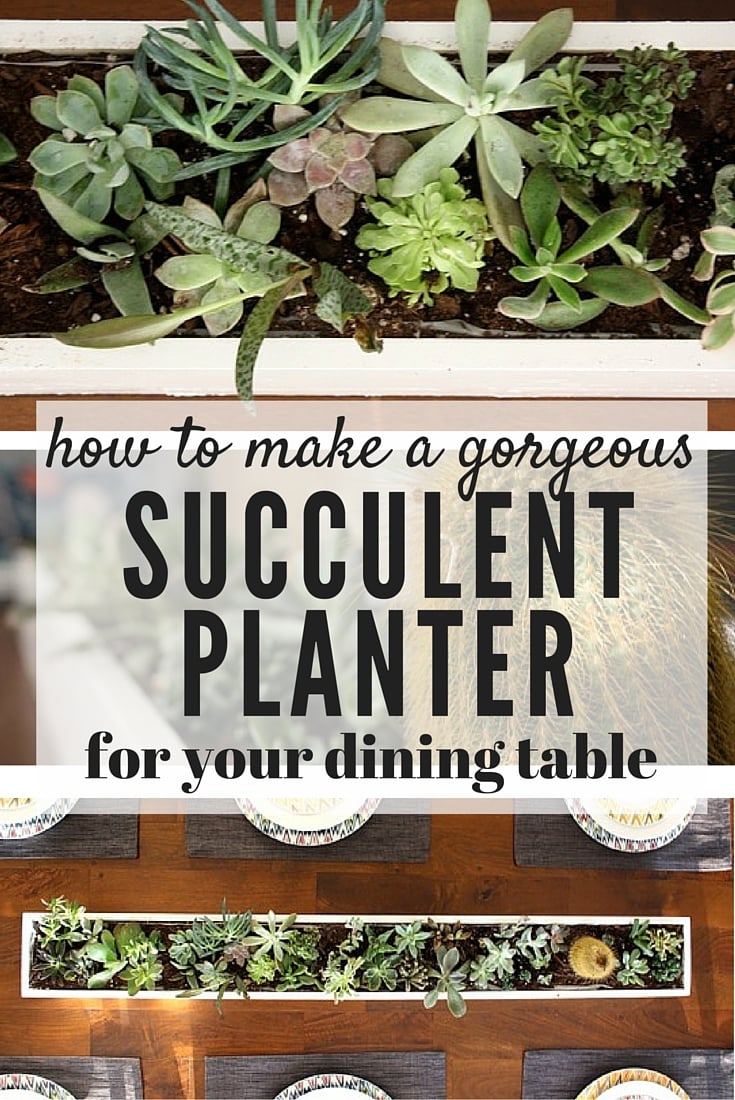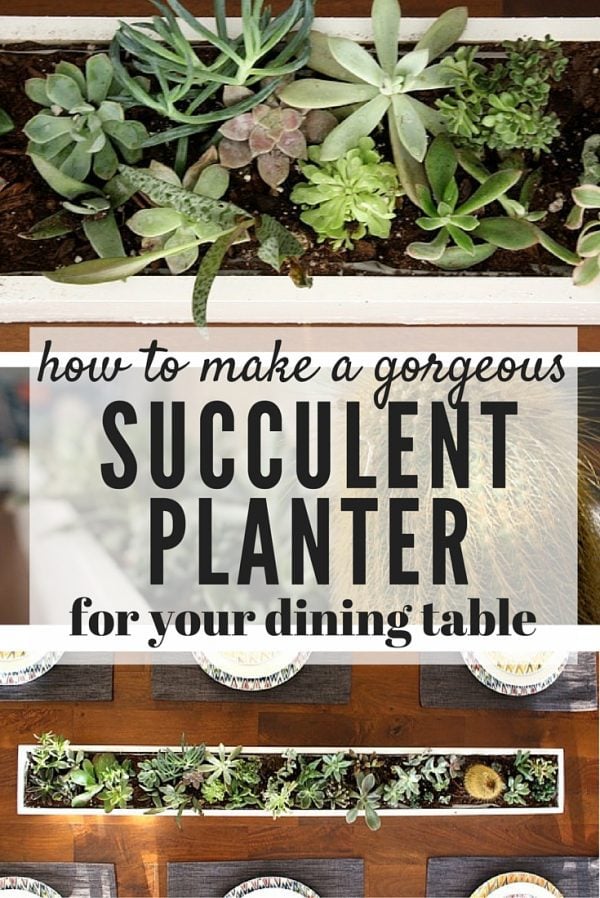 Mmm…beautiful.
We've been wanting to add some plants to our home for a while now, and we've also been wanting to add something to our table to spruce it up a bit. We decided to combine the two ideas and started brainstorming ways in which we could tackle it – we went through a bunch of different ideas from several small planters across the table, to several small planters on a large silver platter, to one giant planter that would cover the length of the table.
Finally, we landed on the one-giant-planter idea, simply because it was almost impossible to find a platter that was both narrow enough and long enough to fit what we wanted. We didn't like the idea of several smaller vessels for the succulents because we want to be able to easily move the centerpiece when we have guests over and are serving dinner. And, let's be real – succulent centerpieces are the best kind of centerpieces.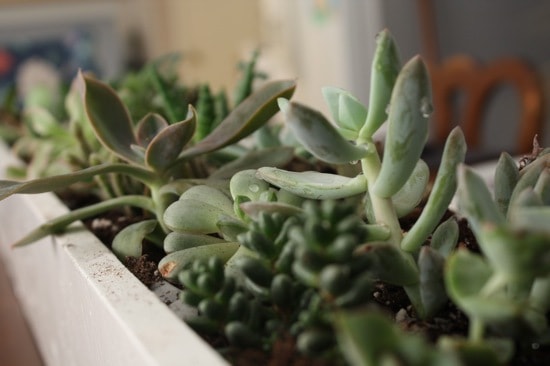 How to Make a DIY Succulent Centerpiece
We chose MDF to build our succulent centerpiece because it's cheap and relatively easy to work with. We chose the size for the planter based on a broad guess about what we thought would work best on our table – my tip here is to go ahead and set your table as if you were having dinner, then use a tape measure to see what size will fill up the blank space nicely without overwhelming your placemats. We cut a sample piece in the size and height we were thinking about to make sure we liked the scale on the table before we actually built the planter.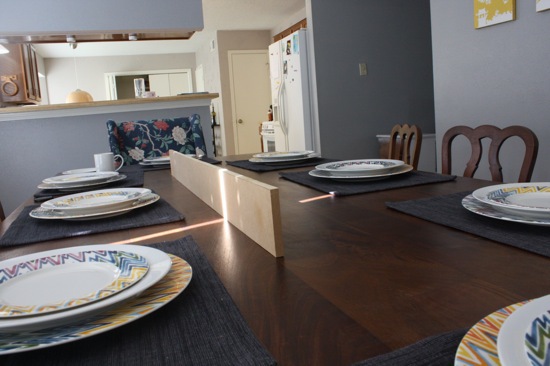 Because we were working with MDF, which is even less water friendly than most wood, we knew we would have to do something to seal the planter from the dirt and water that we'd be filling it with.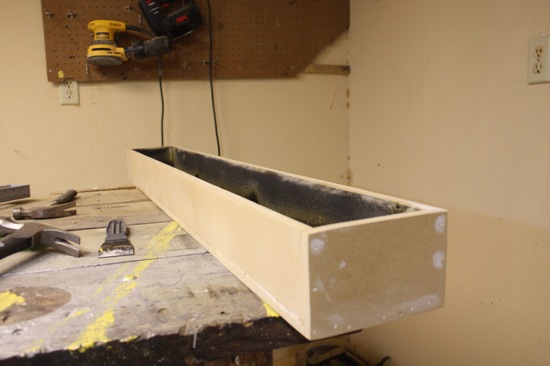 We built a simple box with the MDF that fit the dimensions we wanted to use. Once we had it built, we used something called Pruning Seal to act as a waterproof barrier for the box (since MDF and water are Pruning Seal to act as a waterproof barrier for the box (since MDF and water are not friends!).
A test run showed us that the pruning seal alone probably wouldn't be completely waterproof, and we didn't want to take any chances so we also lined the inside of the planter with a plastic drop cloth to prevent any water from damaging the wood.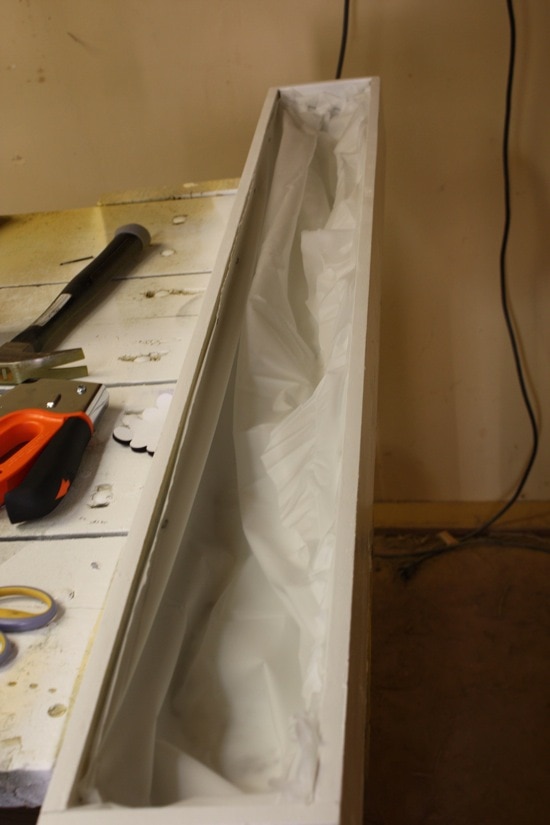 All Corey did was staple in a layer of the liner into the planter, taking care to make sure it wouldn't be too visible once we added in the plants.
We also primed (Zinsser is my favorite primer brand!) and painted the outside of the planter in white paint – we played around with the idea of using a bright color, but we wanted the focus to be on the succulents and not anything else, so we stuck to a neutral color.
All that was left to do was plant! We ordered a set of succulents from Amazon (did you know you could do that??!), and we also grabbed a cactus from Lowes to bring in something with a little more height.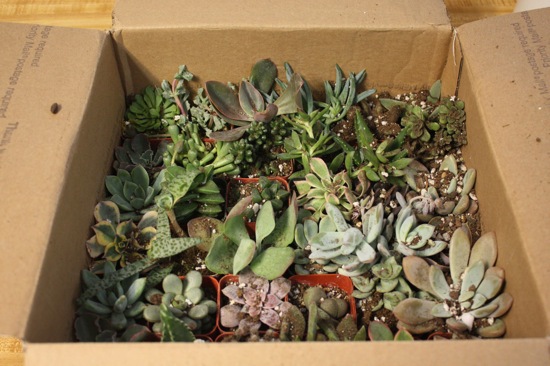 To make sure we planted them in a configuration we liked, we started by setting them all into the planter, arranging them so that there weren't too many large ones grouped together, and that there was a nice variation of types throughout the planter.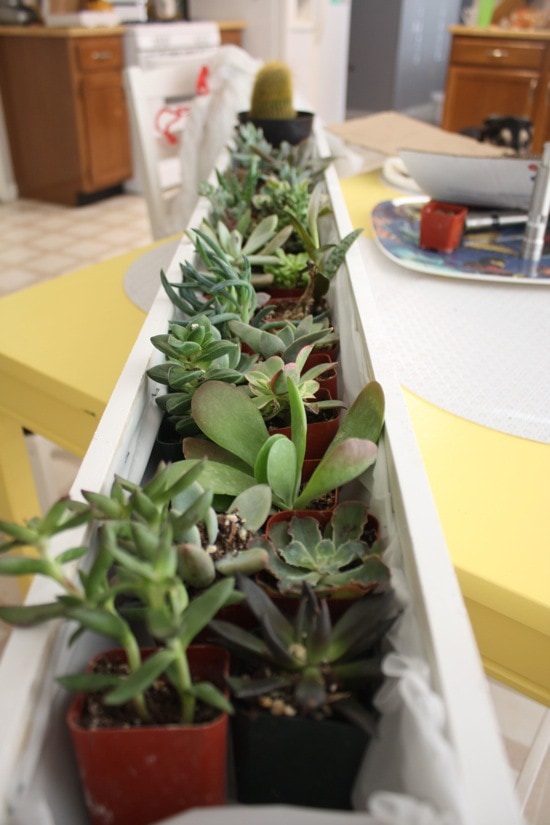 Once we were happy with the arrangement, we planted and put it into place!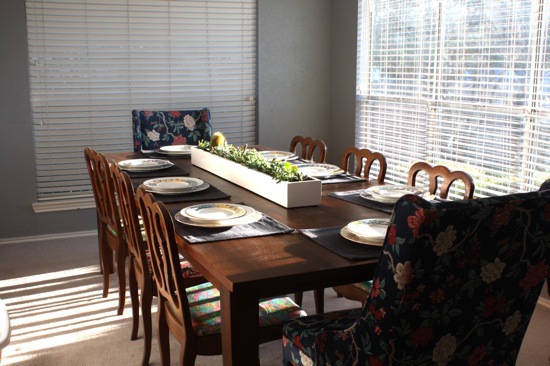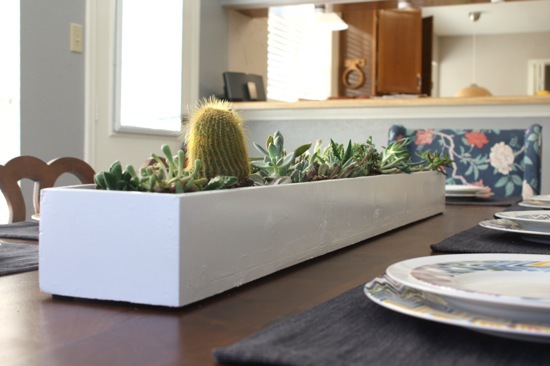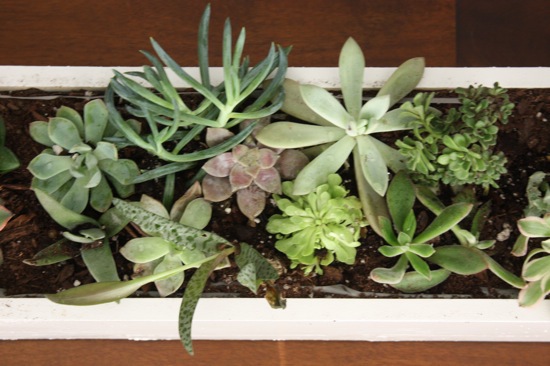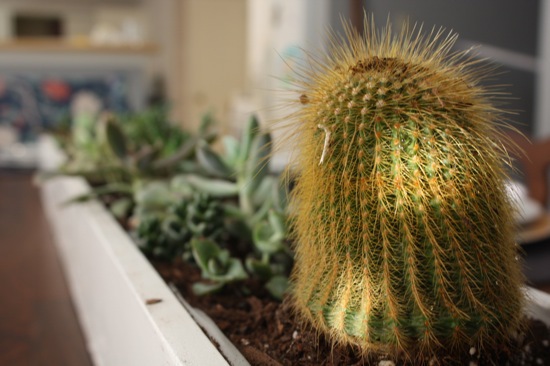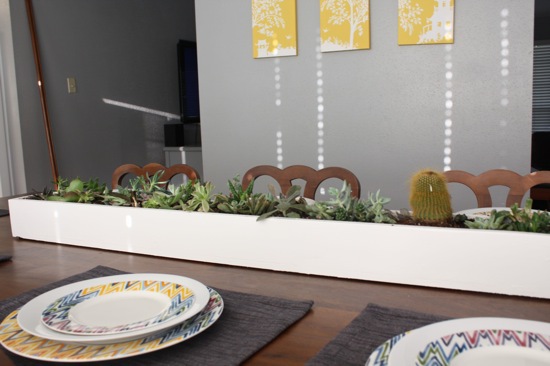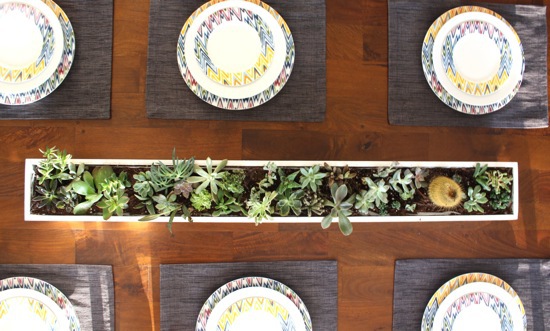 LOVE. Love, love, love.
I'm so incredibly happy with how it turned out, and now we're just crossing our fingers that we're able to keep these little guys alive! Our table is much more textural and colorful now, and we absolutely love the life it brought to our dining room.
How are you with plants? Do you struggle as much as I do?
Here are Even More DIY Planter Ideas