How to Use a Circular Saw (Power Tools for Beginners)
Have you ever wondered how to use a circular saw? Well, today is your lucky day – we're talking all about the circular saw, what it's used for, and how to use it.
Are you ready to learn a new tool?!
For the last few months, I've been doing a fun video + post series where I teach you how to use various power tools…and I'm learning right along with you, because I'm new to this whole power tool thing, too.
It's basically the blind leading the blind. Totally fun.
Just kidding. I know what I'm doing. At least kind of.
Anywho. Let's chat about the circular saw.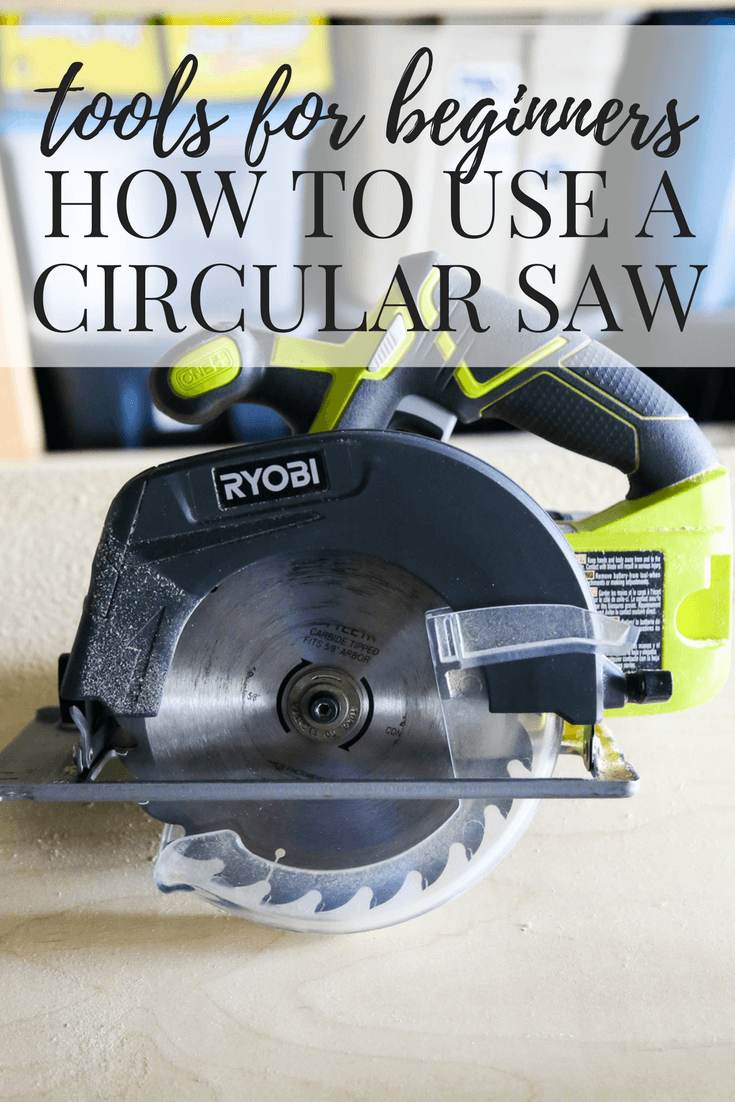 This post contains affiliate links. Click here to read my full disclosure policy.
So, what is a circular saw?
It's a portable saw that can be used to cut wood down and make it shorter (similar to a miter saw), and can also make rip cuts, which is cutting through wider pieces of wood to make it narrower. It kind of combines the functionality of both a miter saw and a table saw into one portable little tool, and it's quite a powerhouse. This is the circular saw that we have and LOVE, and you can browse some other options here.
Basically, if you're just getting into DIY and want to learn a power tool, this is one of the first tools you'll want to buy. It's much more affordable than buying a larger saw, and it's perfect if you don't have a lot of space to store tools. It's obviously less precise than using either a miter saw or a table saw, but with some preparations and practice it can definitely be a great substitute if you don't have the budget or space for a big ol' saw.
How do you use a circular saw?
This is a really straightforward tool to use. Basically, pull the trigger, cut the board!
Okay, maybe not that simple. But almost.
Here's the video with all of the details on the circular saw and how it's used (plus some bonus bloopers if you stick around until the end because I couldn't resist).
But, if you can't – or don't want to – watch, keep scrolling for all the info you need! If you prefer, you can watch the video on YouTube right here!

Alright, let's chat about the circular saw.
The tool consists of a blade (obviously), a trigger to turn the tool on, and some adjustments to change where the blade sits. For a beginner DIY-er, though, you'll really only need to know where the trigger is – everything else can be done in the preparation part!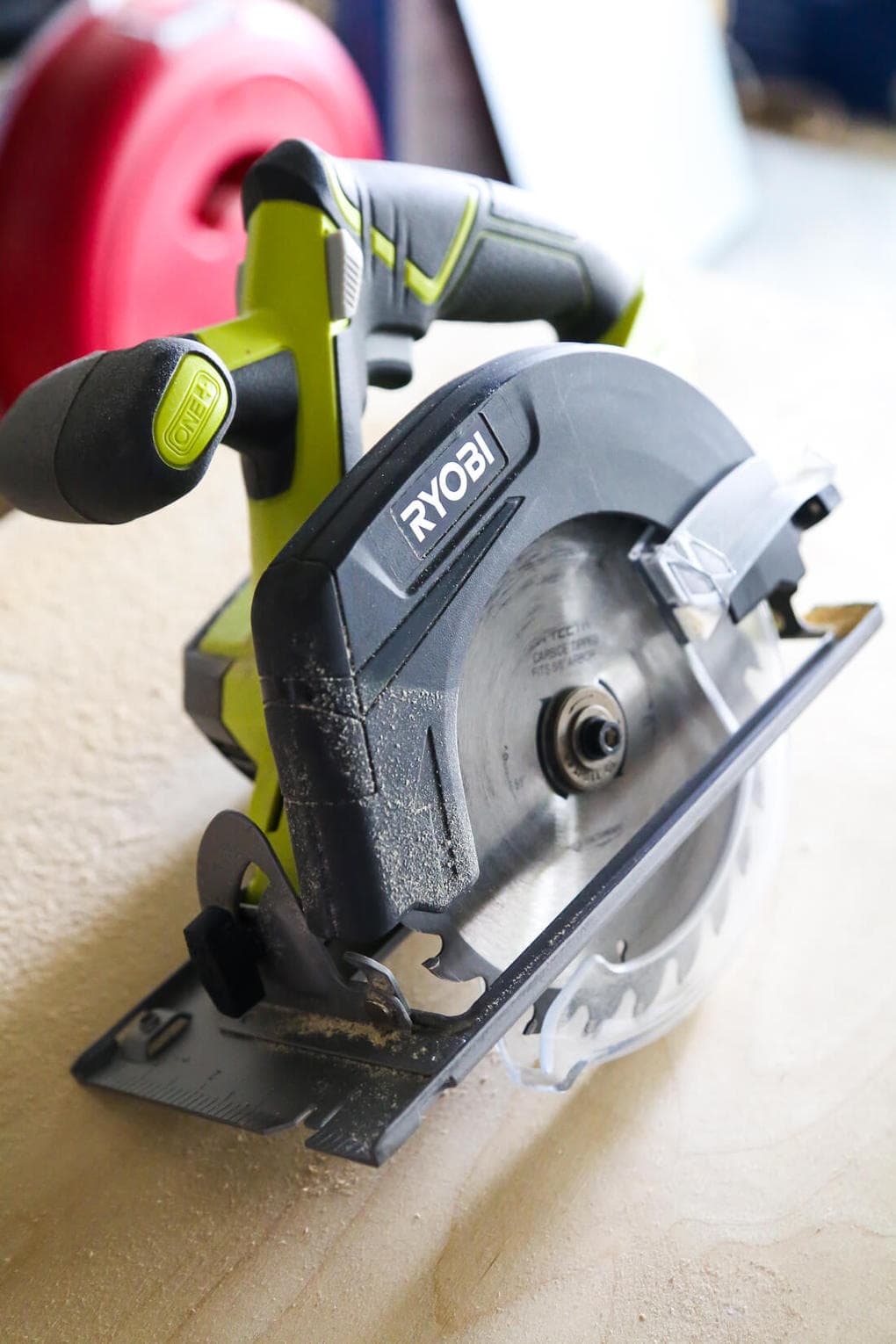 What is a circular saw used for?
We use our circular saw mostly when we're working on a project that we need to be able to quickly cut some wood down without having to haul it back to the workshop and set up the table saw – it's 100% portable and much easier to lug around than a bigger saw would be, so it's great for smaller jobs or things where you just need to cut some boards down in a hurry.
A perfect example of this is Jackson's playhouse – we didn't want to constantly lug the boards back and forth from the workshop when we just needed to make a quick cut, so we grabbed the circular saw and used it to cut down most of our wood, especially for the flooring.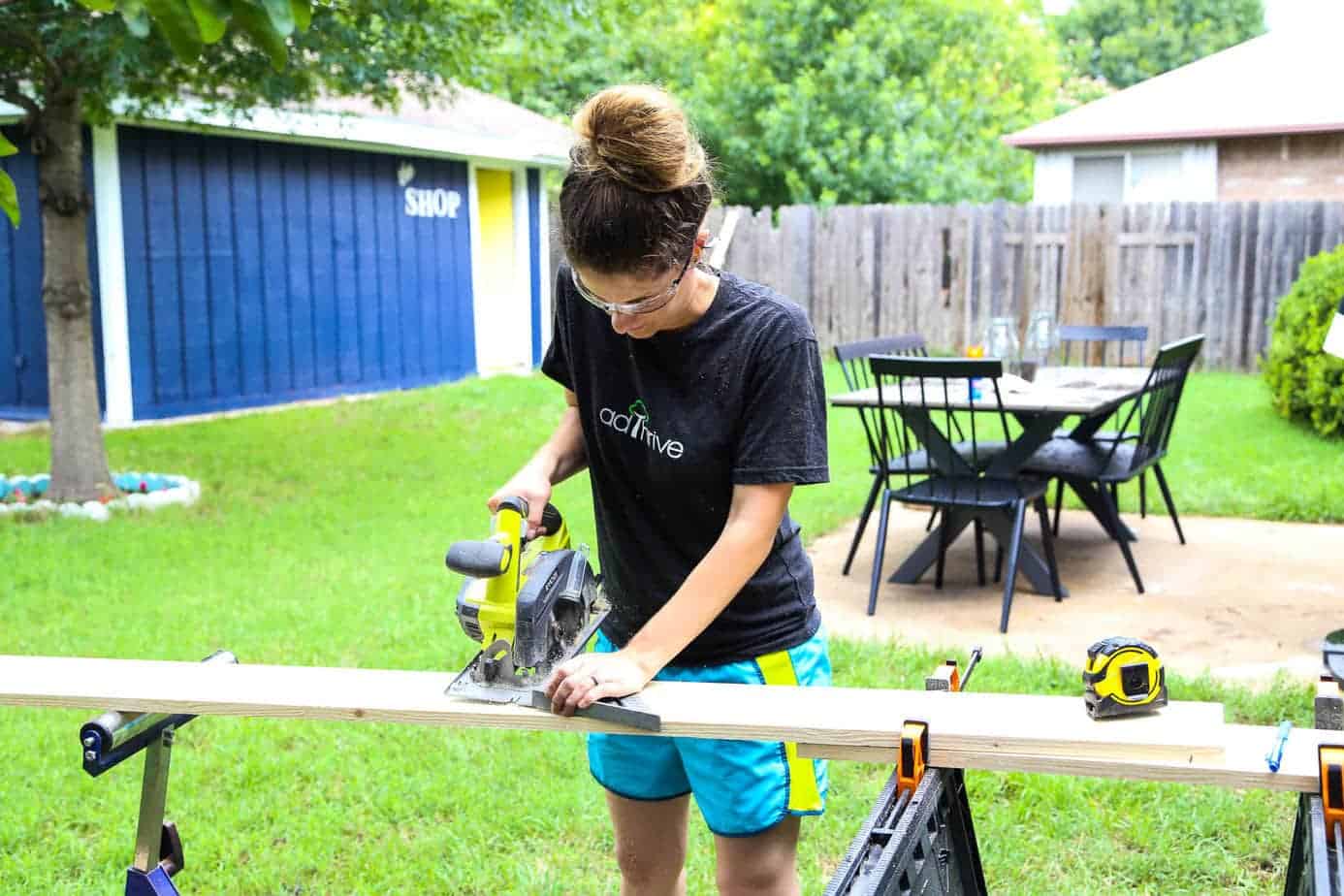 Another example? The new counter in Jackson's bathroom! My dad came over and helped me work on that (there's a whole post coming up soon on that project), and we cut down the counter in the garage – the table saw probably would have worked, but the circular saw was much easier and faster.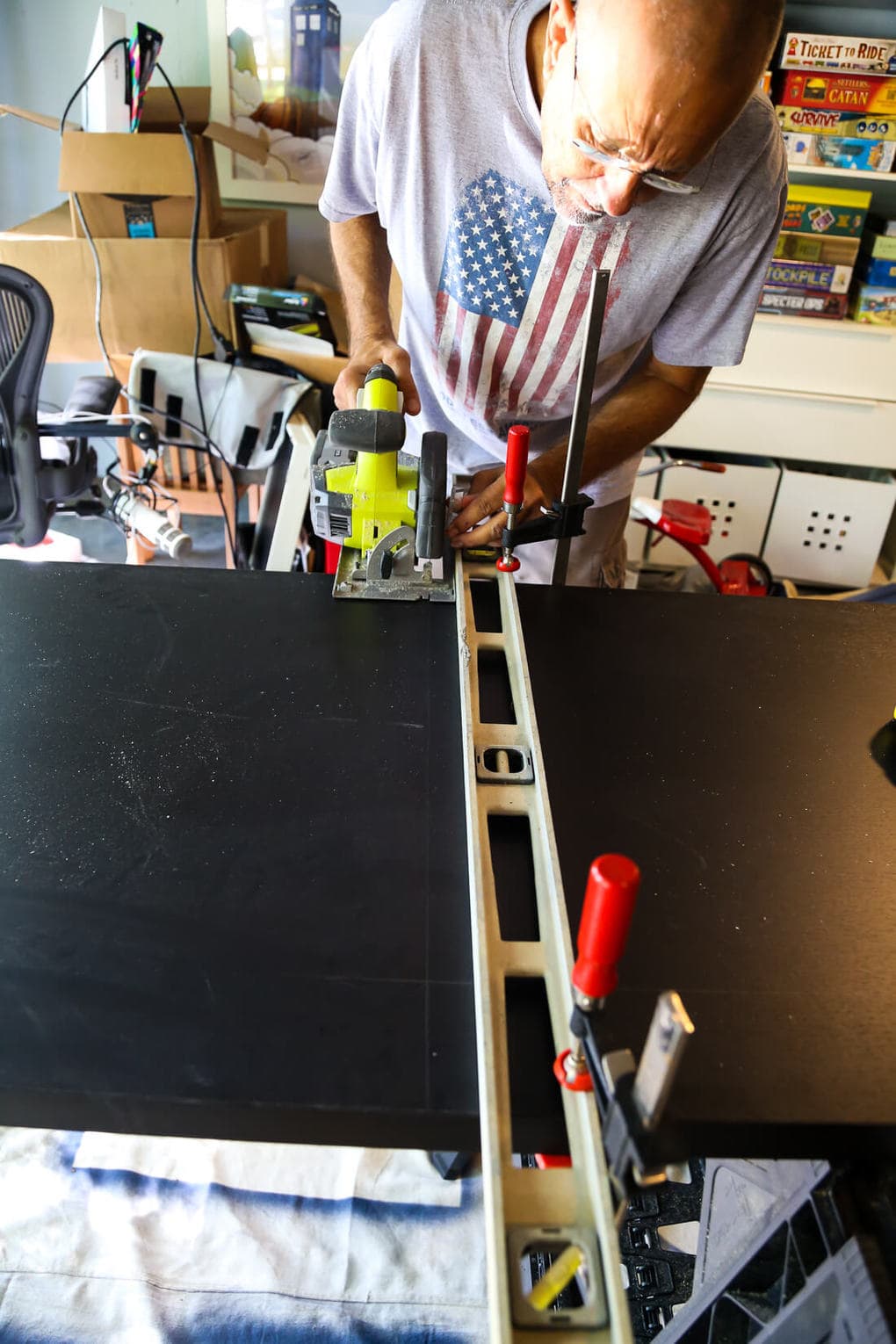 As you can see in both photos above, when you're working with a circular saw you're usually going to want to have some sort of straight edge clamped to your board to help you move in a straight line – without it, you're likely to move at least slightly as you're cutting down the board and will end up with a less-than-perfect line. All you have to do is measure the distance from your blade to the end of the saw and place your straight edge that distance from the line you need to cut on (you can see what it looks like in the photo above).
When Corey and I were prepping for this video, he said that he believes that if a beginning DIY-er has a circular saw, a drill/driver, and a jigsaw, they can accomplish just about any project they want to take on. As you get further into it, you'll probably want to add a few more tools to your list (things like a power sander, a nail gun, and a miter saw come to mind), but with those three starter tools, you'll be able to accomplish quite a bit!
I've had so much fun over the last few months learning these tools and I may have a slight addiction now. Corey just taught me the next tool for our series, and I'm gearing up to start building my first ever piece of furniture all by myself. Wish me luck – I'm hoping to knock it out this week!
Have you ever used a circular saw? Any requests for what we should tackle in the next few videos?!
POWER TOOLS FOR BEGINNERS SERIES
DIY GUIDES