So, we were feeling a little ambitious this weekend.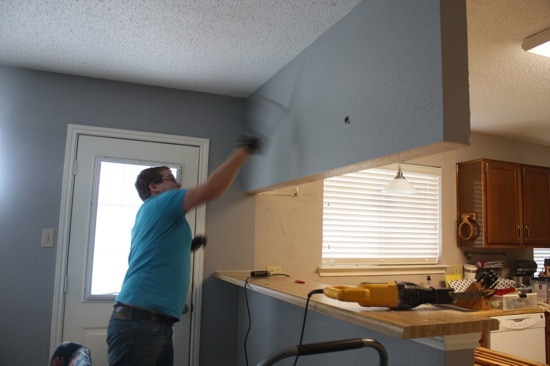 Allow me to explain. A few weeks ago, I mentioned that Corey and I wanted to knock down the upper cabinets separating our kitchen from our dining room. Well, this weekend we decided we'd had enough of those cabinets blocking our view and decided to do something about it.
We started by taking down the cabinets – there were some under-mounted lights that we thought were hard-wired to the house (there was a switch to turn them on), but once we got the false bottom out of the cabinets, we quickly realized it was a lot simpler than we thought.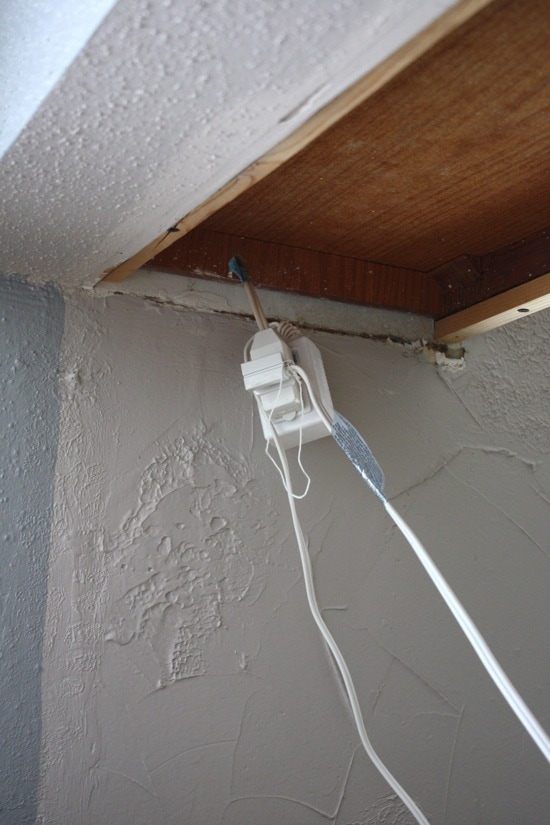 Uh yeah, that's an extension cord ran through the wall. An extension cord. Pretty sure that's not up to code, but I could be wrong.
We disconnected the lights (after turning the power off to the kitchen, of course!) and down came the cabinets!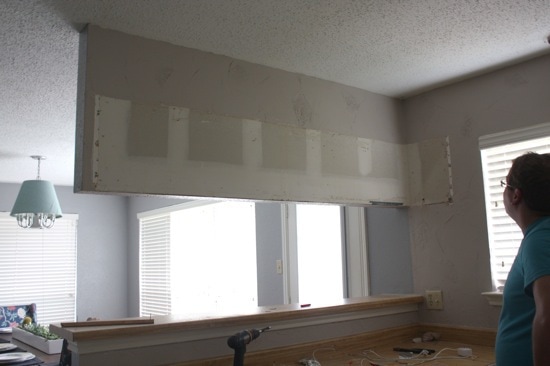 We tossed gently set them in the garage for use in a future project, and we inspected the walls a bit…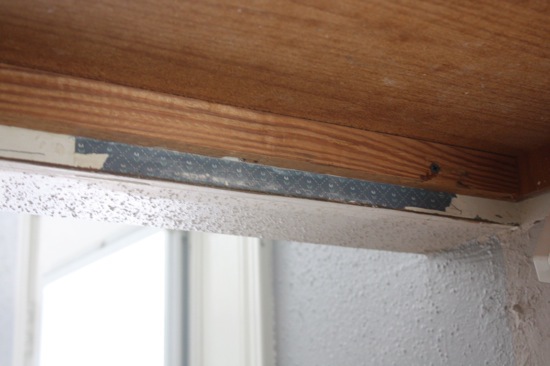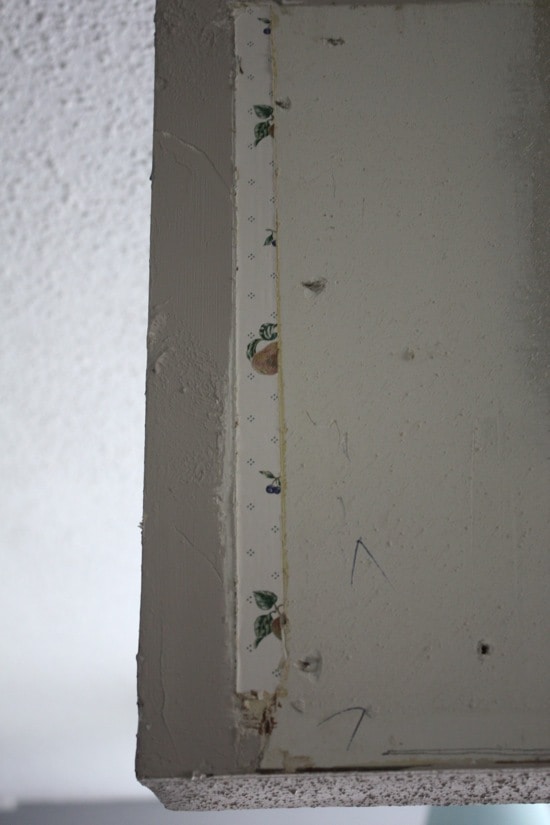 That would be not one, but two different wallpapers in our kitchen. And from the looks of it, they were both very…interesting. Hopefully they won't come back to affect us too much once it's time to re-texture the walls in the kitchen. There is a whole layer of plaster and texture on top of the wallpaper, so it shouldn't be too much of a problem.
Once the cabinets were down, it was time for the fun part. I'll let the photos speak for themselves.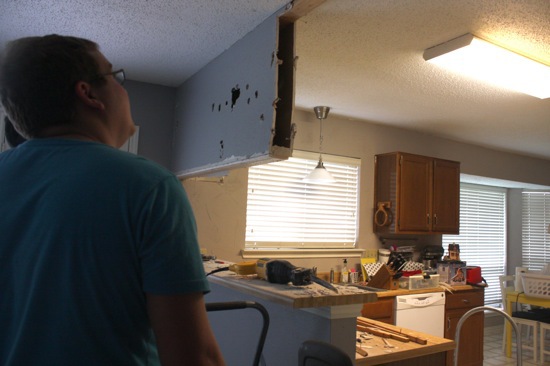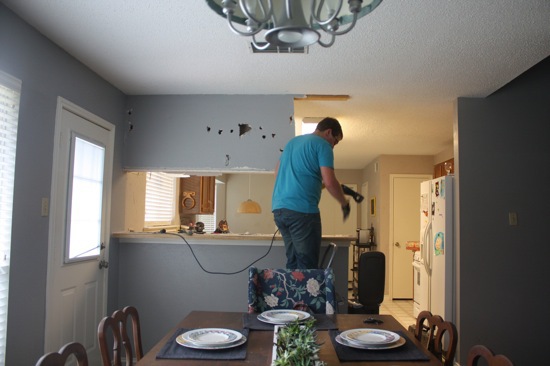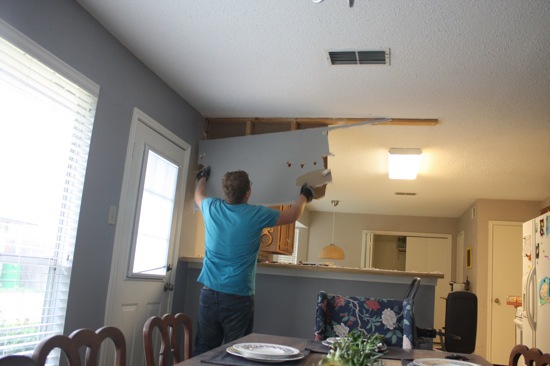 With each section we got down, we became more and more excited for how much it was opening up the whole area. We couldn't believe what a difference it was making.
Before I reveal the final (for now) look, let me remind you what it looked like before.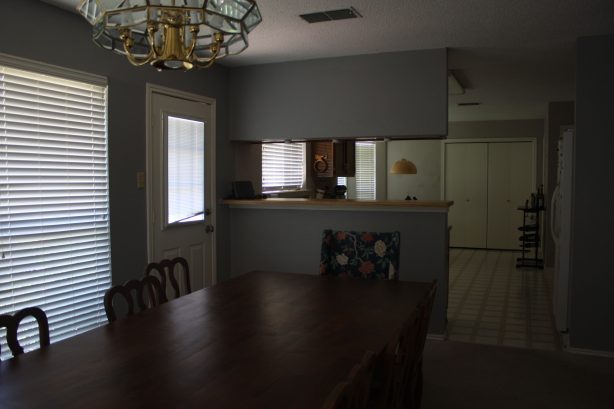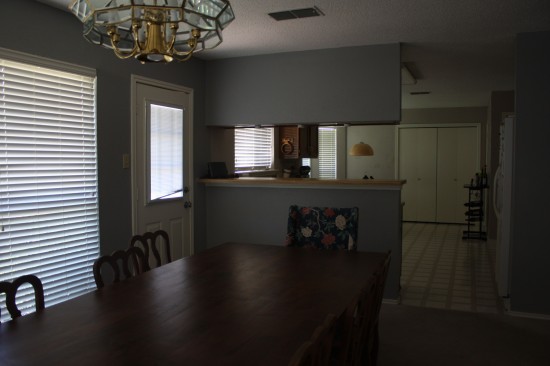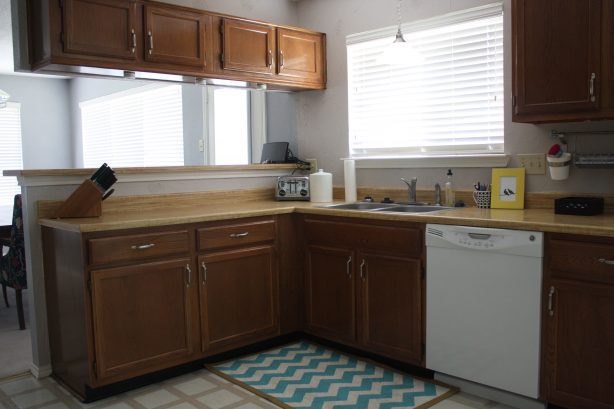 And…after.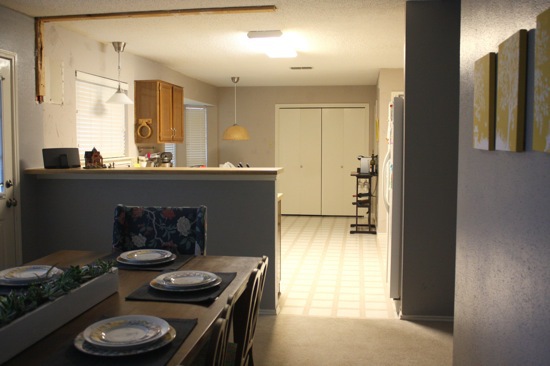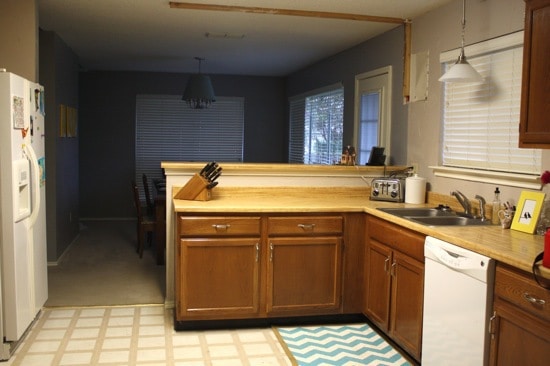 It obviously needs some finishing work before it looks perfect, but we're thrilled with the result so far. It makes the kitchen feel much more integrated with the rest of the house, and it makes us even more excited for our eventual plan of lowering that bar to counter-level for an even bigger opening between the two rooms.
The next step in this room is to re-texture the walls and add a ceiling treatment (more on that once we get to that point), but that will have to wait a few months. For now, we're just going to bask in the glow of the extra light flooding our kitchen and our new and improved view of the rest of the house!
Anyone else do some random demolition work this weekend?