Because it is mine and Corey's first Christmas together (both as a married couple and in our new house), we were a bit…lacking in the decorations department when we got ready to decorate this year.
As in, we had a Charlie Brown-ish, 6-foot, most-pathetic-tree-you've-ever-seen Christmas tree, a couple of strands of lights, and two boxes of ornaments.
And that needed to be fixed. Immediately.
So, we decided to get creative. I'm going to share the full photos of all of our Christmas decor next week (once we have some presents wrapped under the tree and it's a little less sad looking), but I thought I'd share two projects I've tackled so far to get our house feeling a bit more Christmas-y.
The first one was quick, easy, and free.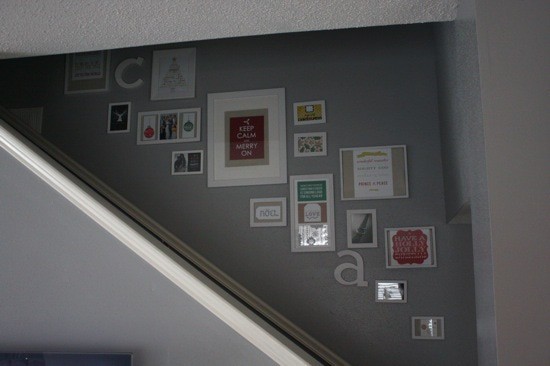 Since our gallery wall is highly visible from so many spots in the house, I knew that switching out the photos and prints in favor of Christmas-related items would make a big impact. So, one afternoon I printed out a ton of prints, cut up some old Christmas cards, and pulled out some Christmas wrapping paper in order to give our gallery wall a quick makeover.
I apologize in advance for the photos I'm about to share – our stairwell gets absolutely no natural light and it's almost impossible to shoot a good photo in it.
You can find sources for all of the prints in our gallery wall on my Holiday decor Pinterest board. If you don't see it on the board, that means it was either taken from a magazine or cut out of an old Christmas card. We even tossed the Christmas card we sent out last year in one of the frames!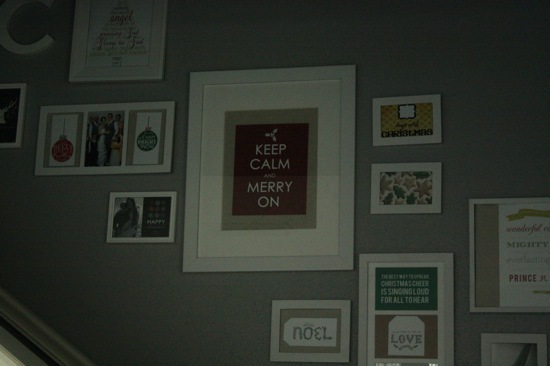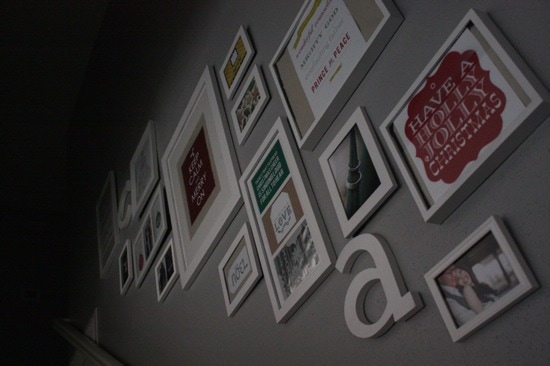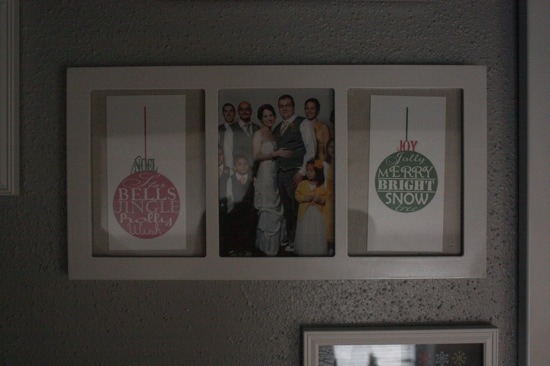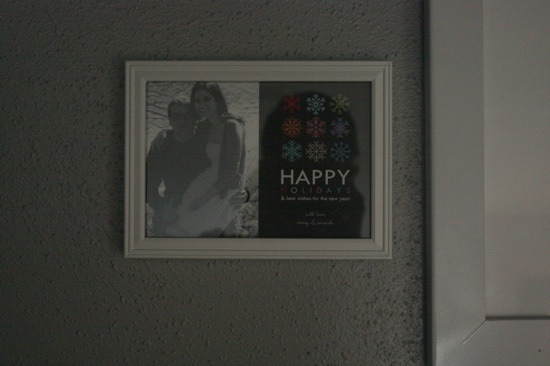 Some of the prints that I found weren't large enough for some of our larger frames, so all I did was cut some pieces from a painting drop cloth I had lying around (for the project we'll talk about next) and tossed that in the frame behind the print. It looks just like burlap and it accents the prints perfectly!

The next project I took on for Christmas was still pretty cheap (probably about less than 30 bucks total!), very easy, and not at all quick. Maybe I'm just a slow worker but this project took me hours upon hours to complete – but it was oh so worth it.
It all started with this photo on Pinterest: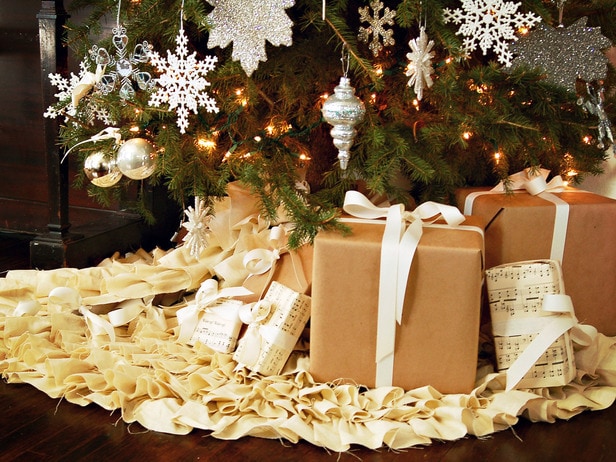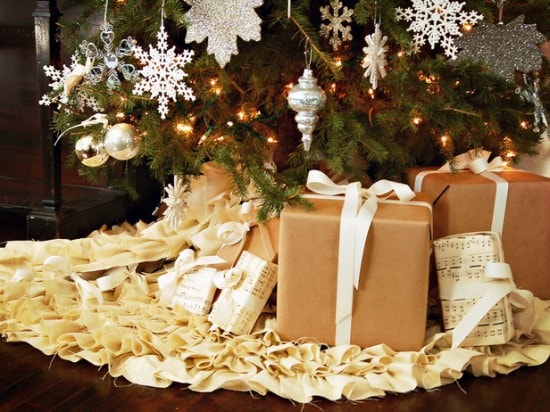 (Via HGTV)
I've always been outspoken about my love of ruffles, and Corey's always been outspoken about his aversion to covering our entire house in them. But when it came to the tree skirt, he was more than willing to let me have my fun with this ruffly beauty.
I won't go through the how-to, because the tutorial on HGTV's website it's very thorough and I followed it pretty closely. The only difference we made was to extend the skirt to a diameter of six feet instead of four. Just know that if you take on this project, it's almost impossible to mess it up – it's supposed to look a bit rustic, and it will come out looking gorgeous no matter how crooked your cuts are (and trust me – mine were pretty crooked!)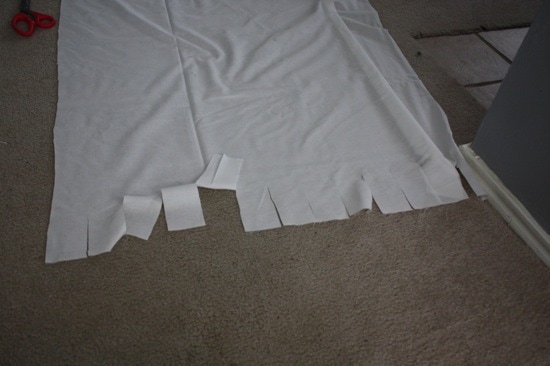 (I was listening to Christmas music while I worked on the skirt, but in the end Eclipse won out. What can I say – I'm a sucker for a couple of hours with Edward!)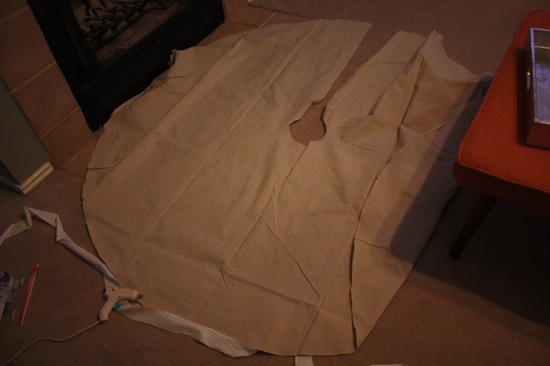 It took me two or three sessions over a couple of days to get it done, but after what felt like years (and about 75 glue sticks), my skirt was complete!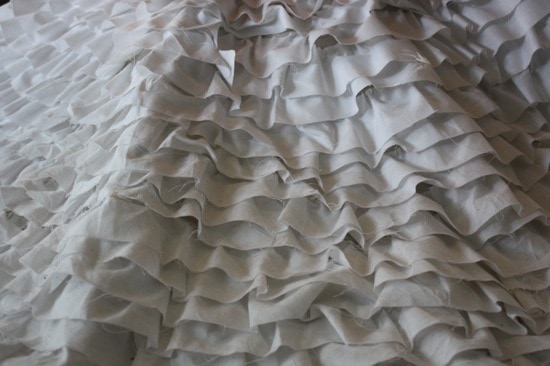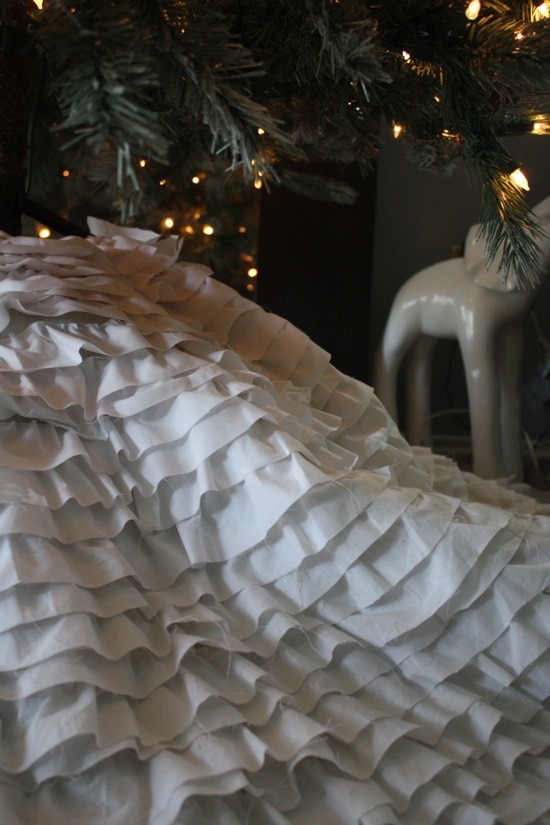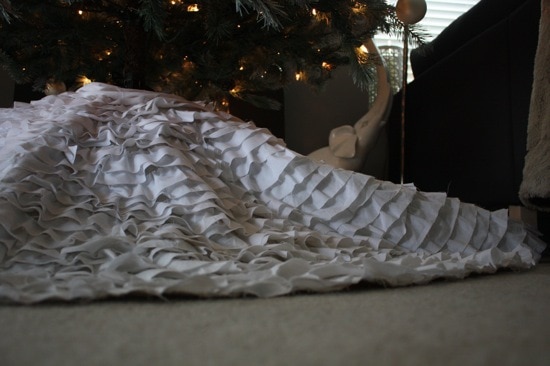 I'm in love. We had originally talked about tea-dying the fabric to make it a bit less white, but I'm so glad we didn't. Our tree is a bit on the rustic side, and the bright white fabric contrasts with it perfectly. I'm so proud of this tree skirt and I can't wait to fill it up with presents!
I'm hoping to take on a few more cheap Christmas decor projects before the holiday actually arrives – I'm a fan of going big for Christmas decorations, and with our complete lack of Christmas paraphernalia, I'm going to have to get creative!
What does your tree skirt look like? Any brilliant ideas for cheap Christmas decor projects?