How to Avoid a Plumbing Disaster This Holiday Season
Ok, listen. This isn't going to be the most glamorous blog post you've ever read. But, I'm kinda hoping you'll find it to be one of the most helpful posts. Because I think we can ALL agree that the absolute last time you want to deal with plumbing issues is on Christmas morning.
Right?
Right.
So, take this journey with me today as we learn a few quick and easy tips for how to take care of your plumbing this holiday season and keep things, well, flowing.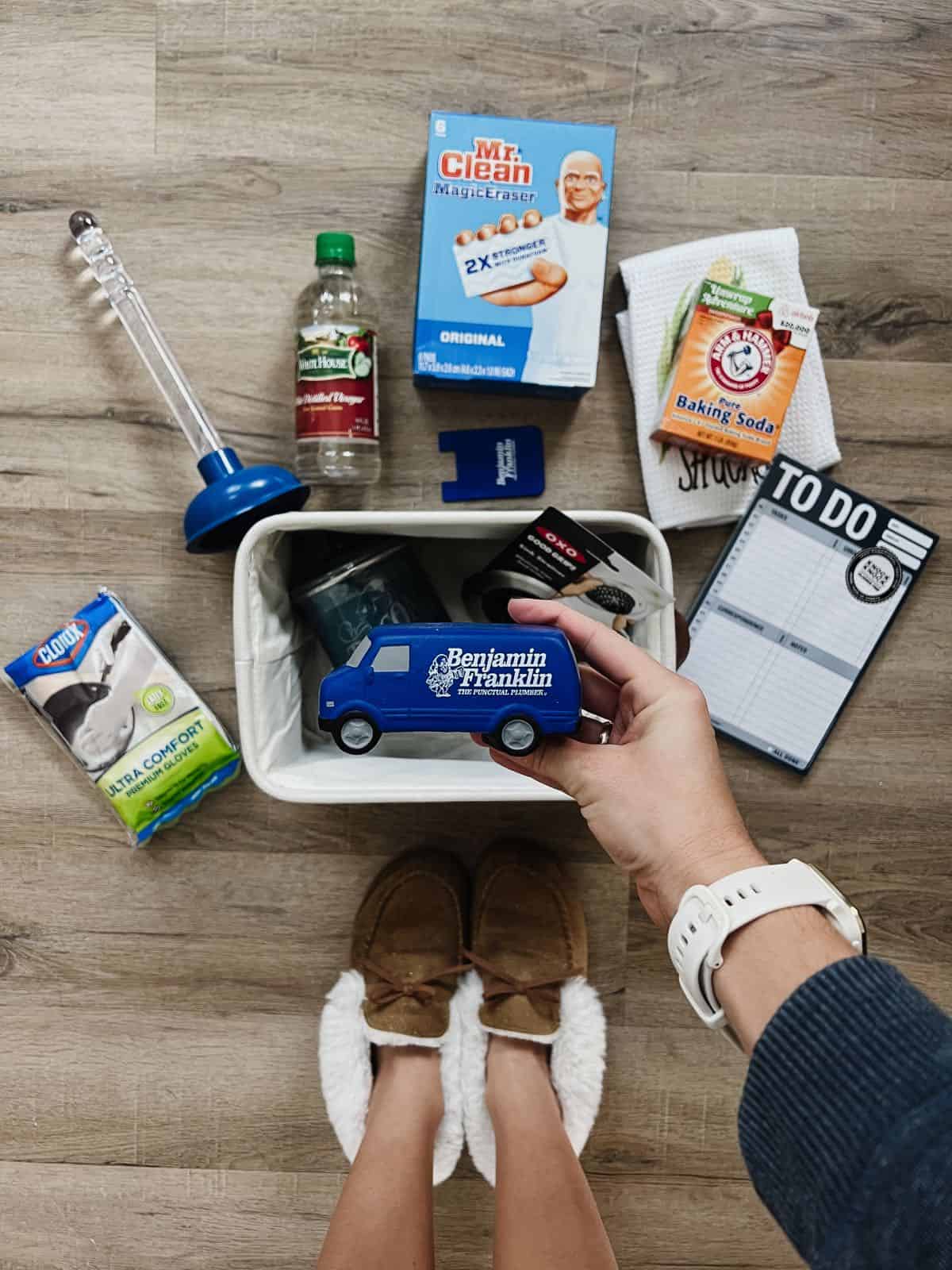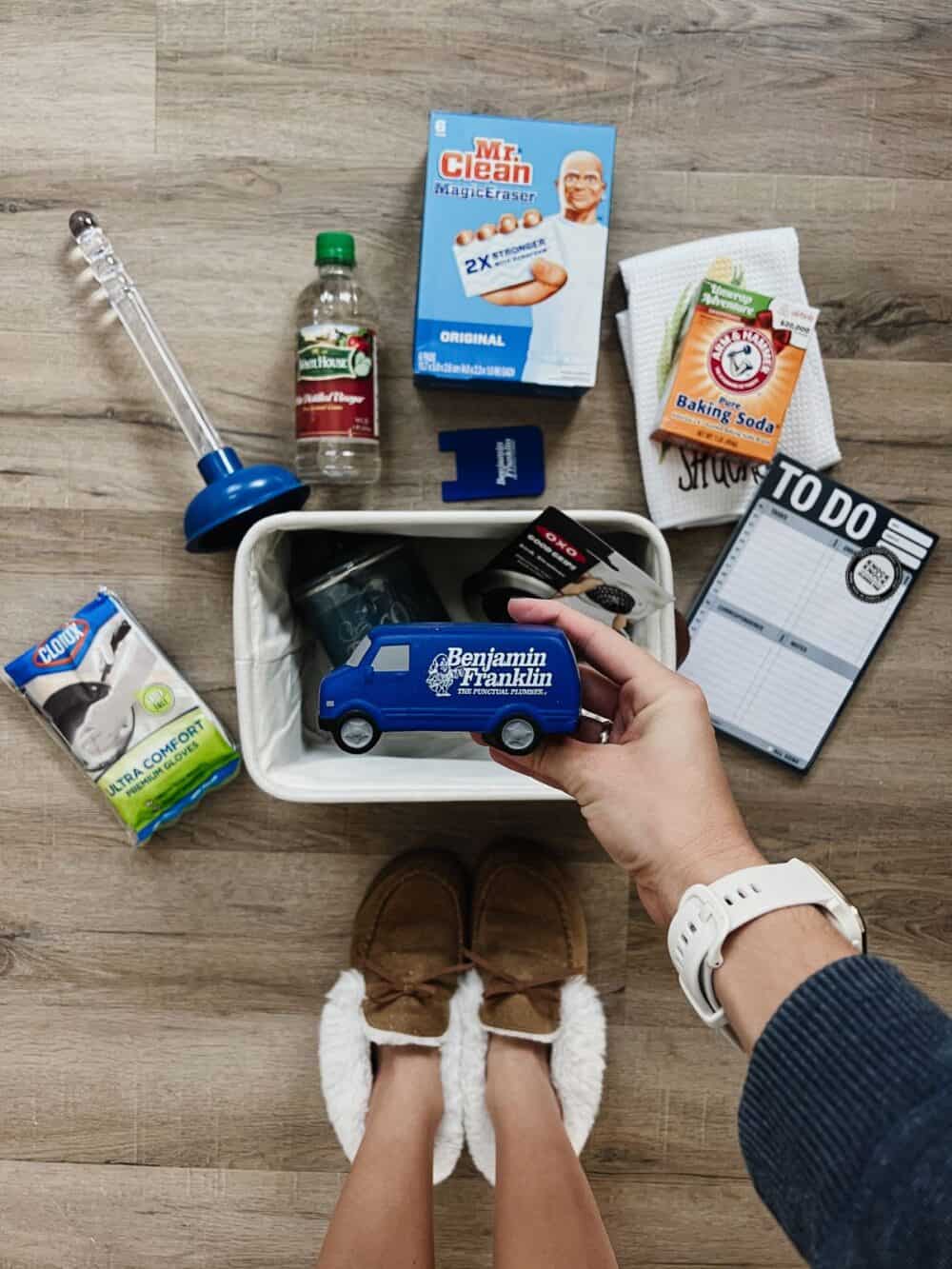 This post is sponsored by Benjamin Franklin Plumbing.
I recently learned that the holidays are THE time of year for plumbing issues. Because people are more likely to be home, have guests, and just have some general extra chaos in their homes, this is the most common time of year for plumbers to be called for emergency issues.
I had a lot of offers for plumbing-related posts this month, but I chose to work with Benjamin Franklin Plumbing for this post because I did some research and discovered that they're a really well-respected company with more than 260 locations across the U.S. In my own area, they're incredibly well-reviewed, and I felt like I could trust their advice.
Plus, they're hosting a giveaway for $500 in plumbing services! And you know I looooove a giveaway!
All jokes aside, it's genuinely really important to have a plan in place to prevent plumbing issues any time of year, but especially during the holidays. Corey and I have had to call an emergency plumber on more than one occasion for various issues, and it's an experience I'd really prefer to avoid!
So, in the interest of helping all of us avoid plumbing disasters during the holidays, here are 5 quick tips to help keep things in tip-top shape!
5 Tips to help you avoid plumbing issues this holiday season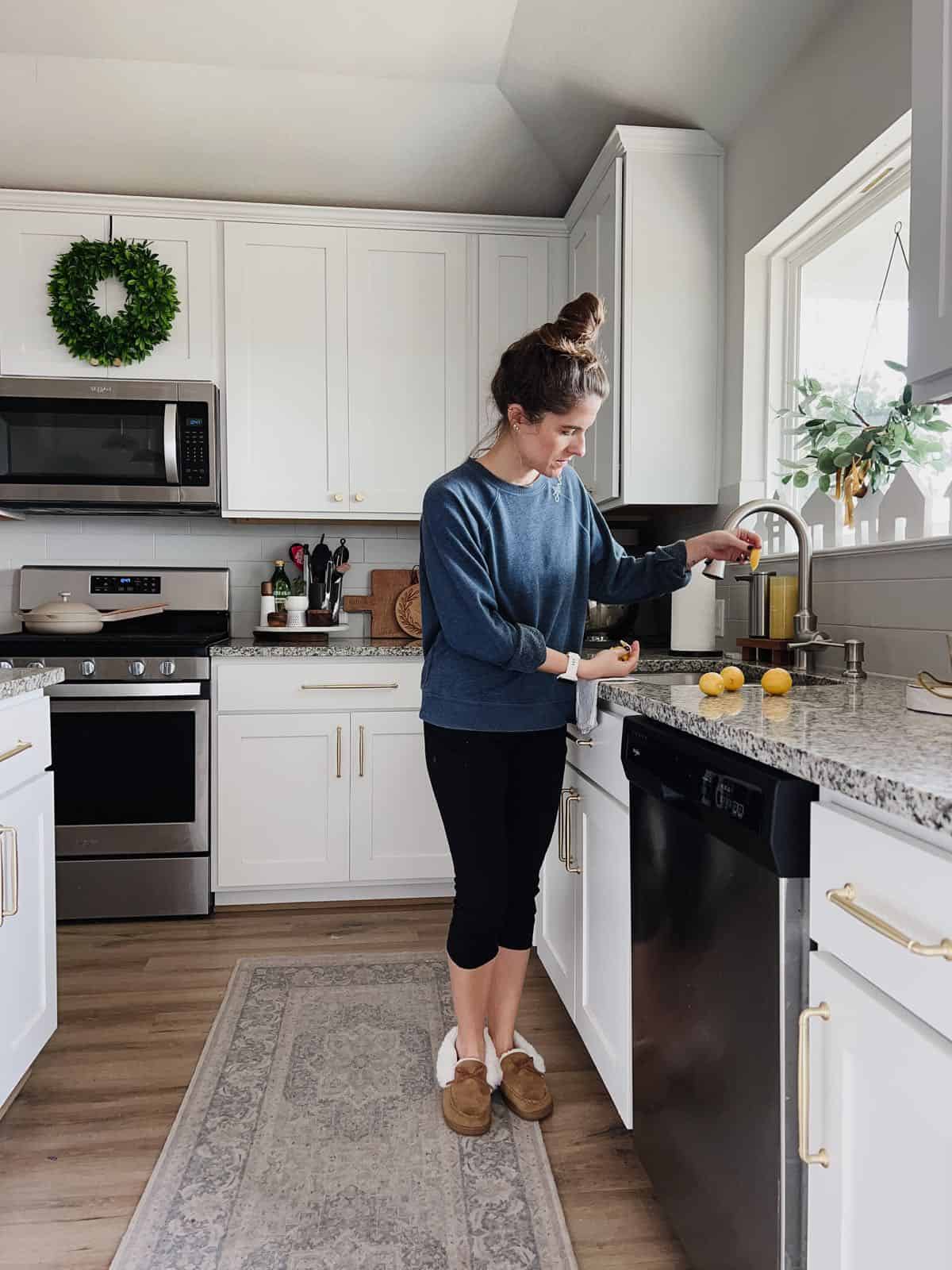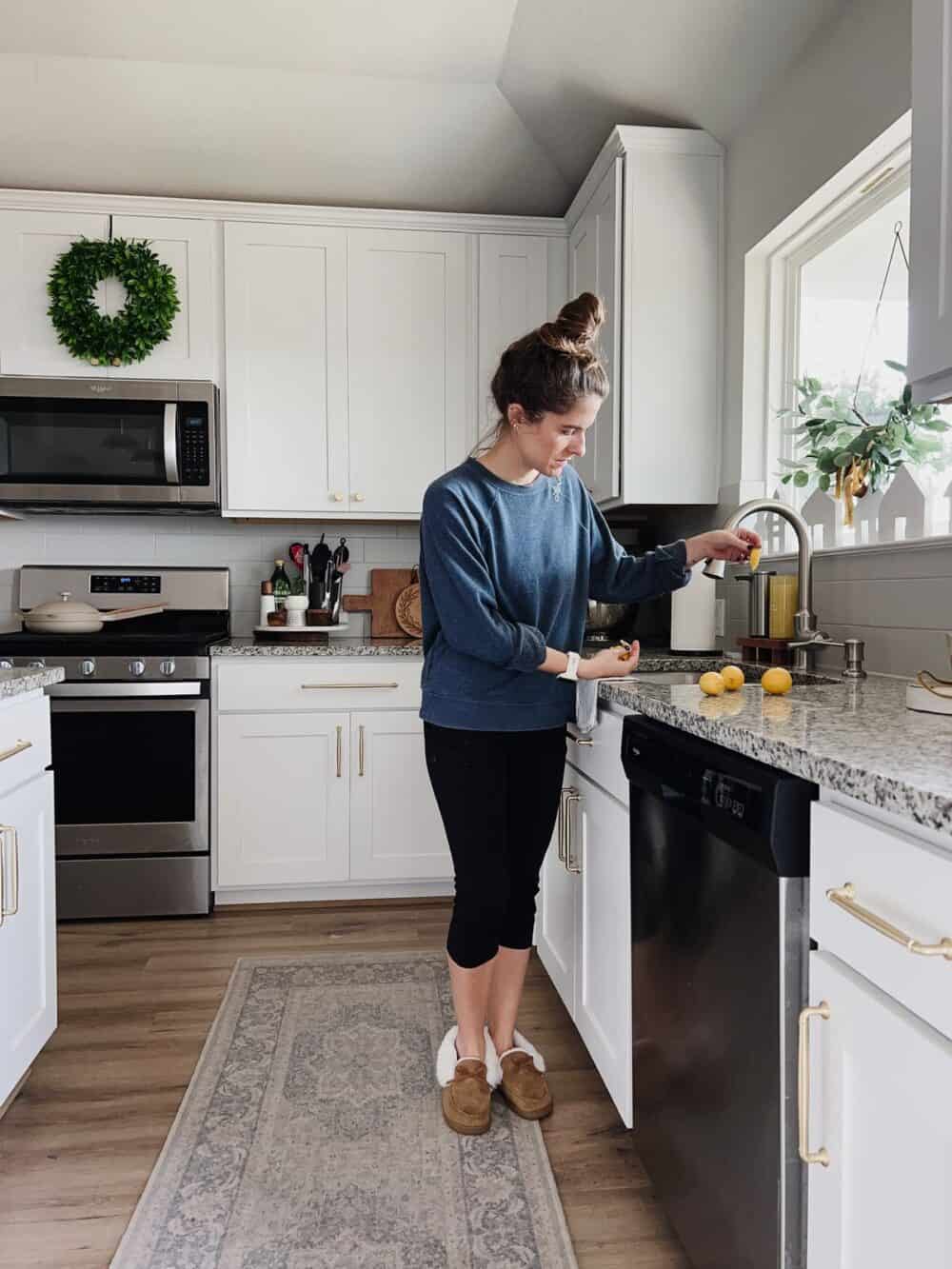 Take Care of Your Garbage Disposal
First of all, I think we can all agree the garbage disposal is the MVP of the kitchen any time of year. But, if it gets clogged on Christmas morning, that means you're dealing with a sink full of dirty water (and no way to do dishes) aaaaall day.
No one wants that.
It's important that you know what can and can't go into the disposal. Here's a quick list of things you should avoid tossing down the drain:
Large bones from meat (fish and really small chicken bones are fine!)
Potato or banana peels – any starchy foods can create a paste and clog the drain
Coffee grounds and eggshells, which can also cause clogs
Celery, asparagus, or other fibrous veggies. They can get tangled around the blades!
Pasta or rice – they tend to expand in pipes and create hard-to-reach clogs
And finally, hopefully we all know to avoid pouring fat and grease down the drain!
In addition to putting only disposal-friendly foods down the drain, it's also important to clean it regularly. It's a really simple process that doesn't require anything fancy – just toss a few ice cubes down the drain and run the disposal for a few seconds. This can help remove food caught under the blades and can help sharpen the blades! Then, add some small pieces of citrus peel and run it again. It can help neutralize odors!
Dealing with a clogged sink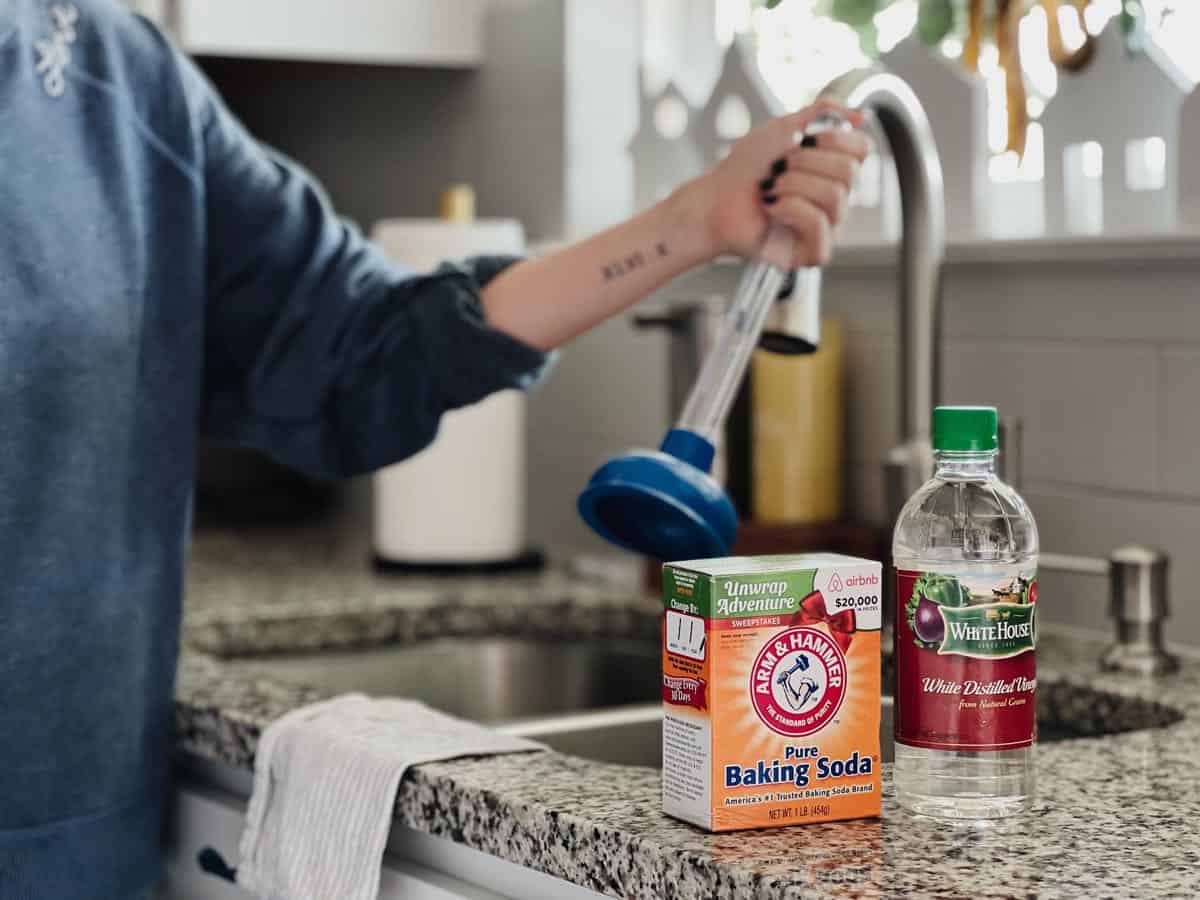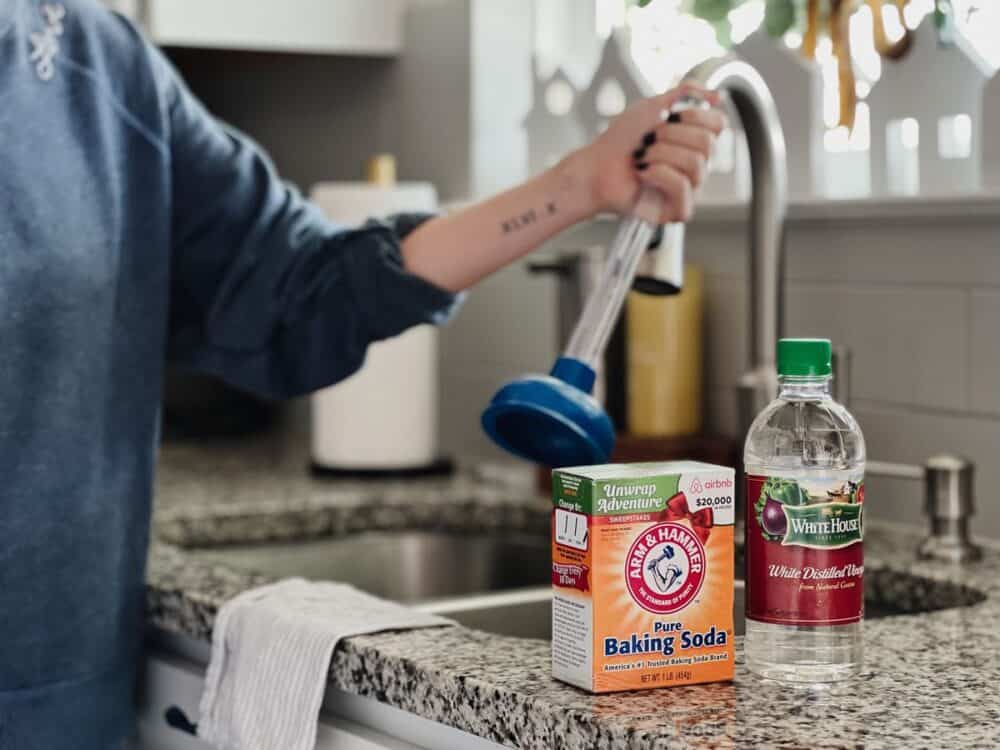 Let's say you take all the precautions, you don't put any off-limits food in your disposal, and you still end up with a clogged drain. Before you dial that emergency plumber line, here are a few things you can try to get it fixed yourself:
Avoid using chemical drain cleaners. These work in the short term, but over time they can corrode your pipes and cause even bigger issues.
Try vinegar + baking soda instead! Mix equal parts of the two, and pour it down the drain. It will foam and fizzle a bit – give it some time to work! This should help clear the clog. Once it's done foaming, run hot water through the drain.
If that doesn't work, grab a plunger! Fill the sink with a couple of inches of water and place your plunger over the drain. After a few solid pumps, most minor clogs should clear and it'll begin to drain.
Fix a Smelly Drain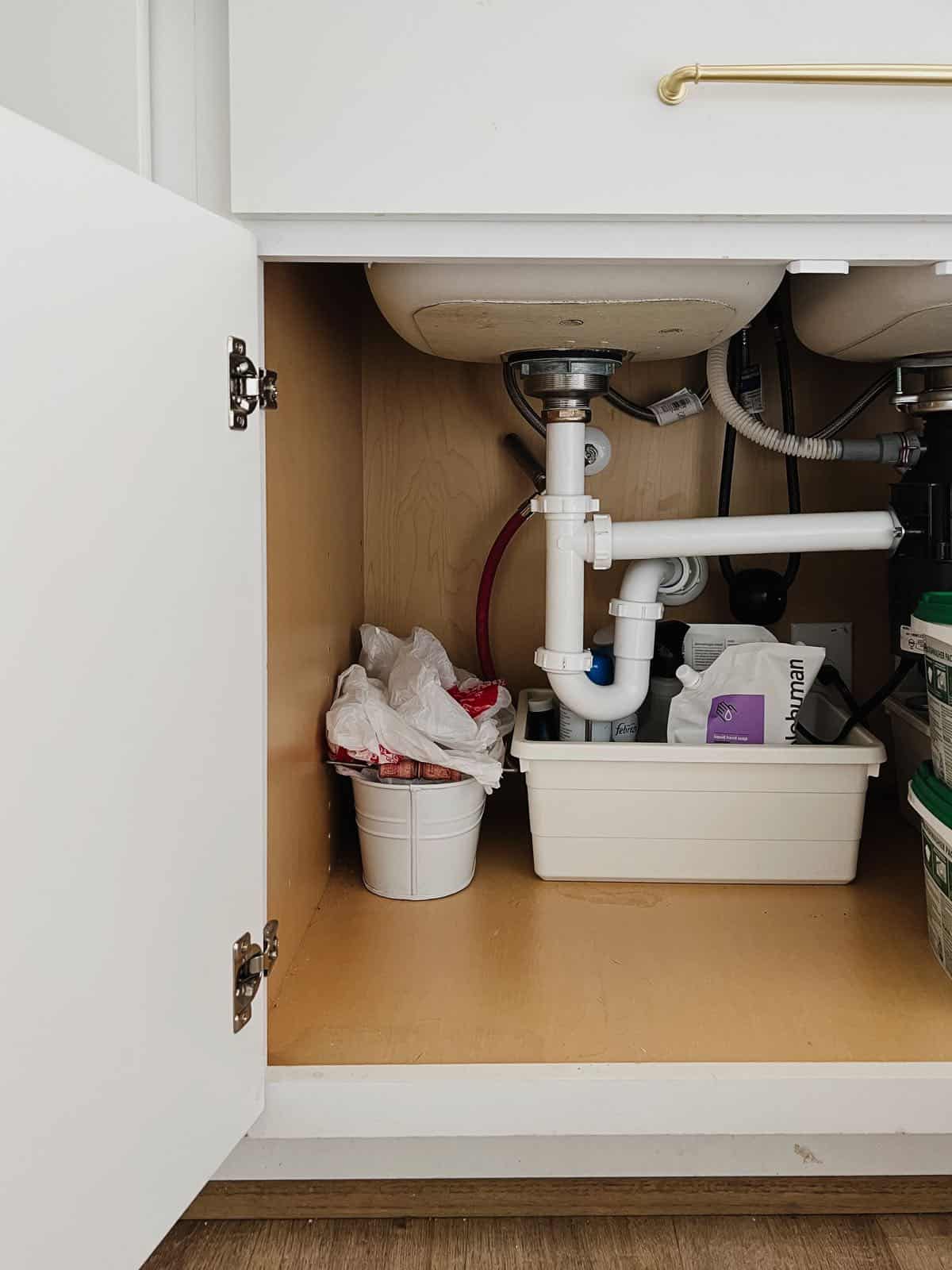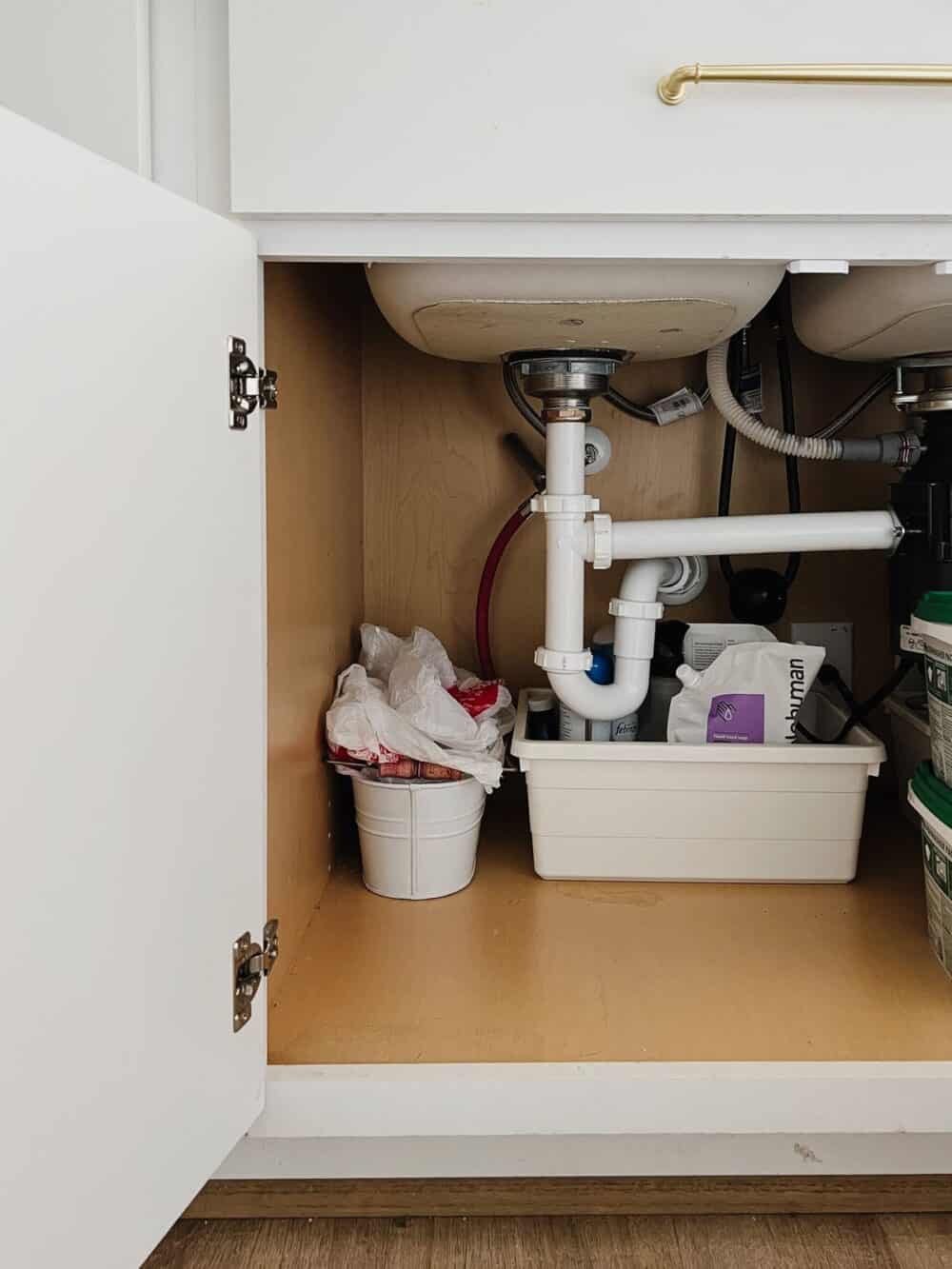 Another really annoying kitchen sink issue is when things start to stink. There are two common causes of this – one is that the water trap has gone dry and the other is that there's some film that's built up in the drainpipe.
Here's how to fix them both:
If it's just the water trap, it's a super easy fix! The water trap is the u-shaped bend in the pipes under the sink, and things can get smelly if it dries out. Try running the water for a few seconds to allow it to fill back up, then wait to see if the smell goes away. This tends to happen most often with sinks that rarely get used, not with the ones you're using on a day-to-day basis.
If it's your kitchen sink that's smelly, it's more likely the issue is a build-up of biofilm in the pipes. The only real way to solve this is to scrub it – which may or may not be simple, depending on which pipe it is! Remove the drain cover and try scouring the inside with a long, flexible brush. Spray a 50/50 mix of bleach and water down the drain to help clean and deodorize. Benjamin Franklin Plumbing offers a product called Bio-Bin that helps with regular maintenance and cleaning – it's definitely something to look into if you deal with this regularly!
If your attempts at cleaning just don't cut it, it might be time to contact a pro.
Prevent Toilet Clogs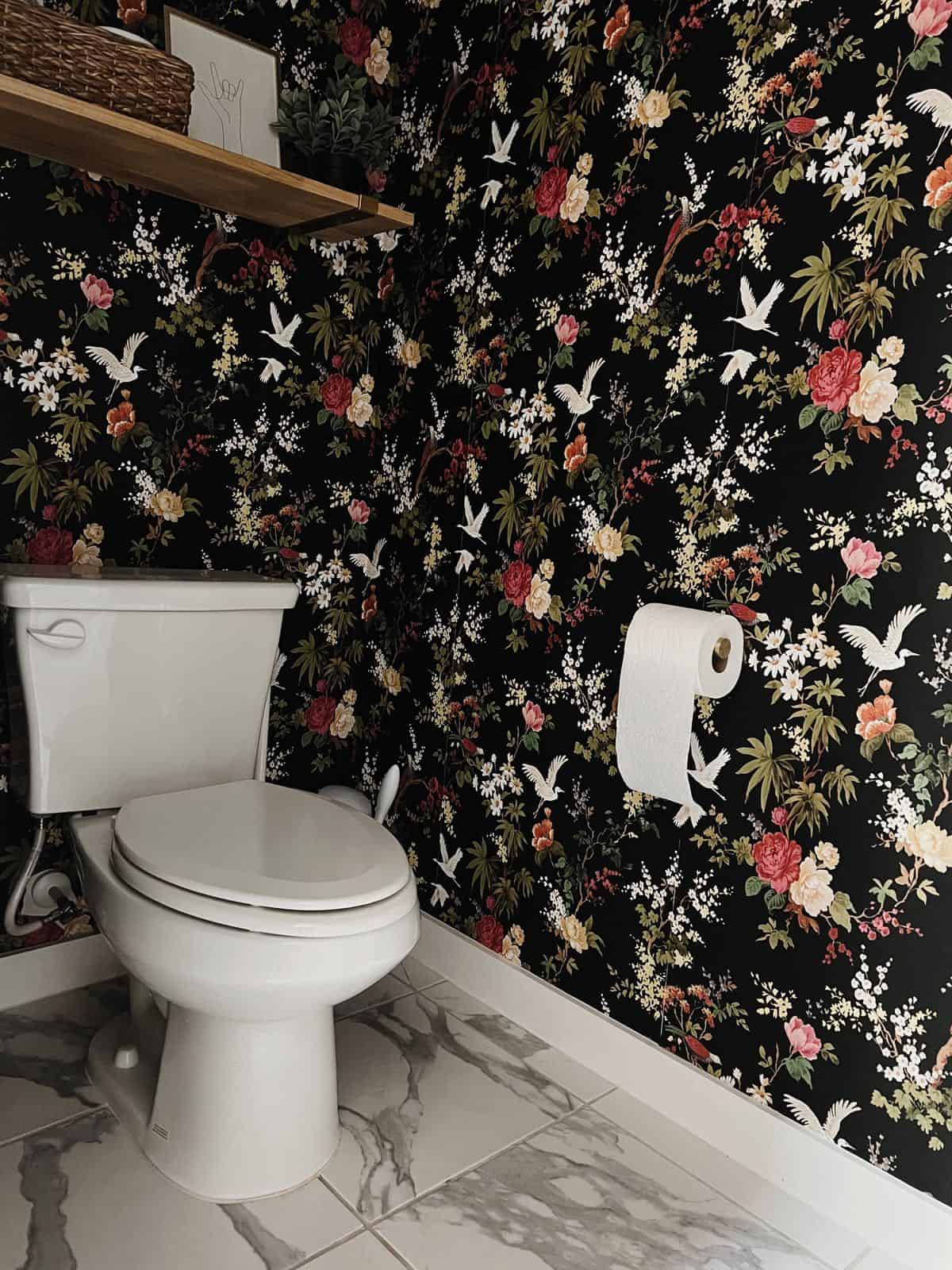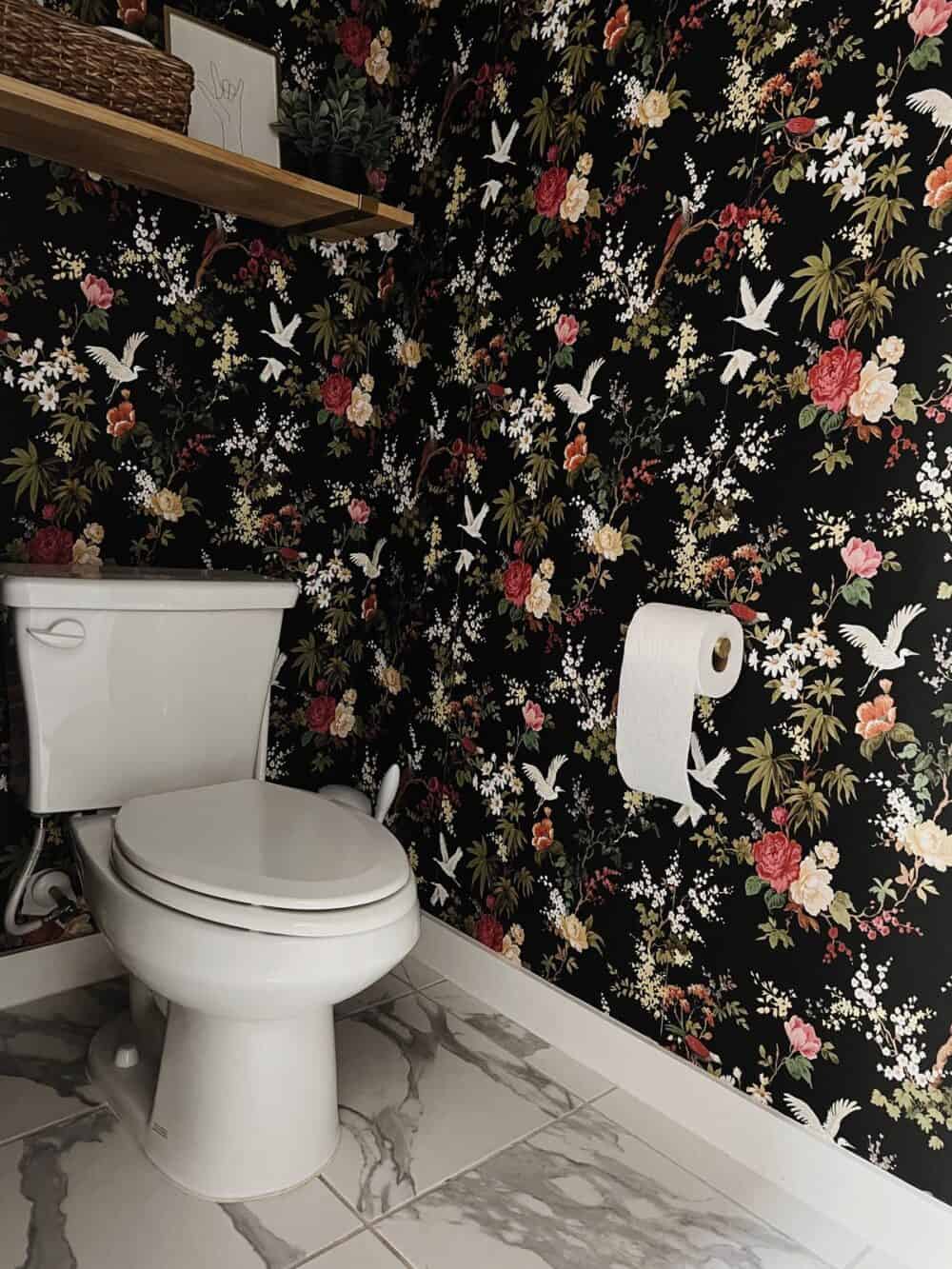 This is the actual worst issue you can come across during the holidays! Absolutely no one wants to deal with toilet issues any time of year – but especially this time of year.
Here are some maintenance tips to help avoid issues:
Clean the toilet regularly. This makes a big difference! Avoid harsh chemicals – they're not great for you, your pipes, or the environment.
Check your water shut-off valve. It's a knob behind the toilet and it stops the water supply to the toilet. Make sure it functions and turns easily – because the last thing you want is for it to not work during an emergency!
Don't flush anything that isn't toilet paper! Even if the label says it's flushable…don't. Toilet paper only, my friends!
Check Your Shower's Water Pressure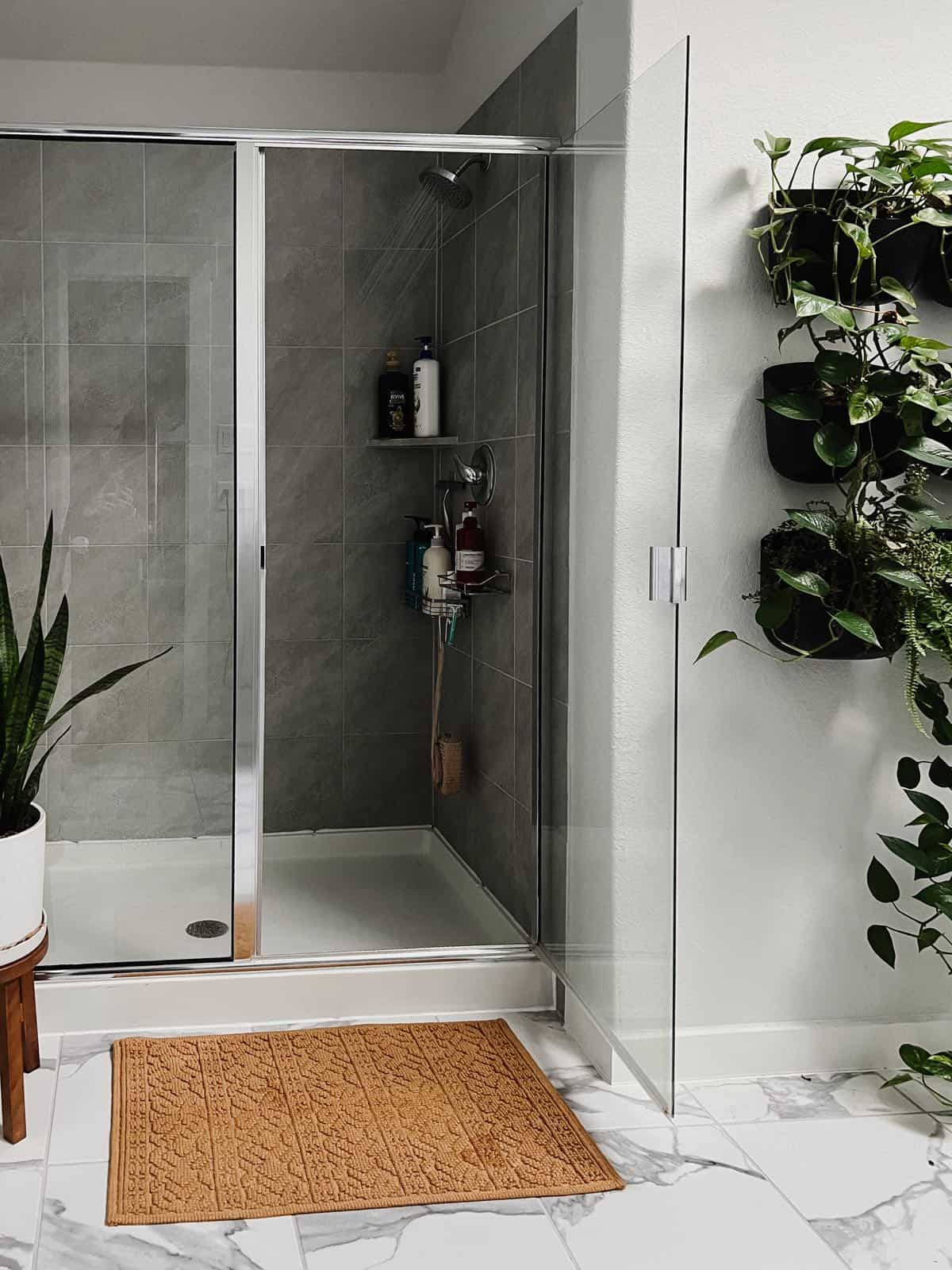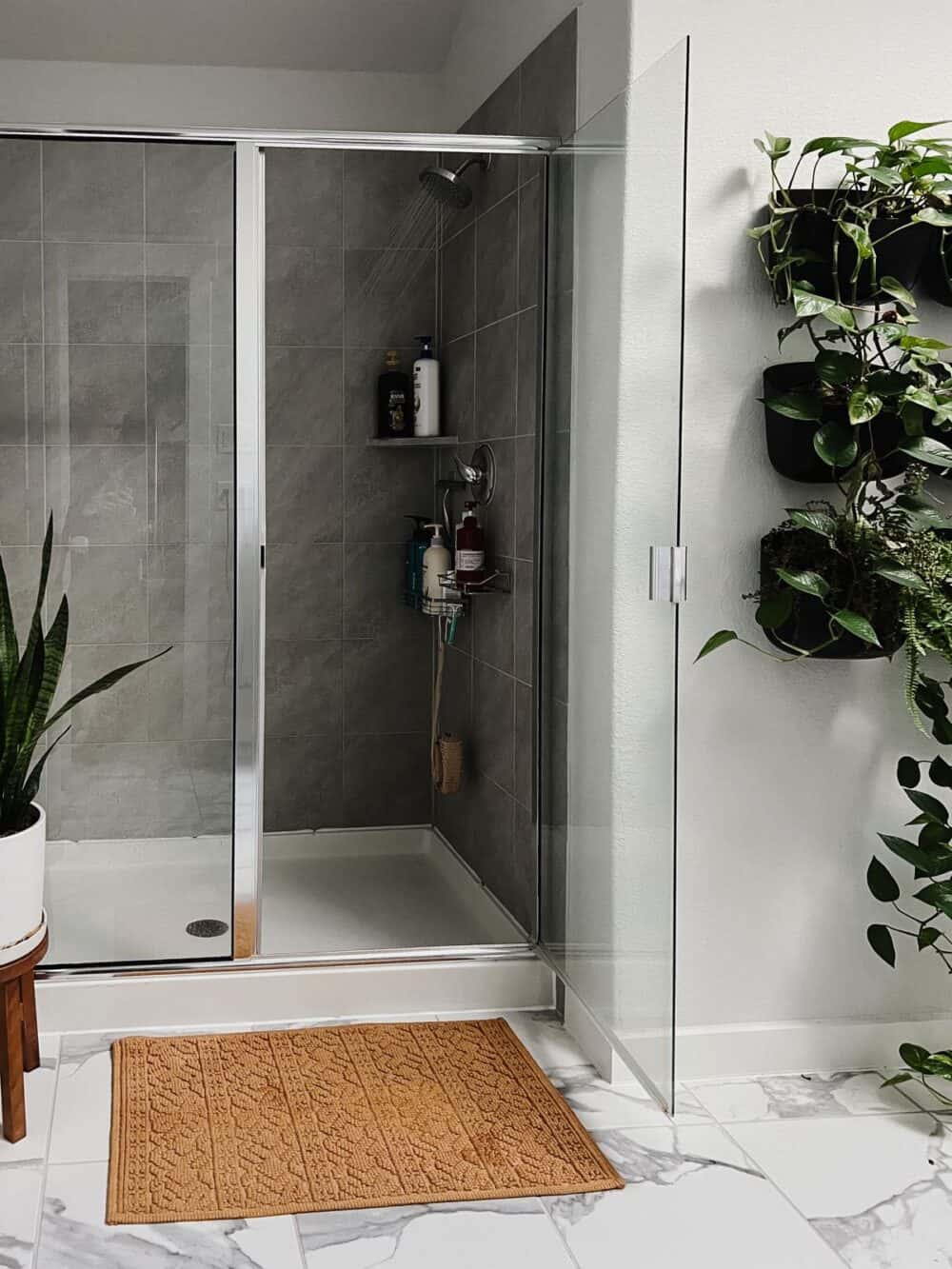 If you really want to be prepped for guests and all the extra water usage, check your water pressure with a water pressure gauge. Ideally, you want it to be between 40 and 60 PSI. A good way to test if your water pressure is doing good is to run the shower and sink at the same time, then flush the toilet. Keep an eye on the shower's water pressure as the toilet water is refilling – it shouldn't drop significantly. If it does, you may have an issue that needs to be looked at!
Before calling a plumber about shower water pressure issues, you can also start by cleaning the shower head! Wrap a bag of white vinegar around the shower head and allow it to soak for a few hours. This should help clear up any clogging or build-up.
There's also a filter on every shower head, and if you check the manual it will tell you how to remove and clean it – this can help significantly, too!
know how to get help!
Sometimes despite all of or best efforts, things happen and emergency plumbing issues pop up. If you need some help in a hurry (or, you know, anytime), Benjamin Franklin Plumbing is a great option. With more than 260 locations across the US, you're sure to find one that works for you.
And, since plumbing isses aren't the most exciting thing to talk about, Benjamin Franklin Plumbing is making things more fun by launching a contest now through 12/31/21! To enter, you have just have to fill out a quick form with your info – and as a bonus, you can tell about a time you had a plumbing disaster.
The winner will get $500 in plumbing services, courtesy of Benjamin Franklin Plumbing. It's perfect for a check-in to make sure that everything is in great shape for the holidays!