DIY Pull-Out Pot & Pan Organizer
Y'all, when I say this project has been a long time coming, I mean it. This DIY pull-out pot & pan organizer is a project I've wanted to do not only since we moved into this house, but for multiple houses now!
I don't know how things are in your house, but our pot and pan cabinet has always been a bit of a disaster.
As in, it's impossible to get anything out, everything is very precariously stacked, and if you make one wrong move everything might come crashing down on you.
Needless to say, I've been desperate for a better organization system in here for a long time. I finally got around to building a custom DIY pull-out pot & pan drawer…and y'all, it's a game changer!
Here's a little before and after action for you. The difference is unbelievable!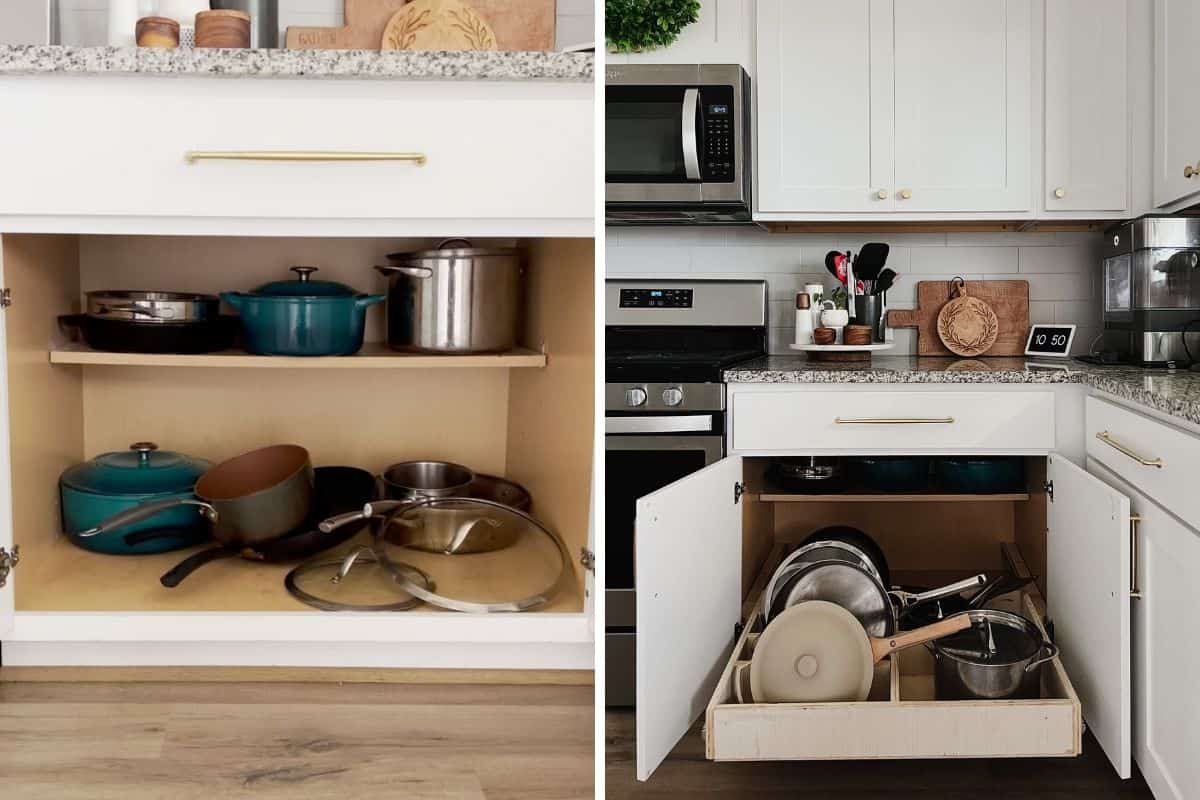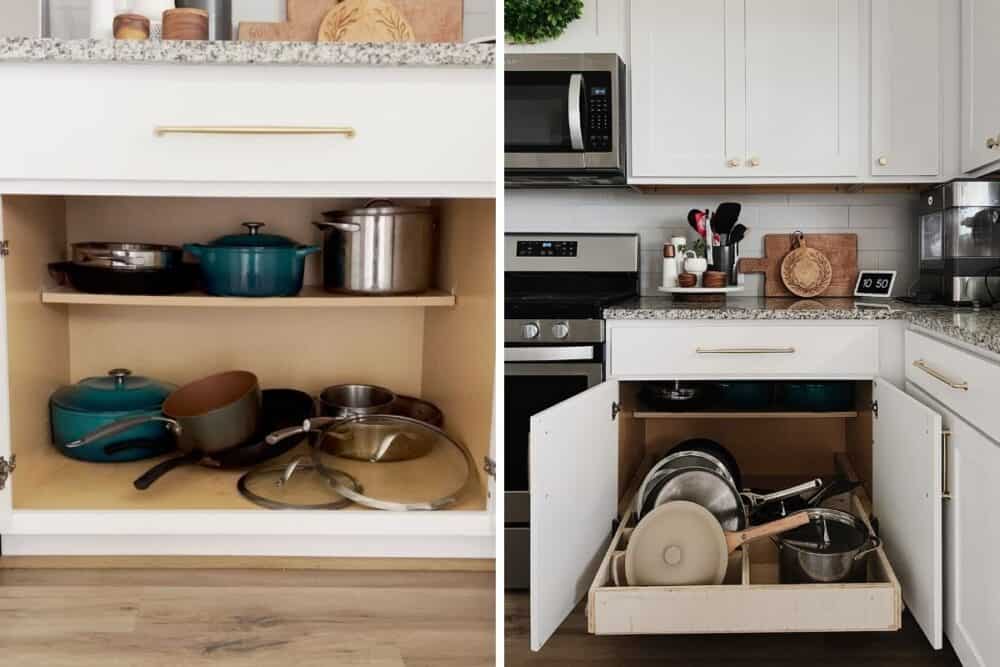 This project is sponsored by Kreg.
The best part? I built all of this using mostly scrap wood, and it only took a few hours from start to finish.
Today I'm going to walk you step-by-step through how to build your own DIY pull-out pot and pan organizer! This project is very beginner-friendly, as long as you've got a little patience.
And honestly, couldn't we all practice our patience skills a bit anyways?!
DIY Pull-Out Pot & Pan Organizer
Tools & Materials Needed:
Step One: Measuring and Planning
When it comes to building drawers, planning everything out is the absolute most important part of the entire process. If your drawer is off by even 1/16″, it won't slide properly.
Ask me how I know.
Don't let that scare you off, though! This isn't terribly difficult, you just need to take your time with it.
The first thing you need to do is open your drawer slides and read the directions. It will tell you exactly how much clearance you need on either side of the drawer. I used side-mount slides because that's what made the most sense for my project. You can also do this with under-mount slides but you'll need to attach the bottom differently. Click here to learn about how to do the project that way.
For my drawer slides, the directions said I needed 1/2″ clearance on either side of the drawer to account for the slide mechanism. So that meant I needed to make my drawer 1″ smaller than the opening I was working with.
Now, here are a couple of other things to take into account:
In order for the drawer to pull out past the hinges, you'll need to measure from door hinge to door hinge rather than from side to side of the cabinet. If it fits inside the cabinet but gets caught on the hinges, your drawer won't function!
How will you mount it? I planned to add ledger boards on the side of my cabinet to attach my drawer slides to – when you're measuring, you need to take the width of those into account as well! Because I was adding these, they pushed the drawer slides past the hinges and it wasn't an issue to worry about those.
So, here's the formula I used to find the right width for my drawer:
Interior cabinet width – Size of ledger board (x2) – 1″ = drawer size
My interior cabinet width was 34.5″. Subtract 1.5″ (the width of the 2×2 ledger board) times two, which is 3. Then, subtract one more inch for the drawer slides and my drawers needed to be exactly 30.5″ wide.
Got it?
Once you've figured out the width of your drawer, it's time for the depth. For most standard cabinets, a good drawer depth is 21″ or 22″. I went with 22″ here.
step two: build the drawer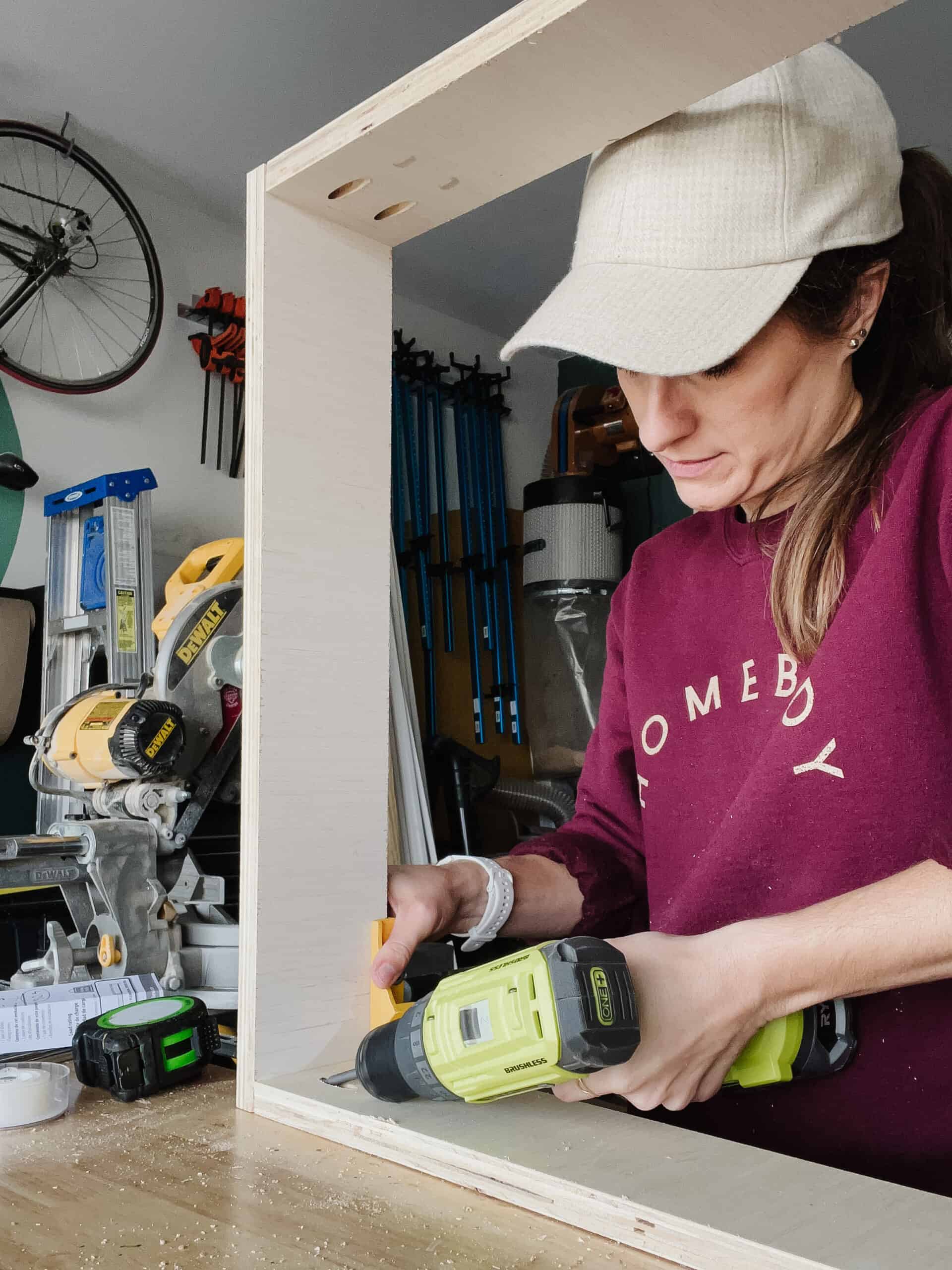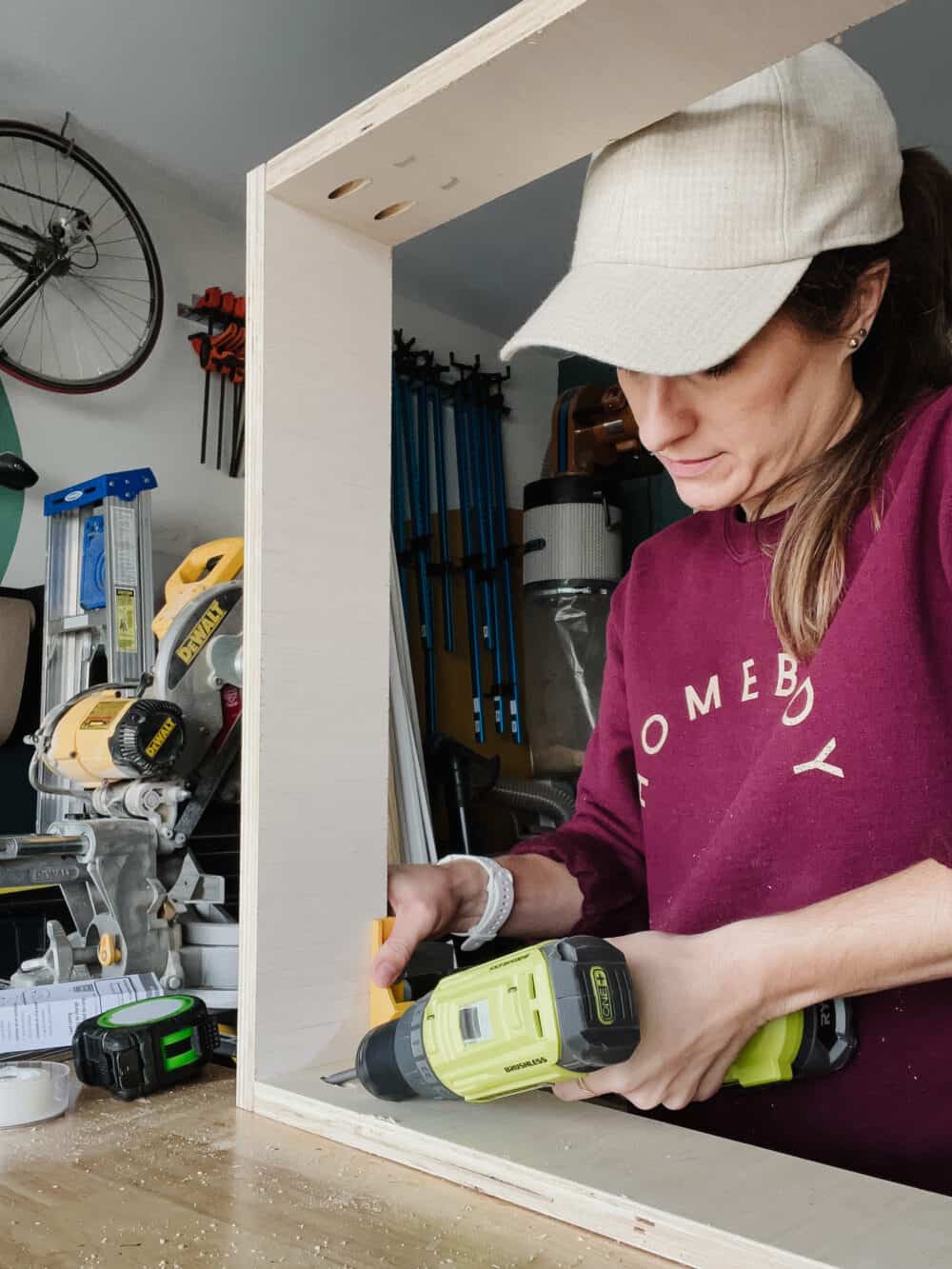 With your measurements planned out, you're ready to build the drawer itself.
I made the sides of my drawer 4″ tall, so for my 30.5″ x 22″ drawer, I needed to use my circular saw to cut four pieces of plywood with the following measurements:
Two pieces at 27.5″ x 4″
Two pieces at 22″ x 4″
Why 27.5″ instead of 30.5? Because when you fit the drawer pieces together, the 22″ pieces will sit on the outside of the longer pieces, adding to the width of the board. So, you need to subtract the thickness of the plywood from your measurements!
After you cut those, grab your 1/4″ plywood and cut a piece that will exactly fit the bottom of your drawer – in my case, I wanted it to be 30.5″ x 22″.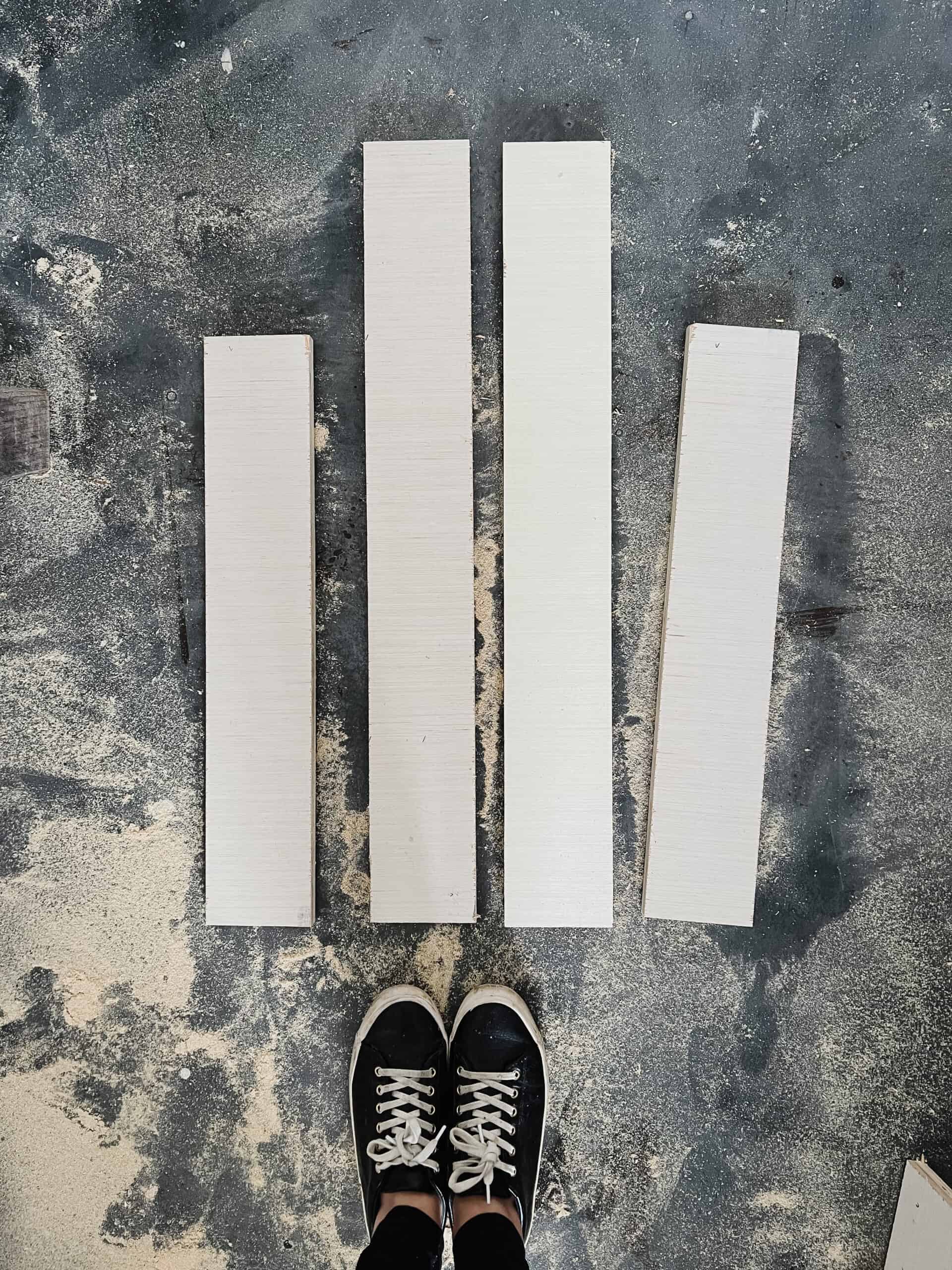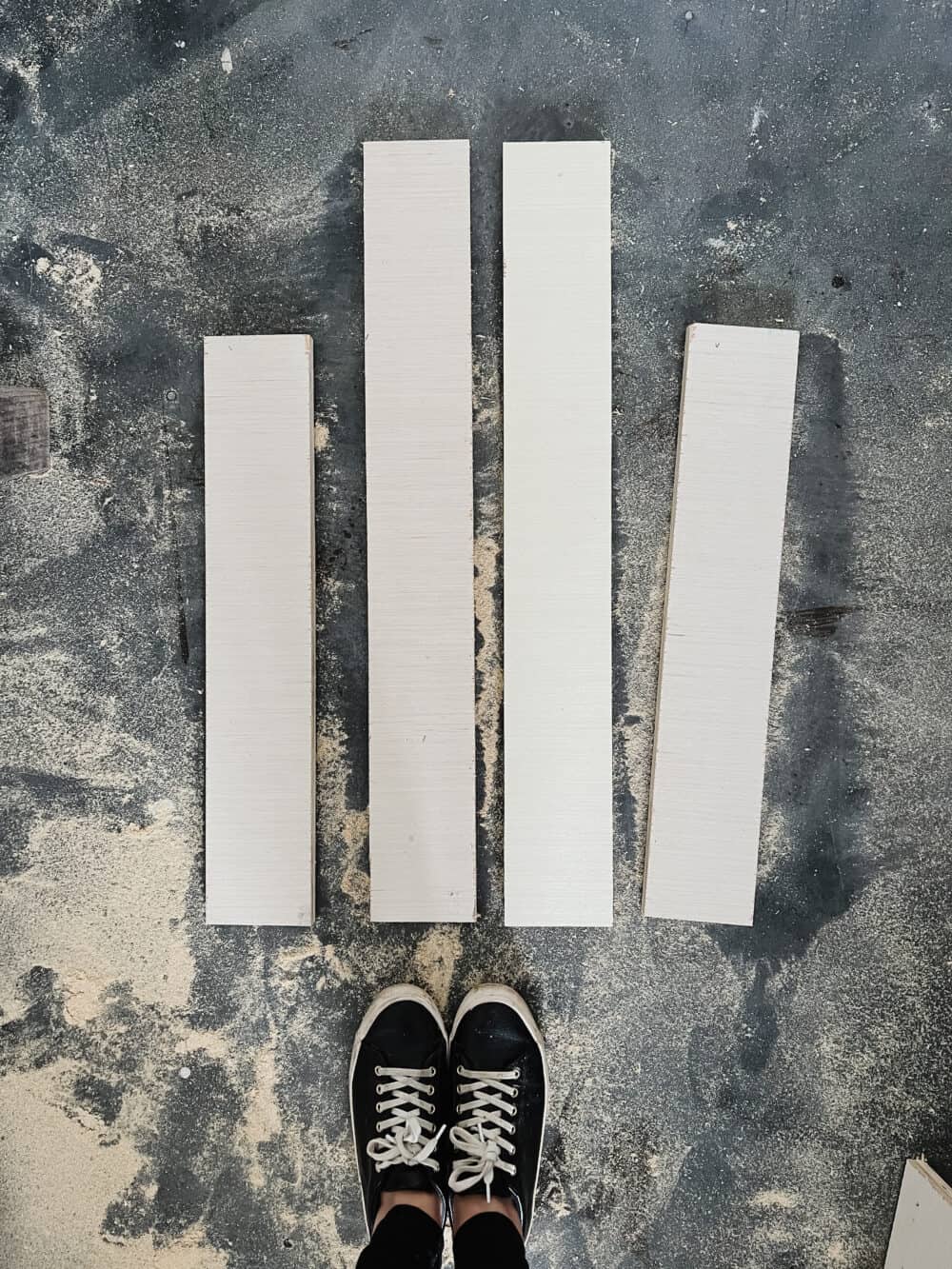 After cutting all four pieces, you're ready to assemble a drawer!
step three: drill pocket holes
Now you're ready for pocket holes.
I've assembled drawers a few different ways before, and I can tell you with confidence that using a Kreg Jig to add some pocket holes is by far the easiest and fastest way I've tried! It was accurate, simple, and so quick. I expected the drawer-building process to take a lot longer than it did, but thanks to my Kreg Jig it was really fast to put the drawer together.
Simply drill two pocket holes on either end of your longer pieces, then add some wood glue and assemble a box!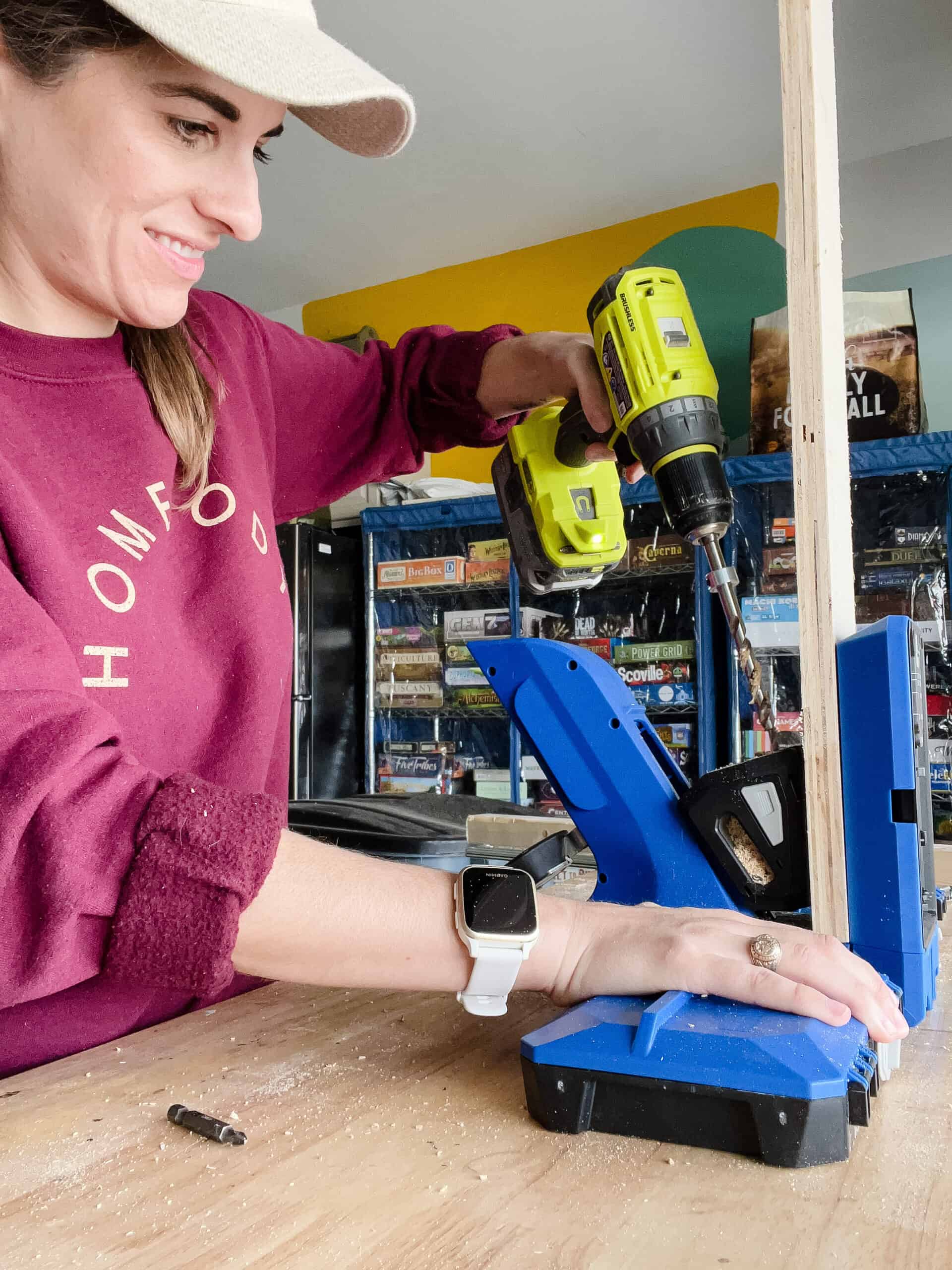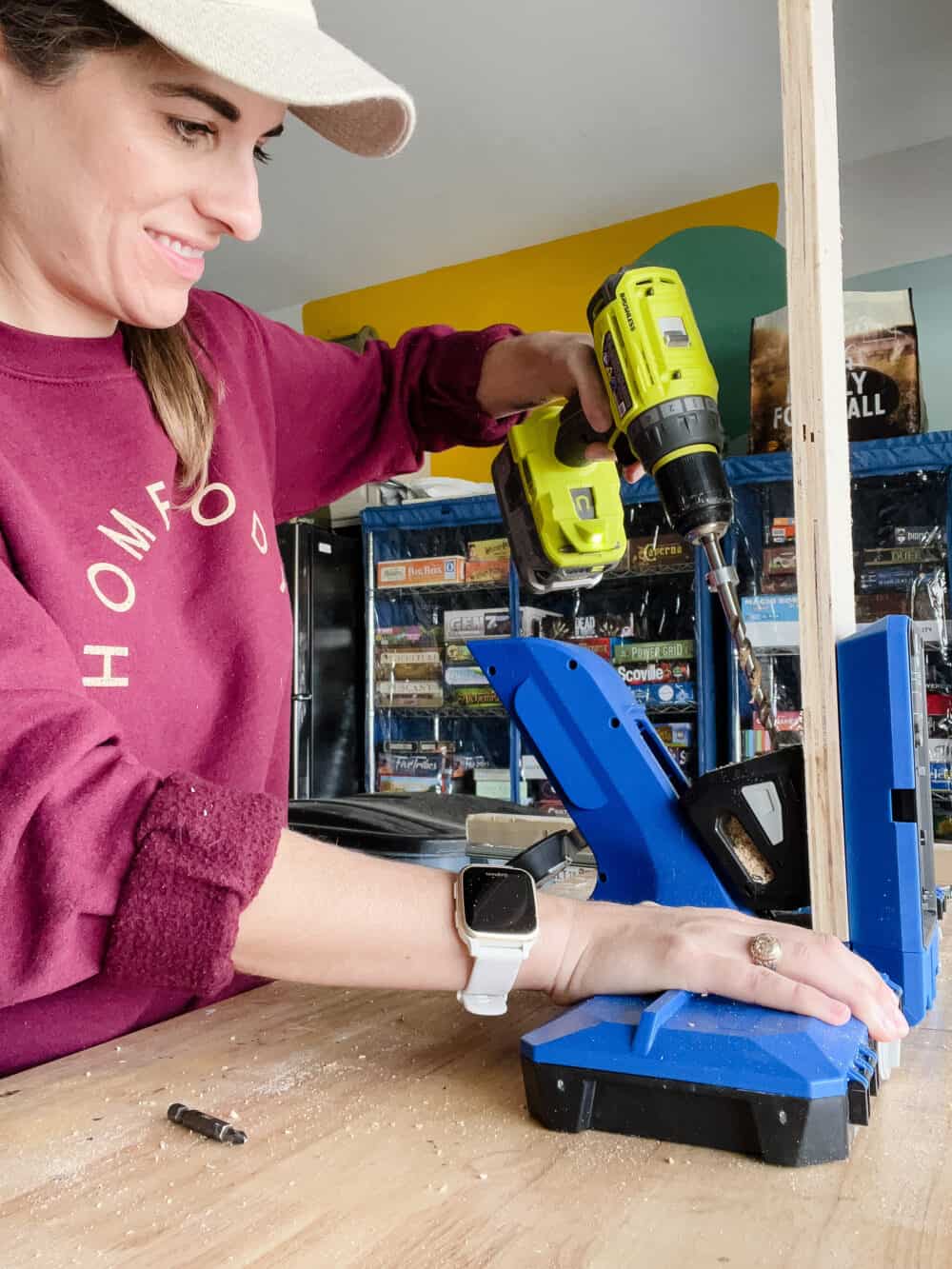 I recommend using some corner clamps (Kreg has these!) to help you hold things in place while you work. It makes it much easier to ensure everything is square!
After you've added all of your pocket holes and screwed things into place, you should be left with an empty square of plywood. Grab your 1/4″ plywood, add glue around the perimeter of your box, and use a pin nailer to nail the bottom of the drawer into place.
Remember that with this method of drawer-building, the drawer isn't going to be able to hold super heavy things – the bottom could eventually separate from the rest of the drawer. if you're planning on putting larger and heavier things in your drawer, use the method outlined in this post instead!
Once you've added the bottom, it should look a little something like this: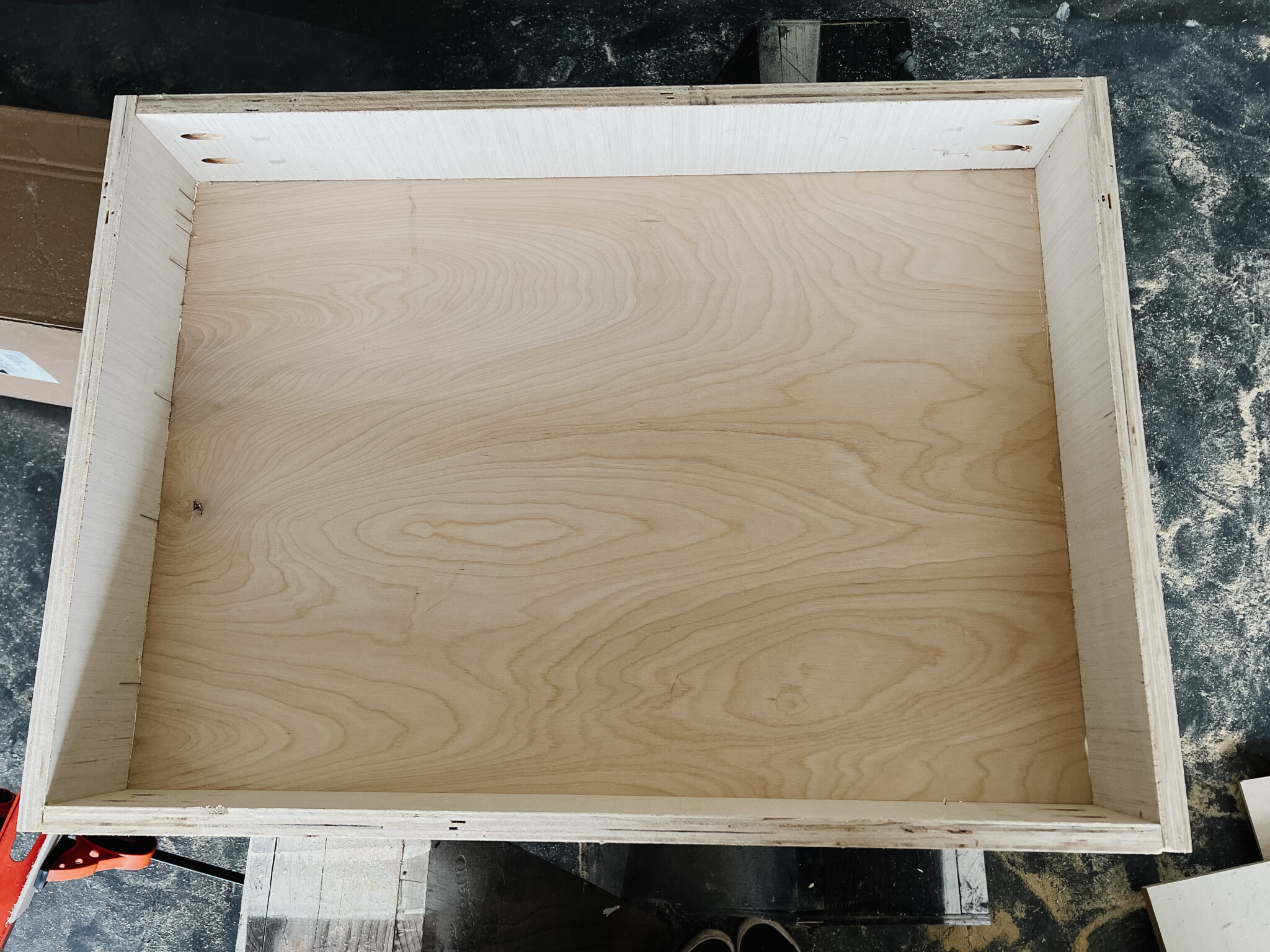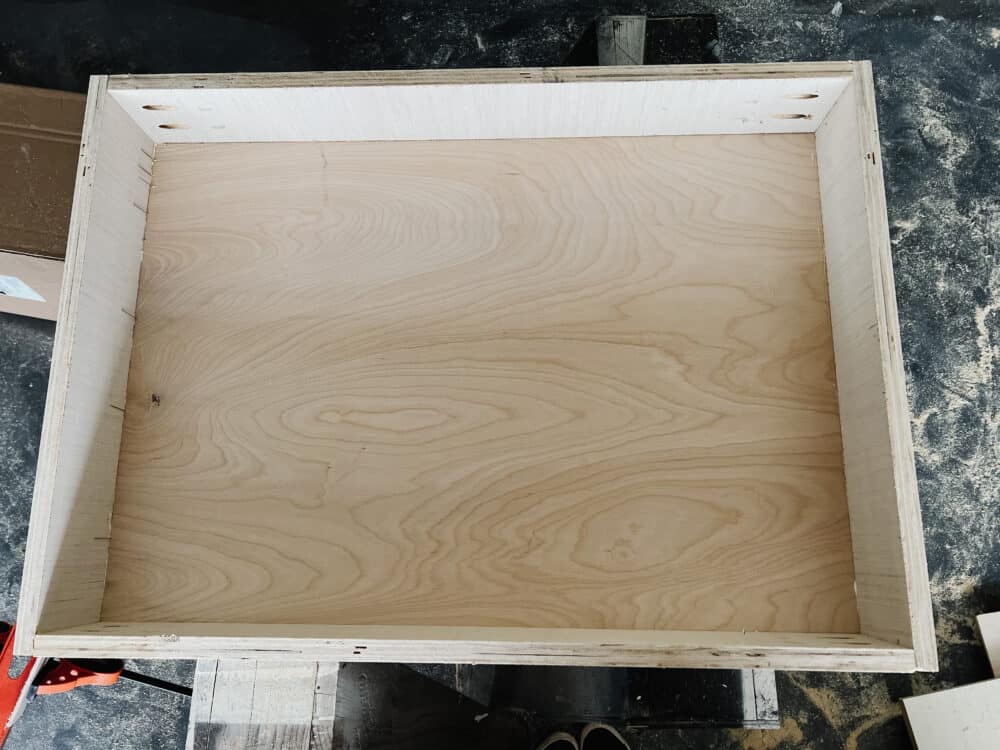 Step Four: Add drawer slides + test fit
With the drawer built, you're ready to test the fit and make sure it's going to work in your cabinet. I highly recommend you take the time to do this before you start adding the dividers to your drawer!
Because we have face-frame cabinets (meaning, the sides of the cabinet are a little inset from the frame around the cabinet opening), I needed to add some ledger boards on either side of the cabinet to help push out the drawer slides. Without them, the drawer would get caught on the frame of the door.
I just grabbed some scrap 2×2 wood, cut it to the length of my drawer slides, and installed it about 3.5″ up from the bottom of my cabinet. Make sure the ledger boards are level on the side of the cabinet and that they're level with each other!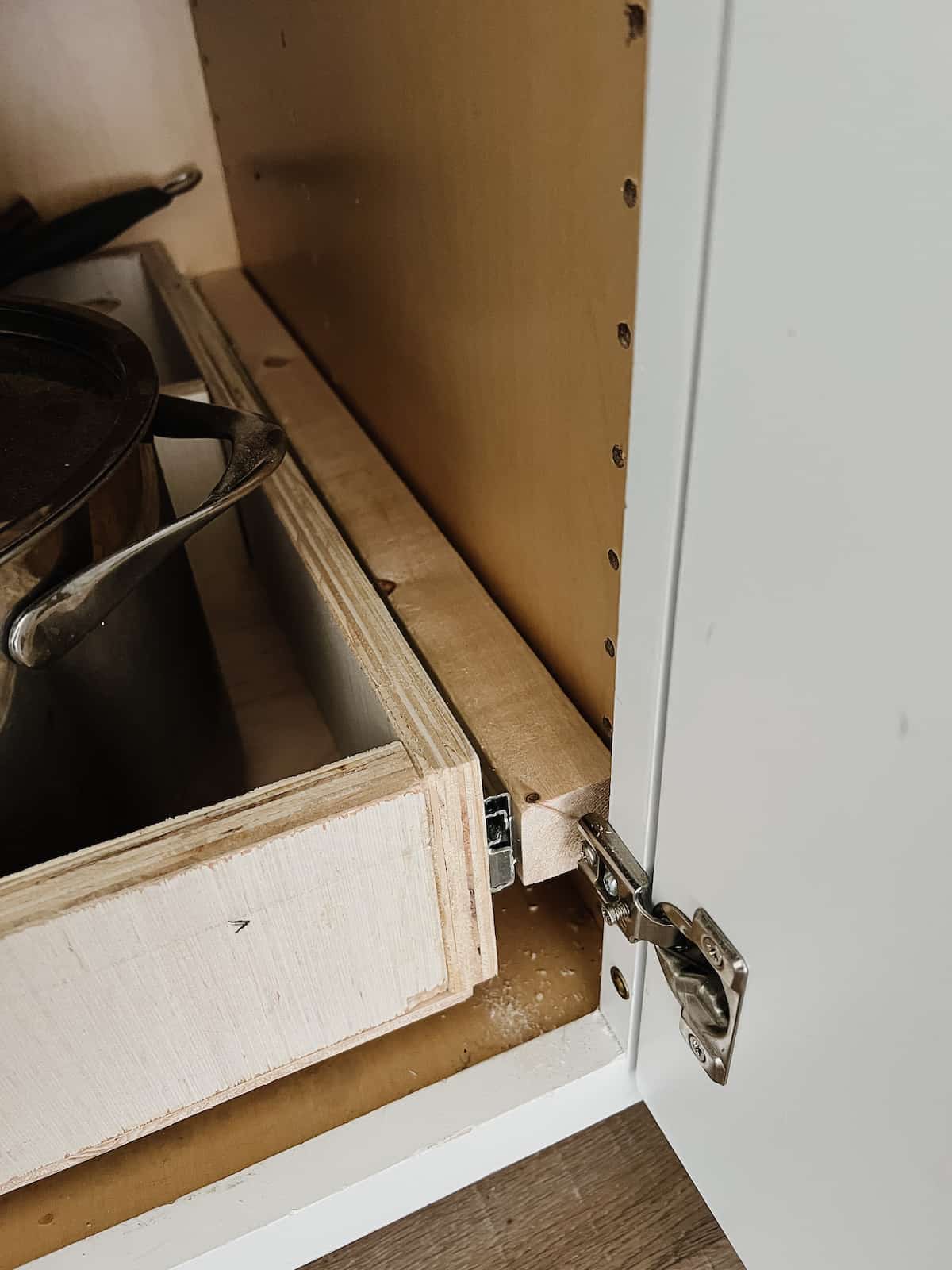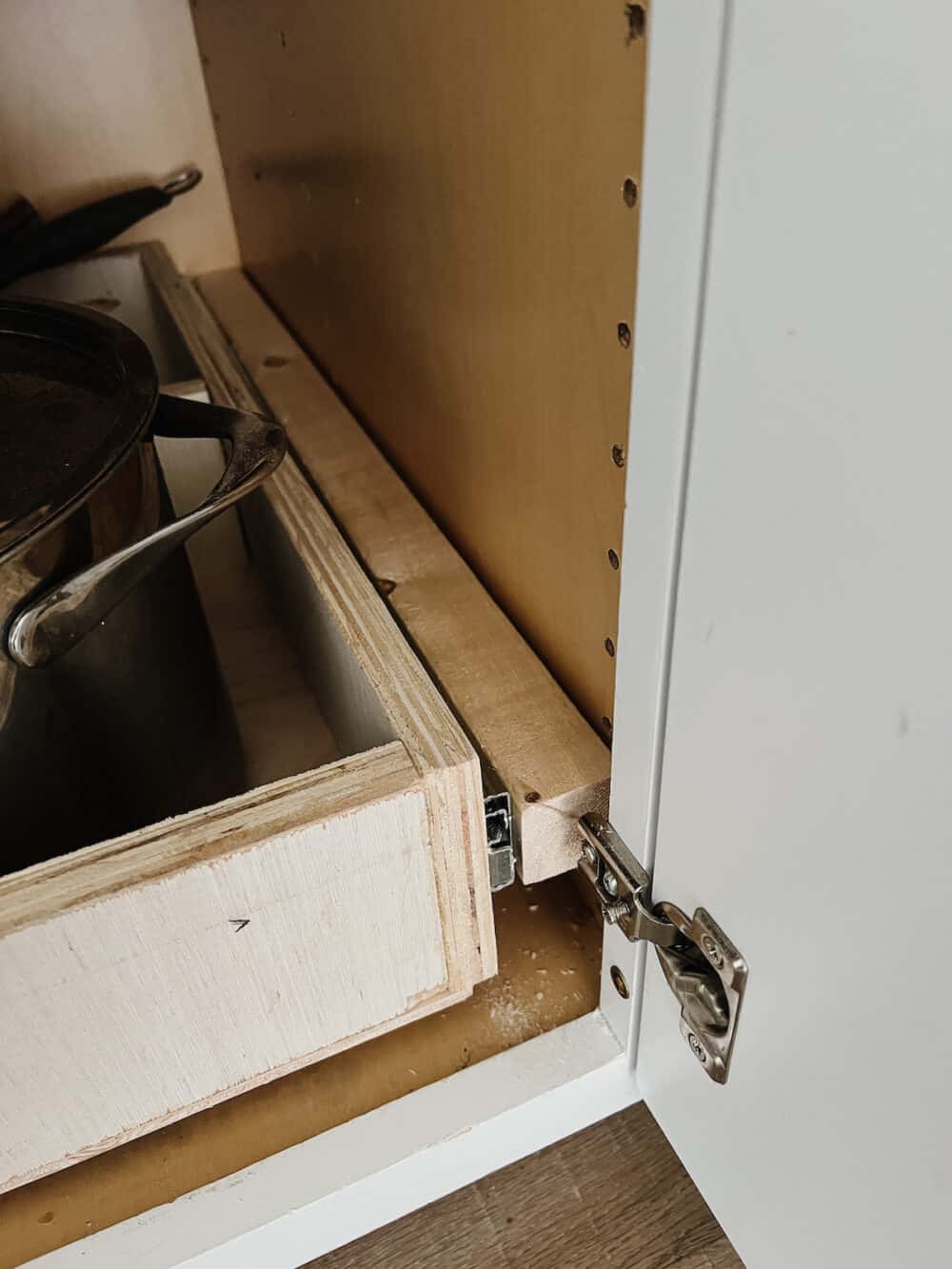 Once the ledger boards are in place, you can install the drawer slides right on top of them. Side-mount drawer slides are very quick and easy to install – just follow any specific directions that came with your slides! Remember, you don't need to pay any attention to the measurements that tell you how far forward to place the slides – you aren't trying to build a drawer that will be level with the front of the cabinet, you actually want it to sit back inside the cabinet.
Add the drawer slides to your drawer as well at this time (I centered them on the sides of the drawer), then bring your drawer over to the cabinet and make sure it fits.
I had to sand down the sides of my drawer a bit to make everything slide as smoothly as possible, but that was the only problem I ran into here!
step five: add dividers to drawer
If it all fits and slides the way you want it to, the fun can begin! Now, you get to plan out exactly how you want to organize all of your pots and pans to maximize your space and keep things organized.
I used some painter's tape and brought all of our pots and pans out into the garage for this part of the process. I played around with a few different configurations and landed on having a divider down the middle, with one side dedicated to pans and lids (sitting on their side), and the other half dedicated to pots.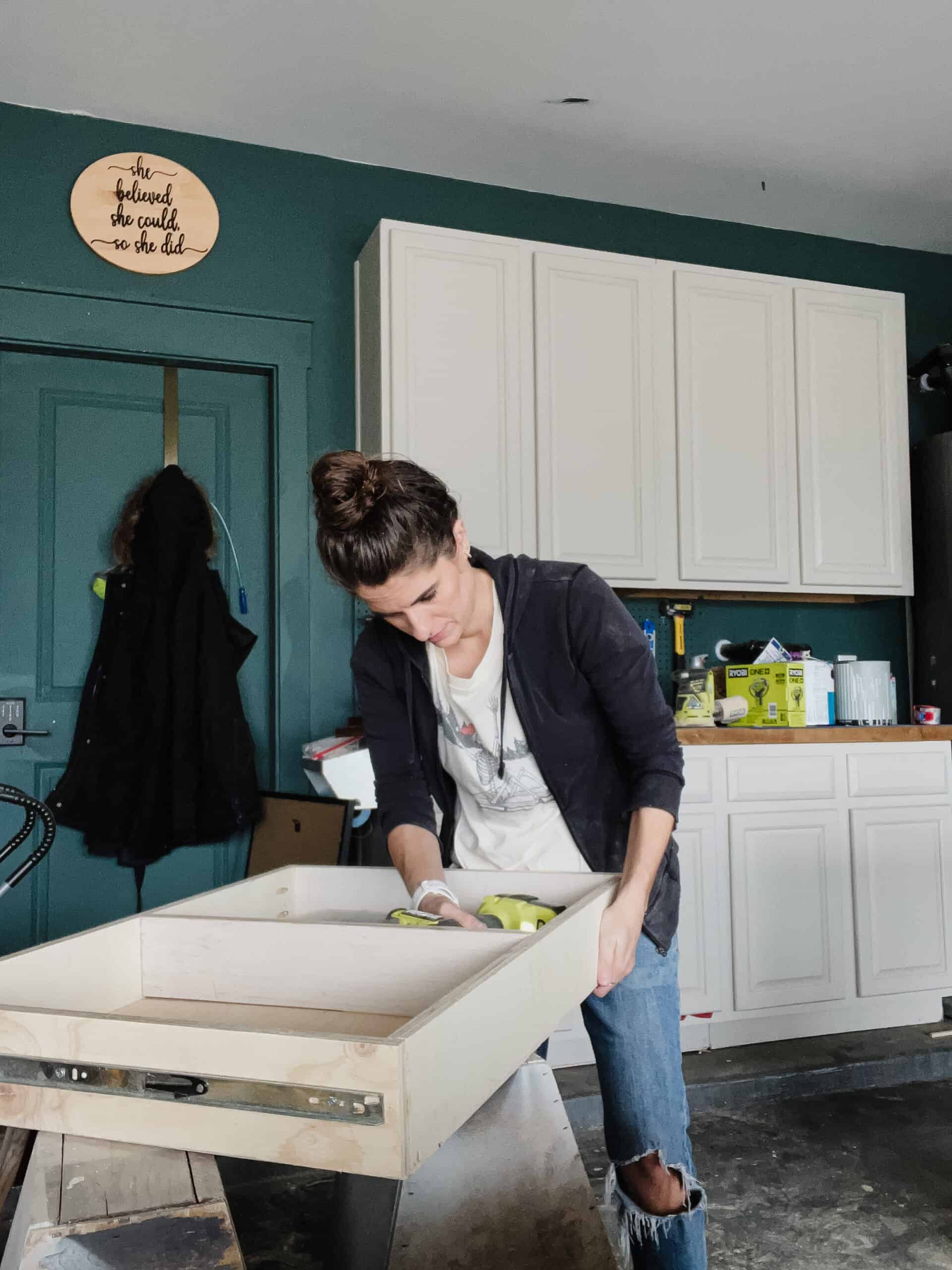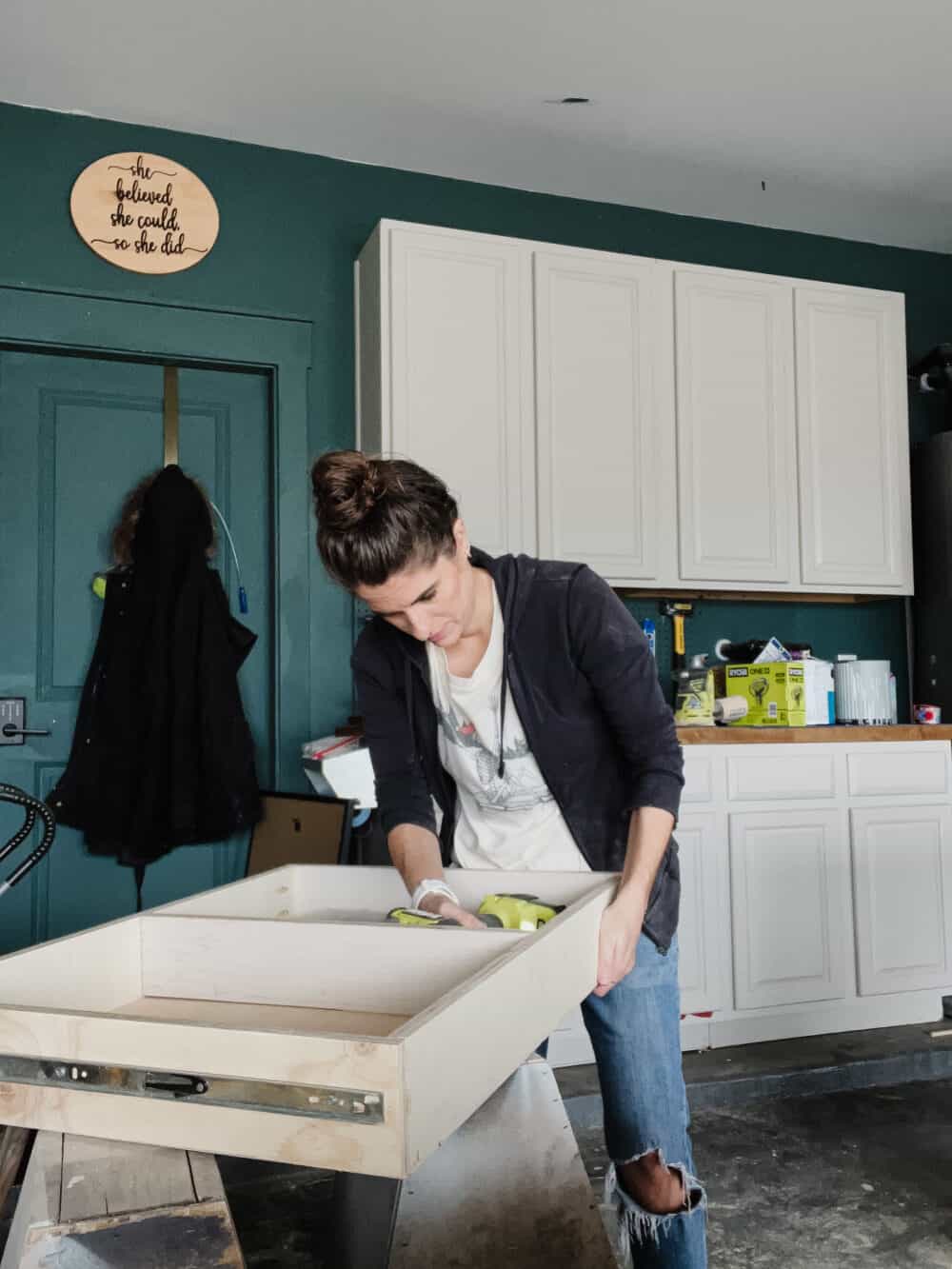 The dividers were really quick and simple to install. I just measured each opening and used my circular saw to cut down some plywood to fit. Then, I drilled pocket holes on each side of the divider and installed it where I wanted it!
It's important to note that while I did use wood glue to assemble the drawer, I didn't use it for the dividers! I want the option of changing these up if we ever get new pots and pans or decide to use this cabinet differently. With wood glue, the dividers would be far more permanent. This way, it will be really easy to remove the pocket hole screws and move things if I need to.
Step 6: Enjoy!
Once the dividers were all in place, I gave everything a quick test fit! It fit exactly how I envisioned it in my head, so I put the drawer into place and called it a day.
And y'all. I'm so happy with how this quick DIY pull-out pot and pan organizer turned out.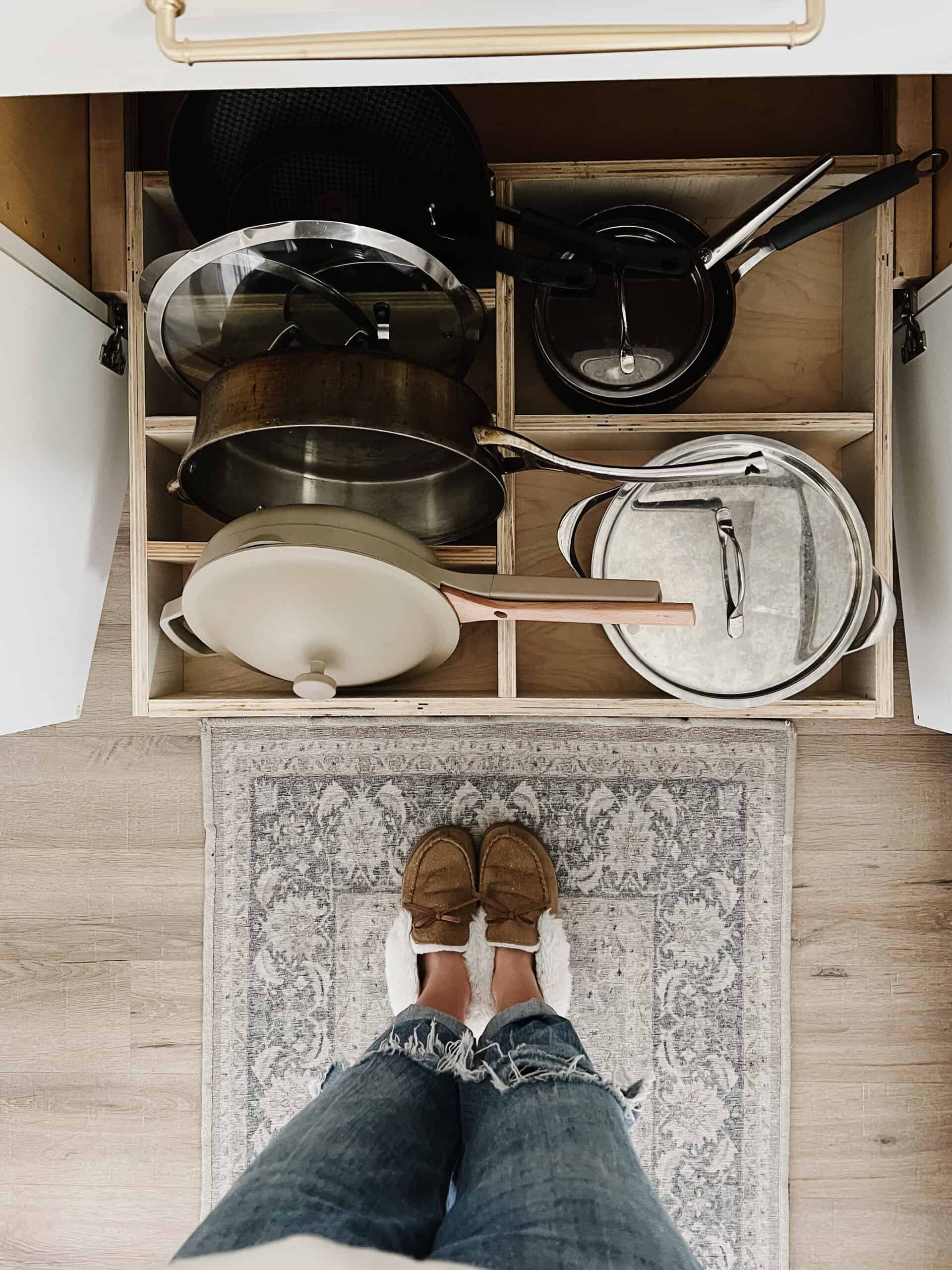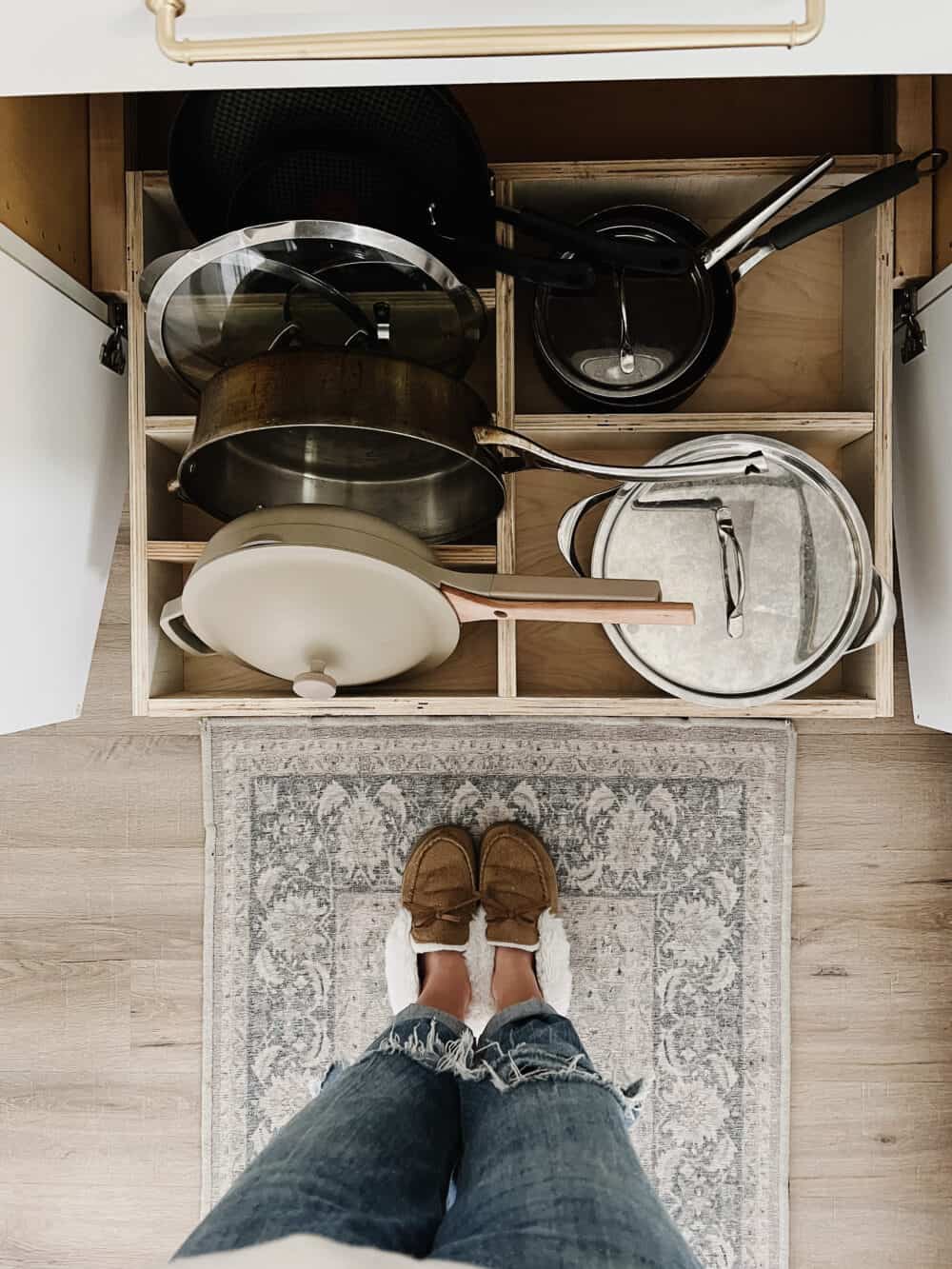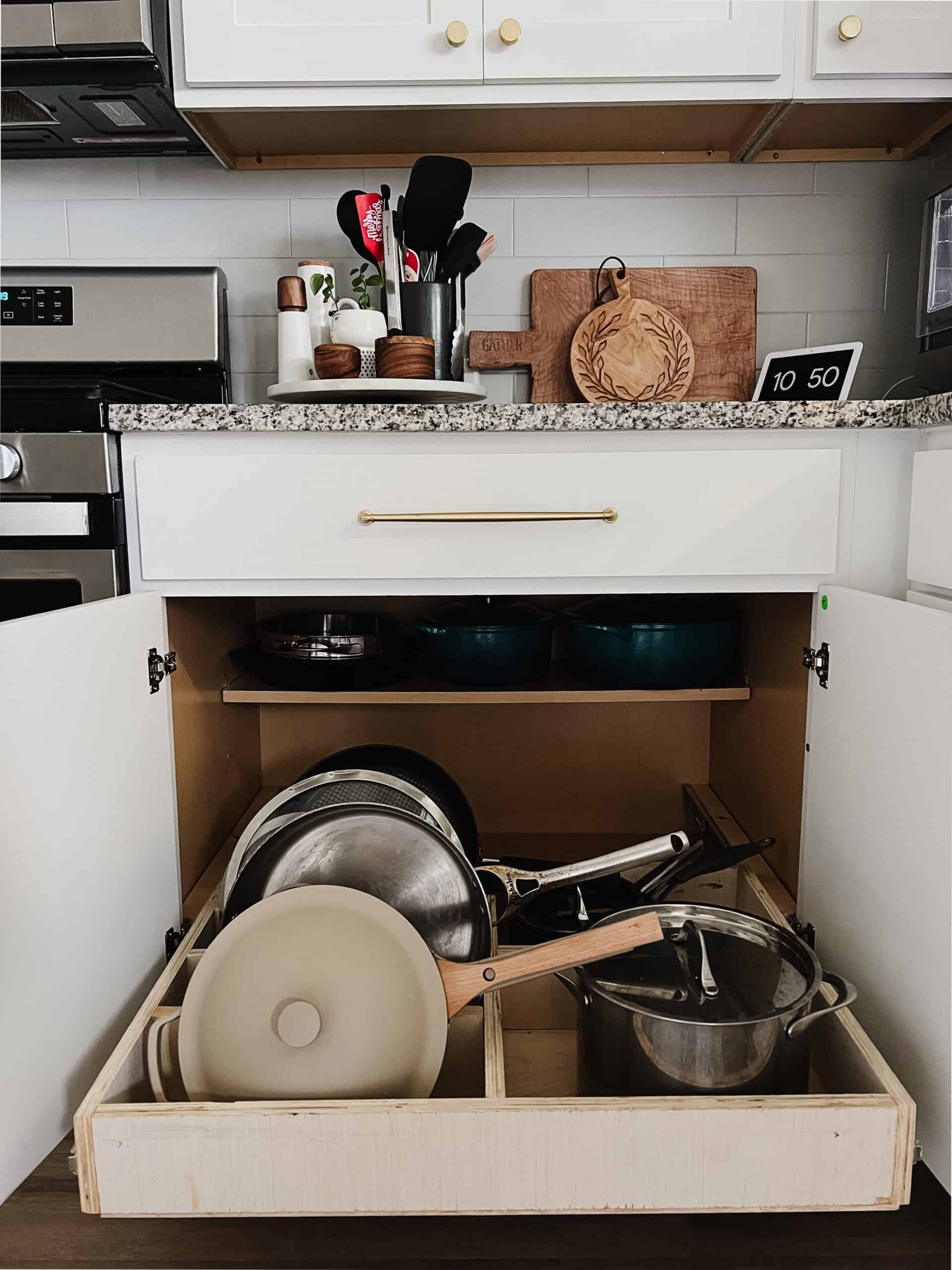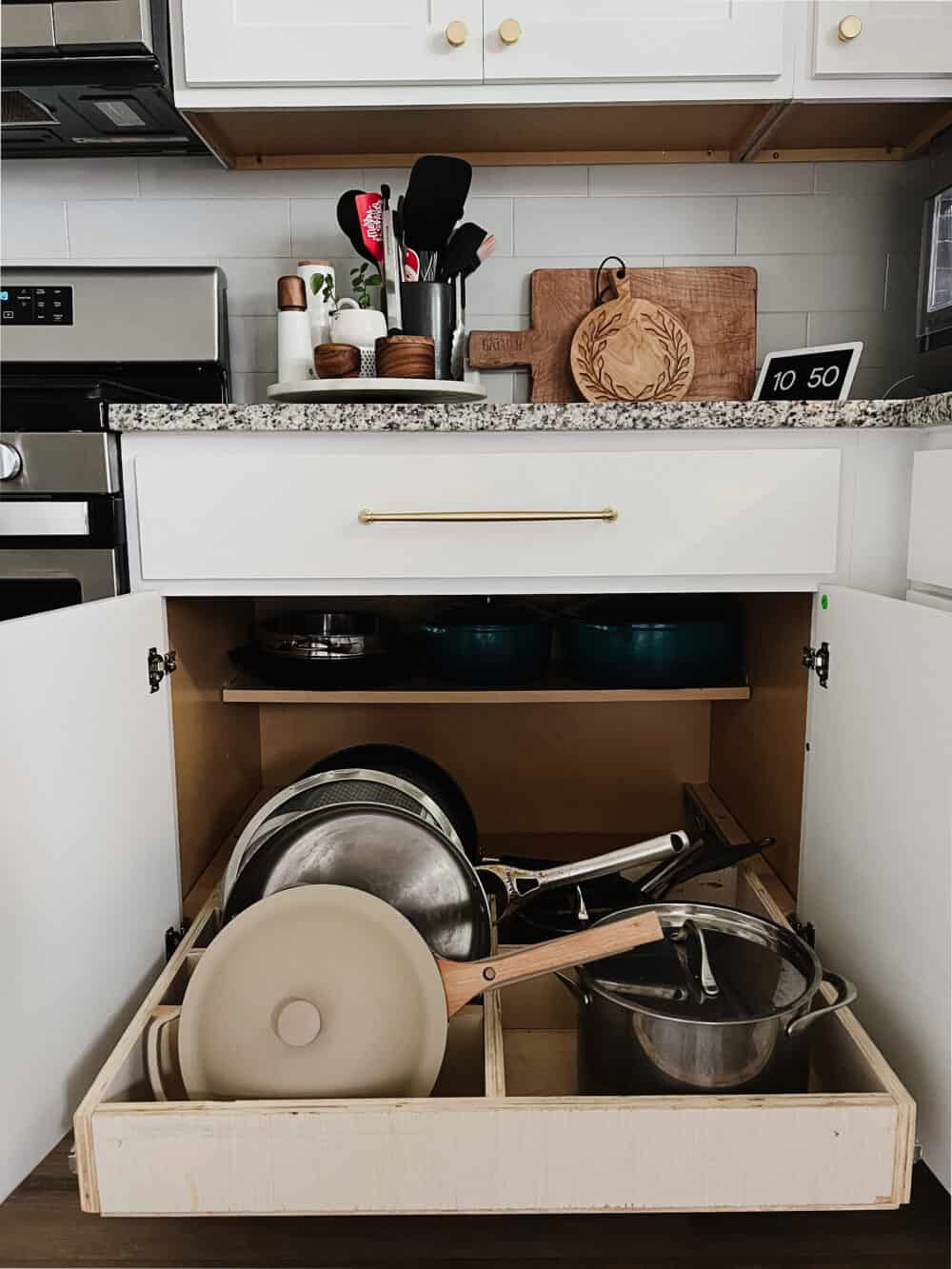 I mean, genuinely…stay tuned because I have a feeling I'm gonna be adding some custom organizers to every cabinet. What a game changer!
Maybe I'll tackle the tupperware cabinet next? Or, is that one just truly hopeless?!
other helpful tools
If you want to give this a shot, here are a few other tools and jigs from Kreg that could be really helpful:
An Accu-Cut is a great way to ensure a straight cut with a circular saw!
They also have a straight edge guide that's a great alternative to the Accu-Cut.
Corner clamps will be your BFF when it comes to making your drawer square! These are a great option that are compatible with pocket holes, making your life way easier.
And, if you're feeling stressed a bout installing the drawer slides, this drawer slide jig is super helpful.