Our Bedroom Refresh with The Home Depot
We've put a lot of effort into our bedroom but it still needed just a liiiiiiittle bit more – today I'll show you the finishing touches we added thanks to our friends at The Home Depot! This post is sponsored by The Home Depot, but all opinions are my own!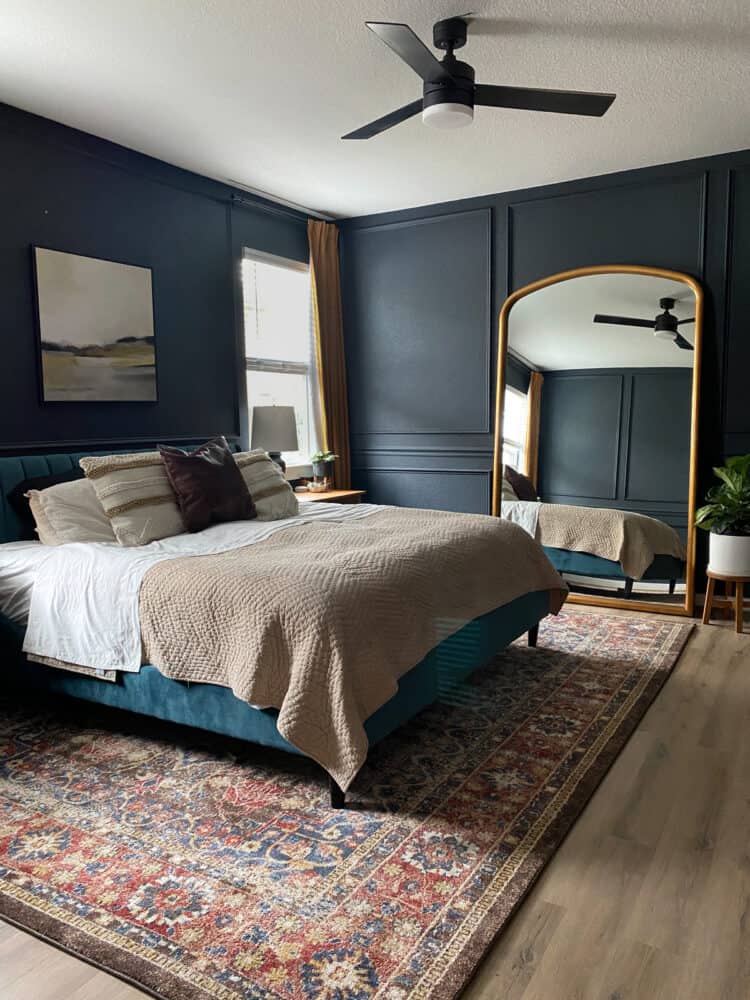 Do you ever get a room, oh I don't know, about 85% of the way complete and then just…stop?
Because I'm kind of notorious for this. We've lived in three houses and I feel like I've always had a lingering to-do list for every single room in every house because I never take them all the way to the finish line.
I think it's safe to say that will be less of a problem in this home – partially because we don't plan on going anywhere for a long, long time, but also because we're really determined to put some serious focus into each space to get it exactly where we want it.
Take, for example, our bedroom.
We put a lot of effort into this room right when we moved in, but after getting the basics of the room done we got distracted by other projects. And, well, let's just say there was something left to be desired.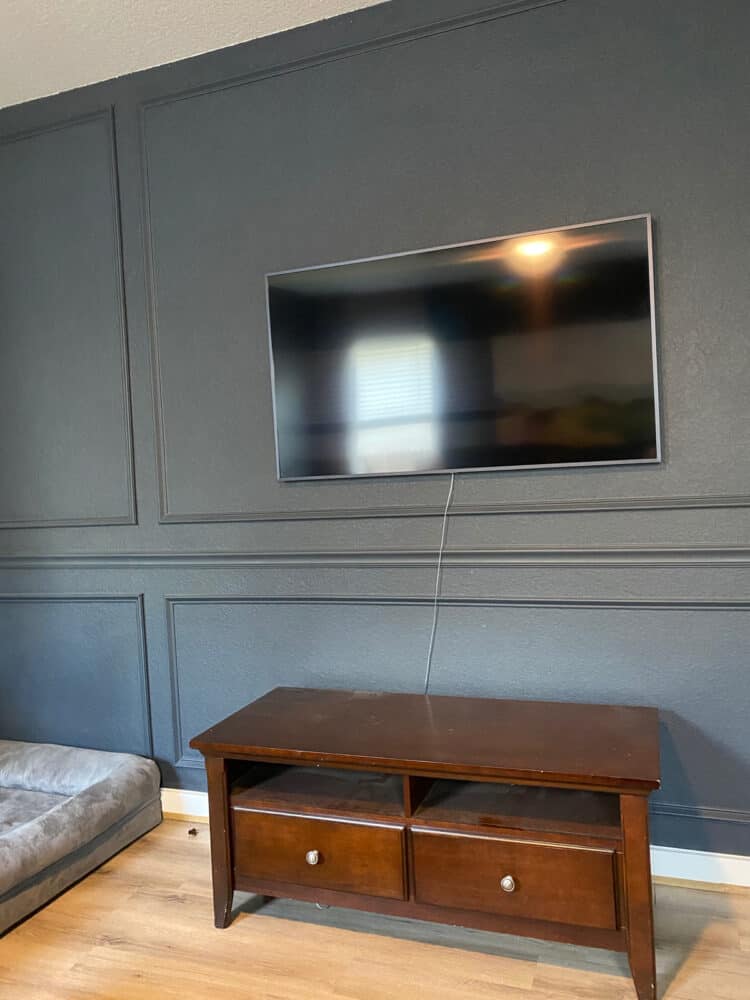 That's right – despite the fact that my bedroom is one of the most-loved spaces on our Instagram feed, for the last 9 months we've been living with a this across from our bed. An old (way too small) tv stand that we got off the curb in our neighborhood. And that's it.
It certainly left something to be desired.
Enter homedepot.com/decor. As always, they came to the rescue for me with their incredible selection of furniture, bedding, decor, and more. You are shopping at Home Depot for furniture and decor for your home, right? Because if you aren't, you're missing out on a huge treasure trove of absolutely beautiful pieces.
Let's break down the details of how we put some finishing touches on our room, shall we?
The Dresser + Lamp
The piece that really inspired this entire thing is the Bonawick Walnut Finish Dresser from Home Decorators Collection. I saw it months ago and knew immediately that it would be a perfect fit for this space – and it more than lives up to the expectations I had in my head!
I've bought a lot of ready-to-assemble furniture in my years of homeownership, and I can confidently say this piece impressed me more than anything I've ever purchased before. It's so solid and well-constructed. It was a beast to put together, but that's only because it's so sturdy and heavy!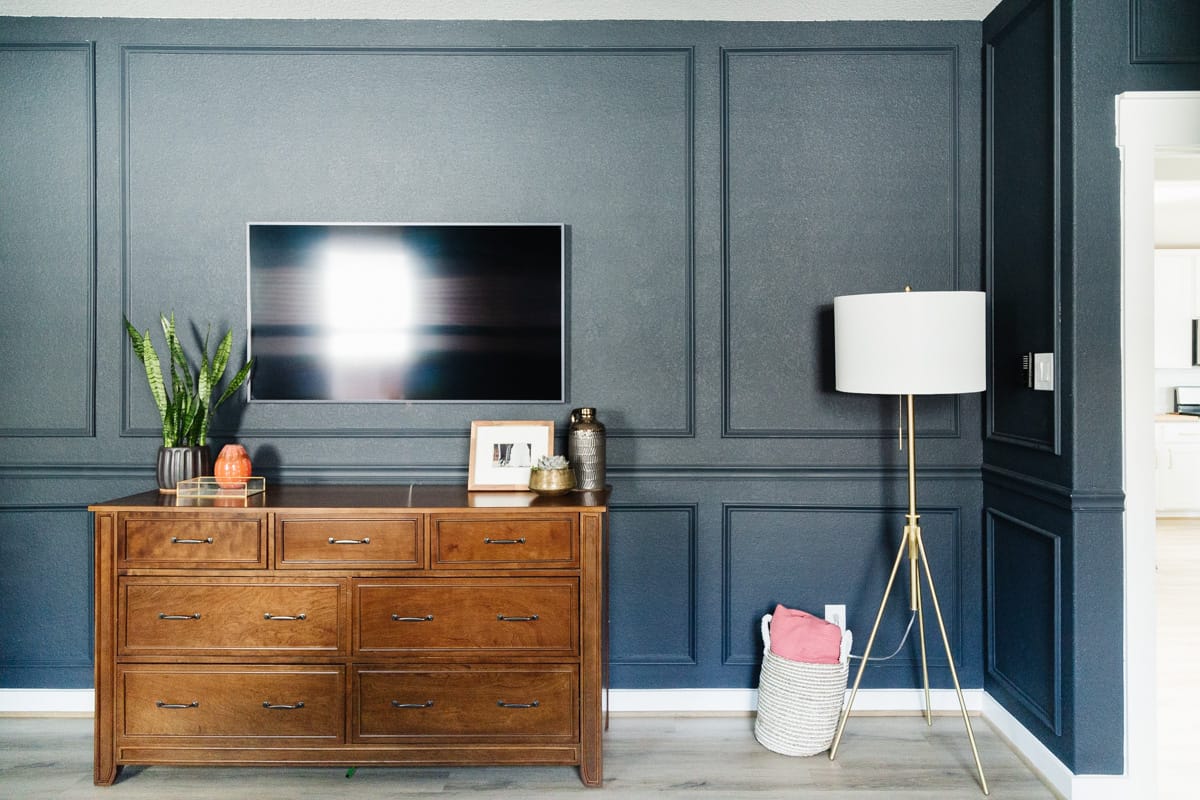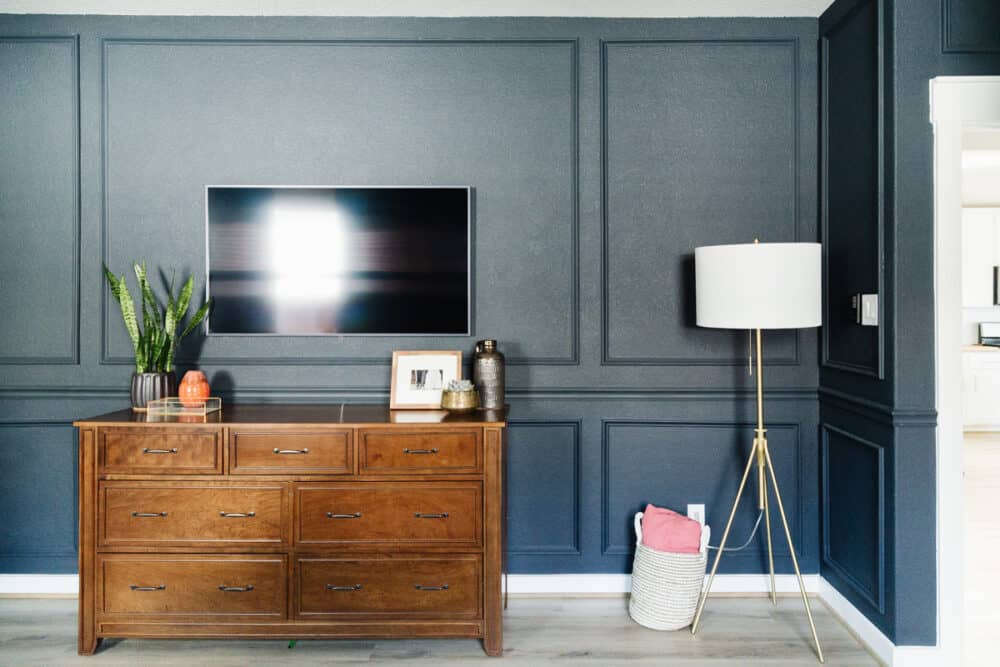 I feel like this piece really grounded this half of the room and instantly made things feel so much more complete. Not to mention it's so nice to have actual wooden drawers to put our clothing in, rather than the cheap plastic drawers we used to have in our closet!
I wanted to keep the space on top of the dresser pretty simple, because we regularly lay in bed and watch movies or tv and I didn't want anything on the dresser to be too distracting.
I, of course, started with a couple of plants, and then I layered in some beautiful accessories I found at homedepot.com/decor!
Here's a rundown of what I used on the dresser:
Next to the dresser, I added this adjustable tripod floor lamp. I've been toying with the idea of adding a floor lamp in here for a while and I'm so glad that I did! We have it set on a timer to turn on every evening when the sun goes down, so when we walk into our bedroom at the end of the night it has a cozy, welcoming glow that really just feels like home.
This lamp is has an adjustable height, which was perfect for this space. Our ceilings are 9′ tall, but feel even taller than that thanks to the molding around the room – a standard-height floor lamp might have felt a little too small for our room, but I was able to adjust the height on this one to make it just a few inches taller, which made all the difference. I love the gold finish, the beautiful drum shade, and the pull-chain to turn it on and off. Every detail of this lamp is just so good.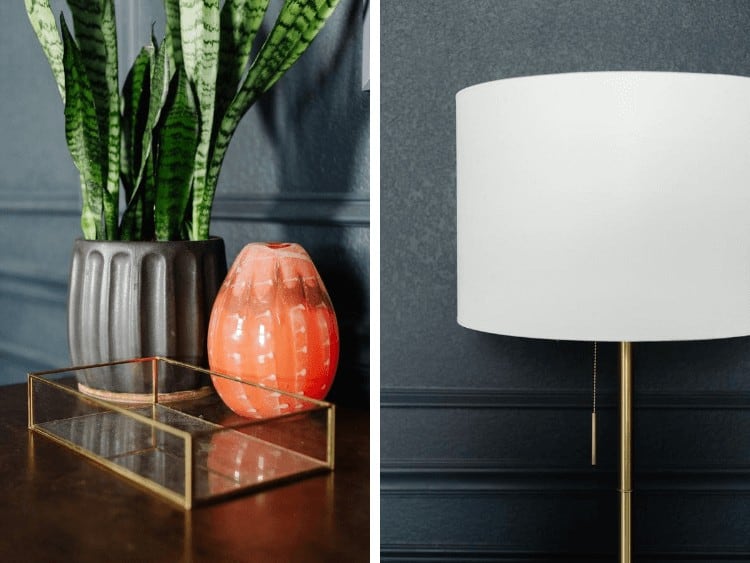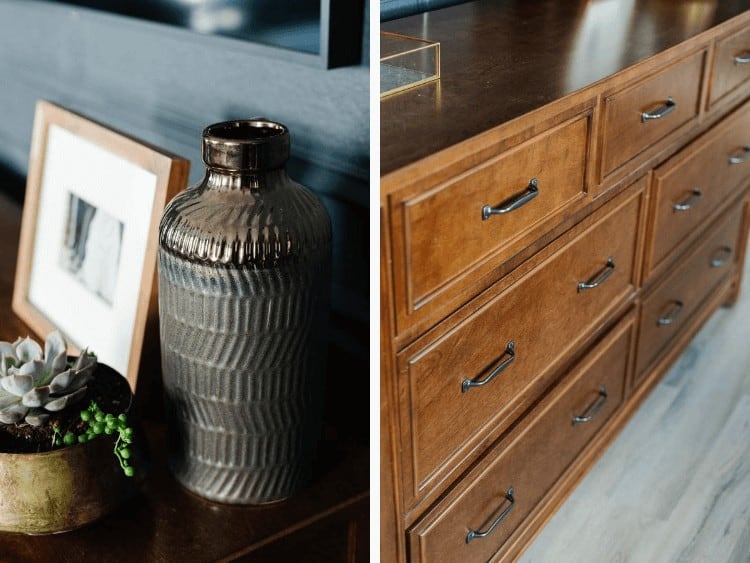 I also tossed a small basket next to it with this beautiful Home Decorators Collection cable-knit cotton blanket (the color is Dusty Cedar).I tend to get more cold at night than Corey does, so it's nice to have an option to grab an extra blanket on the nights where I need it – and this one is so, so soft and warm. It also has the added bonus of hiding the cord for the lamp when it's in place. Win win!
The Bedding + Rug
On the other side of the room, we made a few other small changes that really helped bring things together, too.
First of all, we swapped out the rug that used to be in here for this beautiful area rug from Home Depot (yes, they have rugs, too!) – it's so cozy and plush underfoot, and the colors are incredible. It brought a whole new feel to the room that really elevated everything, and I can't get enough of it.
We also made a few changes to our bedding. If you've seen our room before you might not think it looks all that different, but the key is that it feels so different! For starters, let's talk about what you can't see – the mattress pad!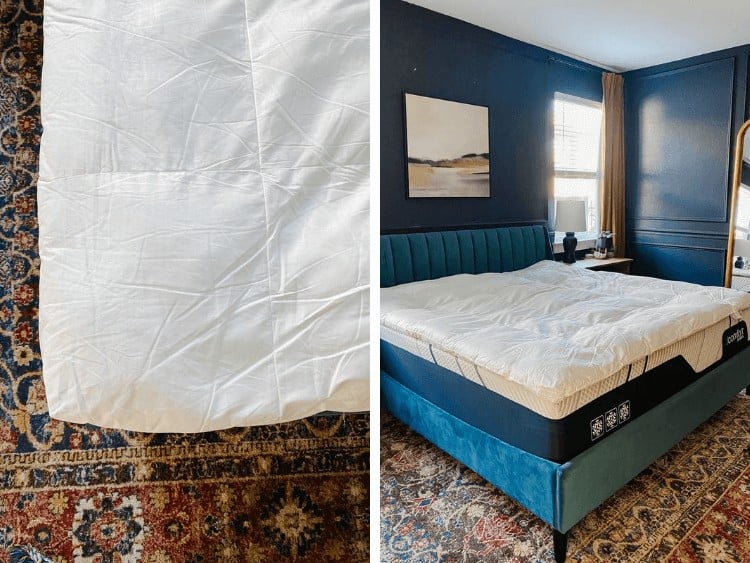 I always slept with a mattress pad growing up, and Corey and I haven't ever had one…y'all, I forgot what a total game-changer they are! We love our mattress, but I've always wished it was just a bit more plush. This Down-Free Softbed Mattress Topper from The Company Store is like sleeping on a cloud and my only complaint is that it makes it really hard to get out of bed.
We also swapped out our pillows for some new, plush pillows from The Company Store line – Corey got the LoftAIRE Hypoallergenic Medium Down Alternative King Pillow, and I got the same pillow, but in the Soft style – they're so plush and thick and cozy and it makes me wonder why we didn't replace our old pillows a long time ago!
Next up, we added some new sheets from Home Decorators Collection (we chose the 600 Thread Count Supima Cotton Sateen Sheet Set in White) – I've already raved about these on Instagram, but let me tell you again: they are so good! They have a little elastic strap on each corner that helps hold them in place, they're so incredibly soft, and I can't recommend them enough.
And finally, we swapped out our blush-colored duvet for this Company Cotton Mushroom Quilt – we love our duvet, but here in Texas in the summer it gets hot. We've never had seasonal bedding before, but when I was planning this post I wondered to myself why we haven't?!
This new quilt is so much lighter than our usual duvet and is the absolute perfect option for the summer months. It's soft and cozy but not too heavy, and I know I personally am sleeping a lot better now that we have this quilt.
We added these striped throw pillows and this leather throw pillow to finish it off, and it creates such a calming, beautiful combo.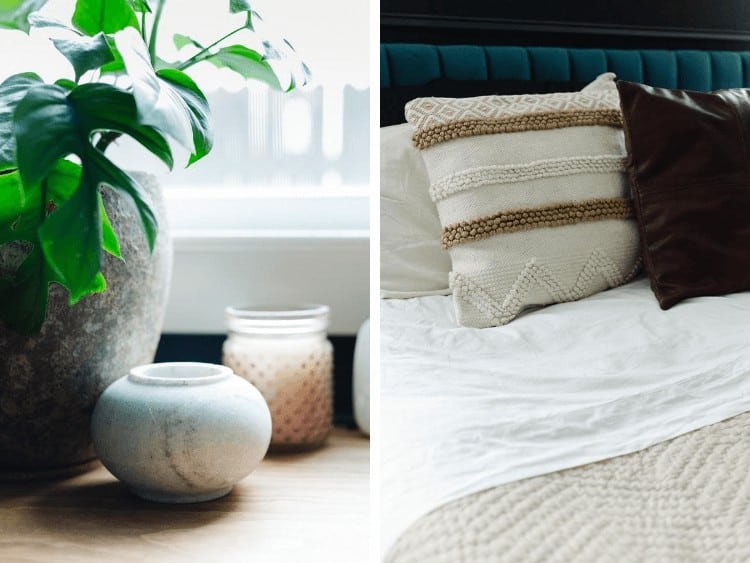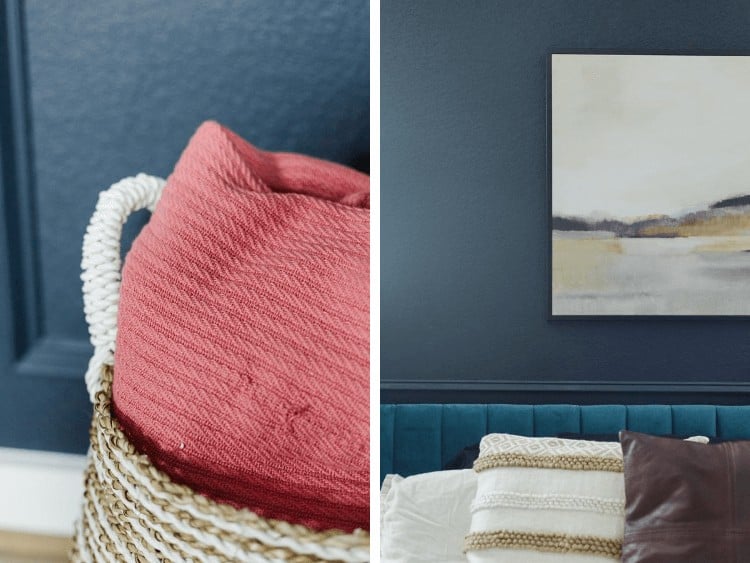 The bed is the same one we've always had, but did you know Home Depot has some incredible bed options too?
(Because of course they do!)
This Cecelia Midnight Blue bed from Home Decorators Collection is really similar to ours, and I love the tufted detail!
Now that we've made these last few little touches, I feel so much more at peace with our bedroom, and it truly feels like a sanctuary to come to at the end of the day. It feels finished, and it's so nice to have at least one room in our home where we don't have any lingering to-dos!
I'll link all of the sources below, but be sure to head over to homedepot.com/decor and do some browsing for your own home – they have an incredibly vast selection in just about every category you can imagine!
Master Bedroom Sources:
You can also click here to see all of the sources for everything in this room, along with sources from other spaces in our house!