We are a big-time board game family. We love playing games together, Corey and I regularly have date nights where we do nothing but playing board games, and we have quite the collection of games on our shelves. I've shared before about some of our favorite games to play (see here, here, and here), but one thing I haven't talked about yet is how we're working on introducing Jackson to board games.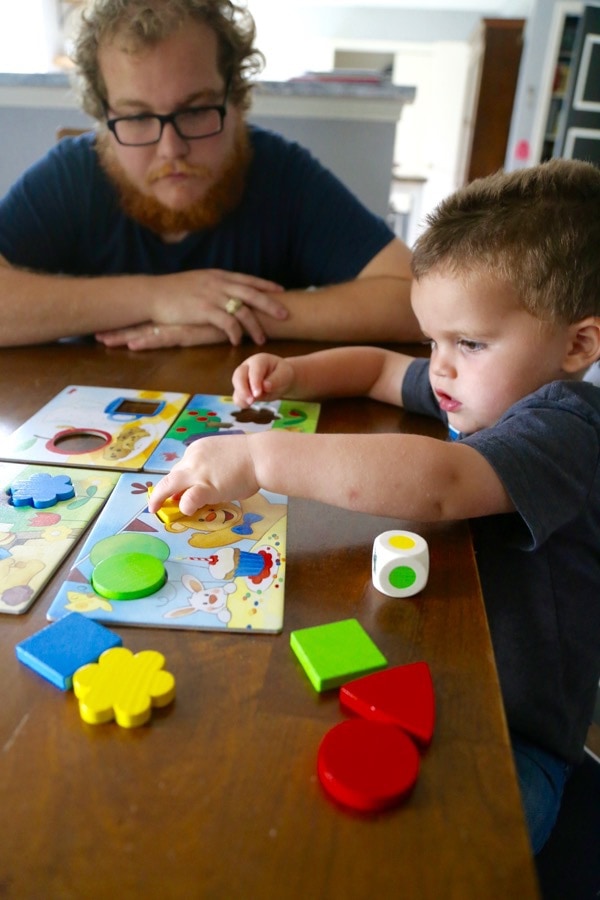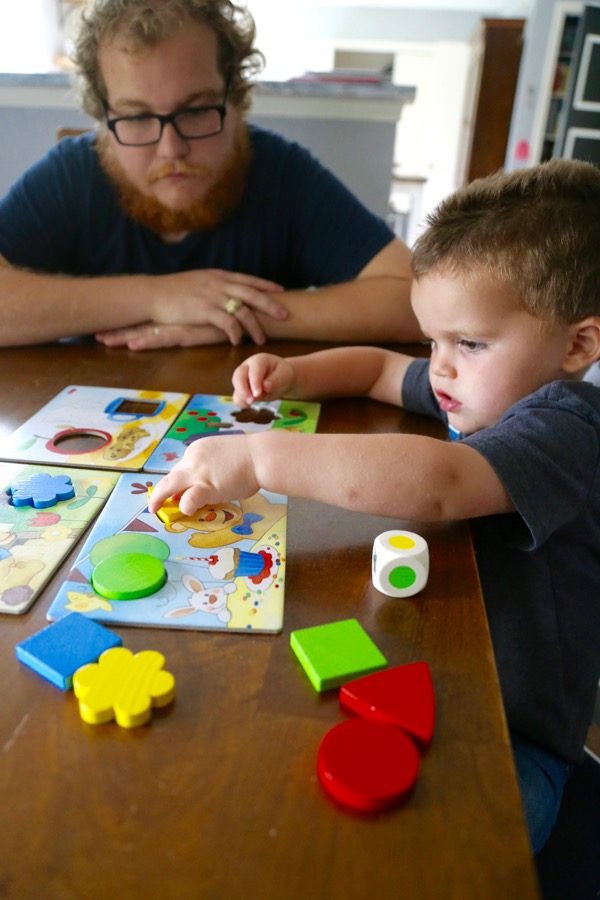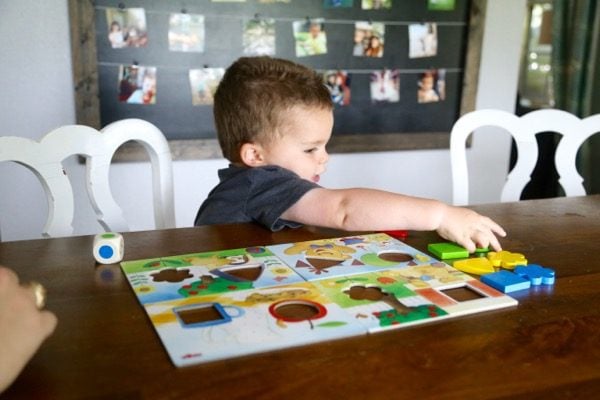 Corey has been researching board games for young kids ever since Jackson was an infant, because he's been so eager to start playing games with him – he found Haba Games pretty early on, and everything we've ever read has had nothing but rave reviews for these games and how accessible they are for even the littlest toddlers. Jackson got his first board game for Christmas right before he turned two years old (he's 28 months old now) and I'll admit that Corey and I were pretty skeptical about his ability to actually play a game, despite the game's claim that it was suitable for kids as young as two.
But guess what? He shocked us and was totally able to pick up the basics on his first time playing! He was so thrilled to be playing a game just like he always sees us doing, and over the last few months we have continued to play board games with him and he's only gotten better at following the rules and actually playing the games.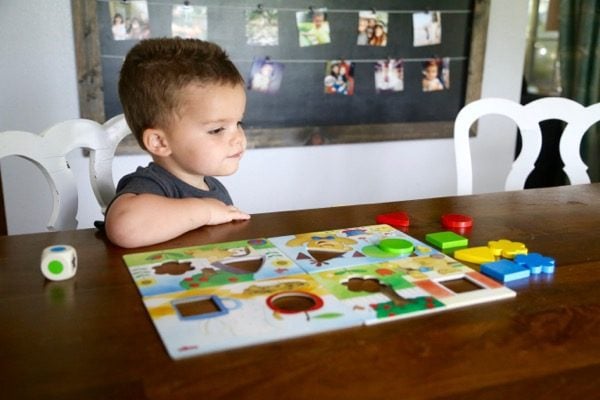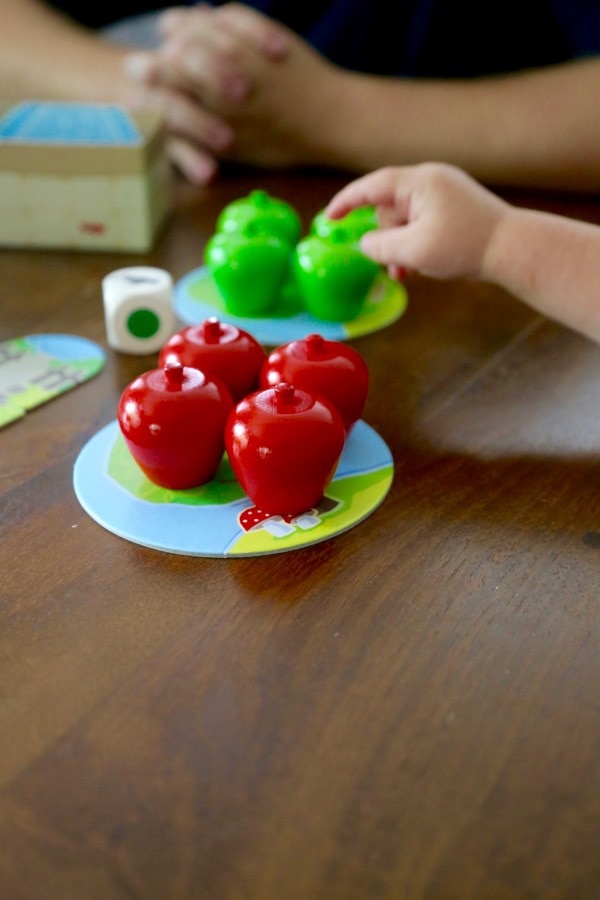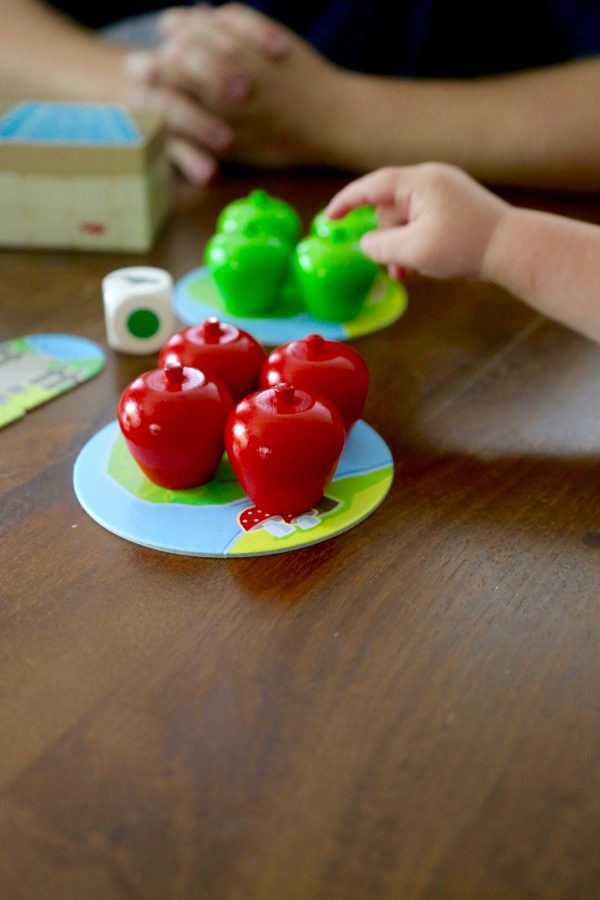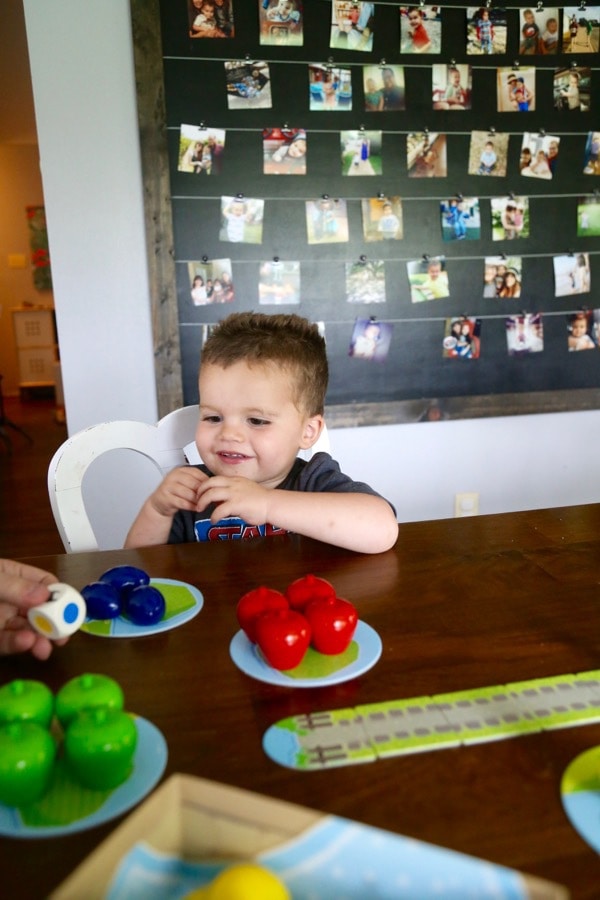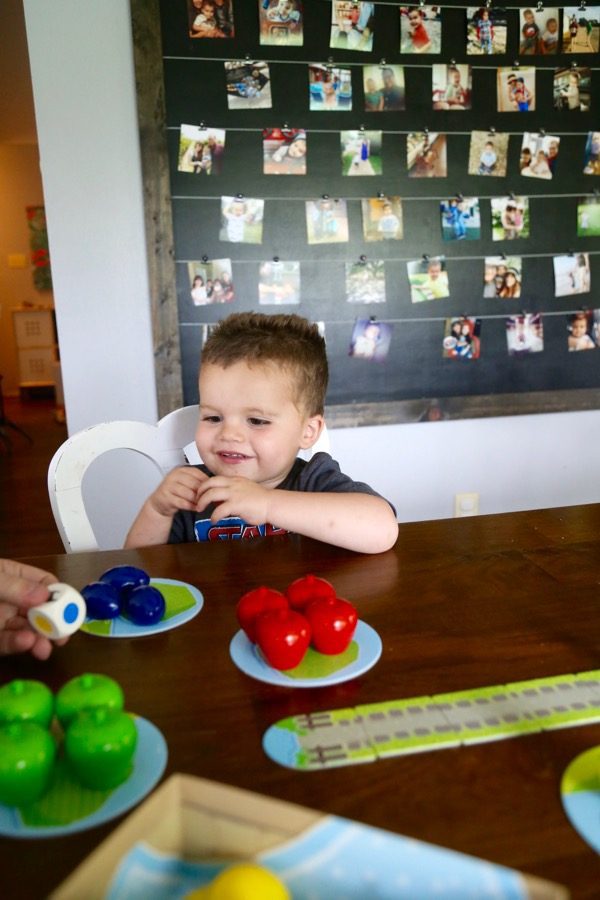 It's been really interesting to watch him learn how to play games, and we're seeing a lot of benefits to him that go beyond just having fun – he's learning how to take turns, accept disappointment when the game doesn't go the way he wants it to, and the games all have an educational component to them so he's learning about colors, shapes, and numbers as we play!
One key that we've found to really making some progress is that we don't let him just play with the pieces. It's tempting to think, "oh, he's just two years old, let's allow him to just explore the pieces instead of actually playing the game." The problem with that thinking is that then he's going to think that he can do whatever he wants with the game pieces, and it will be that much harder to get him to play games the right way as he gets older.
We've all played a game with that 6 or 7-year old who has their own rules, refuses to play the right way, and makes you want to pull your hair out, right? Well, we want Jack to learn from the very beginning that games have rules and if you want to play you have to follow them – it's a great way for him to learn structure and following rules, and Corey and I have way more fun playing with him when we are able to play as the games are intended.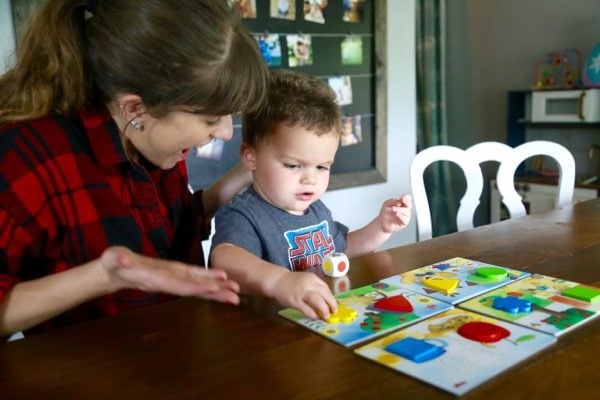 If you have a toddler, I can't recommend Haba Games enough. Jackson just about loses his mind every time we suggest playing a game, and it's something the entire family can truly enjoy doing together. Here are the board games we currently have and play regularly with Jackson: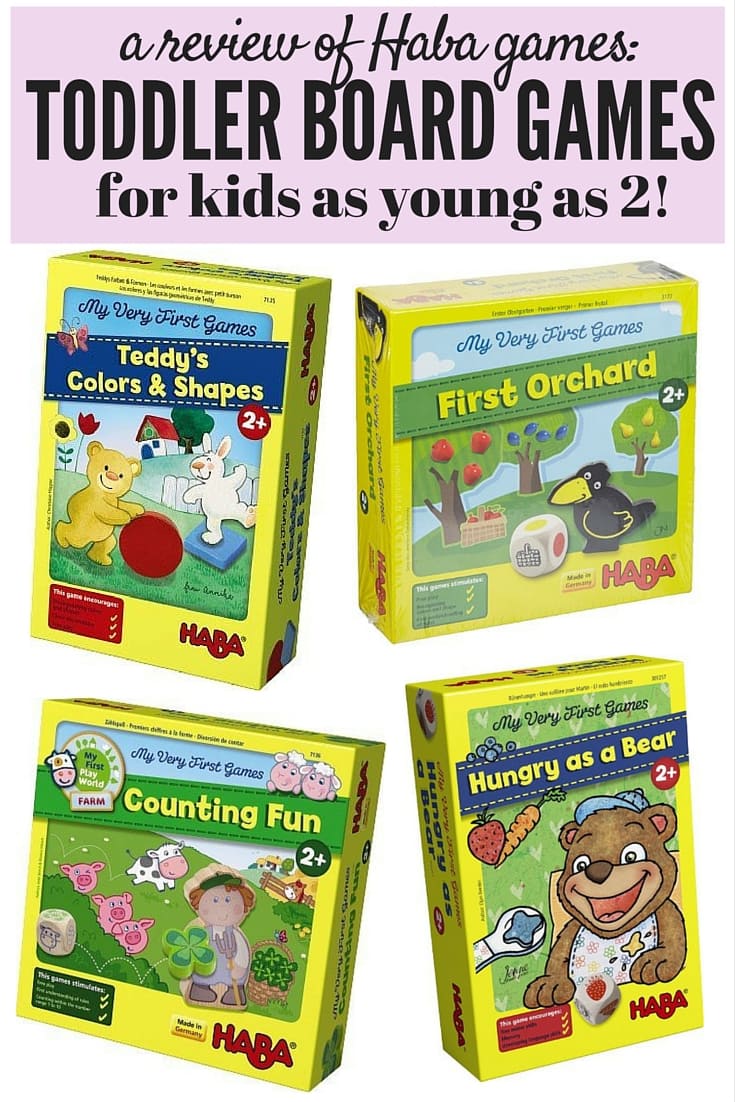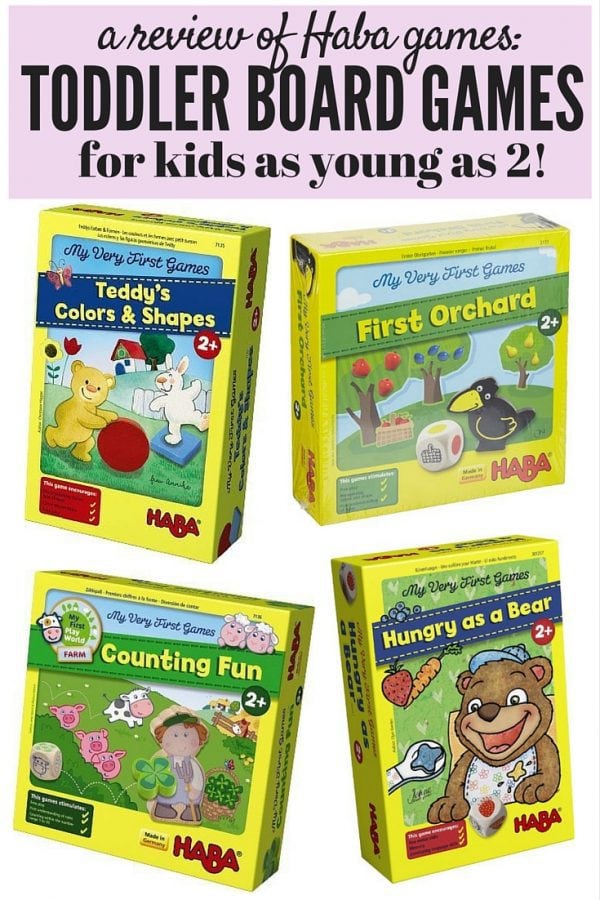 My First Orchard – This is probably Jackson's favorite of all the games we have. The rules are incredibly easy to understand, and it's the one he has the best grasp of. It's a great way for him to practice taking turns and he loves rolling the dice. This is the one we play the most, and Corey and I haven't gotten tired of it yet!
Teddy's Colors & Shapes – This game can be played as an actual turn-taking game but there's also a lot of room for some free play – Jackson loves to play with the puzzle pieces and see the different pictures he can make. This one is also one that he can play by himself, or we can do turn-taking with. That's one of my favorite things about all of these games: there is a lot of flexibility in the gameplay so you can make it work for your kid!
Counting Fun – This one is a little hard for Jackson still because it's the most structured of the three games we have. However, practicing it with him has been a fantastic way for us to start teaching him some of the basic mechanics of board games like moving your piece and waiting for someone else to take their turn, and he gets a little better at it every time we play!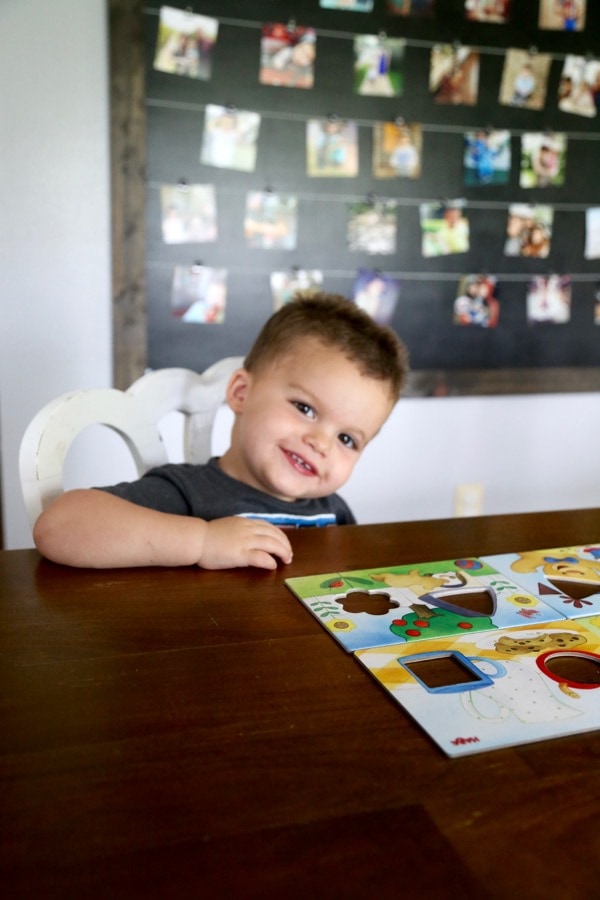 A few of the other games we really want to play with Jackson are Hungry as a Bear, Animal  Upon Animal, and Here Fishy, Fishy.  Of course, as he gets a little bigger we'll be trying some of the classics like Candyland and Chutes & Ladders, but we love how tailored these games are to this age! It's been so fun to see him get excited about our favorite hobby and it makes both of us very excited for him to learn more of our games as he gets older!
What board games do you like to play with your children?