Organizing the Medicine Cabinet
We've fallen into this routine of me showing you really embarrassingly disorganized spaces in my home and then fixing them. Are you tired of this yet? I hope not. Because, I'm still having the best time getting my house organized. And today? We're talking about the medicine cabinet organizer I added to my linen closet to finally get my family's medicine organized.
I'm really excited about it.
Is this one of those "you know you're old when…" things? Because I Feel like it might be.
But, how can I not be filled with joy when my medicine storage looks like this: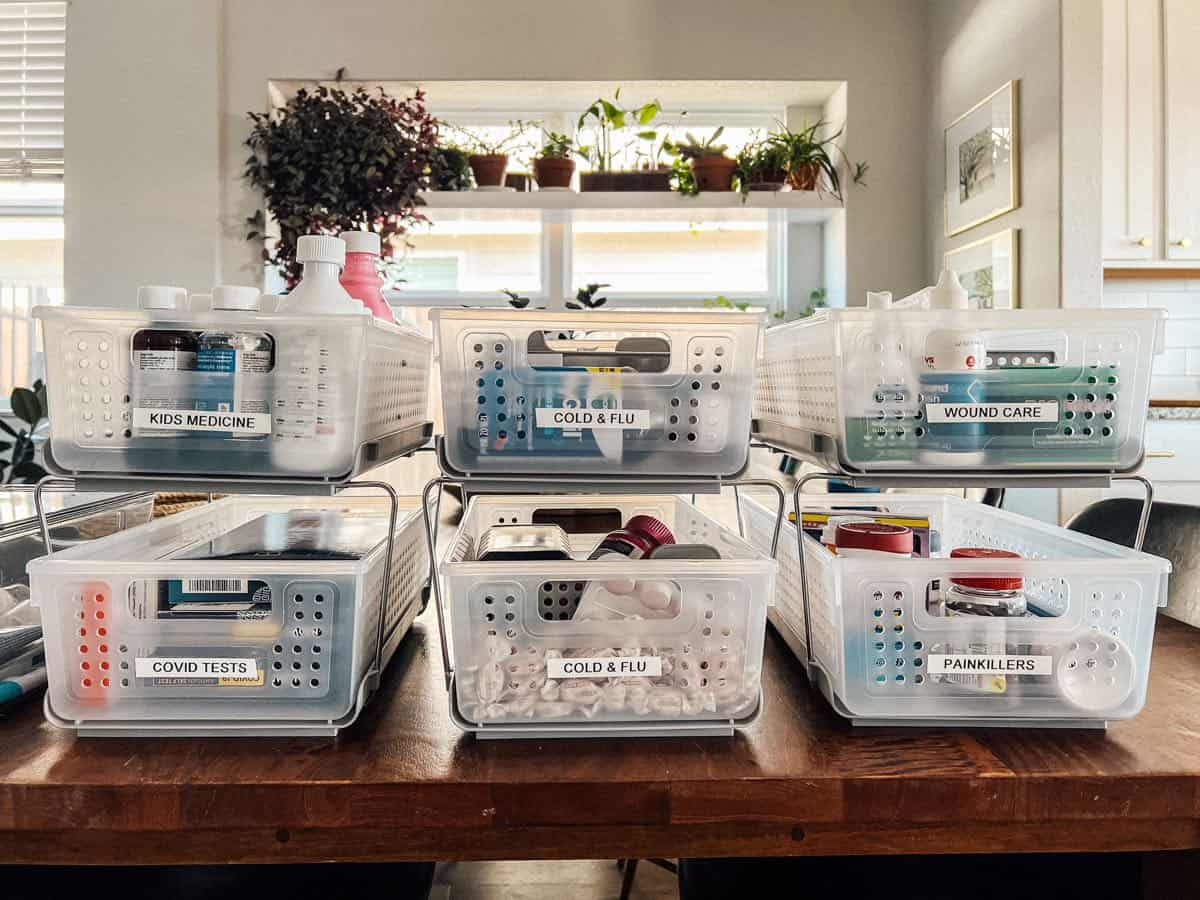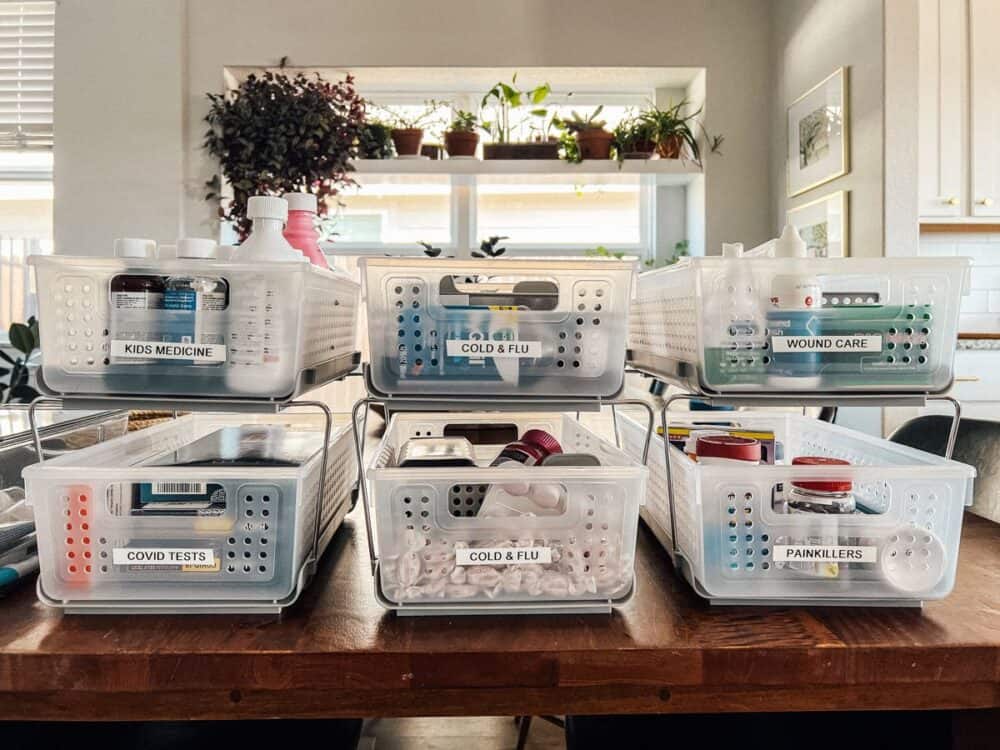 Do you see me doing happy dances over here? Because I am. I've needed a good medicine cabinet organizer for years. Before I tackled this, we didn't really even have a system. We had a few baskets in a closet where I tossed things. I had tried organizing it at one point, but I didn't buy any actual organizers or do any labeling. So, as we've learned, the system failed. Quickly.
Because when you don't put the effort in to fully organize an area of your home, complete with labels and organizers chosen specifically for that spot, it won't last.
At least, that's how things work in my house.
Are you ready to see what our medicine organization "system" looked like before? It's bad.
medicine cabinet organization: the before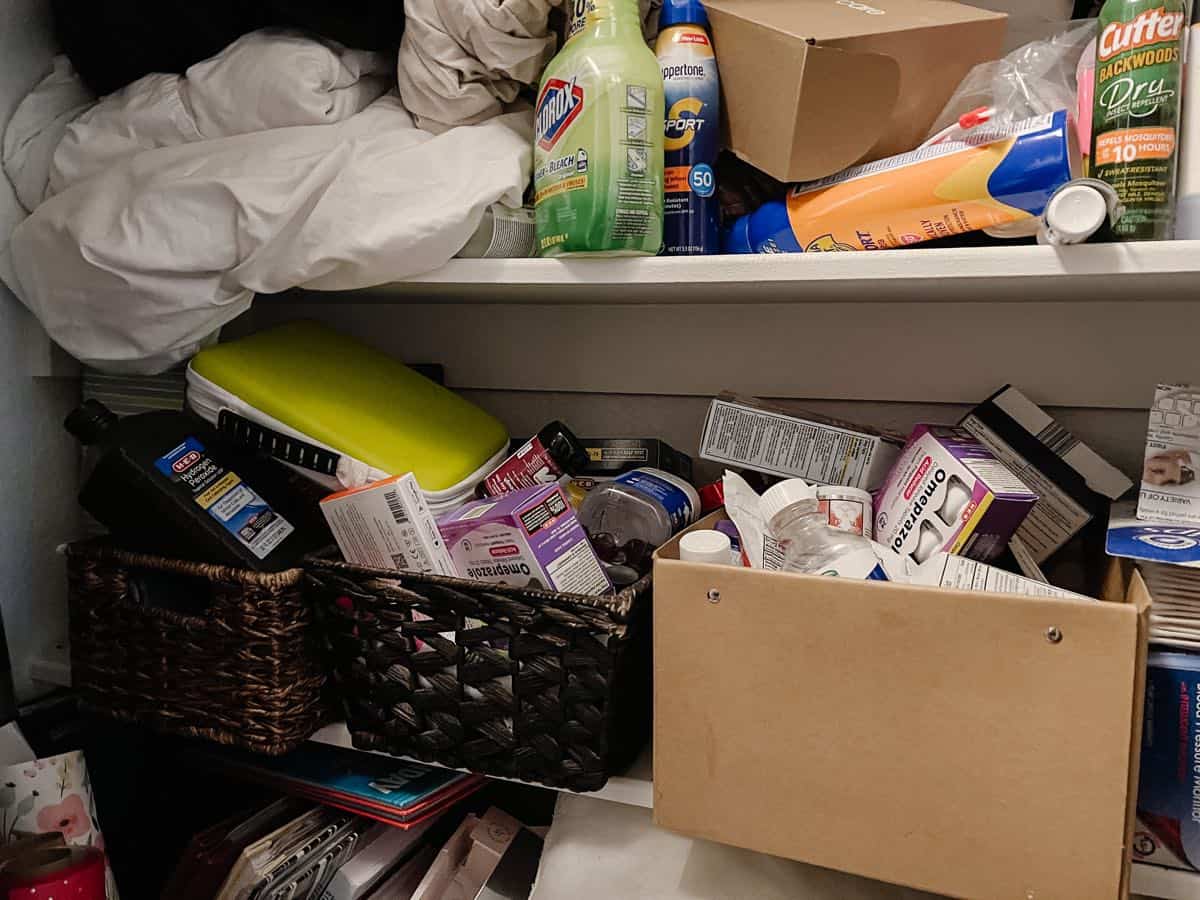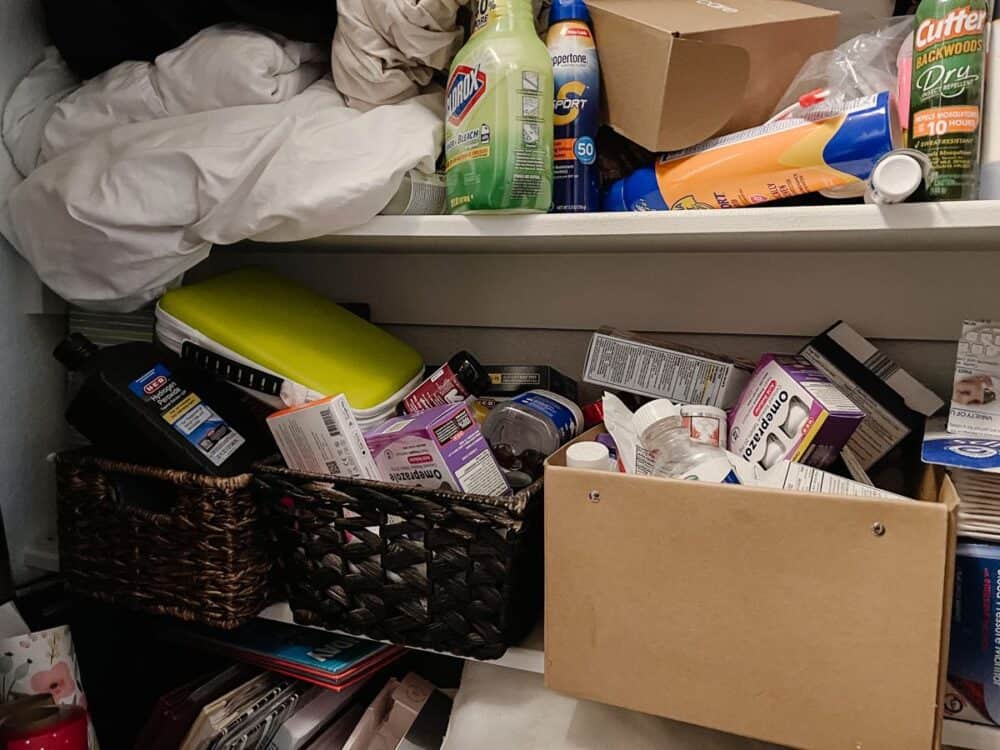 Are you cringing? I'm cringing.
All three of these baskets live on a shelf in my linen closet. Which, I'm honestly not even showing you today. Because the rest of the closet is a mess and I'd rather just focus on my beautiful medicine organization system. But, trust me when I say it was a disaster. When we needed any medicine, we'd have to dig through the baskets and good luck finding what you needed. At one point, these baskets were (kind of) sorted by medicine type. But nothing was ever labeled or really official feeling, so it quickly devolved into chaos.
As it does.
So, after a rage-inducing search for cough medicine for my son one day, I finally decided I'd had enough. I ordered a bunch of baskets and medicine cabinet organizers, and I got to work fixing things.
And I'm so glad I did. I no longer feel a deep sense of existential dread when one of my children needs a band-aid! And I no longer avoid taking medicine myself just because I don't want to search for it!
Choosing medicine cabinet organizers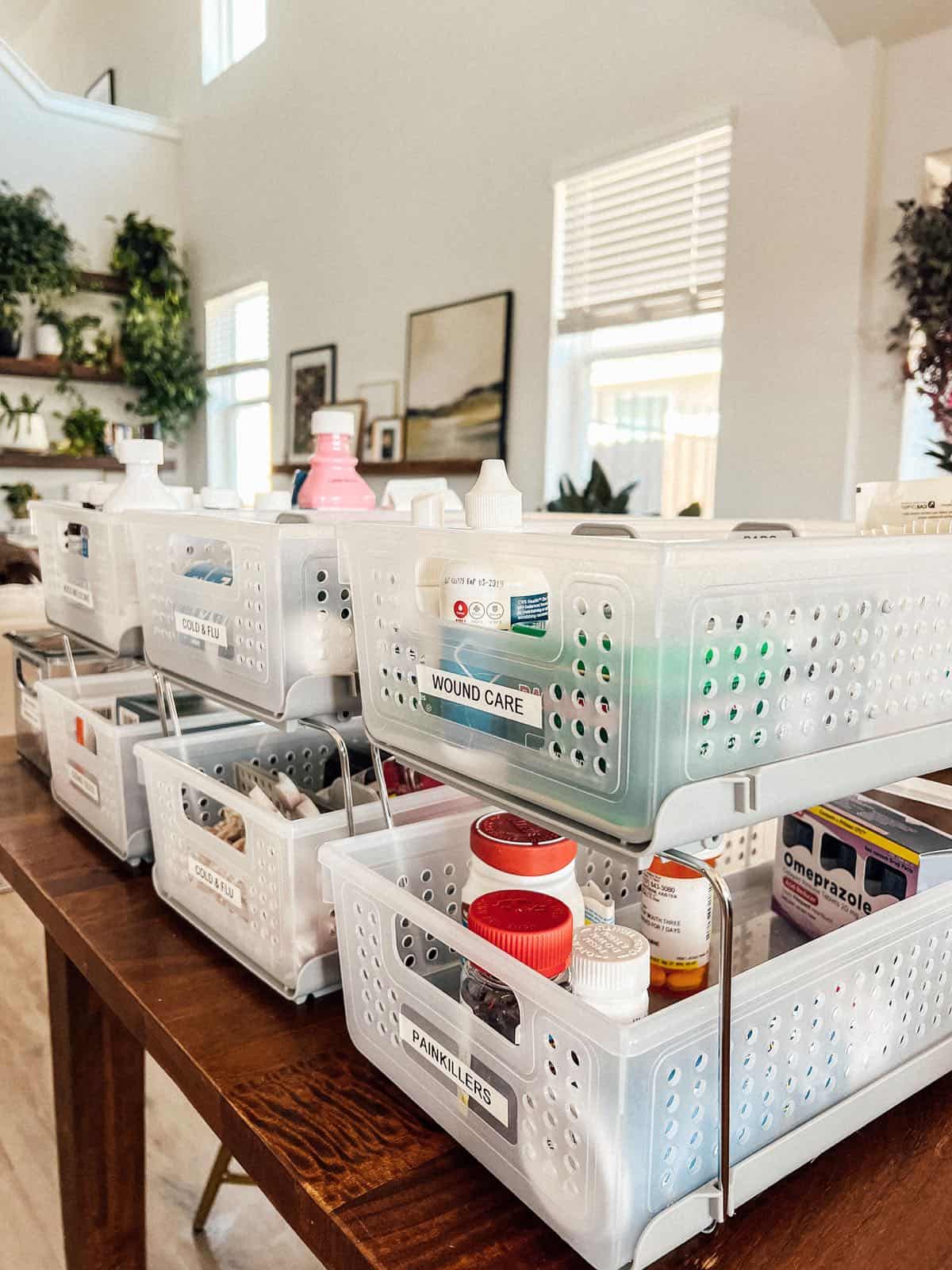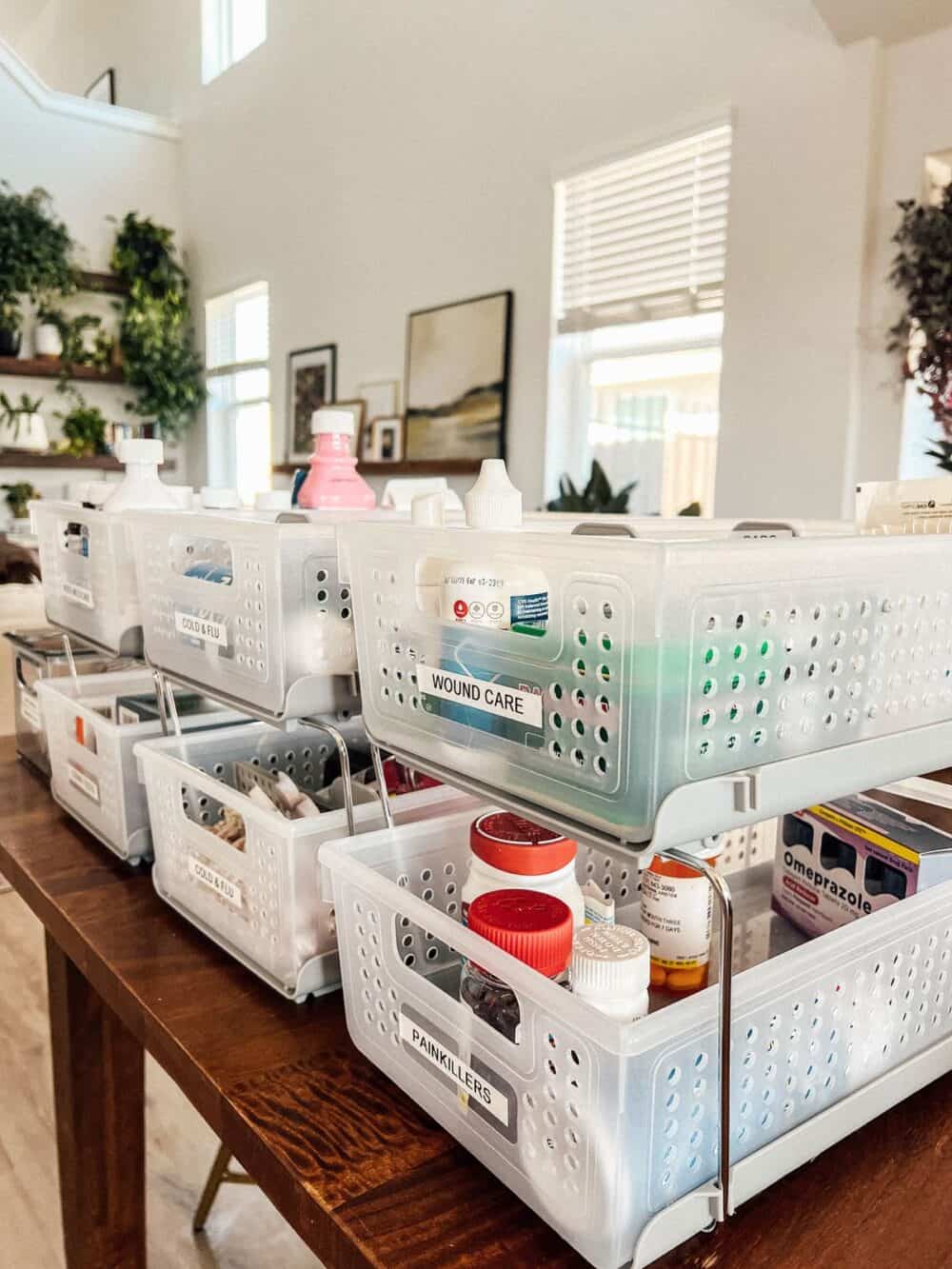 Like I mentioned before, we don't technically have a medicine cabinet. We have a linen closet with one shelf dedicated to medicine. So, I wanted some baskets that would fill the shelf, but be easy to remove. We often give kids medicine in the kitchen (not our bedroom hallway, haha), so I liked the idea of bringing a basket where we need it, then easily replacing it.
I have had a couple of these two-tier basket drawers for about a year in my bathroom vanity, and they work great. So, they were my natural first choice here! I bought three sets and they fit perfectly on the shelf.
I also grabbed a couple of these lidded acrylic bins. These are great for some of the more miscellaneous stuff, and I love that they're stackable!
And, most importantly, my label maker was a must-have during this project!
Categorizing medicine
My first step was to categorize all of the medicine so it's really easy to know what's in each basket at a glance. The categories you use might be different from mine because each family has different needs. But, here's how our baskets are organized and labeled: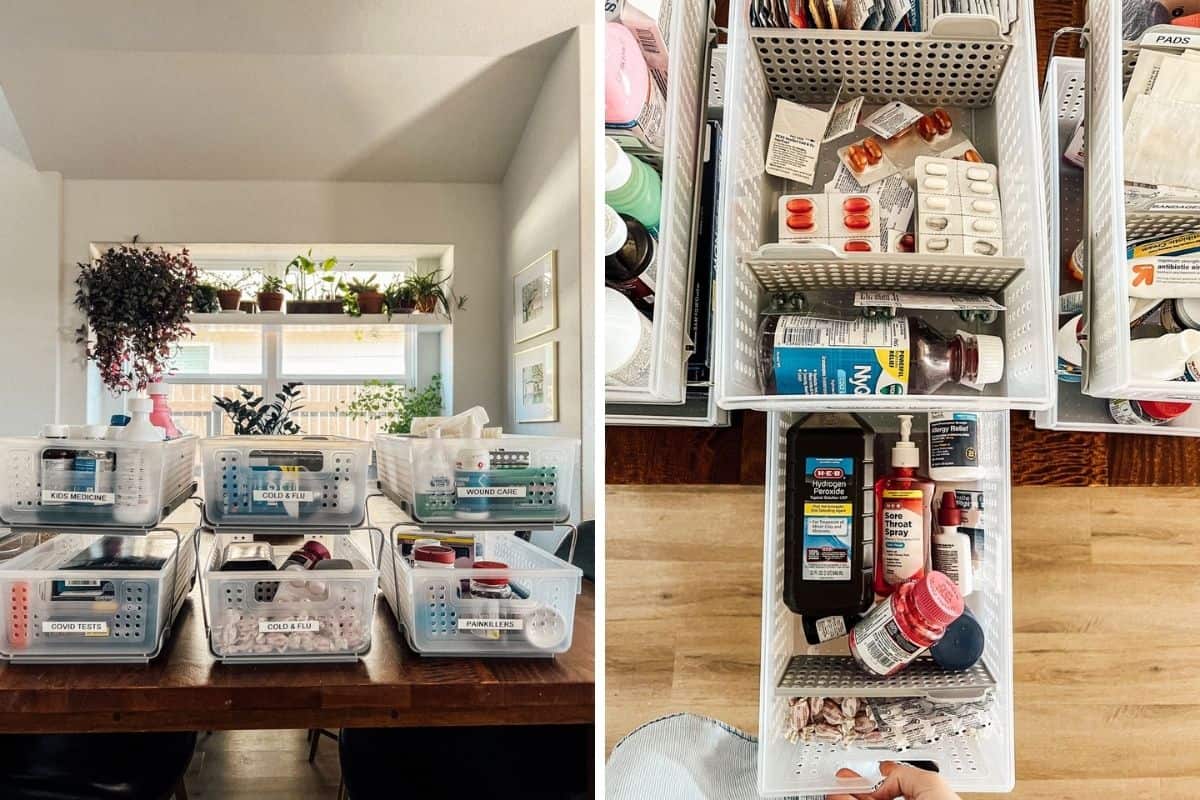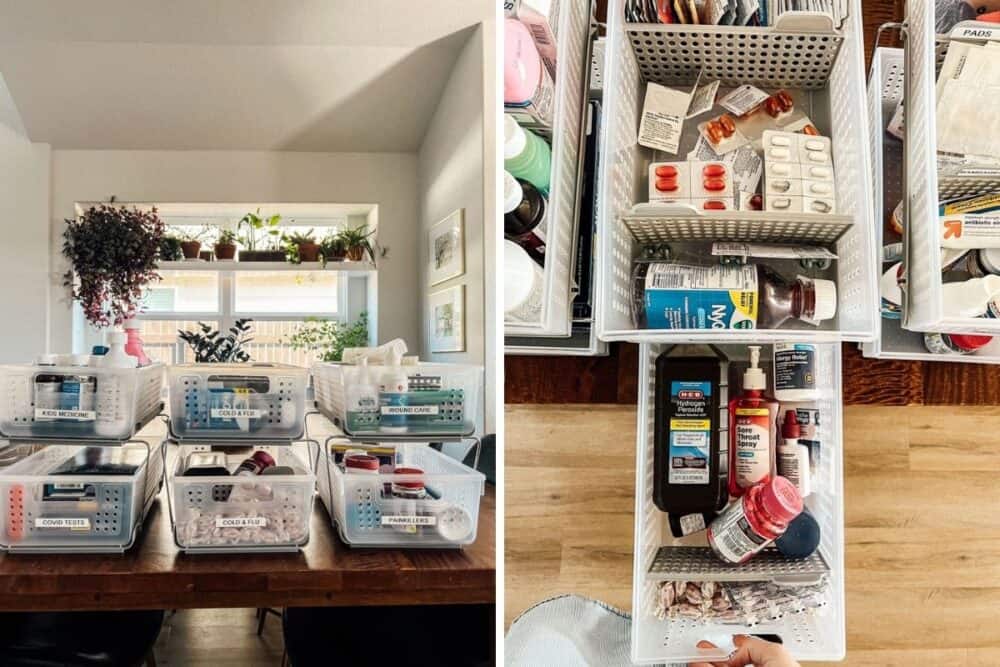 Cold & Flu: I have two of these baskets. One holds daytime and nighttime medicine, as well as Emergen-C packets. The other holds cough drops and more specialty things (like nasal spray, Breathe Right strips, and allergy medicine).
Kid Medicine / Stomach Medicine: The front half of this basket houses all of out kids' medicine, and behind the divider we have antacids and other gastrointestinal medication.
COVID Tests: No need for explanation here. Just a basket full of our test stock, so I can test my entire family the moment they sniffle or sneeze.
Painkillers: This basket has painkillers and fever reducers.
Wound Care: And finally we have a basket with bandages, antibacterial creams, wraps, and other wound care items.
We have two of the lidded baskets as well. In here, you'll find…
Dogs: Medicine and. other paraphernalia for our dogs. This includes nail trimmers, hot spot spray, and dog toothbrushes.
Miscellaneous: Here, we have extra medicine measuring cups, our thermometer, and some other specialty medicine (like Icy Hot and anti-itch cream).
Tips for organizing medicine
As I worked, I went through and checked all of the expiration dates on our medicine – I was shocked at how much we had that was expired! Honestly, I'm sure a huge part of it is that we didn't know what we had. How can you when it's this much of a disaster?
I'll note – it's perfectly safe to toss expired over-the-counter medication, but prescription meds might be a different story. Here's an article with some helpful tips on how to dispose of prescription medication.
Other Medicine Cabinet Organizer Ideas
These little baskets were the perfect solution for me and my little linen closet medicine cabinet. But, if you're looking for other ideas, I've got you covered! Here are a ton of other medicine cabinet organizers that could be a good fit for any space.
If you need more cabinet organizer ideas for any of the clutter in your bathroom, just click here for a full list of bathroom organization products that are sure to help.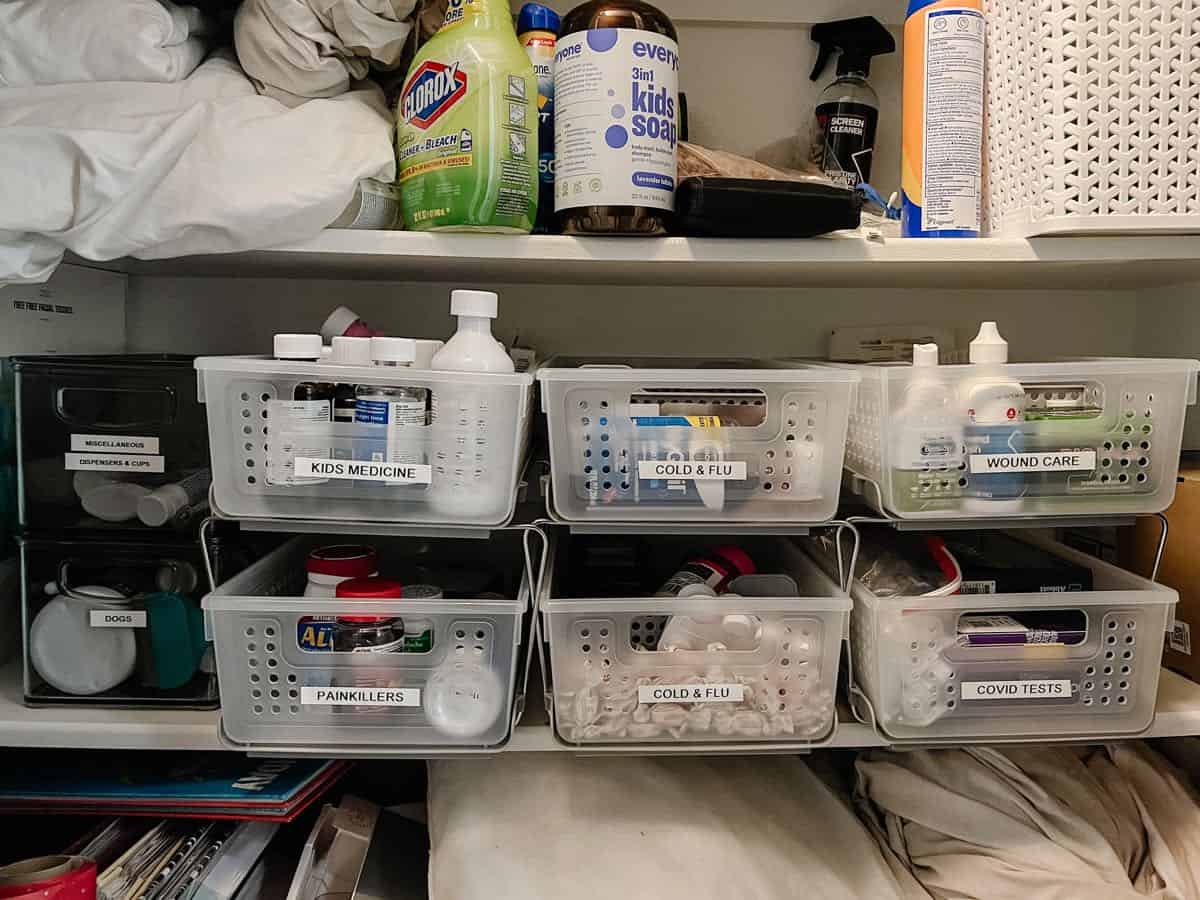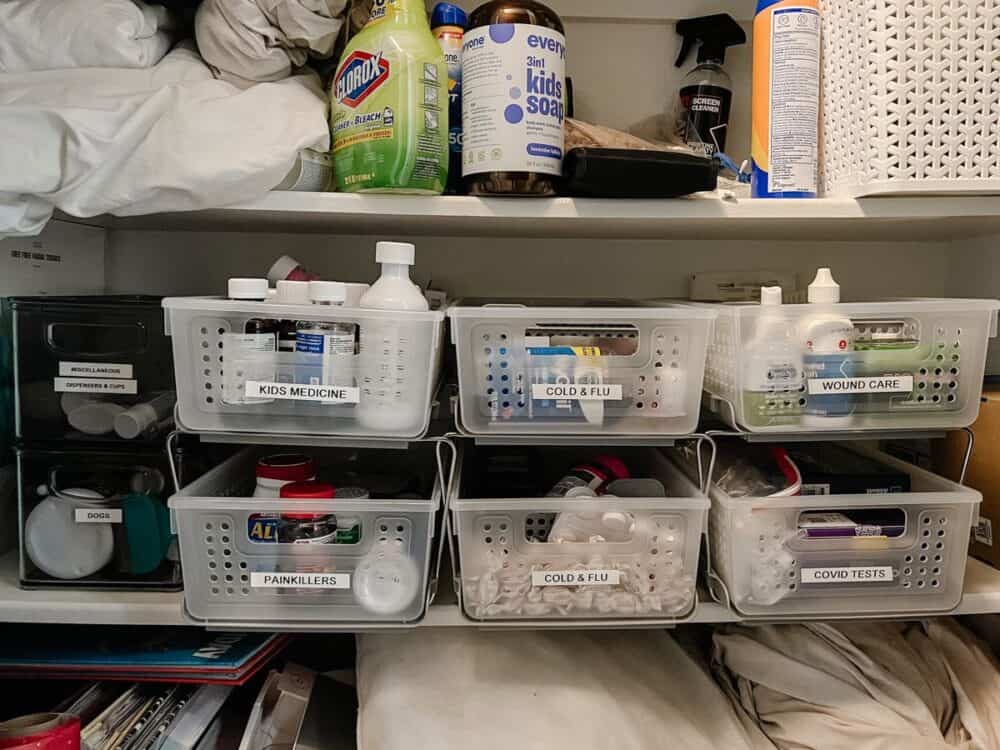 Annnd that's how I turned some baskets into a medicine cabinet organizer that's already changing the game for us! The inside of that linen closet is still a complete and utter disaster, but I've got one shelf taken care of, so that's a good start, right?!
Other organizing projects
I've been working hard on organizing a lot of small space in my home this year, if you want to catch up, click any of the links below!
My goal is to end the year with my entire house organized! It might be lofty but at this rate, it also just might be doable!