Brightening Up Our Kitchen
When Corey and I were working on reupholstering our chair, I also had another little project going on on the side.
We've had our dining room set for about 3 years now, and it's another thing that falls into the category of things Corey picked out for his first apartment that I really, really hate. It's not that it's particularly ugly or anything, but it's oh so boring.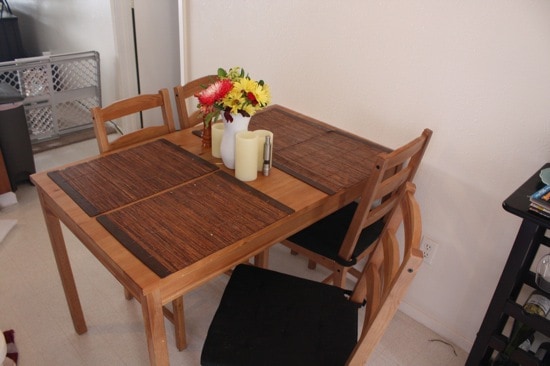 Yawn.
I'm pretty picky when it comes to wood tones, and I'm really not a fan of this pale color. I prefer much darker wood tones – like the wine rack you can see in the corner of the photo. Plus, our house doesn't have a ton of light coming in and this table just added to the multitude of dark surfaces in the room. Combined with the wood cabinets and our wine rack, this room was really starting to feel heavy and dark. So, I've really hated this table for a while, but I just haven't done anything with it.
But inspiration struck when we were buying paint for the chair – why not just paint it?! It will help me not hate it so much, and it will give it a nice facelift for the next few months until we move. Plus, if we ended up hating it, it wouldn't really matter because we're getting rid of it soon!
So, we decided to use Martha's Glass of Milk for the chairs, and we picked out a yellow for the table. Once again, it was a Martha Stewart paint and most of the reason I bought it was because of the cute name – egg yolk! Of course, it wasn't until we were checking out that we realized that we had just purchased two paint colors with breakfast food names for our kitchen table. It must have been fate, right?
Corey sanded the table and chairs for me, and I painted my little heart out. Looking back, primer would have made the job much easier, and I would have used it if this was for a piece of furniture we were keeping for a while. But, since this is just a quick fix, I chose to save the money and skip the primer. I painted the chairs one weekend…
…and the next weekend I tackled the table!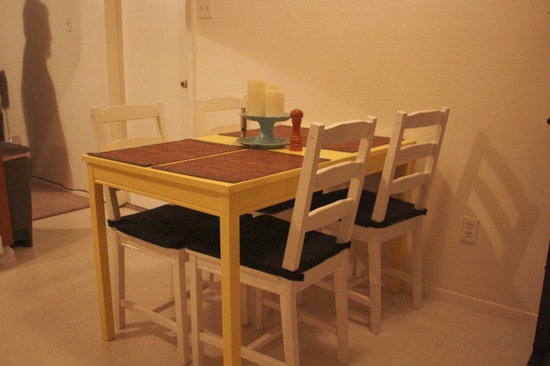 Once we had the table painted, Corey and I both quickly came to the consensus that the place mats were not going to work with the new color. They had worked just fine when the table was still wood toned, but they really stuck out with the yellow table, and it just looked off.
Luckily, we were in Austin yesterday for my niece's birthday party, and while we were there we ran by Crate & Barrel and snagged some much more fitting place mats.
Ahh, much better! To be honest, I'm also not in love with the seat cushions – they look a bit harsh next to the white seats. We contemplating grabbing some gray ones from Ikea yesterday, but we talked ourselves out of it because we felt a bit silly buying something that we know we'll just get rid of in a few months anyways.
Oh, and we couldn't resist buying these cute yellow plates from Crate & Barrel while we were there – they fit perfectly with the table's new makeover!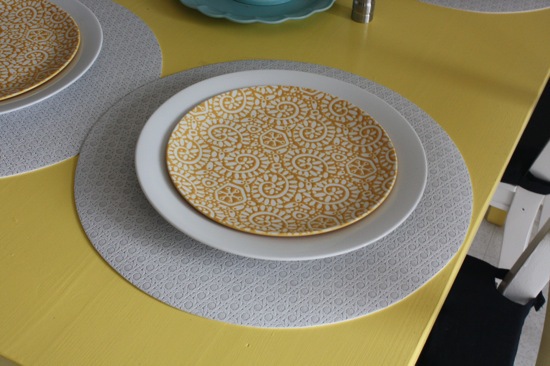 Now that the table has gotten a facelift, I can't help but smile every time I see it – it looks so much better, and it really brightens up our kitchen! I feel so silly for hating this table for so long and never even thinking about doing something to fix it – it was such a simple fix and it only took a few hours. I'm actually contemplating trying to find a new spot for it when we move – now that I actually like it, I might not want to get rid of it!
Have you ever given some of your furniture a facelift? Did you love the change as much as we do?