Looking for ideas for chores for 2 (or 3) year olds? This post will give you some great inspiration for how to get your preschooler doing chores! 
My kid is two and he does chores.
Sometimes, when I mention that to people, I get a bit of a shocked look.
But…why shouldn't he? He loves to help, he's a little sponge just waiting to soak up some more knowledge, and I love keeping him busy. So, chores are a perfect solution!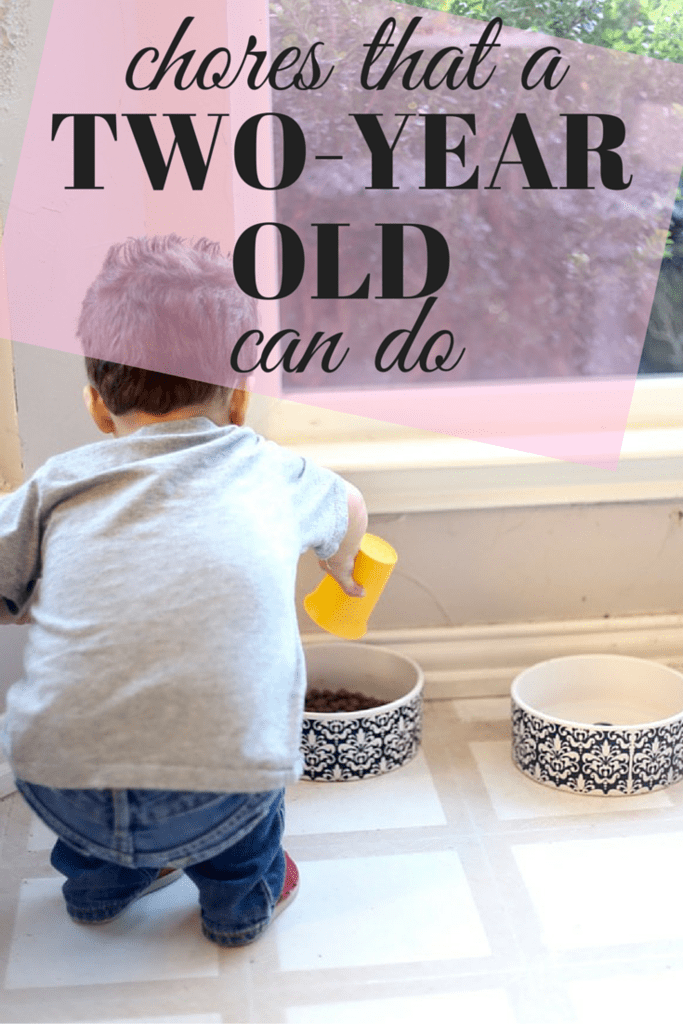 This post contains affiliate links. Click here to read my full disclosure policy. 
As a special education teacher, I'm big on teaching life skills to Jackson from a very early age. He will know how to do his own laundry, he will know how to cook, and I will do everything in my power to make sure that he learns everything he needs to be totally independent. I've learned over my years teaching that kids are often capable of so much more than we might give them credit for, so I always try to assume Jackson is capable of completing chores that I might normally reserve for older kids.
Chores for 2-Year-Olds
Here are 7 chores that Jackson is currently doing on a regular basis at two years old:
Feeding the dogs. This is usually a bit of a mess, but he's gotten to the point where he can do it independently. We keep our dog food in a big plastic container in the bottom of the pantry, and he's able to grab the plastic cup that we keep in it, fill it up, and transfer it to the dog bowls. He doesn't quite understand that Hadley needs a different amount of food than Cullen or when to stop adding more food to the bowl, but he does a shockingly good job at doing this by himself!
Cleaning his room. Jackson knows where all of his clothes go and is able to help me put them away (he can't hang anything up yet, but can put things in baskets and drawers). He also puts his toys and books away and helps me get everything nice and straightened up in his room each evening before bed. (UPDATE: Here's a post I recently wrote now that Jackson is 4 years old – there are some great ideas on keeping an older preschooler's room clean!)
Helping with laundry. This is probably his favorite task, but it's also the one that he can help the least. He loves to put clothes into the washer (he can just barely reach on his tiptoes!) and help me transfer clothes over to the dryer, and he loves to "help" when I put the clean clothes away. Really, I have him do this with me as a good way to keep him occupied while I finish up the laundry (so he isn't tugging on my leg asking me to play instead), so I don't mind that he isn't actually all that helpful.
Cleaning up after himself. An obvious one, but important nonetheless. Ever since we started separating his toys into different baskets, he has learned that he has to clean up one basket before we take out another. It keeps my house much cleaner and teaches him the importance of cleaning up after yourself! Let's hope he remembers this skill as he gets older…
Putting dishes away. Jackson knows where all of his toddler dishes go, and he helps me unload the dishwasher by putting away everything that he can reach. My lower cabinets are a hot mess if you open them, but he's learning some important skills so I don't mind (too much). He also loves to take his dirty dishes to the sink after dinner. Sometimes leftover food ends up on the floor, but the dogs aren't complaining so it's okay!
Helping with cooking. Another one where he does very little, but it's crazy helpful to have him occupied while I cook dinner! I let him squeeze lemons, "cut" vegetables with a butter knife, and help add seasonings, pour things into bowls, etc. He absolutely adores helping with cooking and over time he really has started to learn how to genuinely help with some things. Every once in a while, I try to plan a meal that he can genuinely participate fully in – one night he made nachos for dinner and was so proud of himself!
Carrying groceries in. When we go shopping, Jackson loves to help carry the grocery bags in! We have to do a bit of manipulating sometimes to make sure we have bags that are light enough for him, but the delight on his face when he runs out to the car shouting "I help! I help!" is absolutely priceless.
Watching Jackson learn how to be helpful around the house and do a few different chores has been one of my favorite parts of him growing up. It is so incredibly fun to see him develop and gain new skills, and I love how proud he is of himself when he is helpful around the house!
What chores do your kids do around the house?