It seems that we've started a tradition of semi-DIY birthday gifts for Jackson. Last year it was his Ikea play kitchen, and this year it's a brand new IKEA play table!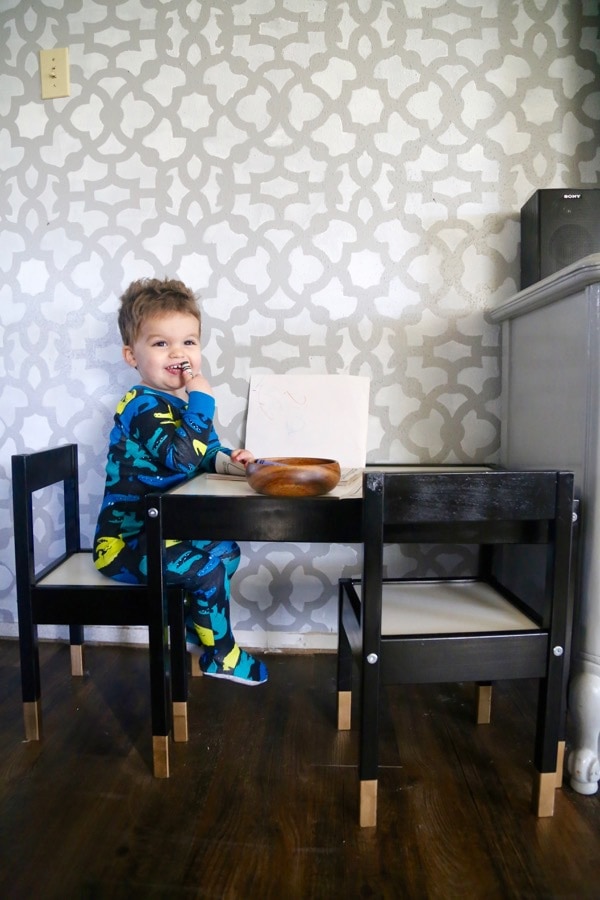 The idea was born for this table when Corey and I decided to give Jackson a train set for Christmas. When we were talking about storage, etc. we quickly realized that Jackson plays with pretty much all of his toys on the floor. Nothing wrong with that, but it seemed kind of silly that we didn't have a good space for him to spread out a little bit and play more comfortably. Combine that with the fact that he's drawn like a magnet to miniature furniture anytime we're out and about and it was an easy decision that we needed to give him a play table of his own!
We, once again, went with Ikea for the base of his gift because it's just about impossible to beat the price, the quality, and the "hack-ability". I mean, it's just a blank slate begging for you to do something awesome with it!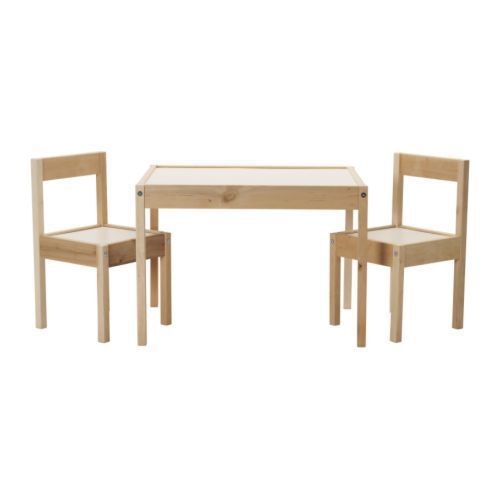 IKEA PLAY TABLE HACK
We decided to keep it pretty simple since we knew the table would have a home in our living room. I considered adding fabric to the chairs like many other people have, but in the end, I decided that would be just one more thing to keep clean and skipped it. The name of the game here was simple and easy!
I decided to do a gold-dipped look for the legs – I didn't really take any photos of the process (I blame the fact that I was as sick as a dog in the week leading up to his birthday and I was in a complete and utter fog!) but it's very simple. I just measured out the same-ish amount of space from the bottom of each leg (mine's about three inches) and taped it off. Then, I spray-painted everything under the tape gold. Once I was ready to paint, I pulled that tape off and added new tape on top of the gold, along with some craft paper to cover up everything I had painted gold. Then, I added on the black!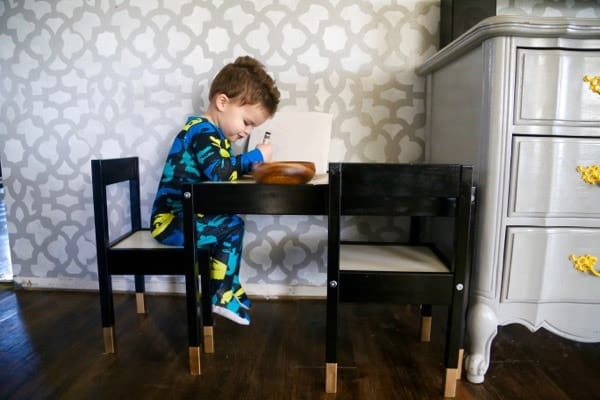 I have gotten away from using spray paint lately because it can be so finicky, but I was on a time crunch with this project and decided to go back to the old favorite. I forgot how quick and easy it is to paint with spray paint! And I can't complain about the faster dry time, either. We went with black for the main part of the tables and chairs for two reasons – first, it's neutral and would blend pretty seamlessly into the room (and the kitchen, since it sits right next to our new black cabinets), and second, because it hides all manner of stains and mess.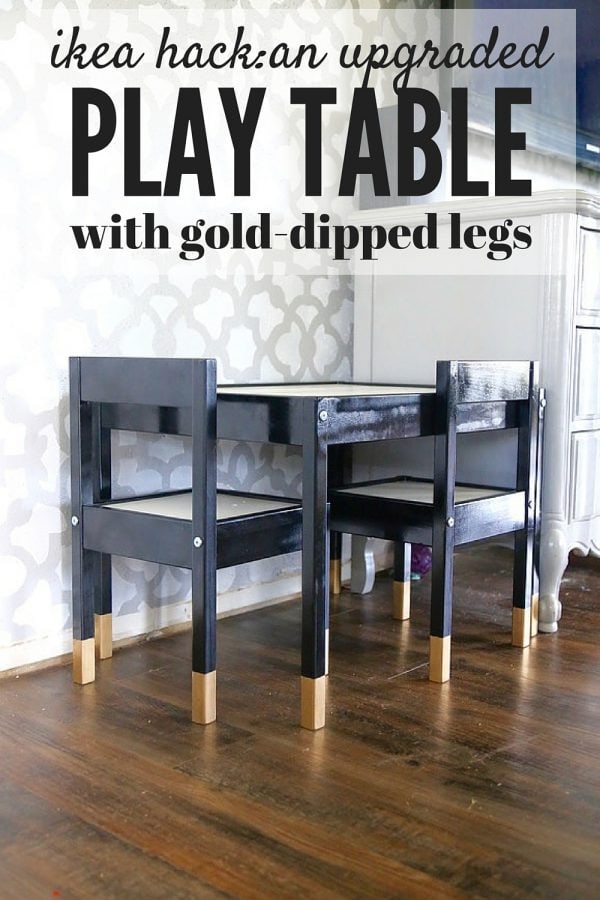 So far, Jackson seems to love the table! It's nice for him to have a little home base when he's coloring, and if he's in the middle of playing with trains or Lego's right before we go somewhere, I don't have to worry about him leaving anything all over the floor – it's nice and contained. We have plans to make an insert for the table top to turn it into a Lego table soon, so I'll be sure to share details once that's taken care of!
Do you have any mini furniture in your home?