Christmas Around the House
Are you proud of me?
I waited until after Thanksgiving to officially post about our Christmas decor.
I mean, it's been up for weeks now, but I waited.
You're welcome.
If you're new around here (hi! welcome!) you may not know yet that I have a bit of a Buddy the Elf streak. I think I make that comparison every single year, but it's very accurate. As soon as the calendar flips to November I revert back to a childlike state, giddy with delight over all things Christmas and drinking syrup straight out of the bottle.
Kidding on that last part.
Or am I?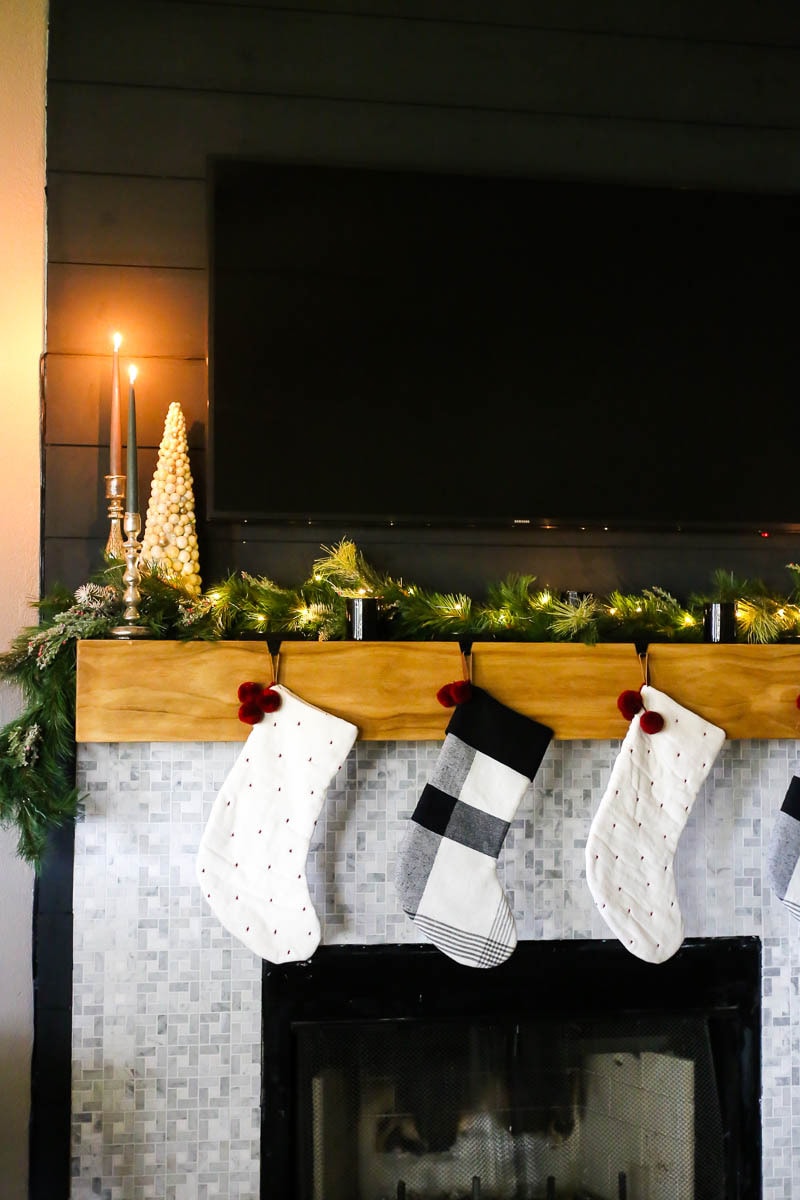 In all seriousness, there's just something truly magical about the holiday season, and it fills my soul with joy every year. So, I'm excited to be joining in the Very Merry Christmas Home Tour today – if you're visiting today from Thrifty and Chic, welcome! Once you've finished scrolling through my tour, be sure to check out the next blog on the list for even more inspiration.
Let'd dive in, shall we?
I was a little nervous to decorate our house for Christmas this year – last year, we moved in right before the holidays so I didn't really get a chance to take my time with the decor. I threw it all up and called it a day, and while it was happy and bright and Christmas-y, I never really loved it. But now, the house and I have had a full year to get to know one another and I've learned a little more about how to decorate this tiny little space.
I've learned that less is more. I've learned that neutrals are my friend. I've learned that layering textures and tones makes the space feel less busy (and therefore bigger).
Basically, I've learned that I need to do the opposite of what I did in our old house to make this home shine for the holidays. I used to be all about more is more and all the things when it came to Christmas decor, but I need to practice restraint in this home to help it not feel even more cramped and crowded.
That's why we got a new tree this year – and it's a pencil tree!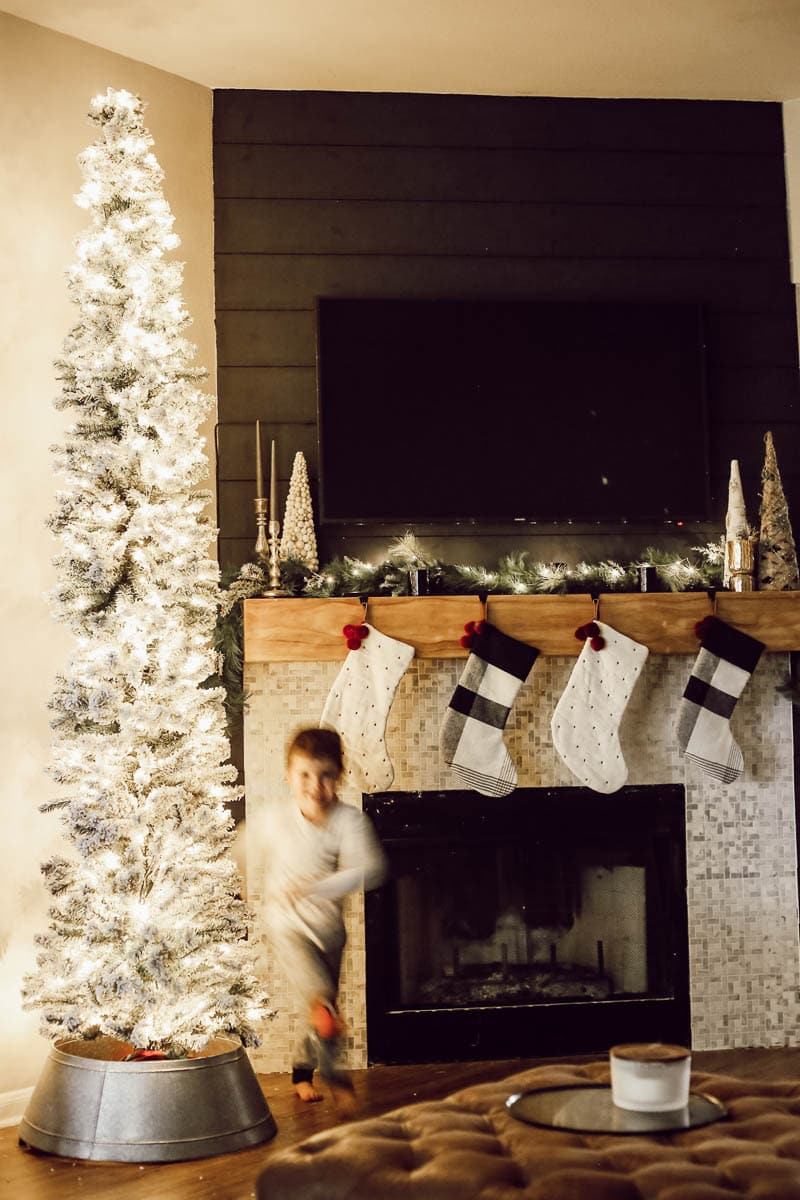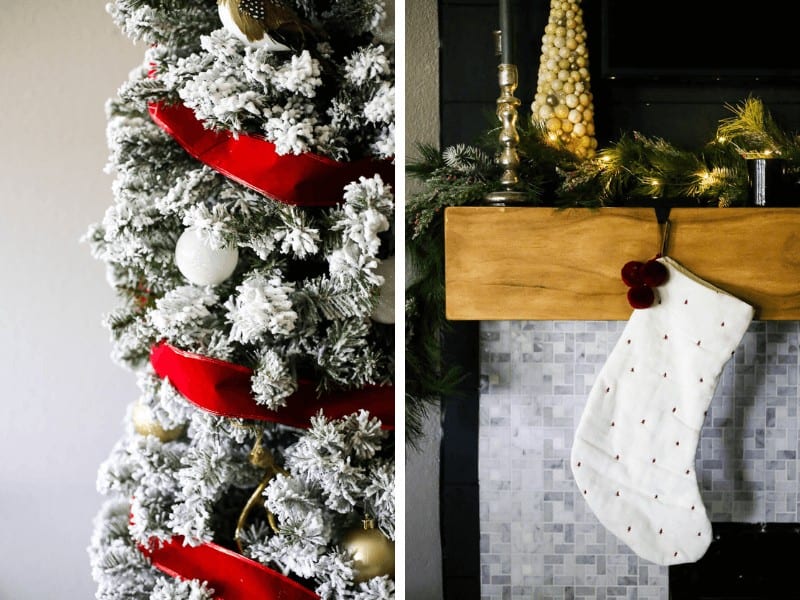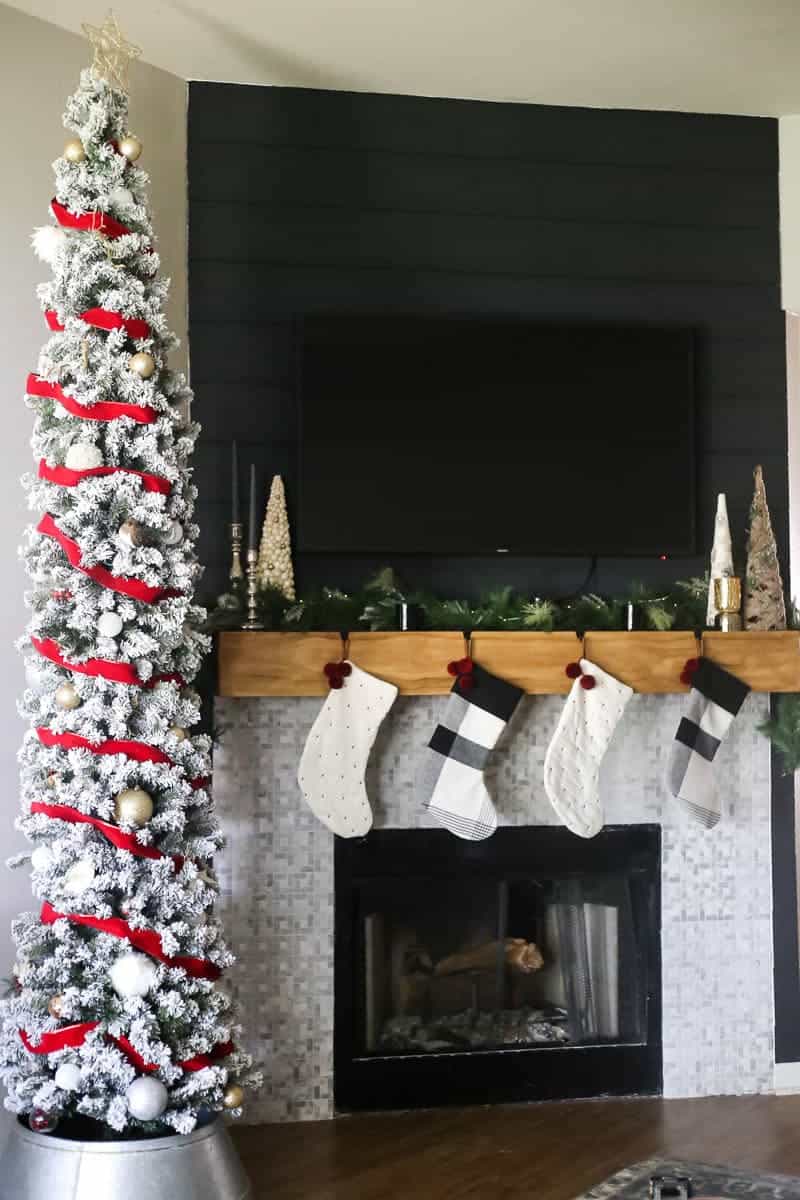 That's right, instead of a full, ginormous tree we went for one that's tall and skinny. Of course, you know I would never be satisfied with just a tiny little tree, so we went for a 9-foot tree to really accentuate our tall ceilings and just kept it nice and skinny. It makes an impact in the room without taking up a large footprint, and I really do like it!
Of course, my inner Buddy the Elf is screaming for something about 8 times as big, but I'm doing my best to quiet him down.
This year, rather than going for a Christmas Explosion! I stuck to a few pretty touches in key places around the house. It still feels jolly and festive without being too much, and I'll admit it felt pretty good to donate a good chunk of our old Christmas decor to free up some space in our backyard shed!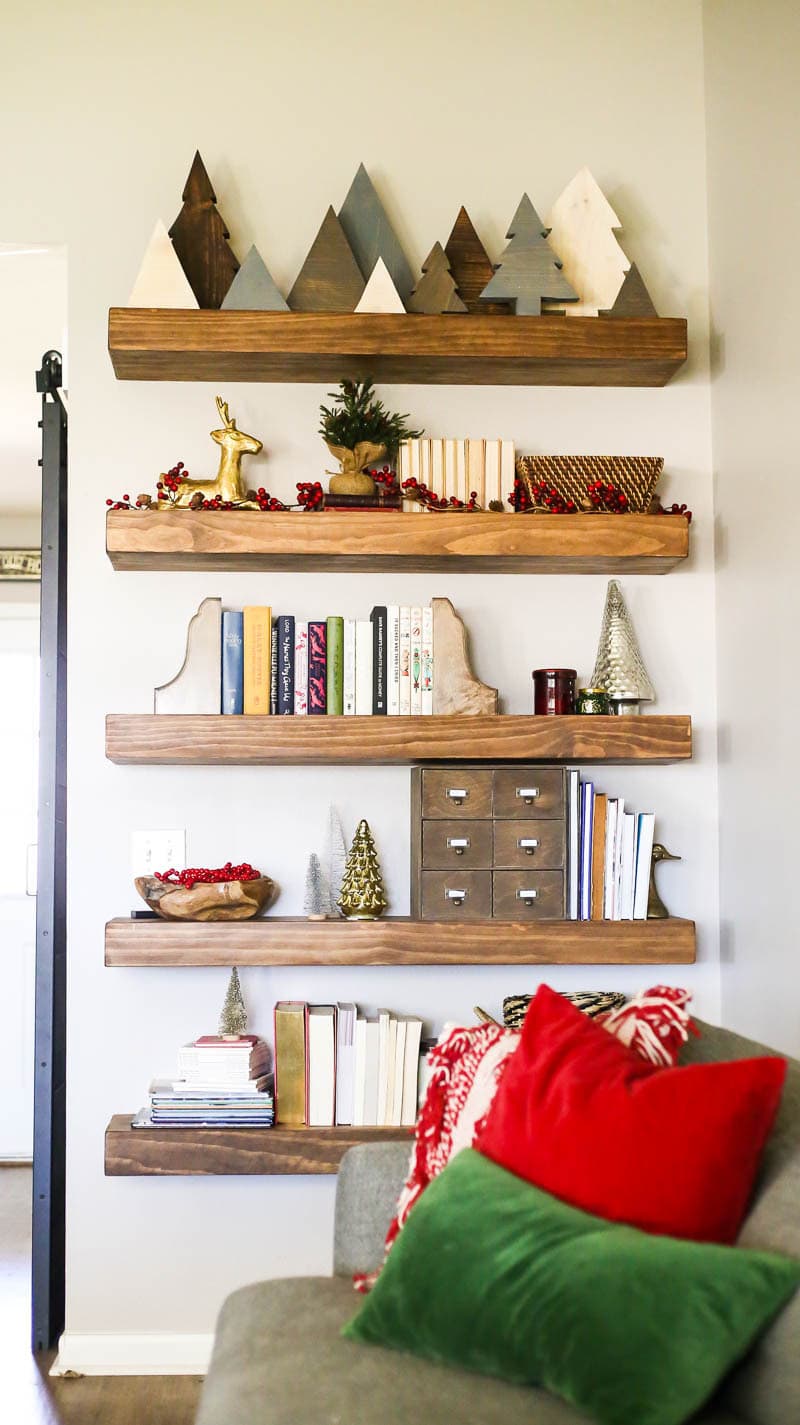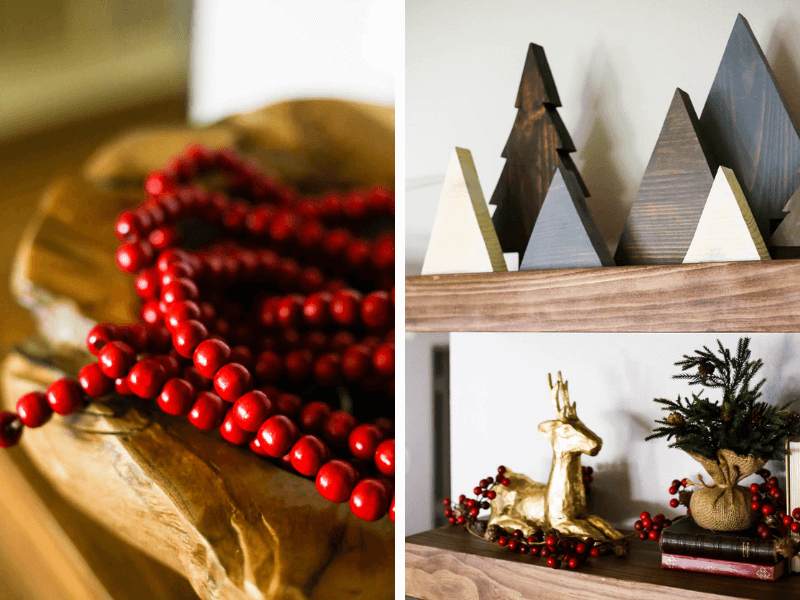 Of course, our open shelving was probably the most fun piece to decorate. I'm still learning how to fill such a large area without making it over-crowded, but I think I struck a good balance with this display. Jackson loves all of the pretty metallic trees, and I love that I got to use the wooden trees I made last year.
Oh, and before you say it, I'm fully aware that some of you are staunchly against the whole backwards book thing. But it quiets down the display and makes it feel a little more neutral, and I like it gosh darnit.
Deal with it.
Please?
Love you.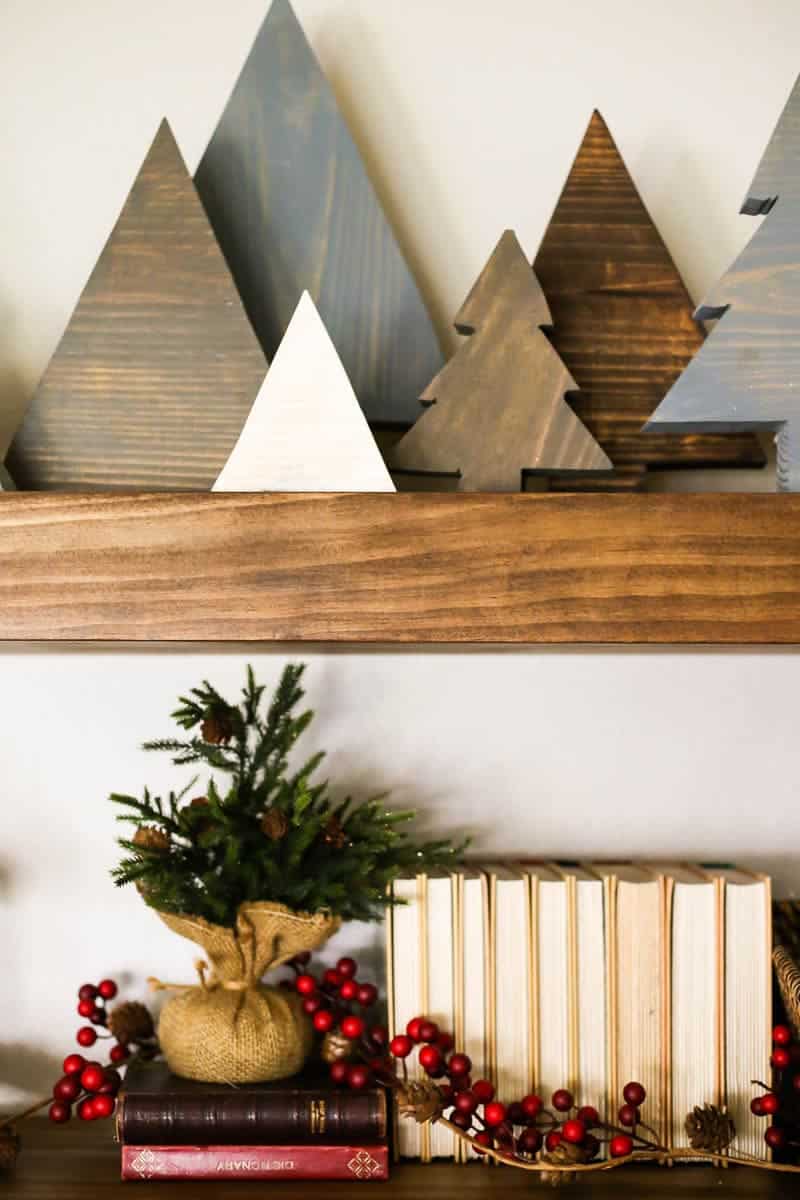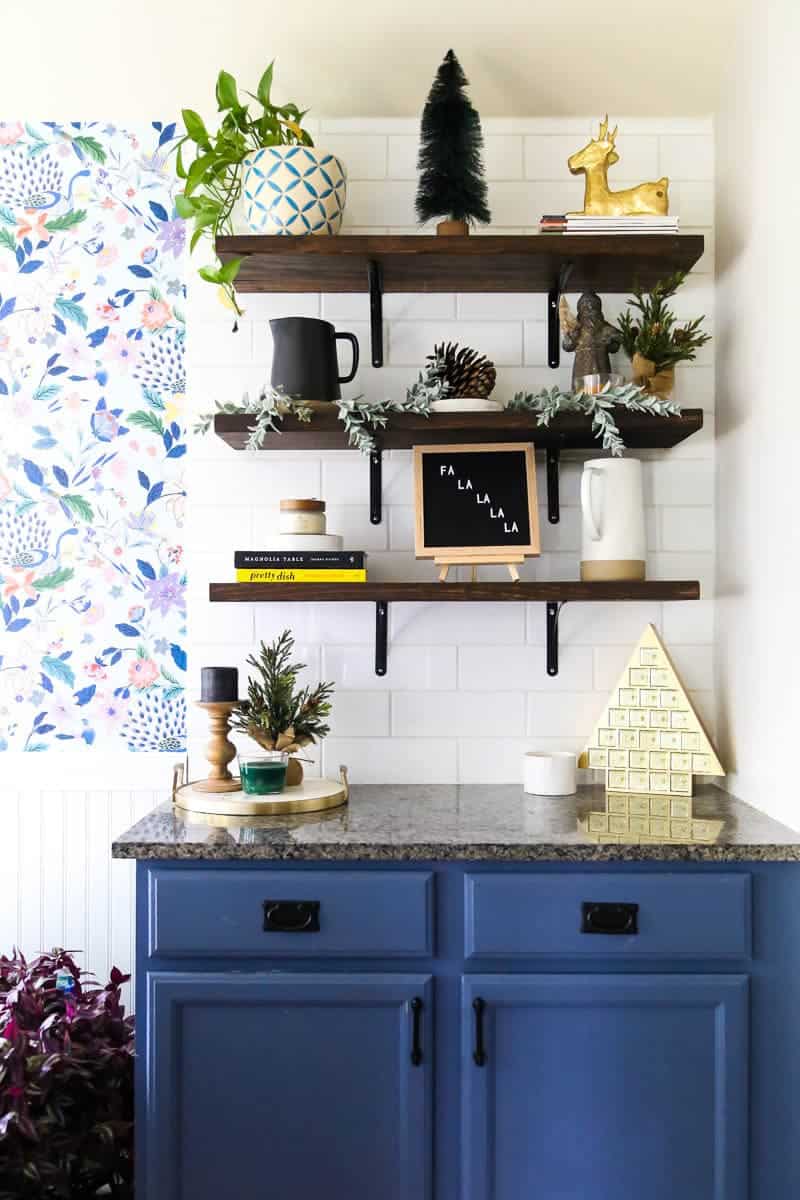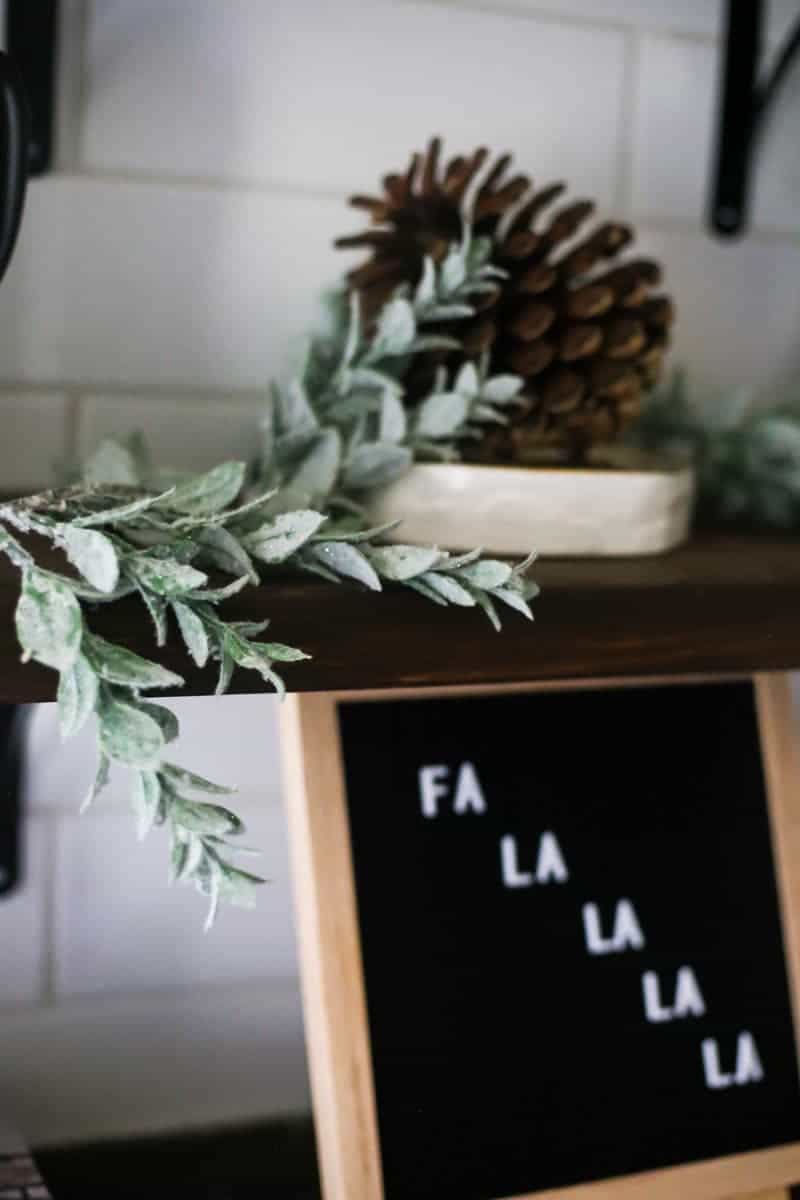 I haven't done much in the dining room quite yet because I want to change up our Christmas place settings. I kept the centerpiece much simpler than I have in years past, simply because this table is so tiny that anything else makes you feel like you don't even have room to eat. I like using a large dough bowl because it looks beautiful but when we sit down to dinner I can easily move it over to the counter and open up some space on the table. When the centerpiece consists of 15 different things, it's not quite so easy.
I'll definitely do an update once I figure out how we'll be setting the table for Christmas morning. I take my Christmas place settings very seriously, and it was time for an update. I still don't know for sure what we'll do, but Corey and I have been tossing around a few different ideas, so hopefully we'll be able to make a decision before Christmas.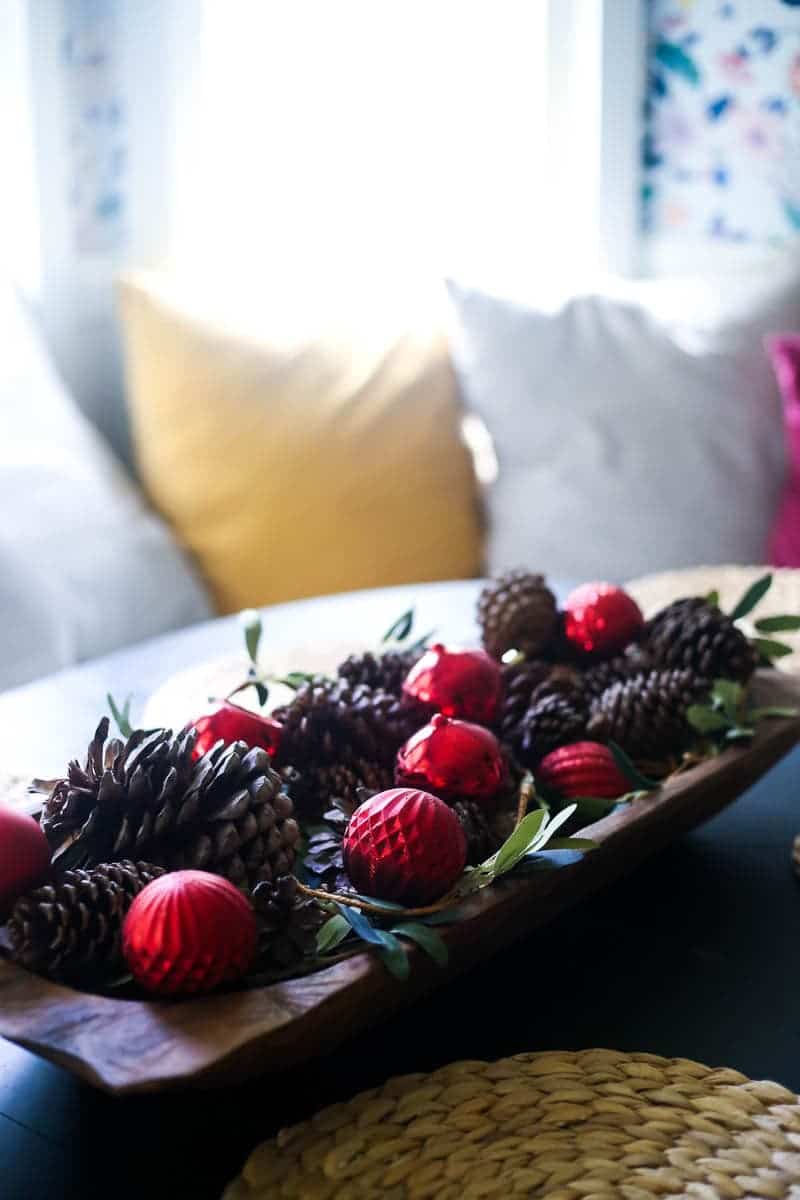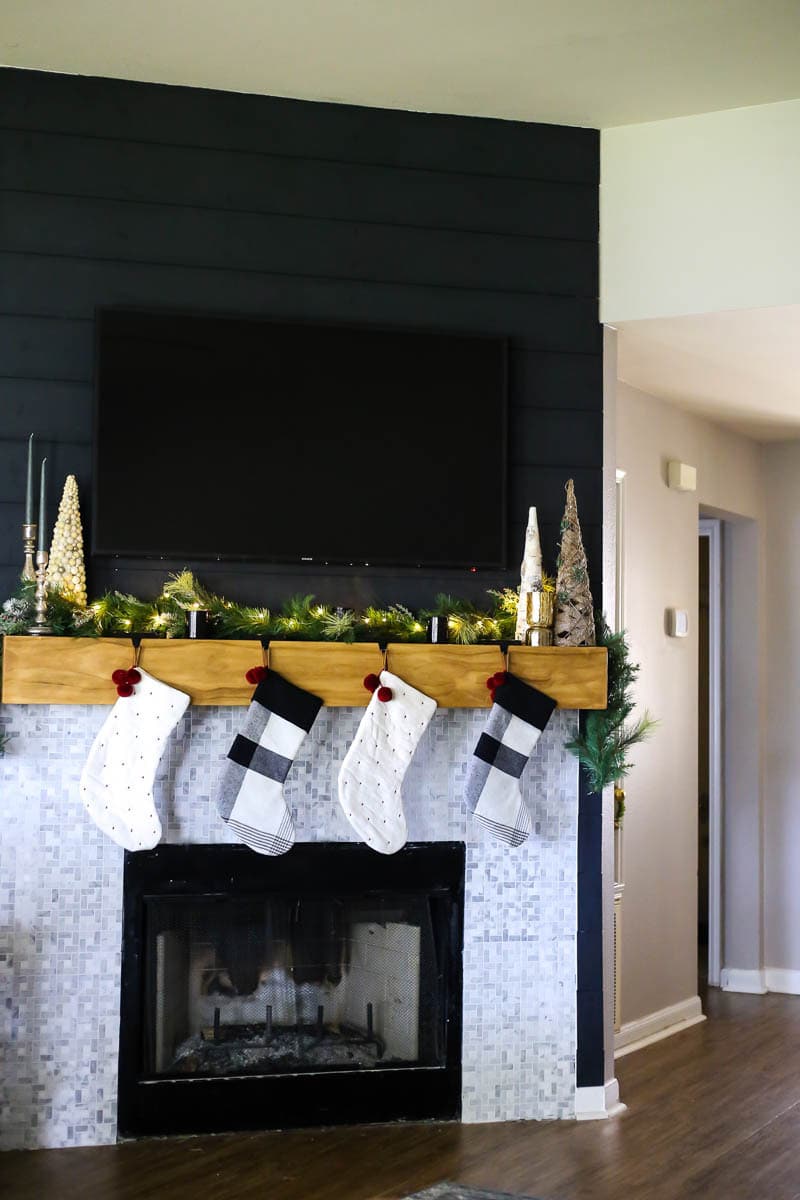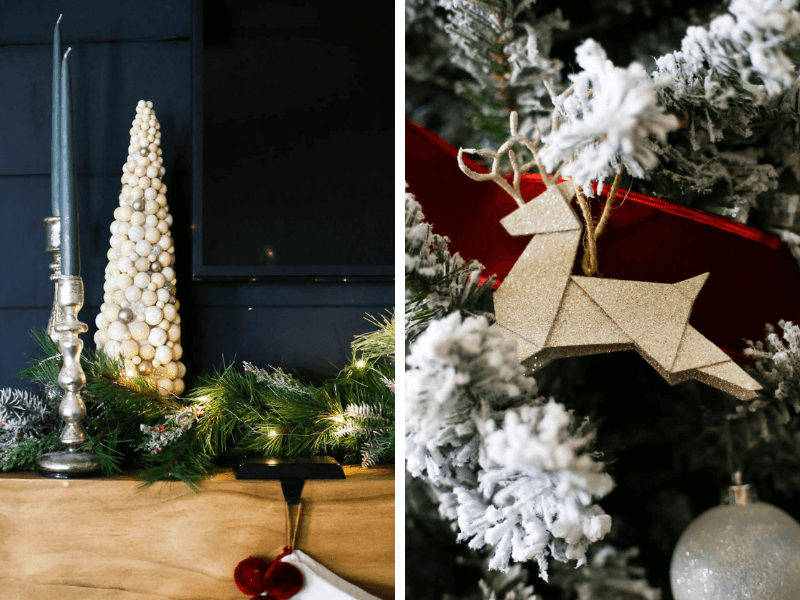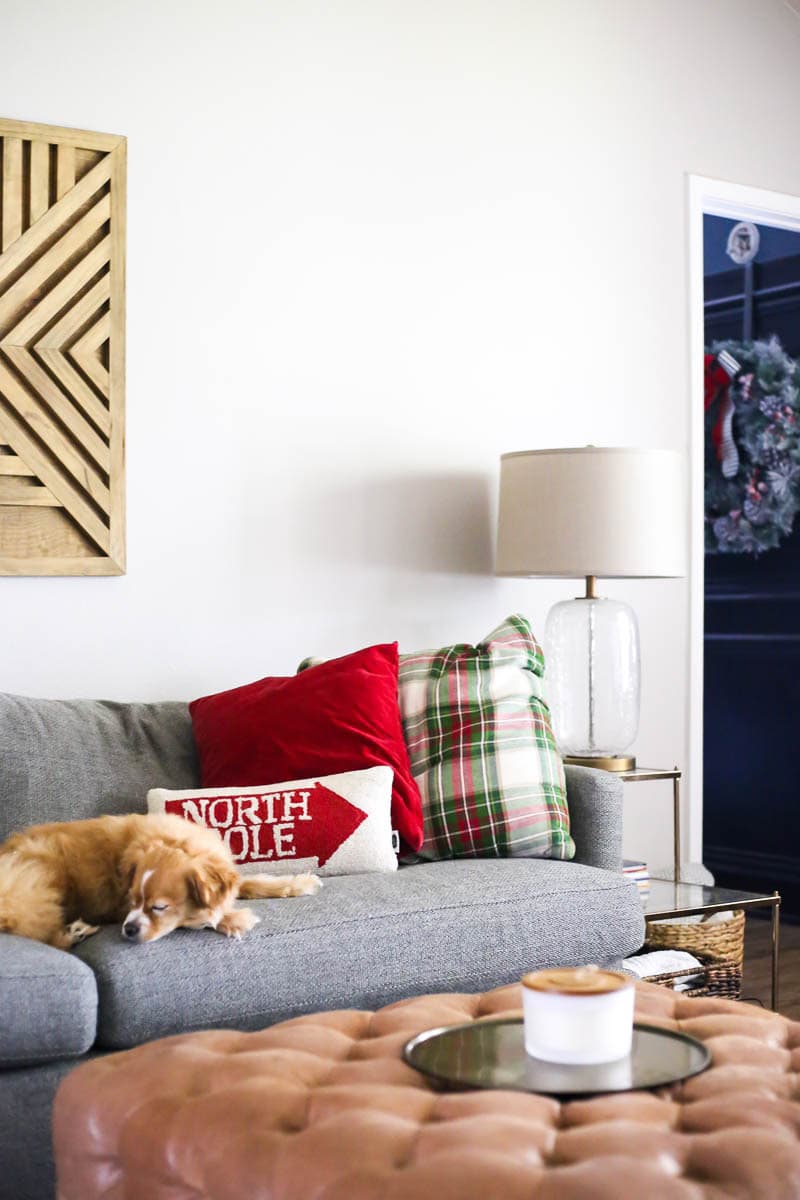 The last thing I did to decorate in our main living space was to swap out our throw pillows for more festive ones. This is one of my very favorite super simple ways to make a big impact when you're decorating for the holidays – a few new throw pillows can change the entire look of the room!
Add a snuggly dog and things look very cozy, no?
I still have a couple more spaces I want to show you before the season is over – we're still putting the finishing touches on our bedroom, and I'll figure something out in the dining room eventually. But for now, I'm feeling pretty good about how things are looking around the house!
If you want even more cozy Christmas inspiration, be sure to head over to Our House Now a Home to continue the tour! And, for even more inspiration, check out any of the posts below.
Enjoy!


All Things With Purpose * Lovely Etc. * Love and Renovations * Thrifty & Chic * Up to Date Interiors * Casa Watkins Living

Green With Decor * Boxy Colonial * Bigger Than The Three of Us * Our House Now a Home * The Navage Patch

Chatfield Court * Lehman Lane * Redhead Can Decorate * Designing Vibes * A Brick Home

House by Hoff * Create and Find * Making it in the Mountains * Twelve on Main * What Meegan Makes

Amber Tysl * The Striped House * Houseful of Handmade * Little House of Four * Avenue Laurel