Our Mini Garage Door Makeover
With the holidays coming up, Corey and I have been working on a few quick maintenance items around the house to make sure our home is clean, looking nice, and ready to host our friends and family for Christmas. This weekend, we took care of some garage door maintenance that we've been putting off and while we were at it, we gave our garage door a quick makeover to make it a little more appealing from the street.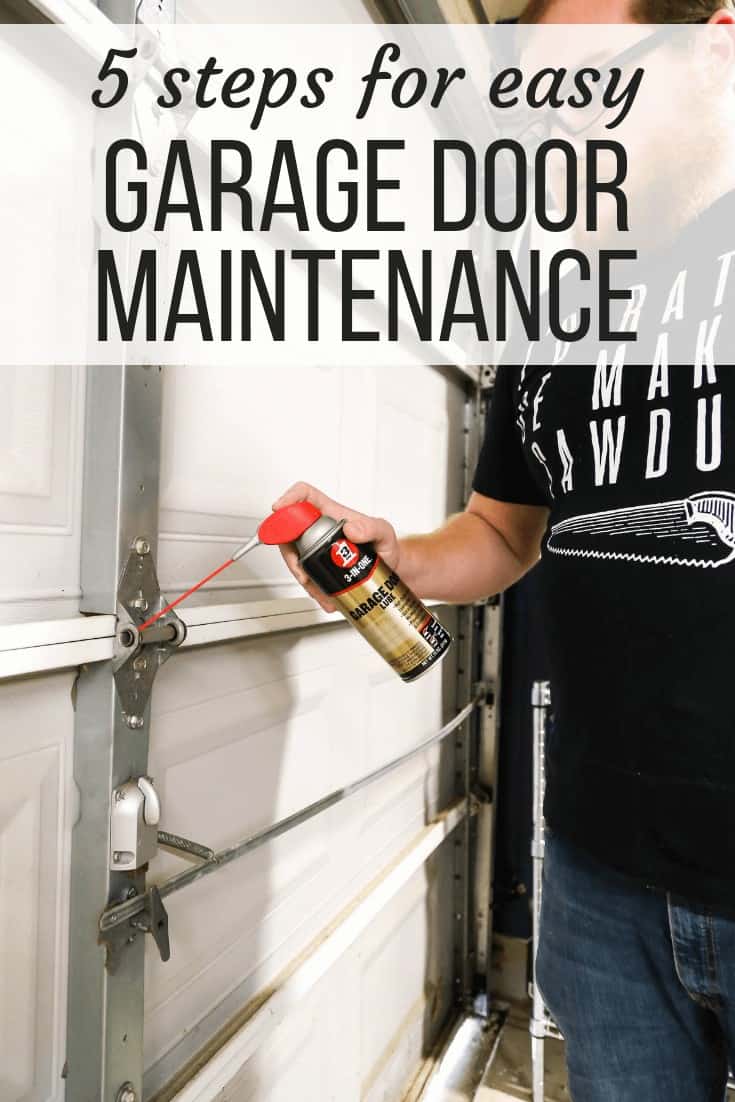 This post is sponsored by 3-IN-ONE.
I wanted to share our process for taking care of our garage door because it's really simple, but most people I know (including myself!) tend to completely forget to do it.
We haven't spent a lot of time taking care of our garage door – it's just one of those things we don't put a lot of thought into! But, we've noticed in the last few months that the door was getting extra loud and obnoxious when it was opening or closing and we figured it was high time we do something about it. So, when 3-IN-ONE reached out and asked if we'd be interested in trying out their 3-IN-ONE® Garage Door Lube, we knew it was the perfect opportunity for us to show our garage door a little love.
3-IN-ONE's Garage Door Lube is designed to help prevent rusting, corrosion, sticking, and squeaking in your garage door. It's fast and easy to apply, and it dries quickly without leaving any residue. It's perfect for people like us who want things to just work without having to spend a ton of time maintaining them. Plus, it gave me a great kick in the pants to make things look a little nicer on the front of our house, so I'm forever grateful!
Quick Tips for Garage Door Maintenance
Since we were already going to be working on the garage door, I did a little research and learned that you should be doing a few simple regular maintenance steps to take proper care of your garage door. It's one of those simple things that might be easy to forget, but you're really going to regret it when it suddenly stops working on you! So, here are the five simple maintenance steps we'll be taking in the future to make sure our garage door stays operating smoothly (and quietly):
Check & Clear the Tracks: The tracks on the side of the door can gather debris or rust over time. Do a quick inspection to make sure they're totally clear, clean, and not rusting. Watch the tracks as the door opens and closes to make sure there aren't any spots where it's catching. You should also use a level to be sure they are aligned and straight (if they're off, you may need to call in the pros!). While you're checking them, go ahead and apply some 3-IN-ONE Garage Door Lube – it should be applied anywhere there are moving parts, so once you've confirmed the tracks are in good working order you should apply some lube to keep them that way.
Check & Tighten the Hardware: The nuts and bolts that attach the door to the tracks or the garage door opener to the framing can become loose over time due to the vibration of the door opening and closing multiple times a day. Do a quick inspection to make sure they're all tight, and tighten up any that you notice are loose. While you're at it, check the lock on the garage door to make sure it's working as well. If it sticks at all, apply some Garage Door Lube to that as well.
Replace the Weatherstripping, If Necessary: You should always keep an eye on the weatherstripping at the bottom of your garage door, and if it's ripped or cracked it's a good idea to go ahead and replace it. It's an easy and affordable fix that will help your garage keep a more comfortable temperature – and if your garage is attached to the house, it'll help your house stay more comfortable too! If your weatherstripping is metal (ours is!), you should also apply Garage Door Lube to that as well – it sees a lot of wear and tear, so you want to be sure it's well-taken-care of!
Lubricate All Moving Parts: Grab some 3-IN-ONE Garage Door Lube and spray it on all of the hinges and rollers, then wipe the excess off. This is a great way to make sure everything opens and closes smoothly – and it'll take care of that noisy door problem! In addition to the parts I already mentioned, you should also apply Garage Door Lube to chain along the top, the springs, and the pulleys. Basically, anything that moves or rubs up against something else should get a good application of the lubricant. Applying lubricant to the door regularly will reduce the stress on the hardware and help prolong the life of your garage door – and we all want our garage doors to last as long as possible, no?
Clean Your Garage Door: Finally, just like it's a good idea to power wash the siding on your house once or twice a year, you should also be sure to clean the garage door as well. It's a great way to give the whole thing a quick once-over to make sure there aren't any cracks, rusting, or other issues, and it'll keep things looking nice too!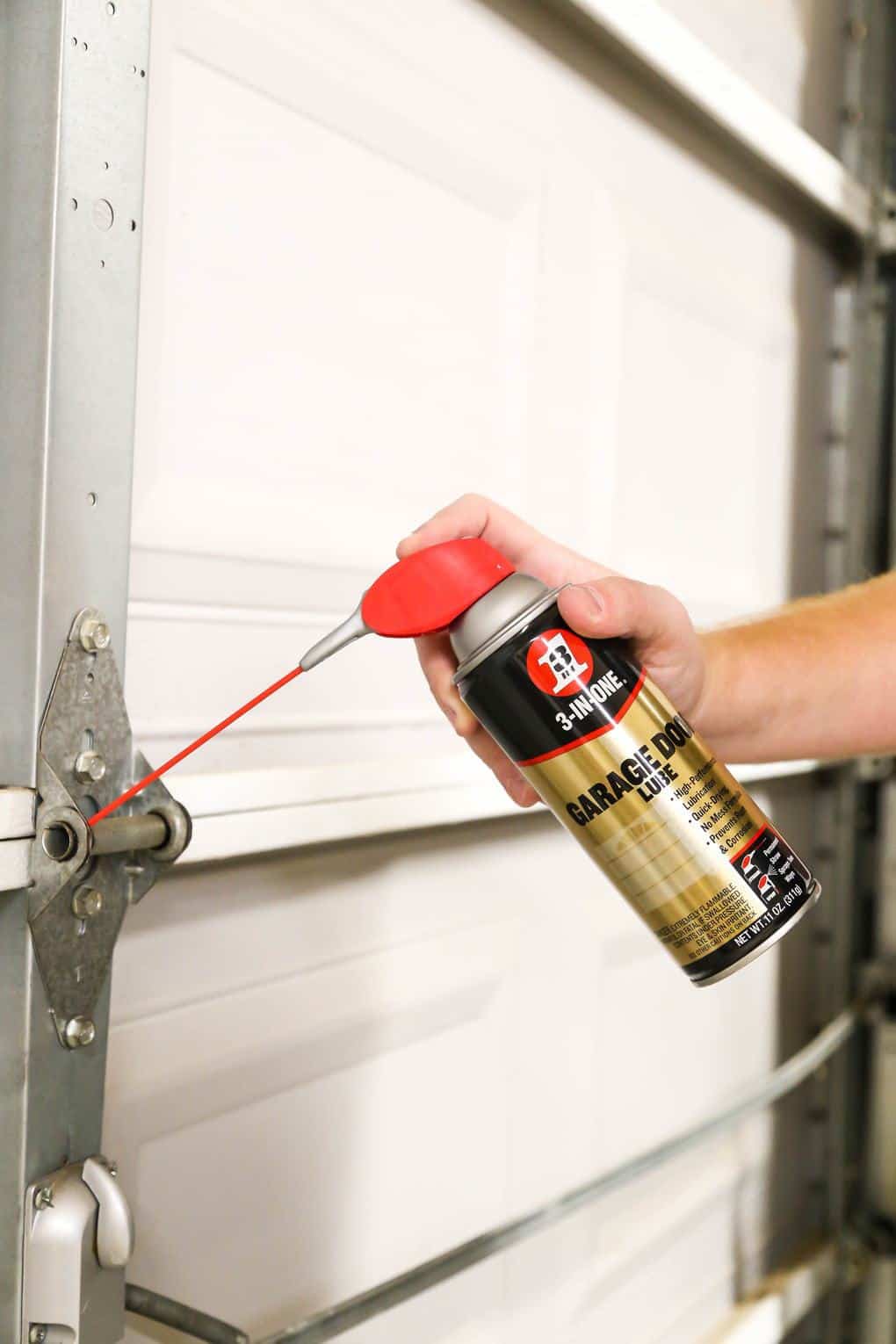 The whole maintenance process should only take a few minutes, and it'll help make sure that your garage door stays in good working condition for a long time. We found that applying the 3-IN-ONE Garage Door Lube made everything noticeable quieter as soon as it was applied, which is a win all around.
Once we had the functional part of our garage all taken care of, it was time to upgrade our curb appeal a bit.
Easy (And Cheap!) Garage Door Makeover
Our house is pretty boring from the street. The siding and trim is all the same weird yellow-ish color, there aren't any super interesting features, and our landscaping leaves much to be desired. I'm seriously considering painting the house this upcoming spring (eek!), but until then I wanted to do a little something to make the front of our house look a little nicer without spending a ton of time or money on the situation.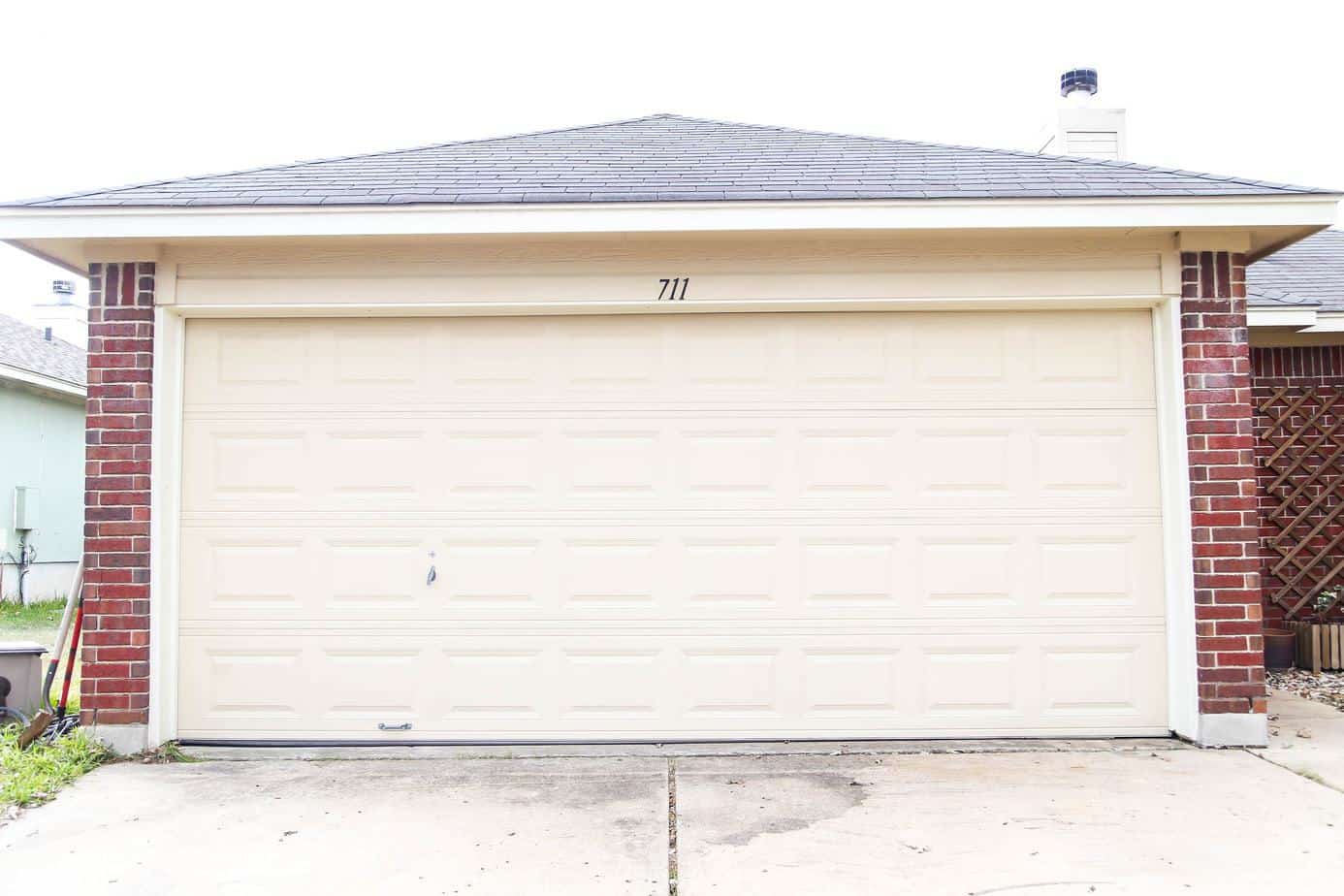 We grabbed some super simple little magnetic decorative pieces for the garage door – it only cost about $50 and it totally transformed the entire front of the house. All we had to do was a bit of measuring to make sure things were level and aligned, then we popped them into place.
It took us maybe 15 minutes from start to finish to apply the magnets, then we whipped up a little sign to attach some new house numbers to (the old numbers peeled up the paint when we removed them, so we had to cover up that part of the siding). We just cut down and stained a piece of wood, then attached the new letters to it and attached the whole shebang to the house.
And just like that, we had (what looked like) a whole new garage door!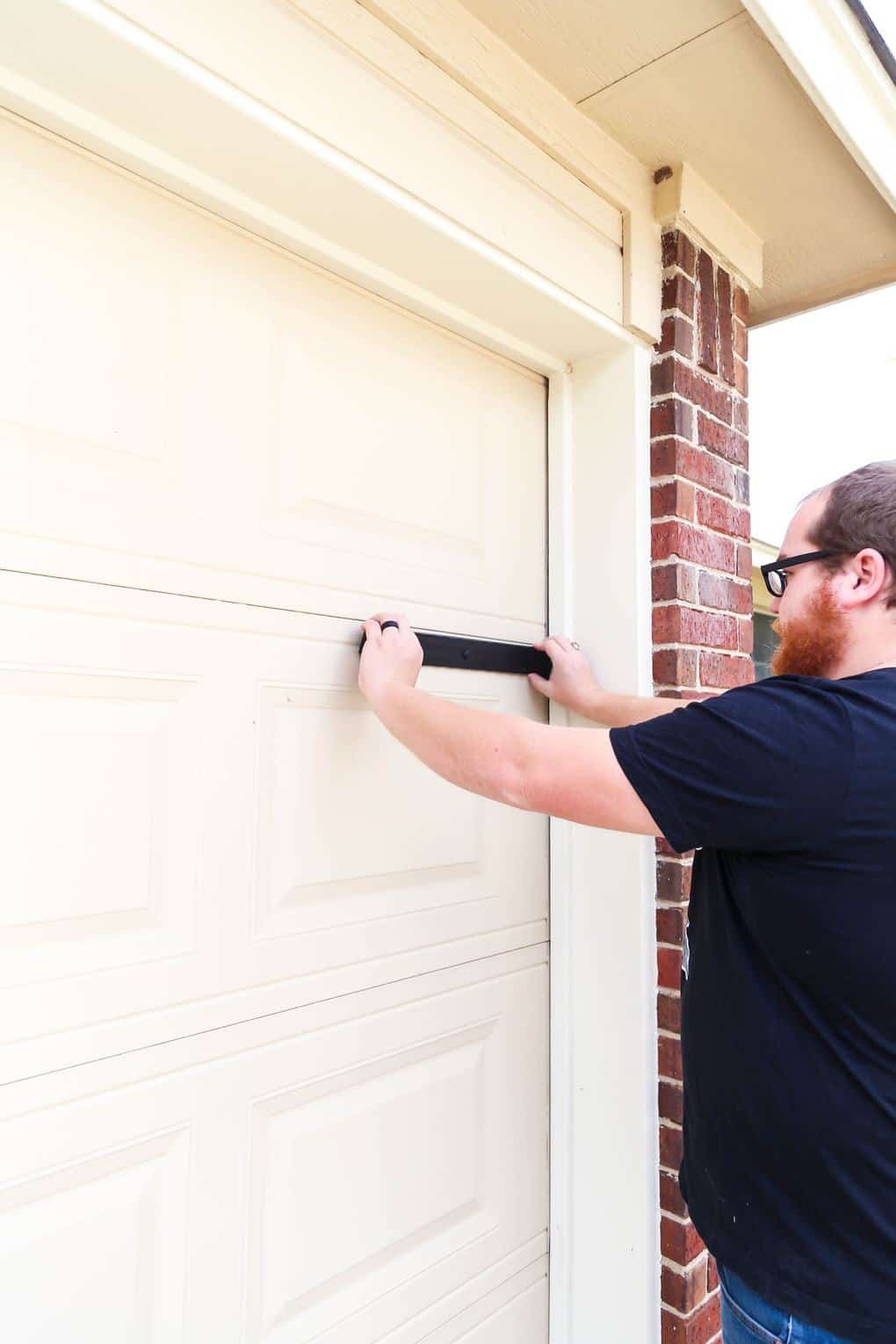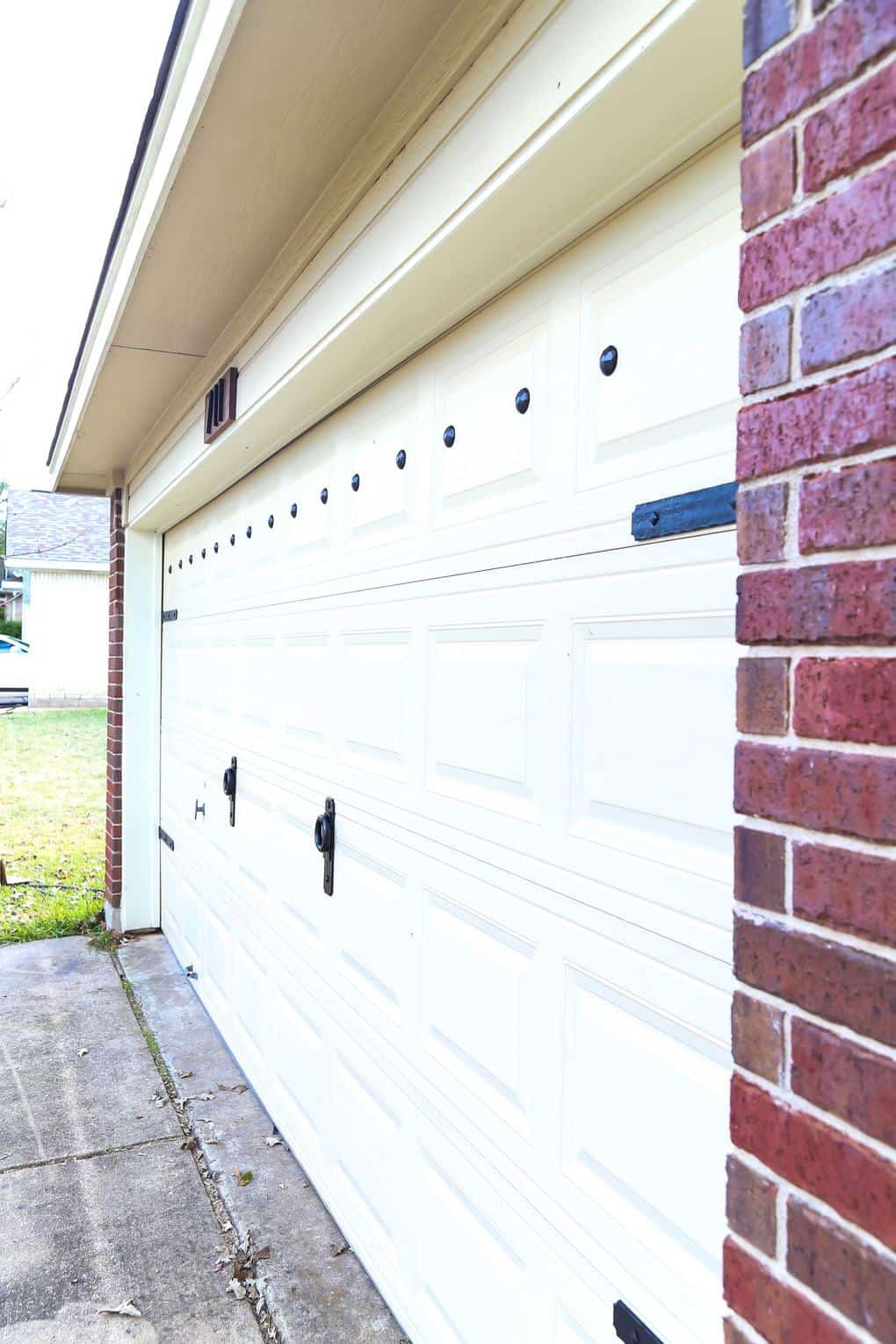 I considered painting the existing silver hardware black to blend in a little better, but I decided to wait until this spring when I paint the whole thing because I'll likely end up replacing it.
I'm so glad we took the time to knock this item off of our to-do list, and I'm relieved that we won't have to worry about a squeaky door anymore. I'm actually excited for our next round of maintenance in the spring because I'm dying to get a fresh coat of paint on this door!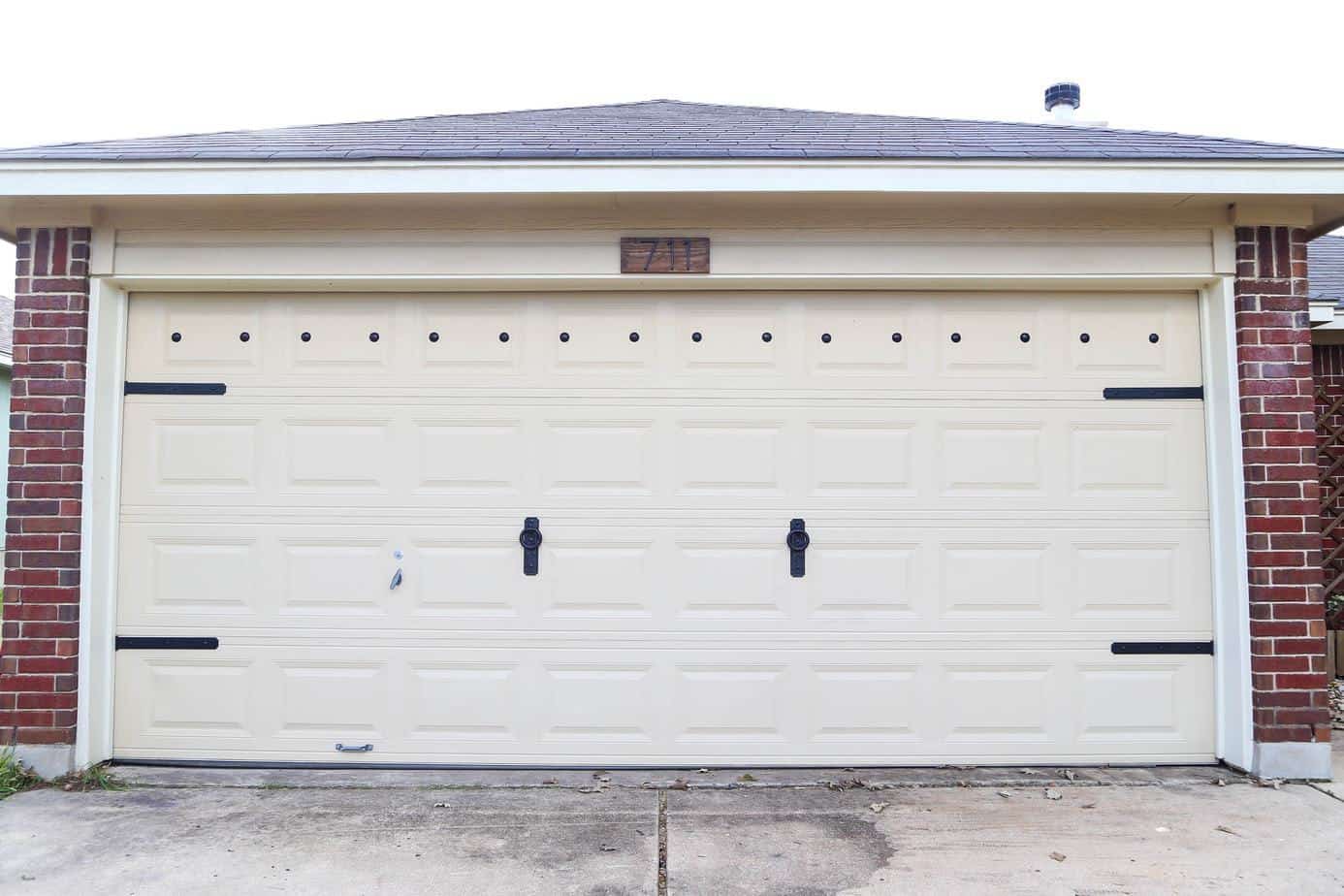 If you've got a squeaky garage door, or if you just haven't done any regular maintenance on it lately, now is a great time to spend a few minutes checking over everything and applying a bit of 3-IN-ONE® Garage Door Lube – because you never realize how important garage door maintenance is until it's too late! You can pick up a bottle of 3-IN-ONE Garage Door Lube at your local Lowe's Home Improvement. Click here to find a location near you.
Be sure to follow 3-IN-ONE on Facebook and Instagram for more DIY tips to help get your projects done.
Oh, and if you've got any ideas for what color I should paint our siding, let me know! I'm in the beginning stages of deciding what I want to do, so I'm taking suggestions!
Other Garage Tips & Tricks
Here are some other posts about how we organize and maintain our garage: