I know I've complained a little (or a lot) about the ugliness of our kitchen. It's horribly outdated, nowhere near our style, and not nearly as functional as it could be.
As a quick reminder, here's what our kitchen looks like right now: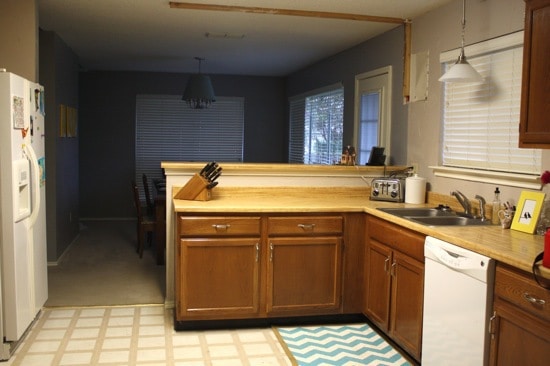 Corey and I have a ton of plans for this kitchen, including lowering the bar to counter-height to create a nice peninsula, white cabinets and stainless appliances, wood flooring, and bright white subway tiles – it's just going to take us a while to get there.
Our kitchen is, as you can see, a pretty good size, but the size isn't very logical or functional. There's a huge open space between the cabinets on the right side and the stove and fridge on the other side, and it takes at least three or four steps to get from the counter to the oven. It doesn't sound like much, but it can get quite annoying to be walking all across the kitchen countless times just to make dinner. Plus, we have quite a large kitchen without very much counter space – what you see in this photo is it, aside from two (very) small sections of countertop on either side of the oven. So, when we started dreaming about what we want this kitchen to eventually look like, it was an easy decision for us to add in an island in the center of the kitchen.
We went back and forth for a while on the type of island we wanted. A rolling cart was convenient and we liked that we could move it if necessary, but we didn't like the idea of something that felt so temporary. A built-in island was an obvious choice, but it would be the most expensive option, and we knew if we had a large, built-in island we would want it to have electricity running to it, which would be nearly impossible with our slab foundation (and add exorbitant amounts of money to the cost, to boot). We eventually decided that the best plan for us is a freestanding island with no wheels – something that looks almost like a piece of furniture and that can be moved if necessary, but doesn't look like it came out of a college dorm room.
And, as usual, we found the perfect solution at Ikea.
It's called the Stenstorp island and it's exactly what we were looking for. We love the butcher block top (which we'll be staining a darker color), the stainless steel shelves, and the slight overhang in the back for adding stools.
We knew that we loved the island, and we could picture it looking fabulous in the kitchen, but before we actually went out and got it we wanted to make sure that we were okay with having such a large piece of furniture in the middle of our kitchen. It's definitely going to change how we function in the kitchen and will require us to move differently through it, so we were worried that we'd jump the gun buying it and end up hating how it limited our movement. So, this weekend we decided to go ahead and tape off the floor in our kitchen in the size of the island so we can make sure we're okay with the size.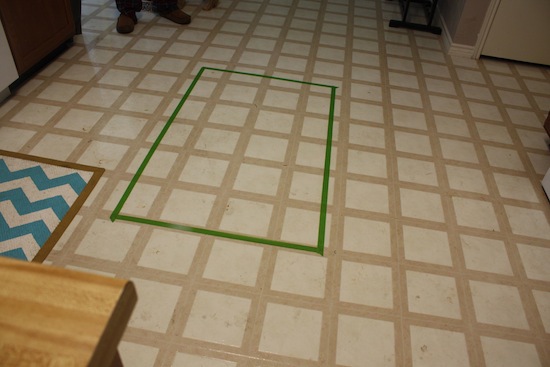 We measured, taped, and stepped back to look. My primary concern was being able to open the lower cabinets and the oven – it wouldn't add much function to the kitchen if I bumped into it every time I needed to open the oven!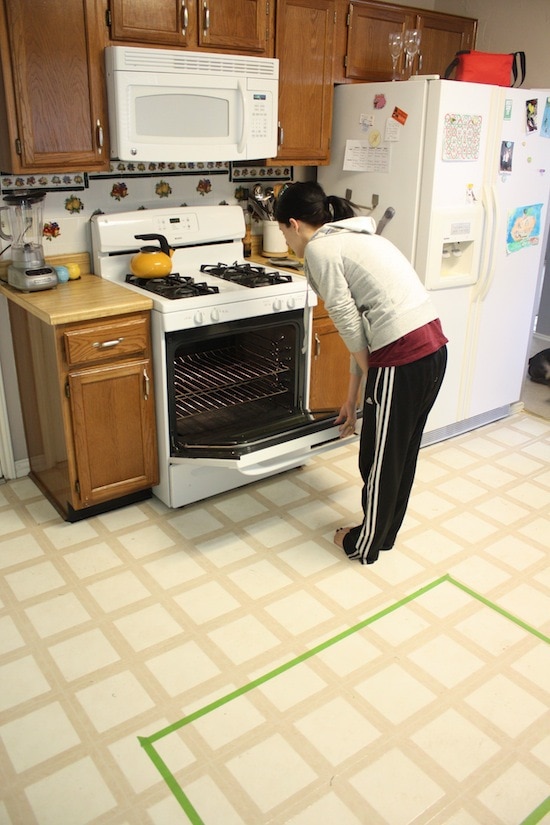 Even Ranger decided to test it out.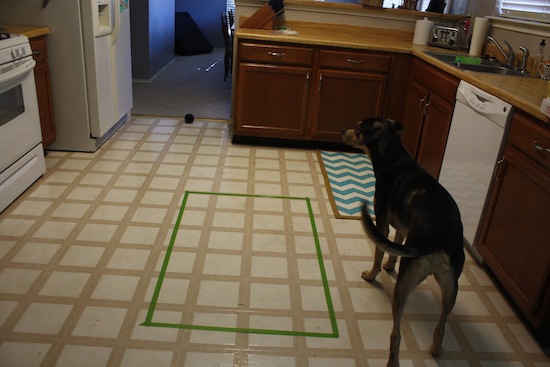 We still loved the idea of adding the functionality of an island to the room, but we were a bit worried about the size – it was hard to picture exactly how it would look in the room, and even though we were stepping around the tape lines it wasn't easy to tell how imposing it would really be once it was in the room.
We looked a bit more in Ikea to see if they had a smaller size, and we found one that was not as pretty, but we could easily fix that with some paint and stain.
We decided to tape off the smaller island to see how it would look in the room – since we thought the other might be too large, we figured this one could be the perfect solution.
It was definitely a much less imposing size, but once we stepped back and looked closely at it, we realized that the smaller island would almost just look silly in the room. The kitchen is so large that a small island would look completely out of place, whereas a larger island would look like it was more purposeful and would help fill out the room a bit.
So at this point, we knew the smaller island wouldn't look right in the room, but we weren't sure we loved the size of the larger one. We definitely didn't want to end up with something that was too big for the room, but we didn't want to be so careful that we ended up with something that looks out of place.
Thankfully, it was right about at this point that we realized that our kitchen table is almost exactly the same size as the larger island. It is (obviously) shorter and 1-2 inches smaller on each side, but it would be the perfect way to experiment with having a large piece of furniture in the middle of our kitchen to see if we could live with it. So, we moved it over.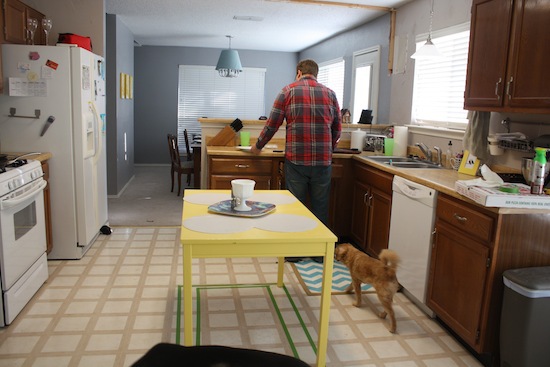 We were feeling cautiously optimistic about how it looked, but the real test came when we decided to try opening everything we could on all sides of the "island."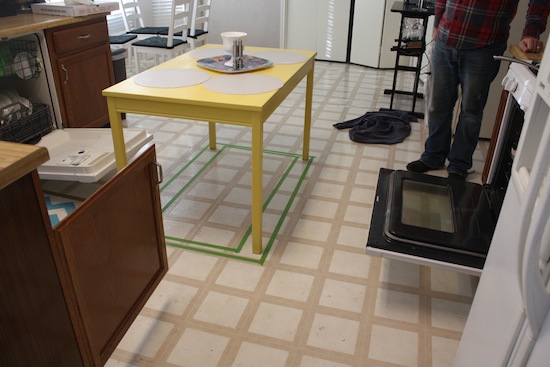 It's a perfect fit!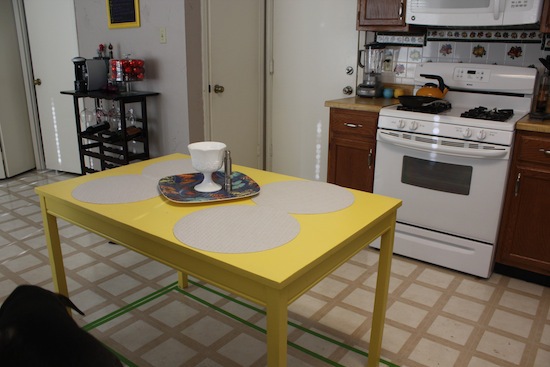 We left it in its place while we were cooking dinner to see how we liked it, and every few seconds one of us would exclaim how much we loved it. It was so convenient to be able to set things down on the island rather than walking across the room, and it just made the whole layout of the kitchen so much more convenient and intuitive. We plan to leave the faux island here for a few weeks and see how we feel about it on a day to day basis, but so far we are thinking it's going to be perfect for us.
Getting this island is going to be one huge step towards making our kitchen something that we can love (or at least live with until we can truly make it something we love!) and we're getting more and more excited about it. Now if only we could get someone to buy our old couch off of Craigslist so we can actually go get it!
Let's talk kitchen layouts – is yours big, open and awkward like our is, or does it make more sense?