I've been doing a lot of teasing and sneak peeks for our patio lately – we've been slowly piecing it together bit by bit over the last few weeks, and I finally feel like I can call it done.
Or, at least, as done as I can ever call anything – I have a tendency to keep tweaking things forever.
But for now, it's done.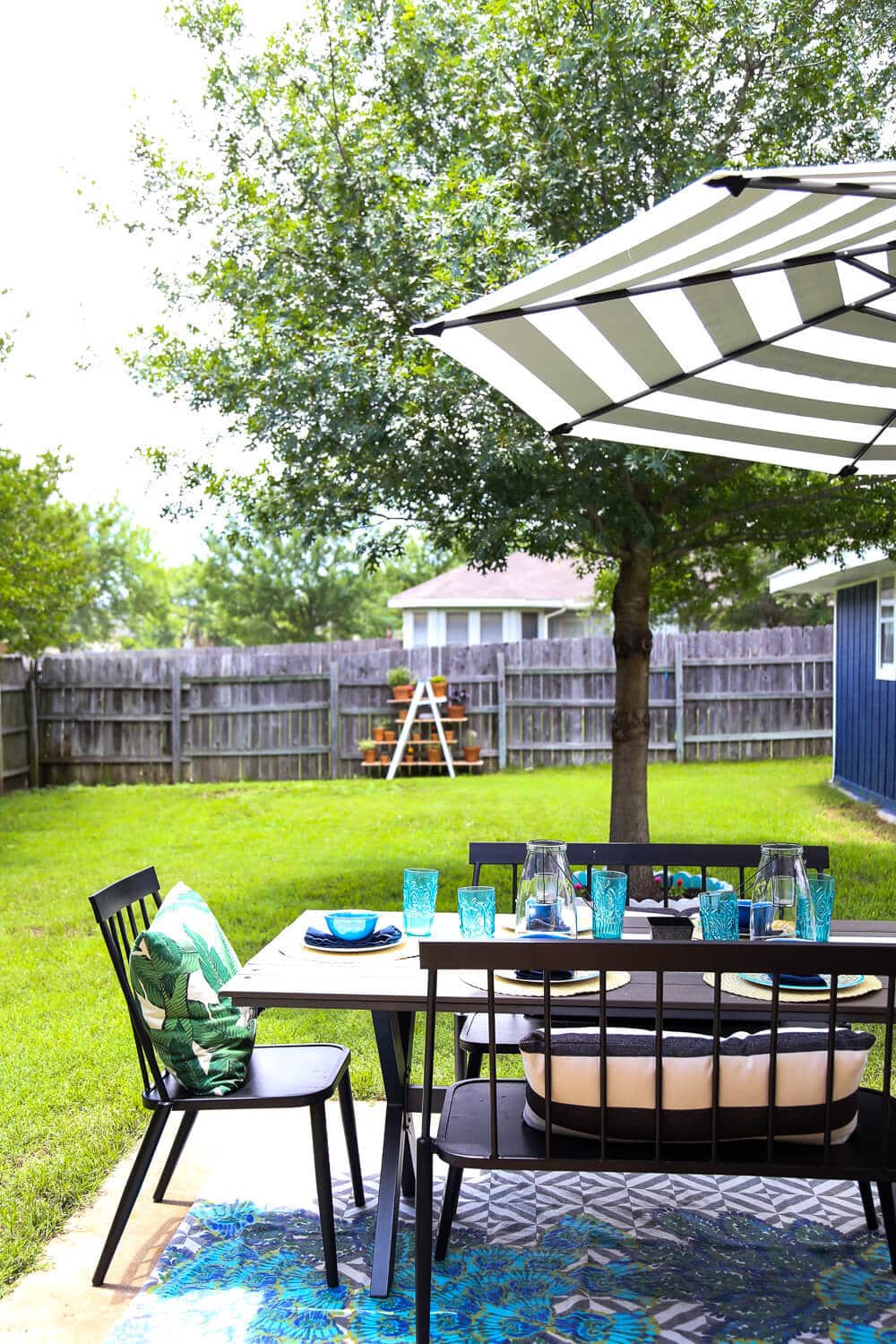 Are you swooning yet? Because I sure am.
I can't even begin to tell you how much we are loving this space and how nice it is to finally have furniture out on our patio to help us enjoy it a bit more. We never used to hang out in the backyard because there wasn't anywhere to sit except for some old, broken plastic chairs. But now that we have this all set up, we are out there all the time. Jackson loves to play in the yard, and I can bring my computer out to the table to work while he's playing during the day. We eat dinner out here several times a week, and we find ourselves migrating outside often when we have friends over.
Note: If you see anything you like while you're reading, just keep scrolling – I've got a source list at the bottom with all the info you need!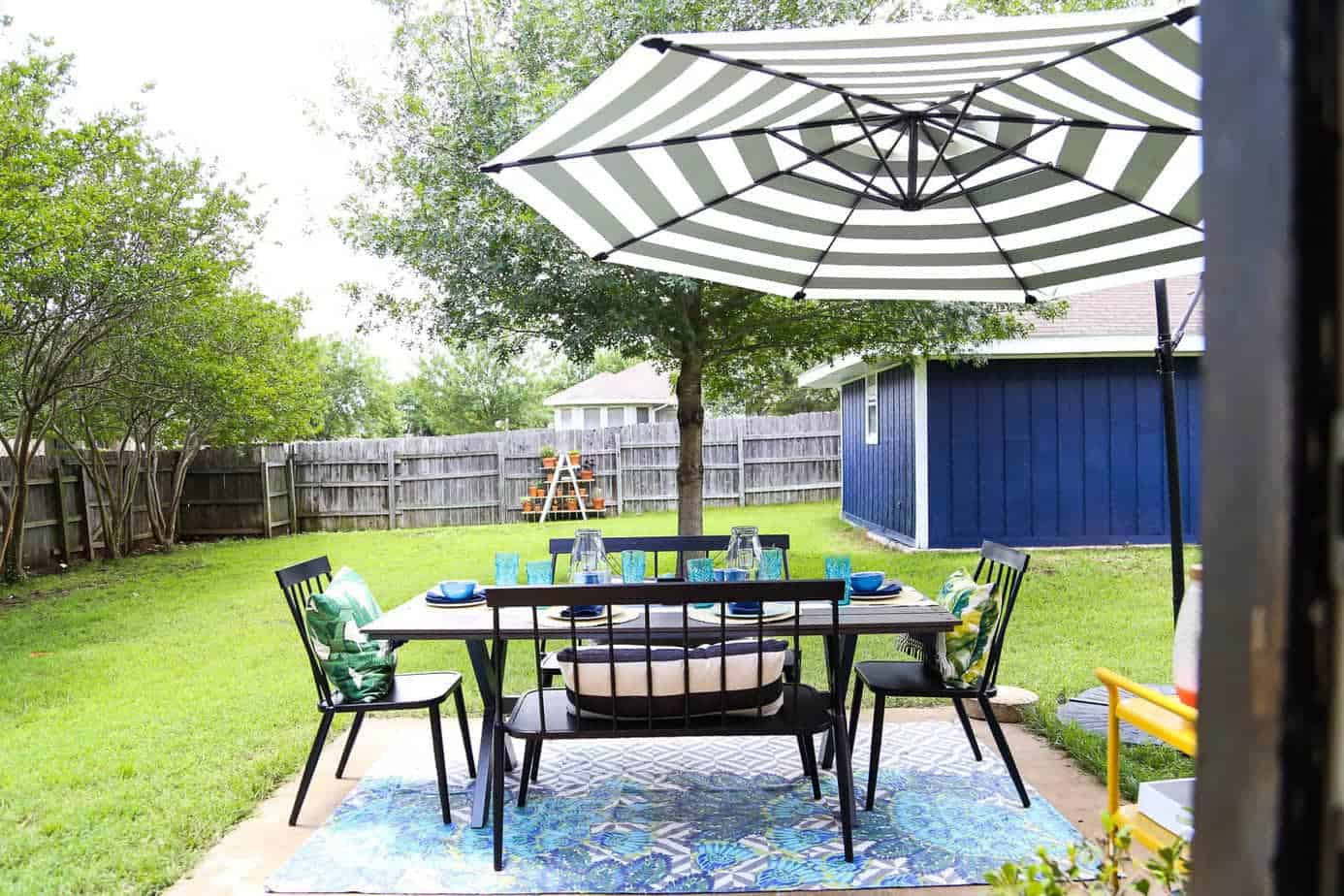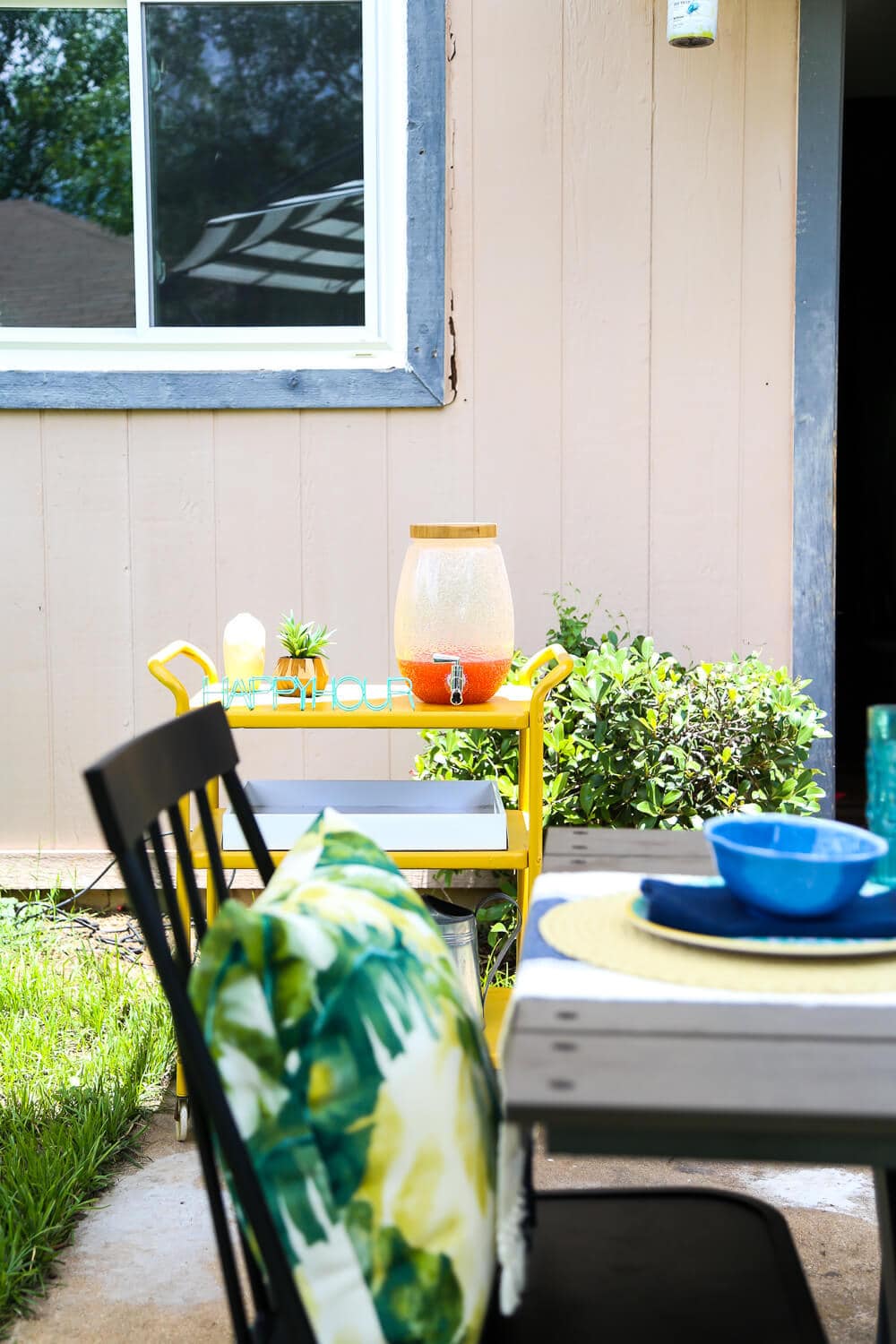 We've gathered things for the patio from a few different places, but the vast majority of the stuff out here is from World Market. Most of it we purchased ourselves, but they were kind enough to send us a few different pieces to put the finishing touches on the patio. One of my favorite things we recieved from them is this rug – the space was feeling nice but not complete until we brought this out there. Having a rug makes it all feel so much more like an extension of our home, and it adds a lot of fun color and pattern to boot. I love that it's made from recycled plastic water bottles, and you can just hose it down if it gets dirty. It's so easy to keep it clean, and as a major bonus, it's even reversible.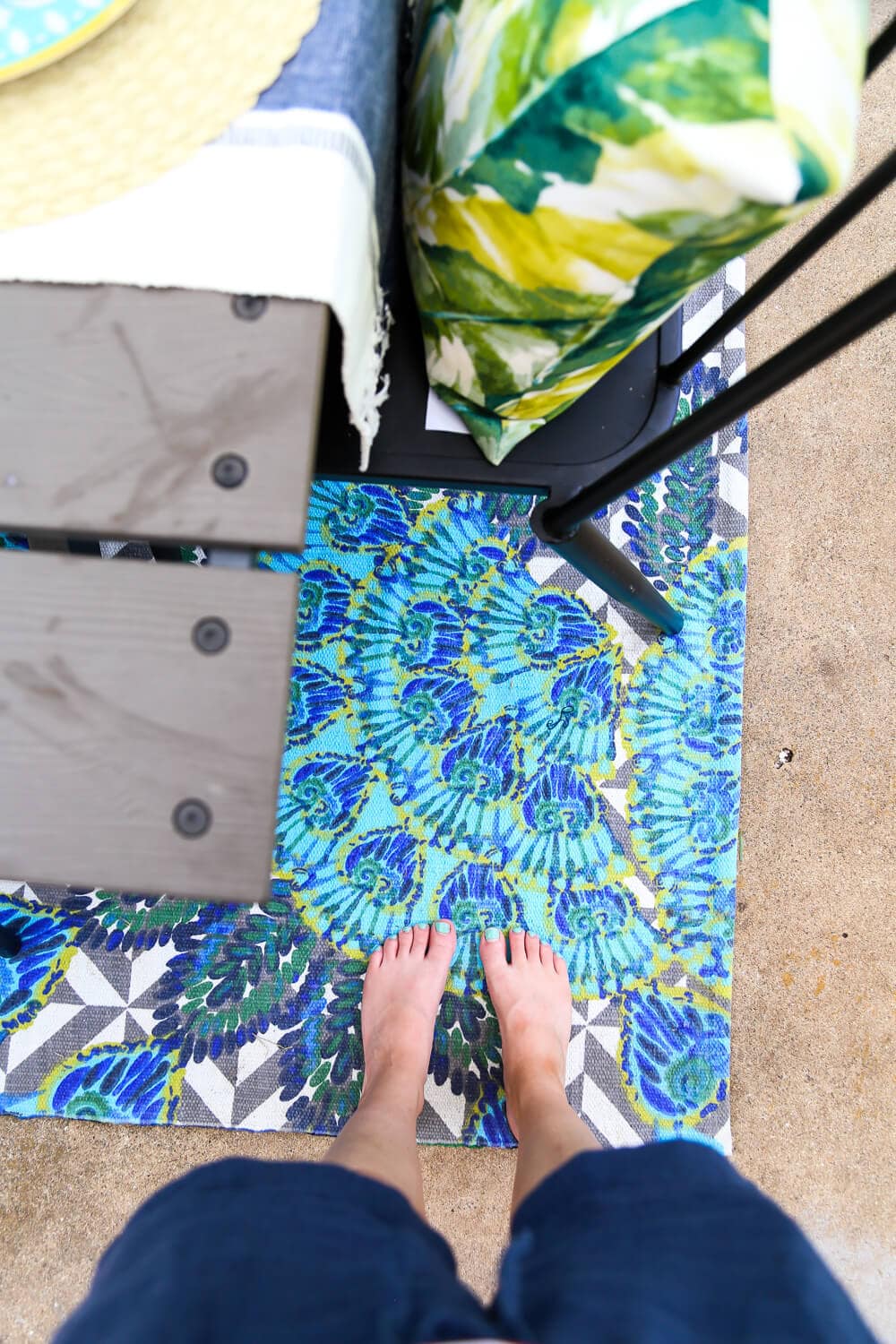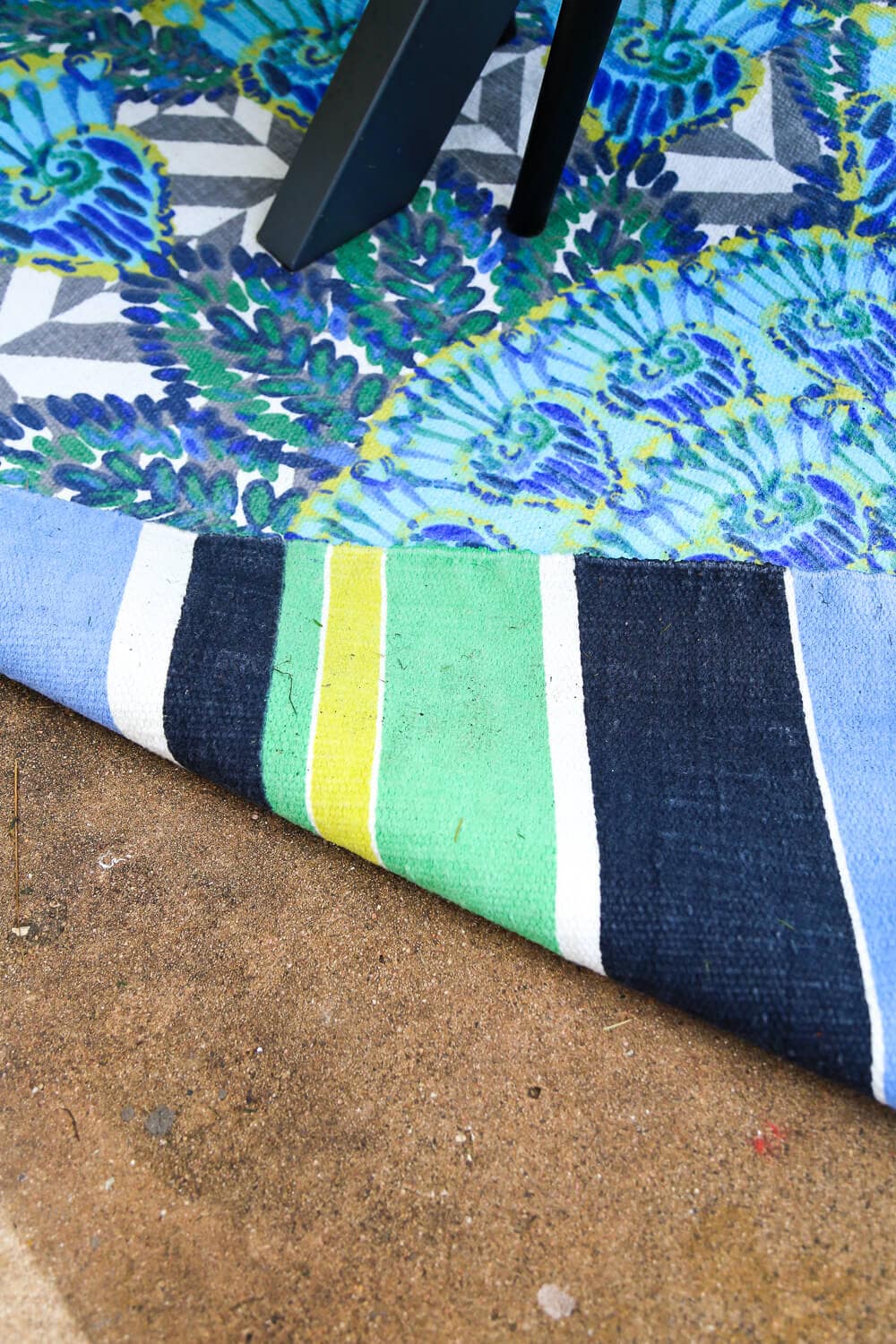 I'm a little obsessed.
We also get a ton of questions about the cups we use outdoors. They're also from World Market, and I can't recommend them enough. They're the perfect size for a big ol' glass of sweet tea (or an extra large cocktail if you're feeling adventurous) and I love the color and texture on them.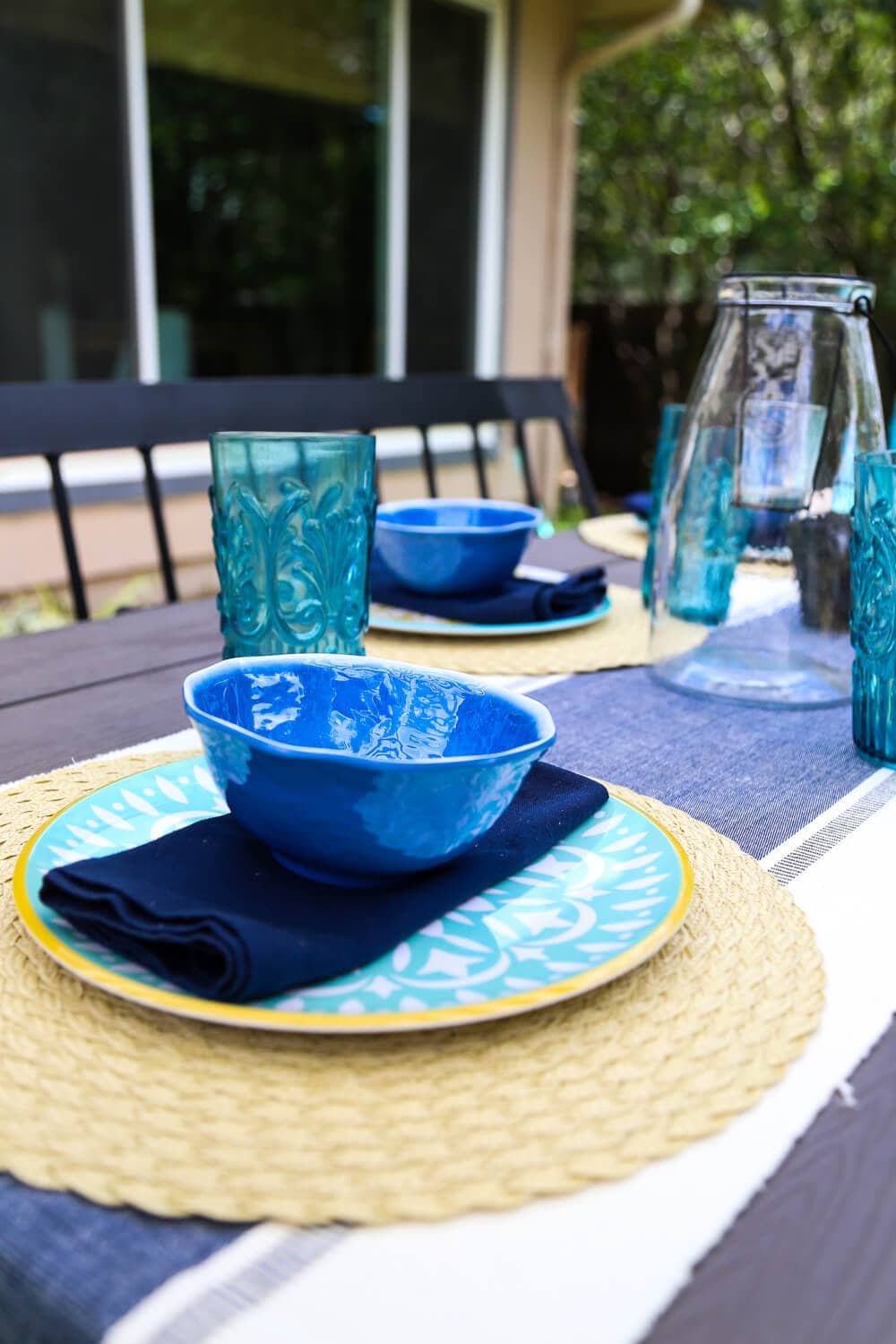 The main thing that we struggled with in this space was how in the world to decorate such a tiny area. The patio is only about 10X10, and while we considered extending it with patio pavers, the ground on either side of it is very sloped and contains sprinkler heads (like, right next to the patio), so it just wasn't something we wanted to tackle.
The first thing we had to figure out was if we wanted a space for relaxing or a space for eating. Theoretically, we'd love to have both but we just didn't have the room out here. We decided to focus on a dining space, because we can easily also use this furniture to just hang out and chat – it's a lot harder to eat a meal on an outdoor sofa! From there, we made sure to measure before we purchased anything, and we tried to keep the furniture itself pretty simple and neutral. We're all about adding a lot of color when it comes to outdoor spaces, but when you're dealing with such a tiny space you don't want to overwhelm it – so we chose simple pieces with clean lines.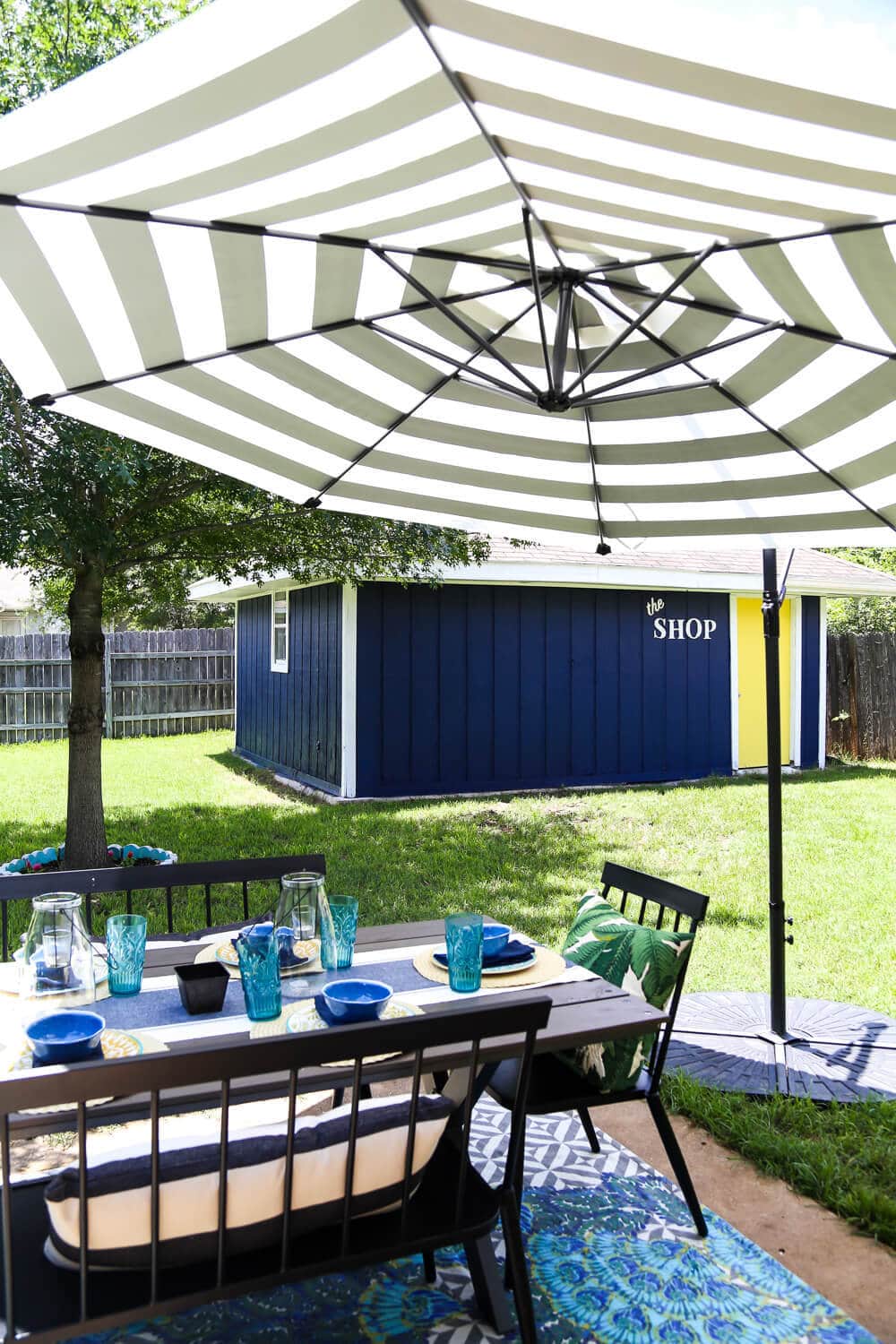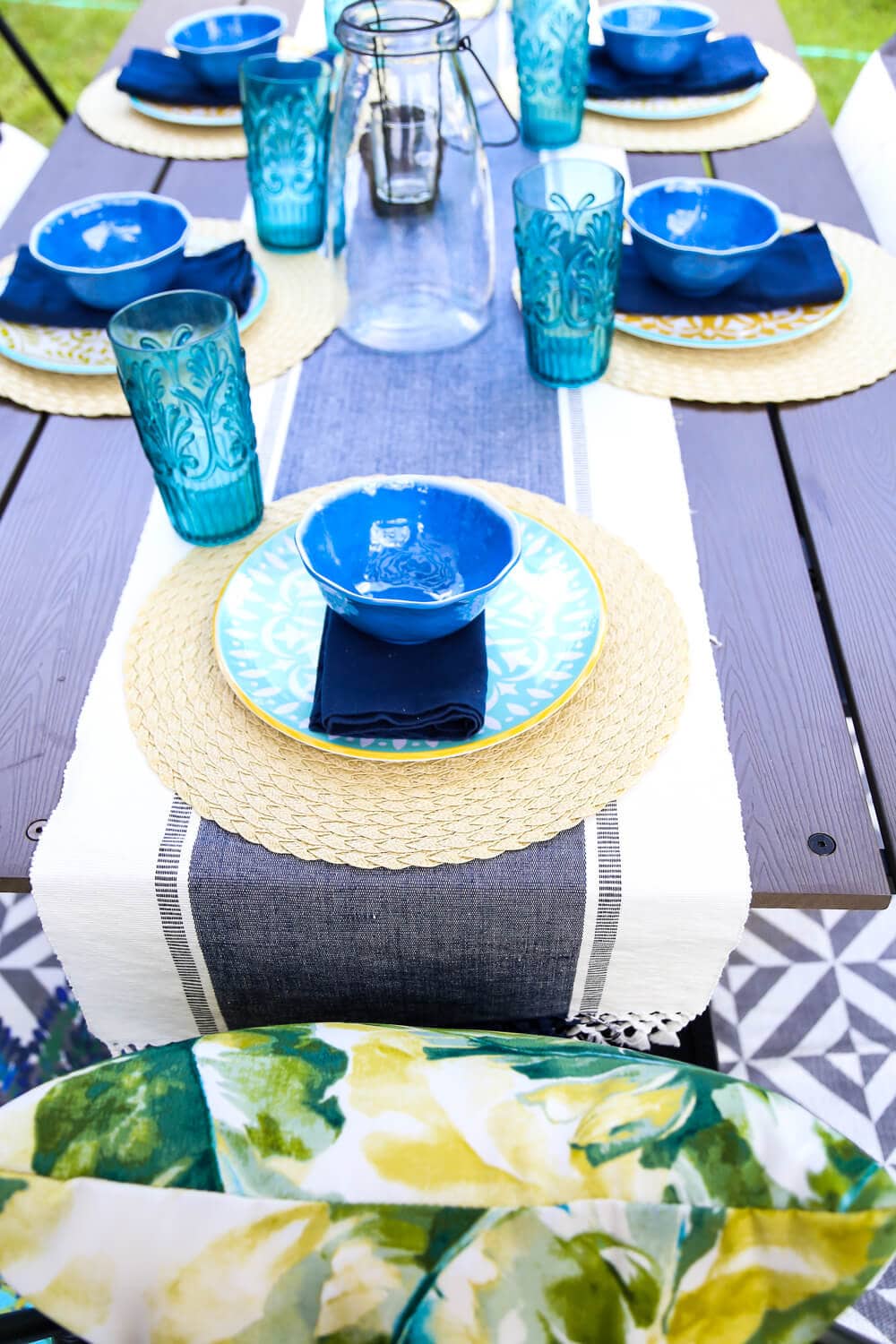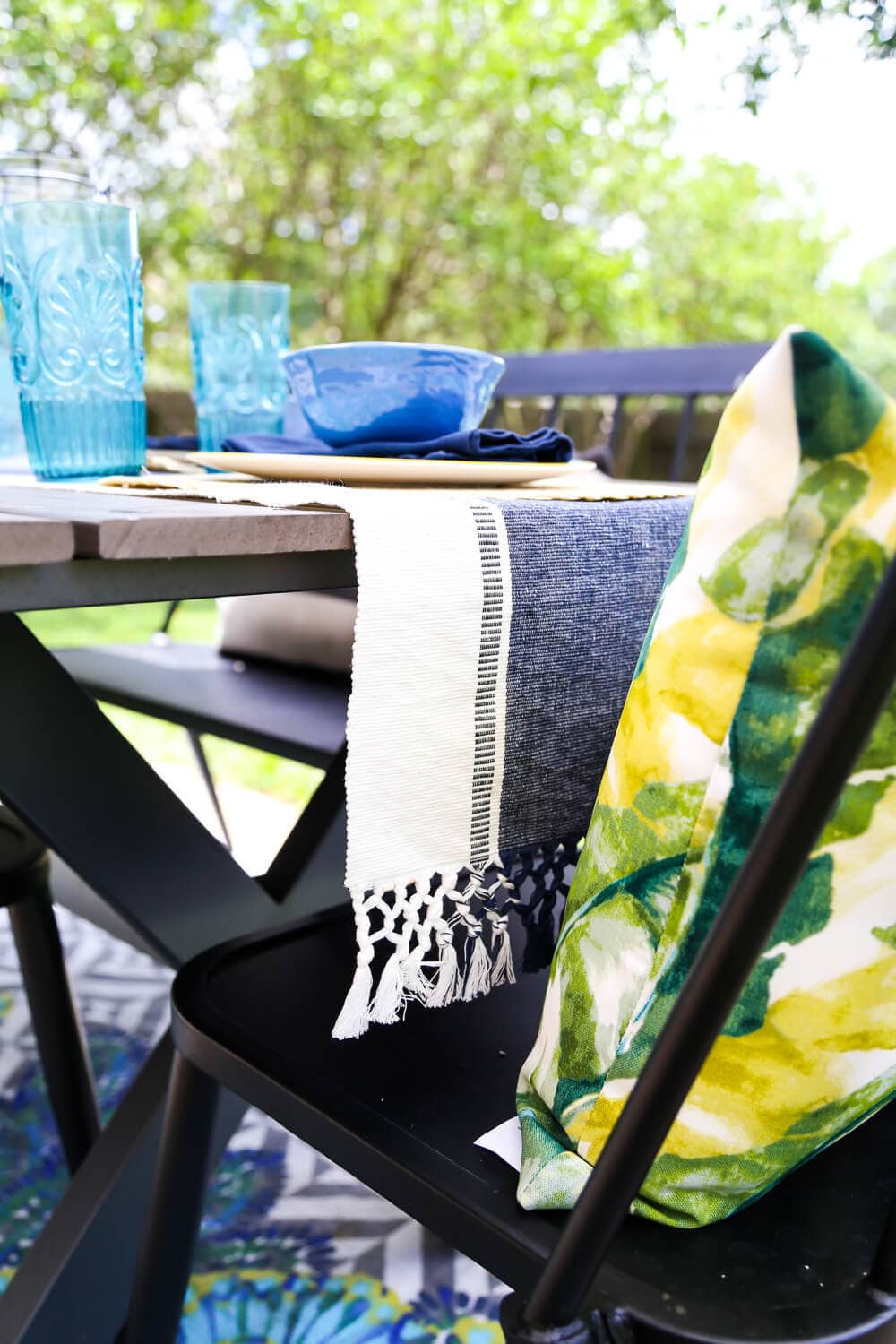 We also chose to keep things relatively simple with the color palette. We stuck to mostly blues and yellows with a tiny bit of green thrown in – that way, we get our color fix and things feel bright and cheery, but the blue is actually a really calming color and doesn't overwhelm the space (plus, we have blues all over our home, so that helps the patio feel like it's just an extension of the rest of the house!).
One thing that's still on my to-do list is to figure out a good storage solution for all of the stuff we have out here. I'm not used to having so much outside, and our harsh Texas summers are not going to be friendly to it, even if it's meant to be outdoors. I'm looking at a few different options for storage boxes or lidded baskets, so if you have any suggestions I'd love to hear them! Currently, we're just hauling everything in when we're done with it and storing it in the garage, but it's really annoying to have to load it all up and drag it inside every time we use it, so I definitely need a better solution.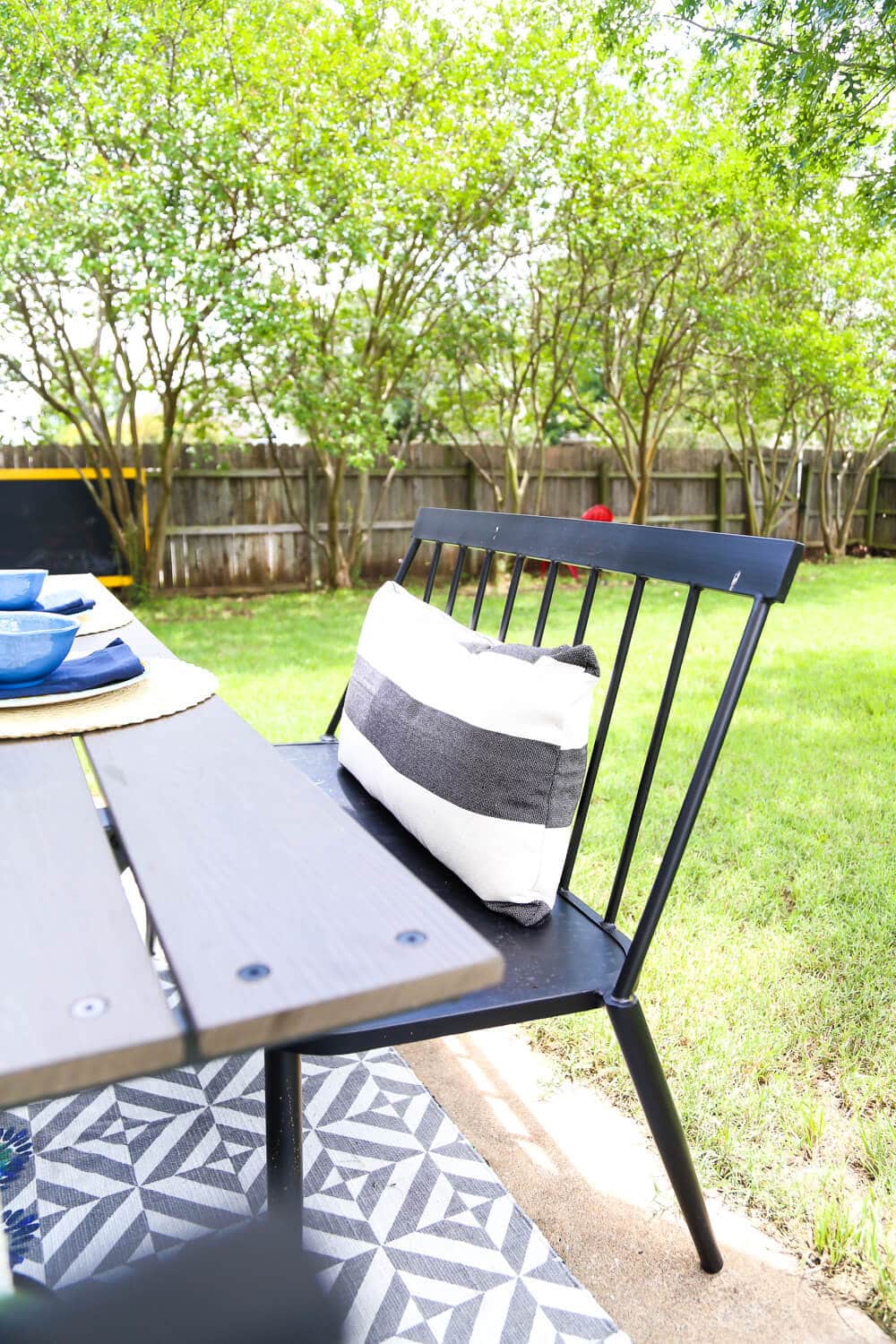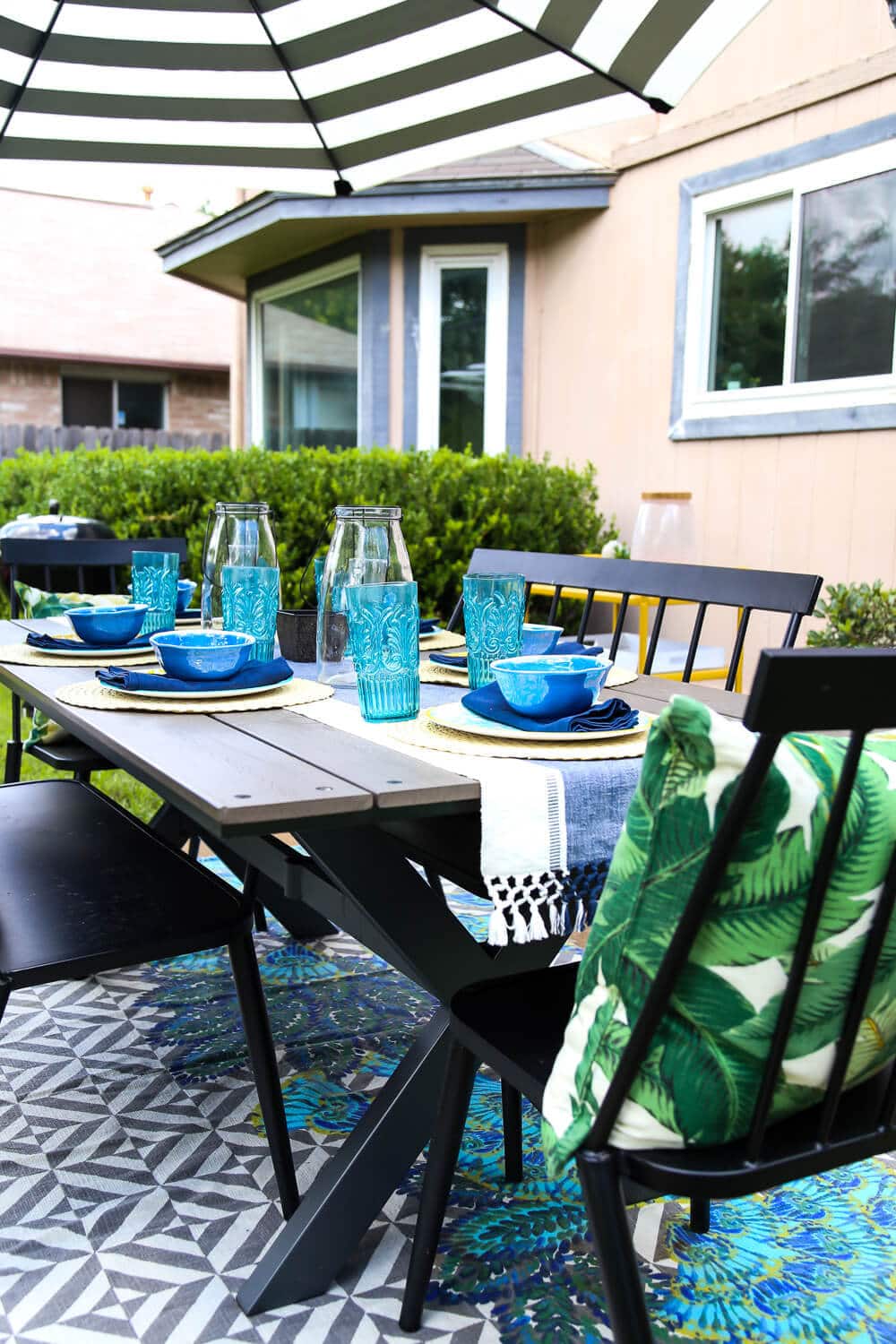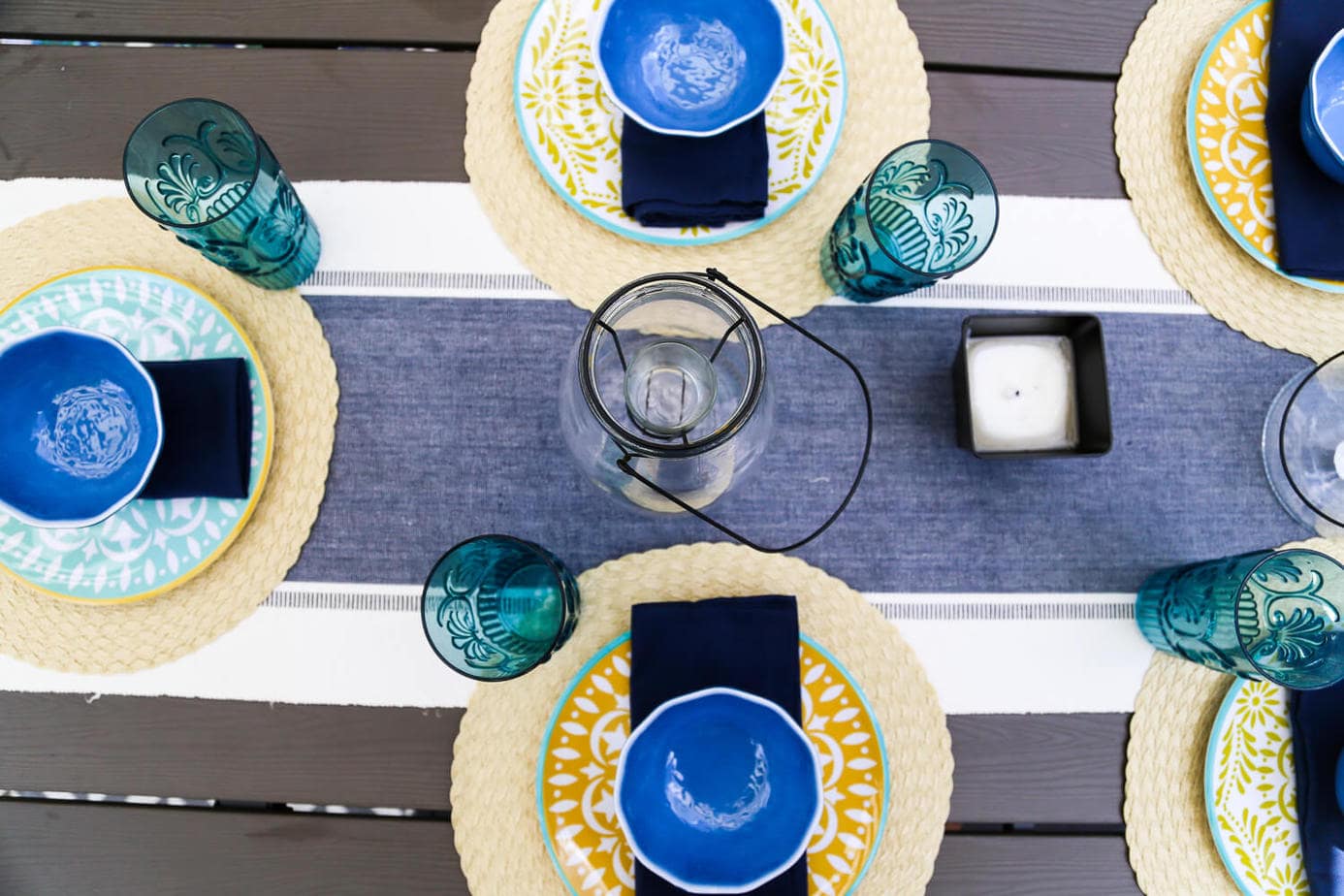 Our backyard is really coming along. If you'll remember, this is the year we're planning on tackling a whole backyard overhaul, and we are trucking right along! Last year, we built a giant chalkboard for Jackson, and so far this year we have made a DIY outdoor bar cart, created a gorgeous ladder garden, painted the workshop, and added a cute sign. We're almost done n we have some fence issues to fix and a few other smaller projects before we can call this backyard done.
You know, for now. 
Alright, as promised, here's the source list! If there's anything I missed, let me know and I'll be sure to add it in! This post contains affiliate links. Click here to read my full disclosure policy. 
P A T I O   M A K E O V E R   S O U R C E   L I S T
Furniture:
Patio table
Chairs
Benches
Bar cart (DIY)
Umbrella + stand
Dining/Serving:
Placemats
Melamine plates
Glasses
Bowls
Cloth napkins
Drink dispenser
Decor:
Table runner
Rug
Clear glass lanterns
White tray
"Happy Hour" sign (snagged from the Dollar Spot at Target)
Stone dipped vase
Striped throw pillows
Leaf throw pillow
Or if you prefer to shop visually (I know I'm a window shopper sometimes!), just click on any of the images below to go straight to the item you're interested in! Please note that not all items are pictured below – if something is missing, be sure to check the links above! 

What do you think? Any suggestions for a good way to store everything?!