This summer, I am loving spending more time in our backyard. We've been slowly working on upgrading it throughout the last few months to make it more enjoyable, and it's finally turning into a space where we can really relax and enjoy ourselves. We're on a major budget with this project (and, you know, every other project we ever do) so I've been doing a lot of research on DIY outdoor furniture options for just about anything we want to do.
We had originally planned to build some DIY outdoor furniture in the form of making our own table and chairs for the patio, but that got scrapped in favor of a majorly discounted set of furniture that we could enjoy now (rather than waiting until we finally found time to build it ourselves). But, that doesn't mean the itch to build something fun is gone, and I still have all of these amazing ideas and inspiration photos that I have to share with someone!
So, today I figured it'd be fun to do a quick roundup of all of the inspiration for DIY outdoor furniture that I've been scoping out lately. There are a couple of projects on here that I'm still considering building (bench swing, anyone?!), but they're all really awesome and made by regular ol' homeowners. Which means you can do it too. Especially since you've been learning all about how to use power tools. I mean, you've gotta start building sometime, right?!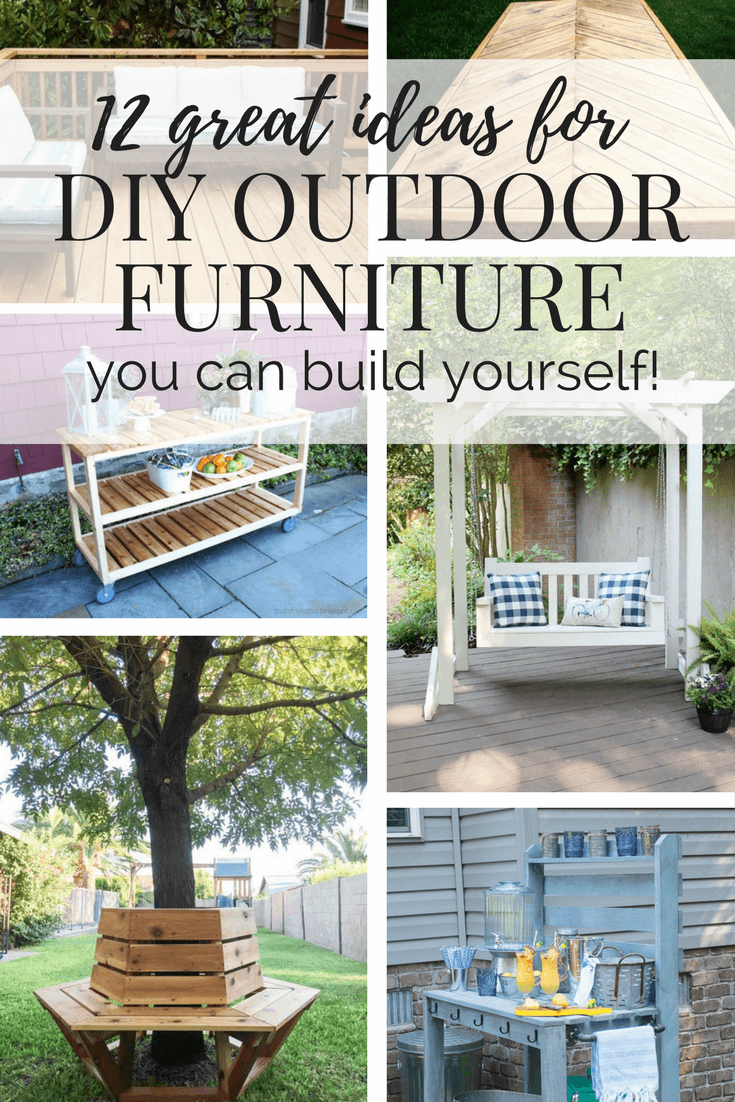 12 DIY Outdoor Furniture Tutorials 
Heathered Nest // Sincerely Marie Designs
The cute outdoor bar cart from Heathered Nest was actually originally a potting bench – isn't that such a smart idea? I love when little changes like this can totally change the functionality of something, especially in this case where you can easily switch it back to a potting bench if you want. I also can't stop swooning over that amazing DIY swing – I feel like I need one in my backyard and I'm definitely going to be trying to convince Corey of this soon.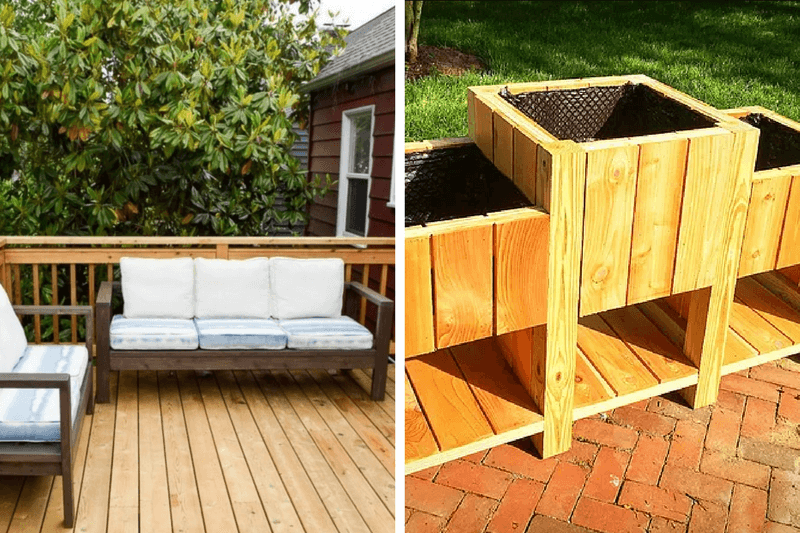 The Handyman's Daughter // Lazy Guy DIY
I had no idea it was really even possible to build your own outdoor sofas, so I'm all over this idea from The Handyman's Daughter. So smart – and they look fabulous! I love how easy it would be to completely customize them with whatever cushions and paint or stain that you want, and the clean lines are just beautiful. I'm also a huge fan of the DIY outdoor planter from Adam at Lazy Guy DIY – these kinds of planters are always so nice looking, and I can just picture these overflowing with some gorgeous flowers. Beautiful!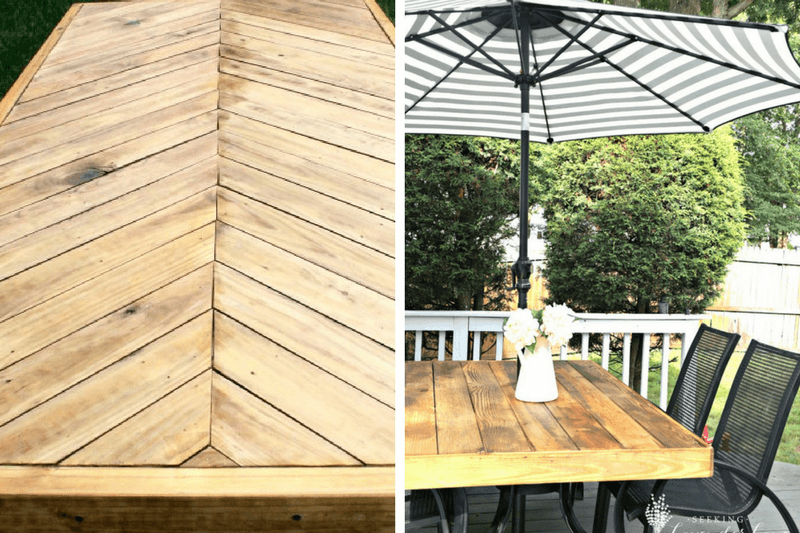 A Turtle's Life for Me // Seeking Lavender Lane
Ahhh, how much do you love the pattern on that DIY picnic table?! It's so gorgeous, and she makes it look easy enough that even I could handle it. I'm also loving that patio table hack from Seeking Lavender Lane – she took an old metal patio set and made a new top for it, and it looks fabulous! This is such a great solution for anyone who wants to stick to a budget but also wants something fresh and new – find an old set on Craigslist (or use something you already have!) and give it some love to make it look brand new!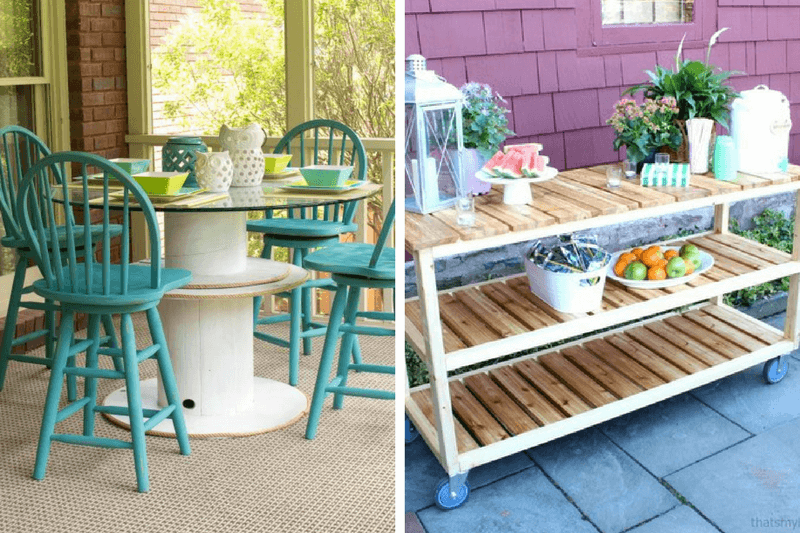 Savvy Apron // That's My Letter
How sweet is that table made from old wire spools?! I always love how creative people can get with those things, and this is such a pretty table. I especially love the height – it looks so great paired with those tall chairs, and I bet it's an amazing spot to hang out and play games or share a meal. I'm also always a fan of outdoor buffets and serving tables – it can be hard to find a good spot to keep all of your stuff when you eat outside frequently, and this rolling buffet is absolutely perfect. I love how much space it has to store things (you could keep all of your outdoor plates and cups on the lower shelves!) and I love the simple, modern style.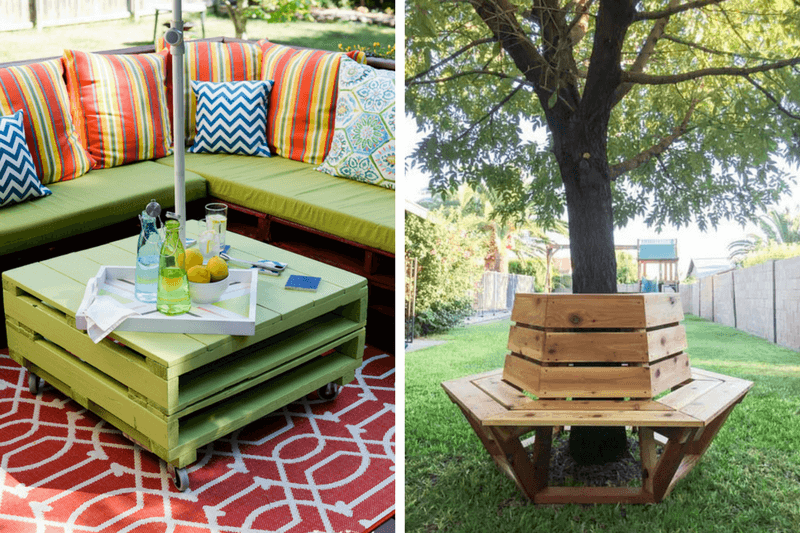 Place of My Taste // Addicted 2 DIY
I may get some hate for this, but sometimes I feel like pallet projects are a little…overdone. After a while I felt like they all started to look the same, and it was really hard to find a fresh take on a pallet project – but this project from Aniko at Place of My Taste? She totally nails it. Both the sofa and the coffee table are made with pallets, but they have a really great look that's just different enough to feel fresh but maintains the rustic charm of the pallets. I love this! And, I've wanted to build a bench like this around the tree in our front yard since the day we moved in, so I'm a total sucker for this project. I think this is such a fun way to add some visual interest around a big tree, and I love how functional it is!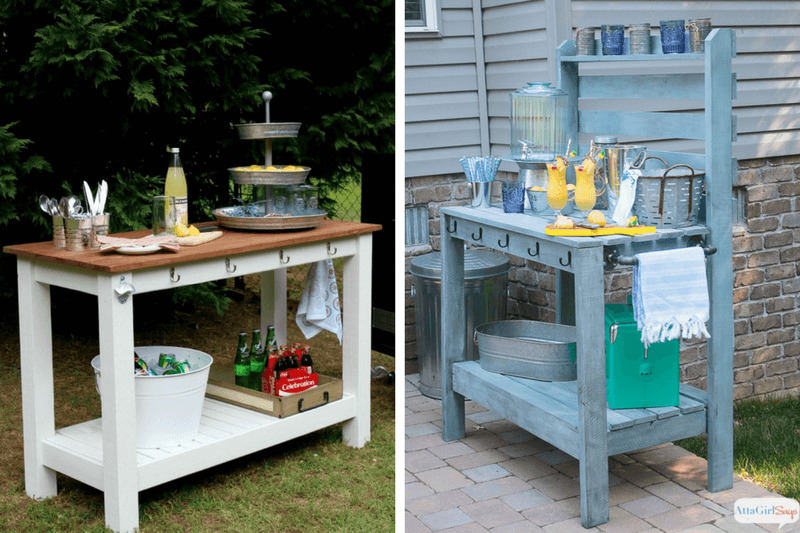 Sincerely Marie Designs // AttaGirl Says
And finally, two gorgeous serving stations that make my soul happy. How pretty are these?! I love the hooks on both of them – such a smart idea so you have space to hang some towels or grilling tools. Anything like this that adds some really great functionality to the backyard while also adding a lot of style is something I'm a big fan of. I wish our patio was bigger so we had room to squeeze something like this in out there!
What's your favorite project? Have you ever built any DIY outdoor furniture? Wanna help me convince Corey we need a swing?!
If you want to see some other DIY outdoor projects from the archives, here are some great ideas: