How to Install Concealed Cabinet Hinges
Today I'm sharing a quick tutorial for how to install concealed, Euro-style hinges on your cabinets. It might seem like a scary project, but it's actually surprisingly simple and will totally transform the look of your kitchen or bathroom cabinets!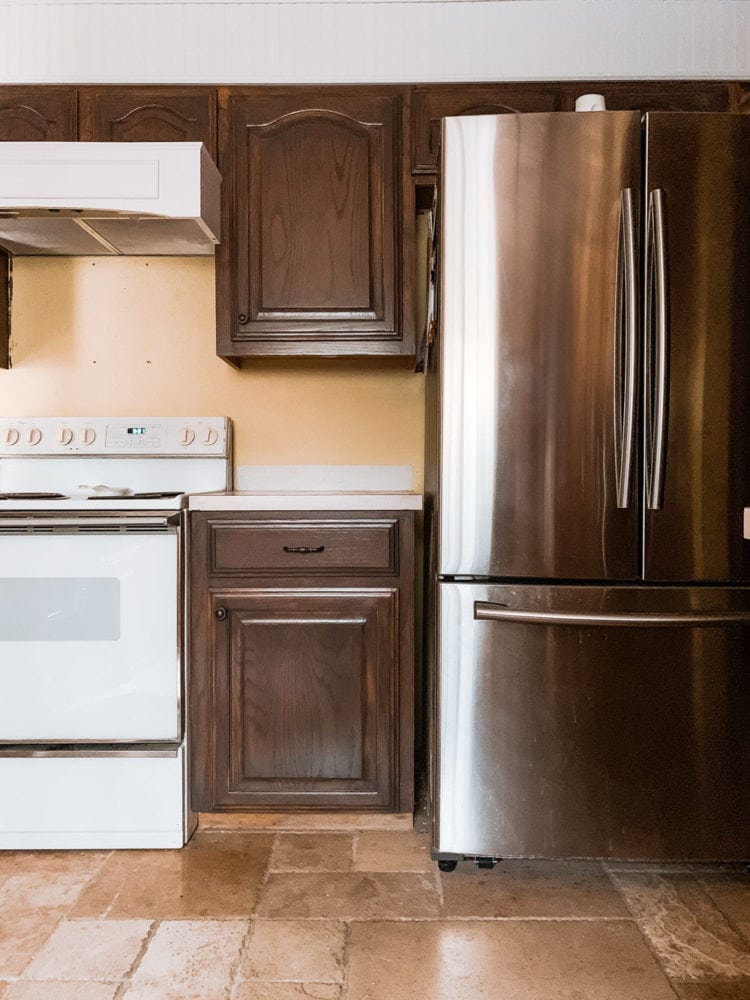 This post is sponsored by our friends at Rockler.
Over my 8 years of homeownership, one of the biggest things I've learned so far is that the tiny details in your home matter just as much as the big ones. Sure, it's great to have a super fancy kitchen with tons of cabinetry, but have you experienced the magic of under-cabinet lighting?! And it's great to have a big ol' covered patio with room to fit the whole family, but if that yard isn't well-manicured with some pretty plants, it doesn't feel nearly as special.
So, while the big stuff matters, the small stuff matters just as much…if not more.
Today, I wanted to talk about a small detail that makes a bigger impact that you may realize: cabinet hinges. It sounds like a boring topic, I know, but trust me when I say it's not! I recently helped my dad swap out their old hinges for Euro-style concealed hinges and, y'all, it's incredible how different the space looks now. We're obviously also working on a few other projects (see how we added a DIY vent hood cover here), and still have a ways to go, but things are looking great.
Corey and I have been lucky enough to always purchase homes that already have concealed cabinet hinges on them, so it's not a project we've ever had to worry about, but after doing this with my dad I can definitely tell you that if we ever purchase a space with visible hinges we'll be changing that right away. Because, hoooooly cow.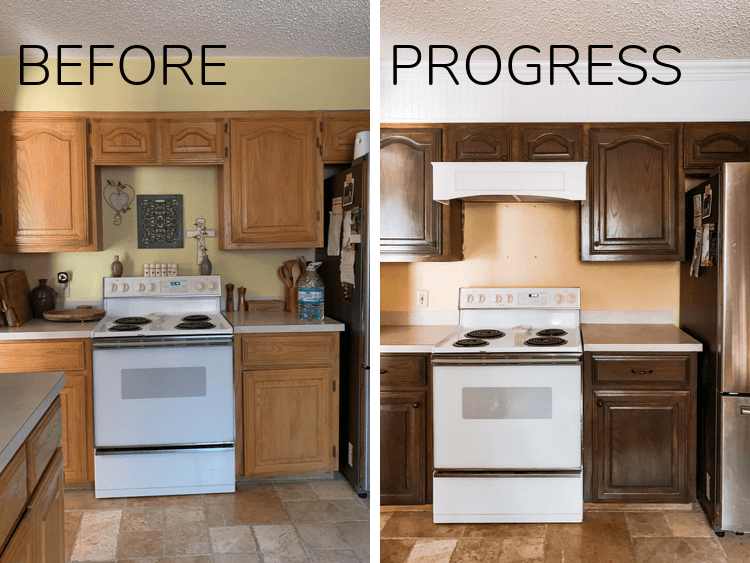 This is one of those projects that probably seems incredibly intimidating if you aren't familiar with it (you have to drill holes! In your cabinets!), but it's actually pretty simple and you can totally do this. By yourself. I swear.
Ready to learn how to give your kitchen a whole new look?! Let's do it.
How to install concealed cabinet hinges
Materials needed:
Concealed hinges (we used these, read on for help choosing yours!)
Drill + driver set
Choosing your cabinet hinges
The first step to this project is choosing the type of hinge you need for your cabinets. There are several different types of concealed hinges (you can see all of Rockler's options right here) but the two main types are hinges are frameless hinges or face-frame overlay hinges.
What's the difference?
A face-frame overlay hinge is meant for a cabinet base that has a frame around the cabinet when you open the door. In other words, when you open your cabinet door, is there a section on either side of the cabinet that sticks out from the wall of the cabinet base? If so, you've got cabinets with face frames. If you open the cabinet door and the sides of the cabinet are smooth from front to back, that's frameless.
We needed face frame overlay hinges (and I think that's the most common type), so we chose these. Again, there are a lot of different hinge options with different open radiuses, different ways to attach, and different closing mechanisms (soft close, snap close, etc.) but these are the type you most commonly think of when you think of concealed hinges, and they're what we've had in both of our homes so far, so it's what we're comfortable with.
Within the hinge, there are different sizes (I know! It's a lot – stick with me!). You'll notice that the hinges we chose have 5 different options. The measurements listed in front of each hinge represent how much the door overlays the face frame when the cabinet door is closed. So, how far is is from the edge of your door to the edge of the frame when you've got your cabinet door closed? That's the hinge size you'll choose!
Setting up the jig
Once you've chosen your hinges, it's time to move on to setting up your jig. Now, you can install hinges without a jig like this, but I don't recommend it. It's 100% worth it to buy a jig that will help guide you, make sure your holes are the exact right depth, and make sure all of the holes for your hinges are straight and consistent. The last thing you need is to spend all of this time on a project and realize you've hung your door crooked, right?! This jig will make sure that doesn't happen.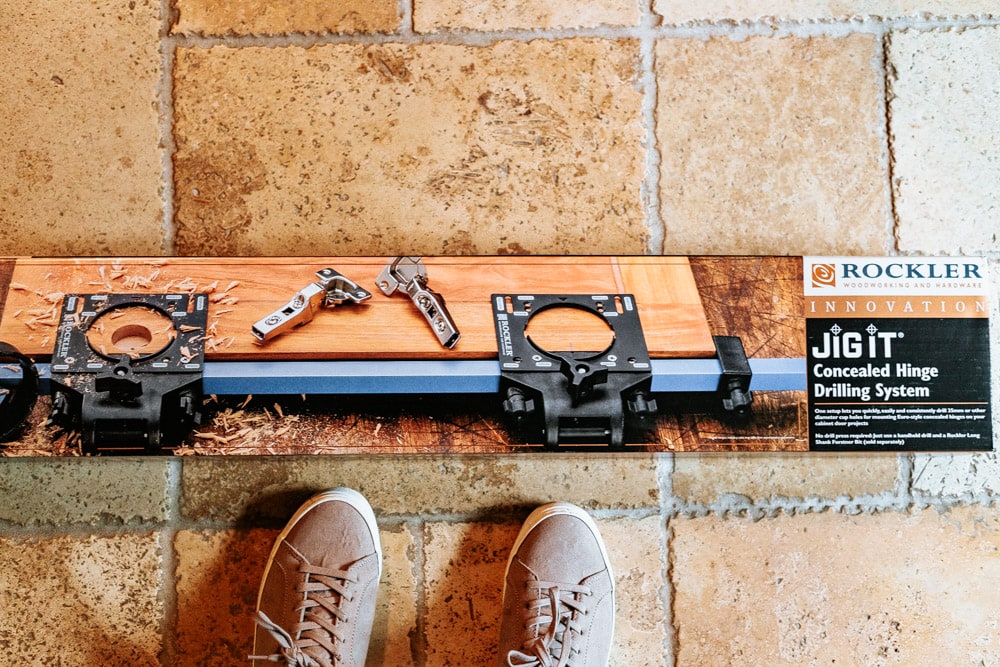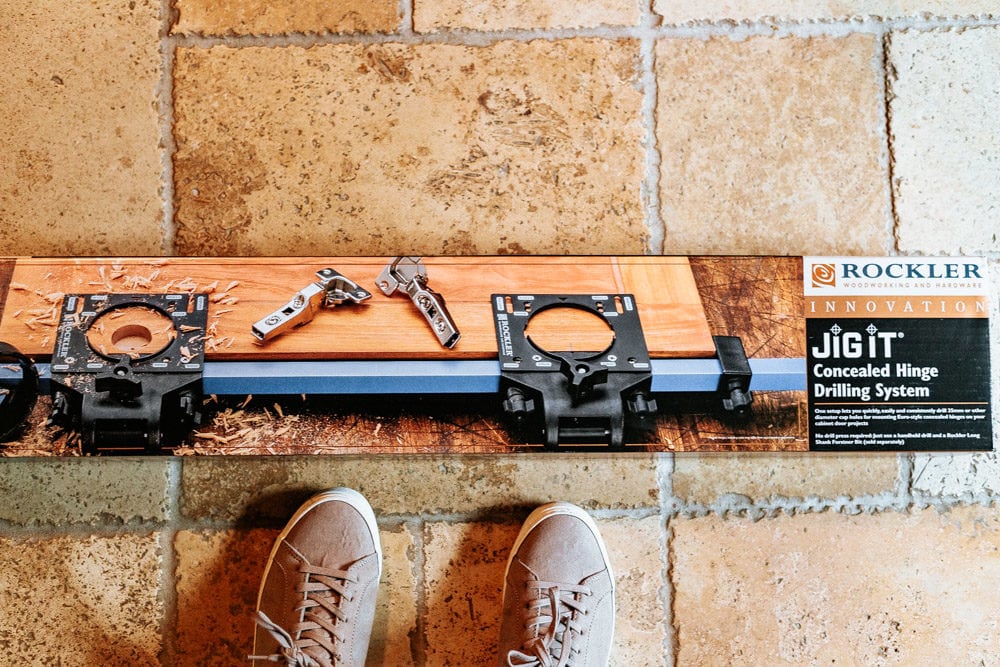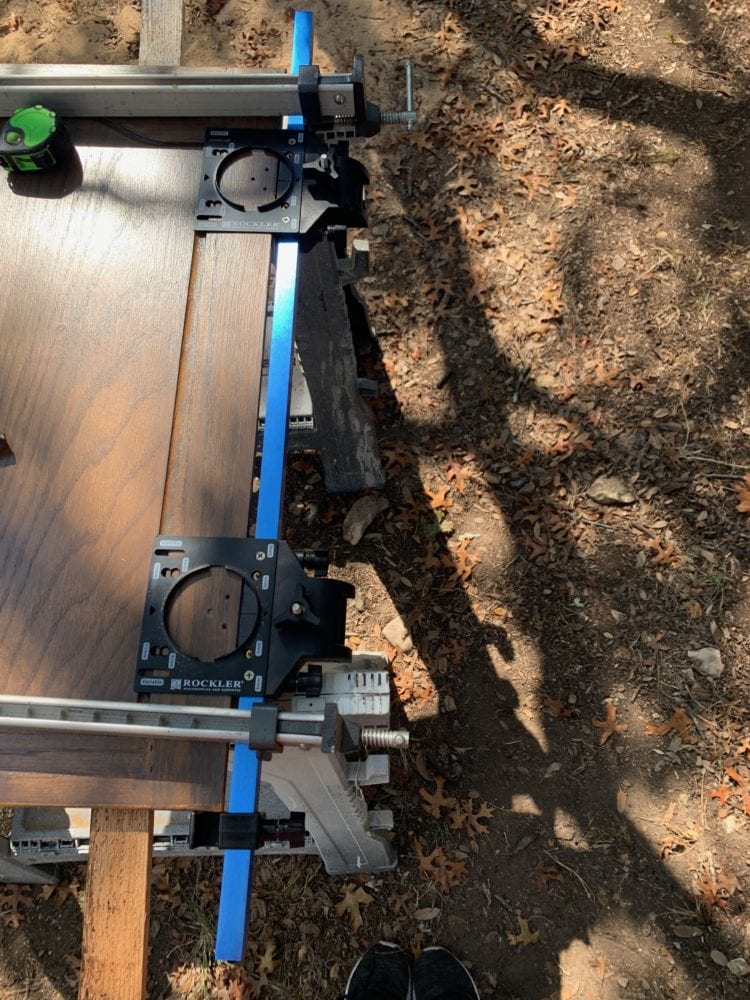 We used Rockler's JIG IT Deluxe Concealed Hinge Drilling System. Note that you'll need to grab this drill bit to go with it in order for it to work properly!
What does this contraption do? Basically, once you've set it up to drill holes on your first cabinet door, it quickly attaches to every door and helps you drill a hole in the exact same spot on every single door, at the exact same depth. It takes a project that could take you days to tackle and turns it into a project you can knock out in a couple of hours. Basically, it's a miracle worker.
How does it work? Let me show you:
You'll start by putting it together following the included directions. Once it's assembled, determine where you want your hinges to be placed. Be sure not to place a hinge where a shelf is inside the cabinet! Typically, the hinges will be somewhere between 3.5 and 5 inches from the top and bottom of each cabinet door – it doesn't matter too much as long as it won't be in the way of anything! We just used the marks from where the previous hinges had been installed to guide us in placing the new ones.
Once you've determined the spot for your hinges, move the plates on the jig so that the holes line up with exactly where you want your hinges to be placed. Clamp the jig onto the door and tighten the screws on the plates so that they don't move.
The jig comes with a stop that you can slide right up to the top or bottom of the door and tighten into place – you'll use this to make installation on the rest of the doors super quick – just slide the jig into place with the stop touching the top or bottom (however you originally set it up), and clamp it into place! Now, you've ensured that every hinge will be placed in the exact same spot on each door.
Grab the drill bit and follow the directions included with the jig to adjust it so that it stops at the appropriate depth for your hinge (each hinge will have a cup depth, and it varies slightly depending on the hinge, so just follow the directions to be sure you've got the right depth for your hinge).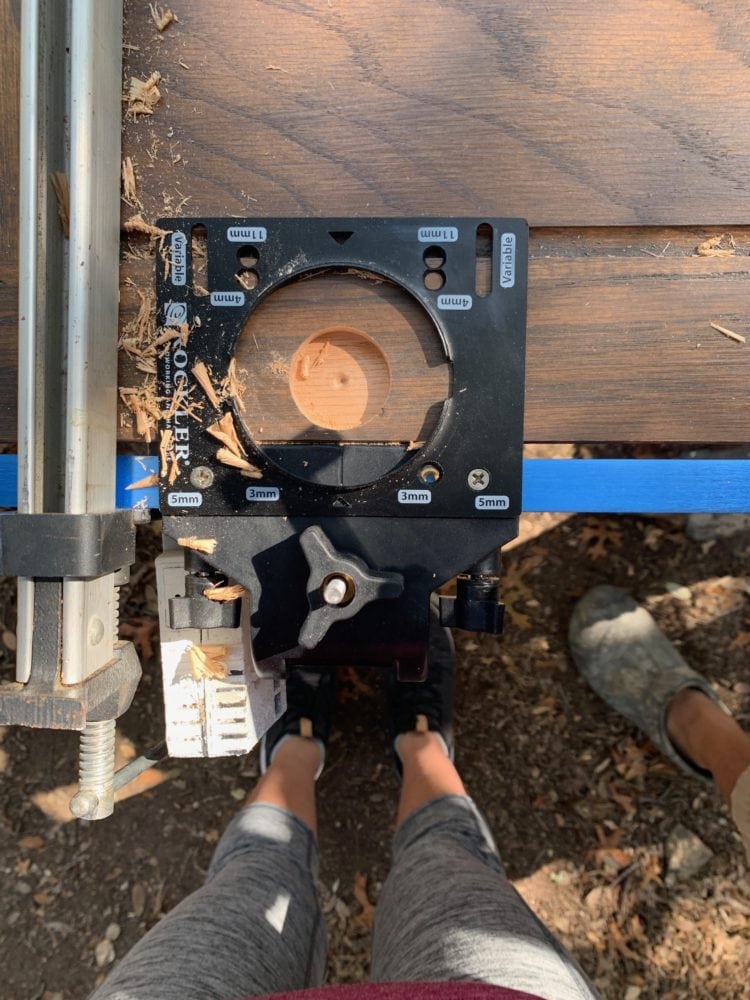 Now, with each door you'll just clamp the jig into place, grab your drill with the corresponding bit attached, and drill until you can't push any further. Once you reach the stop on the bit, you've drilled to the appropriate depth and you should have a hole that perfectly fits the cup of your jig!
The hardest part of the process, honestly, is setting up the jig for the very first door. It might take some time to get the drill bit set to the right depth and to set the jig up with the plates in the appropriate spot – but once you've done that first door? You'll be blown away by how quickly it goes!
Test your door
Before you move on to the rest of your doors, I highly recommend taking a moment to just test the door out and make sure you're pleased with the hinge placement. Set the euro-style hinges in each of the the cup holes and screw them in, then use the provided screws to attach them to the frame of your cabinet (it's very straight-forward – there's one hole in the hinge and one screw, just line up the door so that the overhang on the top and bottom is even, and drill it in place!).
Once you know the holes for your hinge are properly spaced and everything is set up correctly with your jig, you can knock the rest out!
Finish up the doors!
Now, you can simply grab the jig, attach it to the next door, and drill your holes! It'll only take a minute or so per door to drill the rest of your holes and you'll be amazed at how fast it goes and how easy it is to get perfectly-placed holes for your hinges!
This part of the process is relatively tedious (especially when it comes to re-attaching the doors to the cabinet bases), but it's so so worth the detail work, because in the end you end up with cabinet doors that look a little something like this: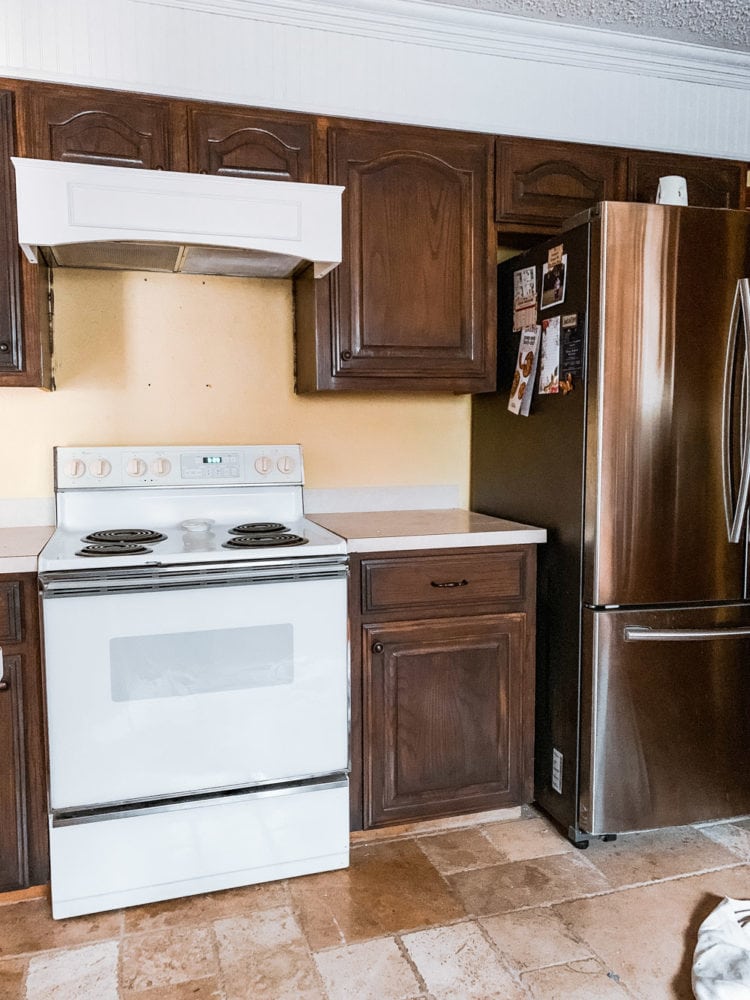 Can you believe how big of a difference that made?!
Adding hardware to your doors
The final thing we did that you may notice is that we also added hardware to our cabinet doors. We used Rockler's Deluxe Drawer Pull Jig to help drill the holes for all of the drawers and it made the job so fast. I'm really excited to use this again when we add hardware to the cabinets in our new house because there isn't any currently!
This jig is equally simple to use – maybe even more so. Just put it together using the included directions, determine how far apart your holes need to be (based on the drawer pull you choose), and line the jig up with the center of your drawer. Again, it includes a stop on the end so you'll want to tighten that into place on one end of the drawer – this allows you to move from drawer to drawer and be sure that the holes will be in the exact same spot every single time.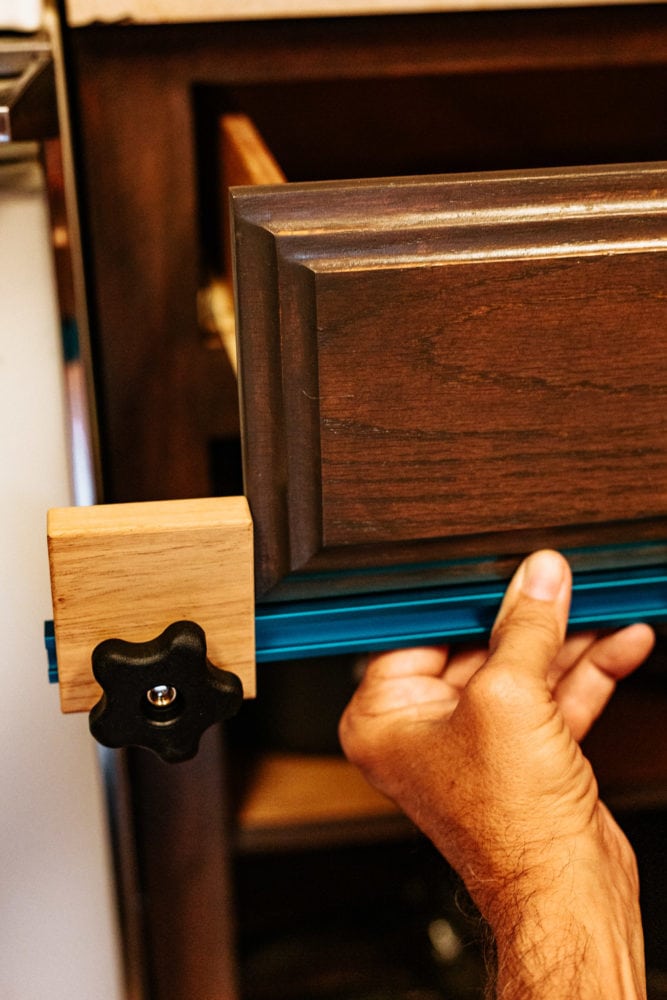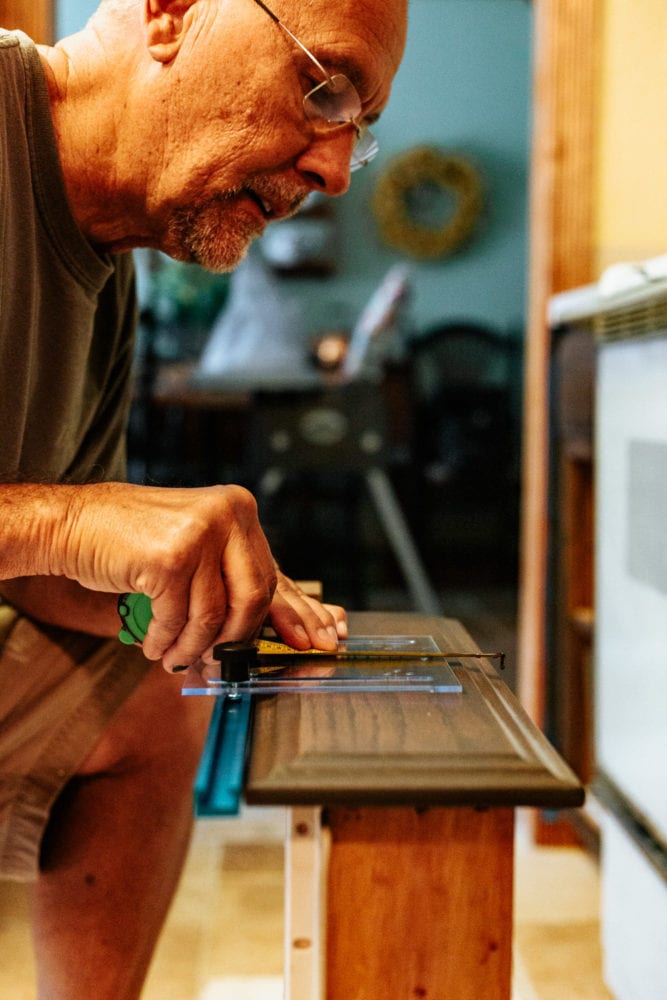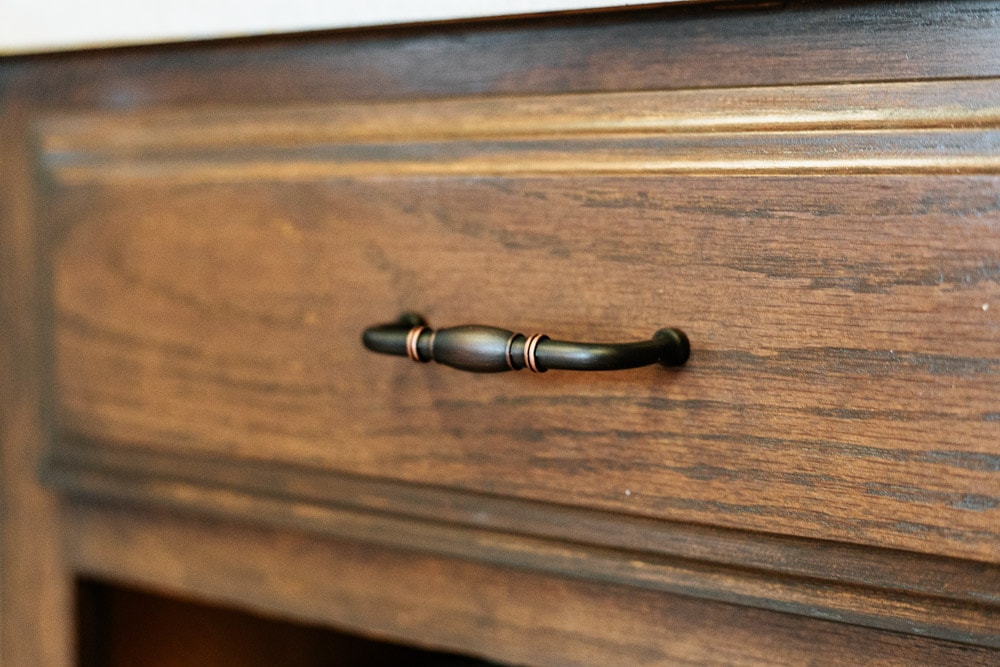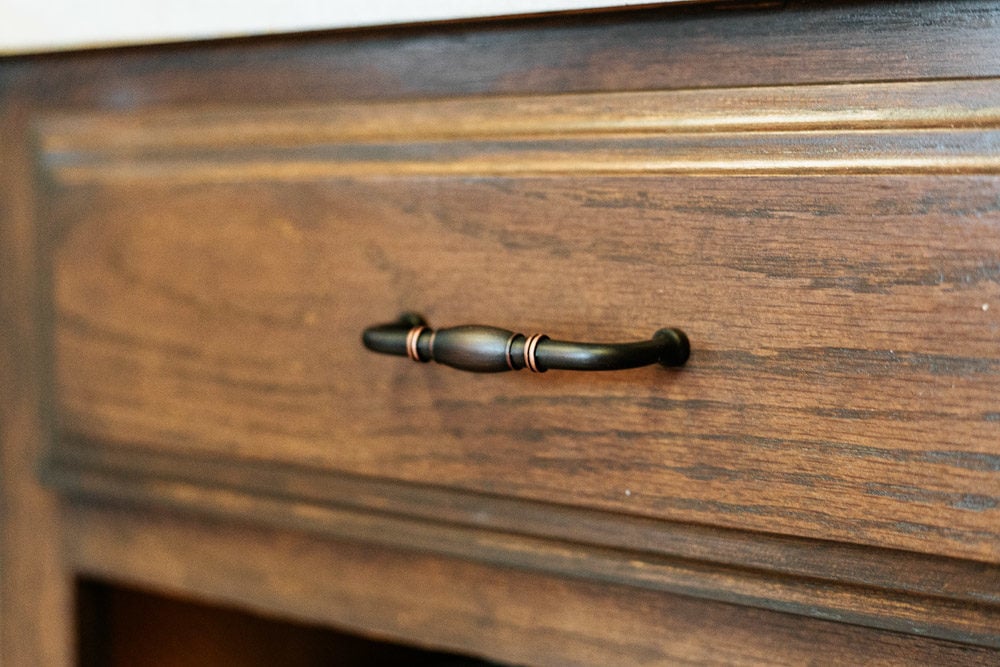 Once it's set up, just drill the holes and install the hardware! We chose some cabinet knobs and drawer pulls from Rockler's extensive collection of cabinet hardware, and I'm so incredibly pleased with how they look with the new color on mom and dad's cabinets!
This little section of their kitchen is reeeeeally coming together, and I'm just so excited to wrap things up! We've still got to get rid of that yellow paint, and then we're going to get them a new stove in place – and once all that's done, my dad will be tackling building some concrete countertops for them, so be sure to stay tuned because you know I'll be sharing all of the details of how that turns out!
If your cabinets are needing some love, I highly recommend that you check out Rockler's Concealed Hinge Jig and their Drawer Pull Jig – Dad and I were really genuinely impressed with how easy it was to use, and I promise it's worth it to take the time to swap out your hinges! Life-changing stuff, y'all.