Do you ever have those moments where you walk into a thrift store and from across the store you just feel something calling to you? You aren't sure what, you aren't sure why, but you know something is waiting.
And then you see whatever it is just sitting there at the back of the store, patiently waiting for you to discover it and turn it into something amazing. Sometimes you know immediately what you'll transform it into, and sometimes you have no idea but you just know you need to have it.
Just me?
Well, I'm glad I followed my gut with this one…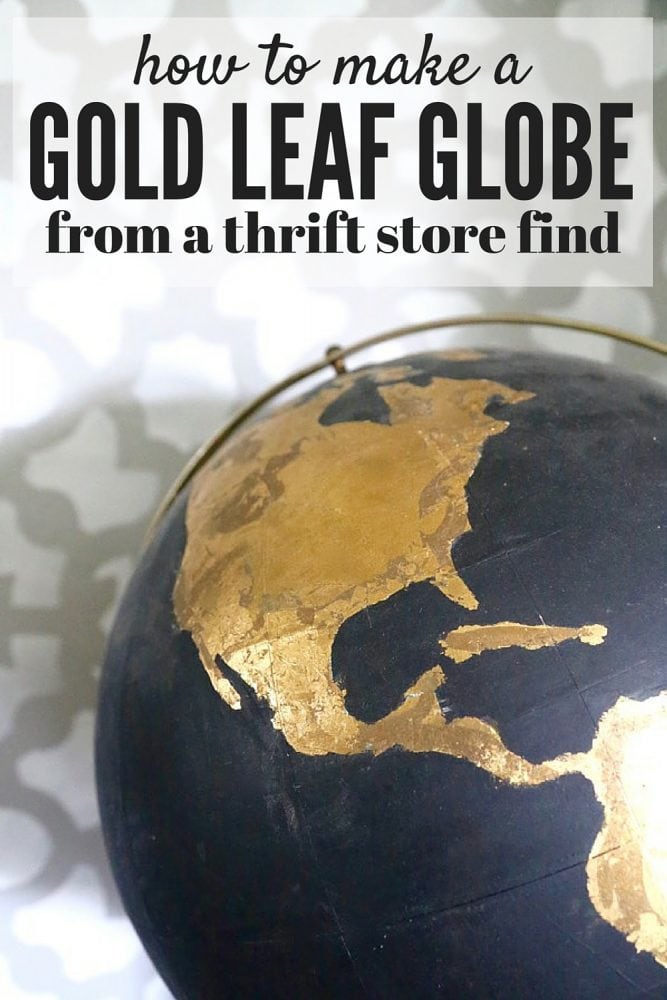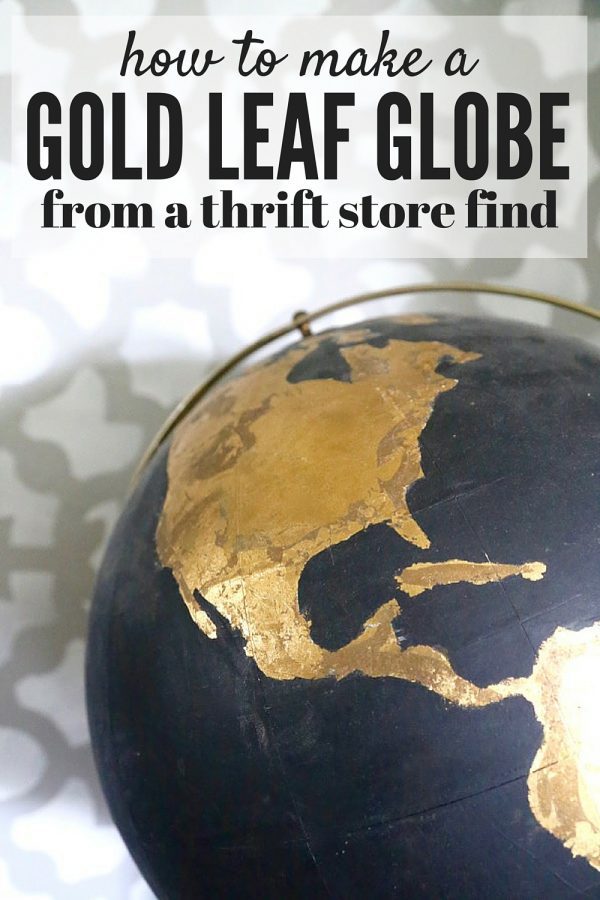 This post contains affiliate links. Click here to read my full disclosure policy.
We bought this globe from Goodwill a while back when we were browsing for something else – we saw it almost immediately upon walking in the store and knew that we had to have it. It was $25, which was a bit on the steep side for our normal Goodwill purchases, but you don't walk away from a globe with that much potential.
My mind immediately began racing with all of the possibilities for what we could do with this guy, but Corey had his mind made up from the start – a black background with gold-leaf continents.
I love a man who knows what he wants.
How to make a gold-leaf globe:
Materials you'll need:
Tutorial:
This was an absurdly simple project – I started off with some black craft paint and painted all of the oceans black. I didn't let myself get too fussy with this part – no one really has the entire globe memorized and won't realize if a tiny little island in the middle of the ocean is missing. And, really, I wasn't going for geographical accuracy so some of the smaller islands were sacrificed for the sake of my sanity.
(Sorry, Hawaii)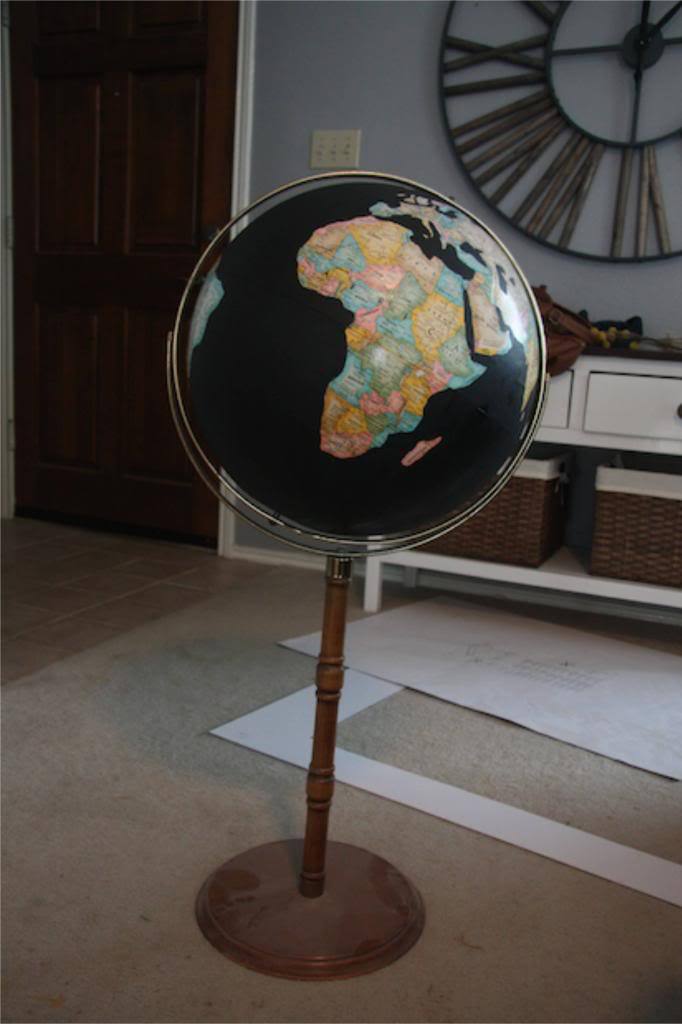 I had to do two coats of the craft paint – it took maybe two episodes of Vampire Diaries. Or, for those of you who measure time like normal people, a little under two hours.
But I'm slow…and maybe a little lot distracted by Ian Somerhalder's jawline.
Mmm.
But, I digress. Once the black paint was done, it was time for the gold leaf. I was a little terrified of this before I got started because it seems so intimidating. But this stuff is seriously foolproof. It looks amazing no matter how much you feel like you're messing it up, and it's really impossible to make it look bad.
That's my kind of crafting.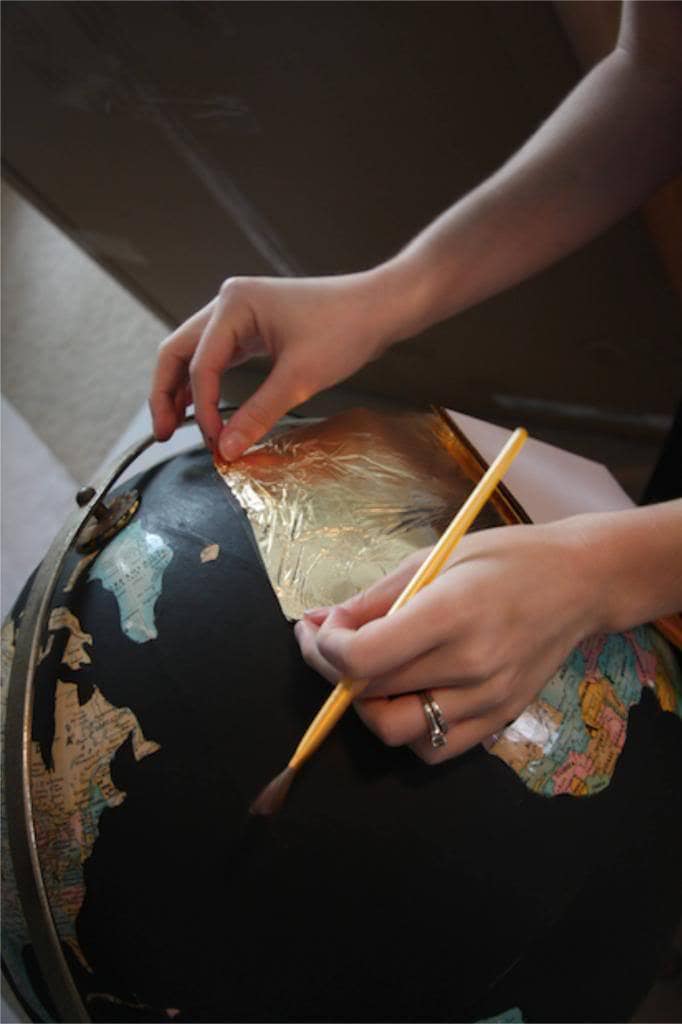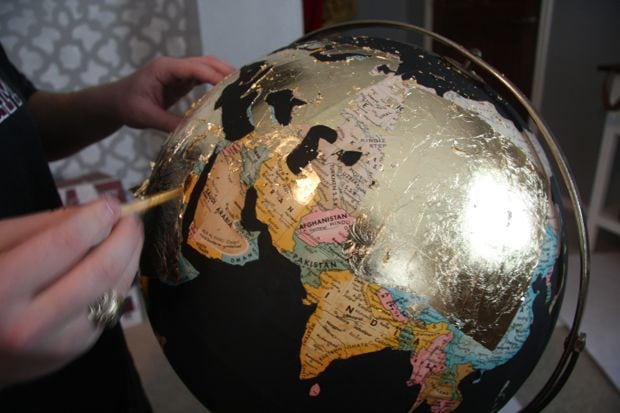 All you have to do is paint on the adhesive and waited a few minutes for it to become tacky – the directions say wait at least 20 minutes before applying the gold leaf, but I found that it didn't take more than 5 or 10 for it to get tacky (and if I waited much longer it started to lose the stick). So, I'd just paint it on and test it every few minutes until it felt nice and sticky, then I'd plop the gold leaf on and press it down until it all stuck.
From there, I just removed the excess gold leaf and we were good to go! It took a few applications in some spots to really get the whole thing covered, but when all was said and done it was a really simple process that was only slightly annoying.
It did make a big mess though. Fair warning.
And just like that, it was done! We considered painting the base a fun color, but I kinda dig the wood look with the black globe and we couldn't agree on a good color, so we decided to leave it as-is for now.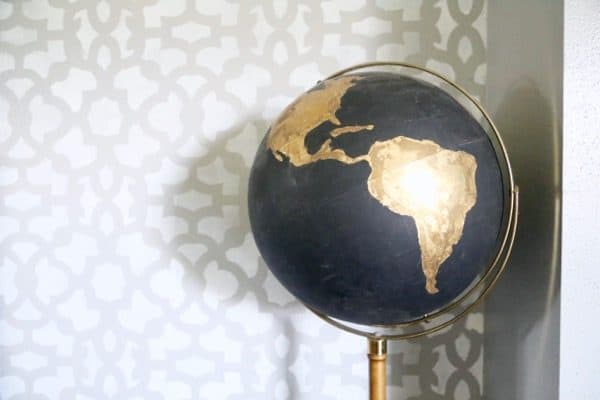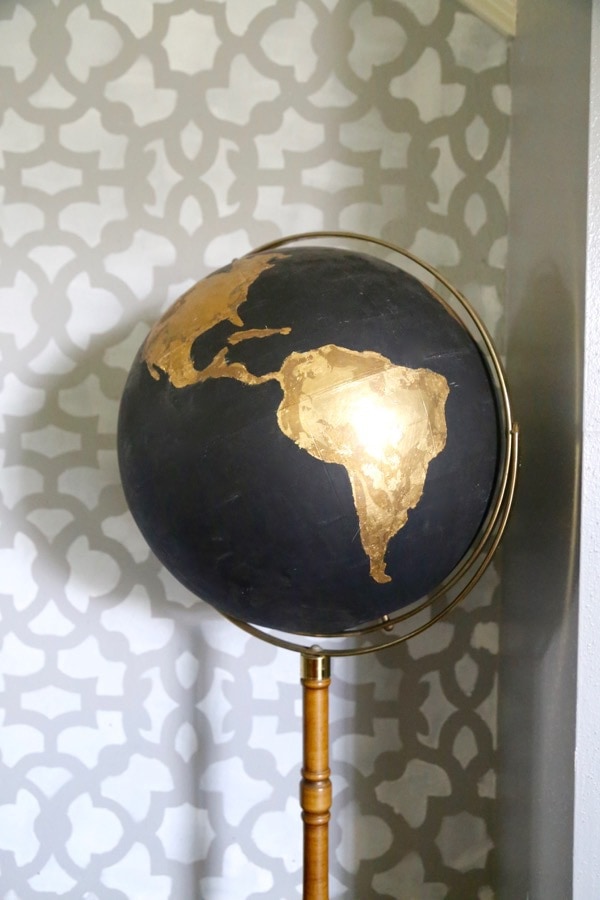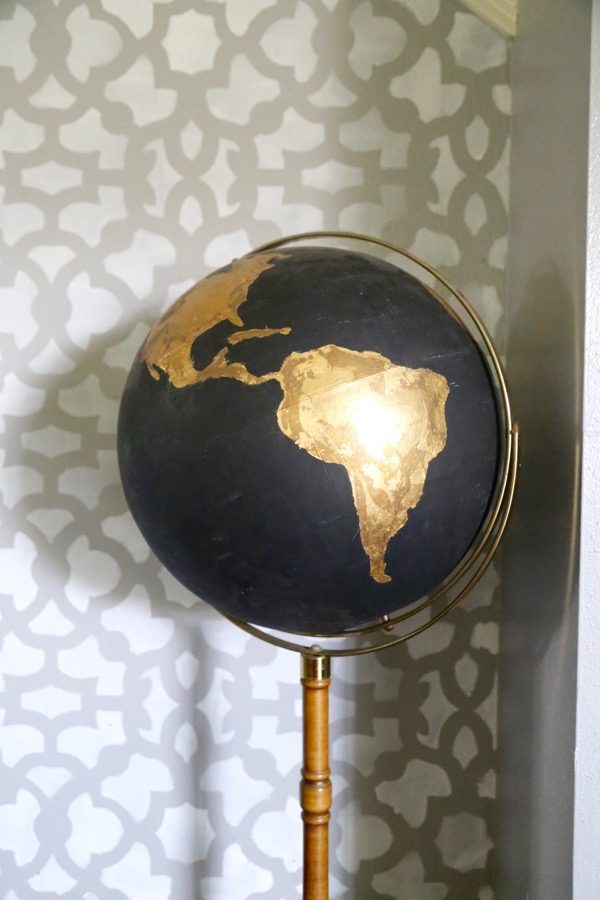 I love how this project turned out – the black globe and gold accents makes me weak in the knees, and I always love a more modern take on such a classic piece. This was my first project using gold leaf, and I'm very surprised at how easy it was to work with – I'll definitely be trying it again in future projects!
Anyone else drooling over Ian Somerhalder globes lately? I did another fun globe project that took a totally different approach – and I love it just as much!