This easy DIY necklace holder started off as a mostly unused medicine cabinet! I turned it into a jewelry holder that keeps my necklaces organized and out of the way, and now it's one of my favorite features in my bathroom! 
I don't know about you, but I always get so excited for the fresh start that this season of the year always brings – I always find myself more focused, more organized, and more motivated than ever in the first couple of months of the year, and this year is no exception.
One thing I really want to do in the next couple of months is to finish up a few lingering projects that we have around the house. We majorly renovated our bathroom a few months ago, and we're loving it still, but we've got several things left in there that we didn't finish in time and we still want to knock out. For example, we never laid the transition piece from the tile to the flooring in our room, the linen closet is still a mess, and up until recently, I had zero storage solution for my jewelry. I used to use a cute little set of antlers to store my necklaces, but it didn't really fit with the modern and streamlined look of the new bathroom and I was itching for a change.
I spent a long time (too long, really) thinking about what I wanted to do. Ever since we finished this room in November, my necklaces have literally been in a big pile on a shelf in the linen closet. That doesn't make for very functional storage, and it meant that I was basically wearing the same 2 or 3 necklaces over and over because they were the only ones I could easily access.
But then, I realized the perfect solution was sitting right in front of me the whole time.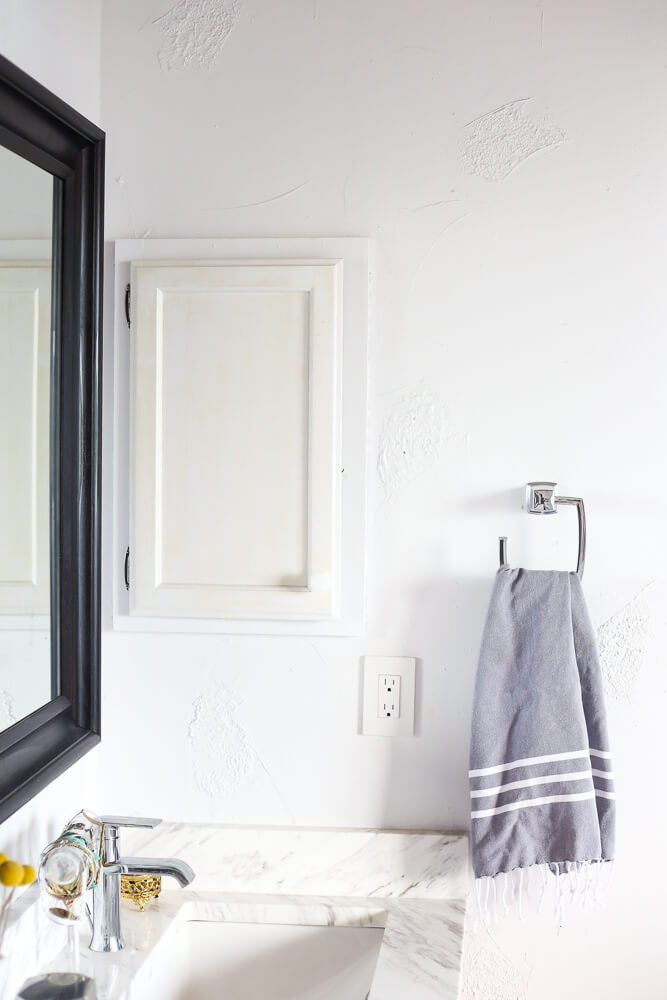 This post contains affiliate links. Click here to see my full disclosure policy.
DIY Necklace Holder (From an Unused Medicine Cabinet!)
Meet my medicine cabinet.
Yes, I know the door is slightly discolored. The original finish on our cabinets does not play well with white paint – we've had some discoloration issues in our kitchen as well, and I fixed it by re-sanding the doors and painting them again. I'm going to do the same in here but haven't gotten around to it (since apparently, I'm the queen of unfinished projects). Just pretend like the colors are exactly the same.
That's what I do. #keepingitreal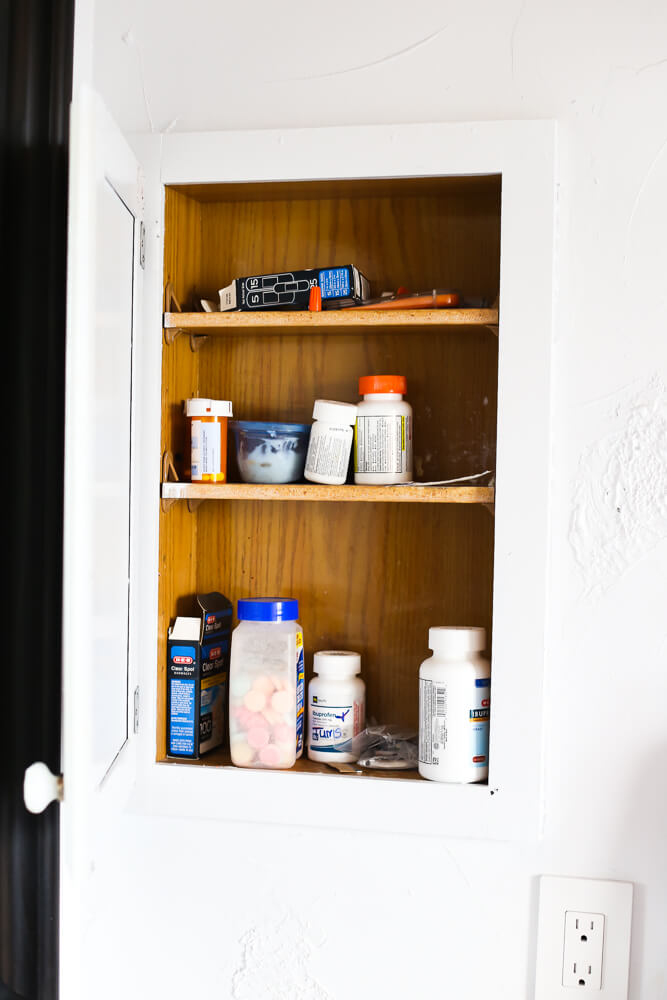 This little cabinet has been full of a totally random assortment of medicine and is basically useless to us. I open it every once in a while for bandaids or headache medicine, but other than that it's pointless. We considered just taking it out when we were renovating the bathroom, but patching the wall seemed like a lot of extra work so we left it. And now? I'm oh-so-glad we did.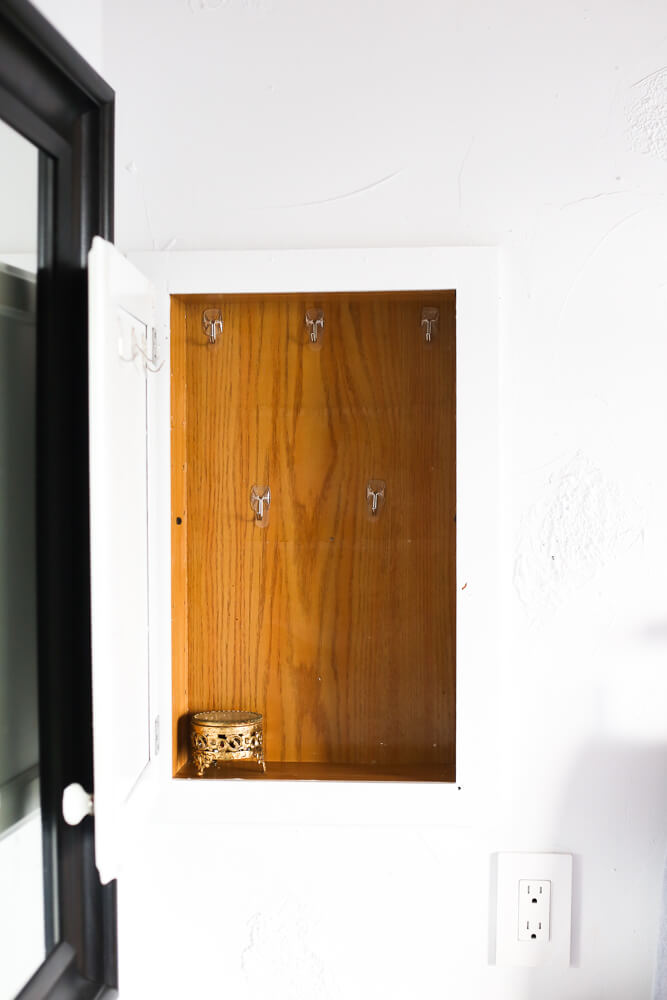 How to turn a medicine cabinet into a DIY jewelry holder: 
All I did to turn this useless little medicine cabinet into the perfect storage solution is clean it out and add a few hooks.
Seriously. End of tutorial. It's that easy.
I'll give a little more detail if you want, though. The shelves really easy to remove, and once I had them out I gave the interior of the cabinet a nice little scrub down. I originally planned on painting the inside a cute color, but it's a really shiny and smooth surface and I didn't think it would take paint well (especially since it'll see a lot of wear and tear as I hang things, move stuff around, and add stuff to it). So, I left it plain – and I think it still looks pretty dang cute.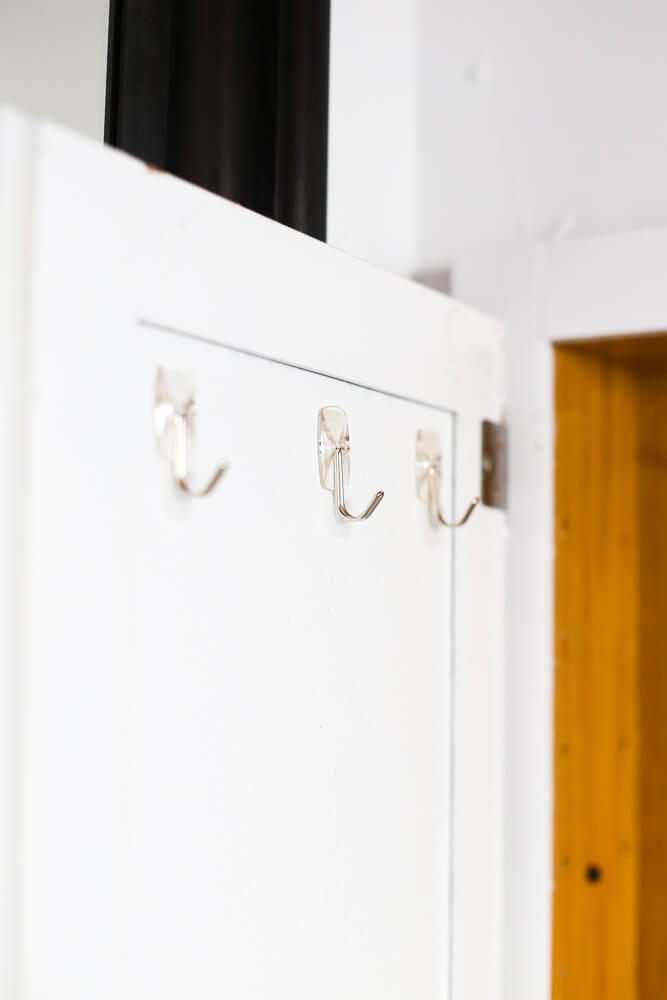 I used these little Command hooks to hang my necklaces in the cabinet. They came in a pack of 9, and I used 8 of them – I let them sit overnight before I hung anything on them to be sure that they were really stuck on there. Then, I just added in my necklaces!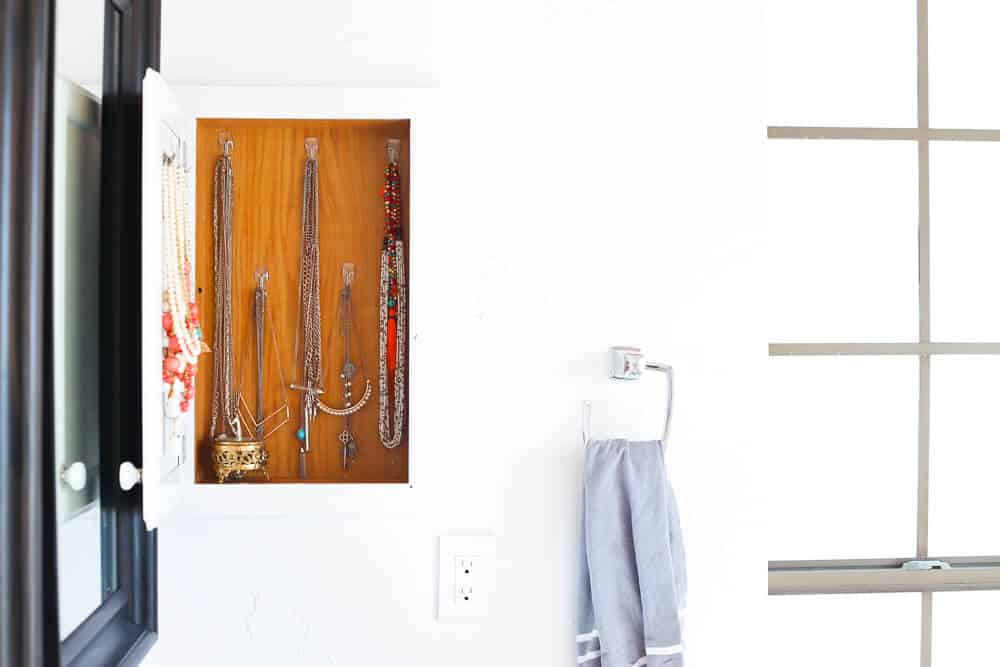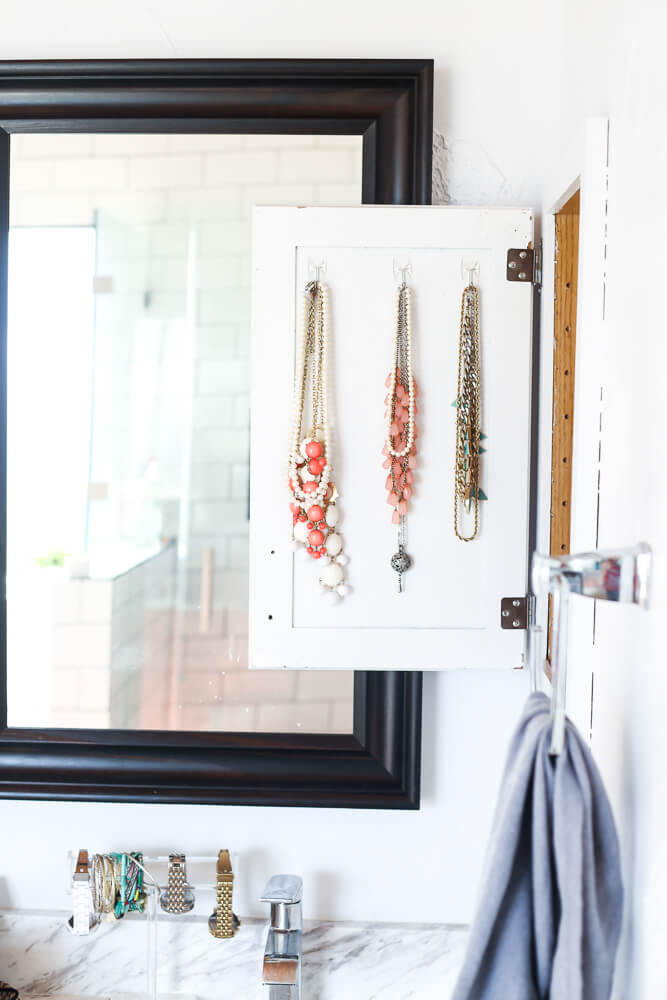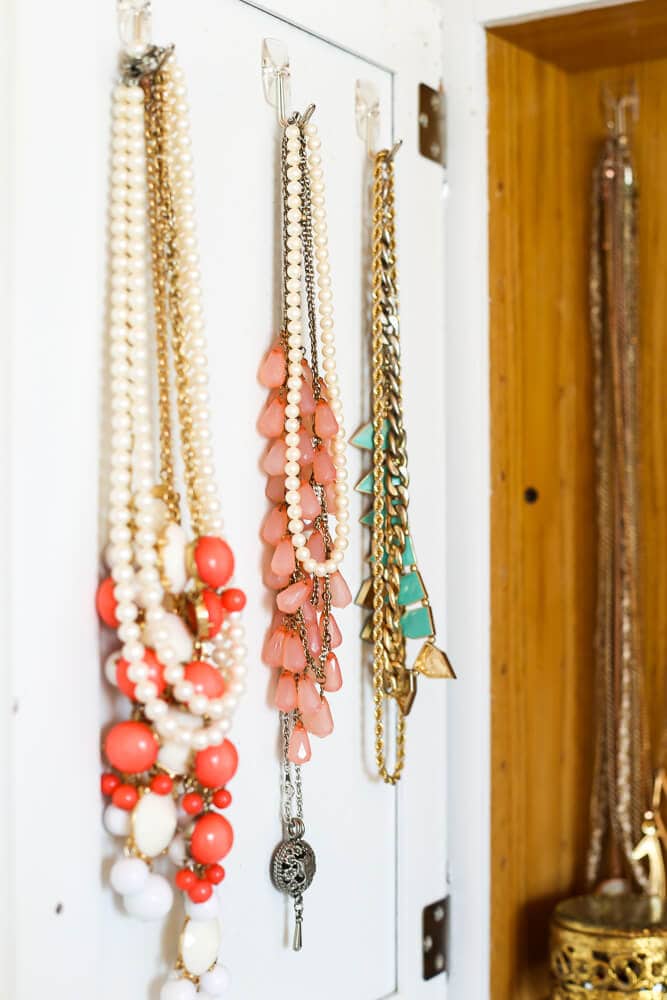 It is so much easier for me to access my necklaces now, and I love how it's so unobtrusive in the room – if I close the door you can't even tell it's there. Score!
I'm seriously still laughing a little bit at myself for not thinking of this sooner. It's such a simple solution for a problem I've been dealing with for years and it's so much more functional than anything else I've tried.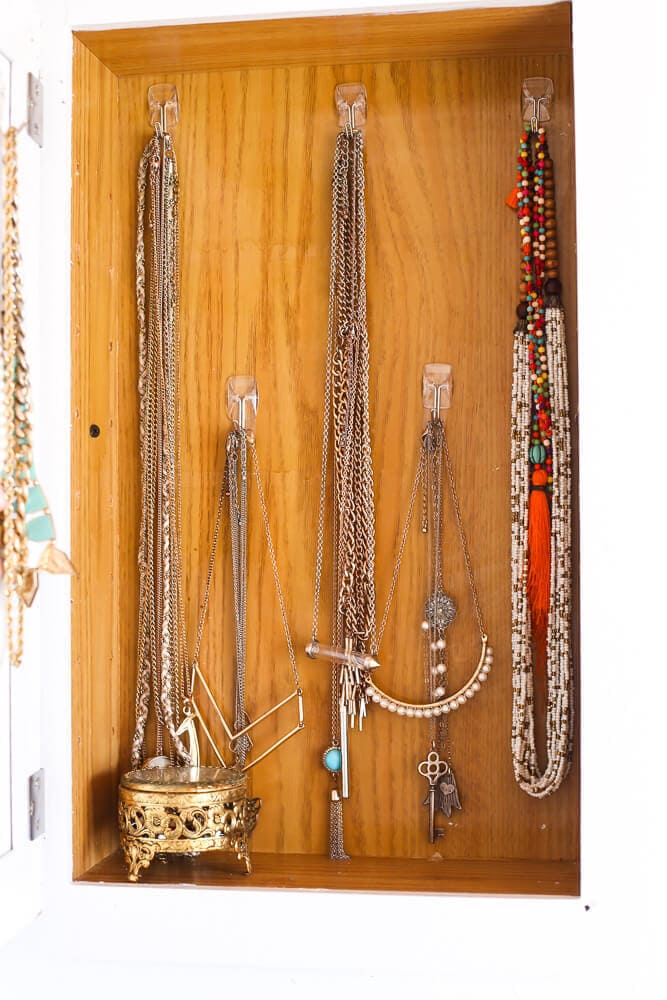 I'd love to hear from you if you have any fun projects you're finishing up this month! Also, leave a comment letting us know how you store your jewelry – now that I've found my simple solution, I'm wondering how everyone else does it!
Don't have a medicine cabinet? Here are a few other great options for keeping your jewelry organized!