The Best Cleaning & Organization Products For Your Home
Oh, cleaning. I don't know what it is about this time of the year, but every January I always get the itch to get my entire house clean (and keep it that way) and organize everything in my life.
I'm a pretty organized person, so I've already gone through the Konmari method to get my house decluttered (you can read more about that here), and I even have several habits that I've worked on over the years to keep my cleaning routines as quick and easy as possible. So, this year, instead of working on habits or getting rid of things, I'm focusing on finding the best of the best products to make cleaning easier and more enjoyable.
I don't know about you, but when I have a nicely packaged, pretty-smelling cleaning product, I'm a lot more likely to want to use it. Cleaning products aren't things I always put a ton of thought into – I used to just grab whatever was on sale. But I've found certain products that I keep going back to over and over that make cleaning feel slightly less painful – and every little bit helps, right?!
Here are my favorite cleaning and home organization products – they're the things that help keep me sane(r) and make it so that I don't dread cleaning quite as much. I'd love it if you'd share your favorites with me too in the comments!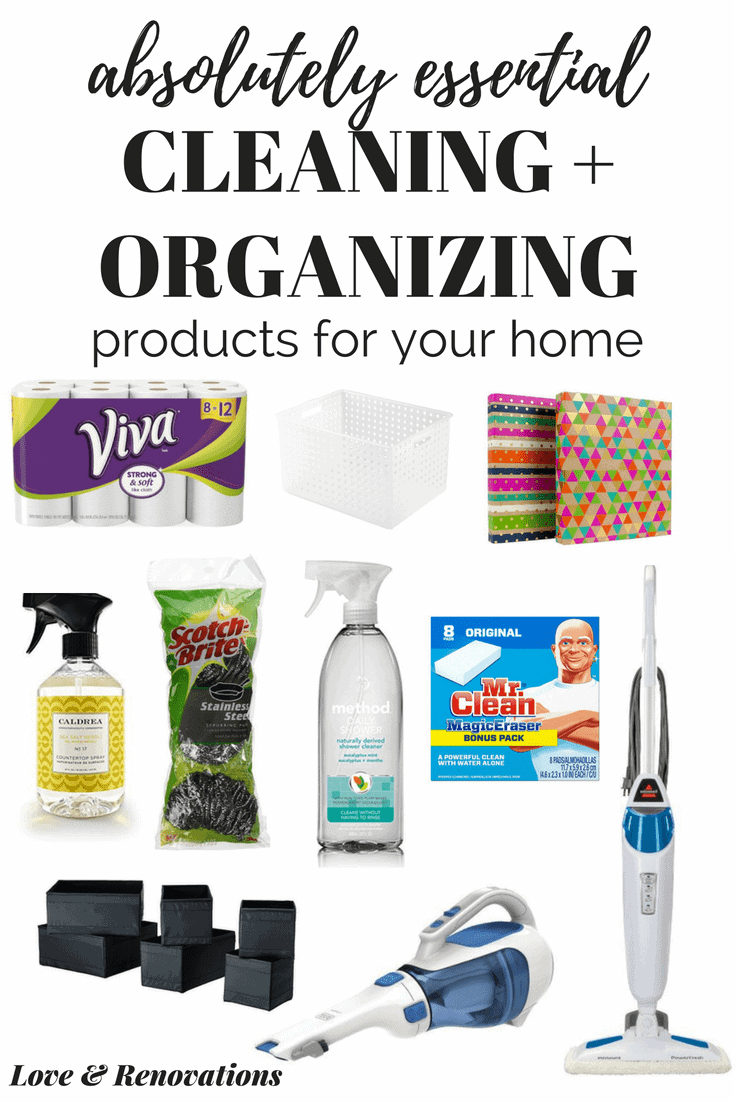 This post contains affiliate links. Click here to read my full disclosure.
11 Must-Have Home Organization (& Cleaning) Products
This countertop cleaner. It's pricey, but it smells amazing and actually gets me excited to clean. When I'm looking to save a little money, I go with Mrs. Meyers instead. Either way, I've learned that splurging just a little bit on products that smell great and have beautiful packaging makes me happier when I'm cleaning. Maybe I'm crazy, but it works!
My steam mop. I got one of these for my birthday last year and I fell in love immediately. This little guy does an amazing job of getting my floors sparkling clean with basically no scrubbing on my part. Our kitchen floors are mostly white (and I hate them with a fiery passion), and they get so dirty SO quickly. This is the only thing I've found that can make them look like they're actually clean! It works wonders on our vinyl plank flooring too!
A DustBuster. We're bad about keeping this guy charged regularly, but when we do it's a lifesaver. I use it to pick up all of the little toddler crumbs all over my floor after I sweep, I use it to clean all of the toddler crumbs out of the couch, I use it to clean toddler crumbs off the counters (are you sensing a theme yet?) and I use it to vacuum our stairs too! This thing might be small but it packs a big punch, and it is so much easier to bust out than the big vacuum!
These little bins from IKEA. I've been using these since I was in college and they're still one of my favorite ways to keep my drawers organized. They're nice and deep which means I never have to worry about things spilling out, and if you have an IKEA dresser (which I do), they fit perfectly in there like you're playing Tetris. It's oddly satisfying and makes my Type-A heart happy. We also use these in non-IKEA dressers (like in Jackson's room and in my nightstand) and they work great there too!
Tons of baskets in the pantry. I used to have a really hard time keeping my pantry organized, and then I bought a bunch of these giant baskets and tossed 'em on the shelves and just like that everything stays so much more organized! We have one for chips and one for snacks, and then we have smaller baskets for things like baking products, side dishes, and random frequently-used cooking products. We've even got a basket dedicated to Jackson's snacks to make it easy for him to grab and go!
These paper towels. I wrote a couple of posts with Viva a while back, and I really wasn't exaggerating when I said they're my very favorite paper towels. They last longer than any other ones I've tried, they never fall apart on me, and I only have to use one small little piece at a time. I'm pretty particular when it comes to my cleaning products, and I definitely notice if we happen to end up with a different brand!
Magic Erasers. I use these on everything. Jackson colored all over the wall? Magic Eraser. Dog peed in the house and it stained the white kitchen floor? Magic Eraser. Random, unidentifiable stain on a painted piece of furniture? Magic Eraser. I don't know what in the world they put in these things, but they truly are magic and they clean up anything you throw their way. I must have these in my house at all times!
This shower spray. I bought this when we had the glass on our new shower installed to help keep it clean, and it has worked wonders! We still need to get a squeegee for the shower (I'm looking at this one, but would love any recommendations!) but every night before I get out I just spray this all around on the tile and glass and then let it air dry. It has kept everything looking really nice in-between cleanings! Corey doesn't love the scent, though, so next time I might try this one.
This planner. I wrote a whole post about this thing and I think you guys are just as passionate about your planners as I am. I'm still going strong with my Erin Condren, and I don't see myself switching anytime soon. It's pretty, it's functional, and it has all of the space I need to write my ever-lengthening list of to-do's. Love it!
These scouring pads. I use these for my stainless steel pan when it gets particularly dirty, and they work wonders on the burners on our gas stovetop! I'm always amazed by how great of a job these do with cleaning tough messes, and I find myself reaching for them all the time.
Binders – tons of them. Maybe it's the teacher in me, but I've always been a bit of a binder hoarder. I use them to organize just about everything, and anytime I need a good solution for a lot of papers my first thought is to grab a binder. They're great for things you need to access regularly, and they help me make sure I don't let important papers get destroyed or lost because they're just migrating from place to place around the house.
Ok, I'm dying to know – what are your absolute must-haves for cleaning and organizing around the home? I'm always on the lookout for things that will make my life easier and make cleaning more enjoyable!