This post is sponsored by Eve Mattress and contains affiliate links, but all opinions are 100% mine. Thanks for supporting the brands that support Love & Renovations!
UPDATE: I have an exclusive promo code that you can use for $150 off your mattress from Eve. Be sure to read all the way to the bottom of this post to get the code!
In our first house, one thing that Corey and I really struggled with was making our bedroom feel cozy and welcoming from the beginning. As you can see in this post about the evolution of the master bedroom in our first home, it was pretty much a hot mess right up until we got ready to move, and then we managed to pull it together just in time to leave and have to start over.
After talking with many of my friends (and several of you!) about this, it seems that this a pretty common phenomenon. We tend to focus on decorating the spaces that everyone else sees first, and ignore our personal spaces for entirely too long.
Corey and I made a commitment to ourselves that in this home we would put a priority on the master suite and make that space beautiful, cozy, and exactly how we want it much sooner than we did the first time around. We've only been in this house for a couple of weeks now, but so far we're already making good on our promise!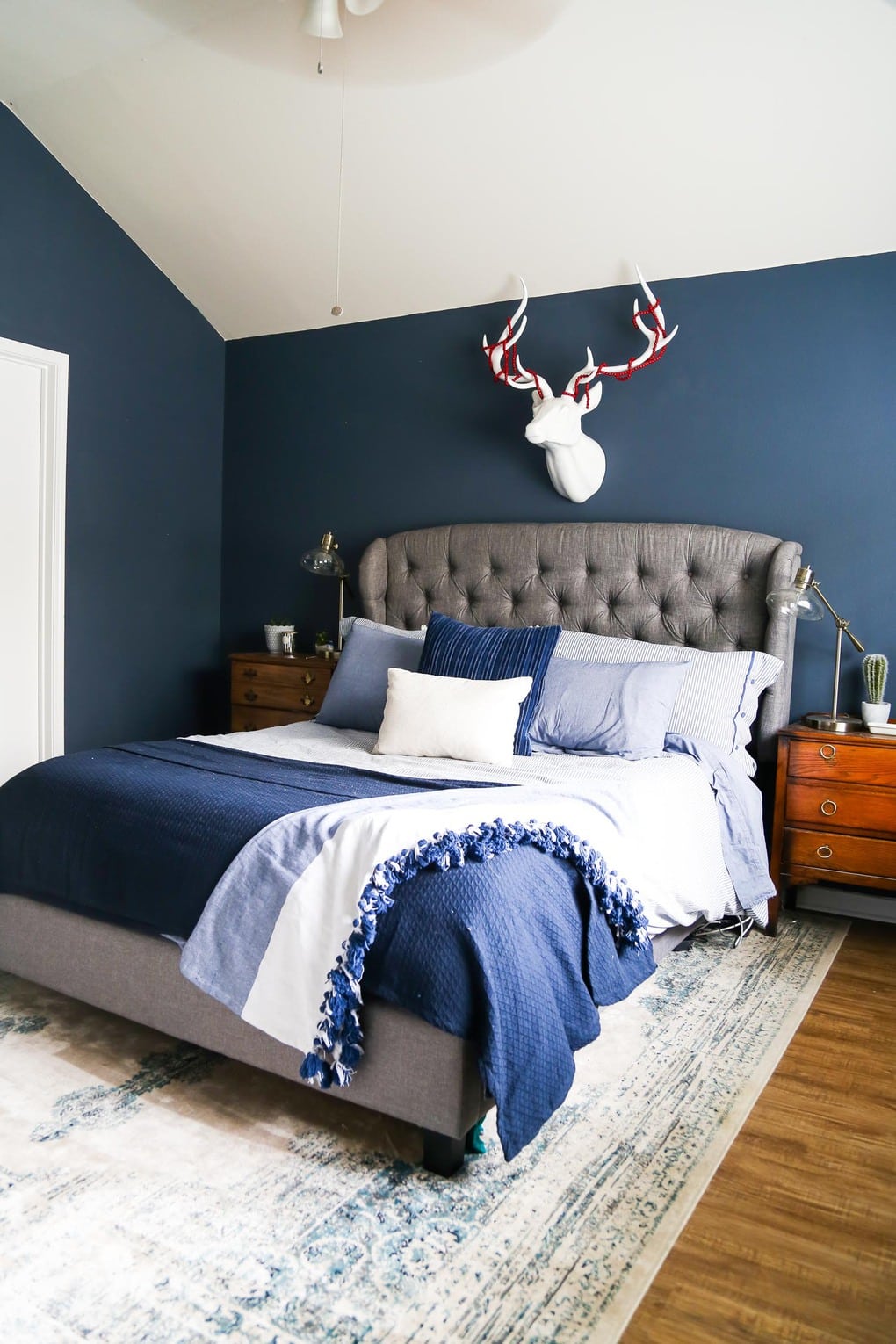 We painted our master bedroom within just a few days of moving in, and we got an entirely new set of bedding to go along with the fresh color. I've mentioned before that I'm being drawn to darker and moodier colors in this house, and the master bedroom is the perfect example of that. I'm not sure if my style is changing or if it's just a need for a calming space because of all of how busy we've been lately, but I'm head over heels in love with the deep, masculine colors in here. I can't get enough.
The color we chose for the walls is Calligraphy by Behr. It's the perfect navy blue color with just a hint of gray, and it's giving me life right now. I chose a matte finish for the paint, which I've never done before, and I'm officially a convert. The texture on the walls looks and feels so luxurious and velvety, and it's just absolute perfection.
Please ignore the ugly ceiling fan and the mismatched nightstands that I'm dying to replace. Baby steps.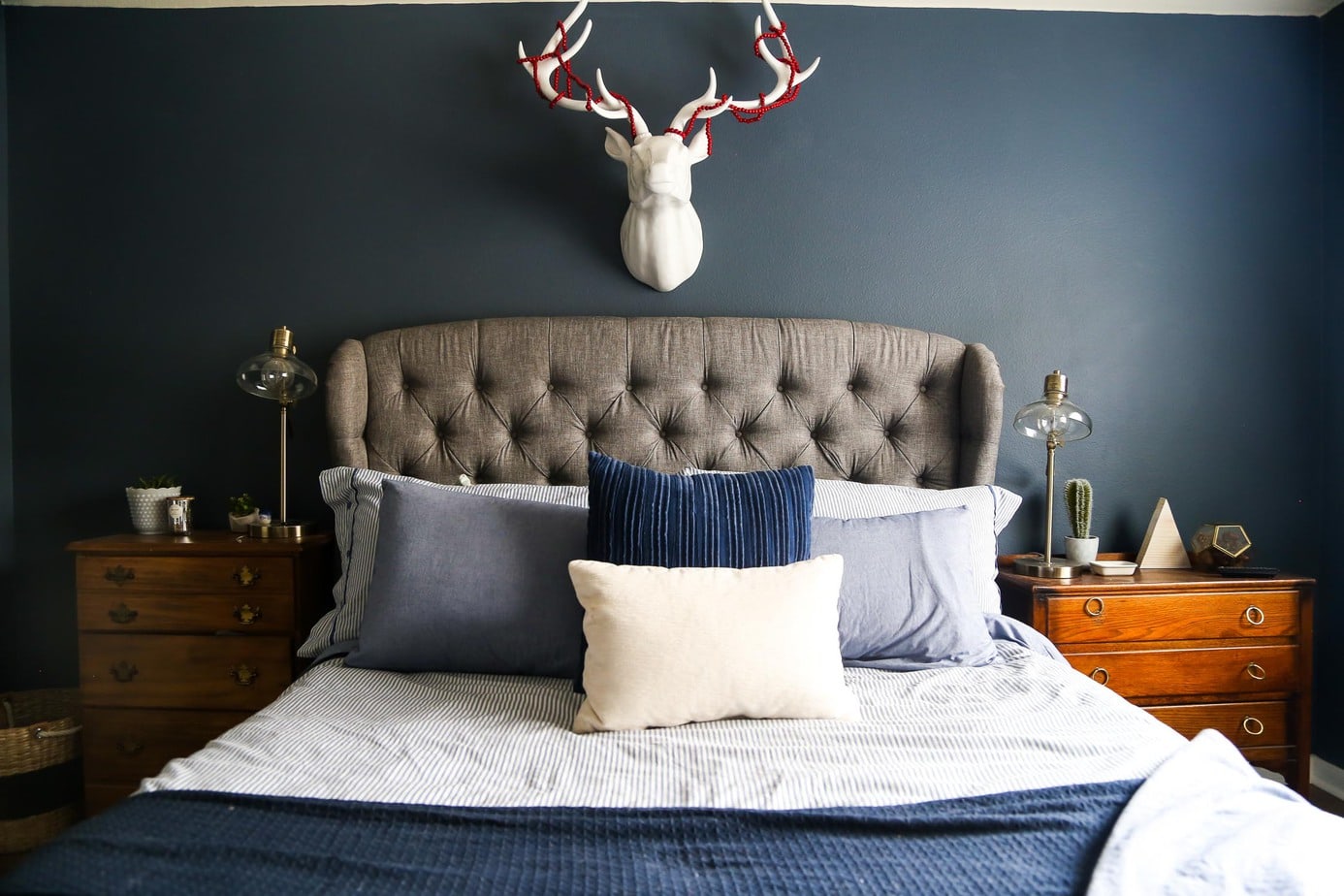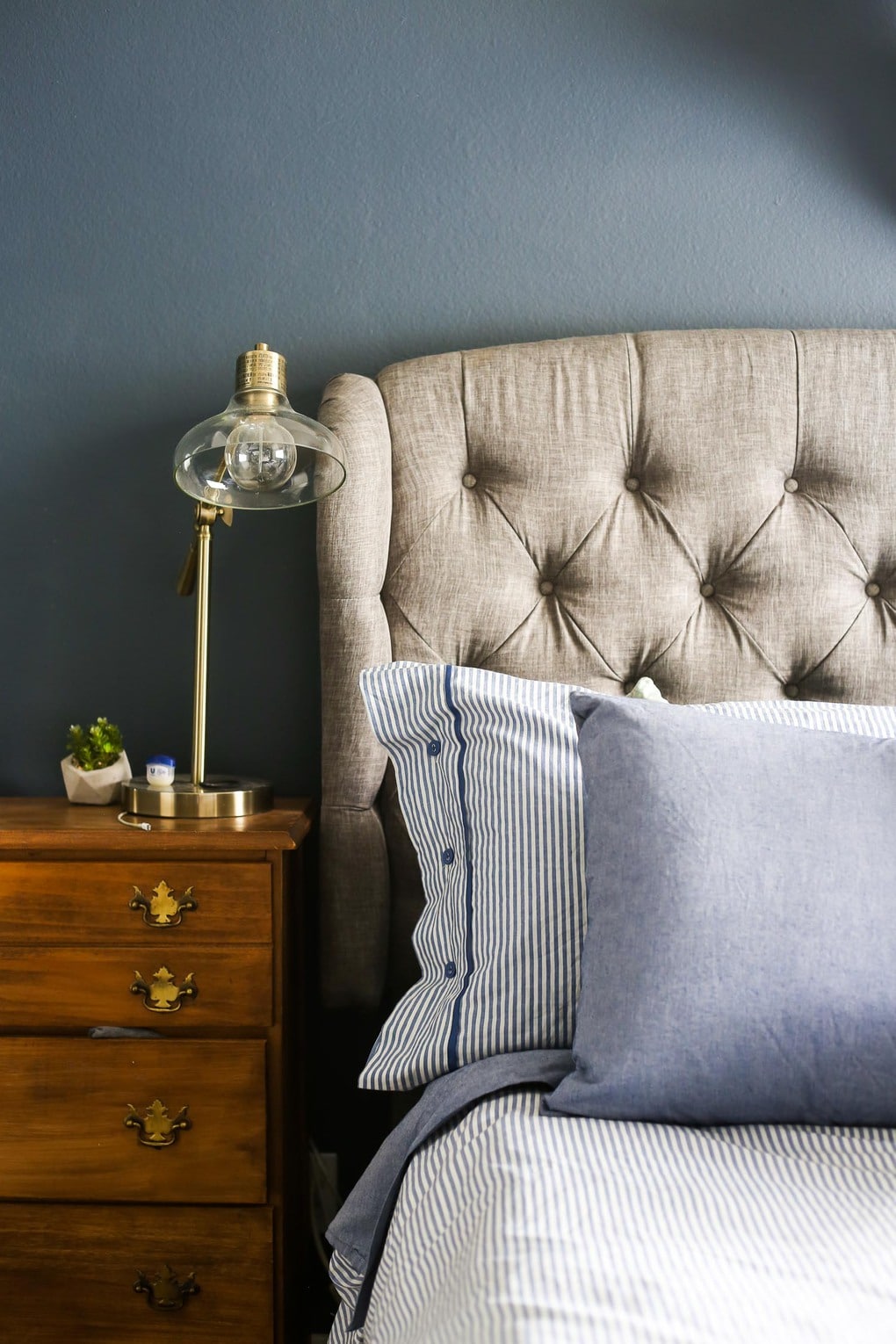 Even though I'm totally in love with the color and the new bedding (which we'll get to in a second), my favorite addition to the room is our new mattress. I'm a little embarrassed to admit this, but our old mattress was well over 10 years old. Corey had it in his room when he was in high school (and I'm pretty sure it wasn't brand new even back then) and it moved with us to college, then back here to Austin. It was ancient. And you could tell when you slept on it.
To be honest, I was a little nervous to try out this mattress from Eve Mattress – Corey and I are very picky about mattresses, and we both often wake up with aching backs when we sleep on certain mattresses in hotels or at friends' houses. Corey and I were both a bit anxious that it wouldn't work out and we'd have to start the search over, but thanks to Eve's 100-day return policy (you can sleep on it for up to 100 days and if you decide you don't like it, you can return it free of charge with no questions asked), we knew it wouldn't be a huge deal if it didn't work out.
YOU GUYS.
It worked out.
Holy moly, this mattress is so good.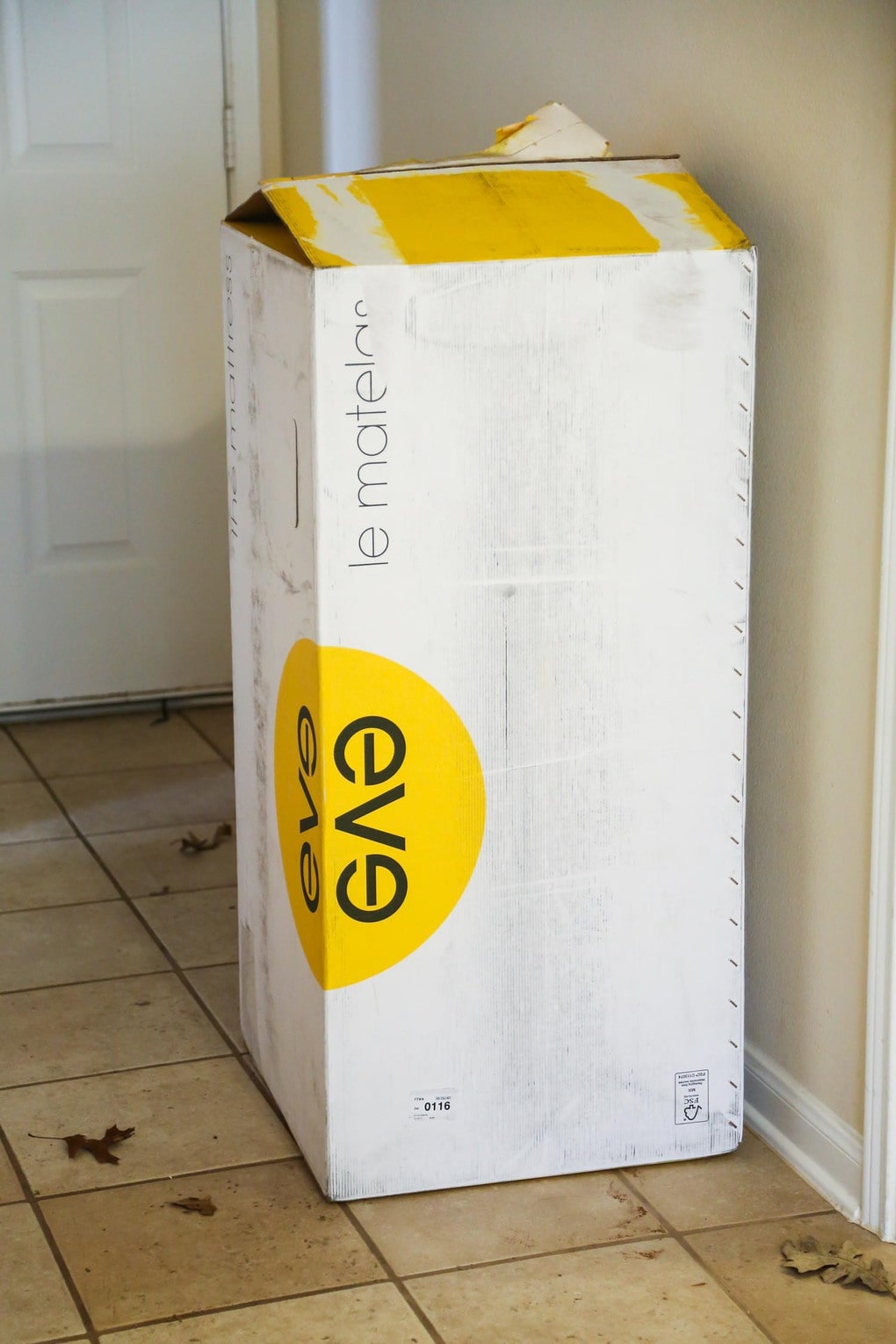 It just so happened to arrive on the day we were moving into the house (and yes, those are leaves all over my floor from everyone tracking in and out of the house all day), so we were able to put it on as we were putting the room together. I've always been fascinated by mattresses that arrive in a box (how do they fit it in there?!), and apparently I'm not the only one – we had several of our moving helpers take a break to come in and watch the mattress expand!
Jackson was probably the most excited about the whole thing. I couldn't keep him off of it long enough to take a photo – he thought it was the coolest thing he had ever seen.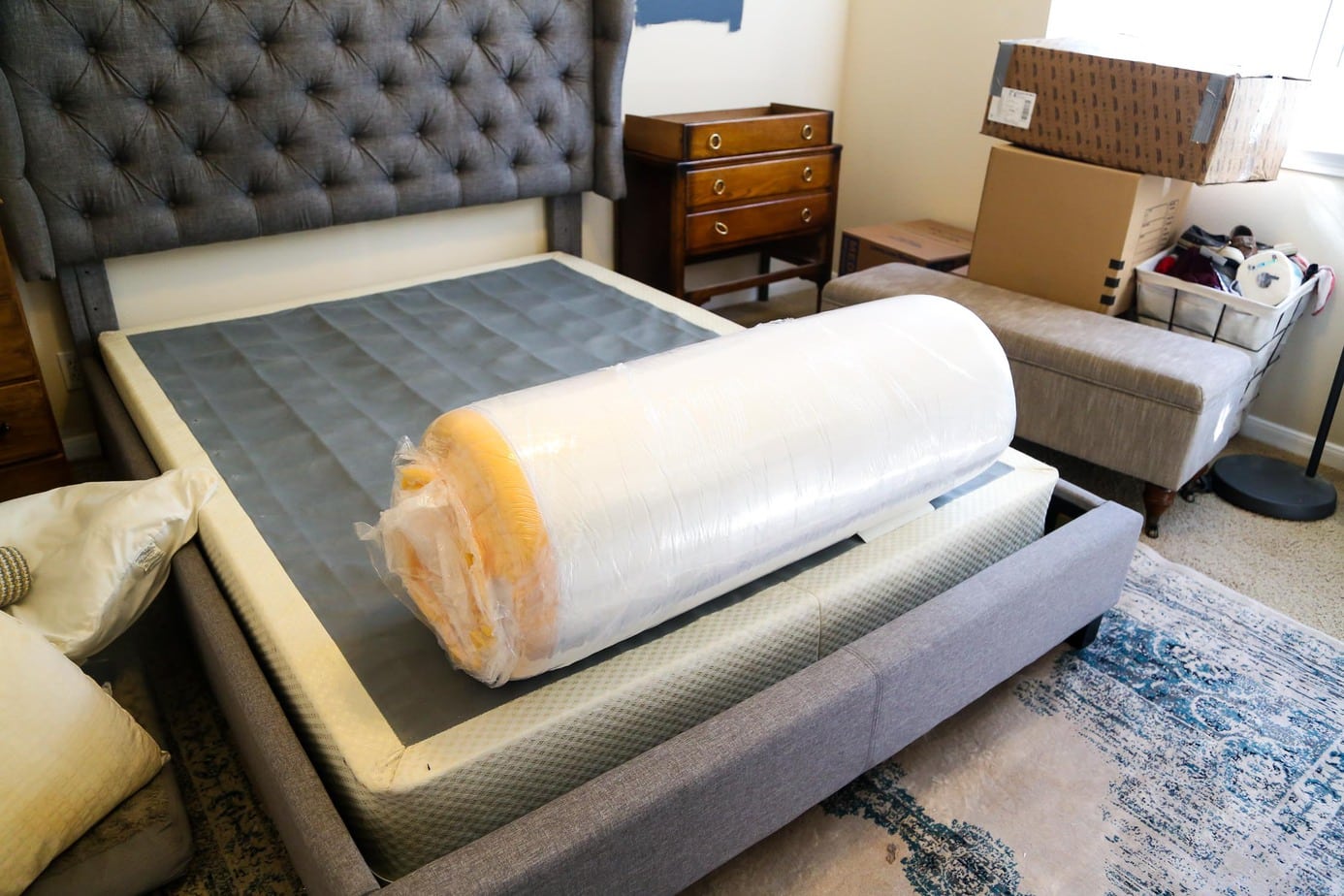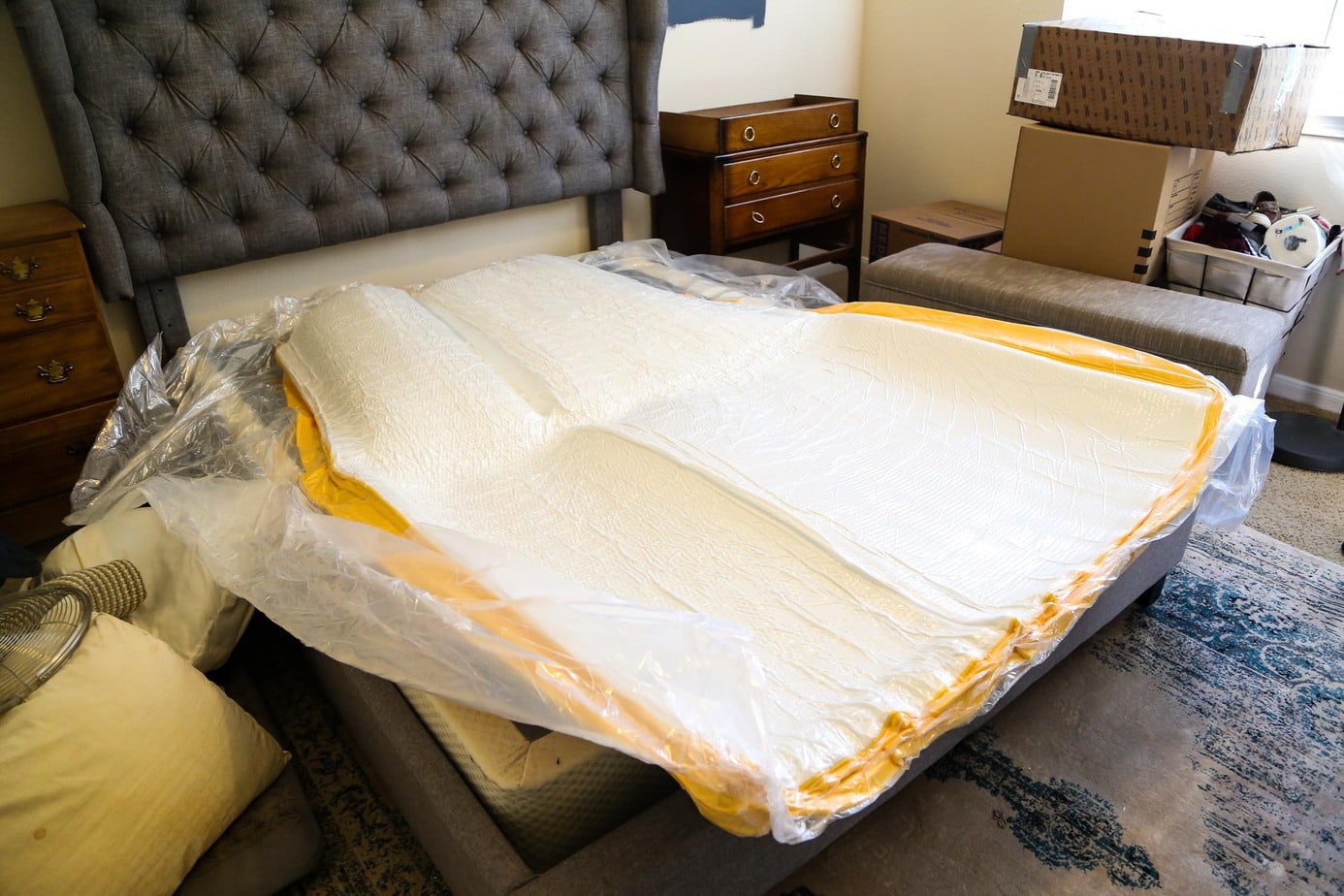 After our first night sleeping here, Corey and I were both tentatively optimistic – we agreed that we really enjoyed sleeping on it, but we had both been moving all day and I think we would have been thrilled to sleep on a cardboard box at that point. But it was just as amazing the second night, and every night after. I sleep so much more deeply than I ever did before – it's amazing and bizarre at the same time. I find that I don't toss and turn hardly at all anymore, and I don't wake up with a sore back anymore.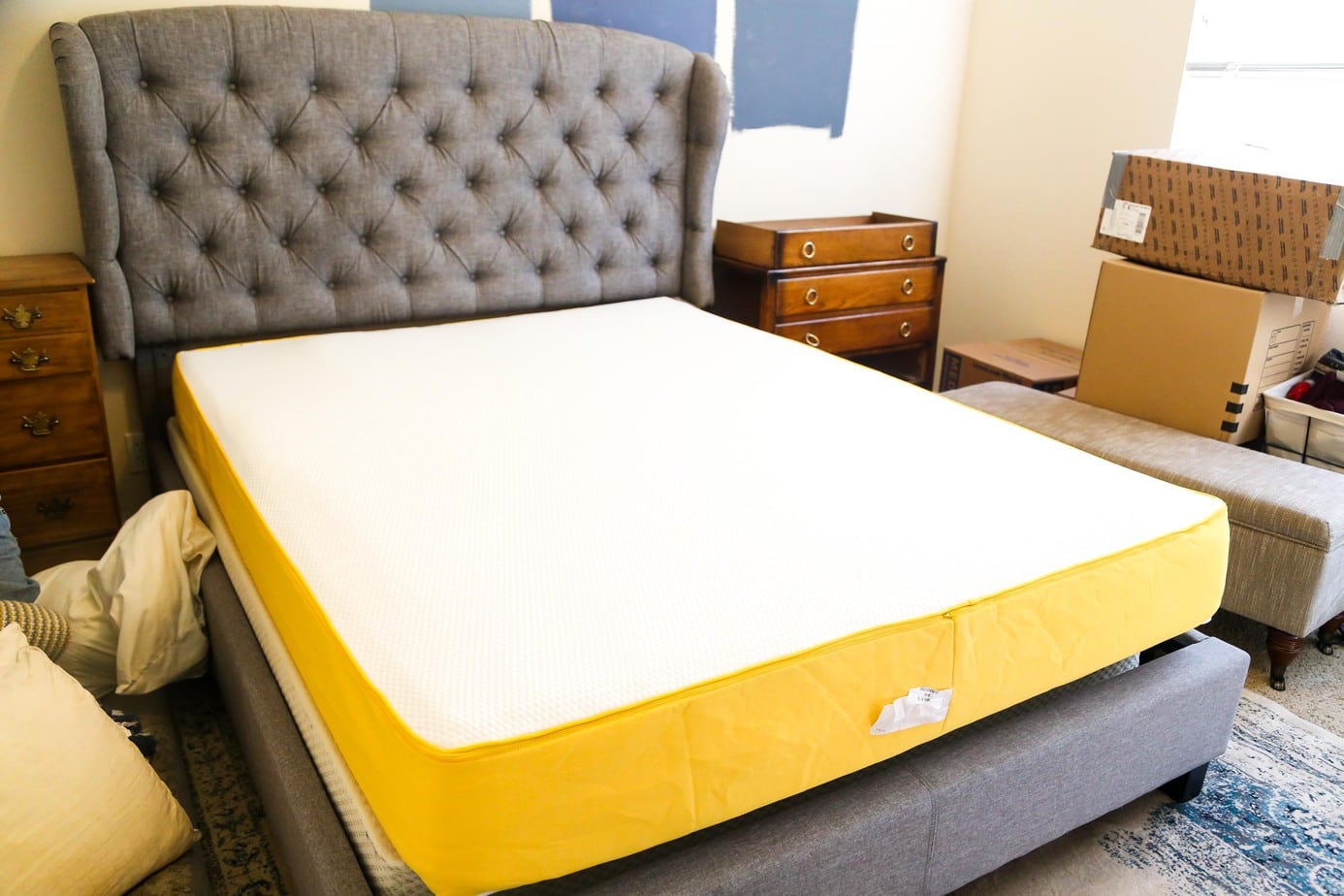 I'm really not exaggerating when I say this thing is life-changing. Other than how amazingly comfortable it is, it has a cooling layer that actually works. Corey and I both run pretty warm at night, and there's nothing we love more than a freezing cold bedroom. I find that I'm much more comfortable throughout the night with this mattress and I actually keep my blankets on rather than kicking them off halfway through the night.
Having this mattress has been particularly wonderful in the first few weeks of living here, since we've ended up having to wait several weeks for our new sofa to arrive (it just came this week). With no seating in the living room, the bed has been our go-to lounging spot for the entire family, and it's just so dang comfortable we have a hard time getting out of it.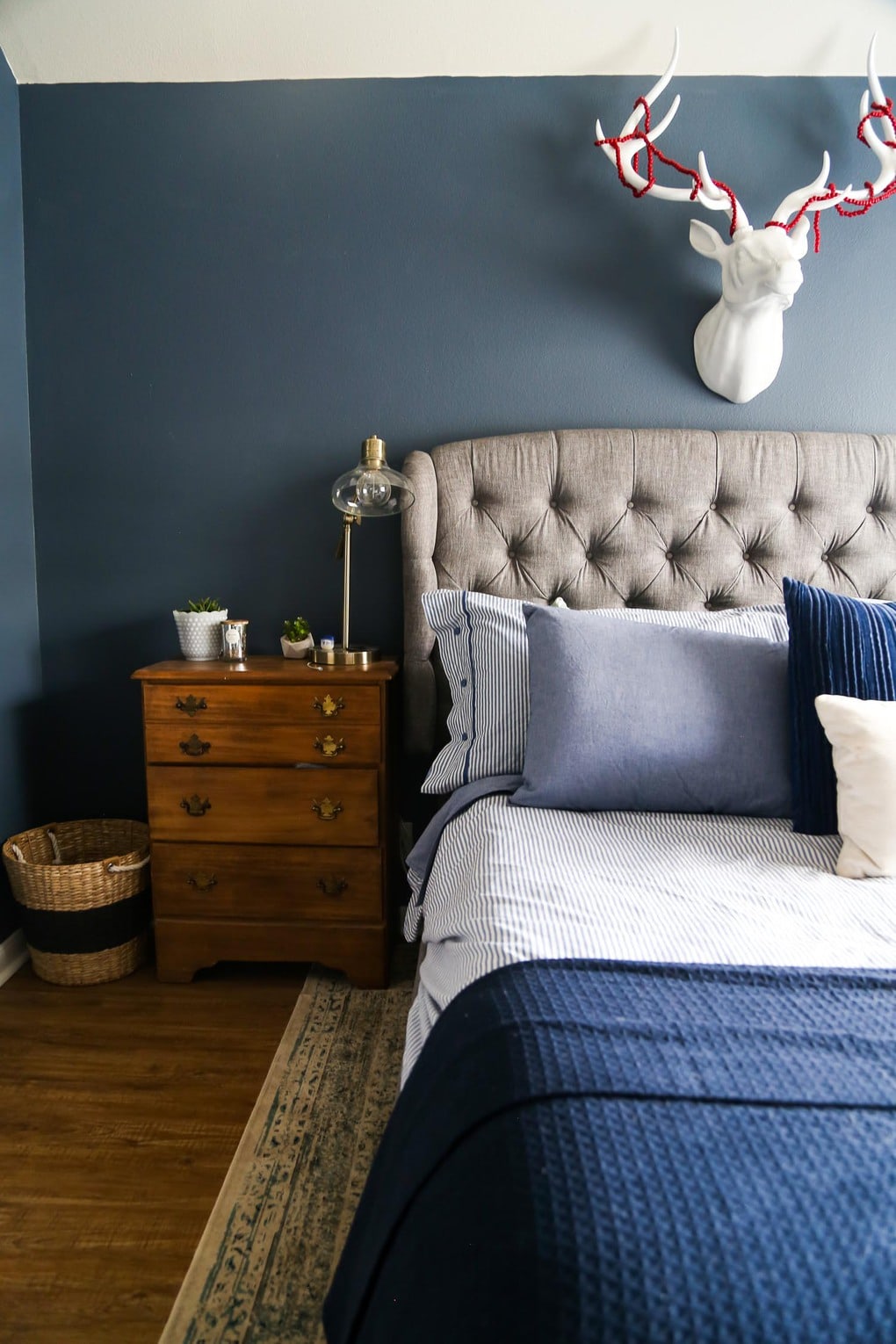 You may have noticed that the bedding is a pretty major shift from what we've had in the past. Corey and I have always had really bright and colorful bedding – largely due to a combination of the color we had on the walls in the old house (it was hard to find things that went well with it!), and the fact that we have dogs who spend a lot of time in our bed and plain white bedding just doesn't work for us. However, like I said, I'm feeling much more neutral patterns and dark colors in this home. I want our master bedroom to be calm, peaceful, and cozy.
And oh boy, is it ever.
The sheets are from Rejuvenation – we snagged them on a major sale, and they're not available anymore but these are similar – they're chambray, which means they feel a bit different than regular sheets, but I think they're incredibly comfortable. Corey still hasn't decided how he feels about them, but he's very picky about his sheets. We both agree that they're gorgeous, though. The duvet cover is the Nyponros from IKEA, and we added on a pretty navy blanket and a throw from Tuesday Morning. I'd still like to find a throw pillow or two that has some color in it, but I'm taking my time to find just the right thing. We need to add some feminine touches to this room, so I'm on the lookout for something that will soften things up a bit.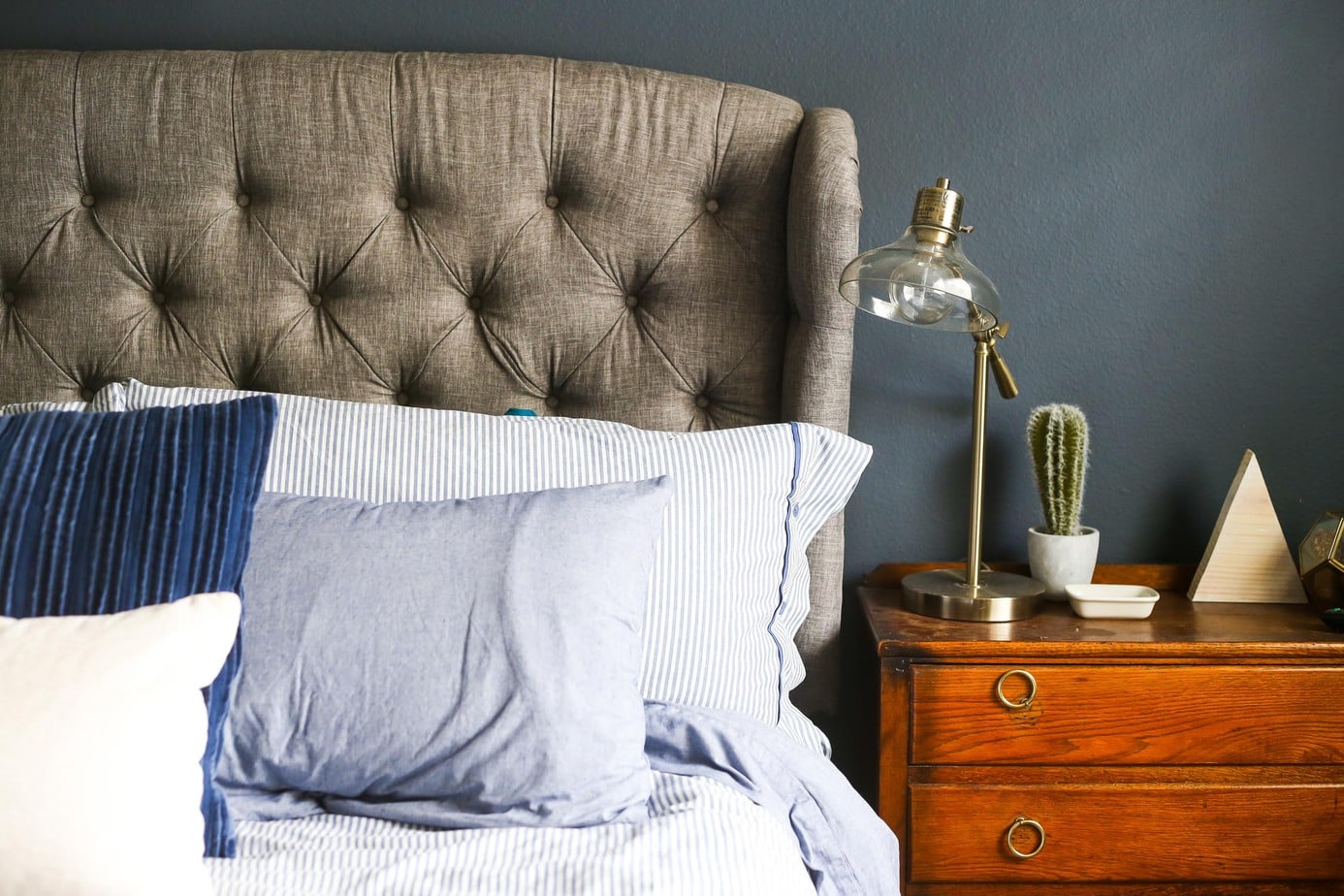 We hung our beloved deer head above the bed in here, and it's the perfect spot. We had it above the fireplace in our old house, but we're hanging our television there in this one. We wanted to be sure the deer had a place of prominence (because it's one of our favorite things we own!), and I'm loving it there (I wrote a whole post with ideas for how to decorate above the bed, if you're struggling with that area too).
There's still quite a bit to do in here. The nightstands make both of us crazy and they have to go, and the other half of the room is still a hot mess. I'm also thinking we'll eventually replace the rug, but we're in no rush to do that – this one works perfectly fine for now.
We're still a long way from done – but I can't even begin to tell you how good it feels to spend some time working on our bedroom first. We're hoping to be able to tackle the master bathroom sooner rather than later – we learned our lesson with the last house and we're taking care of ourselves first this time around.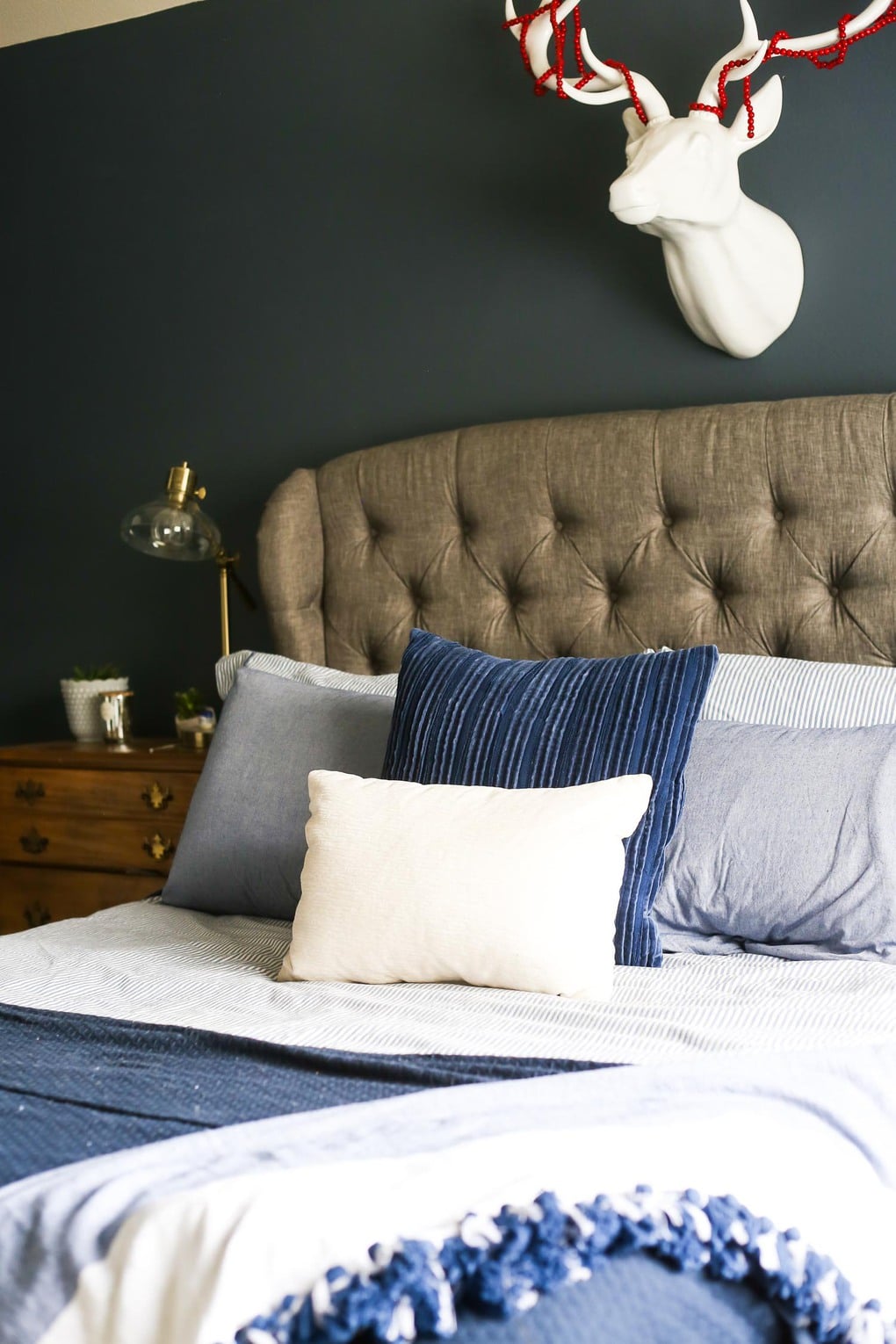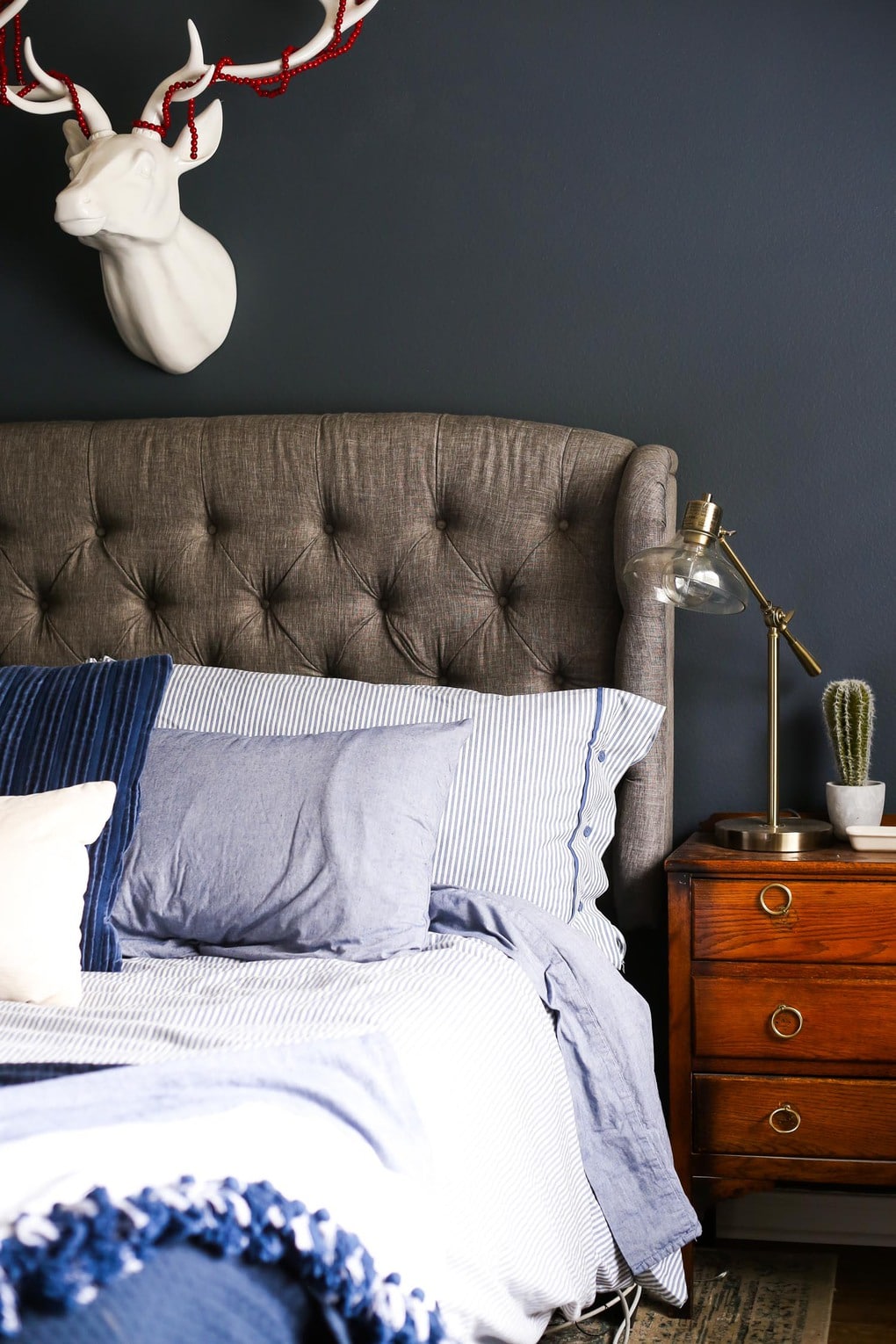 The eagle-eyed among you may also have noticed the new flooring here. I've mentioned that we already replaced the carpet throughout the house, and I promise I'll share the details on the new floors soon. They're vinyl plank (which is also what we did in the old house), and we love them.
If you're in the market for a new mattress anytime soon, I can't recommend Eve Mattress enough. Especially if you want to take care of yourself and focus on making your room nice instead of worrying about the rest of the house. It's worth it – I promise.
Just be prepared to have a really hard time getting out of bed every morning.
Want to give Eve Mattress a shot in your own home? I can get you $150 off your order – just use promo code "eve150love" at checkout! Happy sleeping!