We just gave our front door a total overhaul by painting it and adding a window (yes, I said we added a window to our front door!), and the end result is absolutely stunning – and so easy to achieve! See all of the details of our front door makeover in this post. This post is sponsored by Zabitat, but all opinions are 100% mine.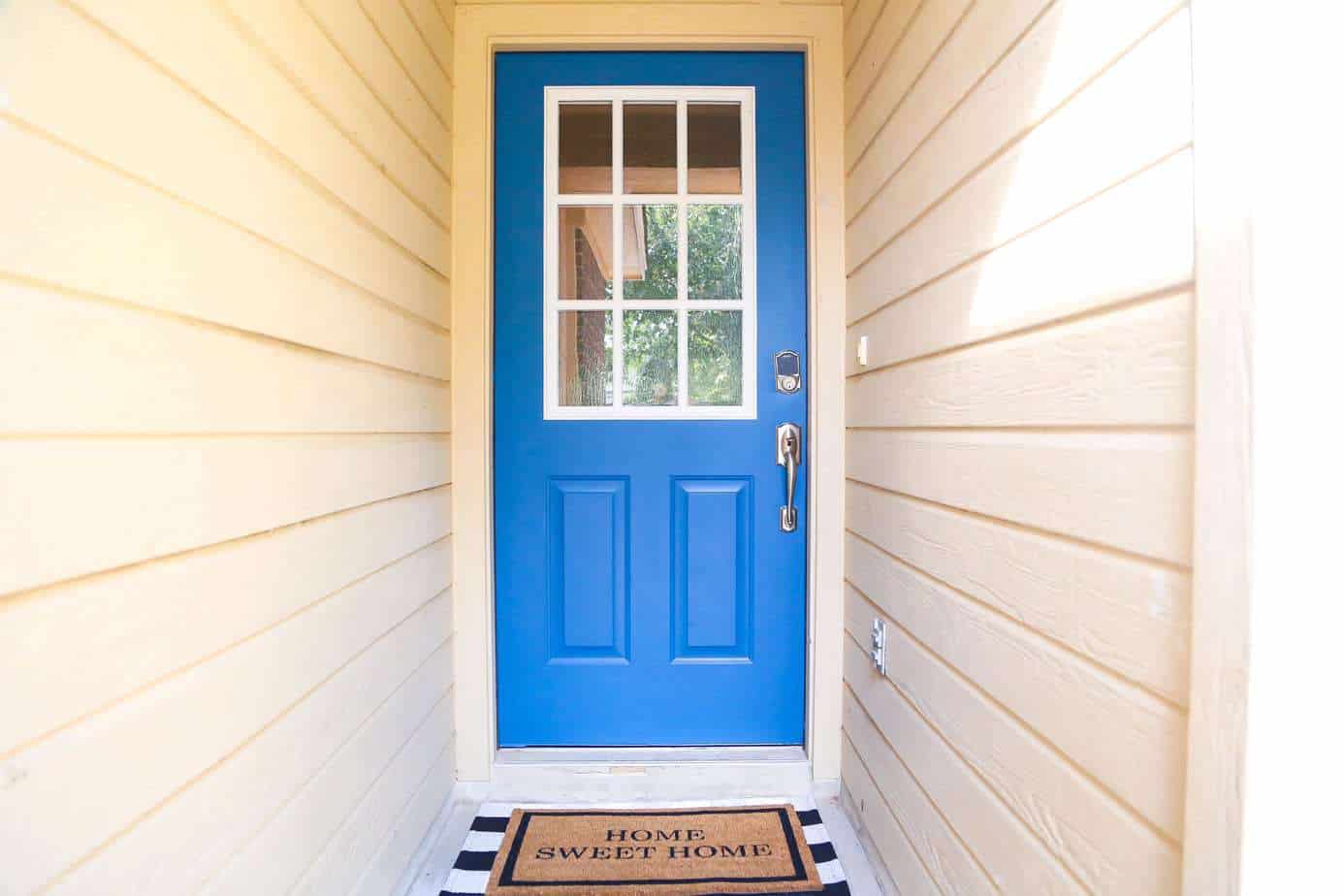 Y'ALL.
Y'all.
I really just don't even know where to begin with this one. I mean, come on.
Before I even say anything, let me remind you that before this past weekend our front door looked like this: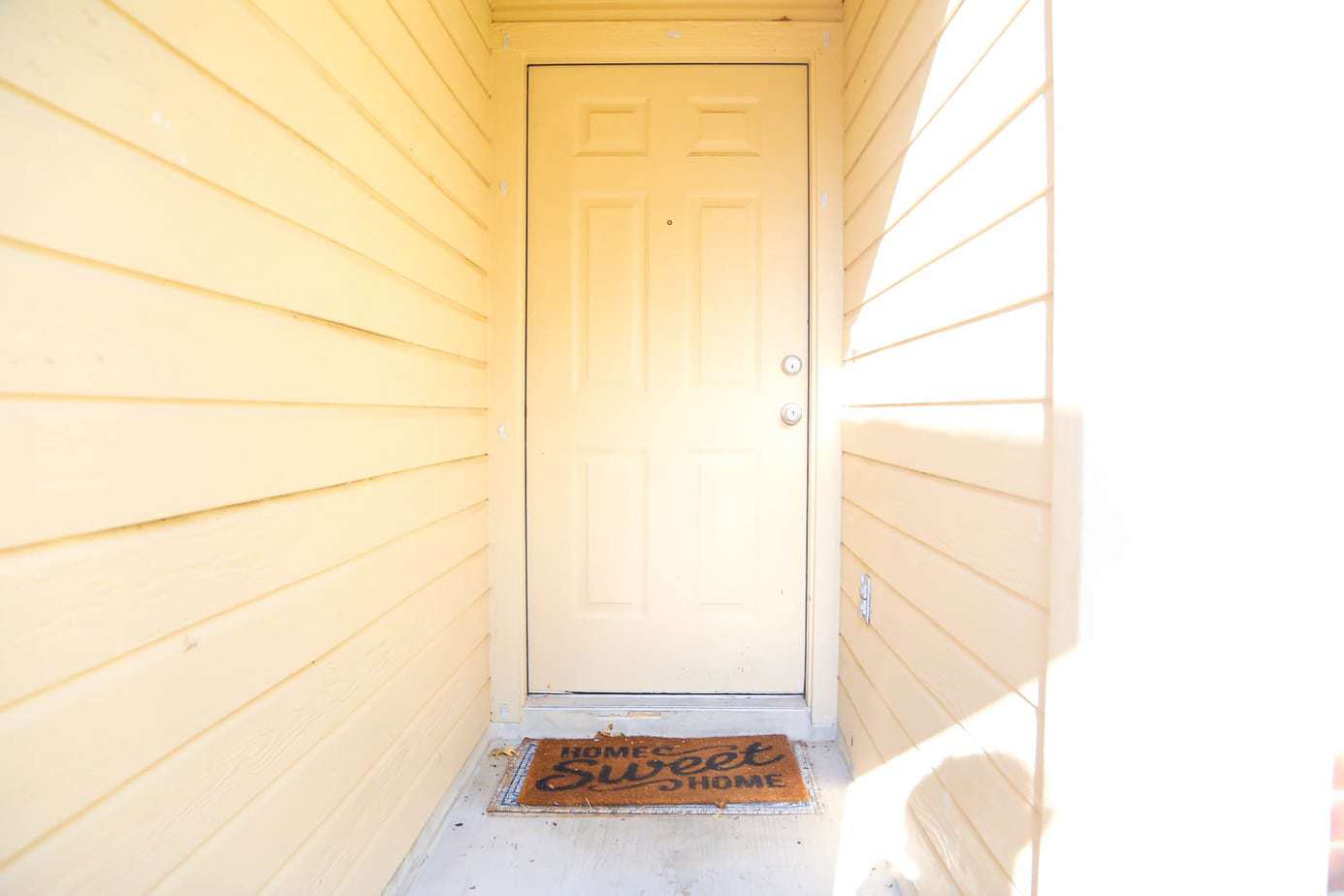 And now it's that gorgeous door you saw at the beginning of the post.
WHAT?
I cannot even comprehend the fact that we did this ourselves. We did that! We added a window to our front door! All by ourselves! And it was (dare I say it?) easy!
If you read my post introducing this project last week, then you'll know that we partnered with the fabulous folks at Zabitat for this makeover. I had no idea this product existed until they reached out to me, and I really truly believe everyone needs to know about this because my mind is just blown. Head back to that post to read up on all of the details of Zabitat, what they make, and how it works – but read on to find out how we totally transformed our front door in just an afternoon.
DIY Front Door Makeover
I know it's hard to imagine how this is actually even possible, so let's start off with the most important part: I made a video of the entire process so you can see how it works! I'll share photos and more details down below, but you know you want to see our reactions when we literally cut a giant hole in our front door (in the middle of August. In Texas. While I'm 9 months pregnant).
Are you freaking out yet? Because I'm still freaking out a little bit. It's so hard to believe that this is my actual front door now!
Wanna hear the full details on how we did it? Let's dive in!
How to Add a Window to Your Front Door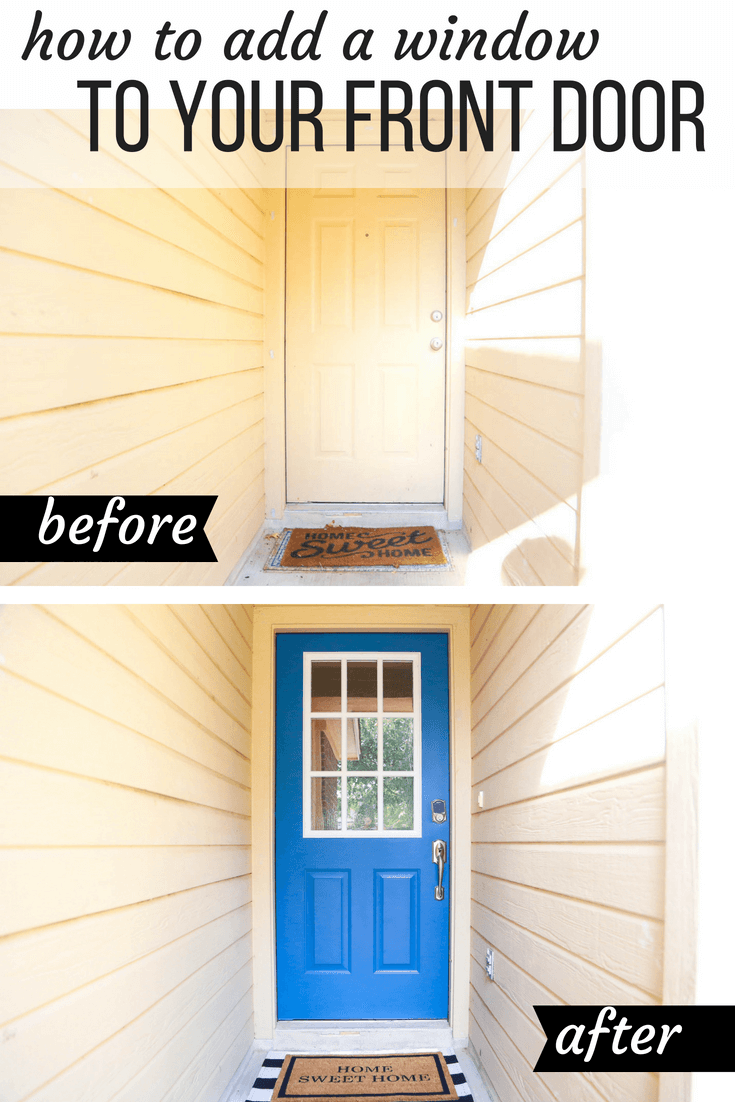 AN IMPORTANT NOTE:
The first step in this project is to NOT follow my tutorial here and to head over to Zabitat for their fully detailed installation instructions. I'm sharing the process mainly to give you a general idea of what it's like (and how simple it is), but if you're actually tackling this project you're going to want to get your instructions straight from the source.
Got it? Good.
Step 1: Remove Door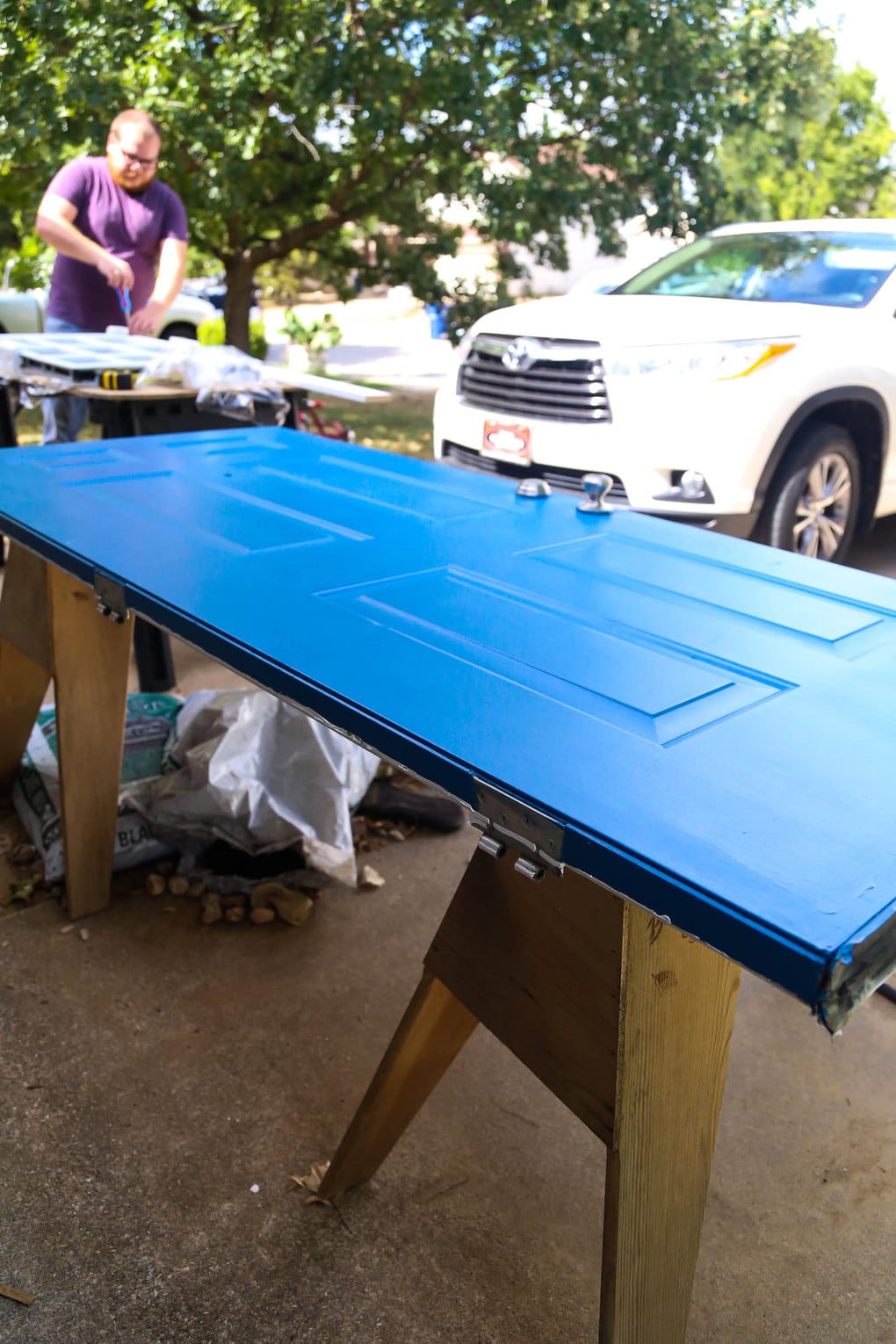 We painted our door before we even started the project, because it was desperately in need of some color. So, technically that was our first step. The color we chose is Georgian Bay from the HGTV Home by Sherwin Williams line. Then, Corey removed the door from the hinges so we could get to work.
Step 2: Measure and Mark for Your Cuts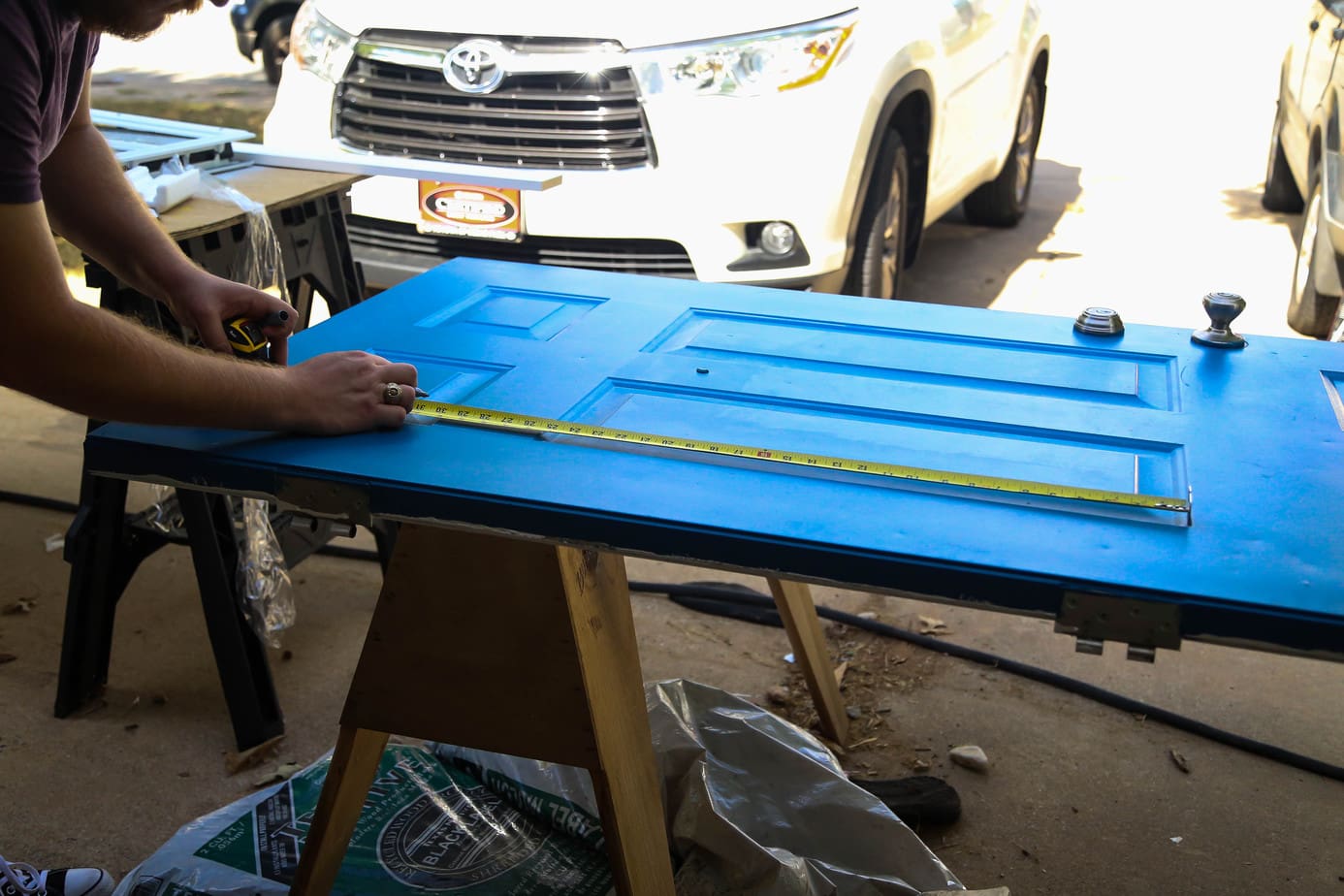 Using the measurement guide on Zabitat's website, measure the size of your cut and mark it on the door. Take your time here because nobody wants a too-big hole!
We measured the size of the hole, then used a Sharpie and a level to draw a perfectly straight line. Like I said, this is probably the most important part of the entire project because it sets the stage for the rest of it. Don't rush, and measure more than once!
Step 3: Add Painter's Tape Around Your Line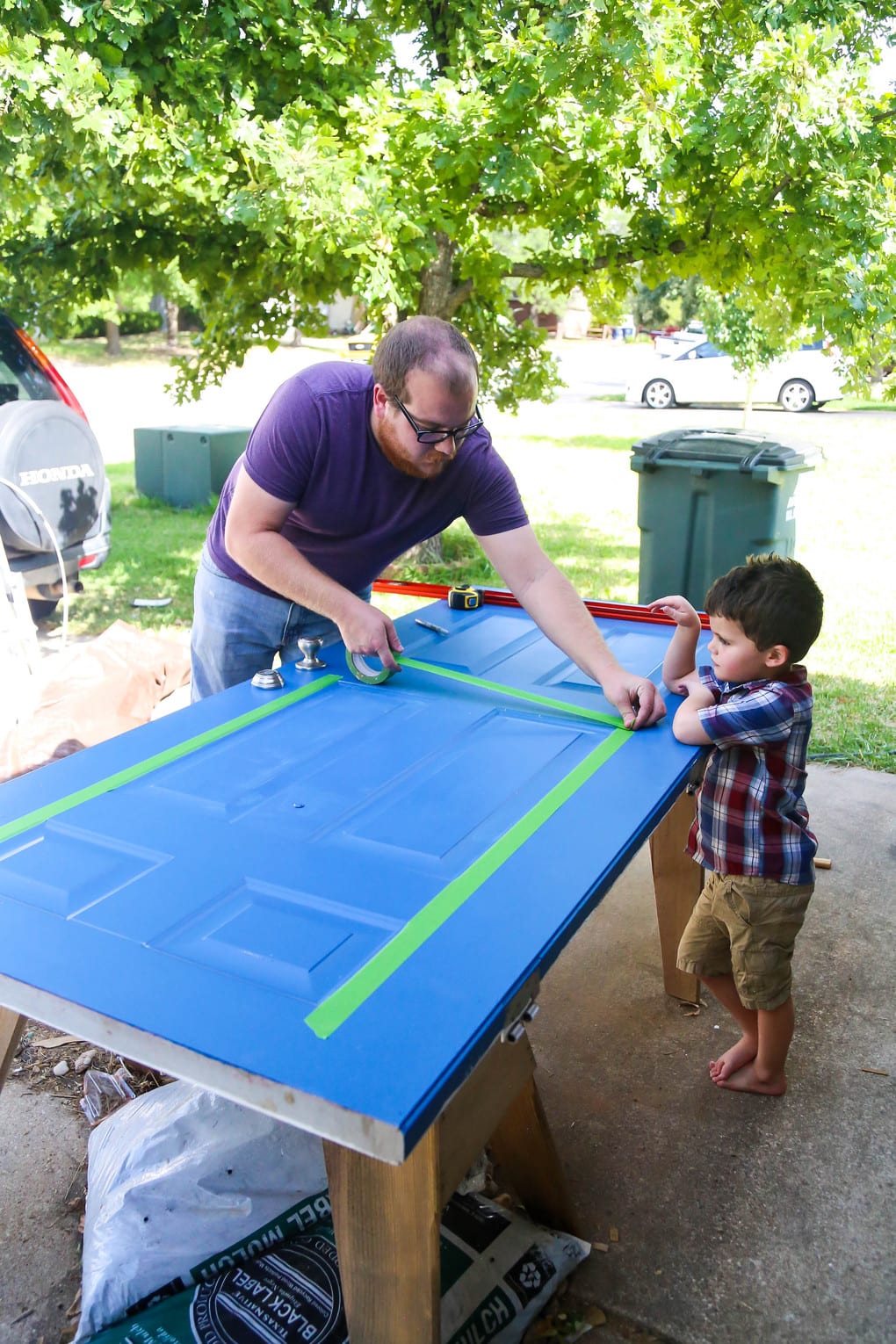 Metal can splinter when cut, so you'll want to be sure to add painter's tape all around the edges of your cut to help prevent any issues. Again – move slowly and be methodical with this!
It helps if you have a bossy 4-year-old supervising.
Step 4: Drill Starter Holes in All 4 Corners!
We used a 1/2″ drill bit to drill starter holes in all of the corners. You might notice in the video that our starter holes went all the way through the door – don't do that! We didn't realize until it was too late that the holes were only supposed to be on the top part. Thankfully, it had zero impact on the finished product because we were very careful, but we could have easily messed things up. It's a good reminder that you should fully read the instructions provided by the manufacturer (twice!) before diving in.
Step 5: Use a Jigsaw to Cut Along the Line
Now it's time for the super scary part – cutting out the hole. I was pretty terrified (because again, hello giant hole in my front door!), but it really was no big deal and was a breeze to cut through.
A quick note: do not cut all the way through your door! You're going to be flipping the door over and repeating the process in a minute, so only cut through one layer of metal.
Step 6: Flip the Door Over and Repeat Steps 2-5!
Now you're gonna do it all over again for the other side of the door. Once you're done, you should be able to easily remove the panel you just cut out – if you've done it properly, it'll slip right out!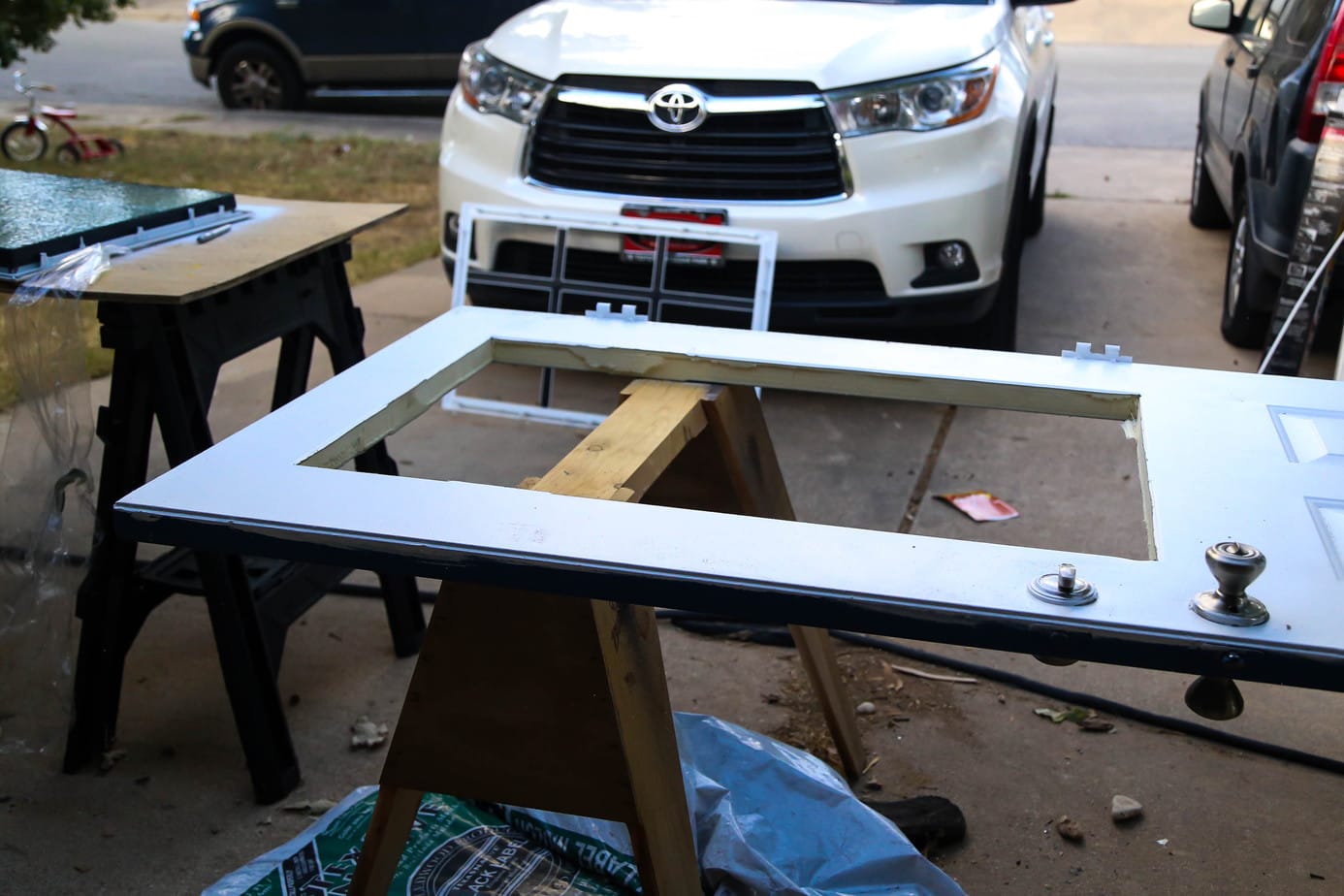 You're free to stop here and have a minor panic attack about the entire project failing and having to go buy a new front door.
We certainly did.
But afterward, get yourself together and chill out because I promise this is no big deal! 
Step 7: Install the Glass!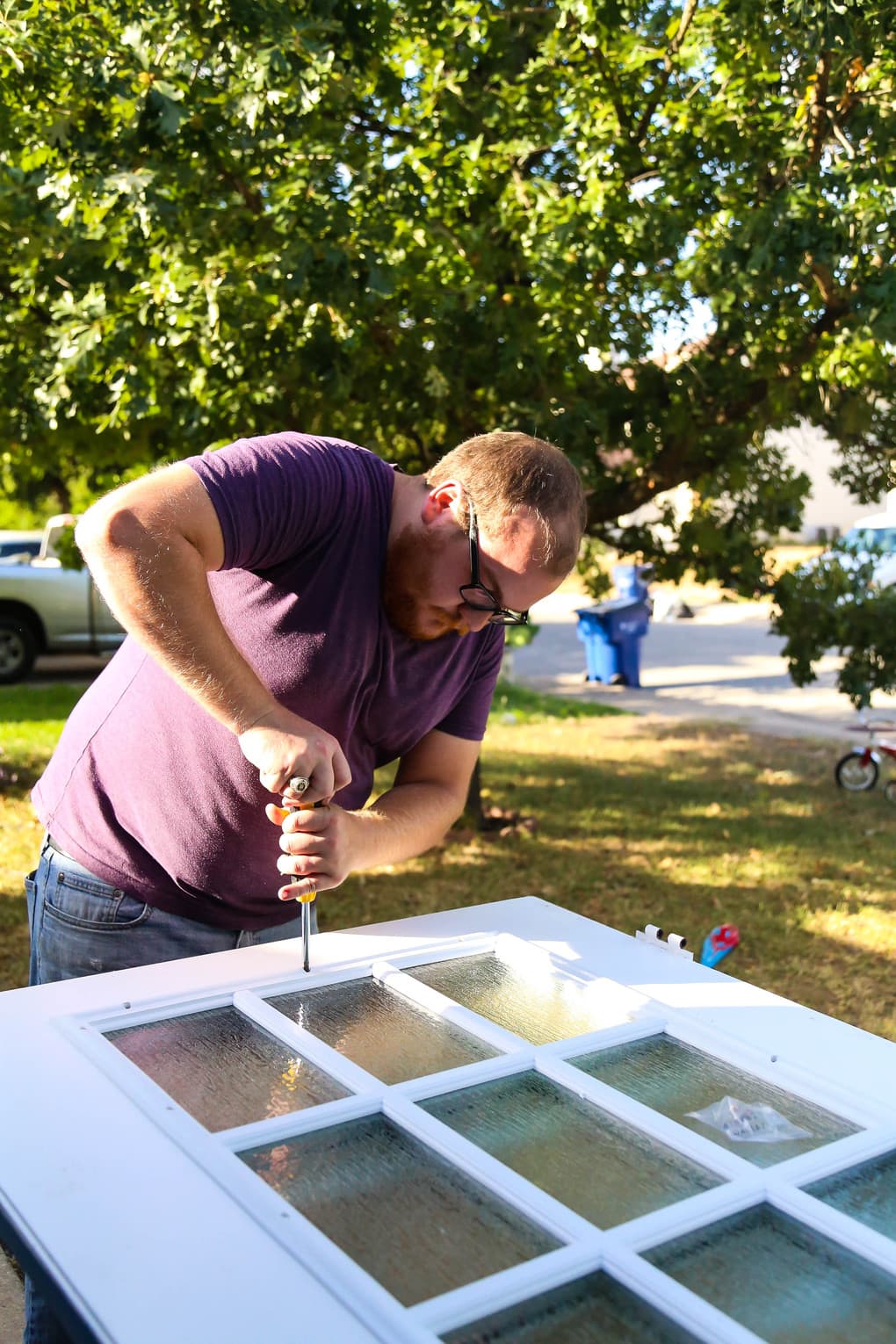 Now, you'll simply lay your glass out on the sawhorses, then pick your door up and (gently! carefully!) lay it on top of the glass. Then, fit the frame back on top and screw it in!
For those who have already been asking, here's the link to the exact window we chose for our front door!
Step 8: Put Your Door Back Up and Breathe a Sigh of Relief
Now you're ready to re-install your door and take a deeeeeeeep breath because you did it! You installed a window in a door that didn't have a window before! How amazing is that?!
In all seriousness, I really do think this is a pretty incredible product and I am so incredibly pleased at how the makeover turned out. I can't believe how gorgeous our front door looks now and I literally still think that we've left the front door open every time we walk by because I'm not used to having so much natural light in our entry!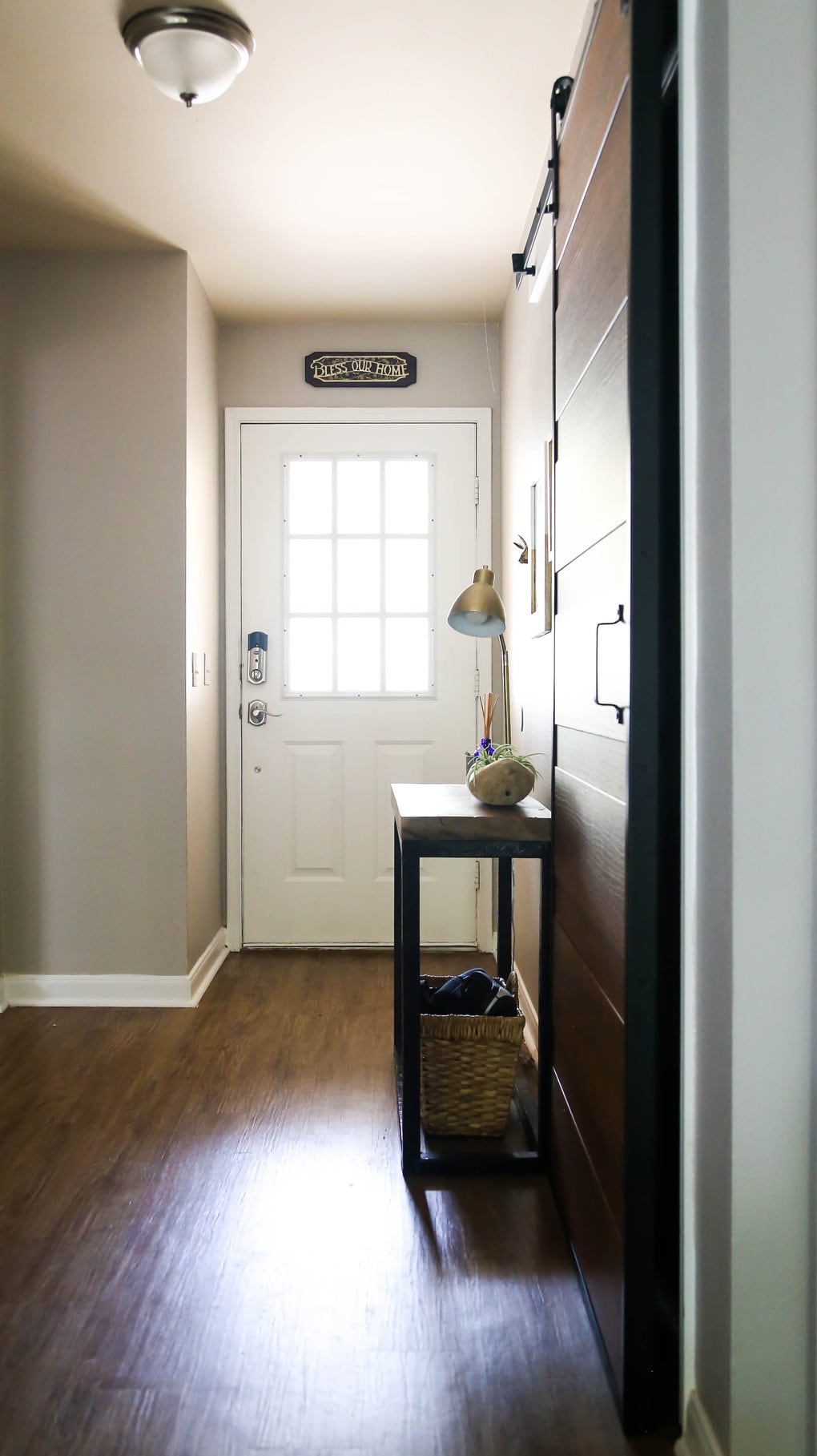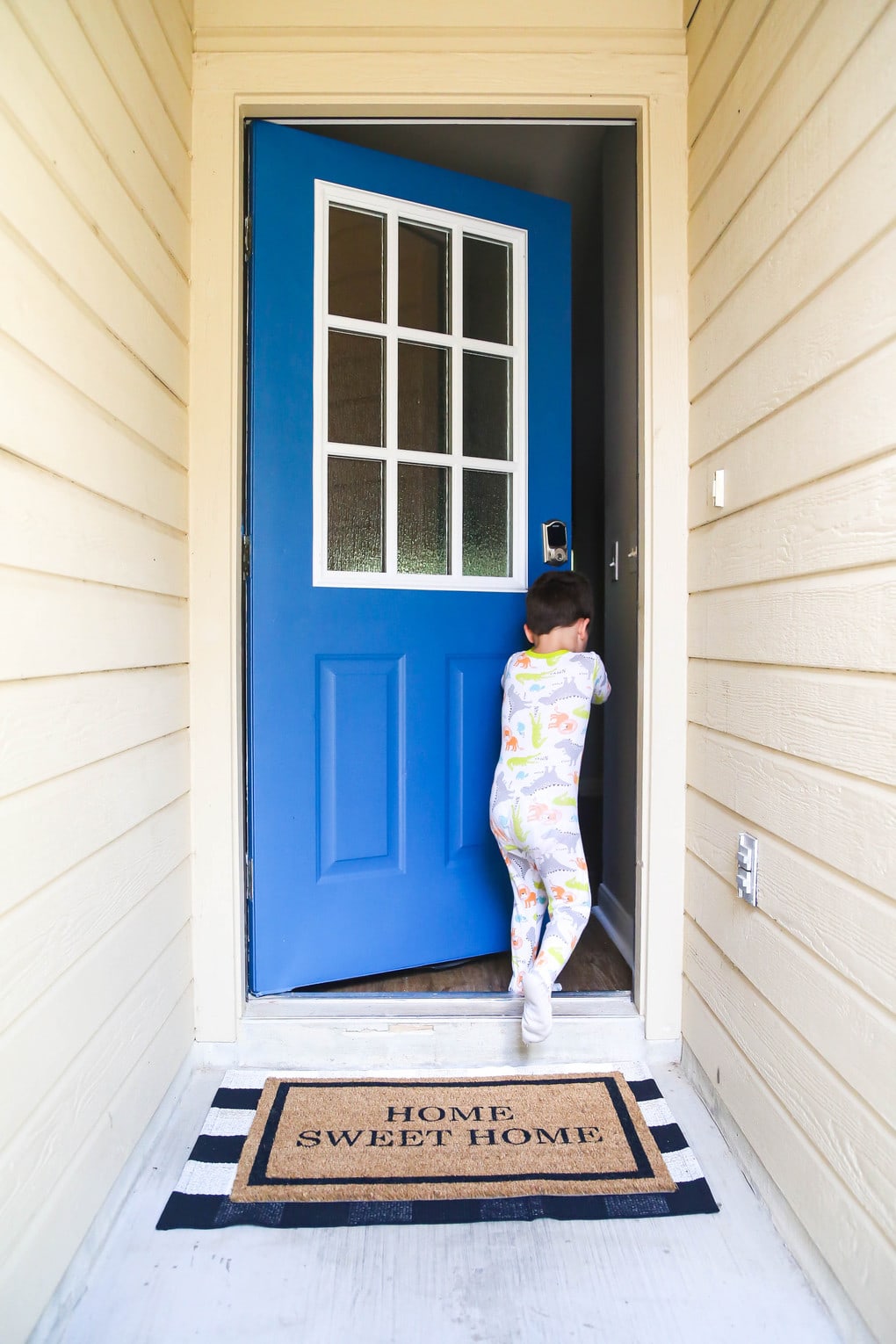 I also feel like it's important to note that the window we chose has a really high privacy rating and you absolutely cannot see anything through it unless the person on the other side is literally pressed against the glass. I love that we can maintain our privacy and keep ignoring door-to-door salesmen who ring the doorbell without them awkwardly staring at us.
You may also notice that while we were working on the door, we went ahead and replaced the handle and deadbolt. We were spoiled by having keyless entry in the old house and we've missed it desperately since we moved here. We bought the same setup we had before to install here, and life is good again – no more dealing with keys!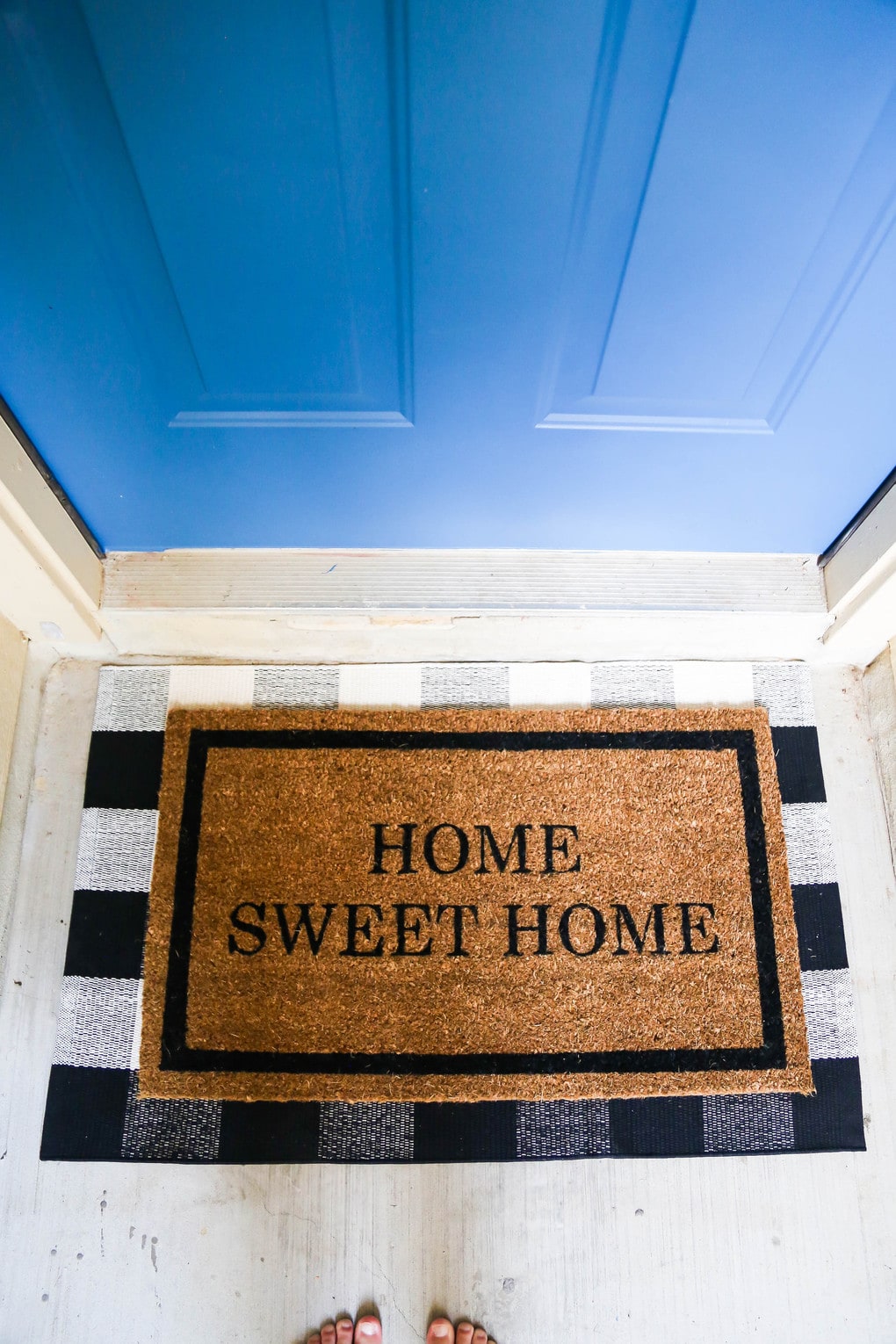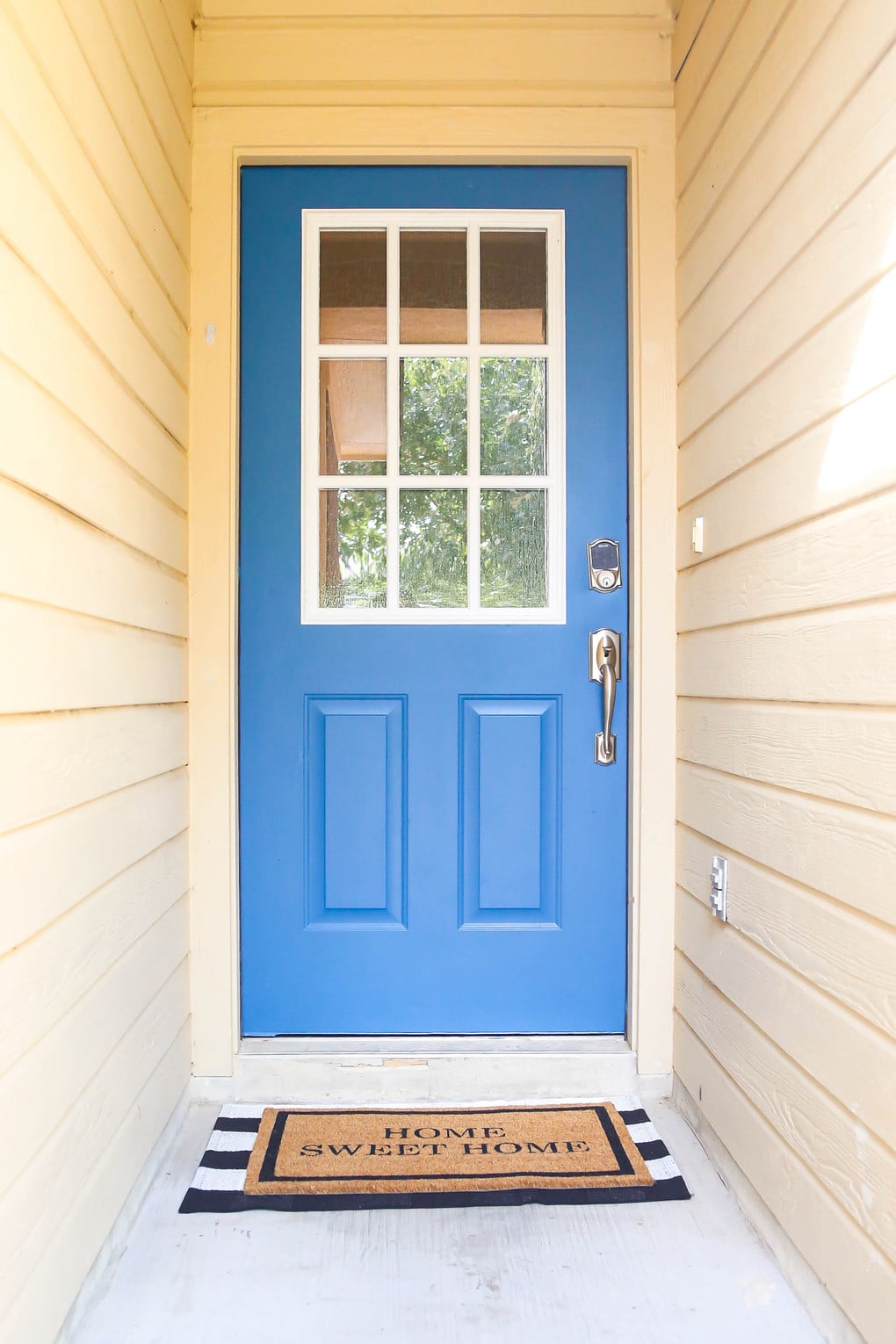 If you've got a front door that needs a quick makeover (but you don't want to buy a whole new door), I highly recommend you check out all of the options on Zabitat. Their products are truly just absolutely genius and I'm so glad we got the chance to try them out!
Would you ever cut a hole in your front door to install a window?!