On the morning of Sunday, August 26th, I woke up feeling off.
I couldn't quite put my finger on it, but something was different – I couldn't drag myself out of bed until about 9:30, and when I did manage to get up I still felt pretty awful. Corey and I knew that this would be the last Sunday we had as just a family of 3 (if Grant wasn't born by the next Friday, I would be induced), so we decided that we'd take it easy that day. No church, no responsibilities, just a quiet family day.
We went to lunch with my parents and some friends and joked that this baby better show up soon or I might go crazy.
We came home and watched television, snuggled up on the couch, and tried to focus on giving Jackson as much 1:1 time as we could.
In the back of my mind, I had a nagging feeling that I would be going into labor soon. I didn't put it into words (because I'd been wrong before!) but something felt different today.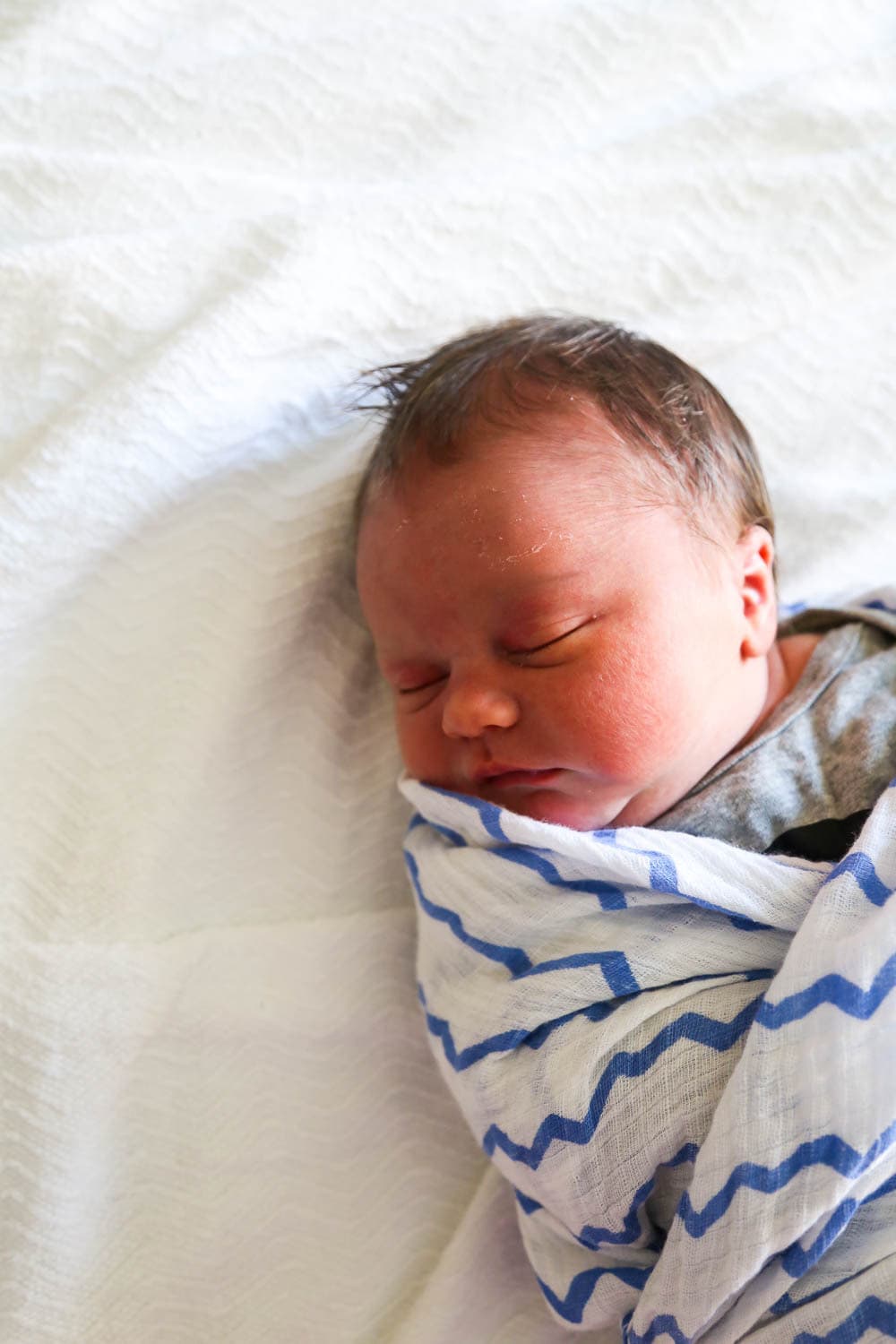 I'd been having contractions on and off for weeks, and at my 38-week doctor appointment a few days prior, I was already dilated to 4 centimeters. At that point with Jackson I was already admitted to the hospital and had an epidural in place, so needless to say, I was feeling antsy.
That evening, Jackson was taking a bath while Corey and I hung out in our room, watching television. Jackson called me to come help him get clean, and as I walked back to our room I was hit with a contraction that felt notably different from all of the other ones. Stronger. More intense. Quite painful. As I climbed back into bed I mentioned it to Corey and his eyes lit up. Quickly, I downplayed it, because we had had more than a few false starts already and we were both on the edge of our seats.
After we put Jackson to bed and went about our evening, I continued to feel these much more painful contractions. They were 15-20 minutes apart, but I still wasn't convinced this was the real thing. I suffered through them in silence and tried not to alert Corey to anything because I didn't want to get his hopes up for no reason.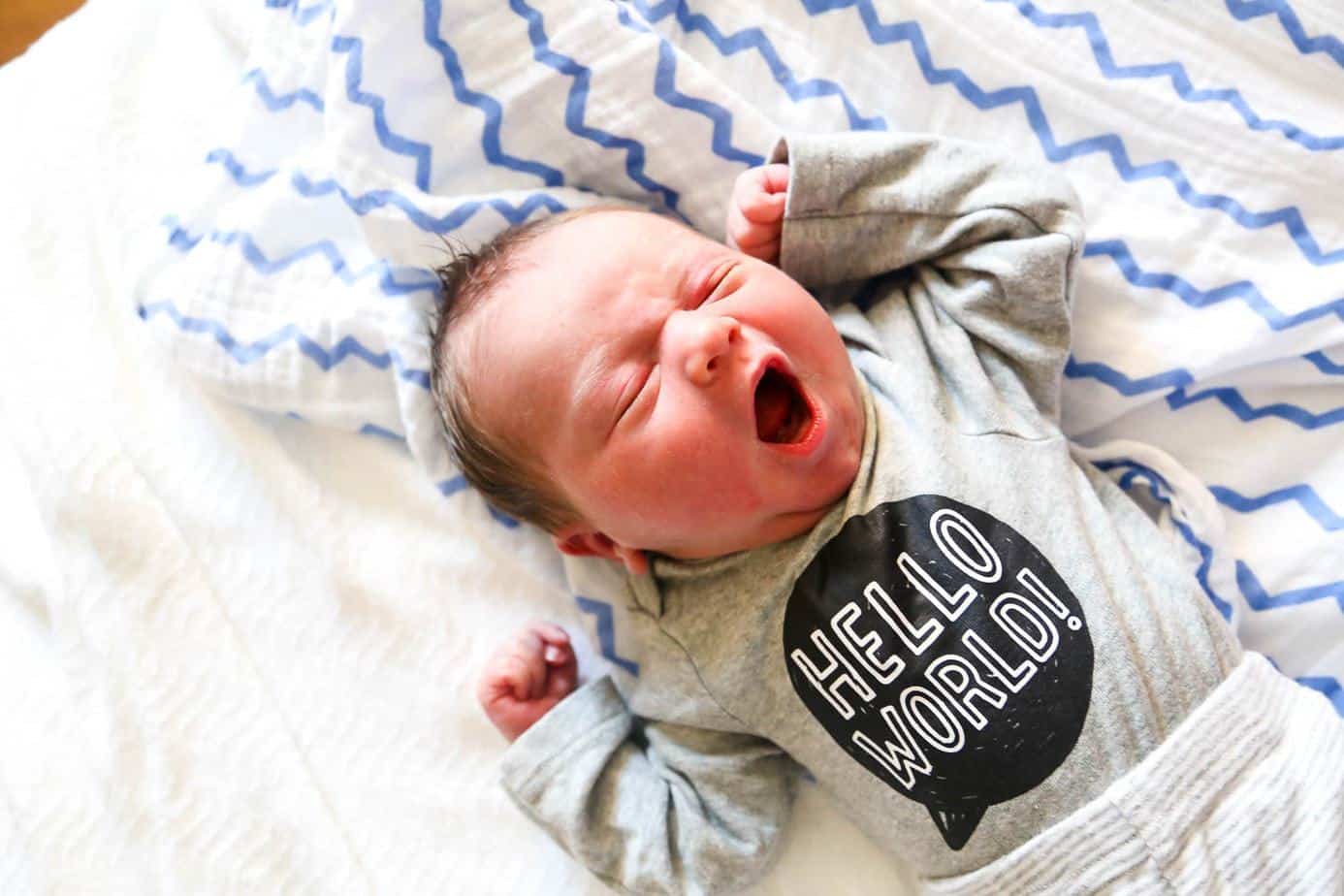 By about 9:30, the contractions were 10 minutes apart and I was discreetly timing them on my phone. I finally told Corey that I thought I was in labor, and encouraged him to go ahead and get some sleep just in case. He managed to go to sleep relatively quickly, but I lay in bed for the next few hours and quietly waited for each wave to hit. By midnight, I couldn't sit still through the contractions any longer and had to get up and move through them. I needed a distraction so I headed into the bathroom to straighten my hair.
Because goodness knows that's a priority when you're about to have a baby. Wouldn't wanna make a bad first impression.
On a related note, I painted my nails in the very beginning stages of Jackson's labor, so apparently this is just a thing I do. Consider it a last-ditch nesting effort, only on my body instead of my home.
By about 12:30 AM I knew it was go time. My contractions had been about 5 minutes apart for a little over half an hour, and we had a 25-minute drive to the hospital. I was terrified of being sent home (it happened with Jackson), so I woke Corey up and had him call the hospital for me to see if they thought I should come in – I knew there was no way I could survive a phone conversation right then.
They agreed that even though I hadn't hit the 1-hour mark I should probably head in, given how dilated I already was and how far our drive was. We called my sister to head over to the house to be with Jackson and began packing up our stuff. Right before we left, I snuck into Jackson's room and took one last photo of my only child.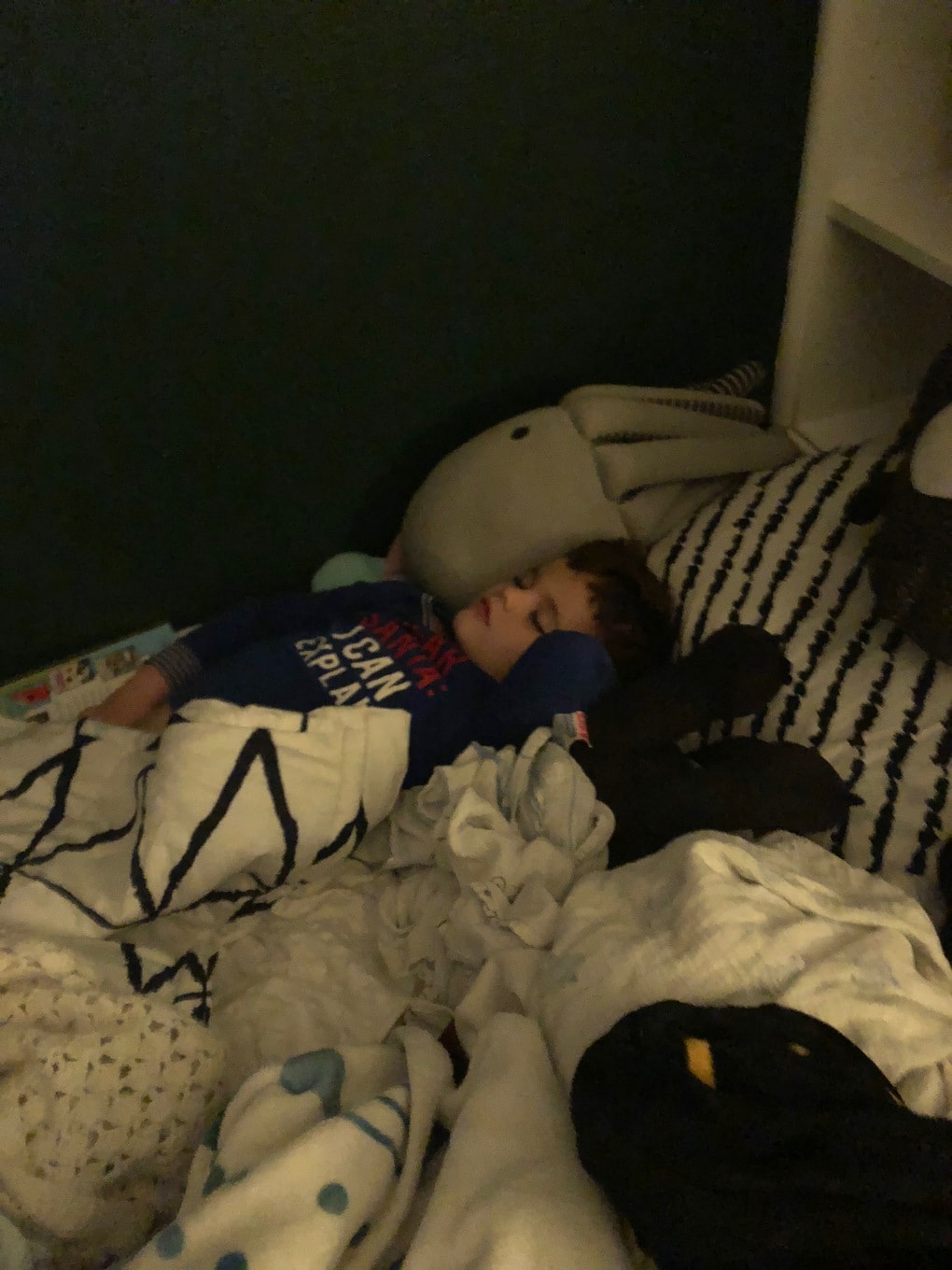 We arrived at the hospital right at about 1 in the morning and headed back to the emergency room entrance. The car ride had been pretty brutal, and by the time we made it into the hospital, my contractions were only two or three minutes apart. I overhead the nurse at the check-in desk tell Corey they'd bring a wheelchair around and I practically shouted that I didn't want one. She informed us that it was a requirement, so I braced myself for a painful ride up to the maternity ward.
I had always heard people talk about wanting to move through contractions, but I never really experienced that with Jackson – my body fought them so hard that I was practically paralyzed each time. This time around, though, I felt it deeply. I had worked really hard on preparing myself mentally to not fight the pain, and (as cheesy as it is), when each contraction hit, I would close my eyes and imagine myself walking towards the pain. It definitely helped my body not fight as hard, but I now fully understood what everyone meant when they talked about wanting to move. Each time a contraction hit I wanted nothing more than to brace myself up against a wall (or Corey, if he was close enough) and sway back and forth. Sitting still was torture.
So, of course, things got a lot more painful when I got up to my hospital room and had to climb into the bed. My nurse informed me that I had progressed to 5 centimeters and could definitely stay, and the relief I felt in that moment was so immense. Logically, I knew I was in active labor but I still had that lingering fear that they'd tell me to head back home.
As I waited for my epidural, the pain continued to build until I was having to moan (loudly and embarrassingly) through each contraction and I even broke into tears at one point. The nurse finally took pity on me and gave me some pain medication to help me get through until the anesthesiologist could make it to my room. It took the edge off, but not nearly as much as I remembered it helping last time. I was still in an incredible amount of pain, and it felt like weeks before the anesthesiologist finally came up.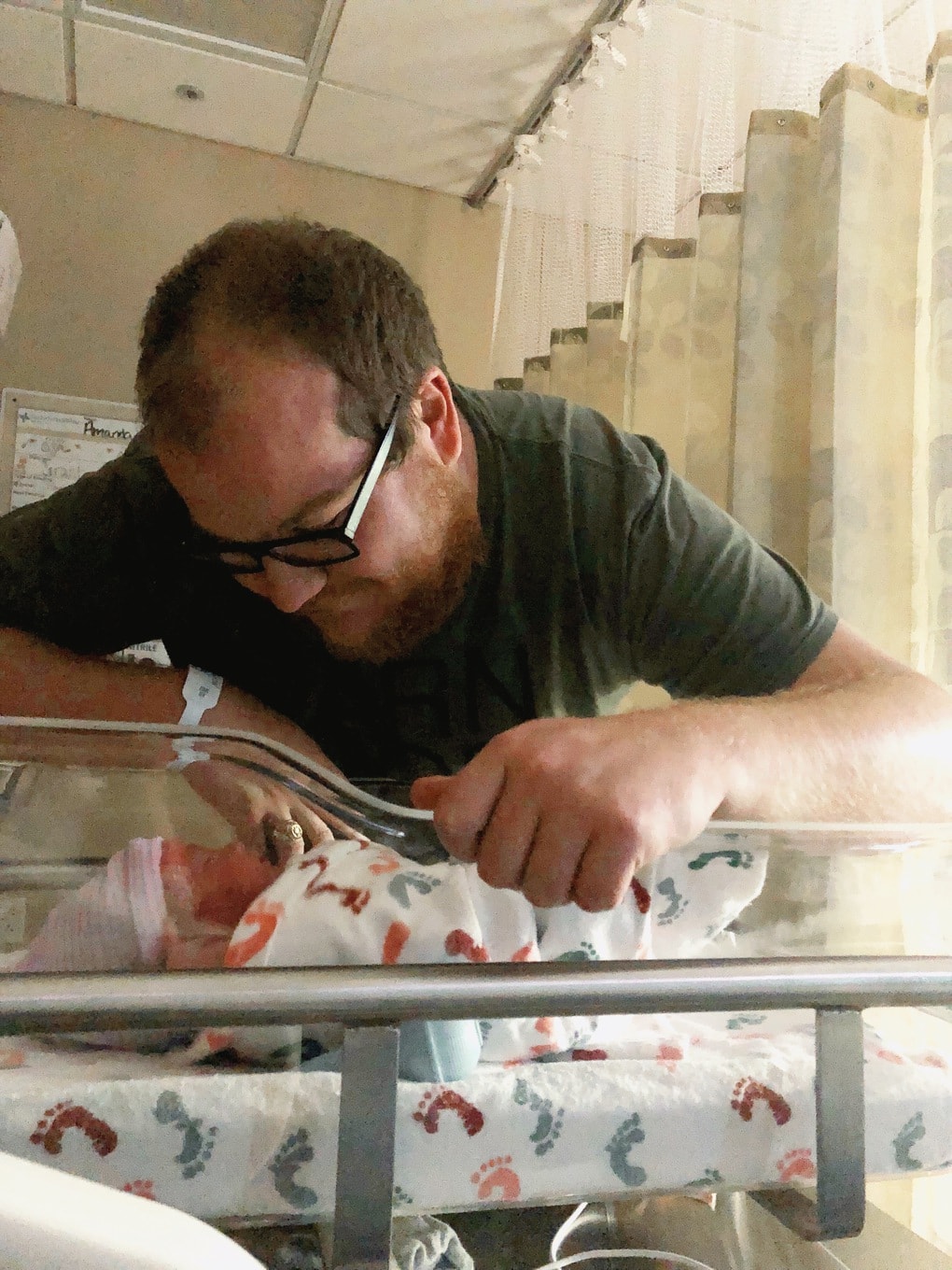 That would be a sign of things to come.
Apparently, he didn't like to move quickly.
At about 2:15, my knight in shining armor (or so I thought) waltzed into the room. I was so eager for the epidural that I wanted to cry with relief.
Except, I would still have to wait a while. Because I have never in my life seen a man move as slowly as this one did. I kept telling myself that each contraction would be the last one I had to feel because the anesthesiologist was in the room prepping things. But, after experiencing the last contraction about 7 times I realized my relief might not be as imminent as I had hoped. I'm not sure exactly how long it took from him entering the room to him actually inserting the epidural, but I can tell you that it was at least four times as long as it was with Jackson's birth.
At. Least.
Oh, and as a bonus, he decided to put it in while I was mid-contraction. I didn't even have the heart to say anything at that point because I was so desperate for the relief.
Only, the relief didn't come.
Well, it came on the left side of my body. The right side? Still feeling everything. At first, they just kept assuring me that it would kick in soon, but finally they realized it genuinely wasn't working on half of my body. The nurse rotated me so that my left side was propped up, and Mr. Slowpoke came back and gave me a stronger dose.
Finally around 3:20 or so, I was pain-free.
It felt glorious.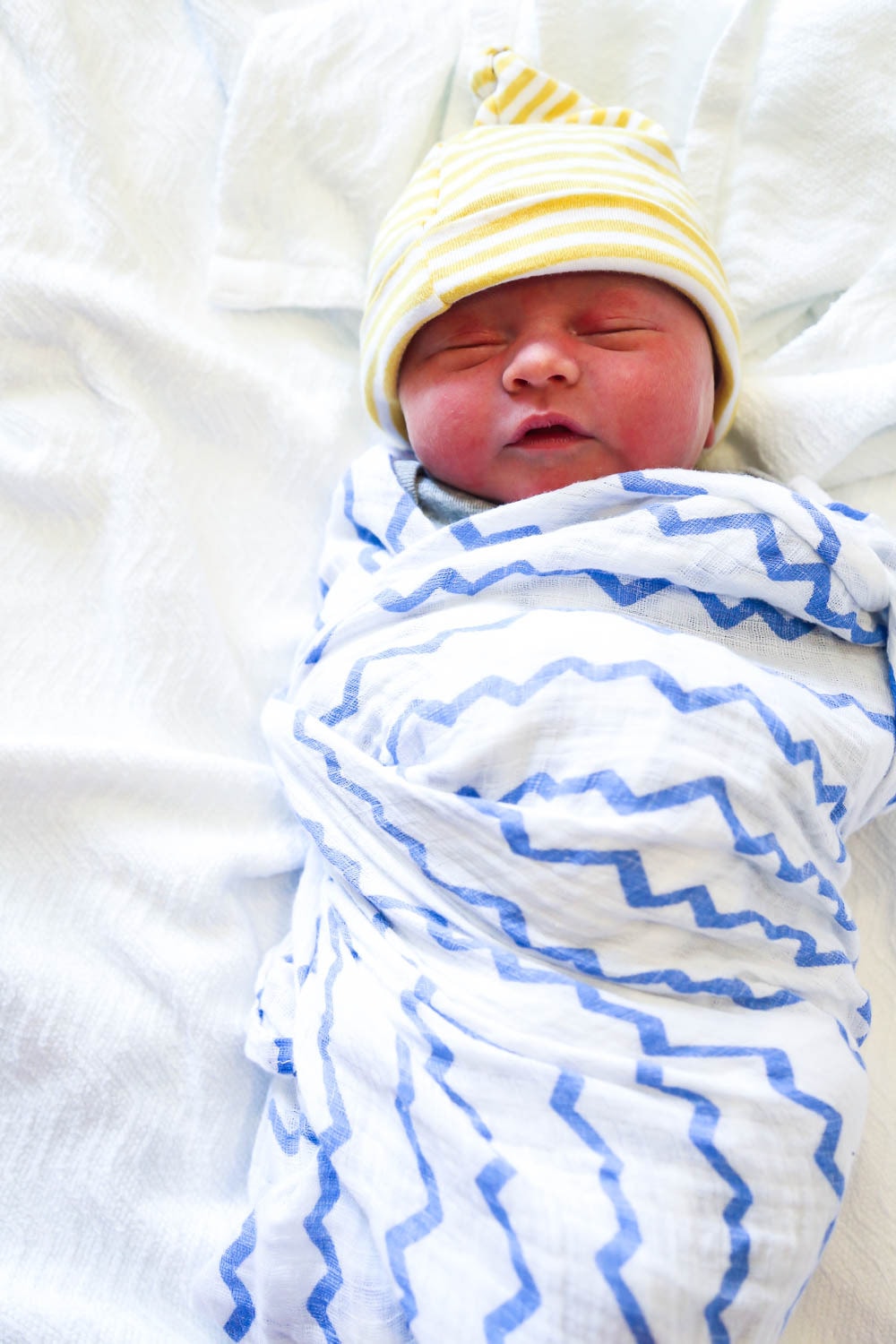 Corey and I were both (obviously) exhausted, so we decided we'd try to get a bit of sleep before Grant's arrival. We had a few minutes to ourselves to catch our breath and settle in, then the nurse wanted to check me one more time. After that, we figured we'd have at least a couple of hours to rest.
We figured wrong. When the nurse checked, she announced that it was almost time to push.
We were both a bit shocked and, speaking for myself at least, disoriented. It felt like it was all happening so fast – Jackson's birth had been much slower and we had our entire family waiting for us in the waiting room. We hadn't even told anyone other than my sister that I was in labor!
We knew our parents would be disappointed if we didn't call to wake them up, so while the nurses prepped things for Grant's birth, Corey made a few quick calls to my parents and his mom to let them know what was happening. The hospital front doors didn't open until 5:30, so we told them they were free to come anytime after that.
At about 3:40, I started pushing. I remember the atmosphere in the room felt so calm and relaxed. With Jackson, the room had felt electric – Corey and I were both so nervous to become parents, we had no idea what was coming, and there was so much uncertainty and anxiety. The experience this time around was completely different – we smiled at each other in-between contractions, we chatted calmly with the nurses, and we both had so much peace and confidence heading into Grant's birth.
Grant William Hendrix was born at 4:00 on the dot, weighing 8 pounds 3 ounces and he was 20 inches long.
The only thing I had been nervous about was if I would feel the deep, immediate, visceral love for him that I felt for Jackson. I wondered how my heart could do that more than once. But, as soon as they placed that sweet boy on my chest, I loved him with my entire soul. There's nothing quite like the experience of staring in wonder at the child that was in your body not more than 5 minutes ago.
He was perfect and beautiful and tiny and mine.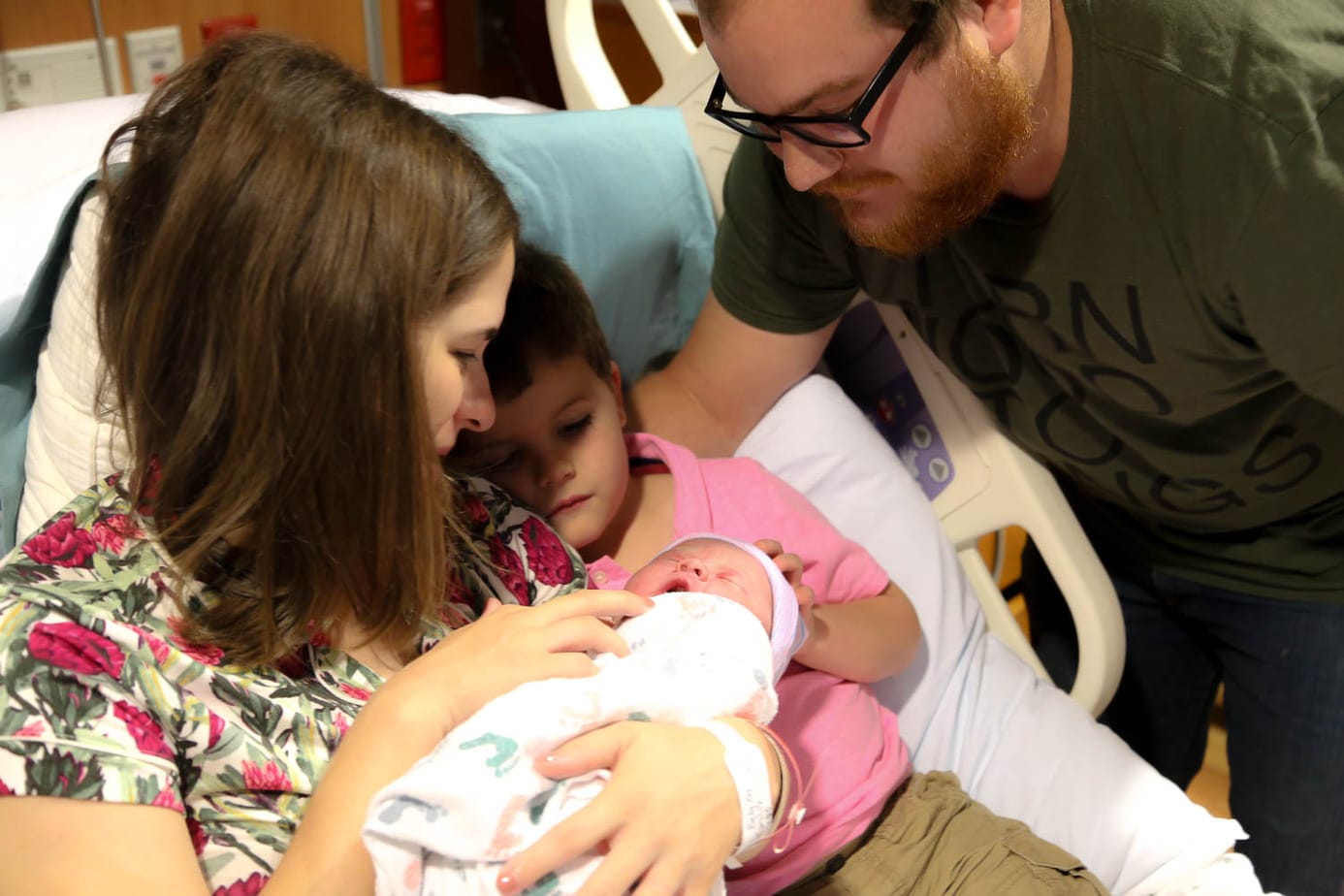 Our family showed up at 5:30 on the dot (as we knew they would), and we spent the next 36-ish hours at the hospital in a fog of newborn snuggles, broken sleep, and visits from friends and family. One of the greatest moments of my entire life was when Jackson walked into that hospital room to meet his baby brother – he seemed as if he had aged 5 years in the few hours since I had last seen him, and he was so eager to count his new baby brother's fingers and toes and kept exclaiming over how cute he was.
And just like that, our entire lives changed. It simultaneously feels like Grant has always been a part of our family and that there's no possible way he's already almost two months old.
But, that's parenting, isn't it? You can't wait to watch them grow up, but you wish it would all just slow down already.
Except for the whole "consistently sleeping through the night" thing. We all want that to come as quickly as possible. Because mama likes her sleep.