It's finally time to reveal the big shiplap fireplace makeover that I've been teasing on Instagram for what feels like forever. It's done and I couldn't be happier with it. Read on for how to create your own DIY shiplap fireplace.
I love a good fireplace renovation, and there's almost nothing more satisfying than an incredible fireplace before and after. In our old house, we waited until just before we moved to renovate our fireplace (it was also a shiplap fireplace!), but this time around we really wanted to tackle the fireplace early so that we could have time to enjoy it before we move to a new home.
Well, it's done, and we couldn't possibly be happier.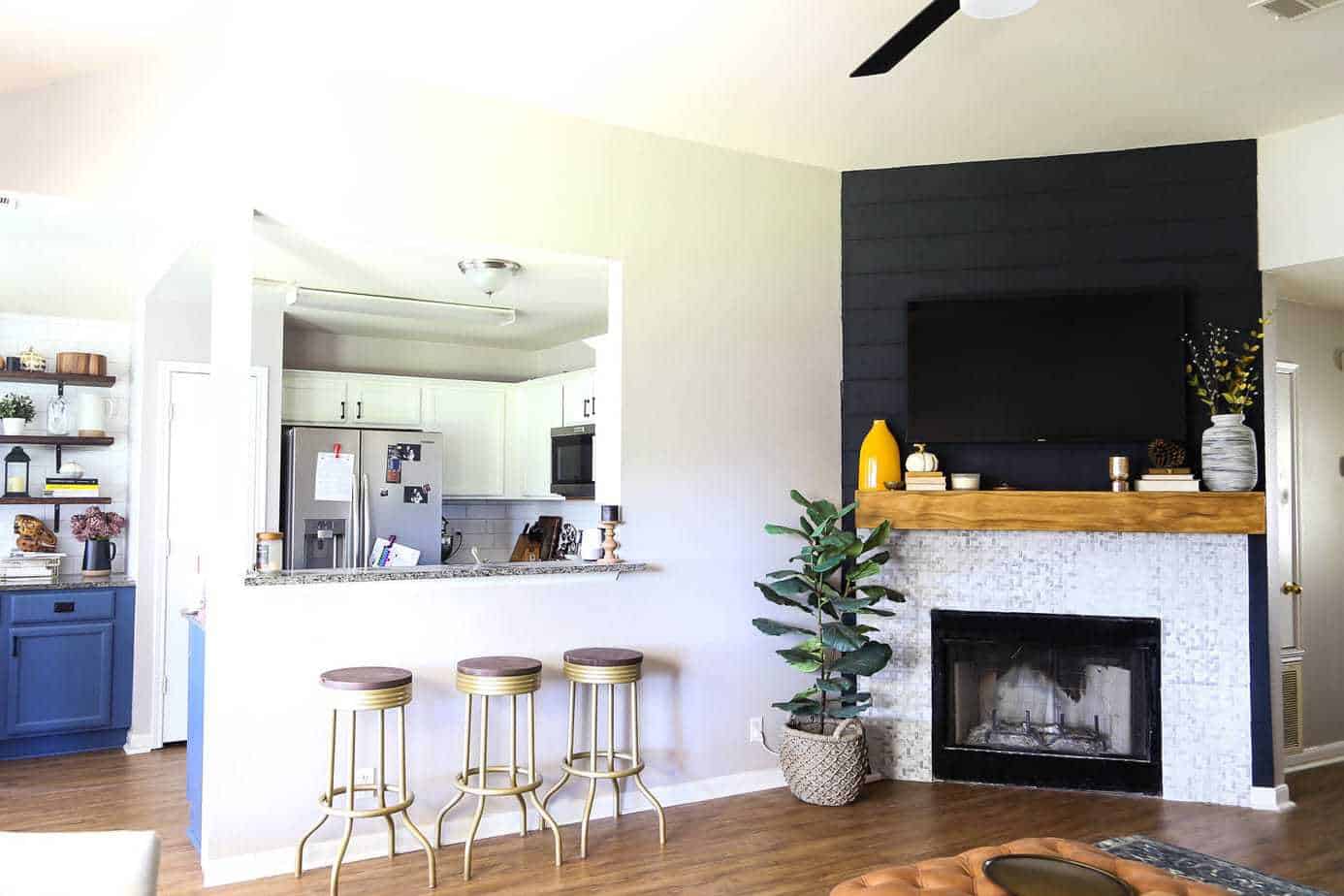 This post is sponsored by HANDy Paint, but all opinions are 100% my own! Click here to read my full disclosure policy.
OH. MY. GAWD.
(Sidenote: I've been binge-watching Friends for the 700th time and I don't know how they do it but that show really just gets better every time I watch it. Why are there no sitcoms that funny on television anymore?!)
It's safe to say I'm completely head over heels in love with this fireplace, and it has genuinely transformed the look of basically our entire home. The main living space is pretty small, and it's all open to each other which means you can see the fireplace from almost anywhere in the house. Which is a good thing, because it makes me smile every single time I lay eyes on it.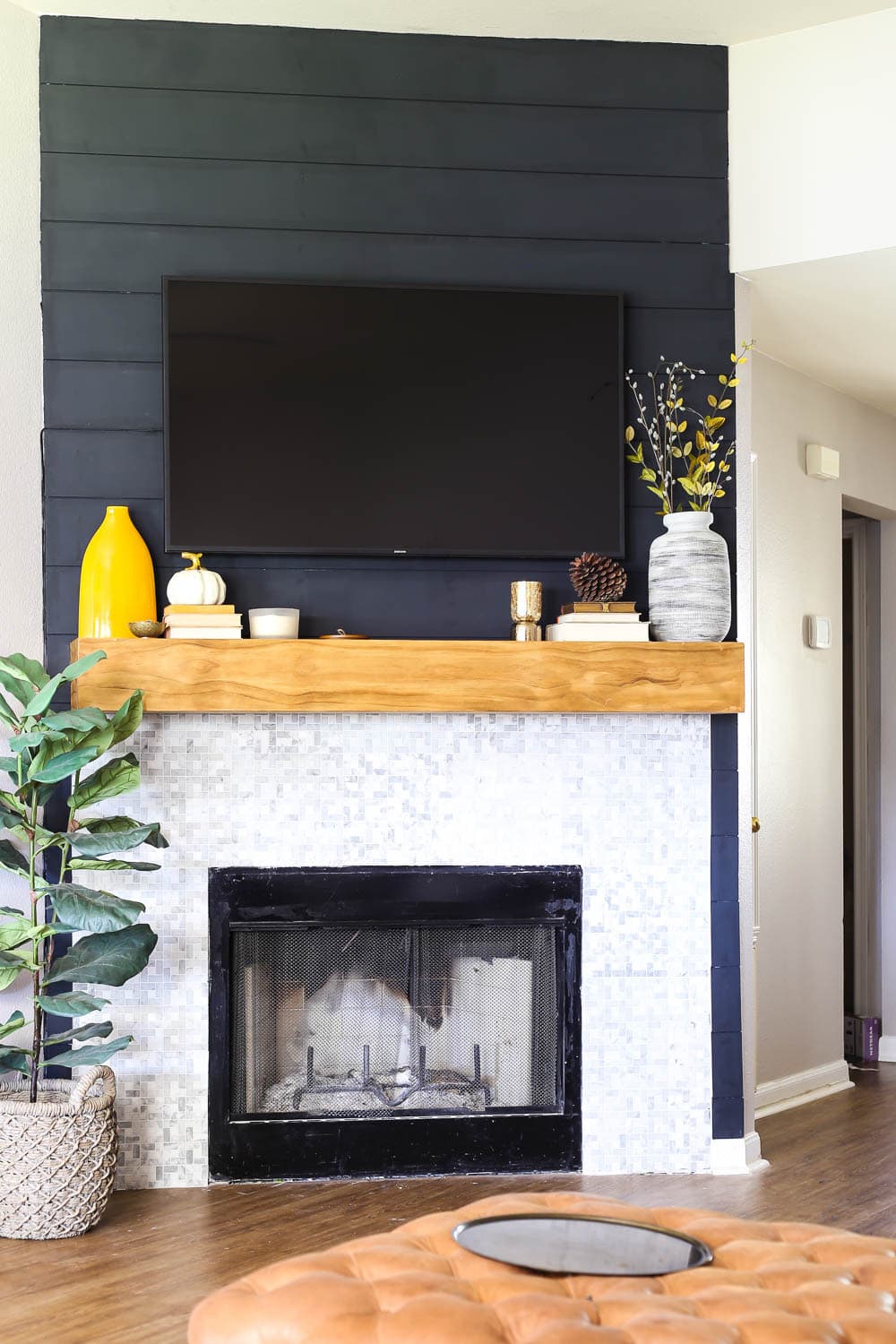 Let's chat details! If you've got a steel trap memory, you might remember what this fireplace looked like before I got started, but it's likely you won't. I've only shown it once or twice here on the blog because it really wasn't anything special to look at – in fact, it was downright ugly.
Let's take a little walk down memory lane – here's what the fireplace looked like on the day we moved in, almost one year ago.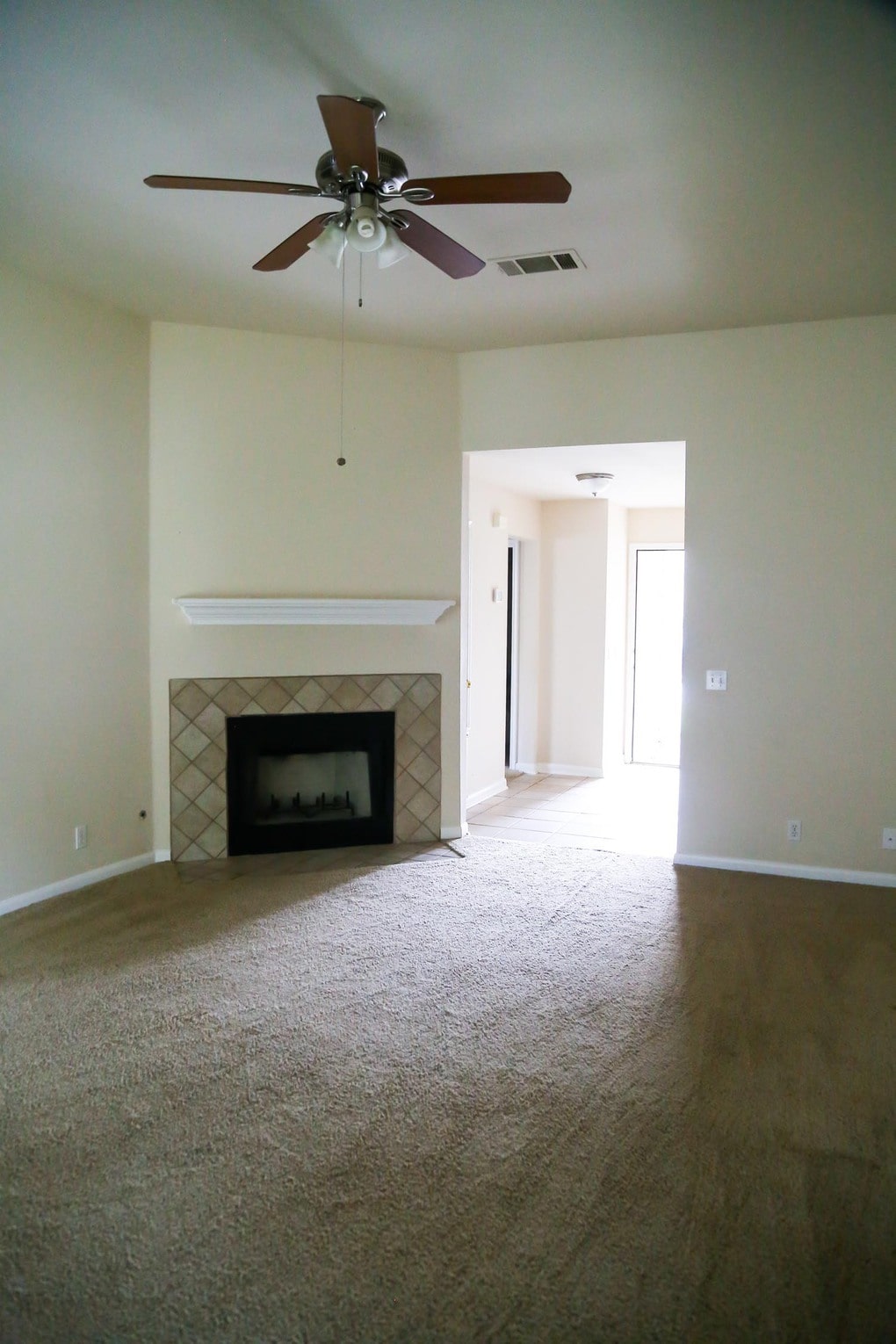 The fireplace presented a few unique challenges for us that we didn't face last time we were renovating a fireplace. For one, it's an angled wall, which really isn't our favorite look. However, it's pretty common for suburban homes in our area, so there wasn't much we could do about it. The other big issue we had is that this fireplace is really the only logical place in the room to put a television. The previous homeowners had put theirs on the wall where our sofa is and had their couch under the bar leading to the kitchen, but we really didn't love that layout for ourselves, so the only remaining option was to hang the television above the fireplace. It's definitely not ideal, and we felt like the television was quite an eyesore, so we really wanted to come up with a solution that would help it blend in a bit and not look so ridiculous.
Enter the black shiplap.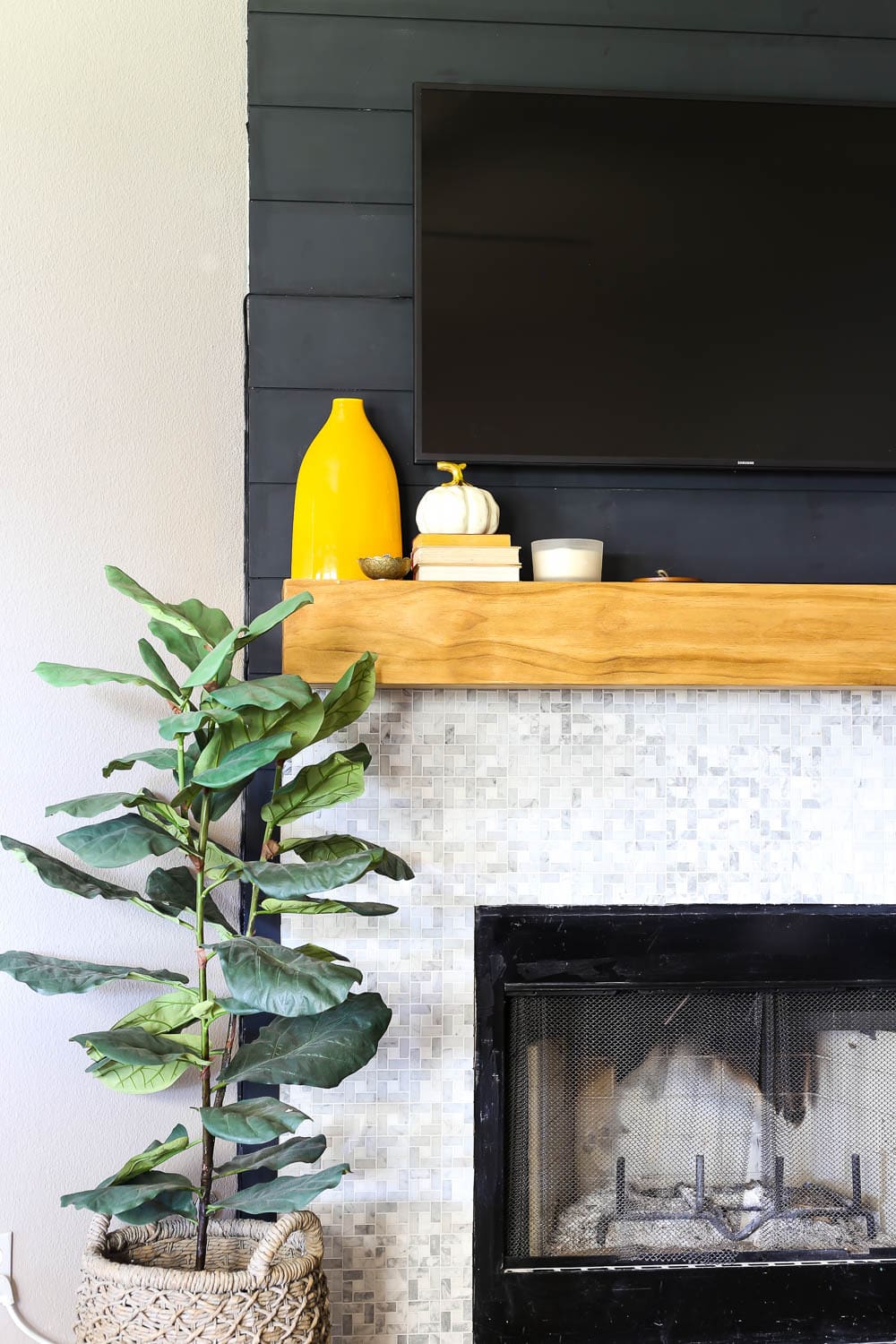 We loved the shiplap fireplace makeover that we did in our old house, and since we only got to live with it for a month or so before we moved, we didn't really feel the need to use a different material this time around – as trendy as it is right now, shiplap really is a pretty classic look that's been around forever, and I don't think I'll tire of it anytime soon.
So, enough chatting about the decision-making process – let's dive into how we created this gorgeous shiplap fireplace.
Our DIY Shiplap Fireplace: How We Did It
I've already shared in-depth tutorials for basically all of the individual steps in this process, so instead of going through all of it again here, I'm going to point you in the direction of each step. As always, if you have any questions about a specific part of the project, just let me know and I'll be happy to provide more details.
Fireplace Makeover Tips:
How to tile (This post is about a kitchen backsplash, but the process is the same!)
Take a look at each of those posts for a more in-depth look at each step of the process. But, since I know we all love to see things come together, here's a quick overview of how it went.
Step One: Demolition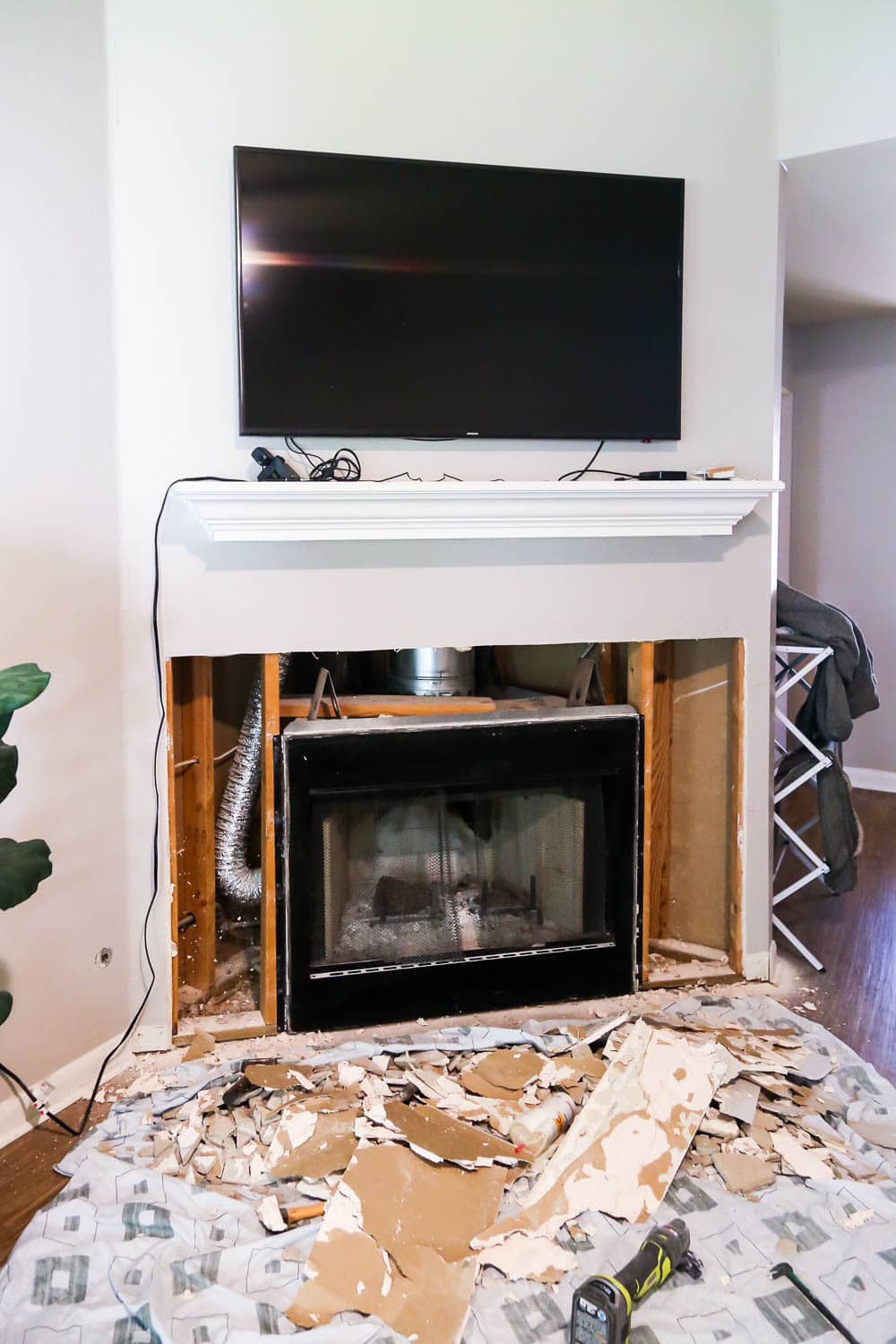 The first thing we had to do was remove the old tile. In my experience, any time I have to remove tile I also end up having to remove and replace the drywall behind it. It all depends on what kind of adhesive was used when the tile was originally installed, but I've never been lucky enough to have easily-removed tile in my home.
It's a messy job, but it's pretty fast work – my dad came over to help me (because demo and infants don't go together all that well) and we had the tile demoed and the drywall replaced in just a couple of hours.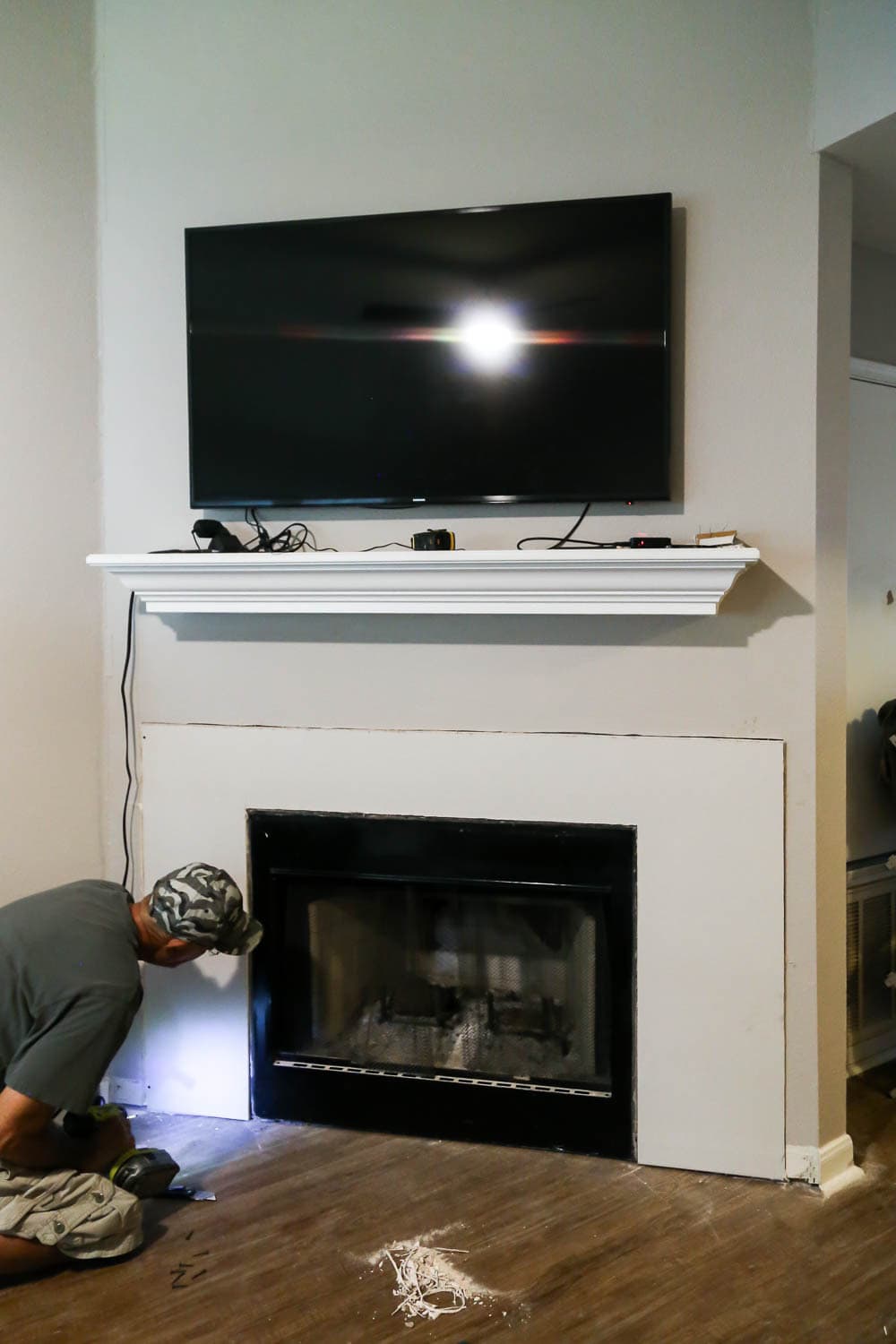 Step Two: Tile
Now comes the fun part – where things start to actually come together. We wanted to go with a mosaic tile this time around, and after some browsing we landed on this tile from Lowe's. The main reason that we ended up choosing this one is that all of the straight lines make for a very simple install on something like a fireplace – with most mosaic tiles, you have some sort of uneven edge and will have to cut each tile to achieve a straight line on the outside of your tiling area. With these, I could just slightly adjust where I was tiling in order to avoid making any cuts – and that's a beautiful thing!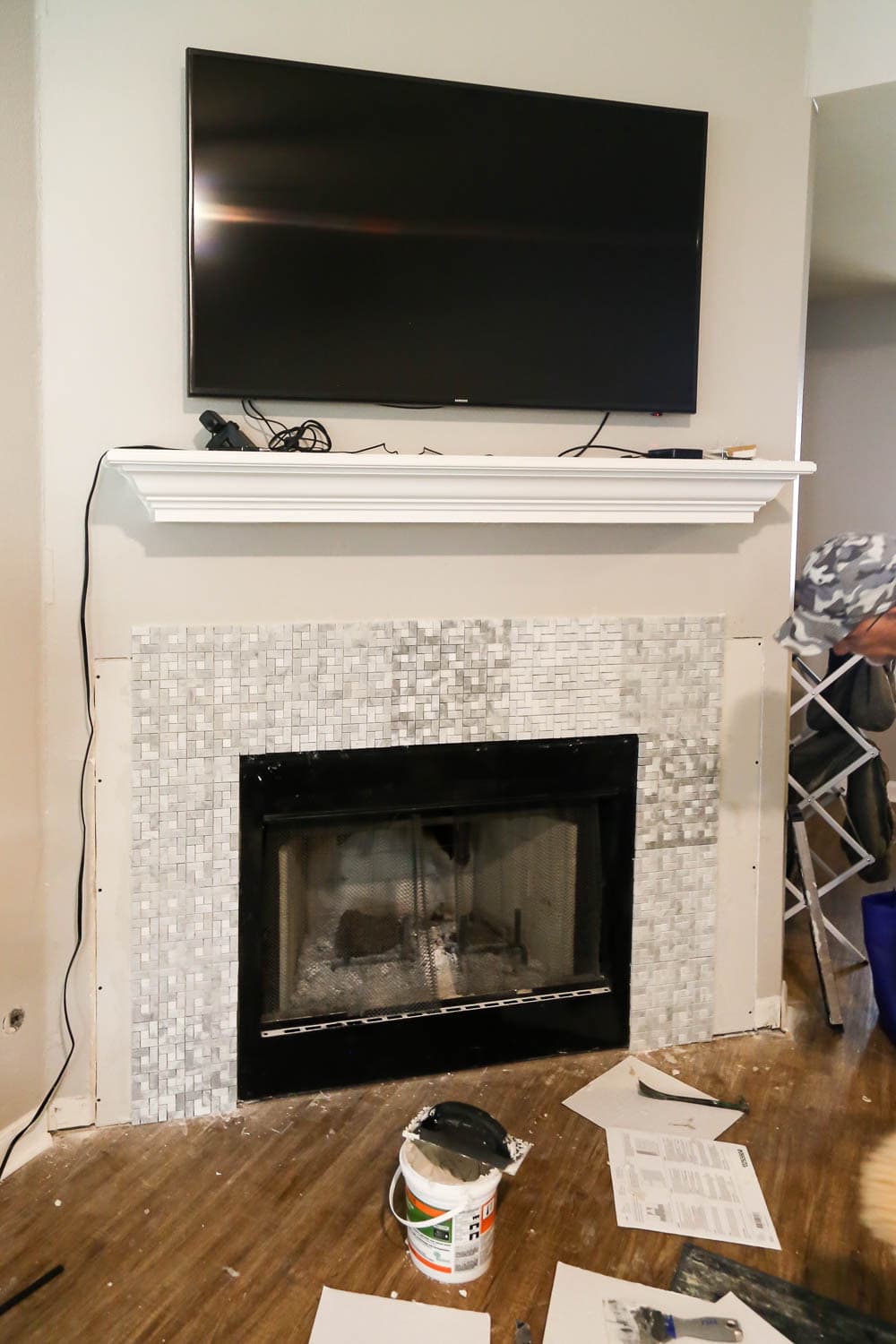 Step Three: Install the Shiplap
For this project, we used this shiplap from Metrie (they were kind enough to send us some to try out) and I was really impressed with the quality. It's nice and wide (each board is 7″ wide), and pre-primed, which always makes life easier. This is also a true shiplap, meaning it fits together like a puzzle and requires zero effort on your part when it comes to spacing – just fit the boards together and nail them into place.
Here's what I'll say about adding shiplap to a fireplace (or really, anywhere): yes, it's much cheaper to go the DIY route and rip down plywood boards to create faux shiplap. However, it's next to impossible to achieve a look this finished and polished with the DIY method. You have to plan the spacing on your own, and with most DIY methods, the gaps between the boards reveal the wall underneath, so you'll have to paint it the same color as your shiplap before you install it.
If you know me at all, you know that I usually like to take the most affordable route possible – however, when it comes to installing shiplap, I'm 100% an advocate of splurging on the real deal. It'll make your life a zillion times easier, and it's pretty much guaranteed to look significantly better.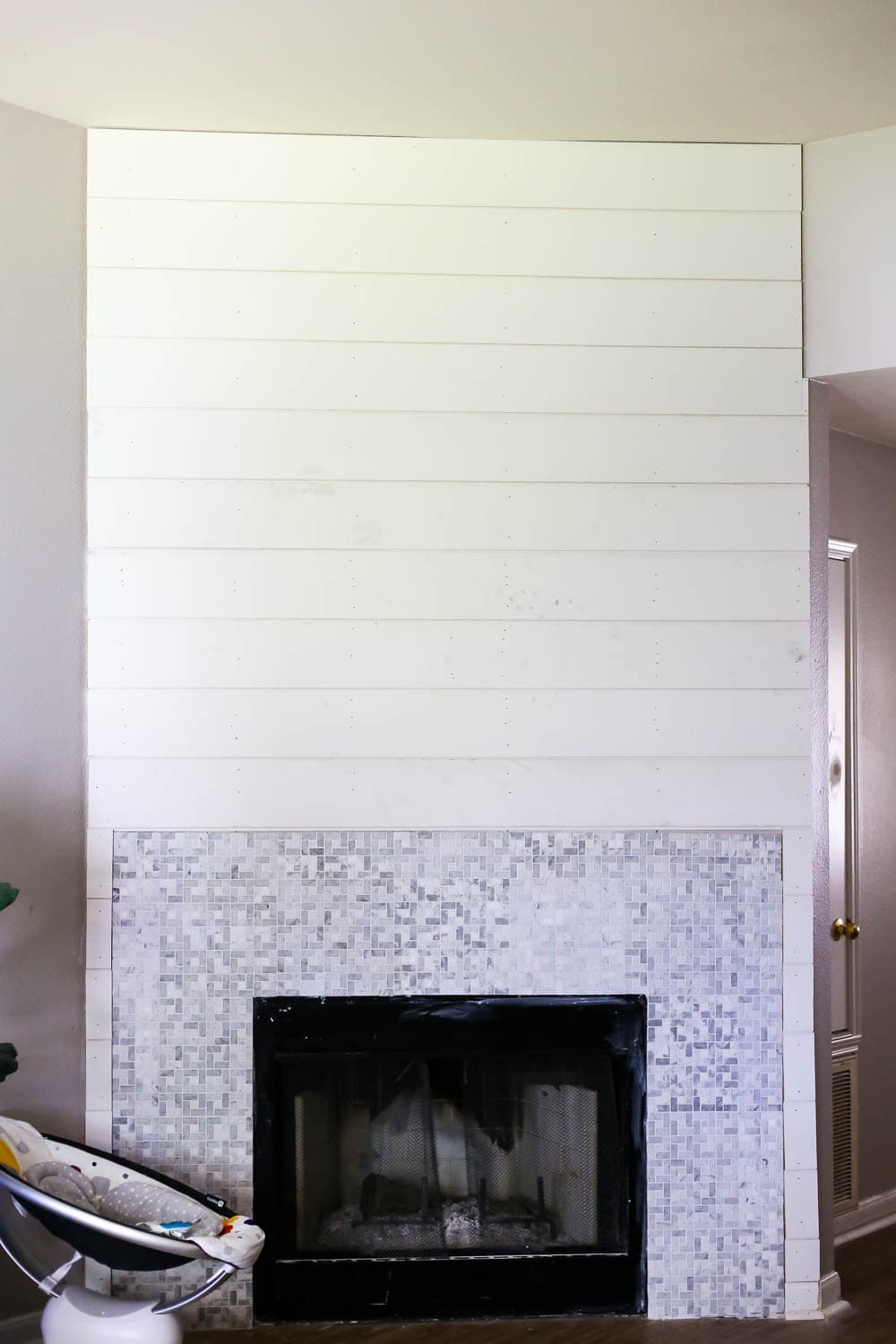 That's my spiel about shiplap – and if you really want to make your life easier, Metrie actually has pre-painted shiplap too. We weren't leaving it white, so it didn't work for us, but I'm 100% looking into that next time I've got a white shiplap project!
Once I installed the shiplap (remember, you can find more details about the installation process in my post about the fireplace in our old house), it was time to paint it. We decided to try out Magnolia's line of chalk paint at Target for this project – if I'm being completely honest, the only reason we got it is because we had to stop by Target on our way to Home Depot to get paint, and we realized that if we used this stuff we could skip the trip to Home Depot. When you've got a baby who screams in the car, you eliminate every errand you possibly can.
We grabbed the Blackboard color (it's not actually chalkboard paint, just chalk paint!) and figured if nothing else it was a fun experiment. I'm really pleased with the color, texture, and finish of the paint, though, so I'll definitely be using it again. Although, I will say that in photographs or harsh lighting, every little flaw shows (you can see where I patched some of the nail holes if you look closely). However, you can't see it at all in person.
My number one tip when you're painting a high wall like this (especially when you're working with shiplap and have a lot of grooves to get into), is to use a HANDy Paint Pail. I rarely tackle any painting projects without using mine, and I don't even want to think about the mess I'd make if I had to try to bring a paint can up on a ladder to reach the high parts.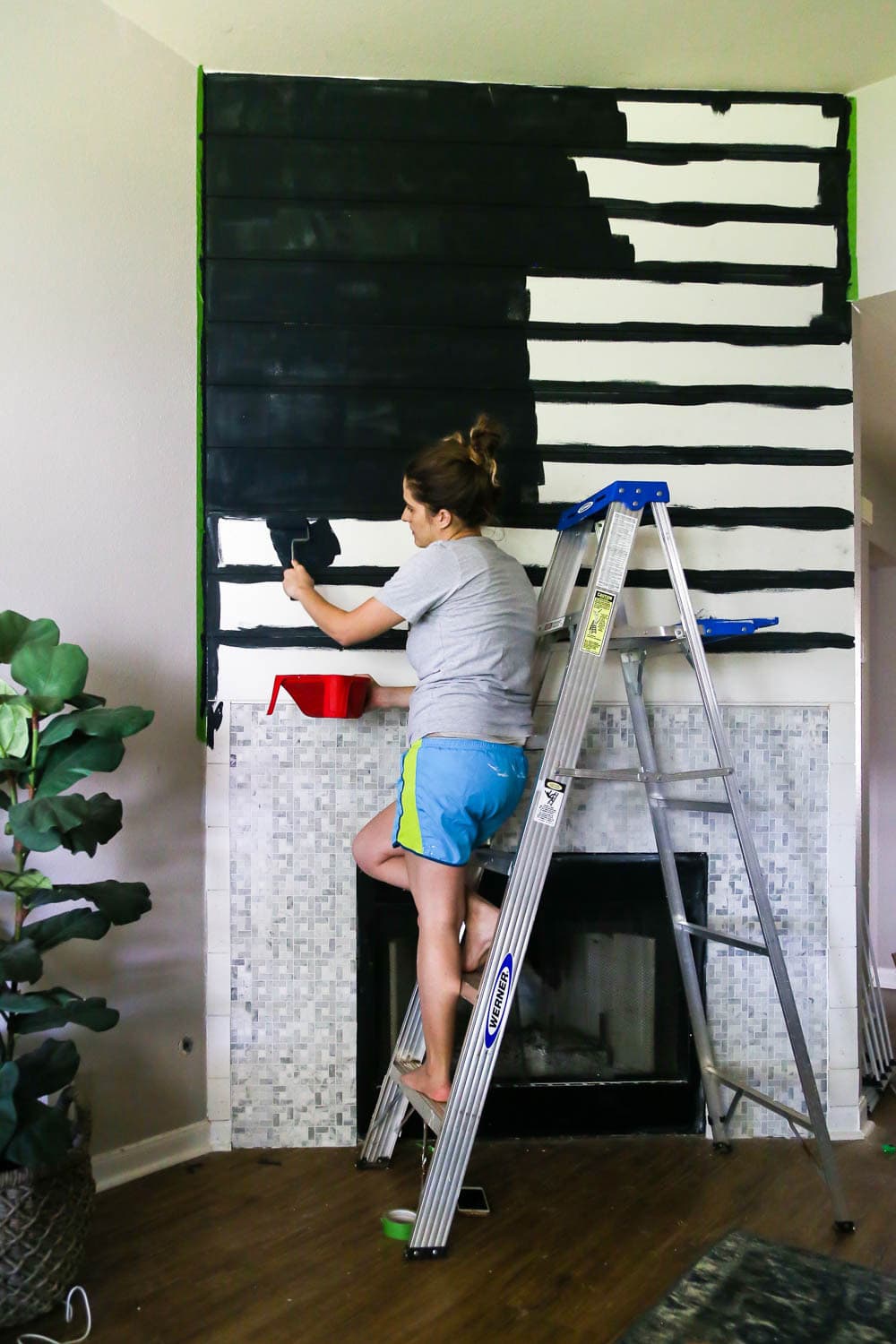 Instead, I just slip my hand into the handle of my HANDy Paint Pail and I know it's not going anywhere. To make things even easier I like to use the disposable liners (but even without the liners, you can peel the paint right out once it dries). Another huge benefit is that there's a little magnetic strip at the top where you can attach your brush if you need to step away for a minute.
Allow me to remind you that I have a newborn. They cry often. So, when I'm trying to squeeze in some painting during nap time, it's a total lifesaver to be able to pop my brush onto the magnetic strip and dash to his room when he loses his pacifier and gets upset.
Without it, I can 100% guarantee you I'd end up dropping it on the floor at some point in the process.
I've convinced just about everyone in my life to go get one of these things, and I promise that you won't regret it. It's a huge help for projects like this, but it's also great for painting baseboards, trimming in the edges around a room, and just about anything else you can think of.
For this project, I used the HANDy Paint Pail for anywhere I was using a regular paintbrush, then I grabbed my Roller Cup for the parts where I was using a foam roller. It's perfect for this kind of project because climbing up and down a ladder seven thousand times to re-fill your tiny little paint roller is no fun. Trust me – I used to do it before I discovered HANDy's products.
Step Four: Add a Mantel
Once the shiplap and tile were added to the fireplace, it was time to add the finishing touch – a DIY mantel. We've tackled creating a mantel once before, and we wanted to go a different (easier) route this time around. I have a full tutorial planned soon for exactly how to build this guy (it's really easy!), but it's made from plain ol' pine from the hardware store and only took us one afternoon to build and install. You can see the full tutorial for how to build a DIY mantel right here.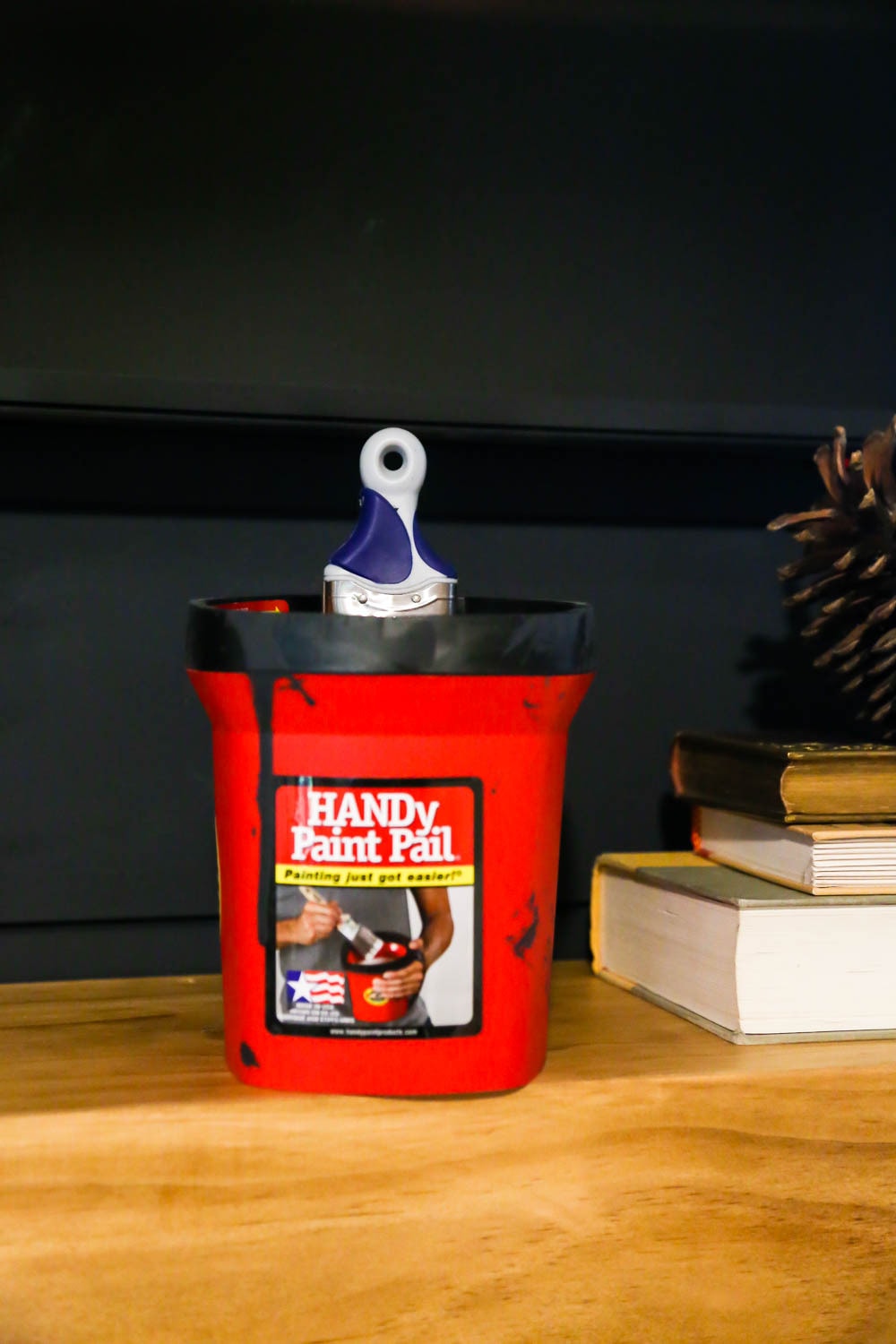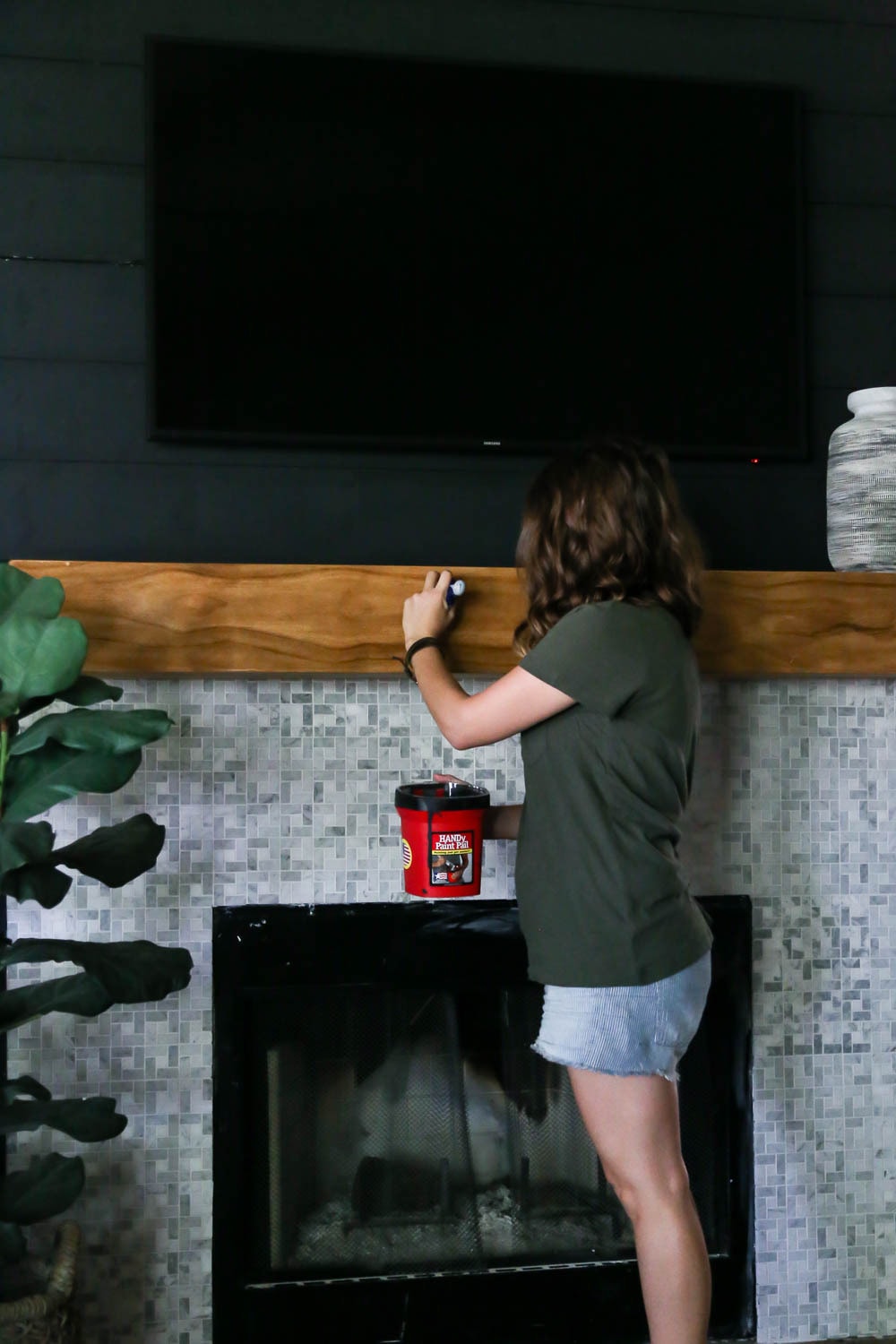 I stained the mantel using Minwax's Golden Oak, and sealed it with Varathane's Triple Thick Polyurethane. Of course, I also used my HANDy Paint Pail again to make things a little easier.
Once the stain and sealer were dried, I finally (FINALLY) had a beautiful mantel to decorate. I filled it up with a few fall pieces, and did a little happy dance to celebrate the fact that this fireplace was transformed before we had even been in this house for an entire year and I actually get to enjoy it this winter.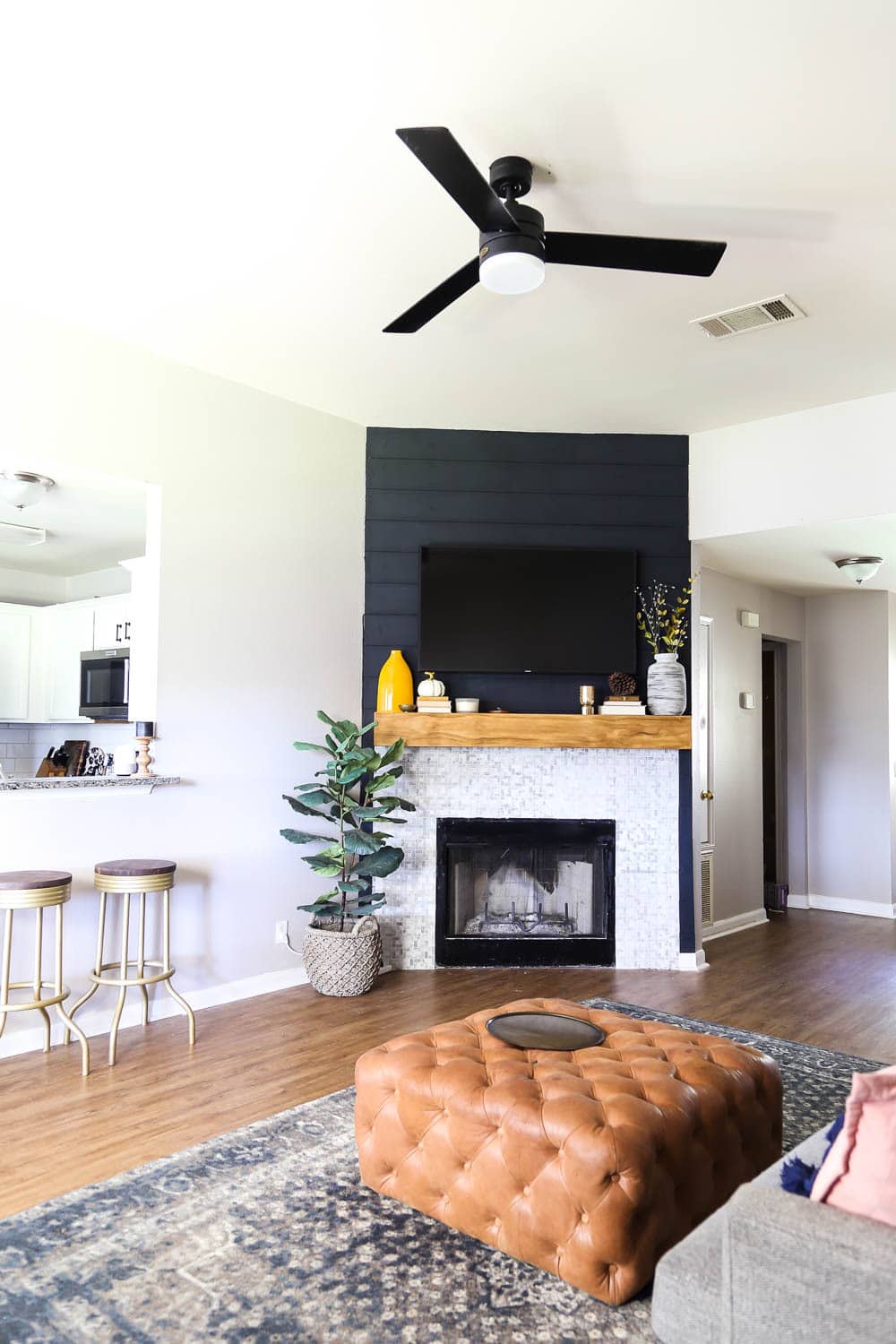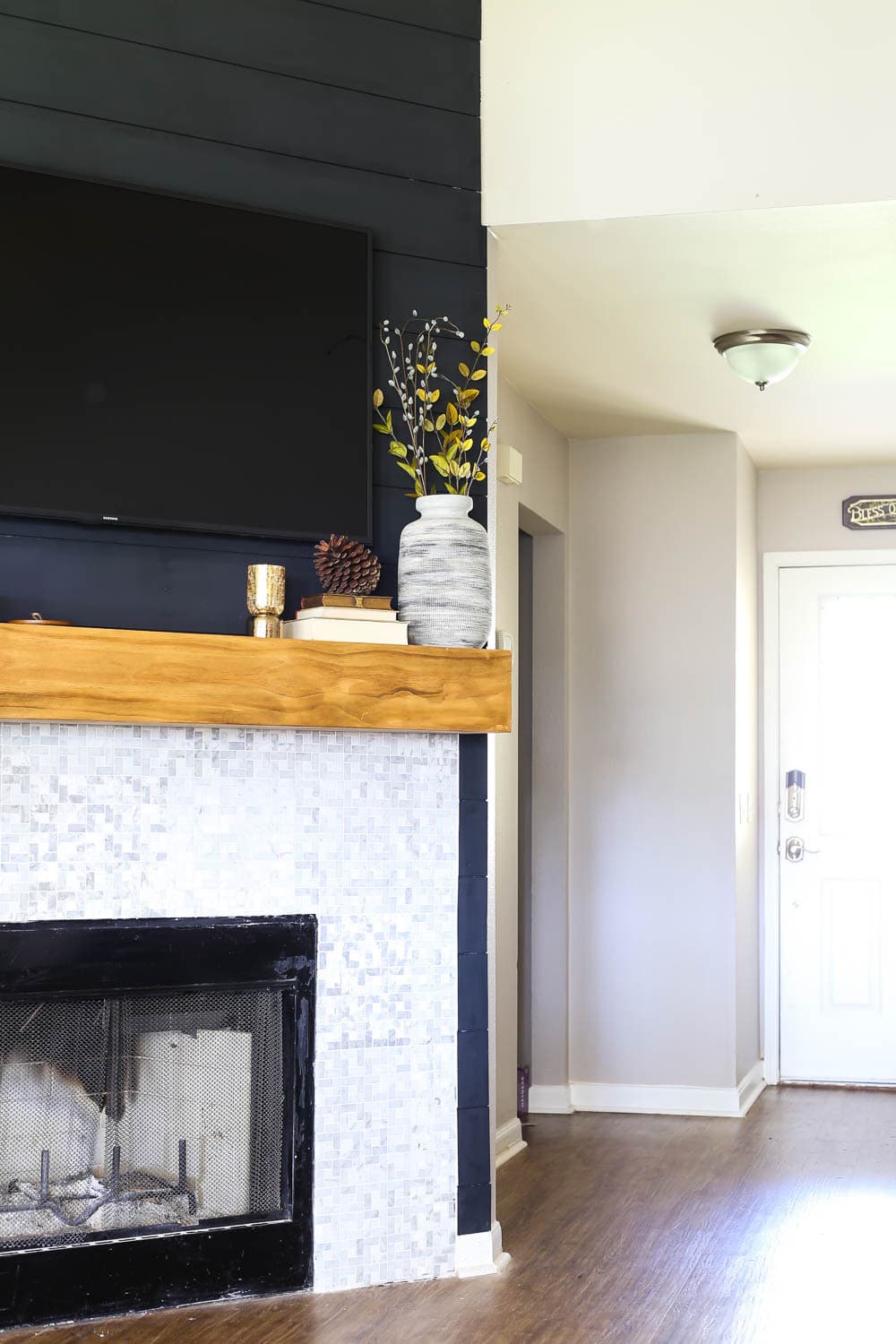 Of course, I still want to go back and paint the inside of the fireplace, as well as the metal surround. However, we need to have the fireplace cleaned before we do it and I don't want to paint it right before we use it all winter long. So, I'll probably hold off until the spring, then have it all thoroughly cleaned and paint it. I'll be sure to update you when that happens!
If you haven't ever experienced the life-changing magic of HANDy Paint Products, I highly recommend you check them out – especially if you have high ceilings!
I'm so so happy with how our shiplap fireplace turned out, and I can't wait to use it all winter long. We've already gotten to light it a couple of times and there were definitely happy dances happening!
And I can guarantee you there will be a few more happy dances when I get to decorate it for Christmas in a few weeks, too.
Doesn't take much to please me, my friends.
PS: If you want even more DIY fireplace ideas, check out this post!