All of my Favorite Graphic Tees
If you follow along on my Instagram stories at all, you'll know I'm a big fan of graphic tees – especially if they're television (or movie) related. I'm generally a very casual dresser, and nothing makes me happier than when someone notices that the shirt I'm wearing references a favorite show and we suddenly have something in common to exclaim over.
I often get asked where I find my shirts, and I've recently had a couple of requests for a full roundup of all of my favorites. So, today, I'm sharing them all in one spot!
Because who doesn't love a good graphic tee?
I own the majority of the shirts linked below – some are still on my wish list. Some of the exact ones I have are no longer available, so I've listed similar ones where that is the case.
Note: Most of these shirts and sweatshirts are available in a variety of colors – and most shirts are available as sweaters and vice-versa. If you see a design you love but need a different color or style, it's likely available.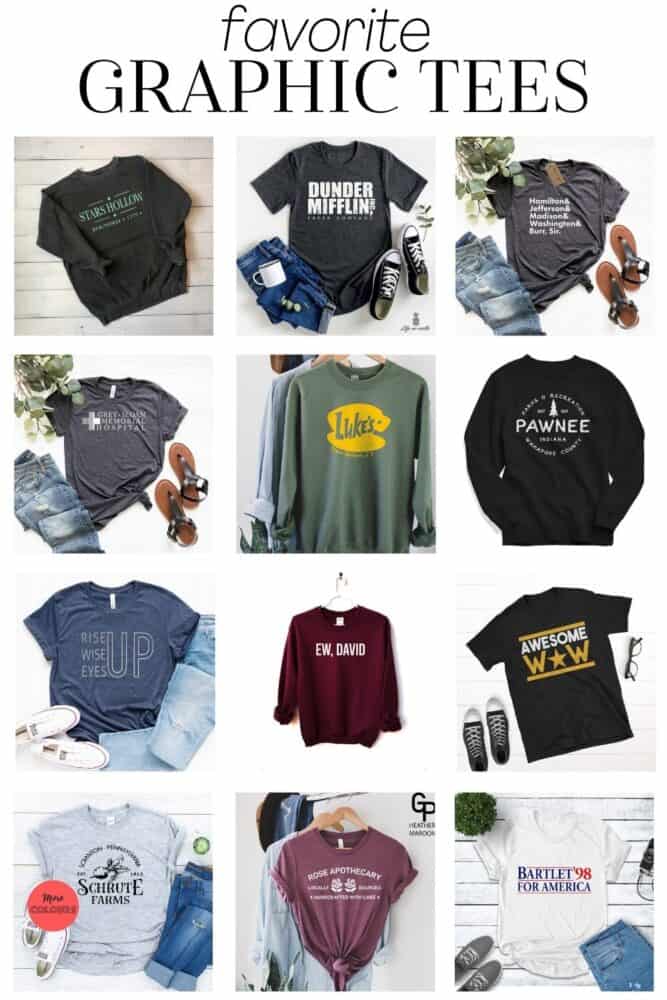 1. Stars Hollow sweatshirt | 2. Dunder Mifflin shirt | 3. Hamilton names shirt | 4. Grey Sloan Memorial Hospital shirt | 5. Luke's Diner sweatshirt | 6. Pawnee sweatshirt | 7. Rise Up shirt | 8. Ew, David sweatshirt | 9. Awesome, Wow shirt | 10. Schrute Farms shirt | 11. Rose Apothecary shirt | 12. Bartlet for America shirt
Oh, and a bonus favorite – I think I wore this Tiger King tank top twice a week all summer long. It's a little dated already, but is Carol Baskin really ever out of style? I can assure you I'll be wearing it all summer long again.
Obviously, these are all shirts that are related to my personal favorite shows (plus one Broadway play). If you love a good graphic tee too but find that these don't speak to you, I suggest hopping on Etsy and searching for your favorite show!
I can assure you that almost any of your favorite television shows or movies will have a plethora of shirts that are right up your alley, and they're generally very affordable and come in a ton of color options.
So, if you too love to wear graphic tees but maybe have different taste in television than me, I promise you can find a few that'll be perfect for you.
I'm off to do some shopping, now. Some of these have been on my wish list for far too long!