Over the weekend, we had to say goodbye to our sweet 10-year-old Doberman, Hadley.
Hadley came into our lives before we had children. At the time, we had two other dogs and she became the perfect little final piece to their trifecta. The three of them created a little pack that was sweet and full of chaos and so fun to watch.
She was the last dog remaining from our three original dogs, and losing her feels a little like closing a chapter of our lives. My children have never known a life without Hadley. She's the only dog who has lived in all three of our houses with us. She's been a steady companion for an entire decade, her calm presence always a part of our home.
We have known for a little over a year now that Hadley's time with us was likely coming to a close, but last week when we actually had to make the decision, it took us all to our knees. Despite having a year to mentally prepare ourselves, we weren't quite ready.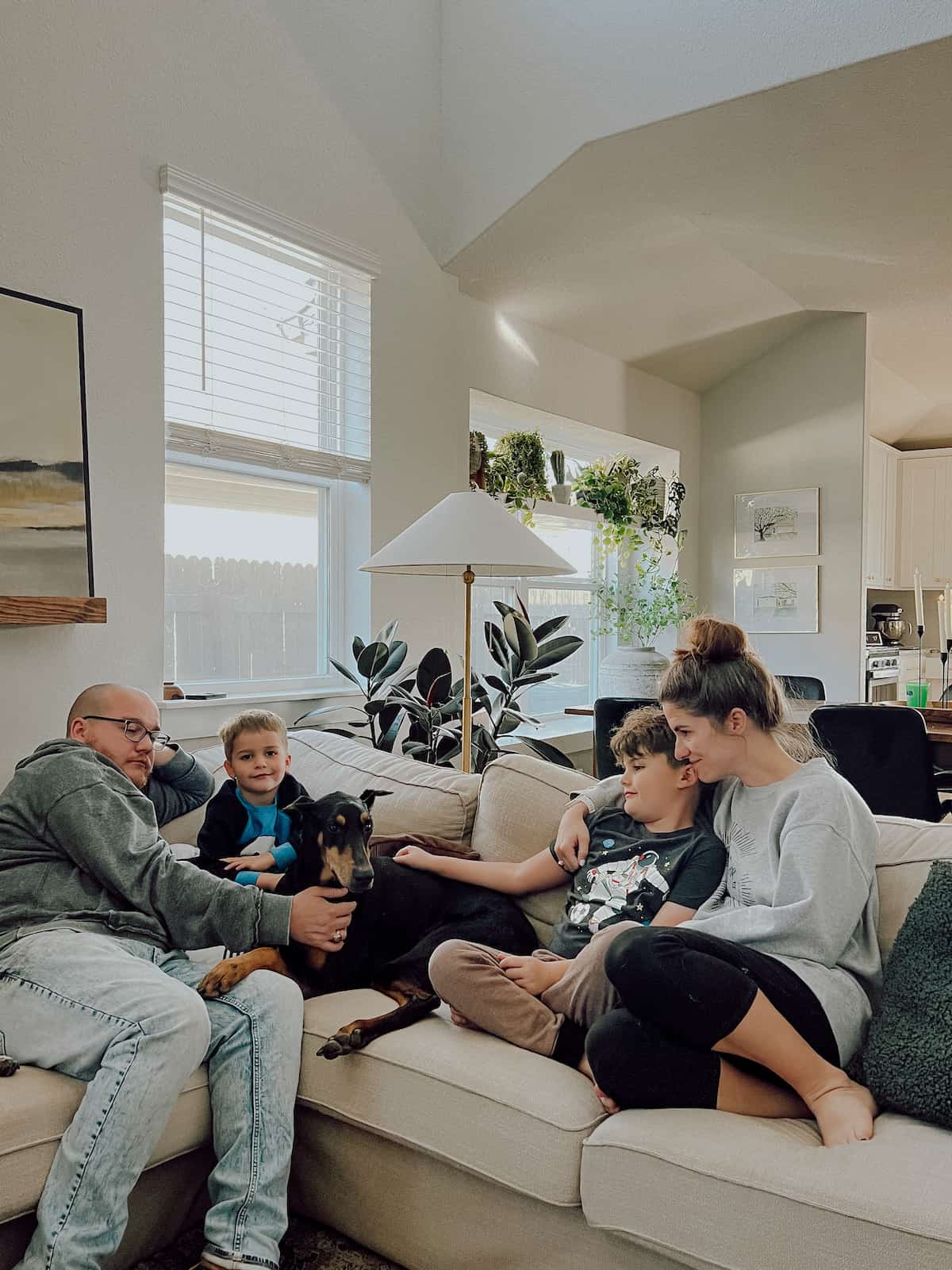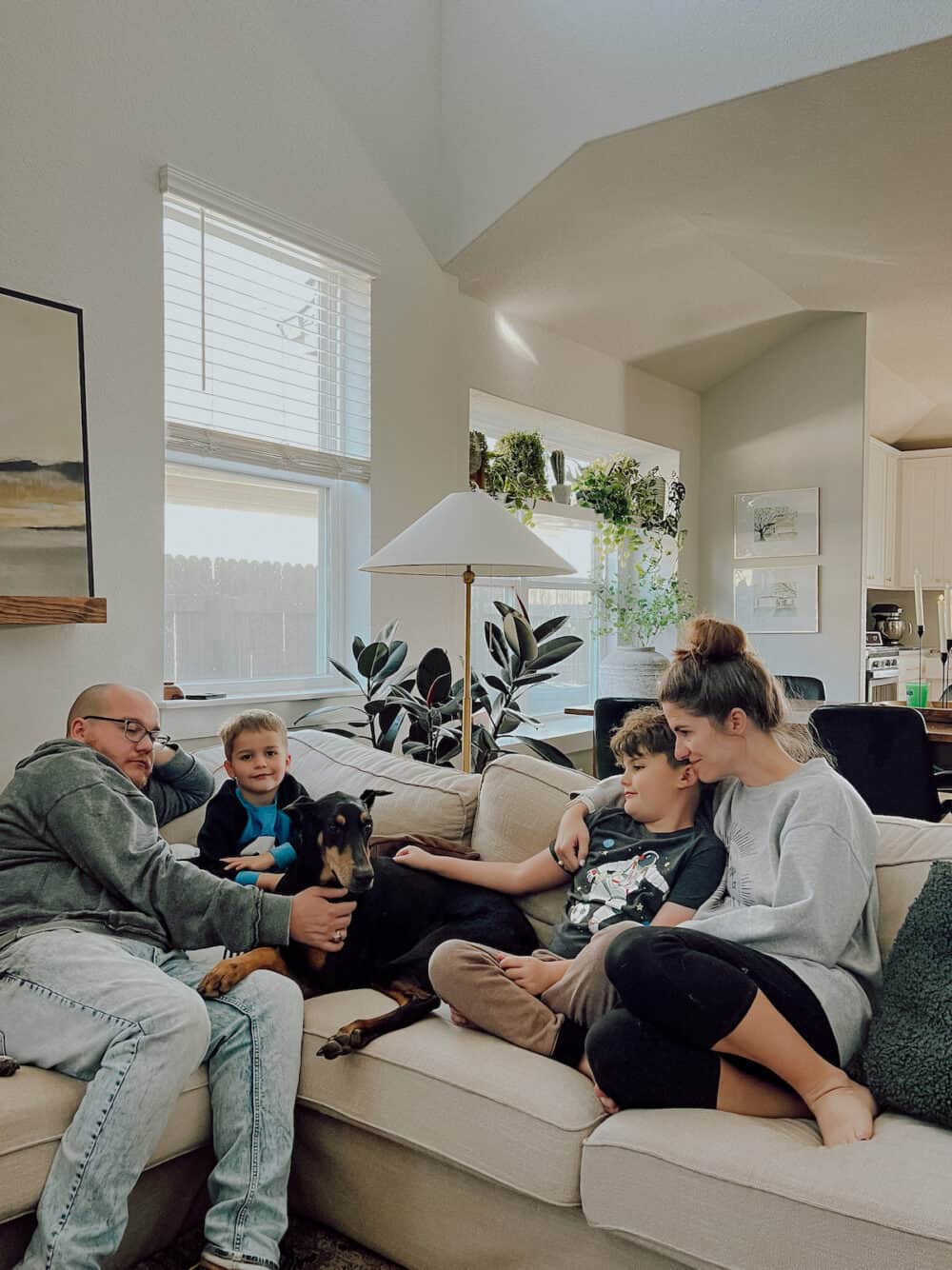 Hadley was a very unique dog. After one of our other dogs (her very best friend) ran away when she was about three years old, she began showing really intense signs of anxiety. She whined often. She wouldn't walk through thresholds if there was a child's shoe in the way. She really struggled to accept new changes around our house. One time, we replaced the flooring in our kitchen and she didn't eat for three days because she refused to walk on it – even though it was the exact same flooring that was already in the rest of our house.
A few years later, we moved into a new house and that sent her anxiety skyrocketing. She wouldn't go into about half of the (already small) house, for reasons we couldn't ever figure out. She started sleeping a lot more and seemed to lose a lot of her luster.
It wasn't until we got into our current home and her issues continued to persist that we realized this anxiety wasn't going away on its own. After a few visits with the vet, we ended up putting her on anxiety medicine. At the time, it felt almost silly to put our dog on anxiety meds, but I can't understate how big of a difference it made. Within the span of a few weeks, she'd go to any room in our house without issue. Her intensity lightened a bit, and she seemed so much happier. I'm so grateful we found that solution and gave her a bit of normalcy back.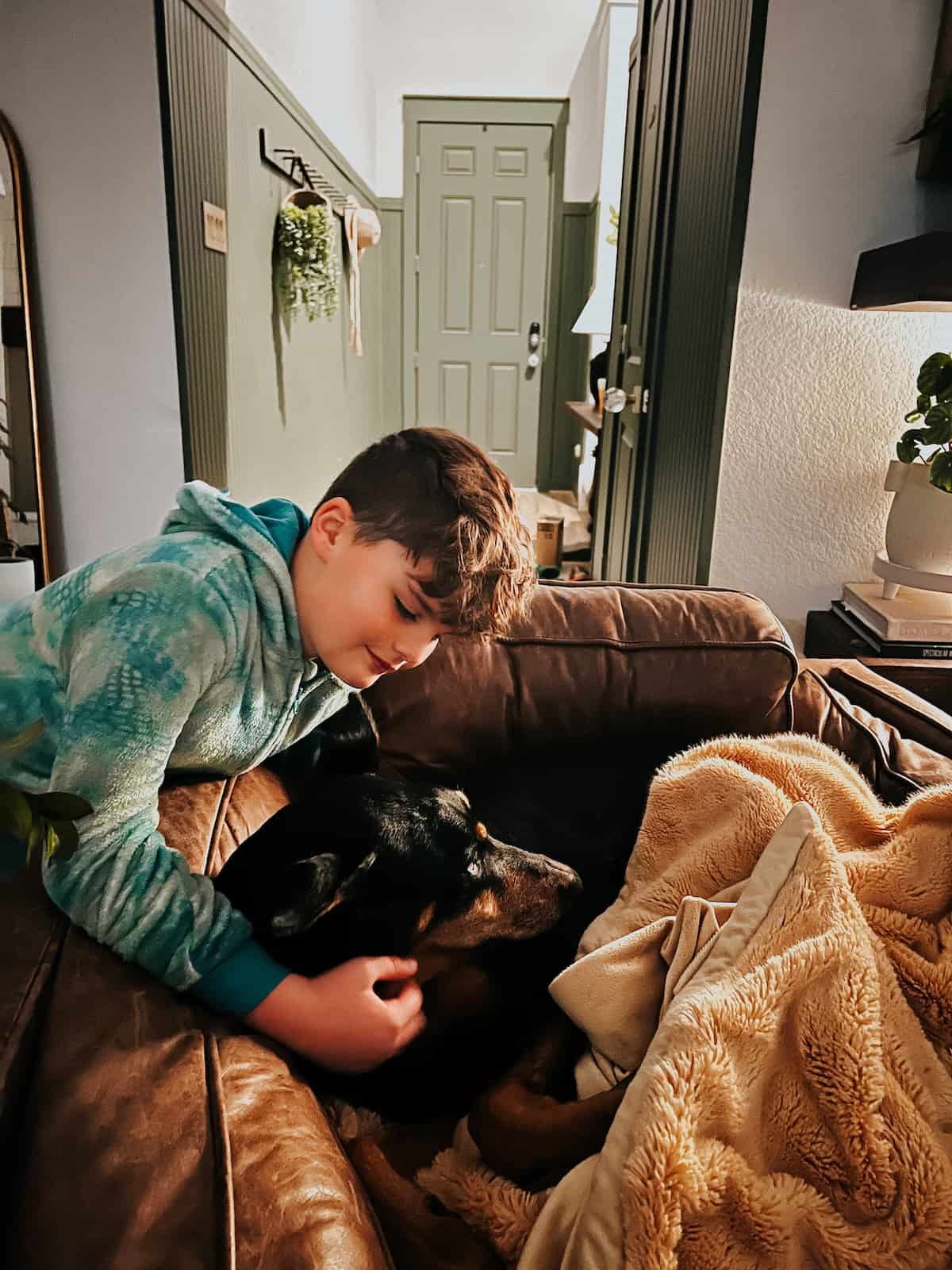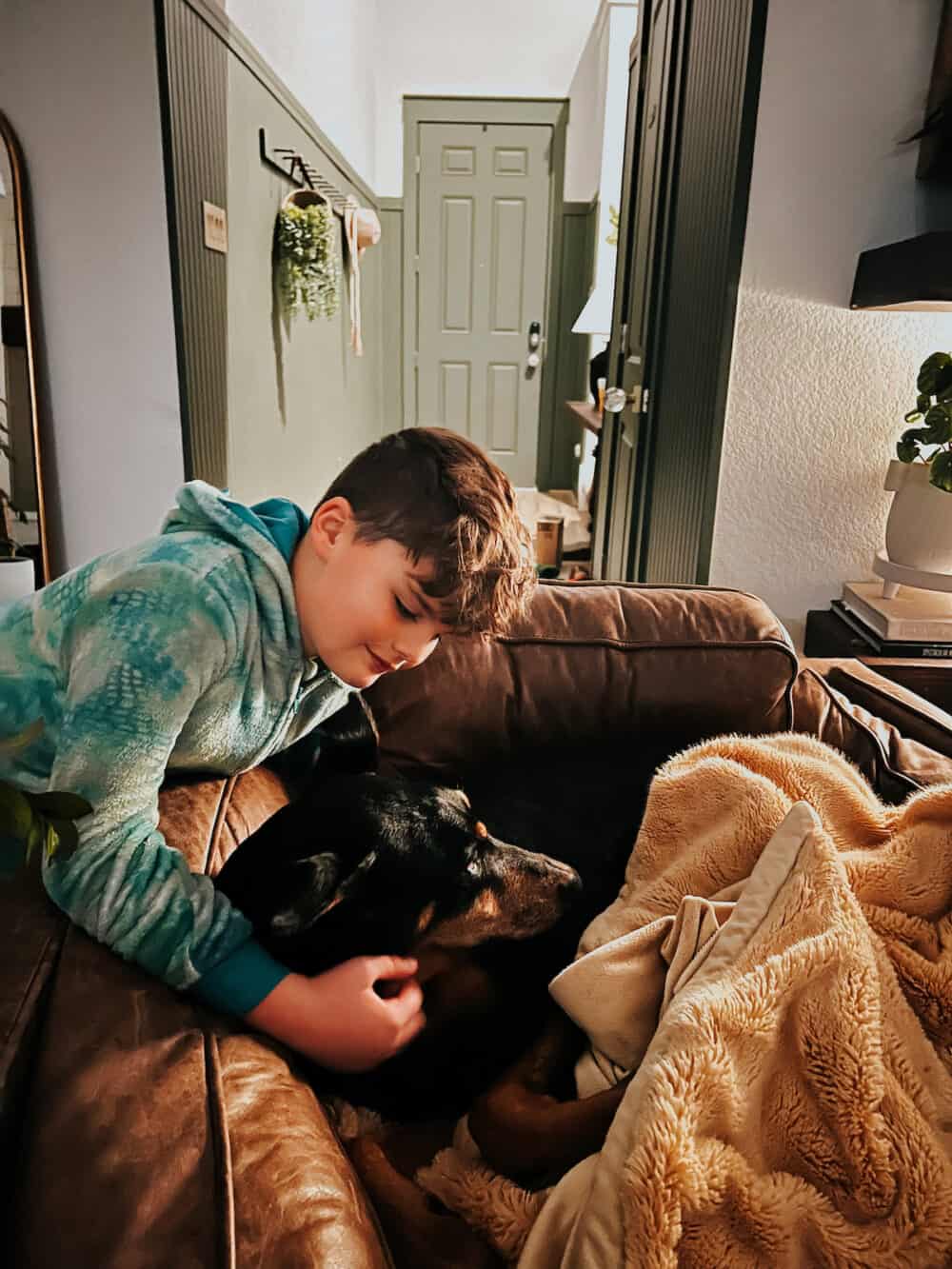 Hadley was always a bit of a lazy, introverted dog. She loved having visitors and became instant best friends with just about everyone who walked through the door. But, on a day-to-day basis she preferred to spend most of her time lounging upstairs, away from the chaos of the kids and our other dog, Potter. On occasion, she'd get a wild hair and play with him or us, but as a whole she always seemed so above the idea of acting like a dog. She was much too aloof for that. She preferred naps, kisses on the nose, and snuggling. She wasn't interested in toys. She didn't like to go on walks (one time Corey had to call me to come pick him up in our neighborhood because she had sat down and refused to move). She turned her nose up at the vast majority of treats we offered. She had a big and unique personality, and she wasn't afraid to let you know it.
The night before we took her to the vet to be put down, we were laying in Jackson's bed reminiscing about all of our favorite Hadley memories. The story I shared will always be the story that I feel most perfectly embodies Hadley's personality.
It was shortly after we had Jackson, and my grandmother and aunt had come over to spend some time with him. My parents were there as well. Hadley grew out of this a bit in her old age, but when she was younger there was nothing in the world she loved more than to be kissed on the nose. She'd waltz right up to you, all 60-something pounds of her, and shove her snout right up in your face and cry until you kissed her.
That day, she "asked" my grandma for a kiss, and my grandma declined. She was a classy lady and she didn't go around kissing dogs on the nose.
Hadley wasn't having it. After huffing at her and walking away, she walked over to my dad, who she knew would be more than happy to oblige her. After he kissed her, she looked back over her shoulder at my grandma, locked eyes with her, and whined. My grandma informed her in no uncertain terms that she wouldn't be kissing her, so Hadley looked back to my dad and cried at him until he gave her a second kiss.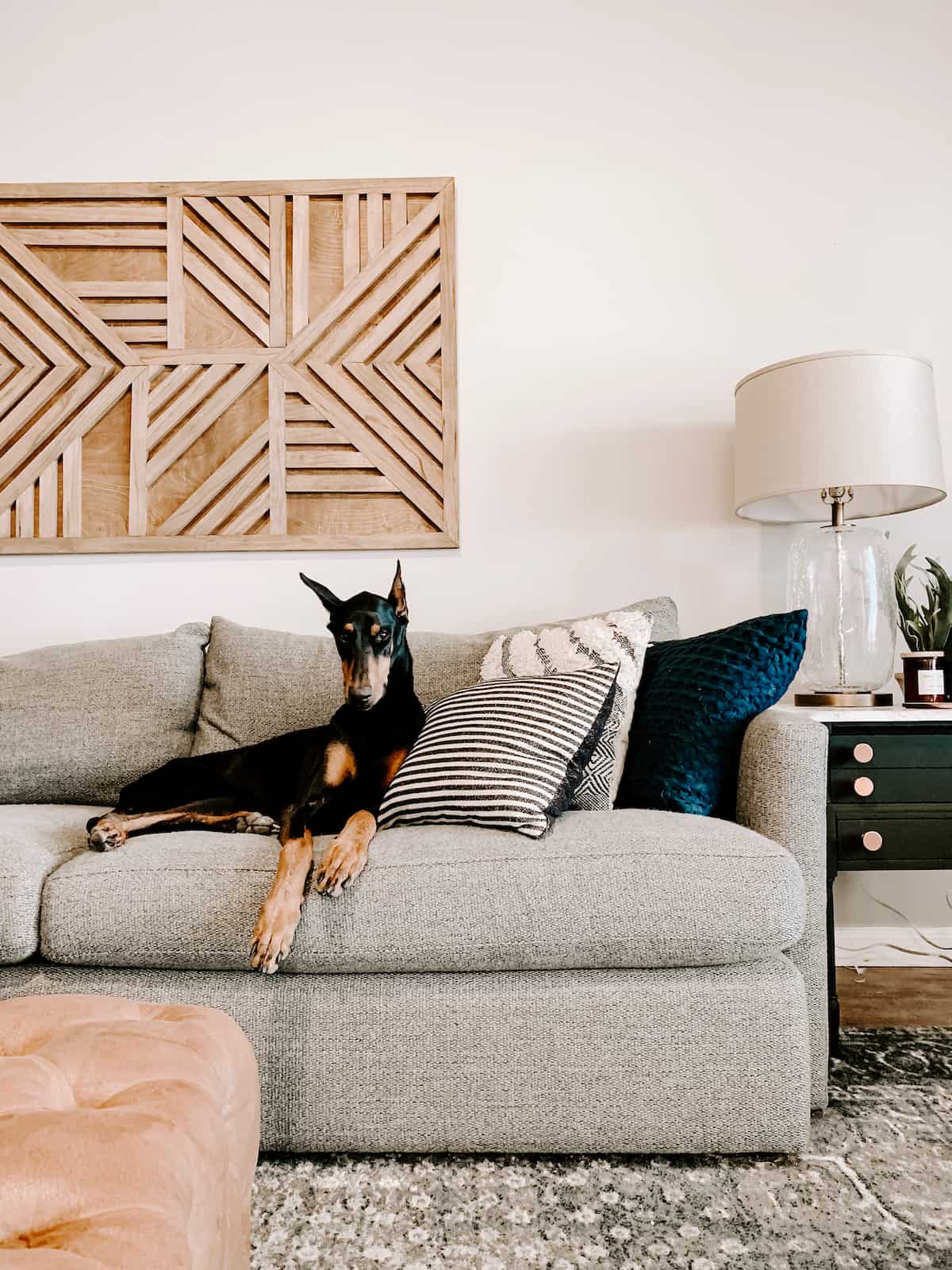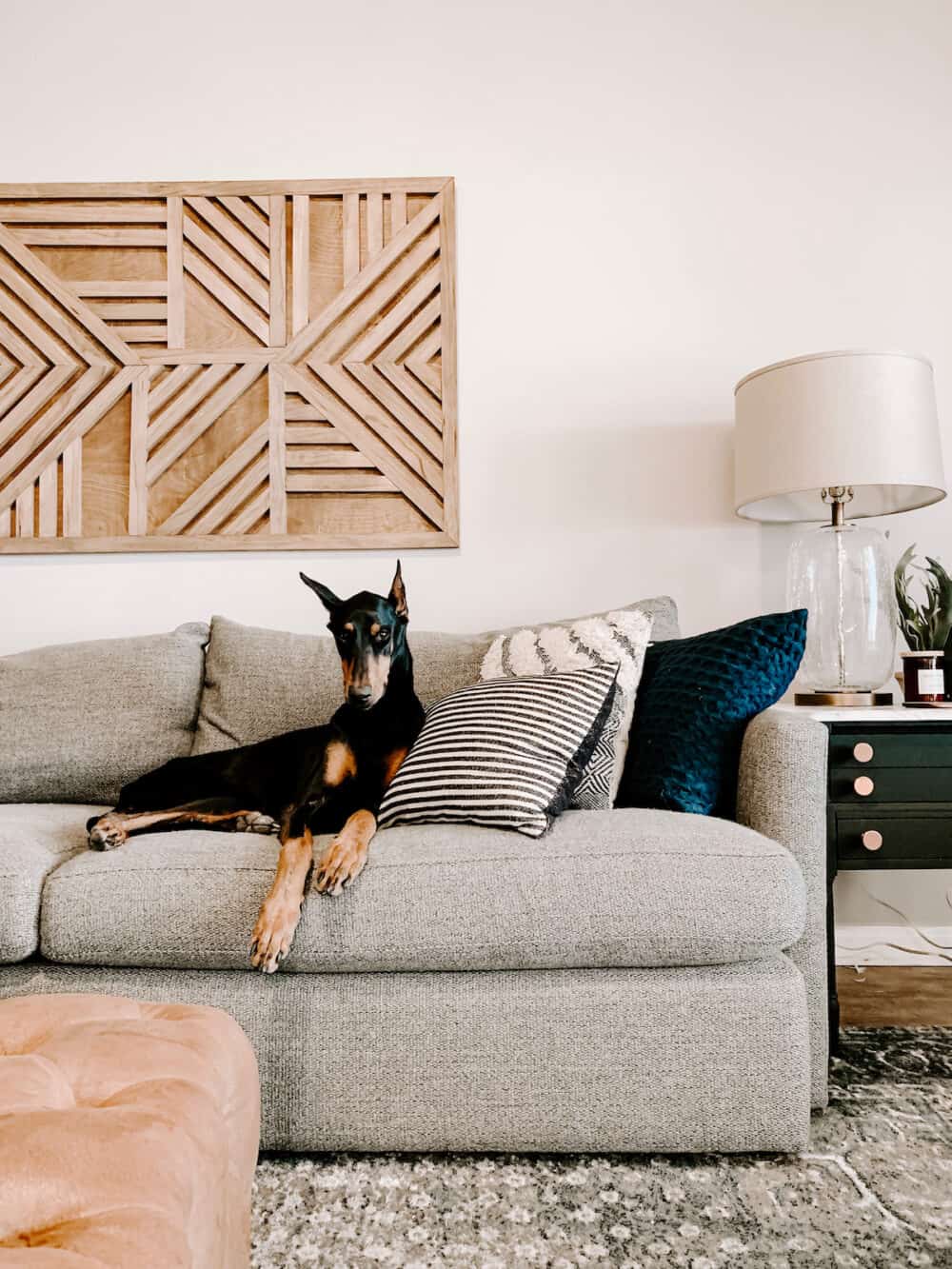 Speaking of whining, if you know Hadley, you know she was vocal. She whined all the time. Happy? Whine. Sad? Whine. Annoyed? Whine. Overwhelmed? Whine. I've never met another dog who vocalized quite as often and in the same way as that dog did. It was like she desperately wanted to be able to talk to you, but this was as close as she could get.
She rarely barked until the last few months of her life. In fact, her increase in barking was one of the signs to us that it was probably time to let her go. It was such a major shift in her personality to hear her barking regularly after 10 years of doing nothing but whine all day. We knew it meant she was hurting more and more.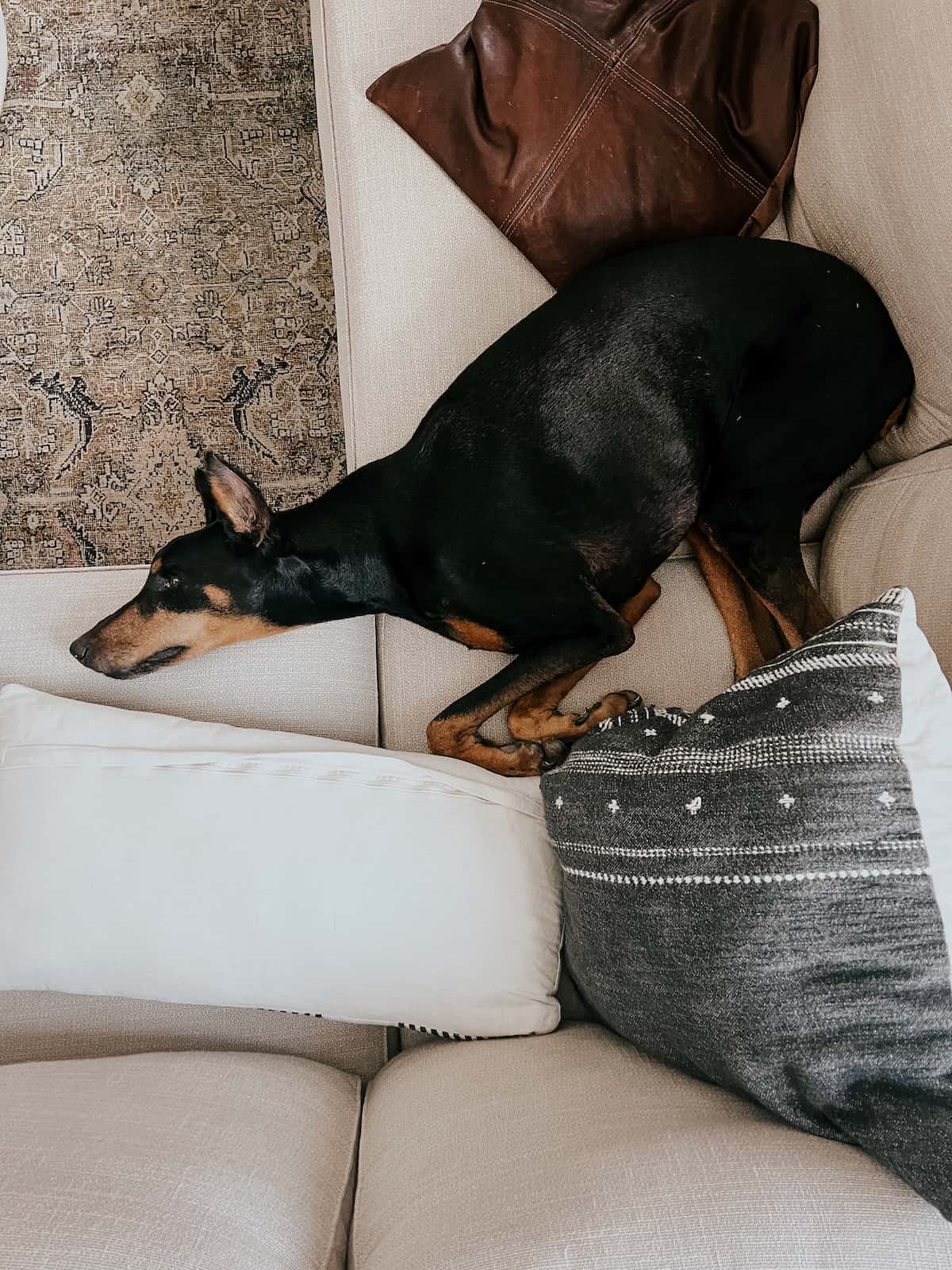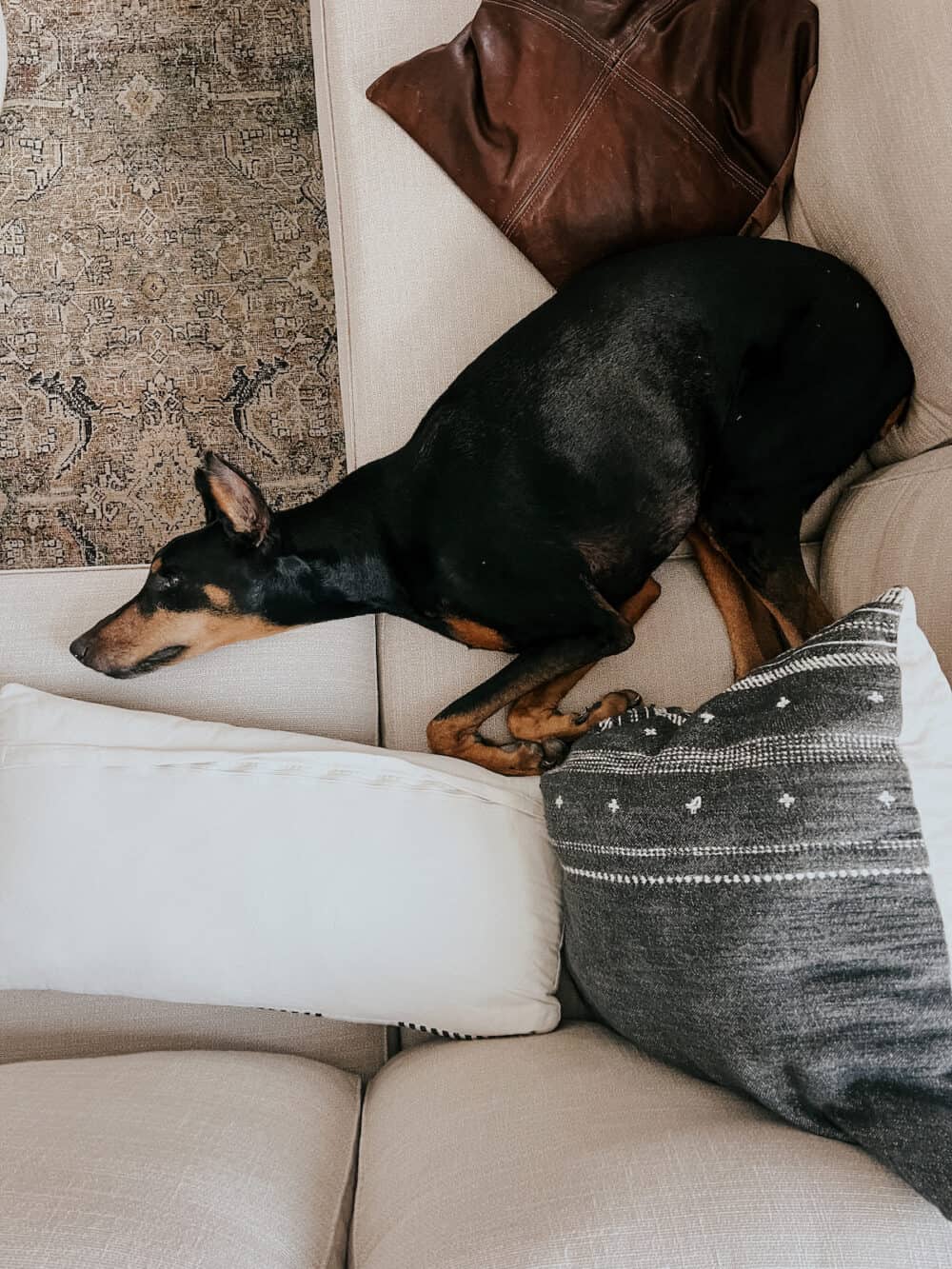 Jackson has never been much of a dog person, but this loss has hit him deeply. He misses the way she'd always come ambling out from wherever she was napping to say hello when he got home from school. He misses her quiet presence in the background of every family night, and her laying next to the couch while he played video games.
He keeps telling us that he's just so sad. I am too. Hadley has been such a large presence in our lives for so long that there's a noticeable shift in the entire energy of our house.
Grant is still processing what has happened, but he understands enough to know Hadley's not coming back. Where Jackson's pain has hit him hard and fast, I think Grant's pain will come out more slowly, over time. He loved that dog with his entire heart and soul. She was never quite sure what to think about him, because he adored her with such intensity that I think she found him overwhelming most of the time. But, she loved him in her own way. She'd let him lay on top of her for a few minutes before huffing and wriggling out from underneath him. She'd tolerate it when he woke her up from a nap to wrap his tiny body around hers and stroke her ears. She'd gamely plop down on the ground next to him for a few minutes while he patted her on the side and declared her a "good girl".
And she was. She was such a good girl.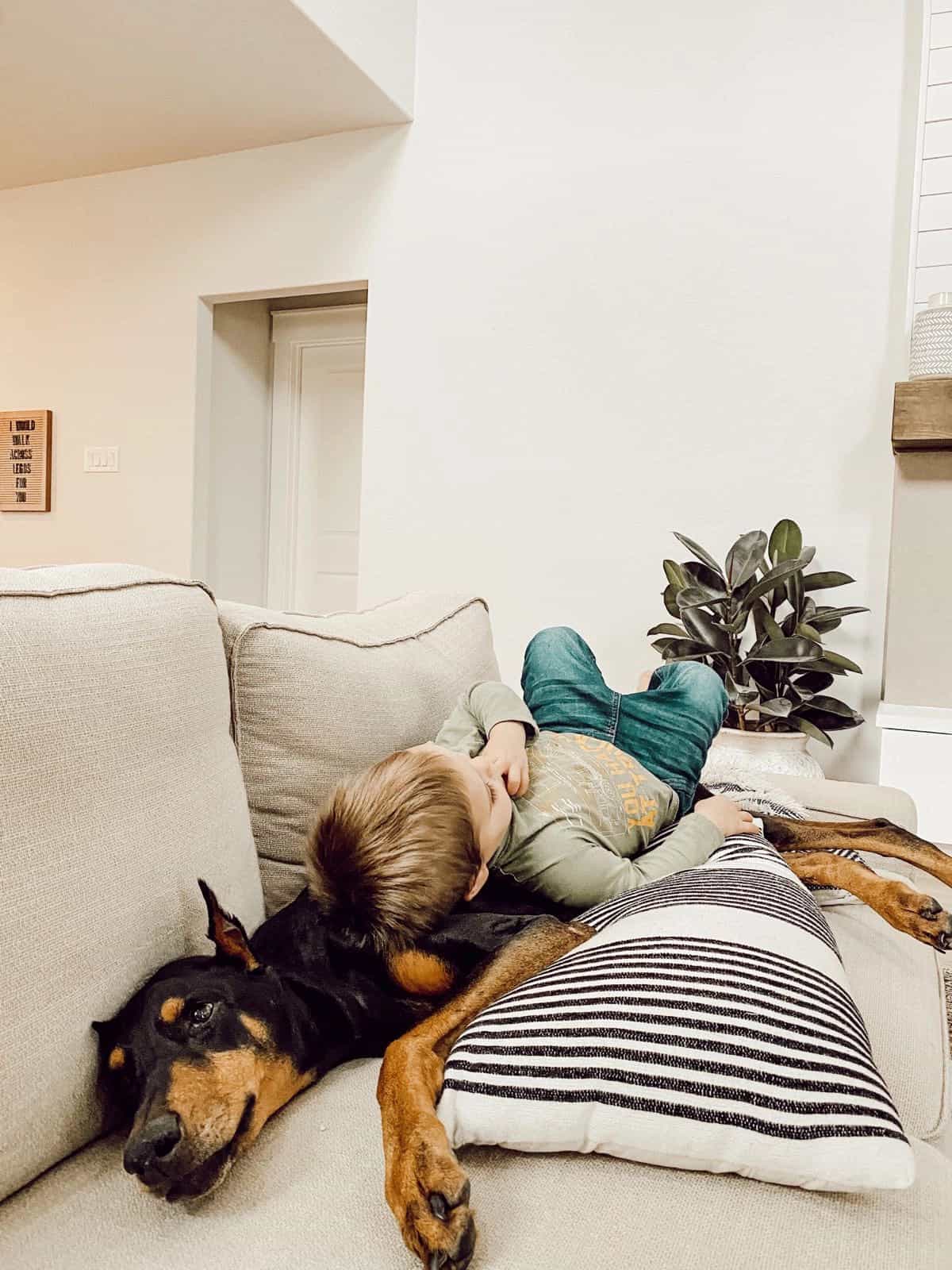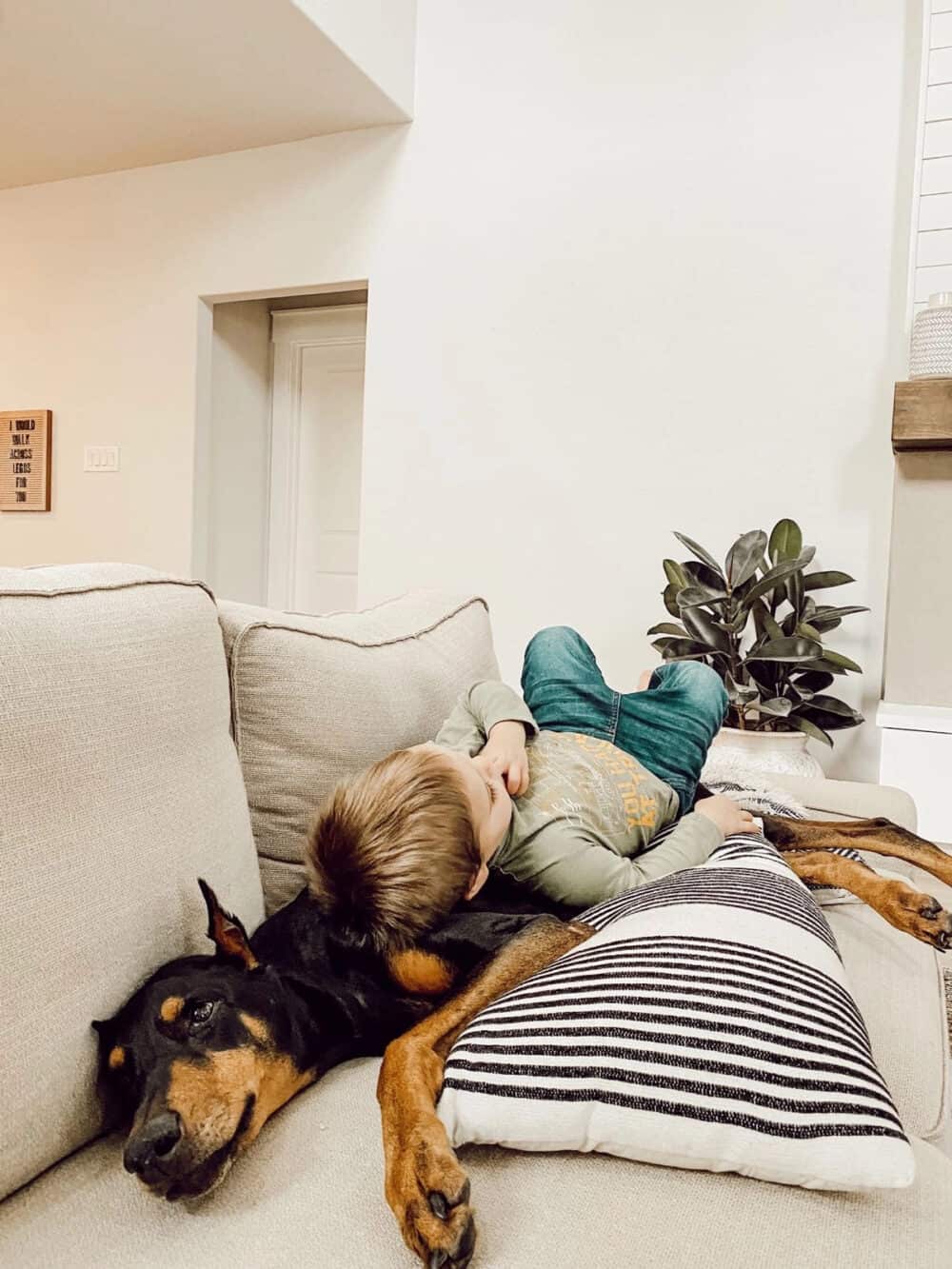 Hadley, you were so incredibly, deeply, and unconditionally loved. Your quirky personality fit right into our chaotic little family and your presence is desperately missed.
We love you so much.