Buying paint can be tricky. There are so many decisions to make. What brand will you use? What color will you go with? How much do you need? And then, just when you have it all figured out and you're ready to go, they'll throw you a curveball – what paint sheen would you like?
This is a question that stumps a lot of people. There are a lot of outdated ideas that people have about paint sheens, and it can be an overwhelming decision. Paint sheens affect a lot – how durable the paint will be, how reflective it is, and they can even affect how the paint color looks.
I'm going to demystify aaaaaall of the paint sheen info for you here. By the time we're done, you'll be a pro and the next time someone asks you what paint sheen you want to use for your walls, you'll have an answer ready to go!
What is paint sheen?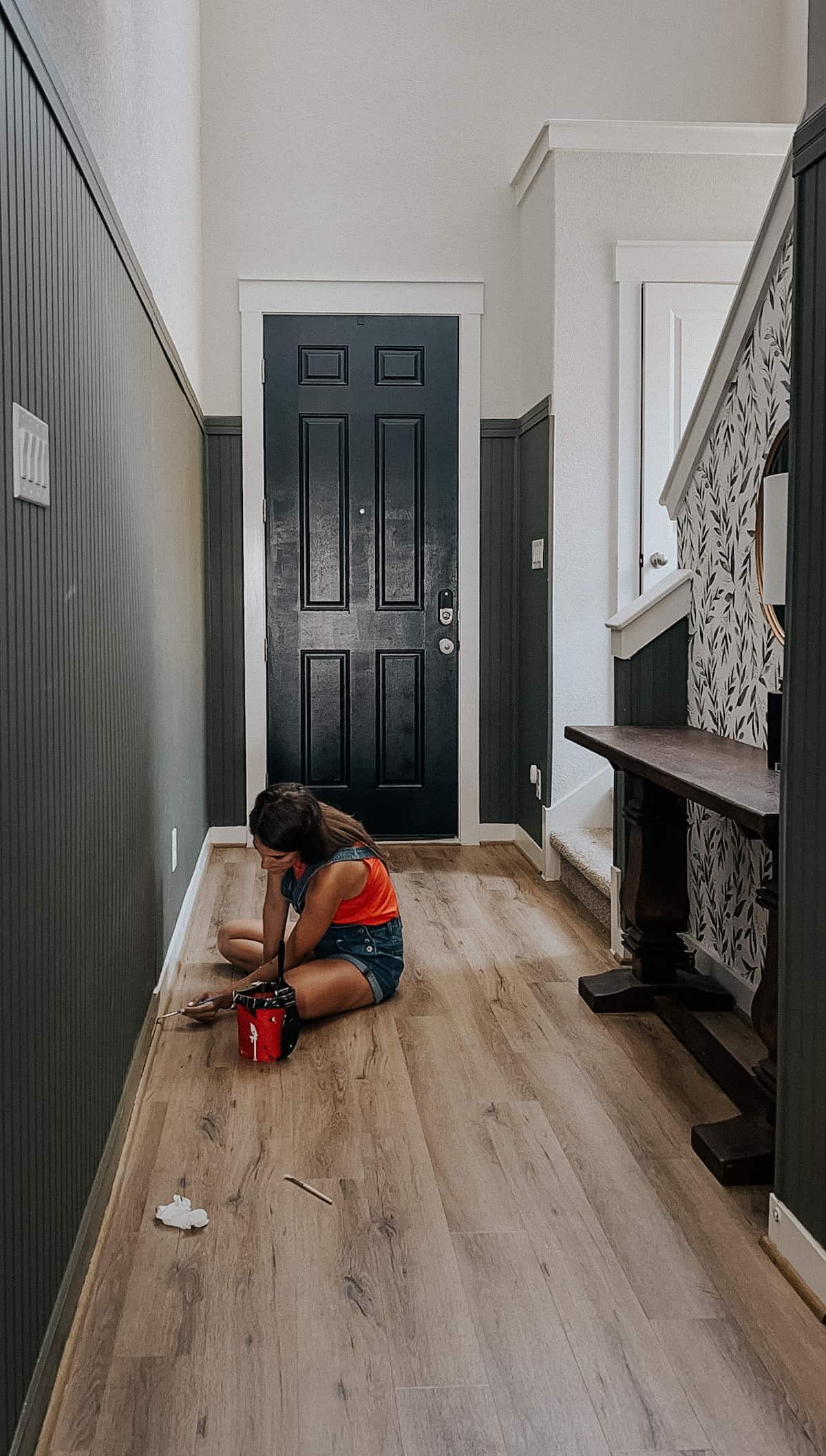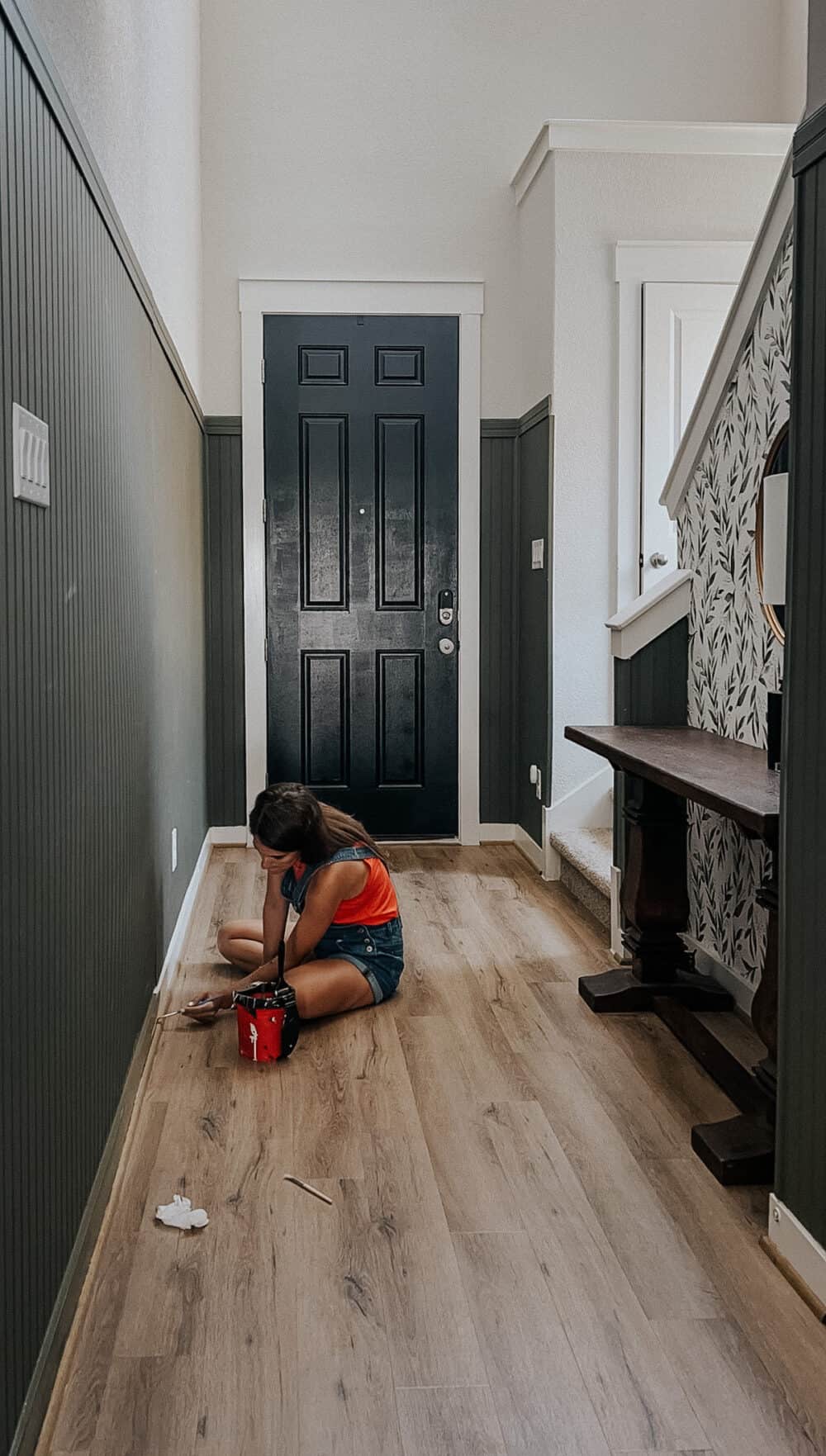 Let's start with the obvious – what even is a paint sheen? Simply put, the sheen of paint refers to how glossy the paint is. Higher gloss paints have more resin in them and reflect more light. Lower gloss paints have less resin and reflect less light.
Higher gloss paints are also known for being more durable, easier to clean, and wipeable. In the past, it would often be recommended to use a satin or even semi-gloss in bathrooms and kitchens because they can stand up to wear and tear better. However, paint technology has come a long way and that's not really necessary anymore. You can choose the paint sheen you like best for any space, and as long as you're using a high-quality paint, you'll be perfectly fine! Even if you have kids who are sure to leave a giant mess on your walls. Promise!
Paint Sheens
Generally speaking, the paint sheens are as follows:
Flat
Matte
Eggshell
Satin
Semi-Gloss
High Gloss
Here's a little paint sheen chart I put together for you to simplify it: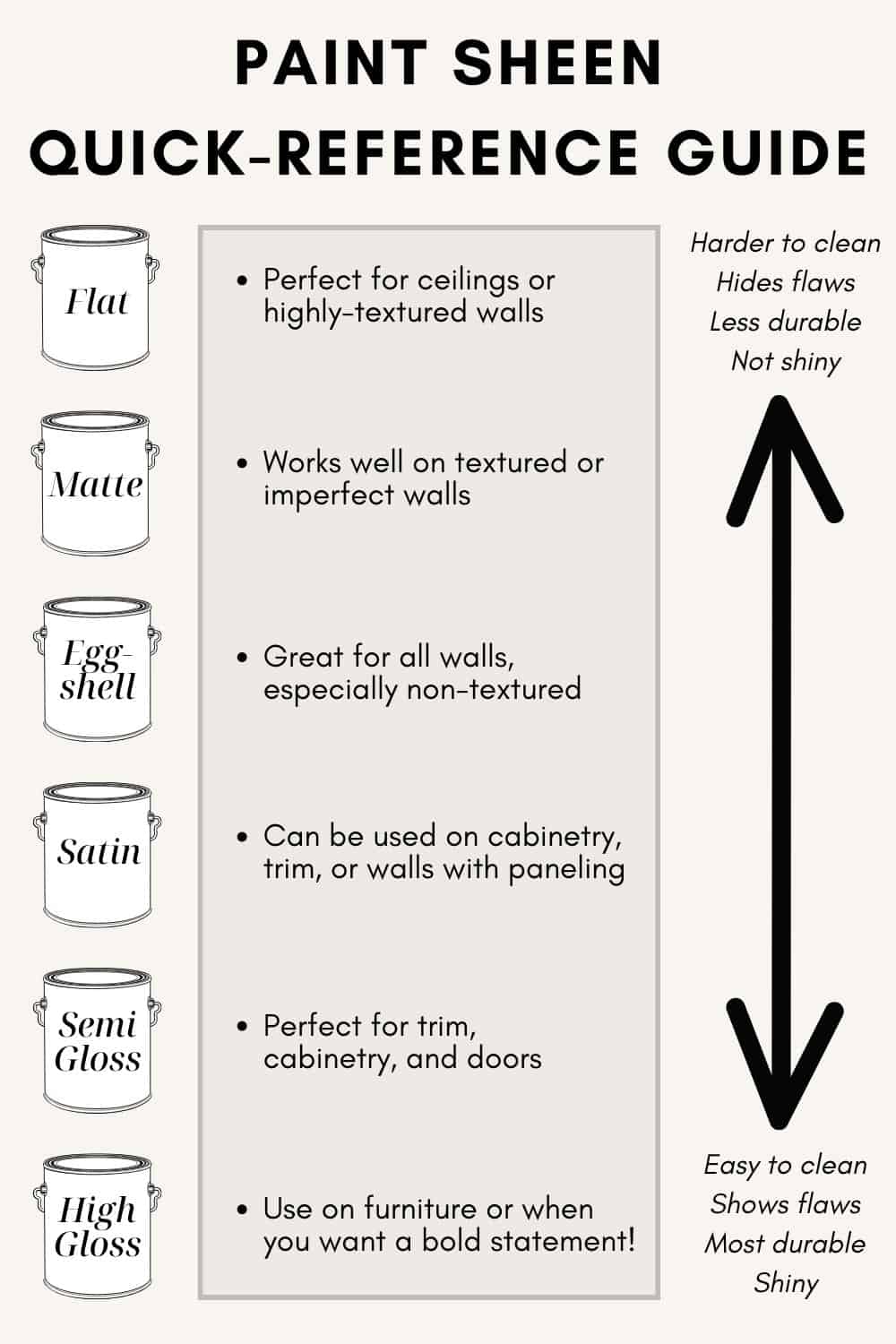 what paint sheen should i use?
Now that you know what paint sheens are and you know what the types of paint sheens are, it's time for the real question. How do you choose a paint sheen?
I'm going to walk you through each of the paint finishes, the typical uses, and some personal preferences on each. Hopefully, by the the time we're done you'll feel confident and ready to pick out a paint sheen for your next project.
flat paint
Flat paint is paint that has 0-3% reflectivity. Meaning, it doesn't reflect light at all. The benefit of this is that flat paint can hide a ton of surface imperfections or texture in your walls. It can also have a velvety texture, especially if you're using a high-quality paint!
If you're painting a ceiling, flat paint will be your best friend. It's almost always used on ceilings, thanks to its ability to hide flaws.
Matte paint
Matte paint is one step up from flat. It isn't available in all paint lines, but my go-to (Behr) does offer it. Most high-quality brands like Benjamin Moore also have a matte option. Matte paint has 3-10% reflectivity, so it has a veeeeery slight sheen but still does a great job at hiding imperfections.
Because we have textured walls throughout our house, matte paint is usually my go-to. I love that it really neutralizes the look of the texture on our drywall, and the rich texture of it makes me really happy.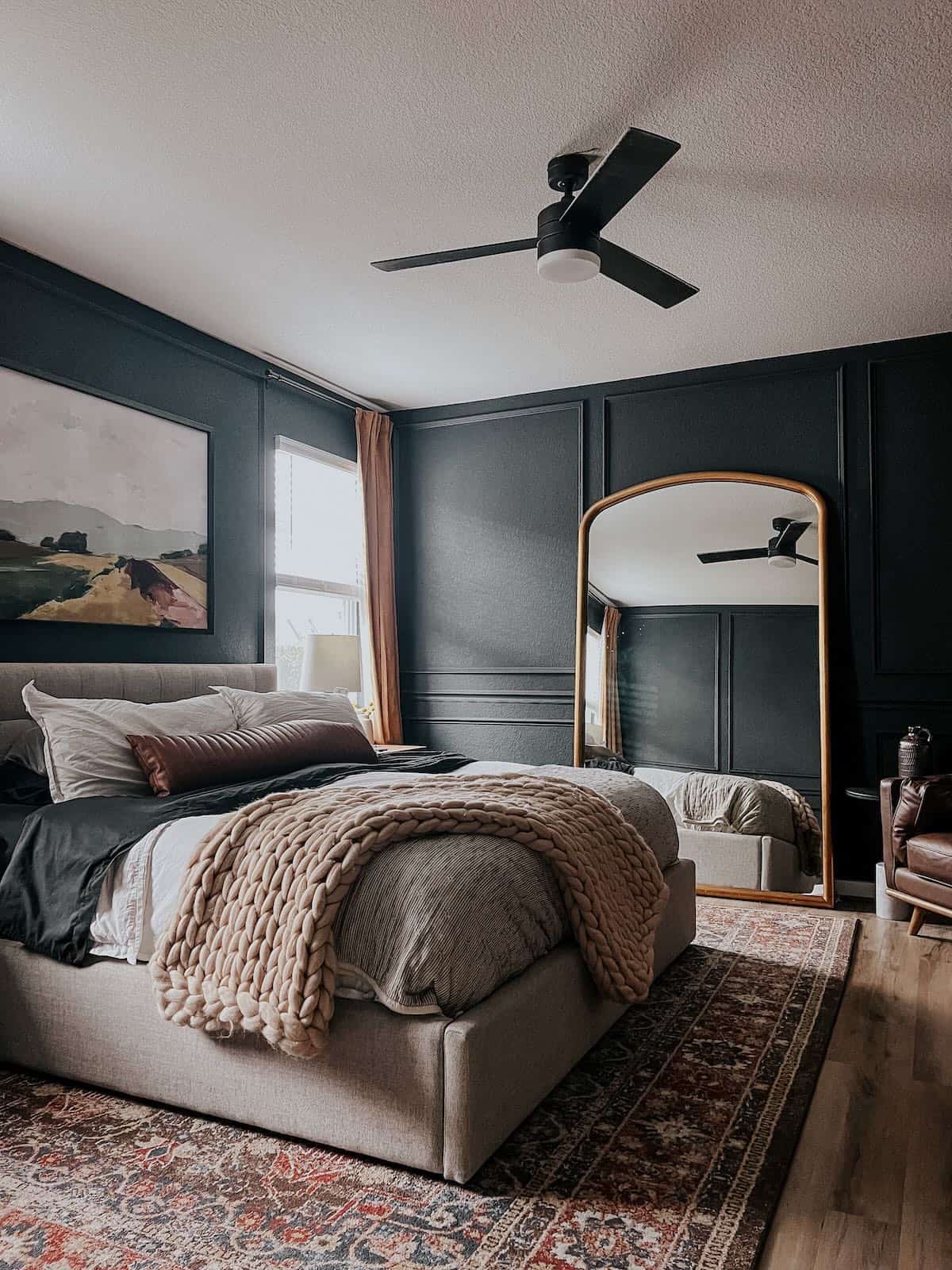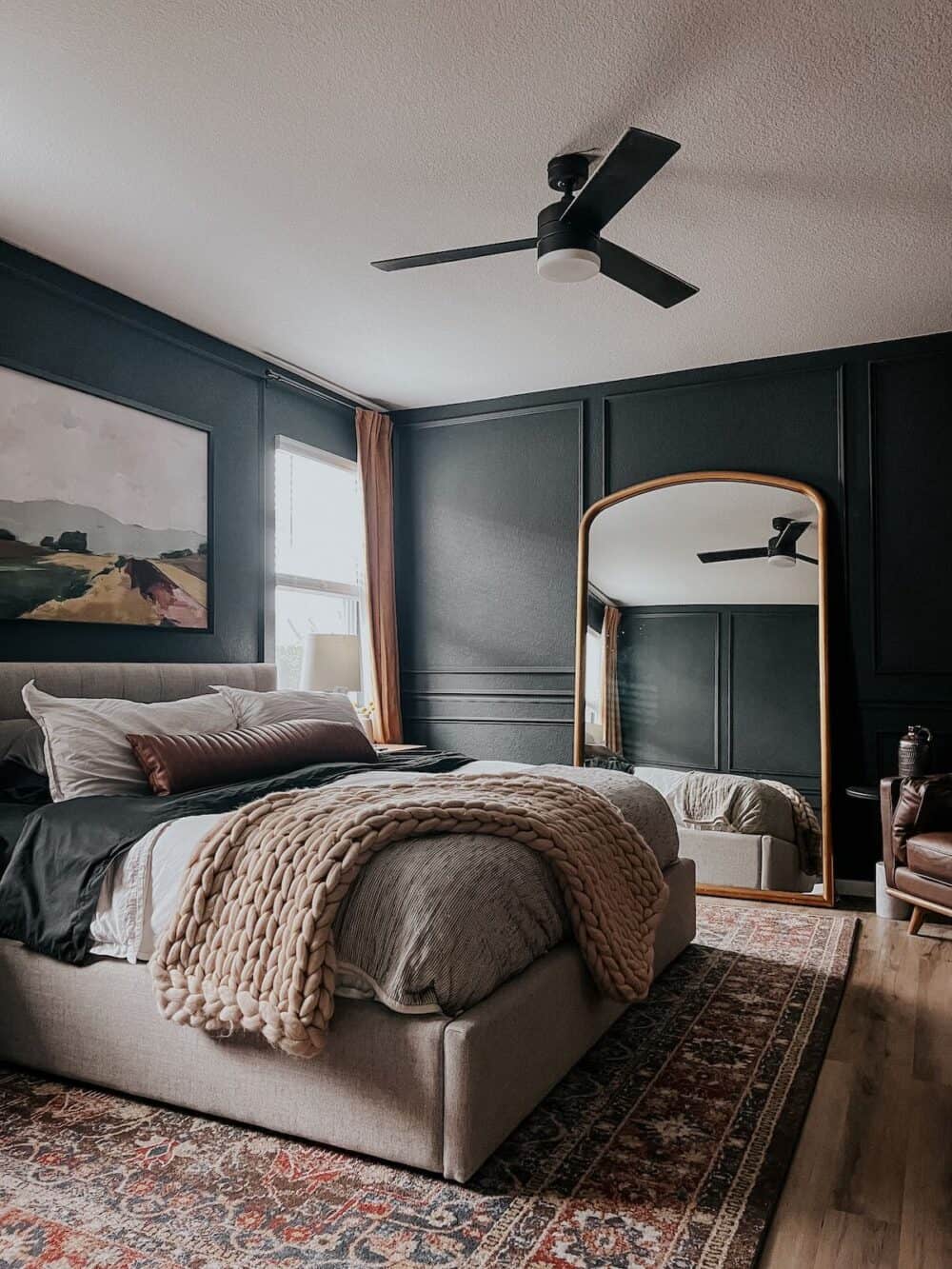 Bed | Rug | Similar Mirrors | Curtains | Art | Paint Color: Ink Black by Behr in Matte
Eggshell Paint
Eggshell paint is probably the most common paint sheen for interior walls. It has a reflection score of 10-25%, and it's a really great choice for just about any space. Eggshell will have a bit more of a sheen than flat or matte does, but it's still very subtle. If we had smooth walls in our home, eggshell is absolutely the paint sheen I would choose to use.
What rooms should you use eggshell paint in them? All of 'em! Eggshell paint is great for dining rooms, living rooms, hallways, laundry rooms, entryways, and more. It's a great "one size fits all" paint sheen when it comes to wall paint, if you want to keep things simple.
Satin Paint
Satin paint has a reflectivity of 25-35%. It's great if you want some shine, but don't want it to be too noticeable. Satin trim is a great choice for walls that have trim or paneled walls if you want them to stand out a bit. It's also a good option for cabinetry and trim if you want a less glossy look!
Semi-Gloss Paint
With semi-gloss paint, you'll definitely notice a solid sheen to the paint. It has a reflectivity score of 35-60% and is what I generally recommend for baseboards, crown molding, doors, and other trim. It's also great for cabinetry!
Semi-gloss paint is really wipeable and durable, and the glossy finish is great for trim, stair rails, and that sort of thing.
High-gloss paint
And finally, high gloss, which has a reflection score of 60+%. Generally speaking, high gloss paint should be saved for super smooth finishes (like furniture) where you really want to make a statement. It's not used all that often, and has a lacquer-like finish. Some people do use it on baseboards or other trim around the house, but I personally prefer to stick with semi-gloss for the most part. I only bust out the high gloss paint if I'm working on a piece of furniture that I want to be nice and shiny!
paint sheen FAQs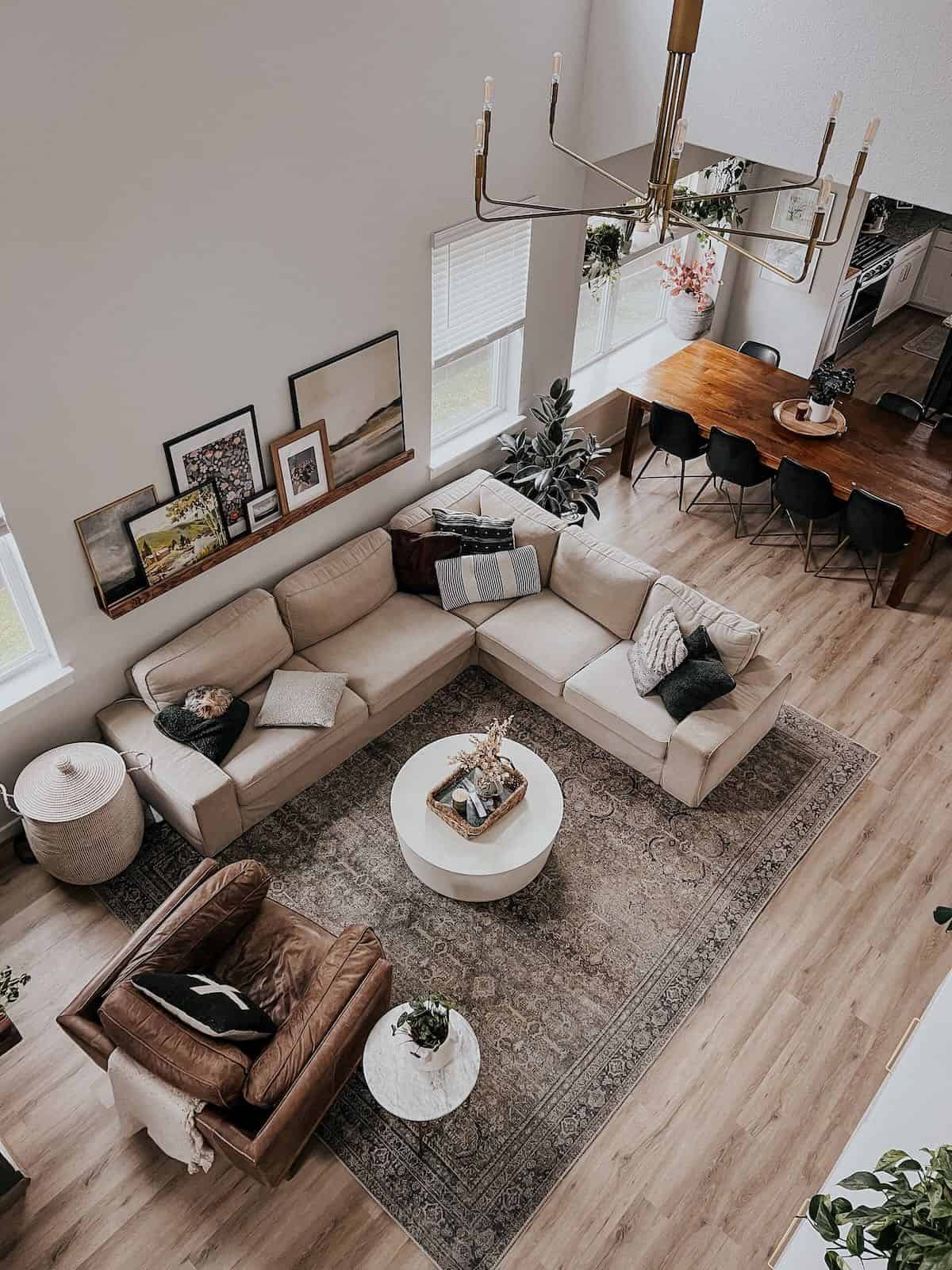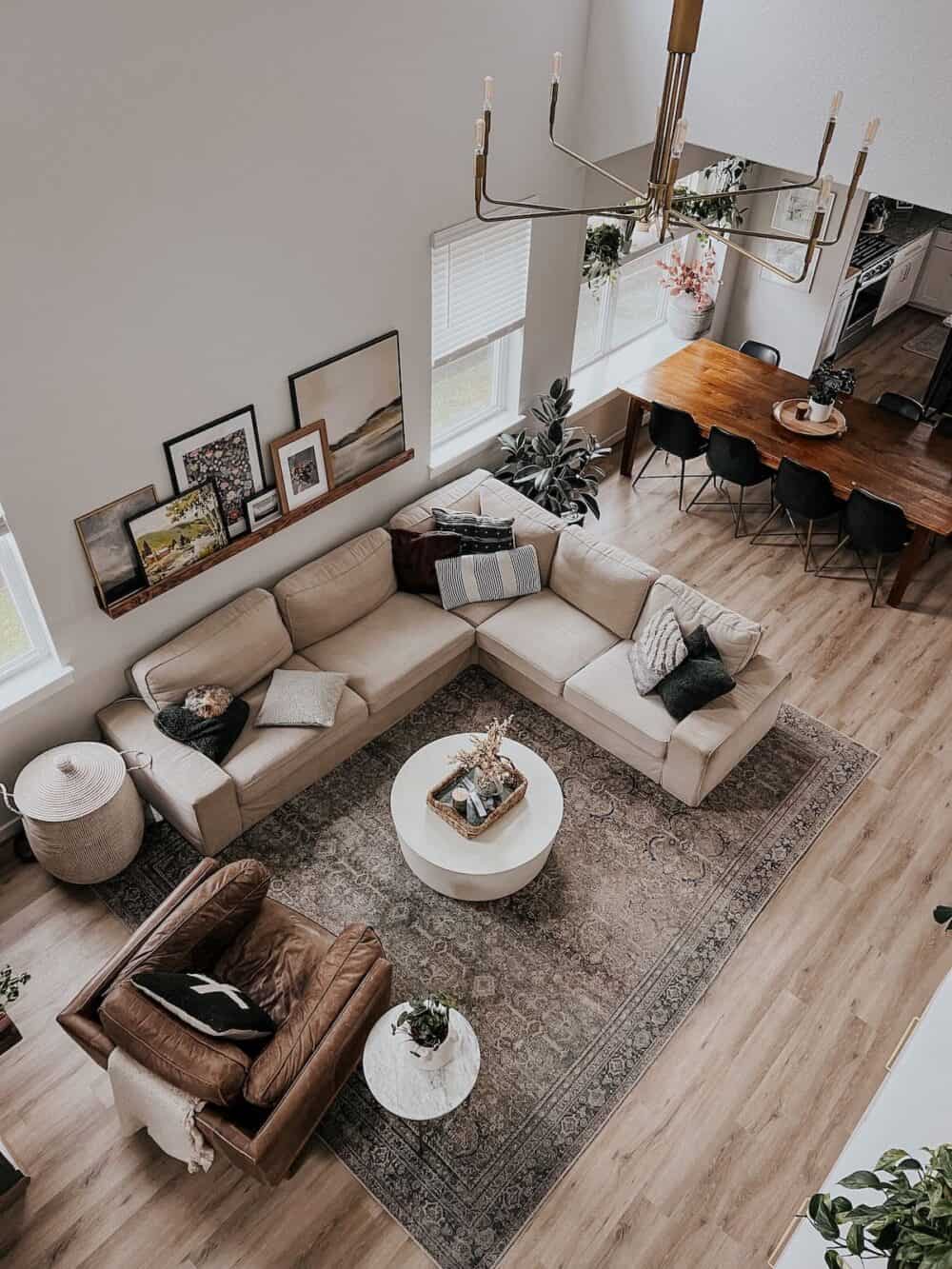 Sofa | Leather chair | Rug | Coffee table | Basket | Art ledge | Paint Color: First Star by Sherwin Williams in Flat
Let's wrap it up with a few questions I see often when it comes to paint sheens.
is eggshell or satin better for walls?
First of all, let's acknowledge that there's no right or wrong answer here. Choosing a paint sheen is a personal preference, and what you like is all that matters!
That being said, my personal recommendation would be to go with eggshell over satin when painting interior walls. The main argument for a glosser finish on walls is durability, especially in high-traffic areas. But, when you're working with a quality paint brand (which you should always be doing!), it really isn't a factor. My matte walls are perfectly wipeable and I can scrub them without issue. So, a satin finish isn't necessarily better just because it's more durable.
Which paint sheen is the most durable?
Speaking of durability, lots of people want to know what's the most durable? Well, as we discussed before, higher gloss paints are more durable. So technically, a high gloss paint would be the most durable when it comes to wipe-ability and removing stains. That, of course, doesn't mean it's the right answer for every project though. Take all the factors into consideration when you're choosing your paint sheen!
What sheen of paint shows the least imperfections?
If you're dealing with a lot of imperfections or texture on your painted surface, a more matte finish will be the best bet. Higher sheen paints show more imperfections, while a matte sheen helps hide them.
On walls, flat or matte is the best option for hiding imperfections. On something like trim or cabinetry, satin is a great lower-sheen option. But, I've also been known to paint my trim with matte paint on occasion when I'm painting it the same color as my walls!
What about exterior spaces?
The same rules apply when choosing paint for exterior spaces! Eggshell is a great choice for things like siding, and a semi-gloss sheen is a great, washable choice for things like woodwork, trim, and exterior doors.
Can you use different sheens throughout your house?
Absolutely! Have fun, play around, and do what you love. There are no rules here, I promise.
related posts