Five 5-Minute DIY Halloween Decor Ideas
I love decorating for Halloween. It's silly, it's whimsical, and you can't possibly be too over-the-top about it. It's impossible. The whole point is to be over the top! I was sitting around the other day thinking about aaaall of the fun DIY Halloween decor ideas I could share with you, and it hit me: why not share five of the simplest ideas I have in one post?!
Halloween decorating content is coming in hot this year. My brain has been swimming with ideas since early August, and I have so much to share with you!
So, let's jump right in, shall we? Turn off the lights, grab a cozy drink, and start your timers, because I'm about to share with you five adorable DIY Halloween decor ideas that will only take you about 5 minutes or so to whip up.
Five Adorable 5-Minute DIY Halloween Decor Ideas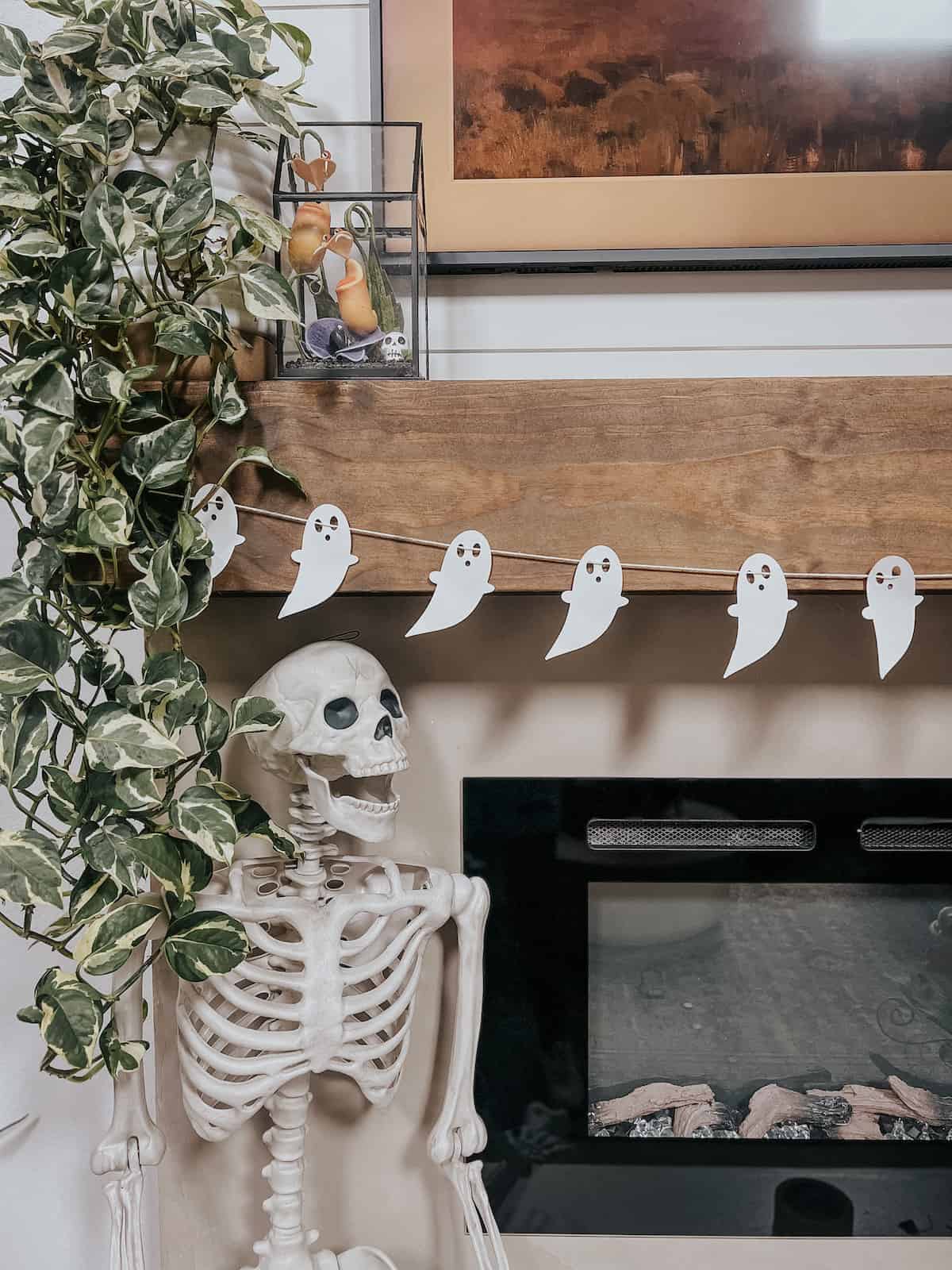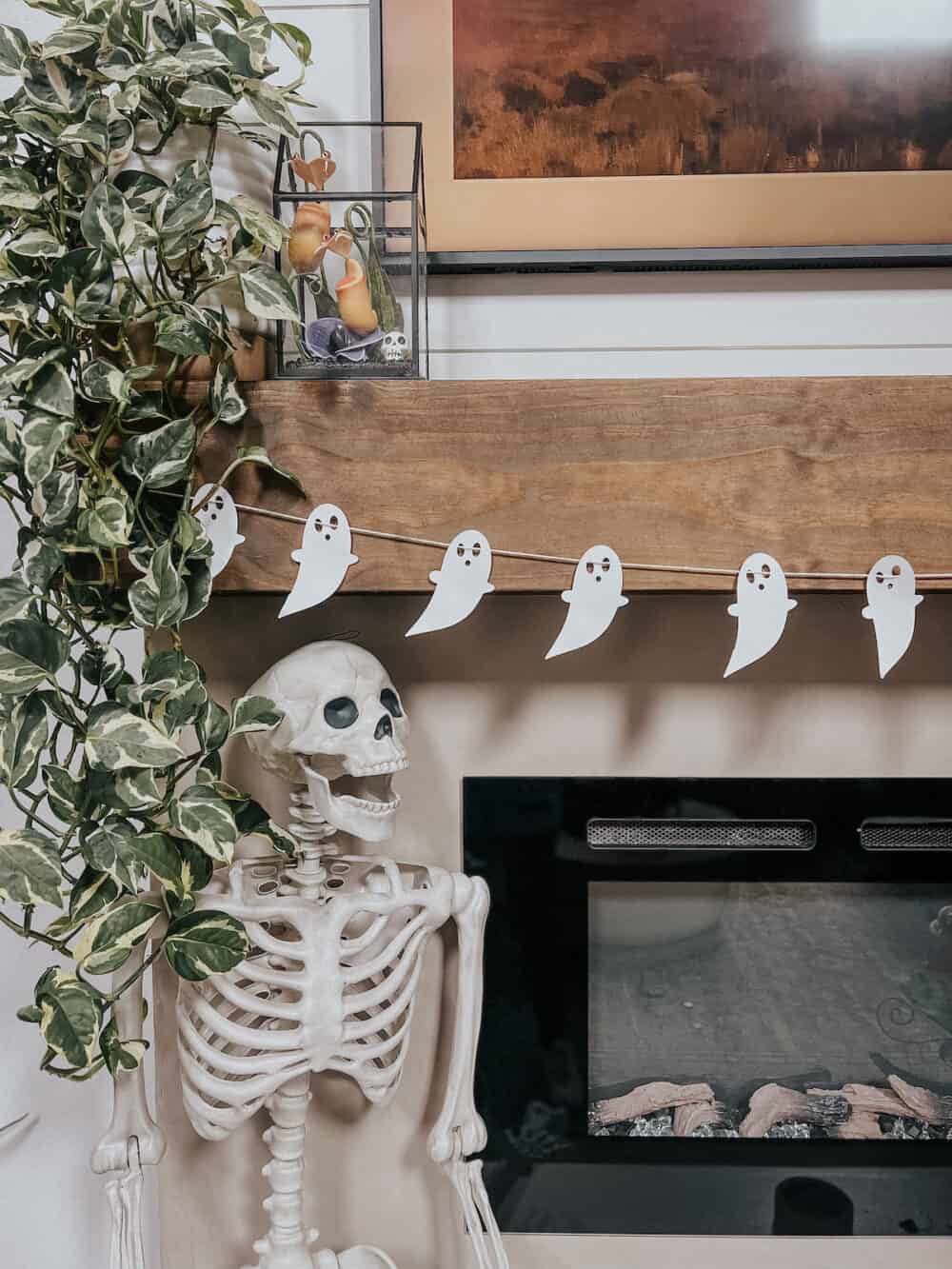 1. Paper ghost garland
A garland is a great way to add a little charm to your fireplace, a blank wall, or anywhere in your home you can think to put it. I'm sharing a little paper ghost version, but remember that the sky's the limit here. You could do bats, pumpkins, leaves, or even words!
For this garland, I cut out all of the little ghost guys using my Cricut. If you don't have one, you could just draw some ghosts on a paper (or print one out from the internet!) and cut them out by hand. It'll take a little more than 5 minutes that way, but you can do it while you're on you're 18th rewatch of Gilmore Girls, so it won't feel too painful.
A few other garland ideas to get your creative gears turning:
String up various sized black beads, mixed with some ghosts made out of yarn
Grab pre-cut-out letters at the craft store and make a garland that says "Trick or Treat"
Have the kids draw some ghosts, bats, or pumpkins and cut them out to string up
Gather some leaves that have fallen and turn them into a garland
The point is this: a garland takes minutes to put together, looks adorable, and gives off some serious Halloween vibes!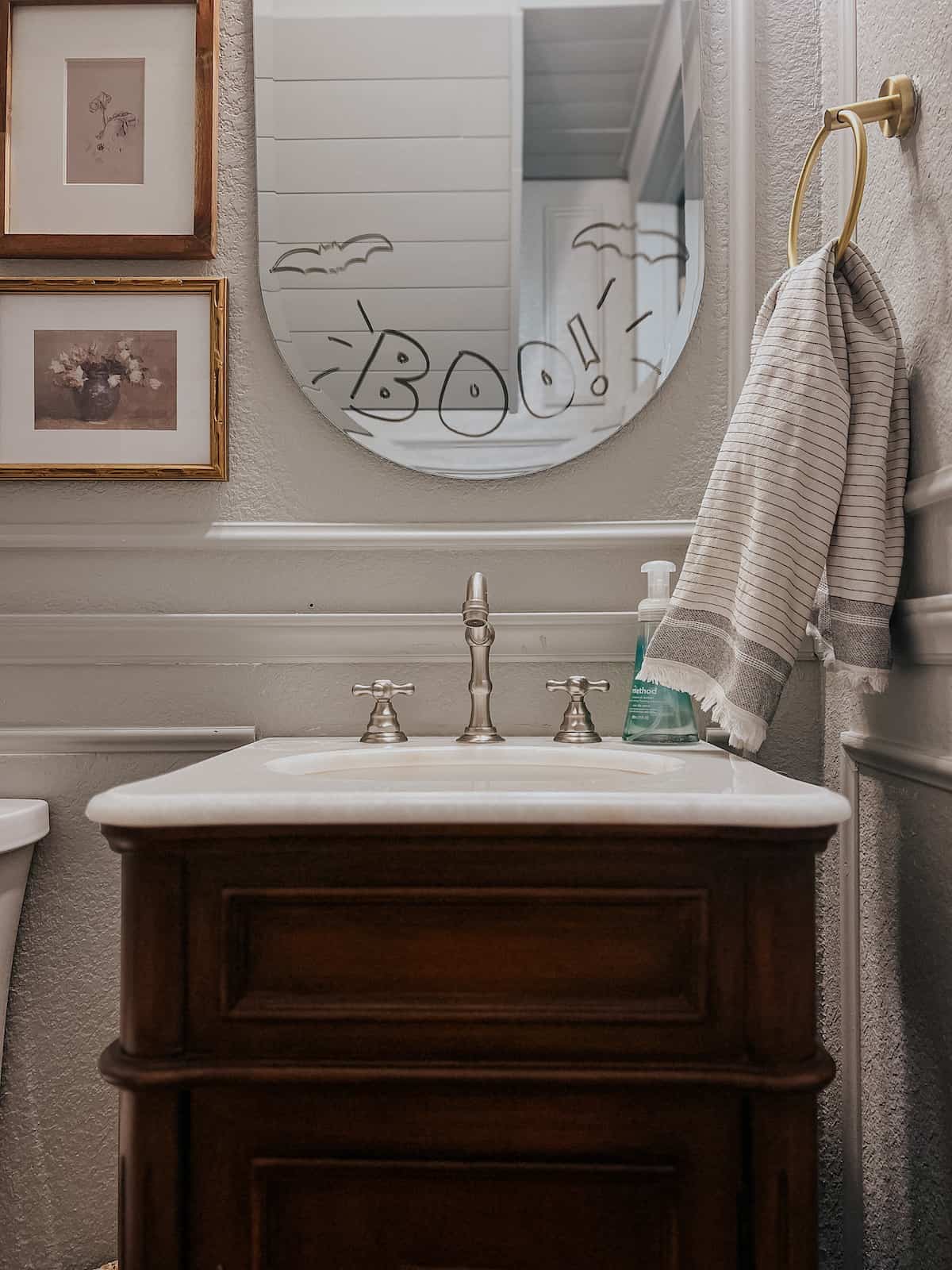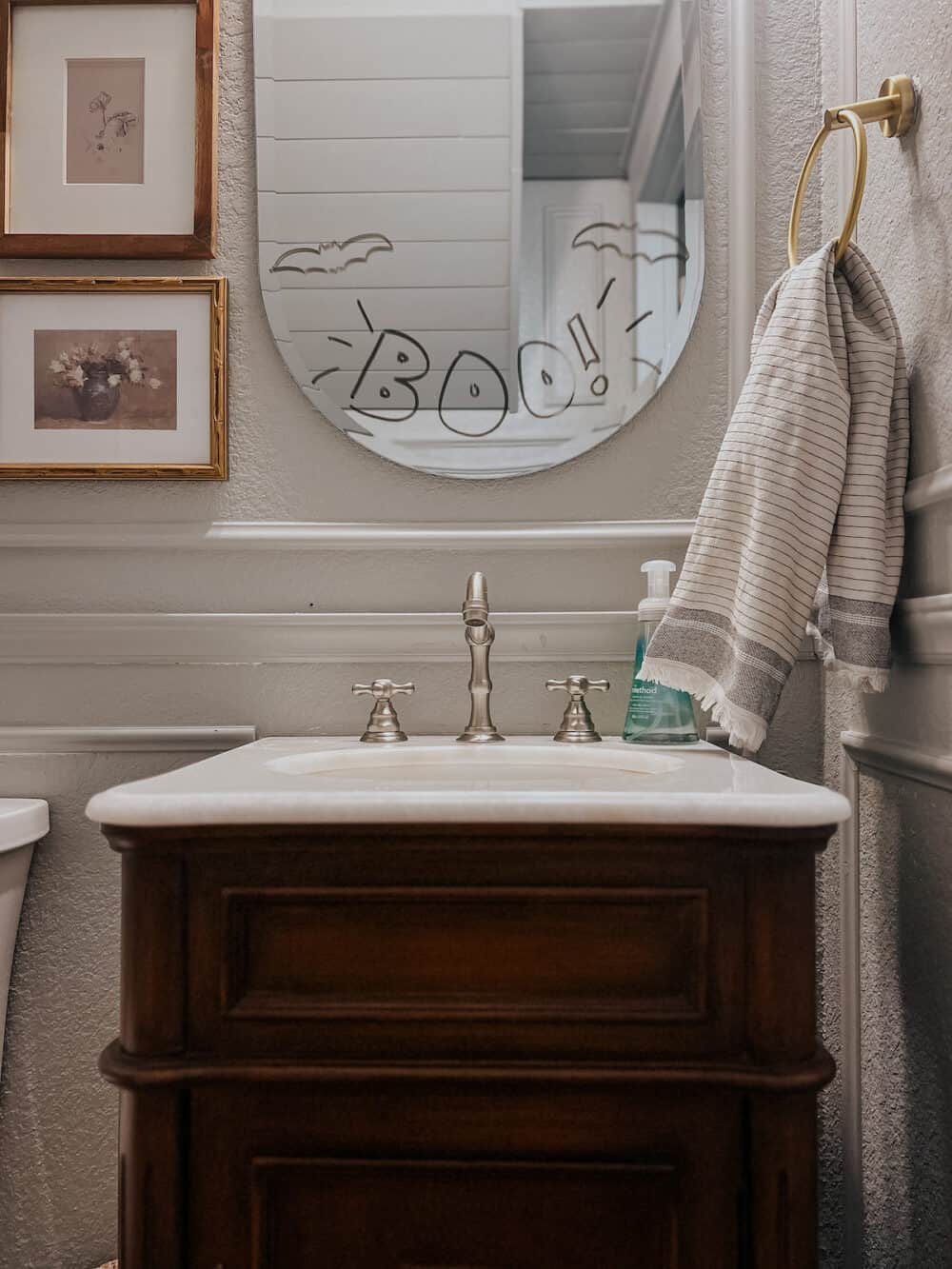 2. Draw on the mirrors
This is a fun idea for any holiday, but I think it works best during Halloween. Spend a couple of minutes drawing spooky bats, writing a little message, or drawing ghosts on your mirrors! It'll be a fun surprise for the kids, and it adds a little touch of Halloween with almost zero effort.
Obviously, this works best if you have a bit of an artistic flair (I don't!), but your kids will love it no matter what. I love the idea of writing "get out!" or something creepy in the guest room bathroom, or even drawing a little skeleton face at approximately head-height on the mirror.
Yes, it's silly and cheesy. But again, isn't that half the fun of Halloween?!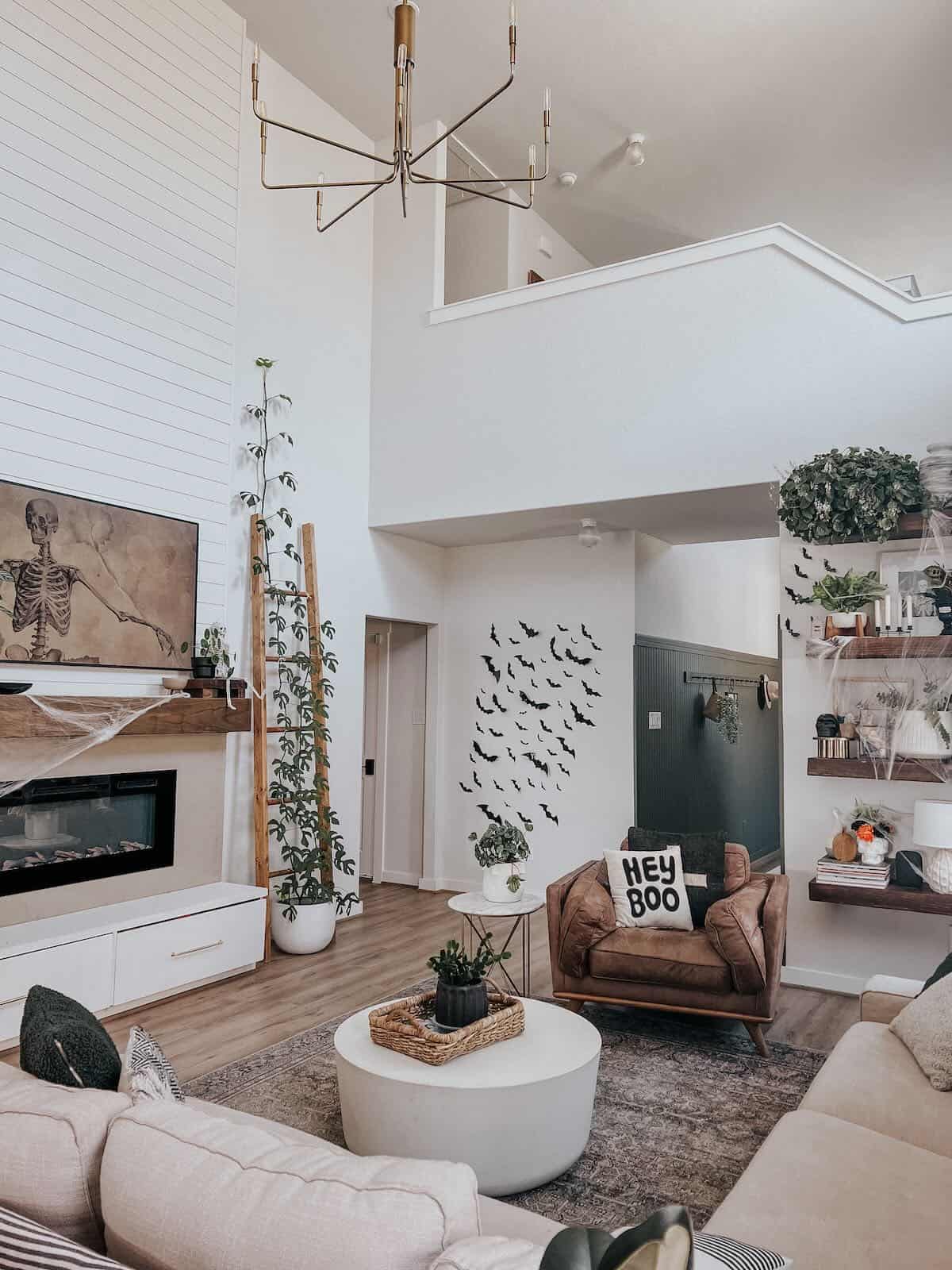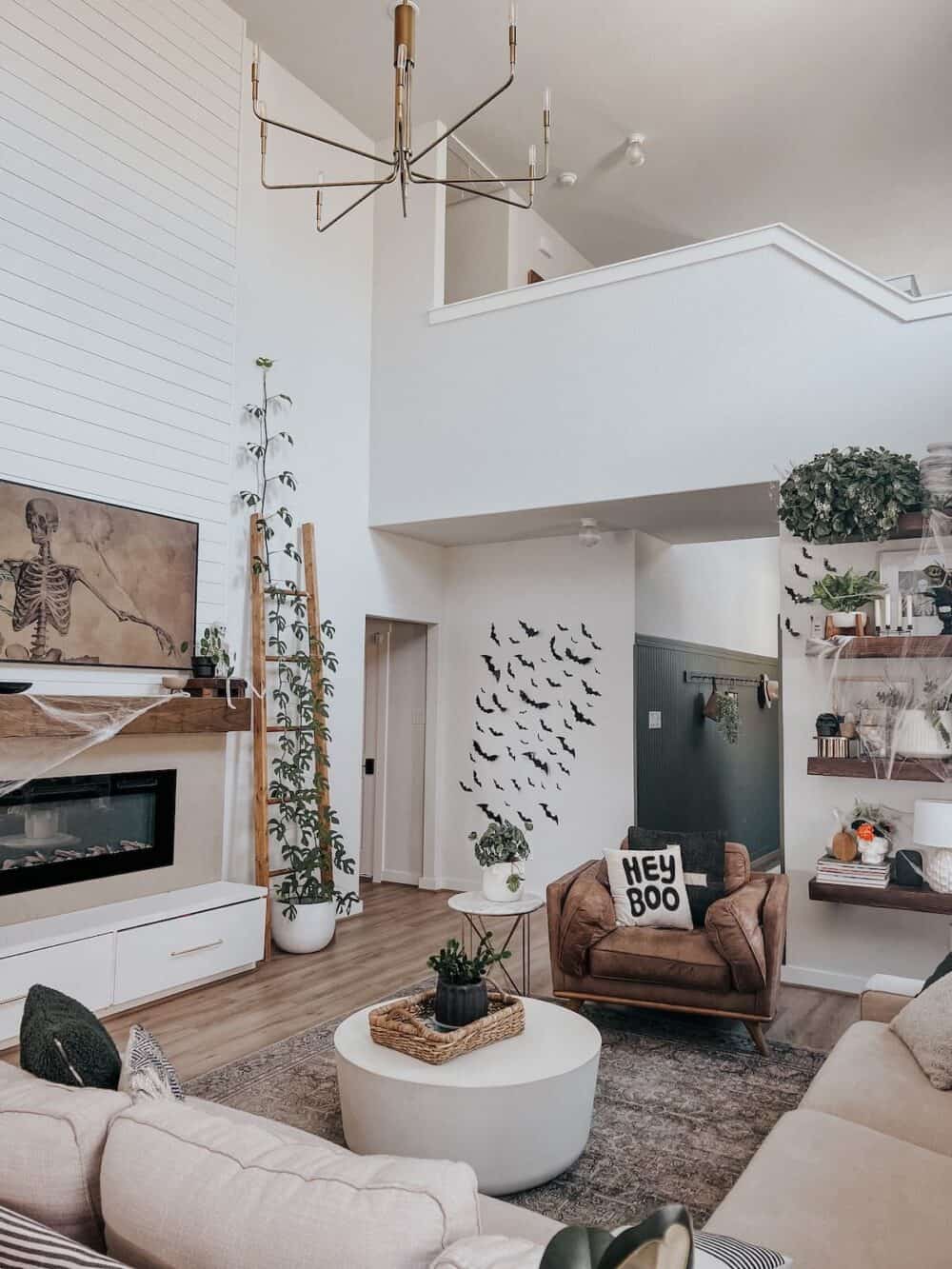 3. Tape up some bats
This was the very first Halloween decoration I ever did back when I decorated for Halloween for the first time. And it's still my favorite way to decorate the house! The first year I cut out my own bats, but then I upgraded to some plastic ones that last year after year. It's definitely worth the (small) expense of grabbing the pre-made ones, and it's so easy to do.
You can hang them anywhere you want – I've always used a big blank wall in our living room. This is the first year we have a mirror in that spot, so I'm excited to see how I can have them arch around and on top of the mirror!
This takes zero time to put together. Just tape the bats on the wall, or on shelves or your mantel or anywhere else they make you smile.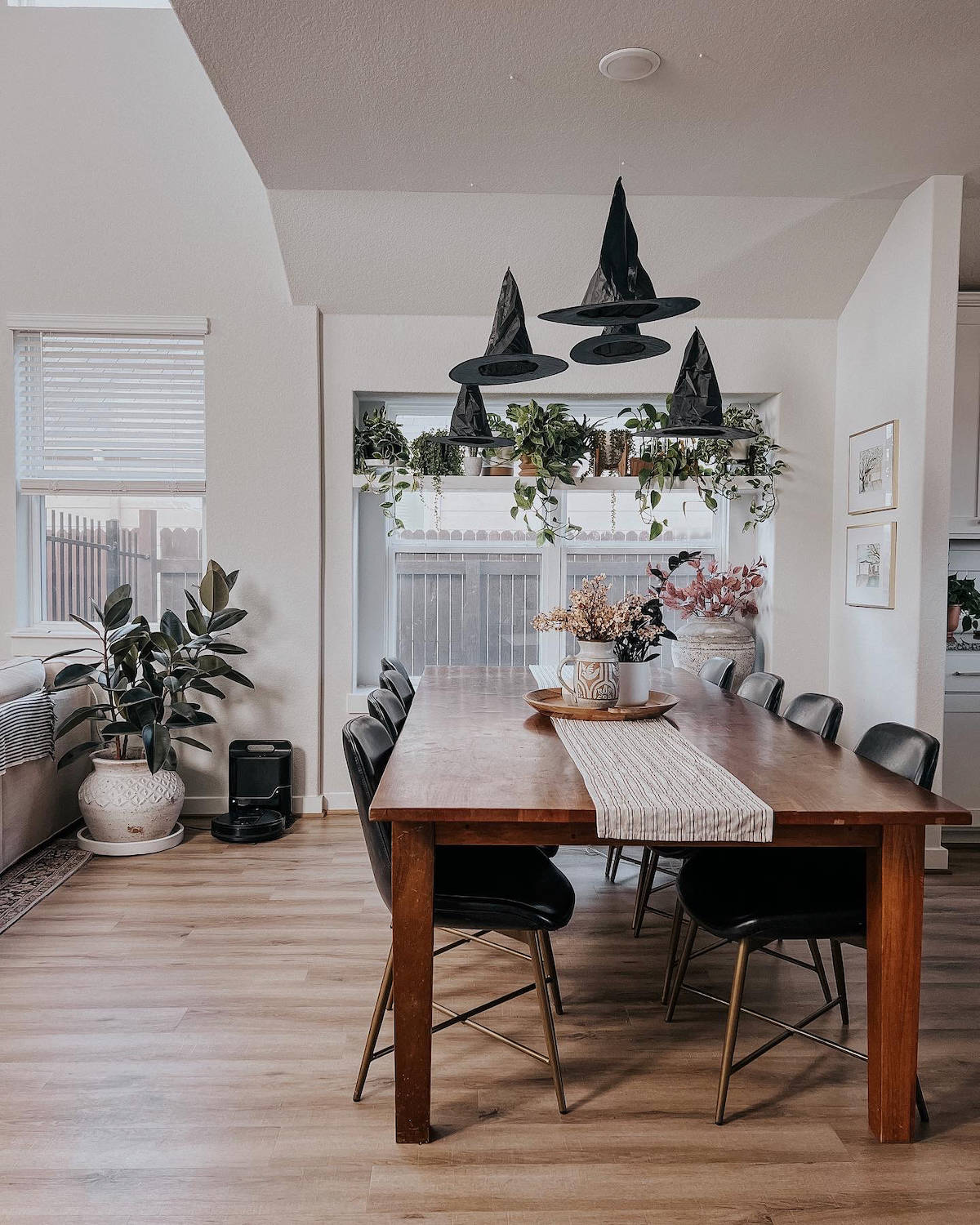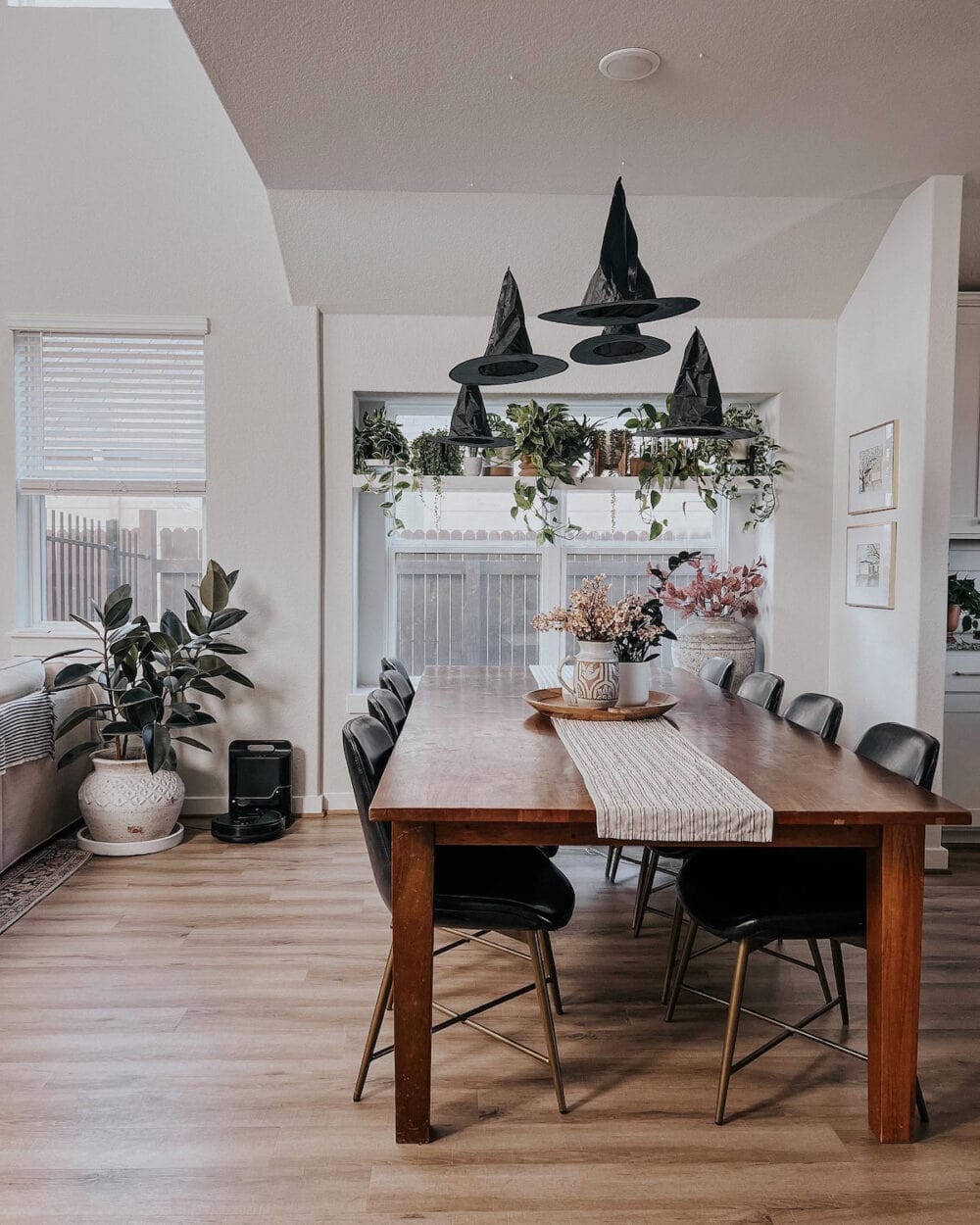 4. Hang witches hats
I did this for the first time last year and it was such a fun touch! I grabbed a pack of 8 witch hats on Amazon, added fishing wire, and taped them up. Again, it's incredibly simple and only takes minutes, but the impact is huge.
I would love to do something like this in an entryway. Our ceilings in the entry are much too high for this, but it would be such a fun surprise to walk into. This year, I might mix some floating candles in with my hats…I'm still debating!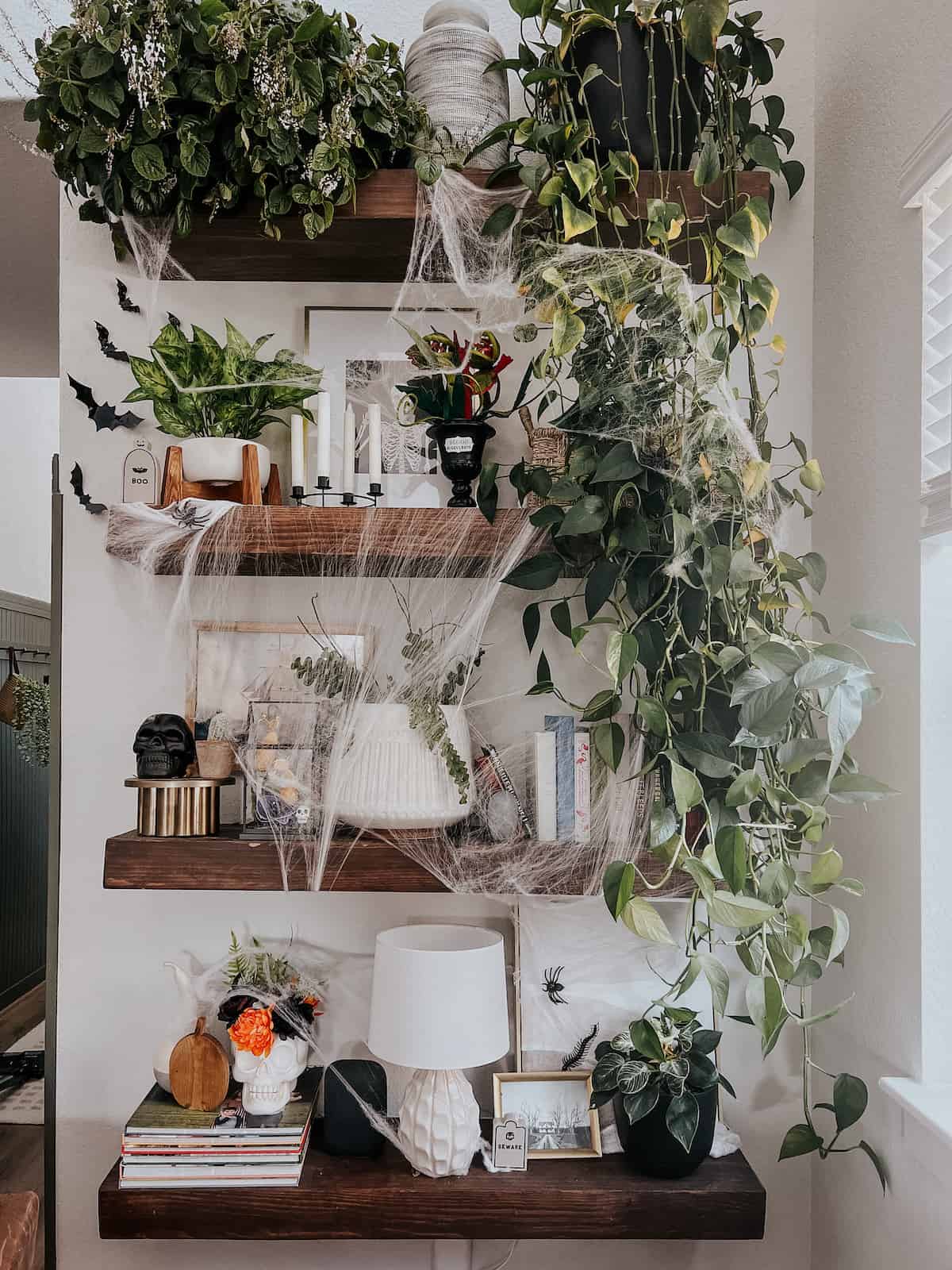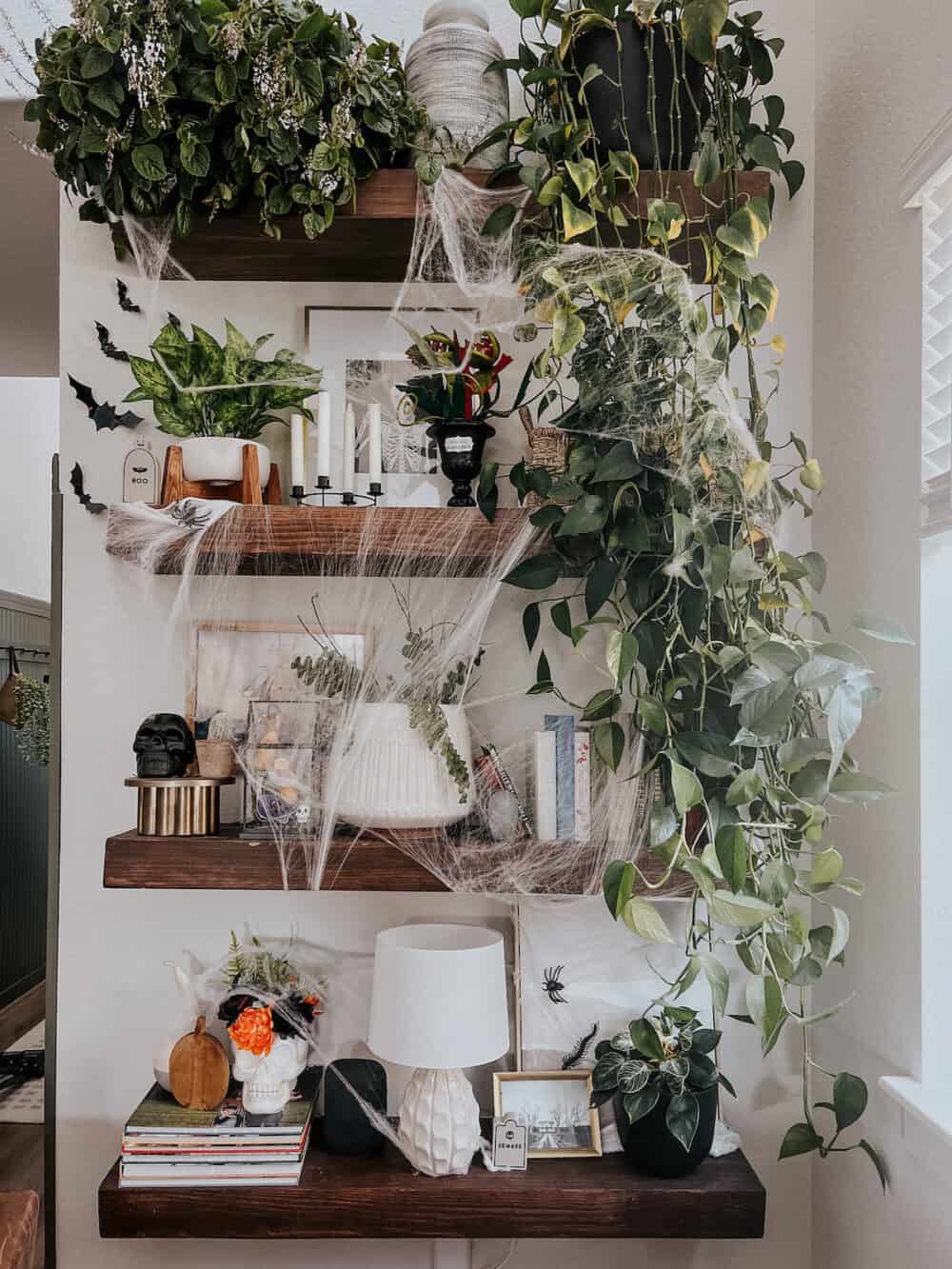 5. Tiny spiders (and spiderwebs), everywhere
And finally, the creepiest, crawliest idea of them all. You know those little bags of spiders you see at all of the stores this time of year? The ones you can hand out for Halloween or give to your kids so they can leave them all over the house and scare the living daylights out of you? Yeah, those spiders.
Well, they make a great Halloween decoration! I always like to mix a few in with my spider web that I hang from the shelves in our living room, but I also love the idea of using them on a wall! In fact, this year I have a vision of hanging a bunch of them crawling all over our cutting board wall. It'll be fun and spooky, and it's a little Harry Potter reference which always feels like a win.
And there you have it – five incredibly quick, cheap, and easy DIY Halloween decor ideas. Hopefully this gives you some inspiration for your home this year – I've been slowly working on getting our home decorated and I'm so excited to share all the details with you. The next few weeks are gonna be fun!