How to Hide Television Cords
How to hide your television cords in just 15 minutes!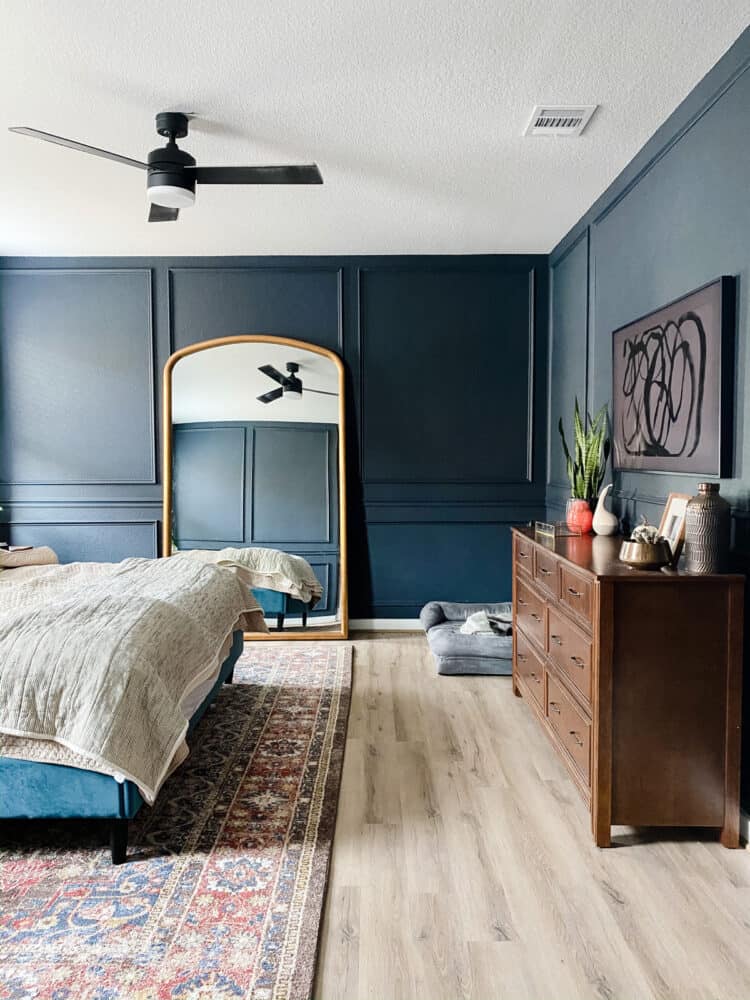 One little thing that's been bothering me in our bedroom for months now is that after we mounted our television on the wall we never took the time to hide the cord.
Is there anything more annoying than a visible television cord in an otherwise beautiful room?
I don't know if there is.
We finally took the whopping 15 minutes to knock this out, and my goodness, it just does something positive to my mental state to have that little task crossed off the list!
This is one of those projects that can seem a little intimidating if you haven't done it before (giant holes in your wall!), but I promise it's so easy.
I'll show you how we did it, and then I'll show you a few other ways you can hide your television cords so regardless of what approach you want to take you should be ready to go!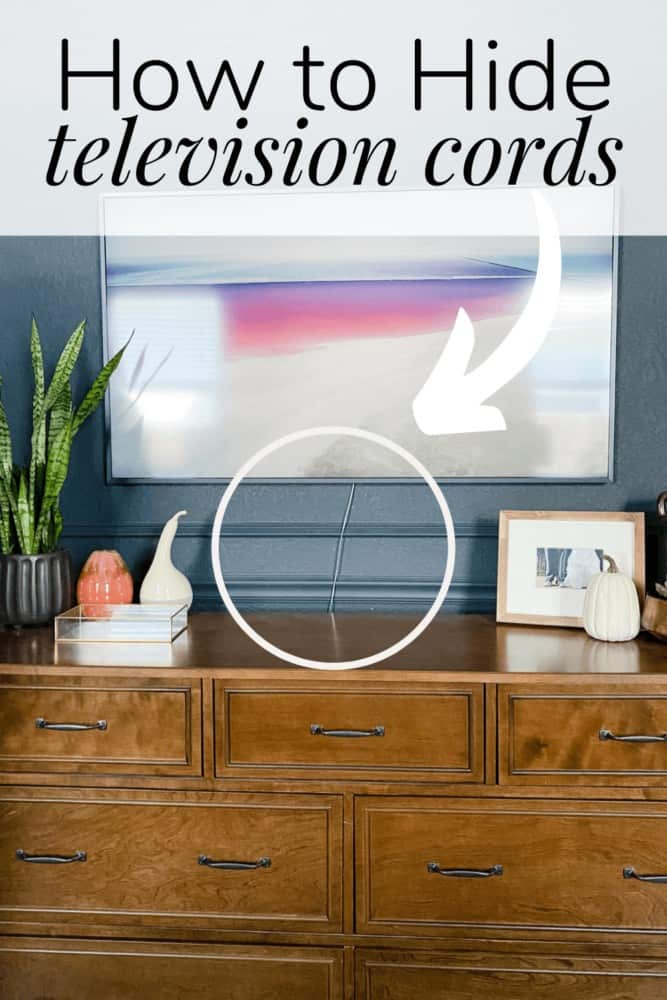 How to hide television cords
Using A cable routing kit
For our bedroom, we used a cable routing kit. The one we used is just $20 and it comes with the hole saw attachment for your drill!
It's really simple to use – it comes with directions, so I'd recommend following those but I'll give you an overview here!
IMPORTANT NOTE: This kit I've linked here is just for the low-voltage wires. You cannot run power cords through the walls without a special kit! Details on that are below!
You'll start by finding the studs in your wall – you wouldn't want to try and drill a hole right in the middle of one! Once you've confirmed where you studs are (and more importantly, where they aren't!), you can drill your first hole.
Use the provided hole saw to drill a hole in the wall near the television mount, in a spot where the TV will cover it up. Then, drill a second hole directly below it, ideally near your electrical socket to make it easy to plug your television in! This obviously works best if you can place the hole behind a piece of furniture.
Once your holes are prepped, you can run the wires! We used something called a fish tape to help us – basically it's a thick wire that you push through the hole, then tie a piece of string to it. You pull the string through the hole, and then you can use that to pull your wires through! It's not a totally necessary step, but it's less than $15 and makes things a lot easier!
Be sure to slide one of the covers for your holes onto the wire before you run it through the wall! Then, once you've got your wires running from the top hole to the bottom, you can simply slide the covers into the holes and push them into place.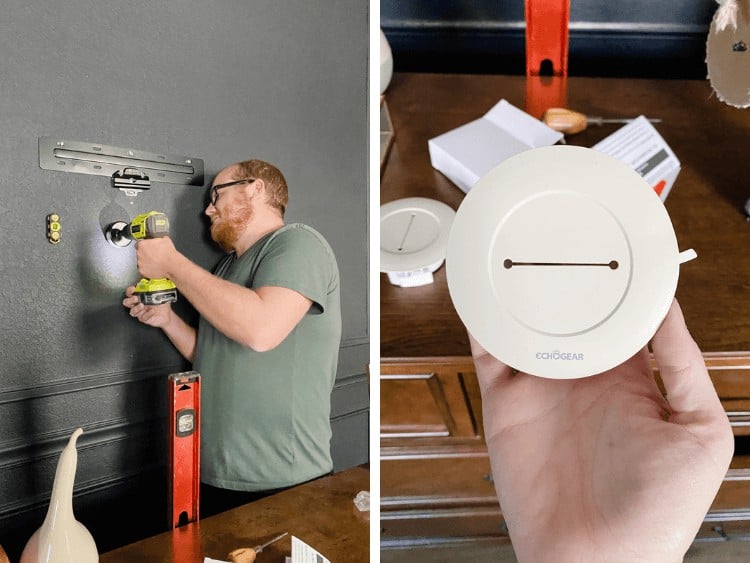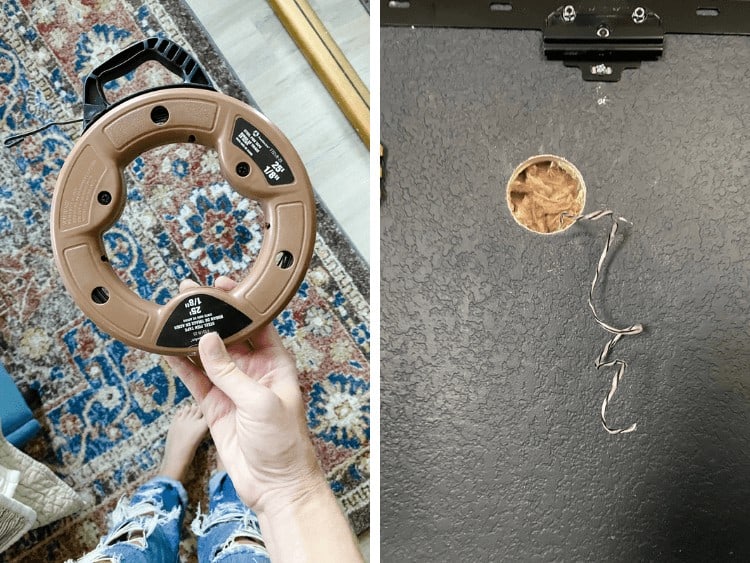 Other options
We've done this a few different ways in the past, so don't think that the cable routing kit we used is your only option!
Here are a few other ways you can hide your television cords that are equally simple:
A few notes…
Here are a few other things you should keep in mind if you're working on hiding your television cords:
The most important thing to consider is if you'll need to run your power cord through the wall or not. Some homes will have a plug higher up on the wall for the television. For our TV, the power cord is separate from this code so it's perfectly safe to run. You cannot run power cords directly through the wall – you'll need a special kit (like the option I linked above) for that.
When you purchase your cable routing kit, be sure to check how many cords it can hold! Some are meant for more cords and some are just meant for one or two, so be sure you're aware of your needs before you hit purchase!
We've run into the issue of having fire blocks (which are essentially horizontal studs) in certain parts of our house exactly where we need to run wires. There isn't a super easy way to get around this issue, and it might require your bottom hole to be a little higher than you'd like. Ours in the game room peeks over the media console juuuust a bit – but if you throw a vase in front of it, no one is the wiser! This isn't super common, just be aware that it's possible in some walls.
It's not super typical for interior walls to be insulated (we were surprised that ours were!), so if you're working on an interior wall it should be very simple to get your cords run from the top to the bottom!
If you are working on a wall with insulation, using a fish tape is a really good way to help make sure your cords don't get damaged. It can be frustrating to try and shove a flimsy cord through insulation, and you may end up causing some problems in the process if you aren't careful. The fish tape will make the process a lot simpler!
Now, go forth and hide those dang television cords, y'all!