Do you watch House Hunters on HGTV? Corey and I do, and one of our favorite things to do is watch an episode, intently listen to the house hunters' comments, and try to guess which house they'll choose. We've gotten pretty good at our game over the years that we've watched the show (even more so now that we know that the homeowners have technically already bought the house at the time of filming, and it's all acting!) but it never gets old, even if it does get easier.
So, we figured that in honor of one of our favorite shows, we would create a little House Hunters game of our very own on the blog!
I've narrowed down all of the houses that we looked at to our top three and I've added five photos of each along with some (hopefully objective) commentary on the houses. I tried really hard not to give our house away, but I'm pretty passionate about the one we chose, so I hope it's not too easy to guess!
Let's get started!
House #1: Cute Yellow House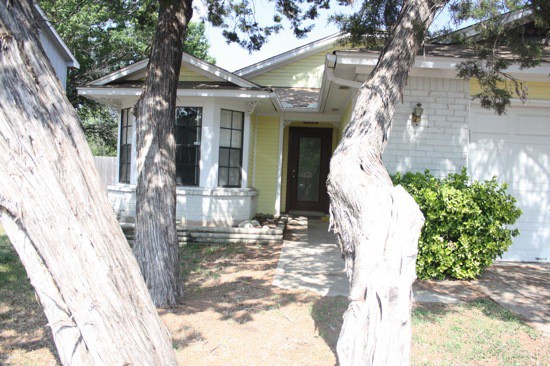 Upon driving up to this house, I was immediately drawn to it's adorable color and cottage-like charm. It was incredibly smile-inducing and I loved the curb appeal it had!
The kitchen was on the smallish side, but it definitely had potential. Although you can't tell in the below photo, the cute bay window seen above is the breakfast area in the kitchen. It had really nice shutters already installed which was, for some reason, a big plus for me!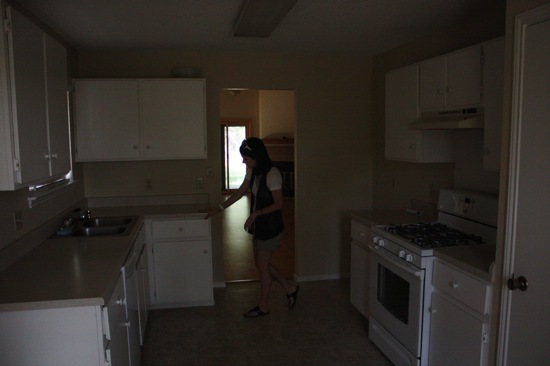 The living/dining room was very open with gorgeous vaulted ceilings and a cute little fireplace. The door leading to the backyard was really nice, with those cool behind-the-glass blinds.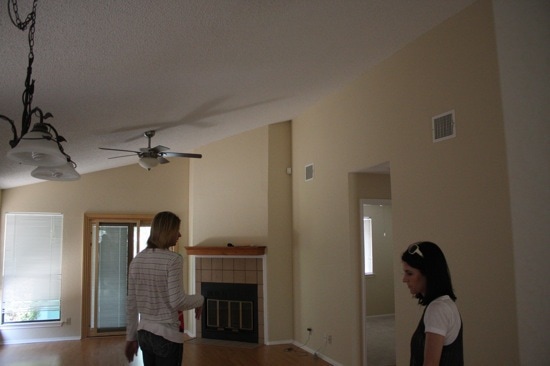 The master bedroom was unique in that it had an opening to the vanity part of the bathroom, which is something I wouldn't have thought I'd like, but it actually added an interesting detail that set the house apart in my mind. It also had two large closets, which I totally wasn't complaining about.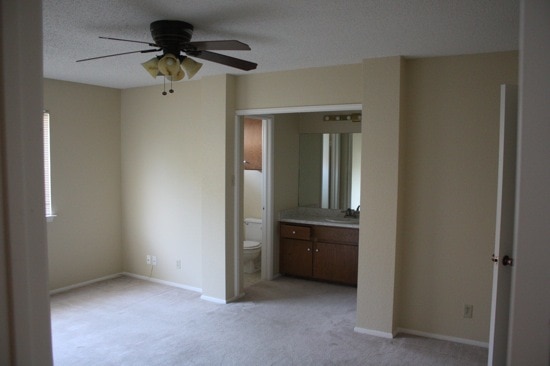 The backyard was definitely in need of some love. There wasn't much of a patio or seating area, and the lawn hadn't been well-tended. But, it was a backyard which is really all we need, right? We're totally not afraid of getting our hands dirty, so the unkempt backyard wasn't a huge deterrent.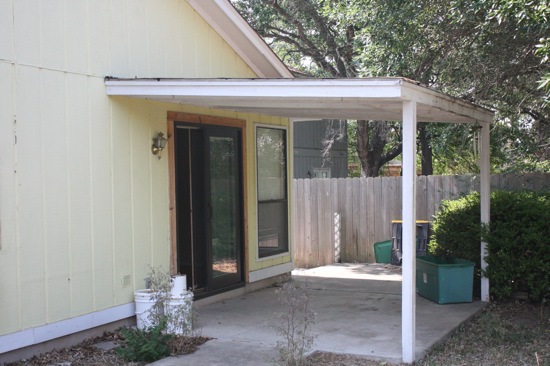 The bottom line: This house was incredibly cute, although a bit smaller than we had wanted. It was at the top of our budget, but it was in a really awesome neighborhood in the area that we really wanted to be in. We knew that the higher price was due to the location, which is a pretty fair trade-off.
House #2: Updated House, Amazing Deck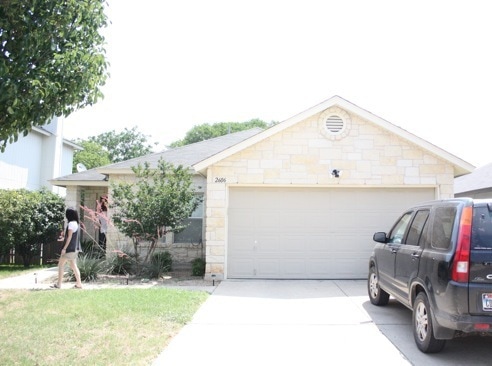 This house wasn't quite as charming as the last one, but it definitely was still easy on the eyes. We liked that the door was hidden from the street a little bit (less chance for our dogs constantly hanging out at the window, barking at passers-by) and the stone was a huge plus, as neither of us are huge fans of brick houses.
When we walked in, it was immediately obvious that this house was the most updated of all the ones we were looking in. The layout was already pretty awesome, so there wouldn't be much to do there, and the kitchen was in good condition and mostly only needed cosmetic repairs.
The first big negative we noticed was the lack of a fireplace. We don't exactly live in a frigid environment or anything, but we both love a good fire on a chilly night, so a fireplace was definitely on our "want" list (though not having one definitely wasn't an immediate deal-breaker).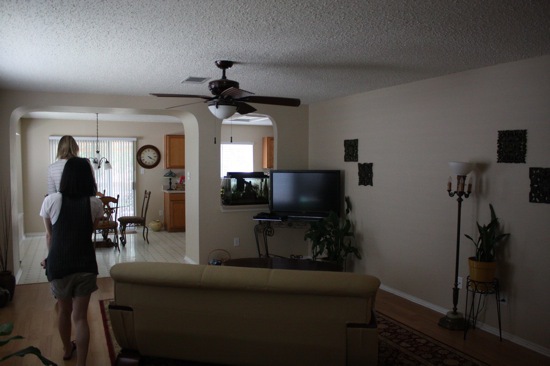 The kitchen was relatively boring, but I loved that there was room for an island, and behind that door in the kitchen there was a good sized laundry room/pantry.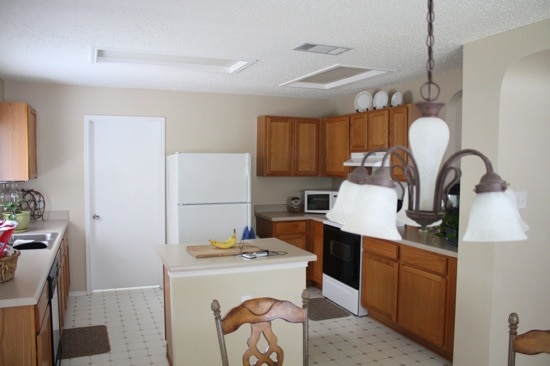 The dining area was attached to the kitchen (you can see the dining room chairs in the above photo) and it had a very cute little window seat that I thought was a very unique feature. I am a sucker for a good window seat, so I was definitely drawn to that in this house!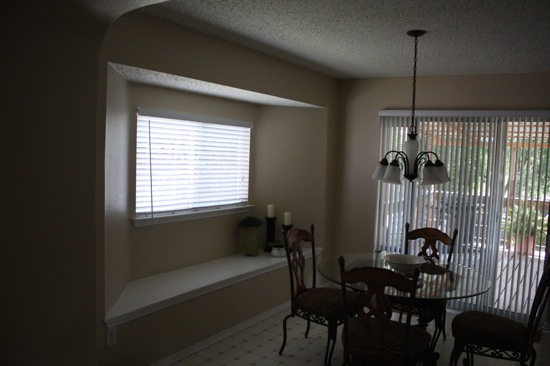 The deck in this house was to. die. for. It was incredibly large, and it had a tin roof, which is perfect for my favorite activity: listening to the rain fall! The only negative about the backyard (and it's a pretty big negative) was the lack of privacy. The fences (as you can see in the below photo) were a stacked wood fence rather than the traditional privacy fence, so they were shorter than the norm. The deck was on level with the top of the fence, so if you were hanging out on the deck you could see about three different peoples' yards on both sides, and they could see you too! Another plus about the backyard was that it backed up to a community park. So, there would never be neighbors behind us; we would really only need to deal with the awkward deck thing with only 2 neighbors.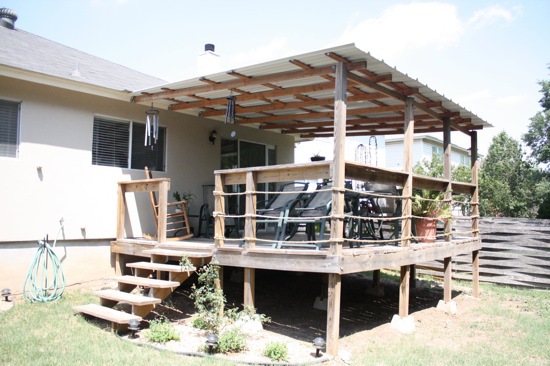 The bottom line: This house was really cute and wouldn't need a lot of work to be where we wanted it. The privacy issue in the yard was definitely a concern, but with that amazing deck it was possible we'd be able to overlook it! The neighborhood was a bit further out than was ideal, but it was nicely removed from any major highways and was still relatively close to a lot of different things. Another big perk? The price was well within our budget, and was even a bit below what we had planned to spend.
House #3: Two-Story With a Workshop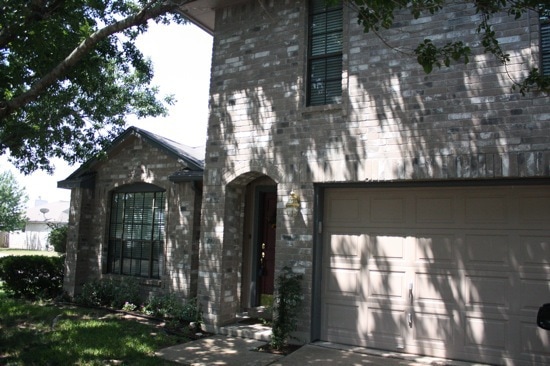 This house was really cute from the street, and although you can't see it in this photo, it had an incredibly gorgeous (and incredibly huge) tree in the front yard that I fell in love with immediately. You can get an idea of how big it is by how it's shading the entire house – that's all one tree. It's seriously gigantic.
This was the only two-story house that made our short list, and for some reason that was a big selling point for me. Corey didn't really care either way, but I've always had a soft spot for two-story houses, and it was certainly a perk for me!
The living room in this house was very architecturally interesting – it had a fireplace separating the living room from the dining room, and vaulted ceilings with lots of angles.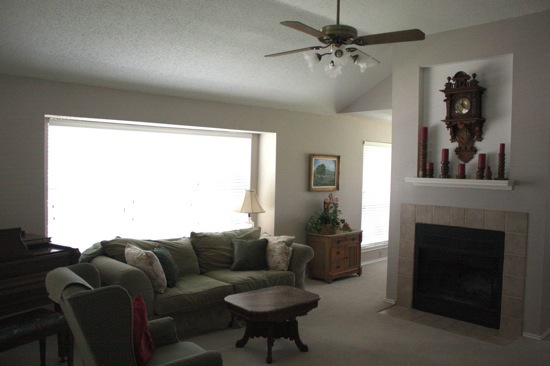 It was obvious that the kitchen hadn't been updated in many, many years, but it was still in relatively good condition. There was a cute bay window in the kitchen, along with a little breakfast area.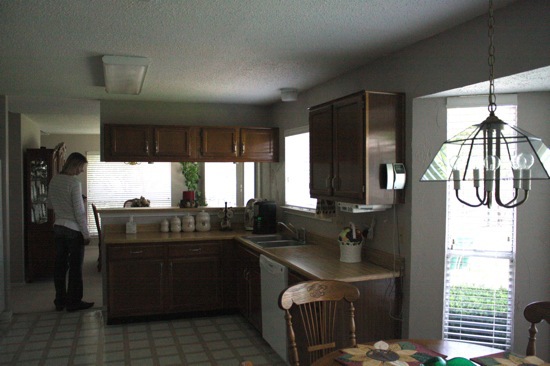 The master bedroom was a really great feature in this house – it was gigantic! It had a huge window and led to a potential-filled master bath with a garden tub and a separate shower.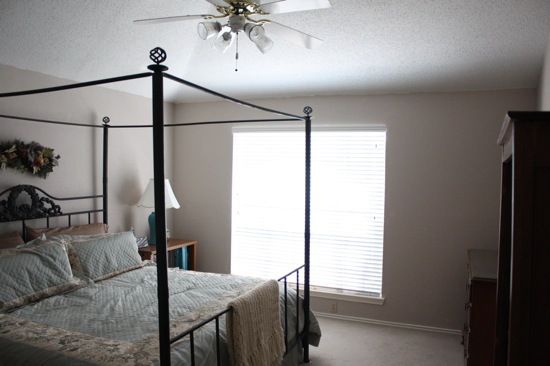 The backyard was very well-maintained, but wasn't particularly interesting – except for the giant workshop in the back! It had electricity running to it, and was absolutely perfect for projects, storage, or furniture building, which was huge for Corey.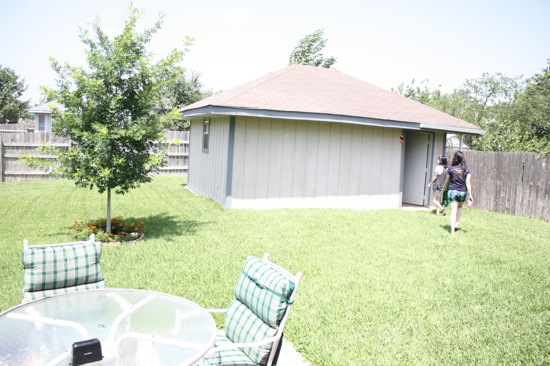 Bottom line: This house was the biggest out of all of the ones we saw, but it was also at the top of our budget. The neighborhood was further out than we had originally planned to be, but it was close to a grocery store and a few other good things, and it wasn't too far of a drive to anything we could possibly want. The biggest downfall of this house was the size of the extra bedrooms – they were pretty tiny, although they had the potential to be workable.
So, now you've seen the three houses that made our short list. I'll be honest and say that within the first five minutes (well for me, more like five seconds) of being in our house, we knew it was the one.
Tomorrow I'll reveal which house we chose, and I'll share a ton more photos of it – but until then, I want to hear what you think! Which house do you like best and, of course, which one do you think we chose?