Are you ready to see more photos of our new house than you could have ever possibly wanted to see?
'Cause that's exactly what's about to happen.
But first, of course, I have to reveal which one we chose!
We chose…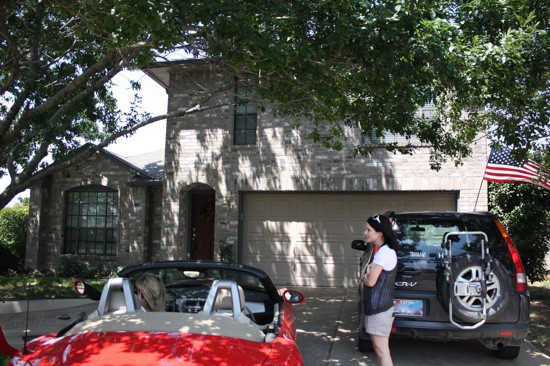 House #3! Apparently y'all know us pretty well because that house was the landslide winner in yesterday's votes!
This house is absolutely perfect for us. It has ridiculous amounts of potential, but it still needs quite a bit of love to get there (you know how we love us some renovations!) PLUS it has another huge perk that I didn't mention in my last post, because it would have been a total giveaway.
Let me tell you about it. Possibly our favorite part of this house is its location. As I said before, it's further out from the heart of Austin than we really wanted to be, BUT it just so happens to be a mere two streets over from my sister's house! As in, we will be walking distance from some of our favorite people in the world.  That alone was a gigantic selling point for us, and is hands down the thing we're most excited about with this house.
So, now that you know which one we're buying, it's time to show the photos! As you can see in the one above, that tree in the front is just absolutely magnificent. Here's a better shot of the tree itself: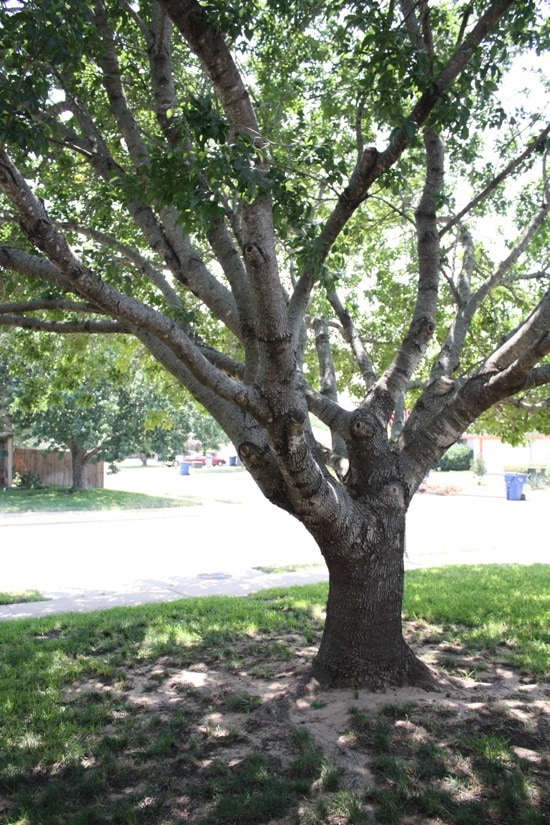 I lurve it. It also provides a ton of shade to the entire front of the house (including the master bedroom on the SECOND floor!) and it adds a ton of curb appeal!
When you step inside, you're greeted by the living room, and the stairs leading to the second floor.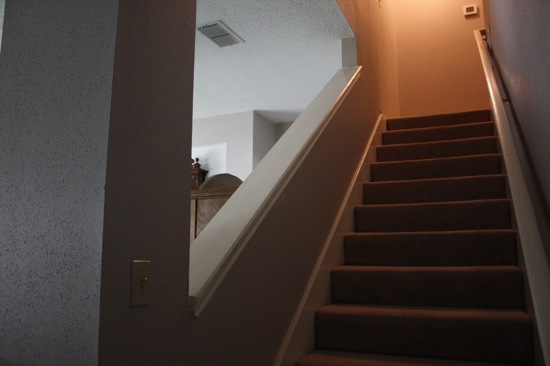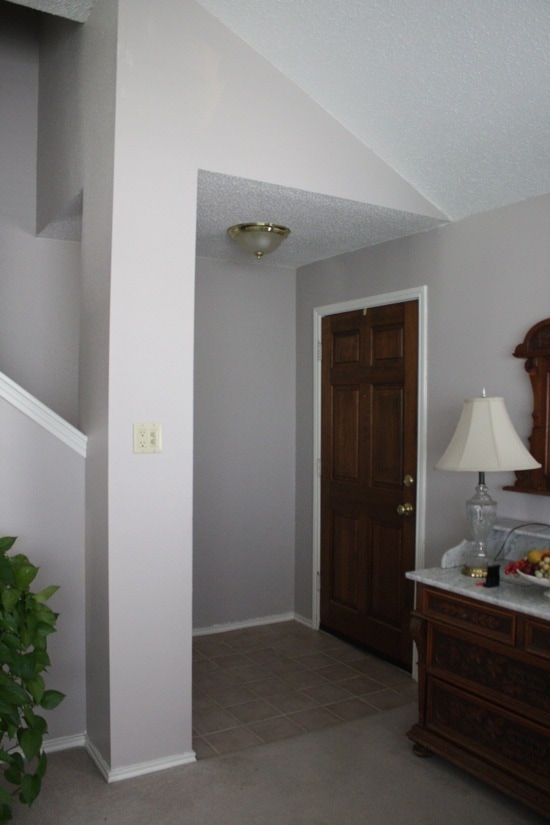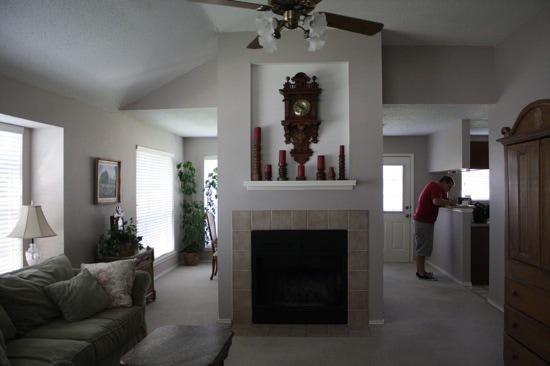 I don't love that the stairs are the first thing you see when you walk in, but there's nothing we can do to change that. We can, however, spruce them up a bit so they're prettier to look at!
Behind the fireplace is the dining room – this was the only house we looked at with a formal dining room, and I'm thrilled about it! It's huge, and will totally fit the giant dining room table of my dreams (of course, we don't have a dining room table yet, so this room will sit empty for a while!)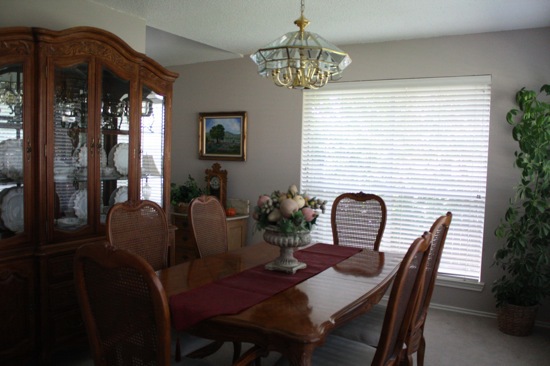 Just so you can get your bearings, here's a view back to the living room from where I'm standing in the above photo: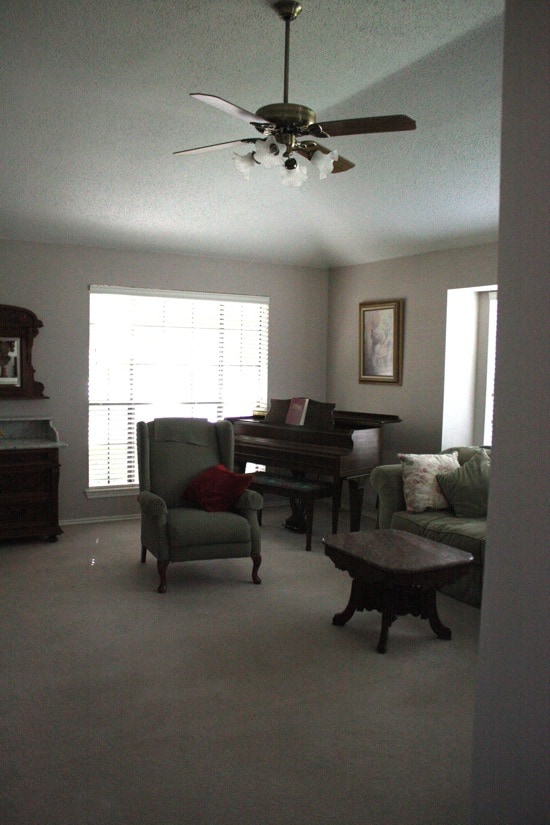 And next to the dining room is the kitchen.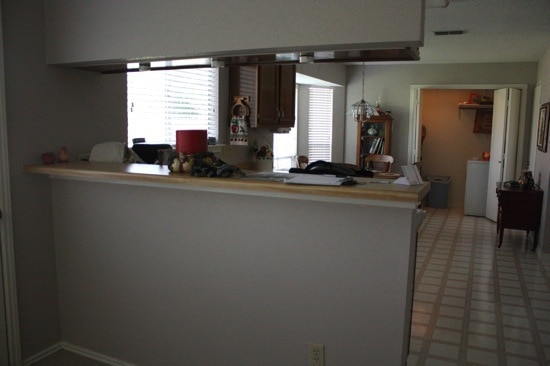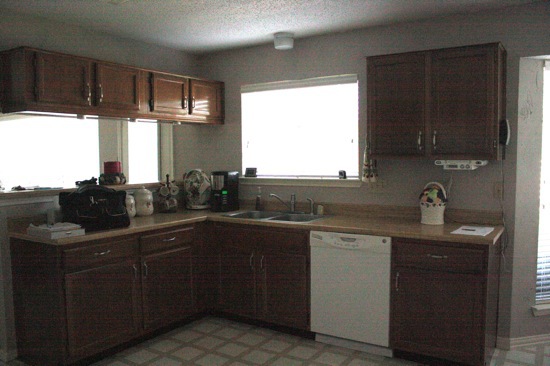 (I apologize for the grainy photo – I'm not used to shooting photos in a house with this much light, so it was screwing with my exposure!)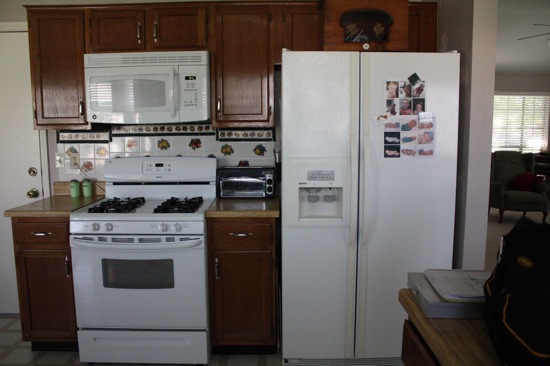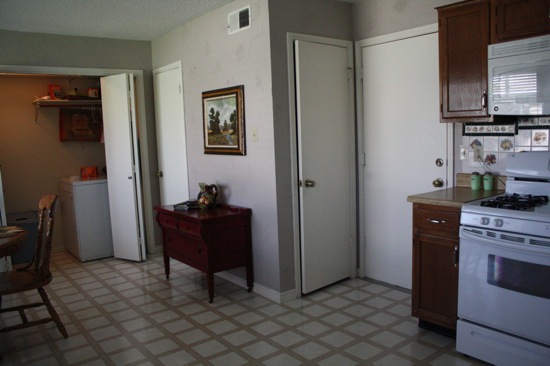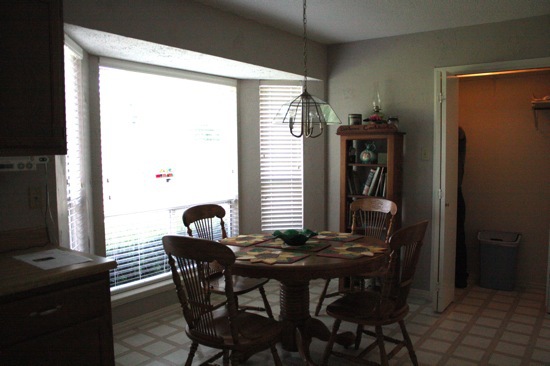 There's a small half bathroom off the kitchen, as well as a laundry closet, a pantry, and the entrance to the garage.
Let's head upstairs! The two extra bedrooms are pretty tiny…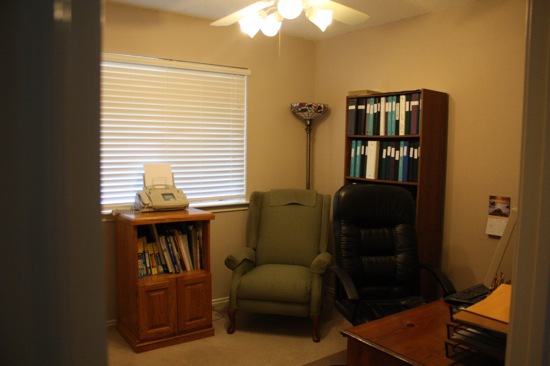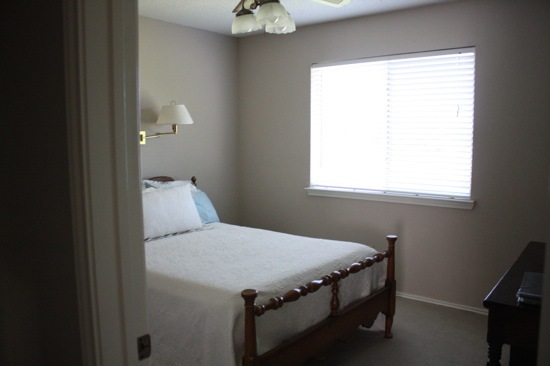 But the master totally makes up for their small size!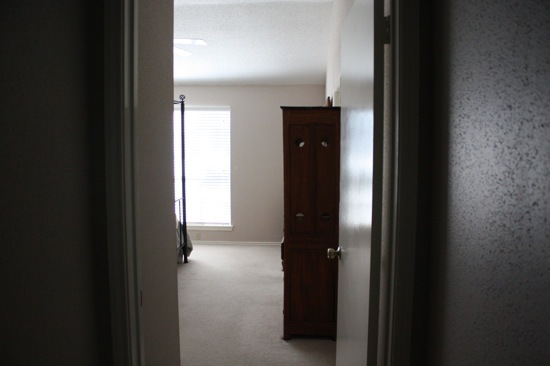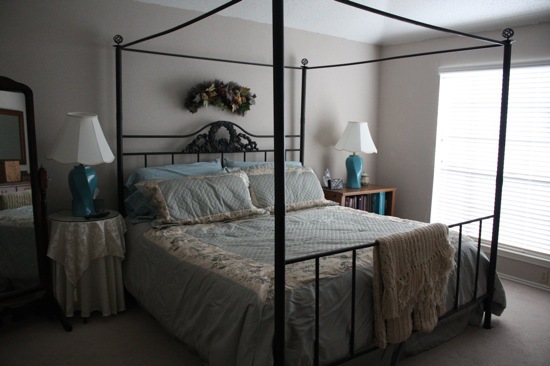 That bed is a king (our is a queen) and there is still a ton of space in the room, so we're looking forward to having a room so much larger than what we're used to!
There's a guest bathroom upstairs that's much larger than we expected to have, and the master bathroom has the potential to be amazing.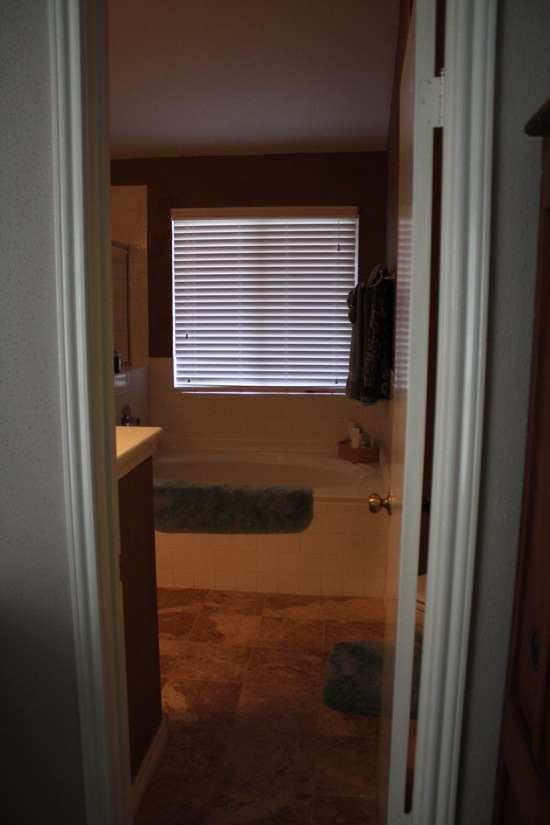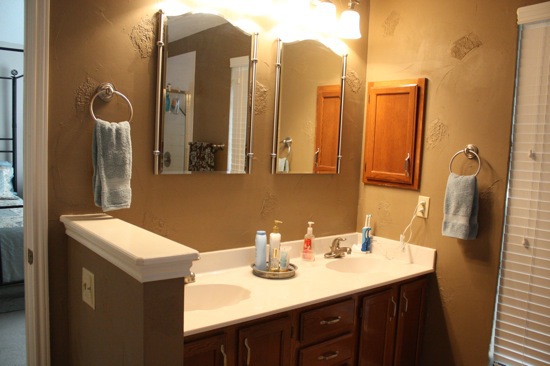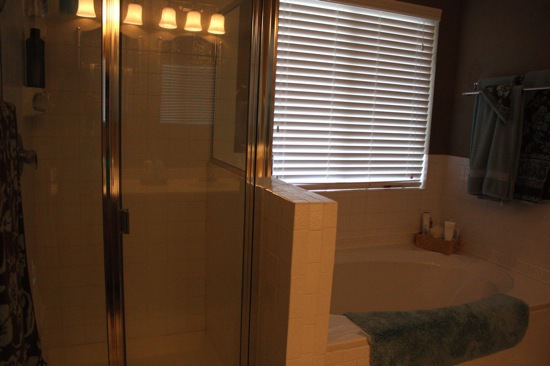 Now that you've seen the inside of the house, let's head outside to the backyard – possibly the part of the house that I'm most excited about!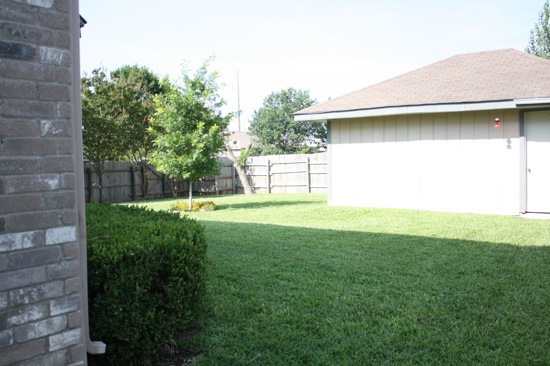 (This photo is taken from the side of the house, not from the back door)
There's a small garden off to one side of the house that I'm hoping the dogs don't completely destroy as soon as we move in.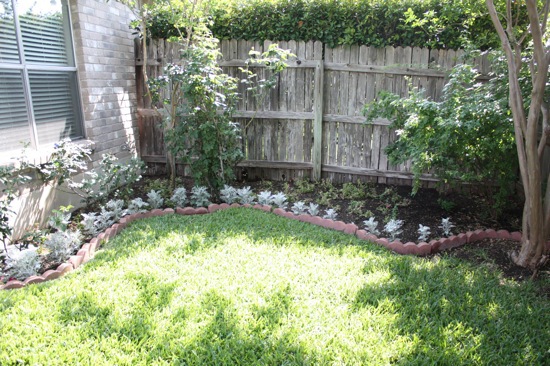 There's also a really nice row of trees lining the side of the fence that faces the street (did I mention that the house is a corner lot? And that it faces two quiet, low traffic streets? Score!)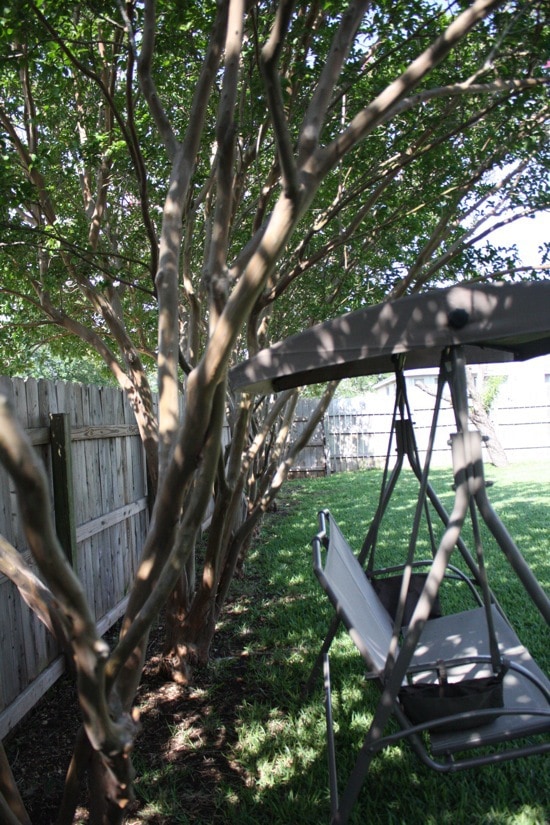 And of course, the best part of the backyard: the workshop!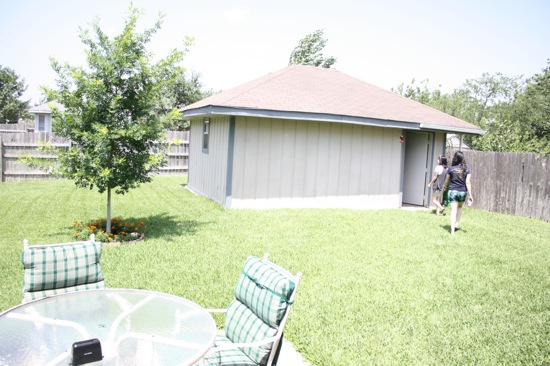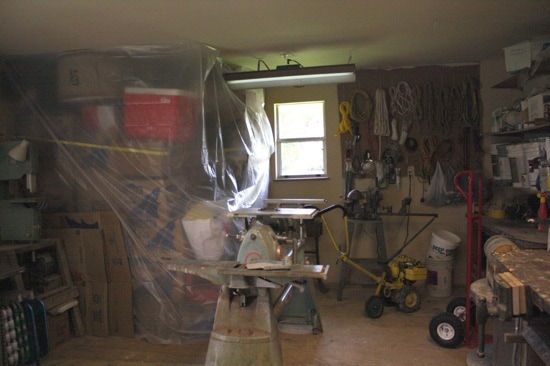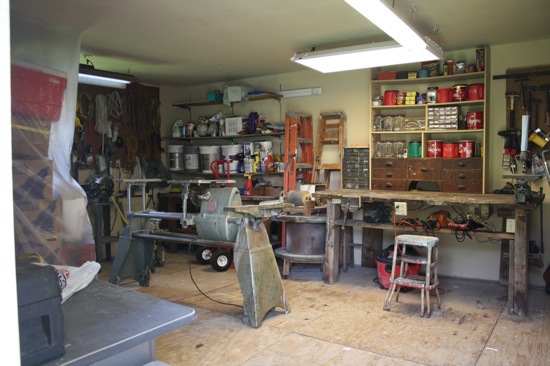 I'm not gonna lie, I'm totally hoping that their next house doesn't have room for all of these tools and they're forced to leave a few of them behind!
And that, my friends, is our new house!
We've already had the inspection and it went completely smoothly – the A.C. and water heater are brand new (the A.C. unit is less than a year old!) and everything has been very well maintained. Our 7 day option period is up tomorrow, so after that we'll have no more chances to back out and it's officially ours!
We have so many plans for what we want to do with it, and I can't wait to share it all with you. I'm sure I'll be sharing more detailed photos of everything once we move in, and maybe even a video tour so you can see the layout, but this should give you a pretty good idea for now.
We will close on the house in a little under 6 weeks, and we're counting down the days until we can call it ours. I can't wait to get our stuff in there and start fixing it up!
So, what do you think? Do you approve of our decision? What were some of the things that made you fall in love with your house?