I have a hard time believing that it's time for me to write this post. Corey and I have lived in this home for two whole years, and it's been a completely fantastic two years. We did a house tour when we bought the house, when we first moved in, and after we had been here a year, so today we're gonna look at how much progress we've made on the house after two years.
This year, most of our big renovation budget went into new windows for the back half of the house, so the difference between last year and this year isn't as dramatic as I would have liked, but my house doesn't feel like a greenhouse in the afternoons anymore, so I'm not complaining!
Let's get to it – first I'll share photos of what the house looked like when we first moved in, then I'll share photos of what it looks like now.
Here's what the living room looked like right after we moved in: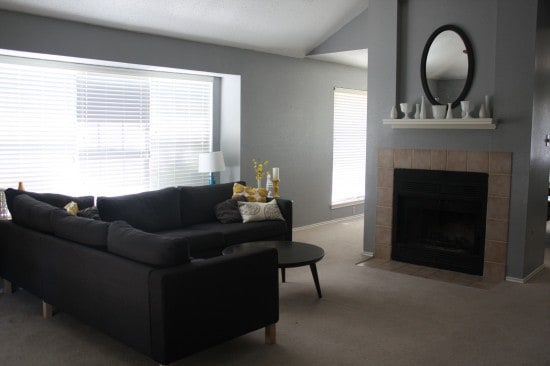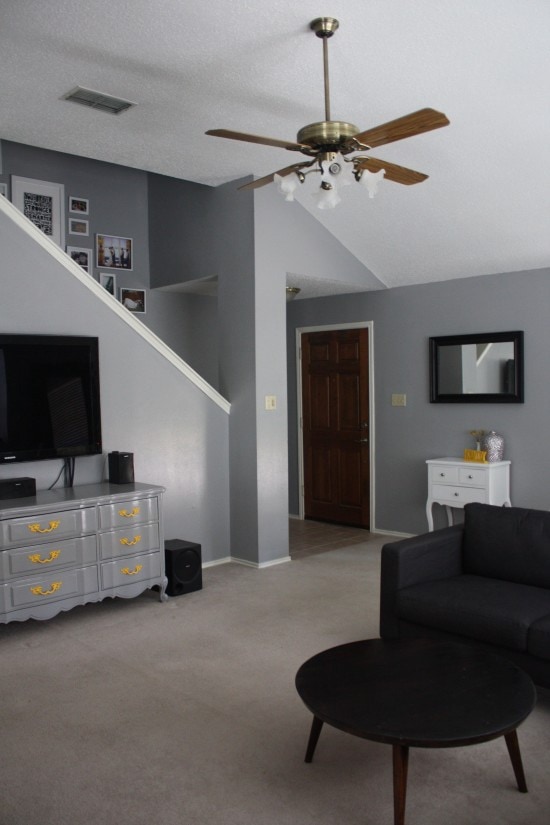 And here it is today: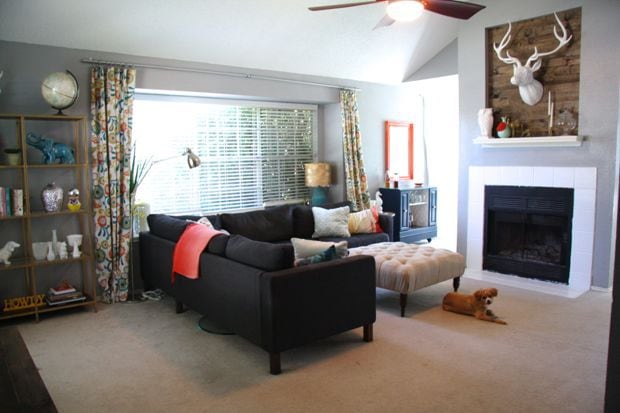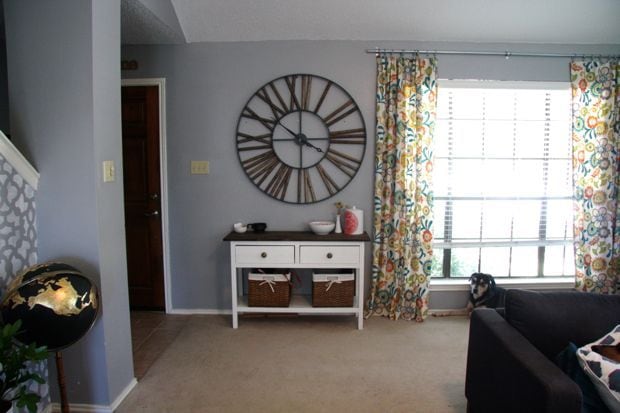 We've made a lot of progress in here, but we definitely still have a ways to go! We'd like to replace the curtains – we still love the bright and fun ones, but they definitely limit our choices in the rest of the room since they are so bold. We'd like to move to something a little more neutral so the room isn't quite so busy. We're also dying to get rid of the nasty old carpet and tackle a complete fireplace makeover, but that's not in the cards for us quite yet.
Next up is the dining room. Here's what it looked like right after we moved in: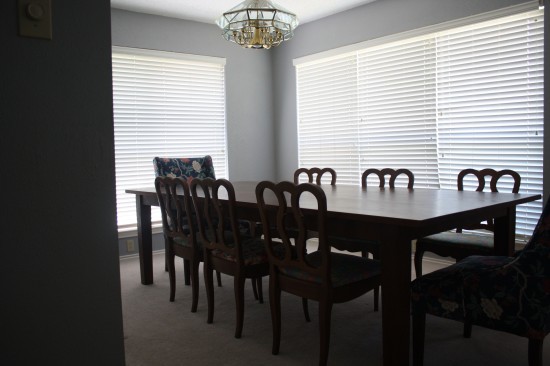 And here's what it looks like now: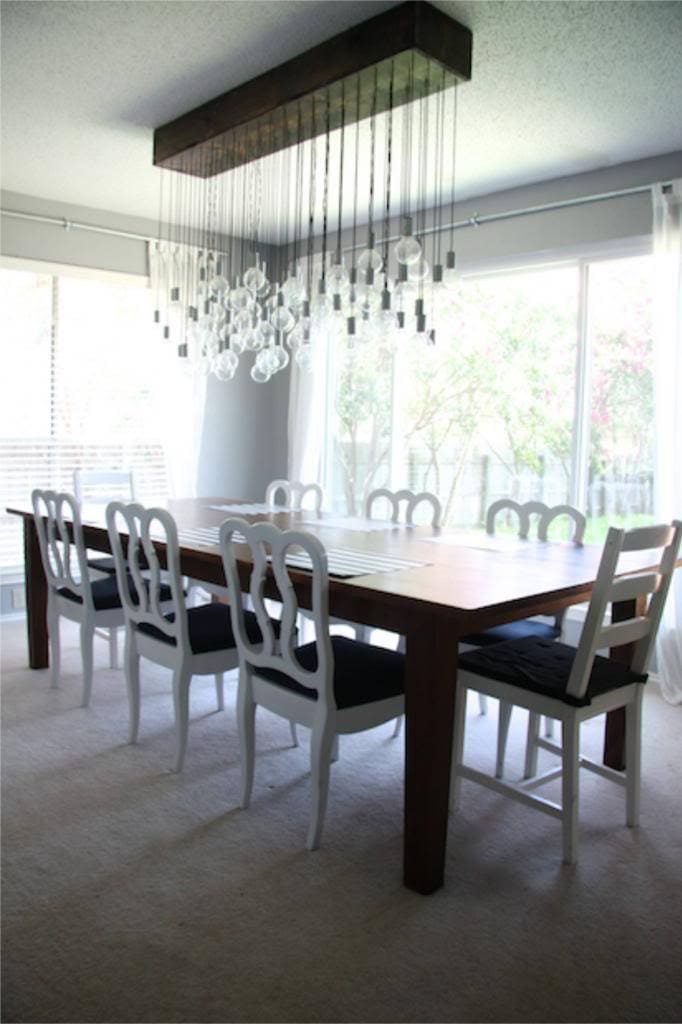 I'm embarrassed to say the head chairs still aren't finished yet. I'm telling myself they will be complete before the baby comes, but at this rate I think I'll just be lucky if I get them done by the time the baby graduates from high school. We need some new window treatments in here and, once again, we are desperate to get rid of the awful carpet. Not much has changed in here since last year, but I'm hoping by this time next year it will look at least a little different!
The kitchen is (still) the room with the least amount of progress, though I will say it looks different than it did when we moved in! We aren't planning on doing any "in-the-meantime" type renovations in here, so it's going to look mostly the same until we're saved our pennies and can do a full-blown renovation. It'll happen someday! Here it is when we moved in…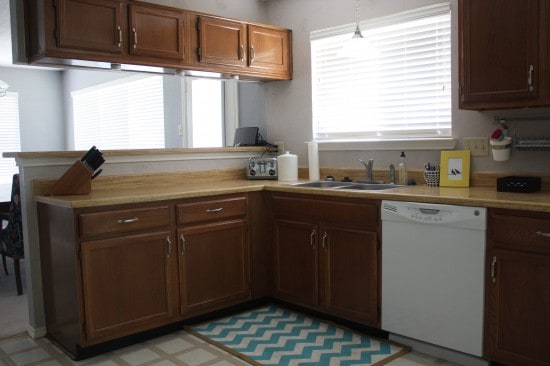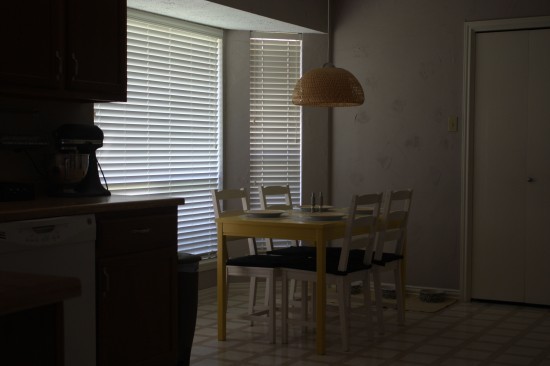 And here it is today: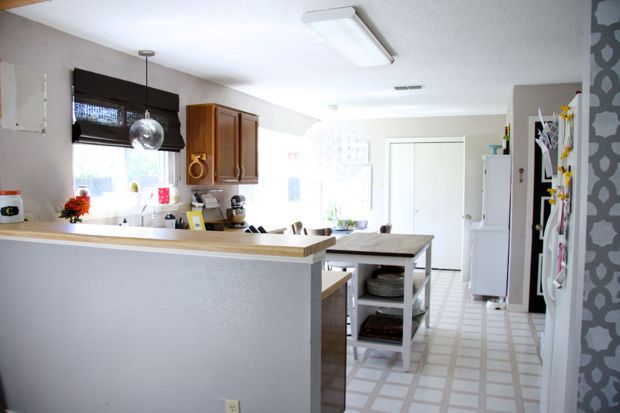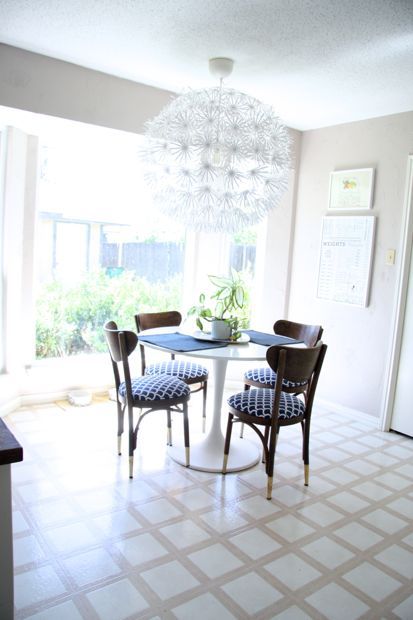 It at least looks a little different! Our goal is to have the whole downstairs flooring replaced by next year, so hopefully the difference will be at least a little more dramatic next year – I'm dying to get rid of that awful old linoleum…no matter how much I clean it, it still looks dirty!
This was the end of the downstairs tour last year, but this year we've got an extra room to share – the garage! It's still only partly completed – a lot of work still needs to happen before it's where we want it, but we are loving the extra space (and the big screen!) and it gets a lot of use! Here's the garage before: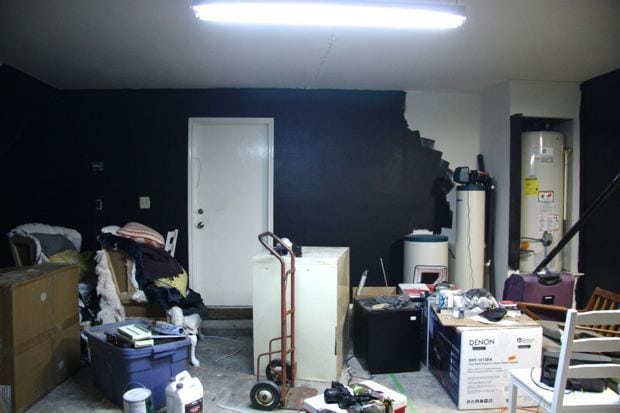 And here it is now!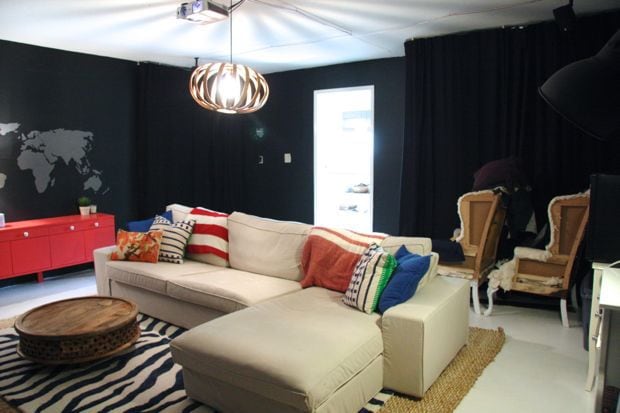 And with that, you've seen the downstairs! Let's head upstairs…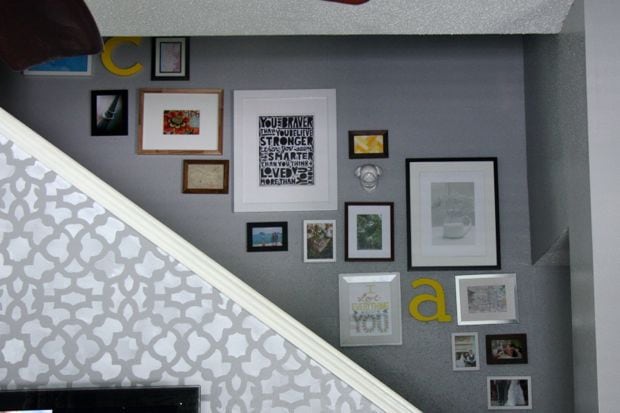 I don't have any "before" photos of the staircase or the hallway, but they don't look much different aside from the art. Again, these areas have kind of been on the back burner while we tackle all the other, more fun areas!
This next room is definitely the one that has the biggest change from last year to this year. It started off as our office, turned into a reading room, and is now in the process of transitioning into our nursery! Here is a photo of it from when we moved in: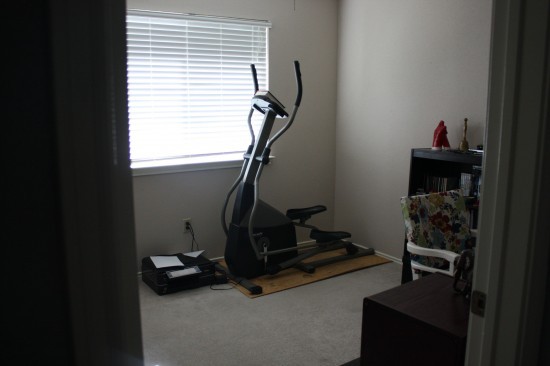 And here it is today: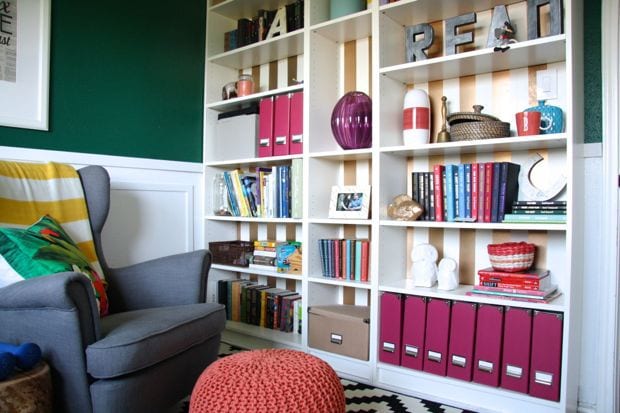 It's kind of a wreck right now because it's being used to store some extra furniture and a ton of baby gear that we haven't made a spot for yet. But we're actually getting ready to start few different things in here, so soon it'll start getting closer and closer to looking like a baby room!
Next door to the nursery is our guest room. It hasn't changed much since last year, but I have a few small tweaks I'd like to make in here when we have some time – things like changing up the art, adding a window treatment, and bringing in a few more accessories. Here it is when we moved in: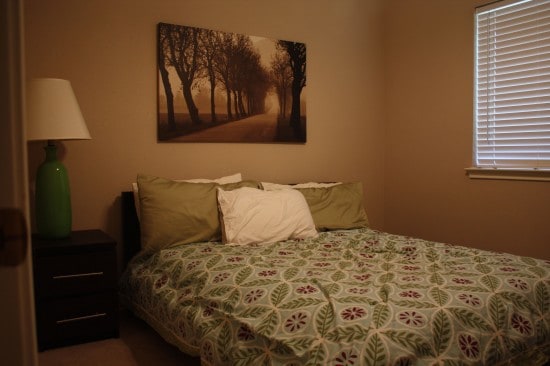 And here's what it looks like now: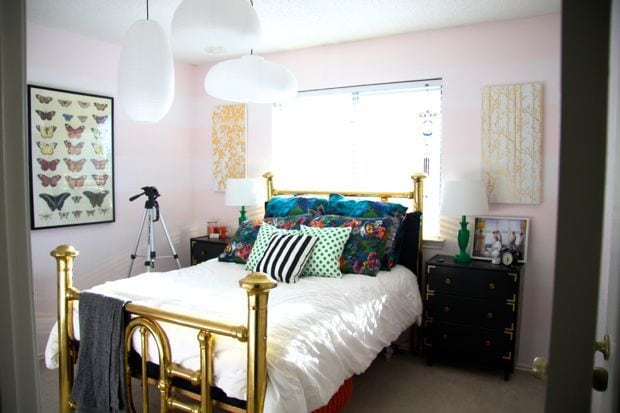 Across the hall is another room we haven't touched at all – the guest bathroom. It doesn't get used very often and I honestly don't think we've done a single thing in here other than adding a shower curtain and a rug. It was very low on the priority list, but now that we've got a kid on the way it'll probably jump up a few notches, since it will actually get used within a few years!
I didn't take new photos of it, because they would look exactly the same as they did right after we moved in, so here are the "just moved in" photos again – trust me when I say it looks 100% the same.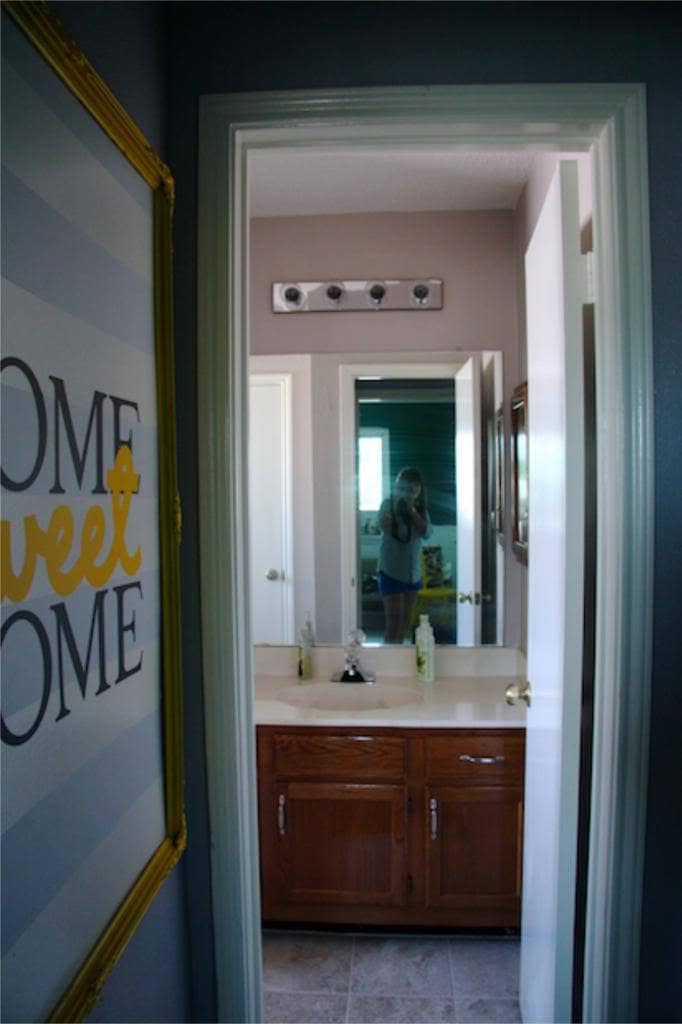 And finally, our bedroom. I am excited about this room because it's been through several different phases since we moved in and I think it's finally moving towards what I really want it to be. We still really need new bedding (and a bigger bed), along with a wardrobe so we can get rid of the awkward mess of furniture on the wall across from the window, but I feel good about the little dresser we added, the curtains, and our little chair corner. This room is getting there! Here's what it looked like before: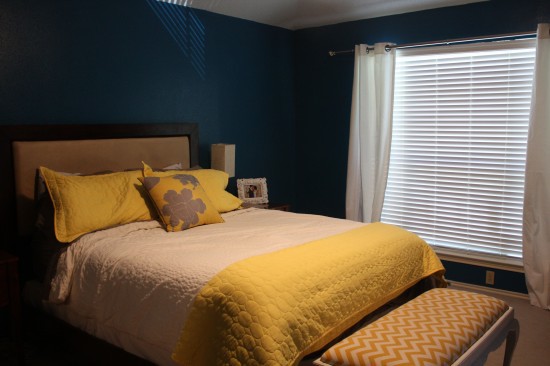 And the "still-in-progress," two years later photos: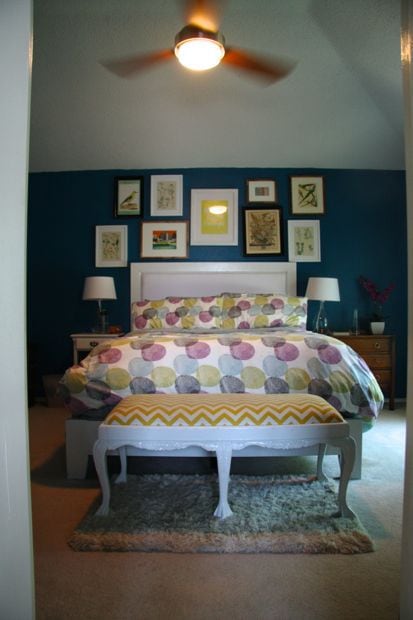 And, of course, the master bathroom. It is still horribly ugly and doesn't really look much different than it used to, but I'm dying to fix it up. Our biggest roadblock right now is that it has a horrible, annoying texture on the walls that we need to deal with before we can do anything else, and we haven't been up to tackling it yet, so the walls are still brown. I think if we could just suck it up and deal with the walls, giving the room a fresh coat of paint would make a world of difference!
I'll just show one set of photos for this room as well (the current ones) because it hasn't really changed at all. It'll be up for a major renovation down the line, but I'm hoping that at some point soon we can just get rid of the brown!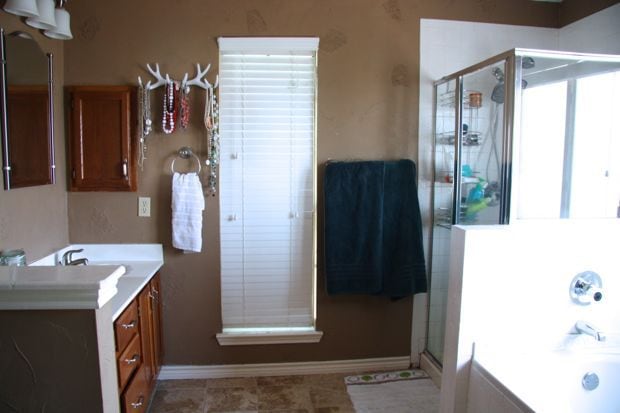 And that's our house! I'm pretty pleased with the progress we've made in the last two years of living here, and I'm really excited to see how the house continues to evolve over the next few years!
How long have you lived in your home? Have you changed much since you moved in, or do you pretty much keep things the same?