Have you ever wondered how to find your style for your home? Have you ever felt like you aren't sure where to start, and so you just… don't? Do you ever struggle to decide how what you want your home to look like or what projects you should try?
I'm here to help.
I have the most exciting thing to share with you today.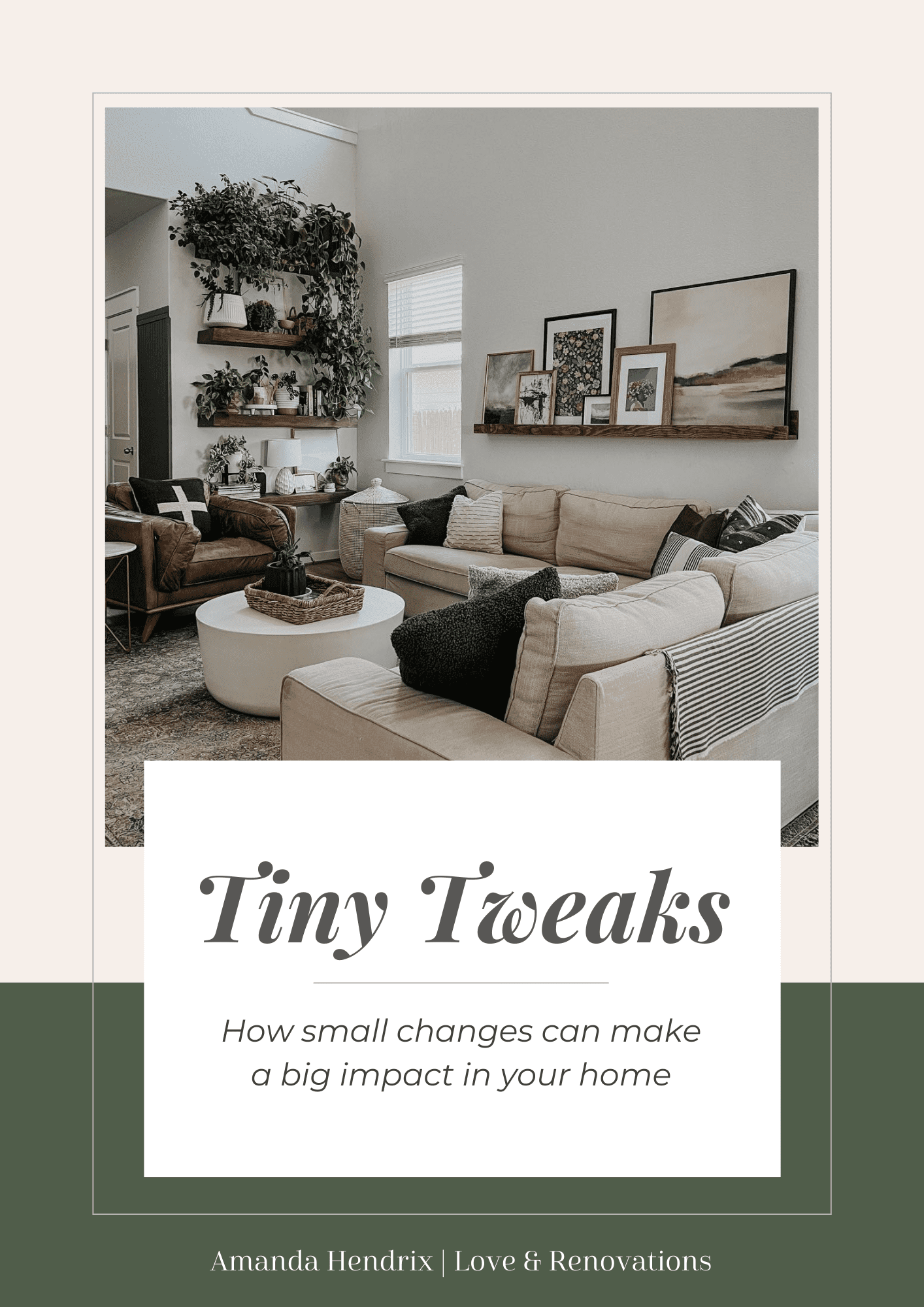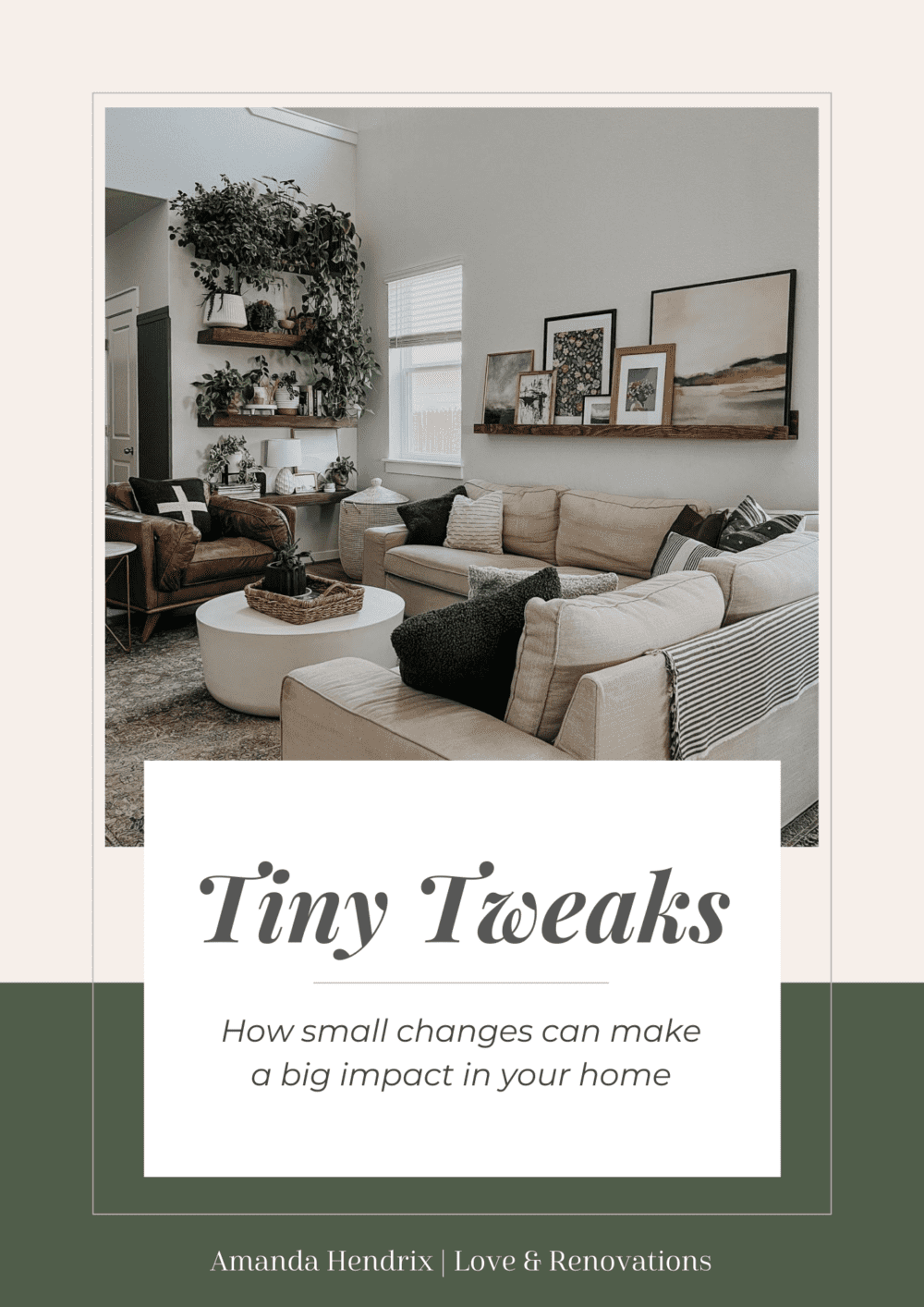 Today, I'm officially releasing the Tiny Tweaks ebook. What is it? It's a detailed, step-by-step guide that will help you find your style, make a plan for your home, and start taking action.
This book has been in the works for a long time. I'm really excited to be able to call it done!
What is Tiny Tweaks?
Tiny Tweaks is a guidebook designed to help you start making progress in your home. If you've ever found yourself lamenting that you don't know what your style is, or that you know your style but don't know where to start in your home, this book is for you.
In Tiny Tweaks, I'll walk you through my foolproof process for narrowing down exactly what your style is. I'll also help you create a whole-home mood board that you can use as a guide as you begin working on your home.
Once you have a plan in place, I'll teach you my systematic, one-step-at-a-time method for actually doing the things you want to do in your house. I'll teach you how to achieve your goals for your home, even if it feels impossible right now. If you follow the steps laid out in this book, it's impossible for you to not end up with an action plan that will get you where you want to be!
On top of all that, the book includes some mini lessons on things like choosing art, styling your home, and how to make progress without major renovations. It also includes a set of worksheets that will help guide you through every step and ensure you don't miss a thing.
I can promise you, if you've struggled in the past with making progress in your home, Tiny Tweaks is exactly what you need!
Who is it for?
The Tiny Tweaks Method is for you if…
You struggle to personalize your home because you just don't know where to start.
You've ever said "I don't know what my style is! I like everything!"
You feel overwhelmed by the prospect of decorating your home, because there's just so much to do.
Your house doesn't feel as cozy, personalized, or YOU as you'd like it to.
You look at DIYers and home bloggers on Instagram and Pinterest and wonder, "why can't I do that in my home?"
The Tiny Tweaks Method will NOT…
Require any DIY skills or power tool knowledge.
Take up a ton of your time.
Require you to replace furniture or other large pieces in your home (unless you want to)
Blow your budget. All ideas, challenges, and tips can be adjusted to fit WHATEVER budget you have! 
I'm still not sure…
Here are a couple of quotes from past students who have worked through the Tiny Tweaks method.
"I loved having these resources and step by step guide. It broke so much down for me and gave me the confidence to actually do the things I had been thinking."
"I cannot describe how valuable the content was for me. Was not too overwhelming within each category and was specific enough to give guidance when I had none, but open enough to be creative and unique."
""Finding your style" could honestly be its own mini-workshop…I found it incredibly valuable!"
I've worked through this process with dozens of people, and everyone who put the time into it has told me that they learned so much about themselves, their home, and how to get it where they want it to be!
I'm in! Where do I get it?
If you feel like Tiny Tweaks might be helpful to you, CLICK HERE to purchase it!
The 90+ page ebook is only $20. You'll find that the information in it is worth so much more than that!
I'm really, truly passionate about helping people learn how to take control of their house and start making it feel like a home. If you've ever felt frustrated with your ability to move forward with designing, decorating, or DIYing in your home, I hope you'll give this a shot!