How to Fill a Blank Wall in Your Kitchen
So, our kitchen has this big, blank wall. It has given me trouble since day one, and I can't seem to land on what I want to do with it. In theory, I know how to fill a blank wall in my home, but there's just something about this space that continues to stump me.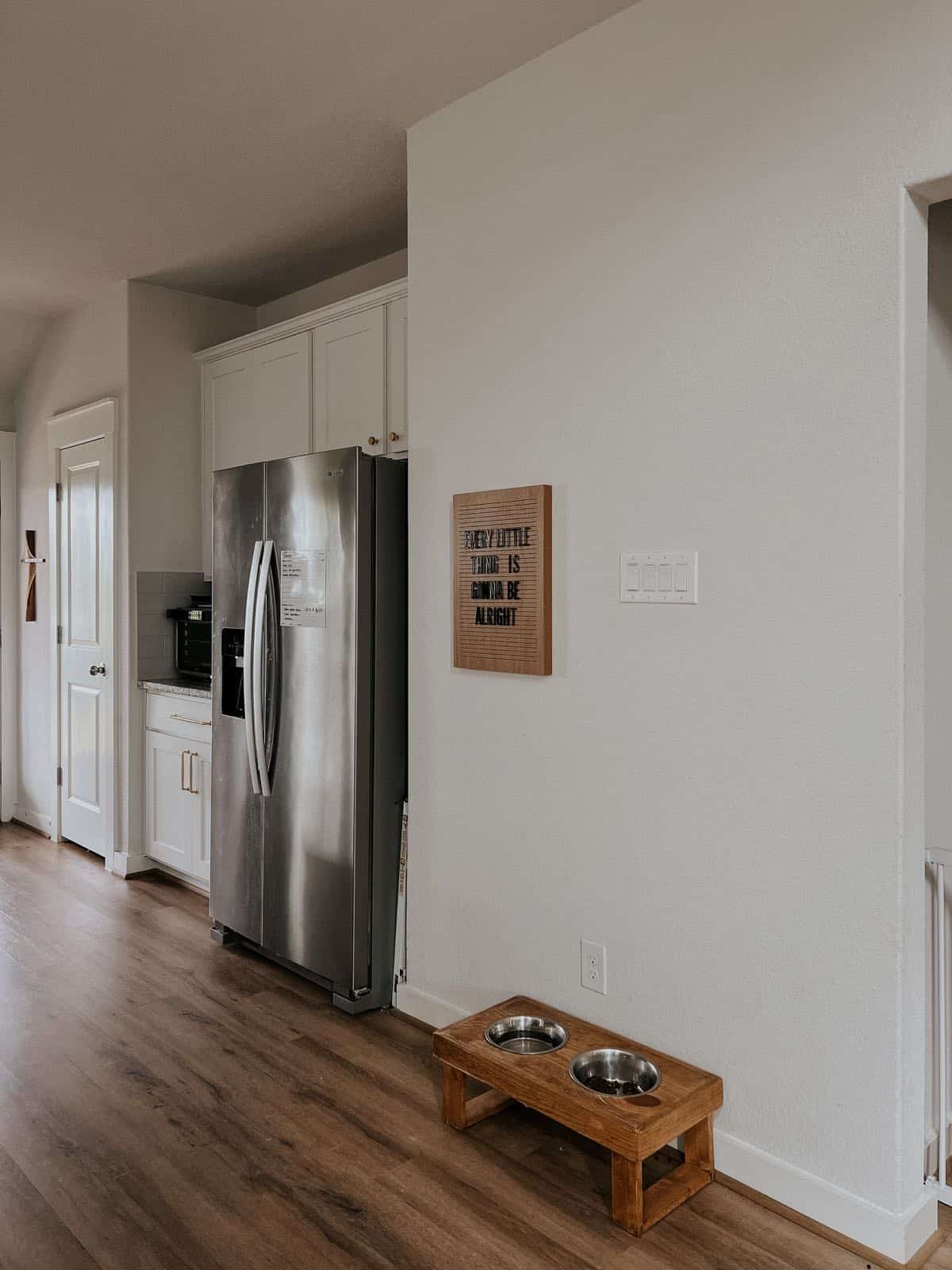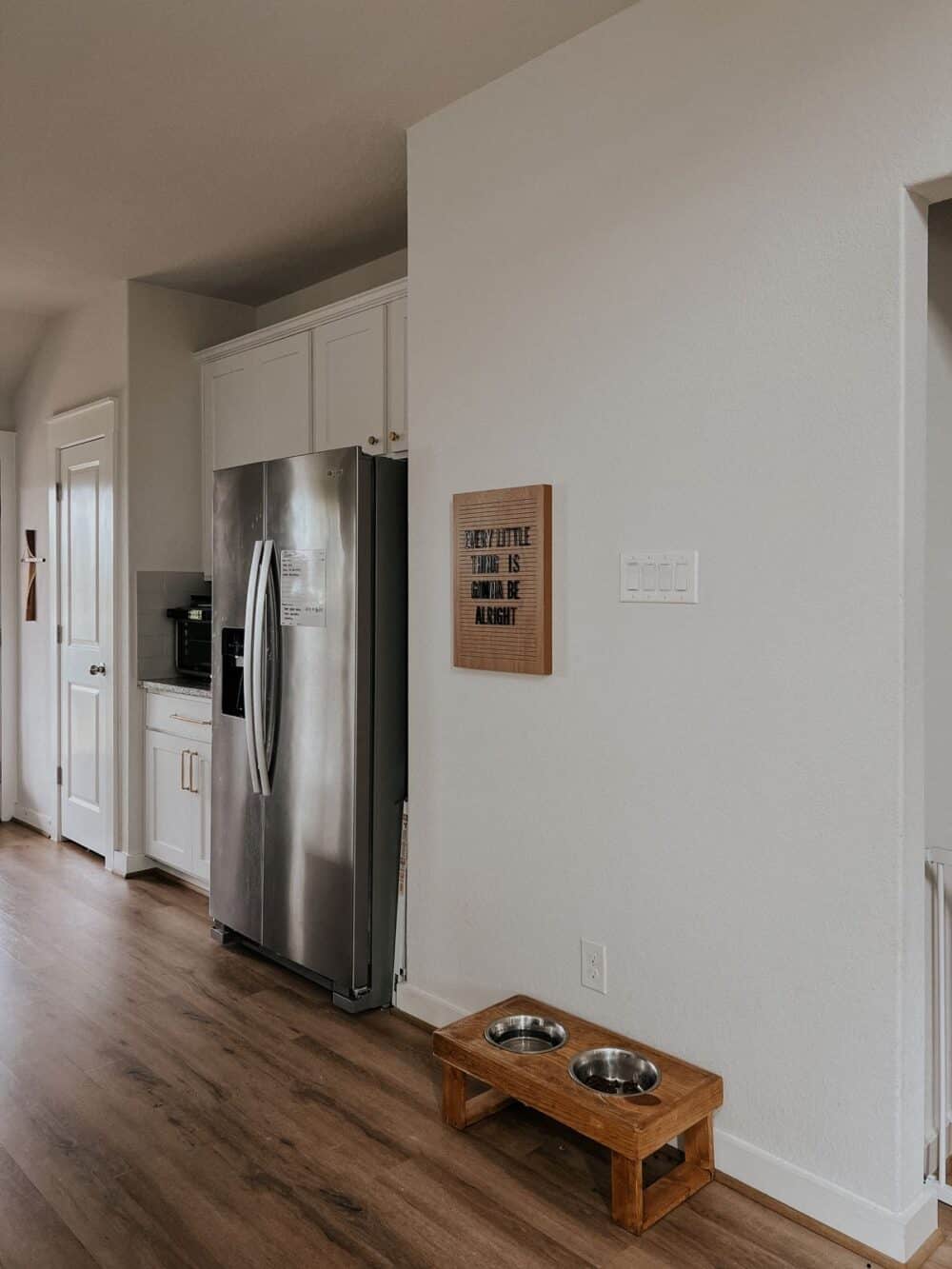 It's nothing glaringly offensive. It's just a (mostly) empty wall. But, a few factors make it incredibly tricky to figure out what to do there. You see….
The row of light switches makes it so I can't center a large piece of art on the wall
The walkway is juuuuust narrow enough that I don't think a piece of furniture would really work here
Plus, it's right next to the fridge so I'm not sure anything would even look right here
And finally, it's the only good place for our dog bowls, so those live on the ground right here
It's a bit of a pickle, and lately it's been bothering me more and more. The letter board hanging on this wall was the very first thing I ever hung in this house! But, I'm not having as much fun with the letter board as I used to, and it's time for a change.
I've been brainstorming lots of different ideas lately for how to fill this wall. Today, I thought I'd round up some of the ideas I'm considering. Maybe you can help me choose?!
how to fill a blank wall in the kitchen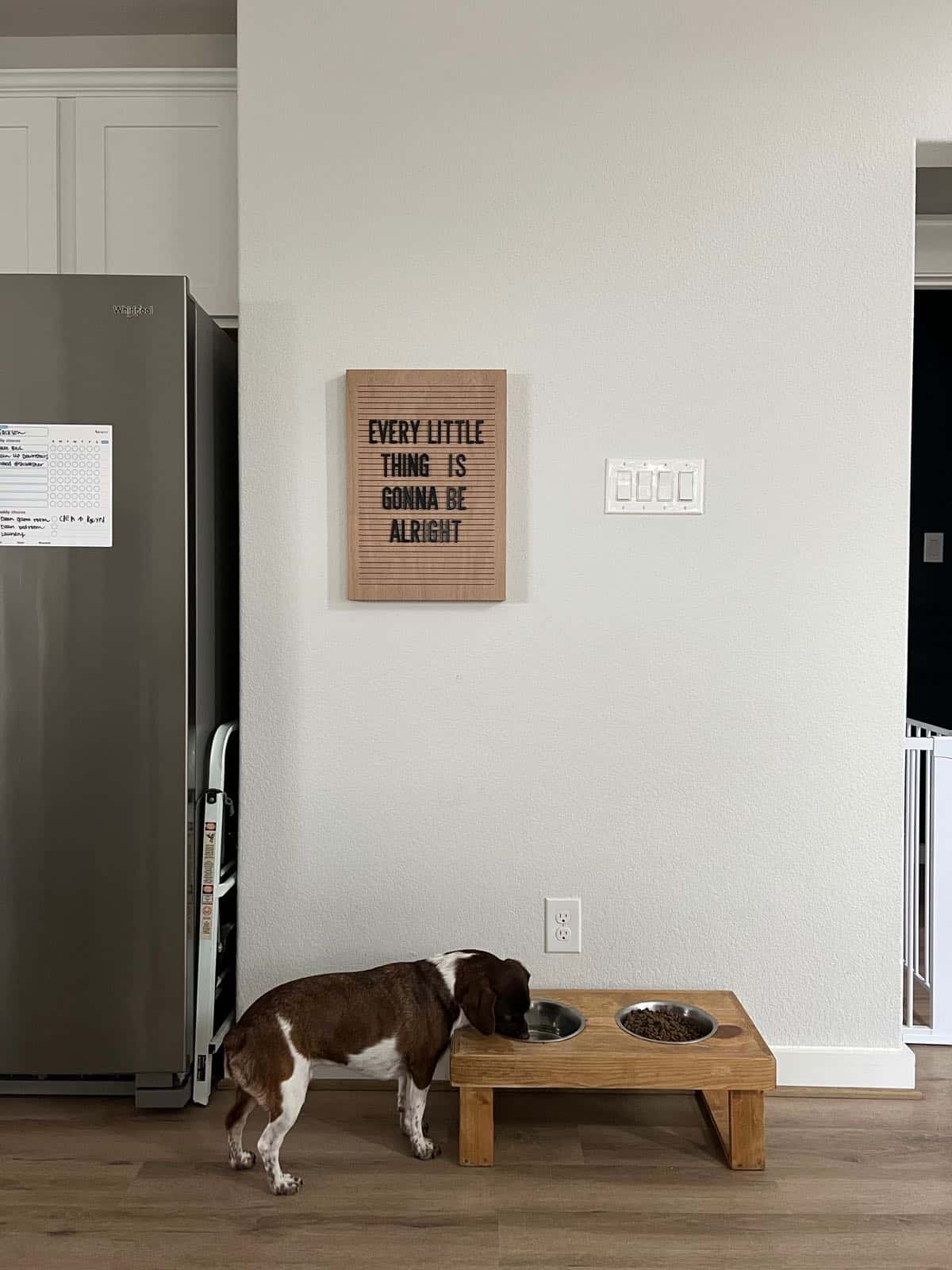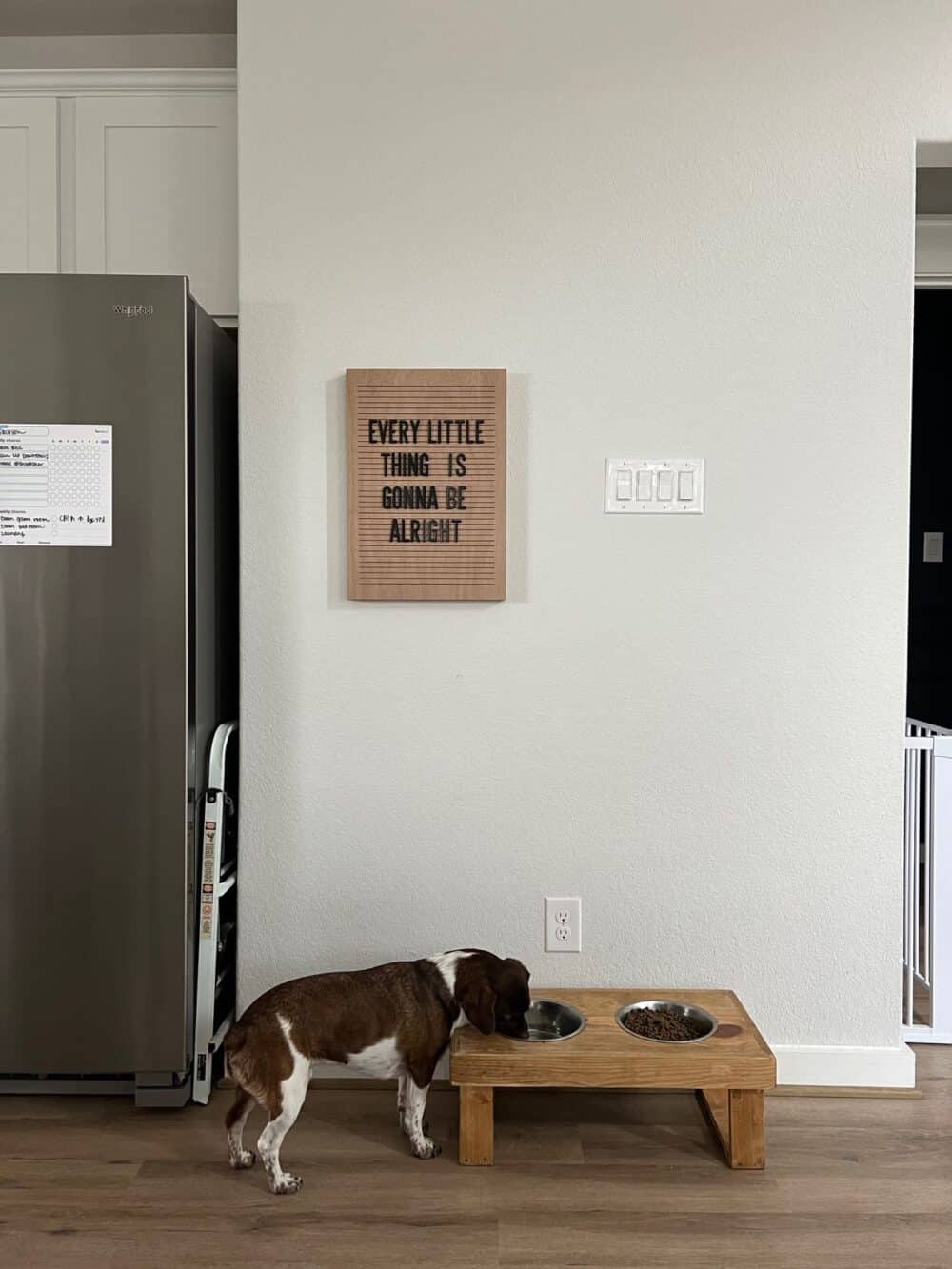 I'm gonna run through 10 ideas for how to fill a blank wall. They're all ideas I've considered for this wall. Some are totally expected and simple, and some are a little more exciting! I'll tell you what I love about the ideas, and II'll also tell you my concerns about trying each idea in our house, if I have any. This is a great way to get a little peek into my head and my thought process as I work on making design choices for my home!
Often, I come across choices like this that just feel extra hard to make. Usually, when I'm really wrestling with a decision I just take that as a sign that I haven't found the right solution yet. But sometimes (like with this one), it's such a low-stakes issue that I almost have to force myself to just pick something. It can easily be changed down the road, and it bothers me all the time that this wall is so blank.
So, let's decide! If you have any additional ideas or suggestions, be sure to leave them in the comments below.
Here we go!
Hang Cutting Boards
I've loved the idea of a cutting board wall ever since I saw Chris & Julia do it in their last house. I think it's such a beautiful (and functional!) way to add some visual interest in the kitchen. I love that it's not just another gallery wall, and I love that it adds a lot of new shapes and textures. It'll also camouflage the light switches nicely!
My only concern with this in our space? Since we have a fully-open-to-everything great room happening here, I have to be really thoughtful about what I hang on the walls. It's really easy to make things feel too busy, and I worry that a bunch of cutting boards on the wall could be visually overwhelming.
gorgeous cutting boards to hang

Add a Roll of Kraft Paper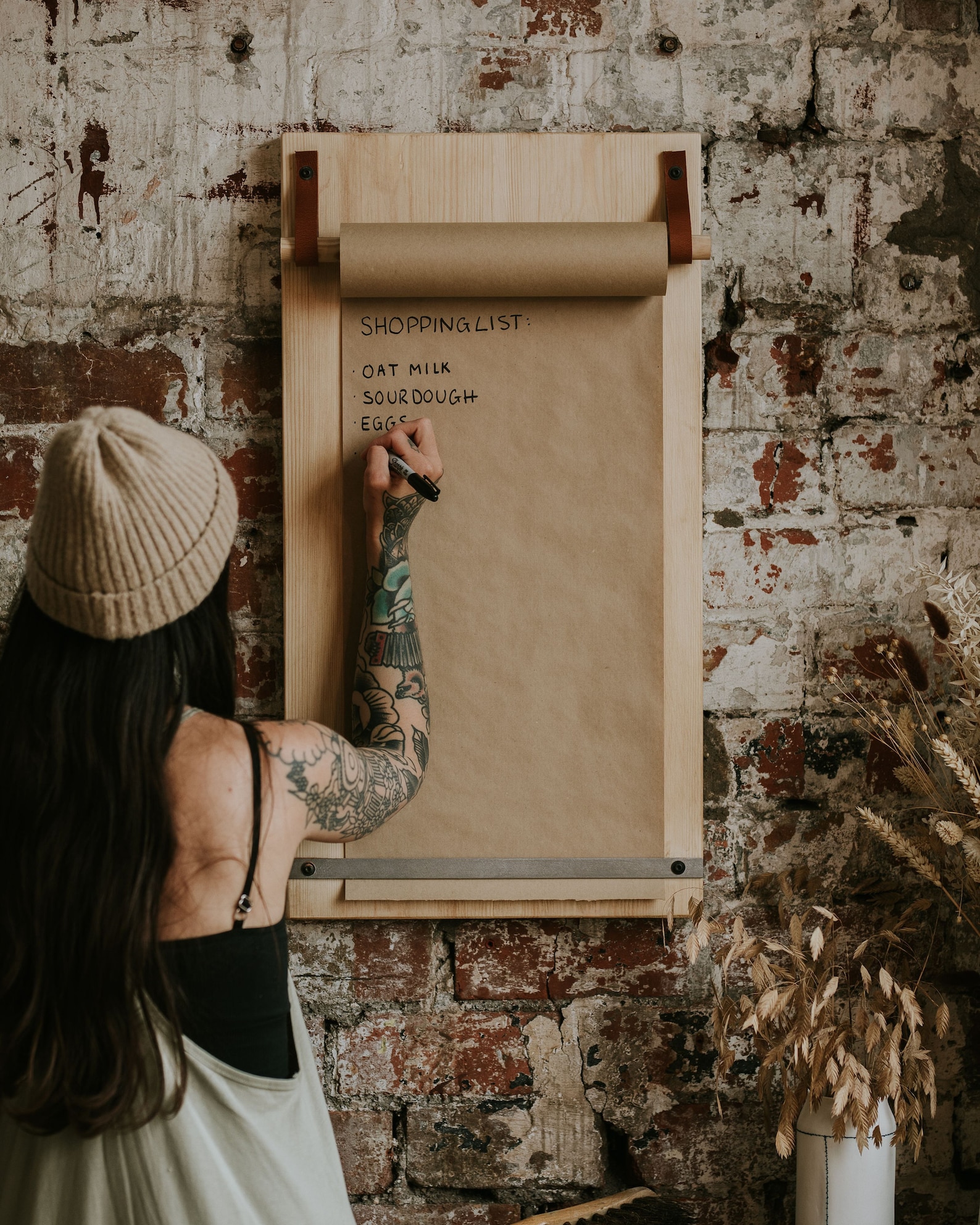 via folkhaus on Etsy
I love the slightly industrial but oh-so-charming look of a roll of butcher paper mounted to the wall! It's such a functional addition to the kitchen (which is always great!), and it looks so beautiful when it's done right.
Potential issues I see with this option? Well, for starters, my handwriting isn't nearly cute enough for this to look great all the time. Plus, do I really want to display my grocery list on the wall for all to see? It looks so beautiful in photos, but I'm not sure how practical it would end up being in our particular home.
Hang a Gallery Wall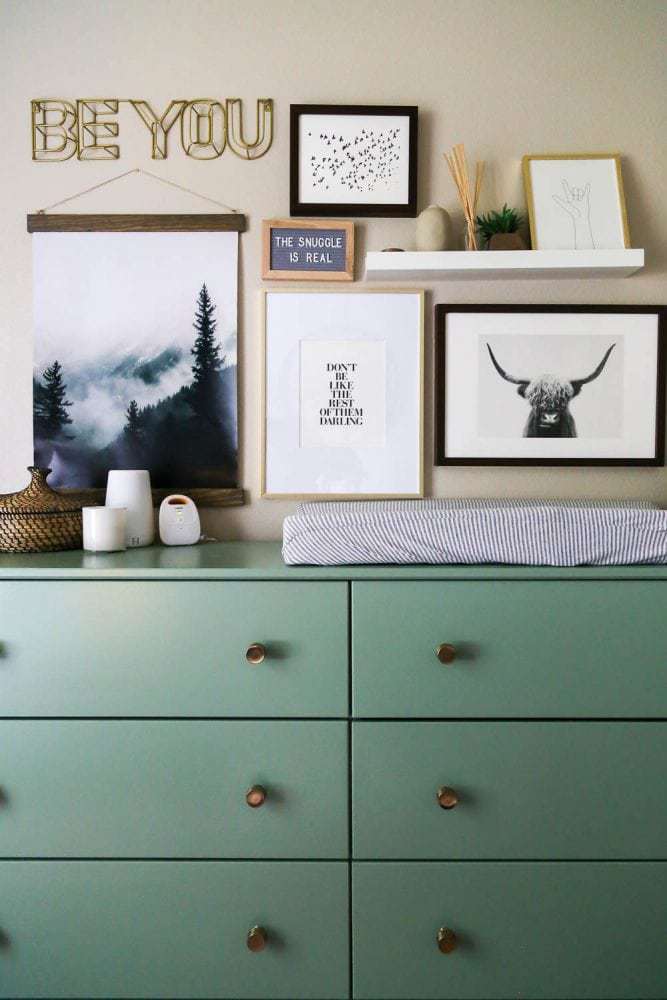 See more on this gallery wall here
Obviously the gallery wall above isn't from a kitchen, but you get the idea! A gallery wall is, of course, always a classic idea for any blank wall! This is a really great spot for an asymmetrical gallery wall that kind of goes around the light switches and helps to camouflage them, and I do think it would look really beautiful here.
The problem? We've got a lot happening with the plant shelves and the art ledge on the other side of the house. It's all within the same line of sight! I worry hanging a big gallery wall here would feel really busy. Maybe I'm overthinking it, but it feels like there's a solid chance it would end up being a little too much for me.
Add a Wood Slat Wall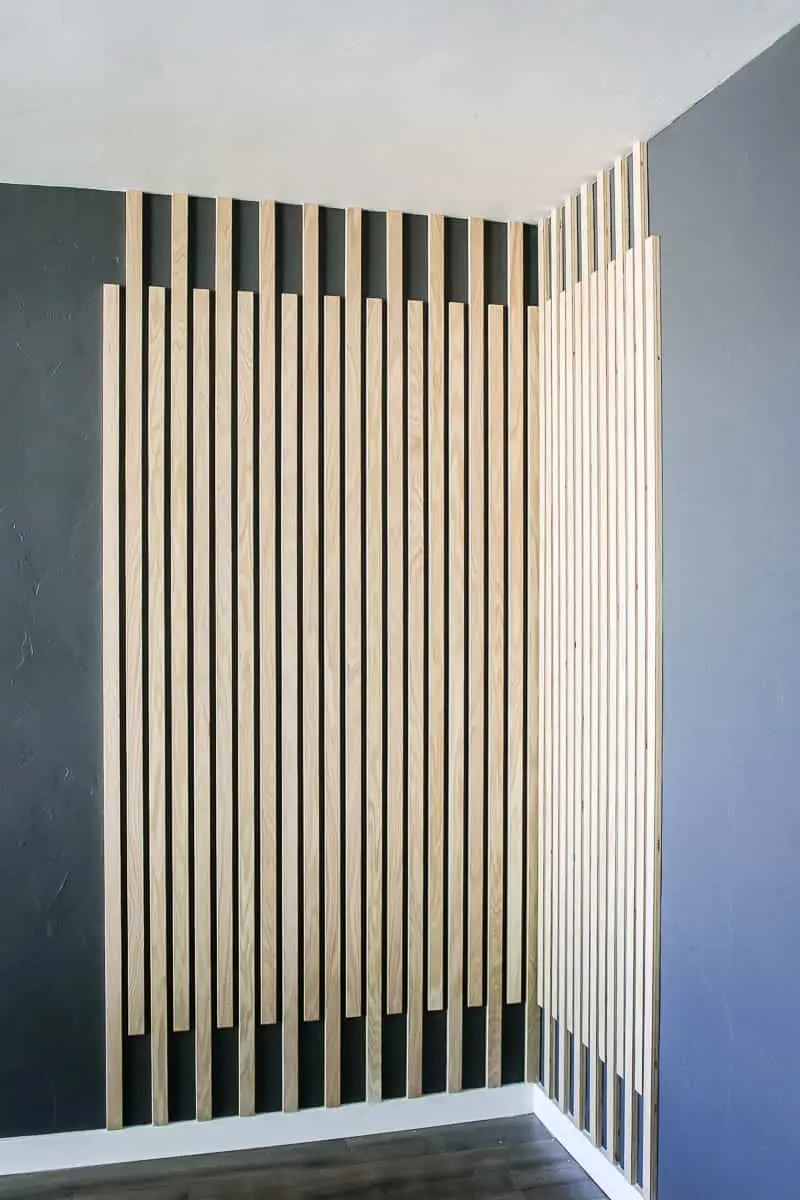 via Making Manzanita
I've been obsessed with wood slat walls for quite some time now. I think they're a really fun accent wall idea. I love the texture and dimension they add to a space, and I'm always a fan of adding more wood tones! I've seriously considered doing a mini slat wall feature here for a long time, but there's something holding me back from pulling the trigger.
What is it? I'm not sure I can put a finger on it. Maybe it's that there's no clear start and ending points for the wall. Maybe it's the off-center light switches that could get in the way. Or, maybe it's that it isn't easily reversible if I change my mind. Who knows!
Hang a Plant Wall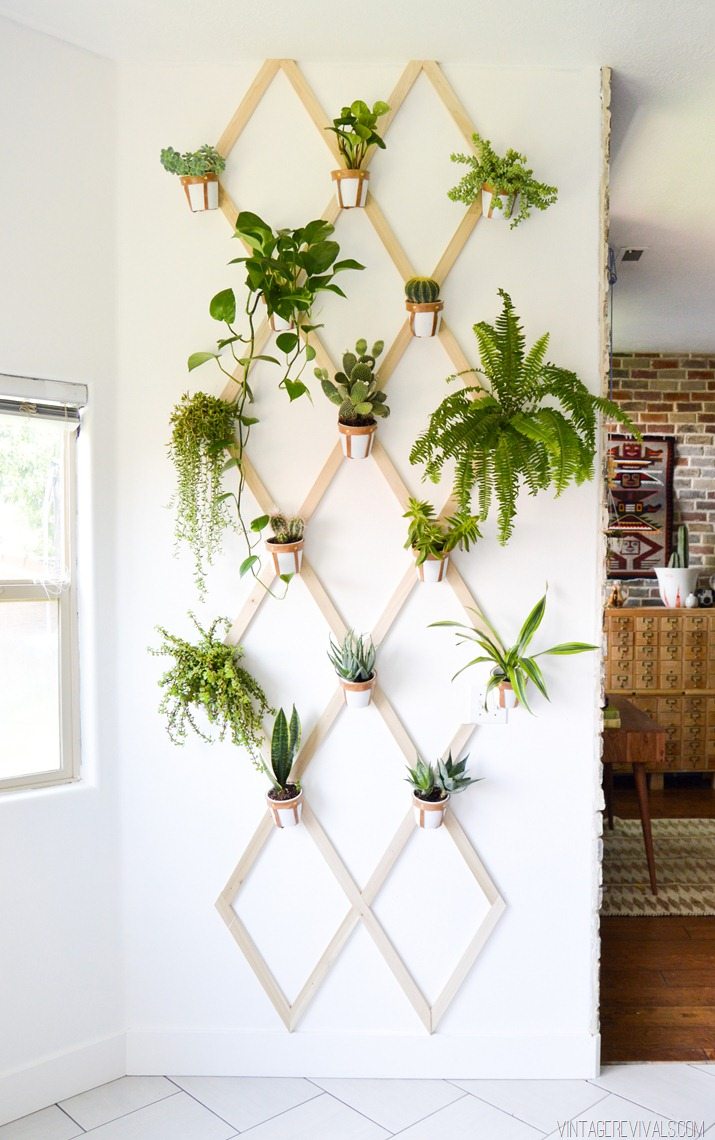 via Vintage Revivals
Oookay. I don't think I even need to tell you that I love this idea. I'm a huge fan of having aaaall the plants in our house, and so this is obviously something that really appeals to me. This wall in our kitchen gets plenty of light throughout the day, and I think this would look great in the off-center space I have.
So, what's holding me back? Well, for starters, is there such a thing as too many houseplants? I've got an aggressive amount already and I worry my husband will revolt if I tell him I'm dedicating (another) entire wall to plants.
Add a Chalkboard Wall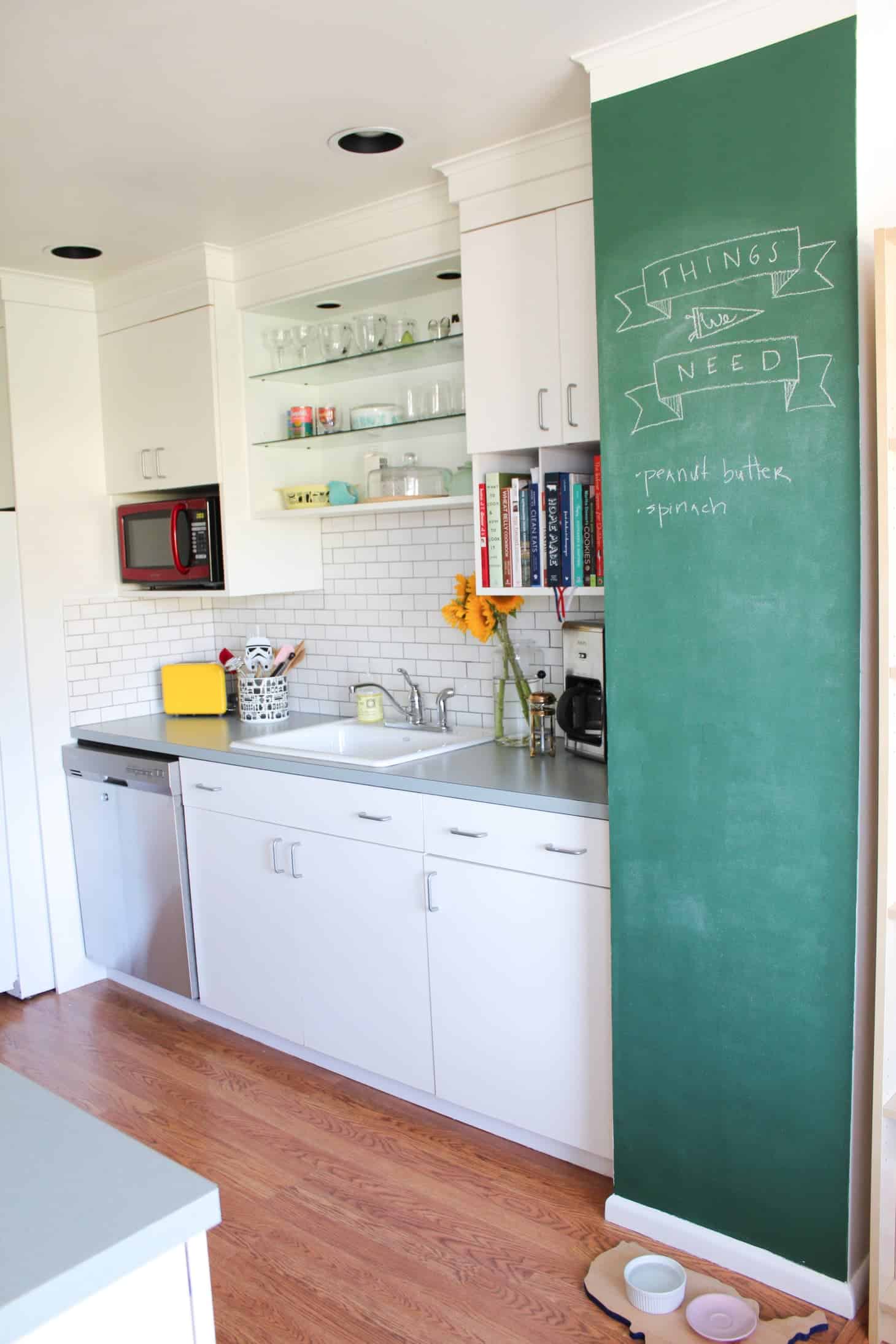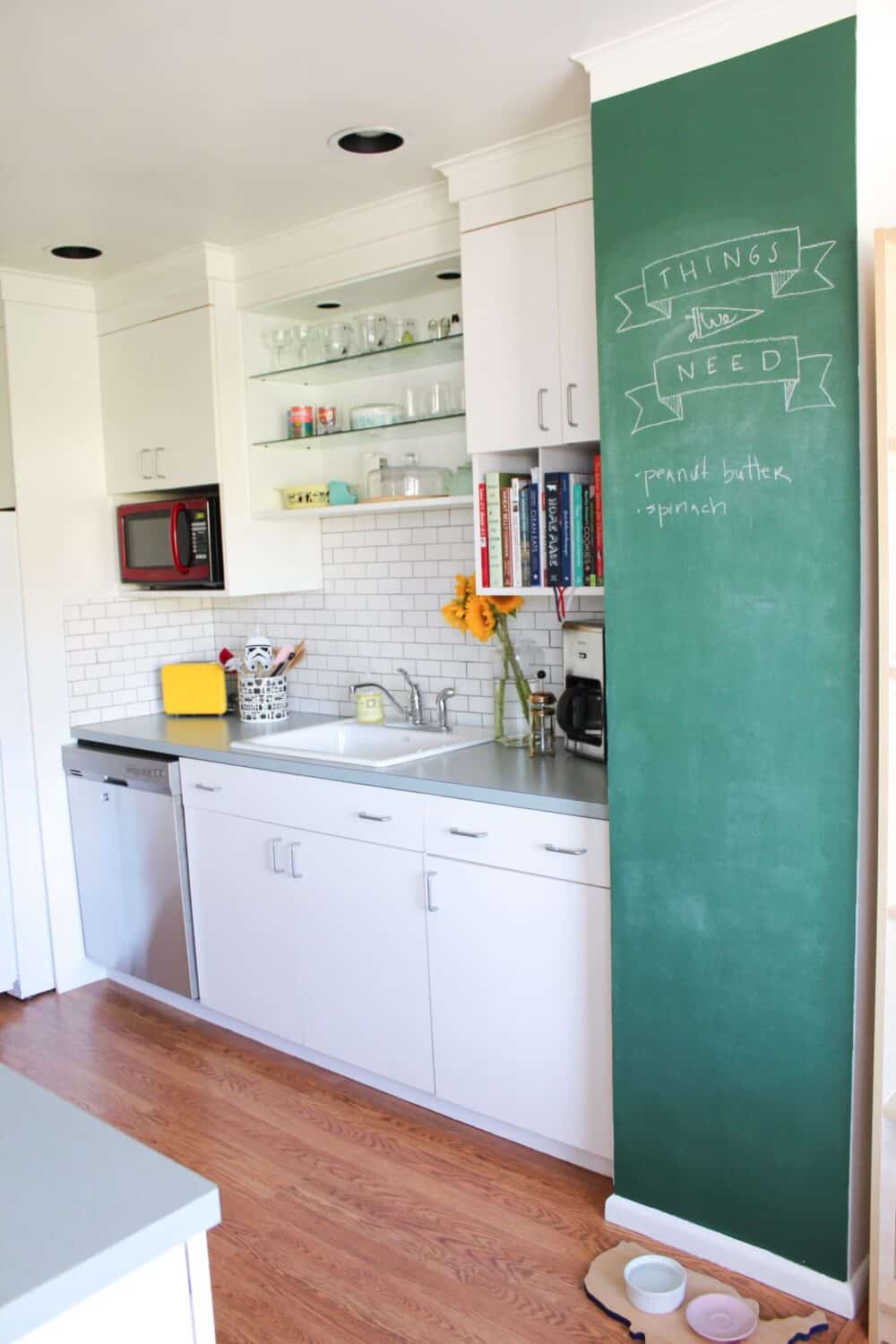 Chalkboard walls are always such a fun feature – I love the playful and interactive nature of them. I think that a chalkboard wall in the kitchen is definitely a choice you can't go wrong with, and I know the kids would use it all the time.
But of course, that's also exactly what holds me back. Do I want my kids playing on a chalkboard wall in my kitchen all the time? They're adorable in theory, but when it's actually covered with kid scribbles all the time, will it just feel cluttered and messy?! Also, I could never make it look as cute as the example above!
Add Some Shelves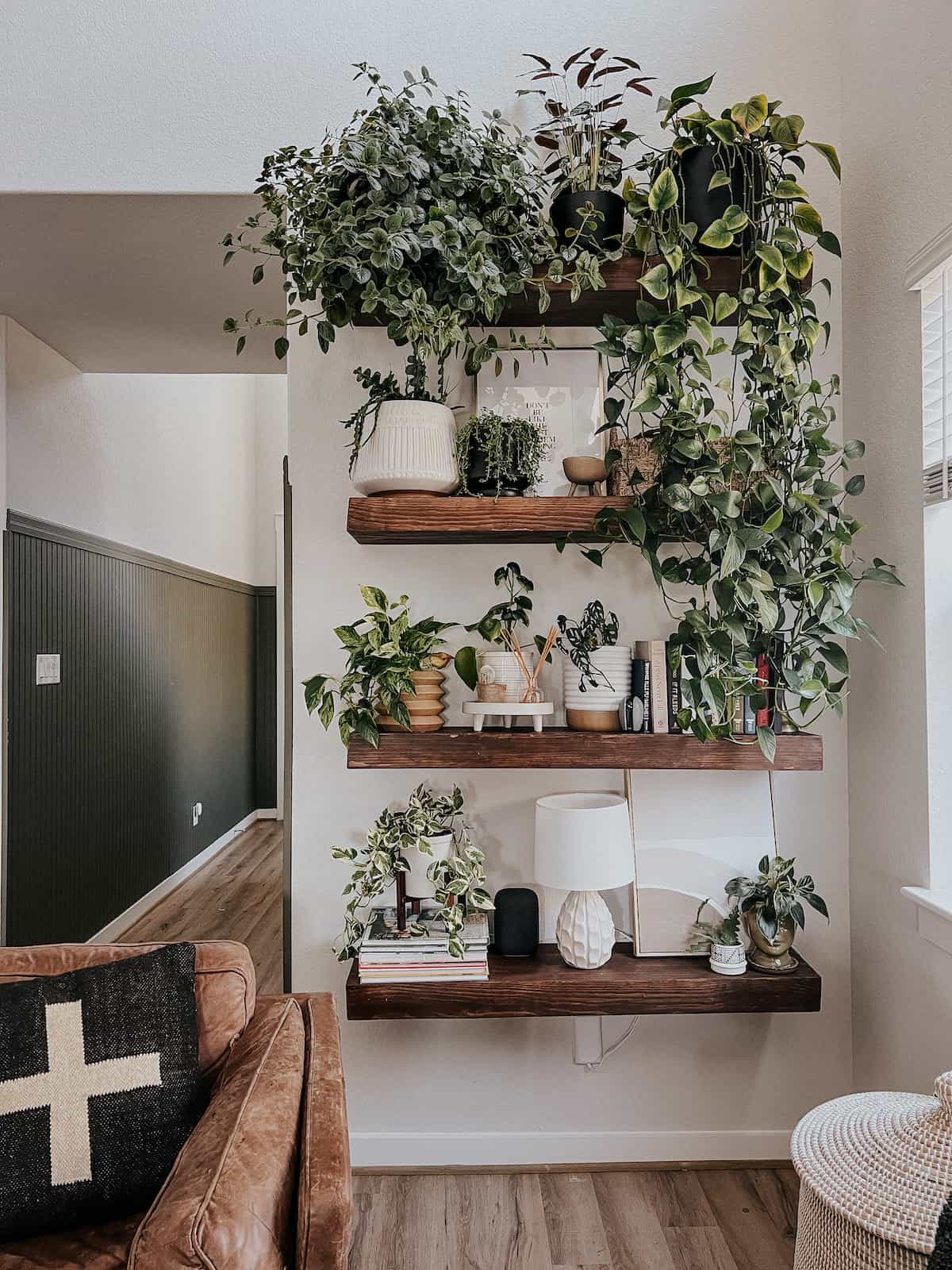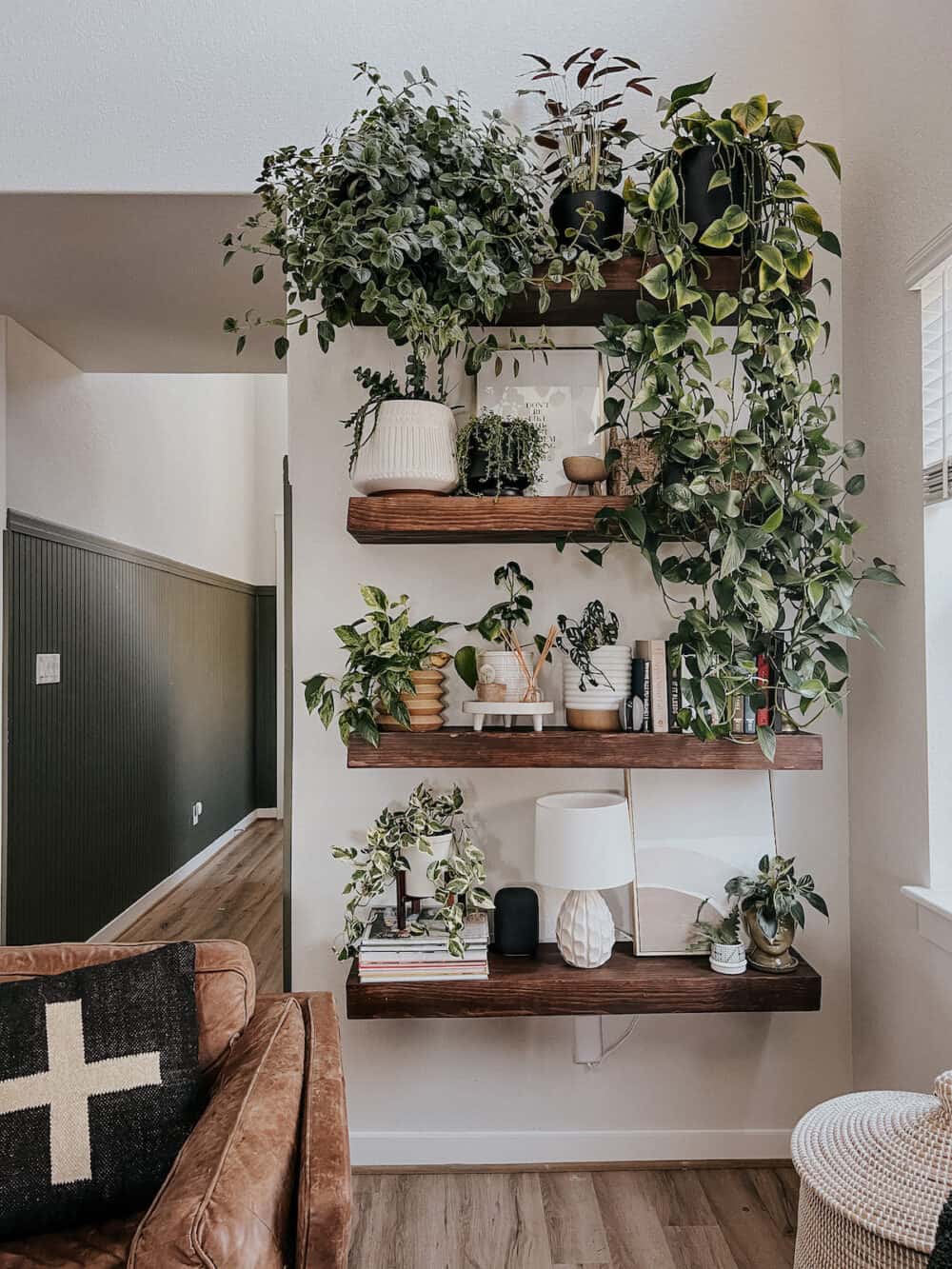 See our floating shelves here!
Shelves are always a great idea for a big, blank wall! This isn't actually an option I'm considering for this particular spot in our home, because the shelves pictured above live really close to this wall. But, I had to include it because this is a great option to consider if you're trying to fill a blank wall in your kitchen!
Hang a Plate (or basket) Wall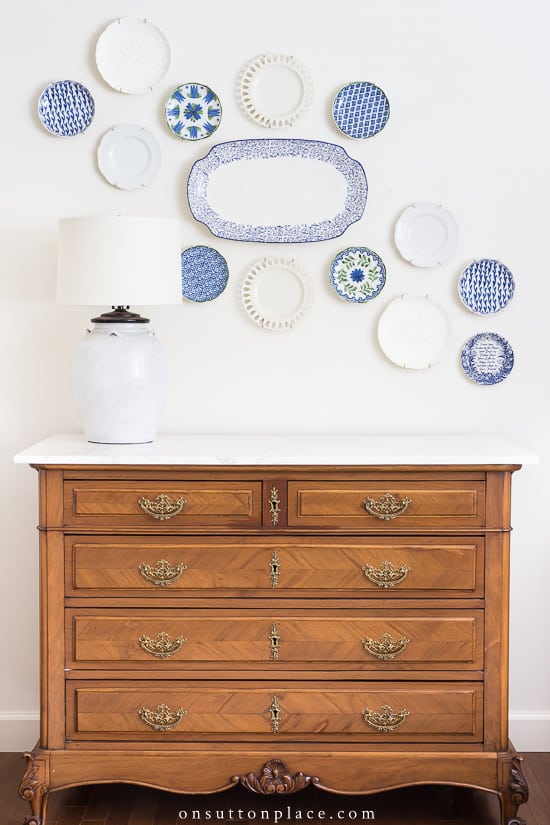 via On Sutton Place
I've always been a huge fan of vintage plate walls. I think they're absolutely beautiful, and such a charming addition to any kitchen. I love the idea of spending time collecting beautiful plates (or baskets) to create a feature wall with! The flexibility of the size and layout would really work for this space, too!
The biggest problem here is, I don't feel like a vintage plate wall really flows with the rest of our home. I do want to work on adding in more antiques and vintage pieces to our home, but I think that starting with a plate wall might feel a bit out of place.
beautiful plates

Hang a Tapestry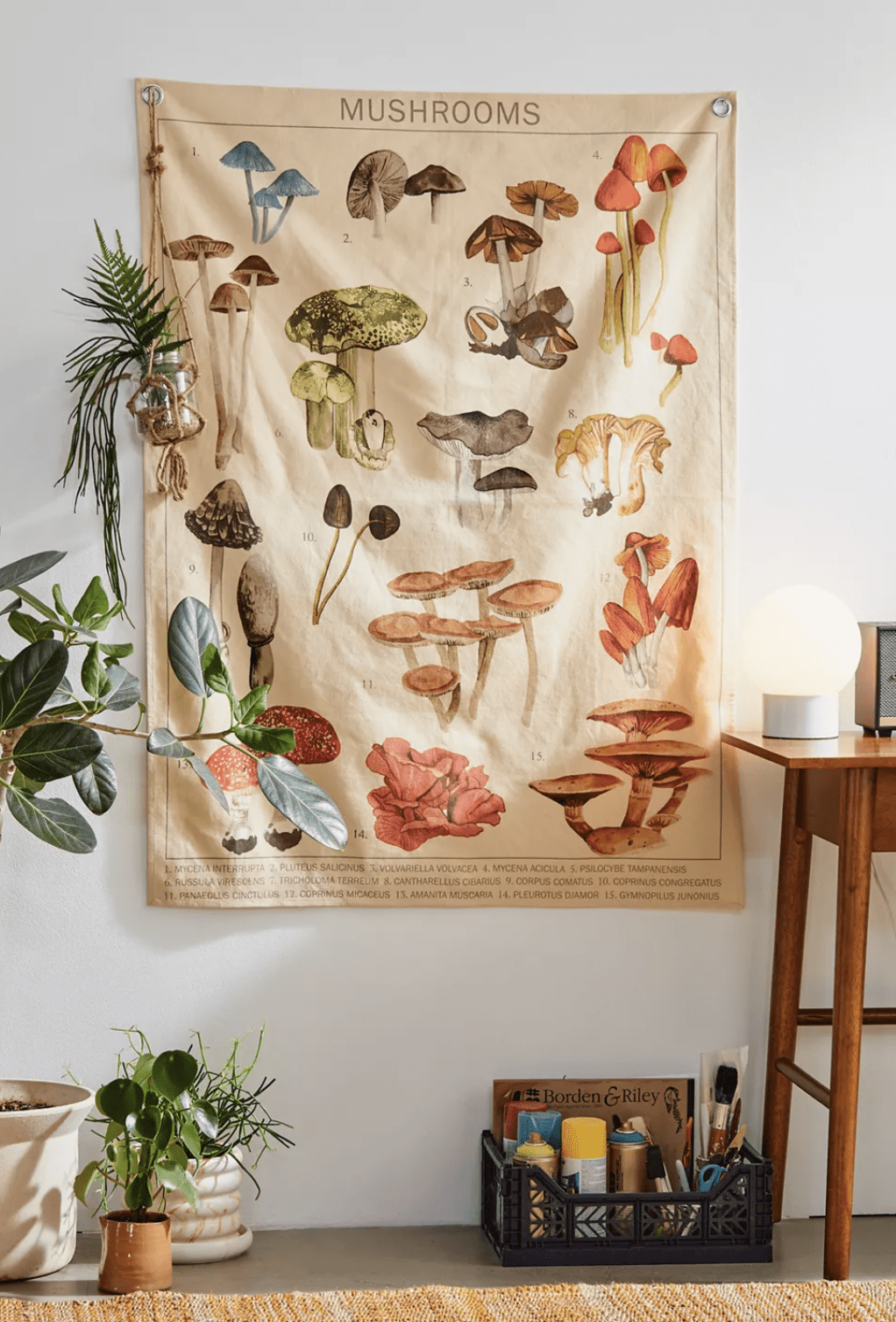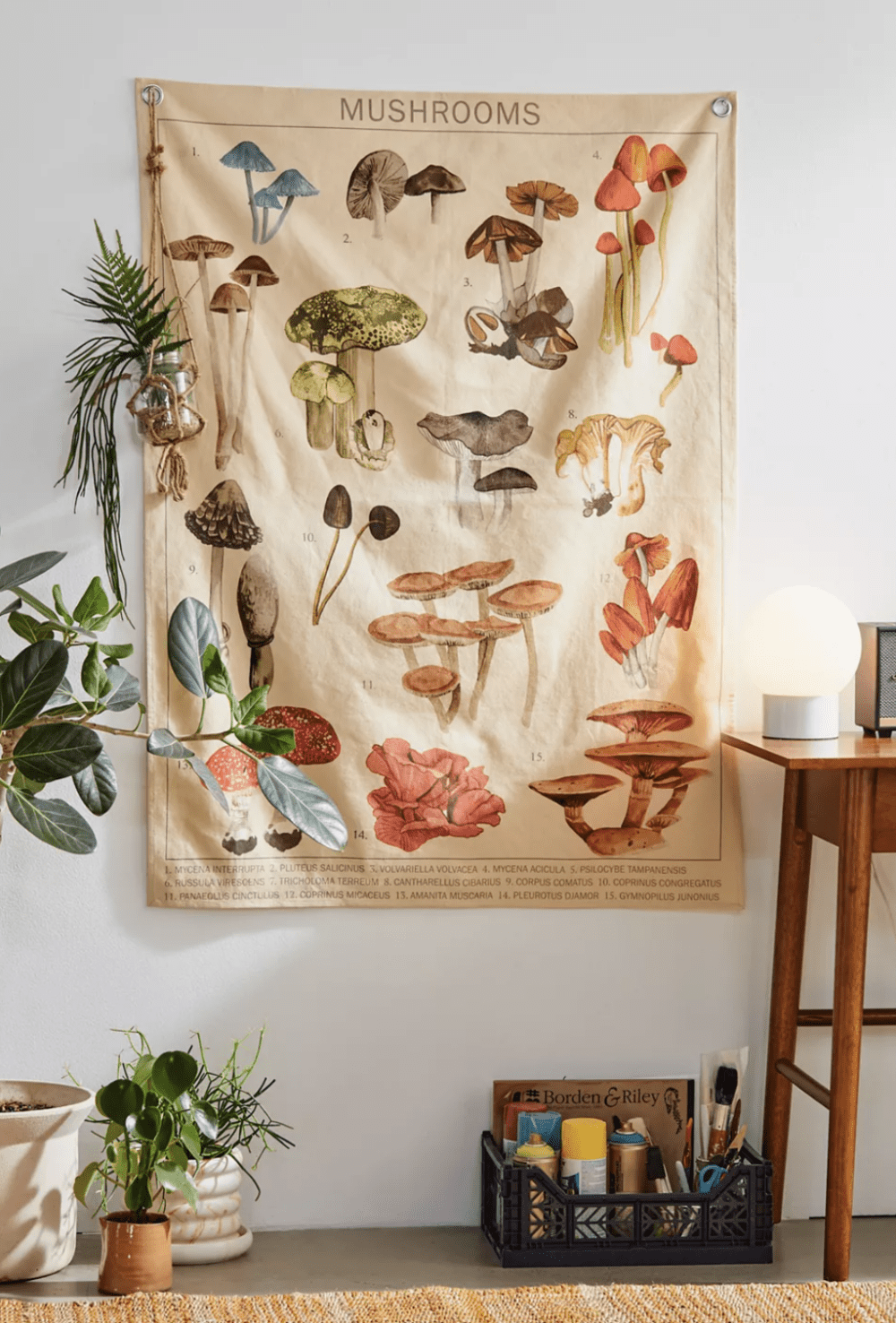 via Urban Outfitters
This is another option that I don't think is really a possibility for me, because it just doesn't feel right for our home. But, I love a good tapestry and if done right it can be so beautiful! I think this would be such a fun addition to a lot of kitchens (or any room with a blank wall) and there are so many beautiful options out there.
tapestry options for the kitchen

Create a brick accent wall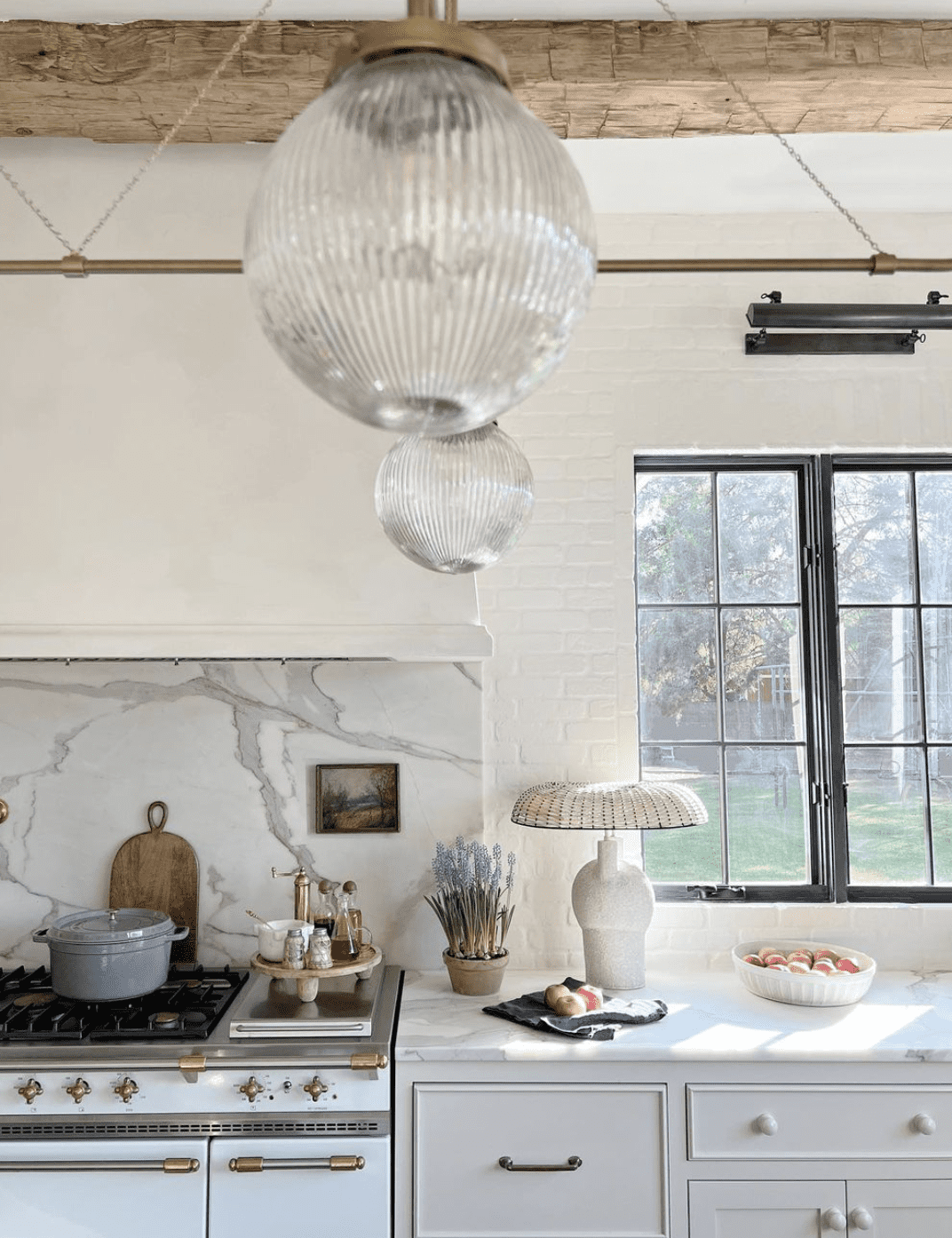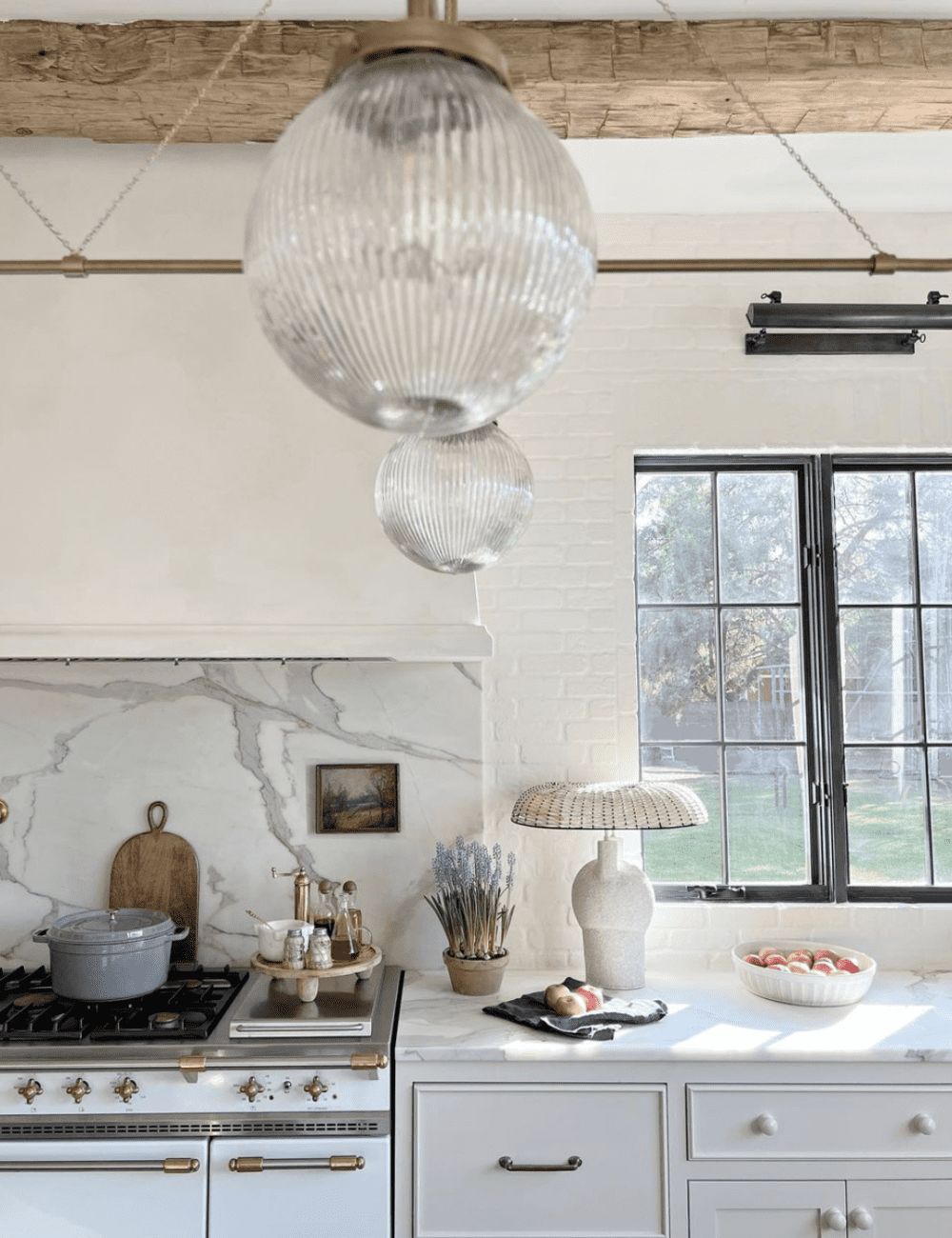 via Jenny Komenda
And finally, another slightly-out-of-the-box idea I'm kicking around is doing a brick accent wall! The brick walls in the Jenny's kitchen above have been one of my favorite things since they were first installed, and I would love to re-create the look in my own home! I think it would fit right in with the rest of our style and could be really beautiful.
The problem? Just like many other options above, there really isn't a clear stopping and starting point for this, so I'm not sure how I'd make it happen. I'd have to just choose where the brick was going to end, and without a clear delineation I worry it would feel like an afterthought.
And that's where my brain is at on this whole issue as of today!
I'm still bouncing back and forth between a zillion different ideas, and every day I think I'll do something different. But, if I'm being honest I'm quickly reaching a point where I feel like I need to just do something or else I'll never do anything!
What would you do if it was your kitchen?