How to Hang String Lights in Your Backyard
The other day, I realized that for the last few years we've had a really fantastic lighting setup happening in our backyard…and I haven't ever shared it with you! The first summer that we lived here, we strung a ton of lights in the backyard. It makes me smile literally every single day. So, a quick post on how to hang string lights in your backyard is far overdue around here.
Because don't you also want your back porch to look this cozy at night?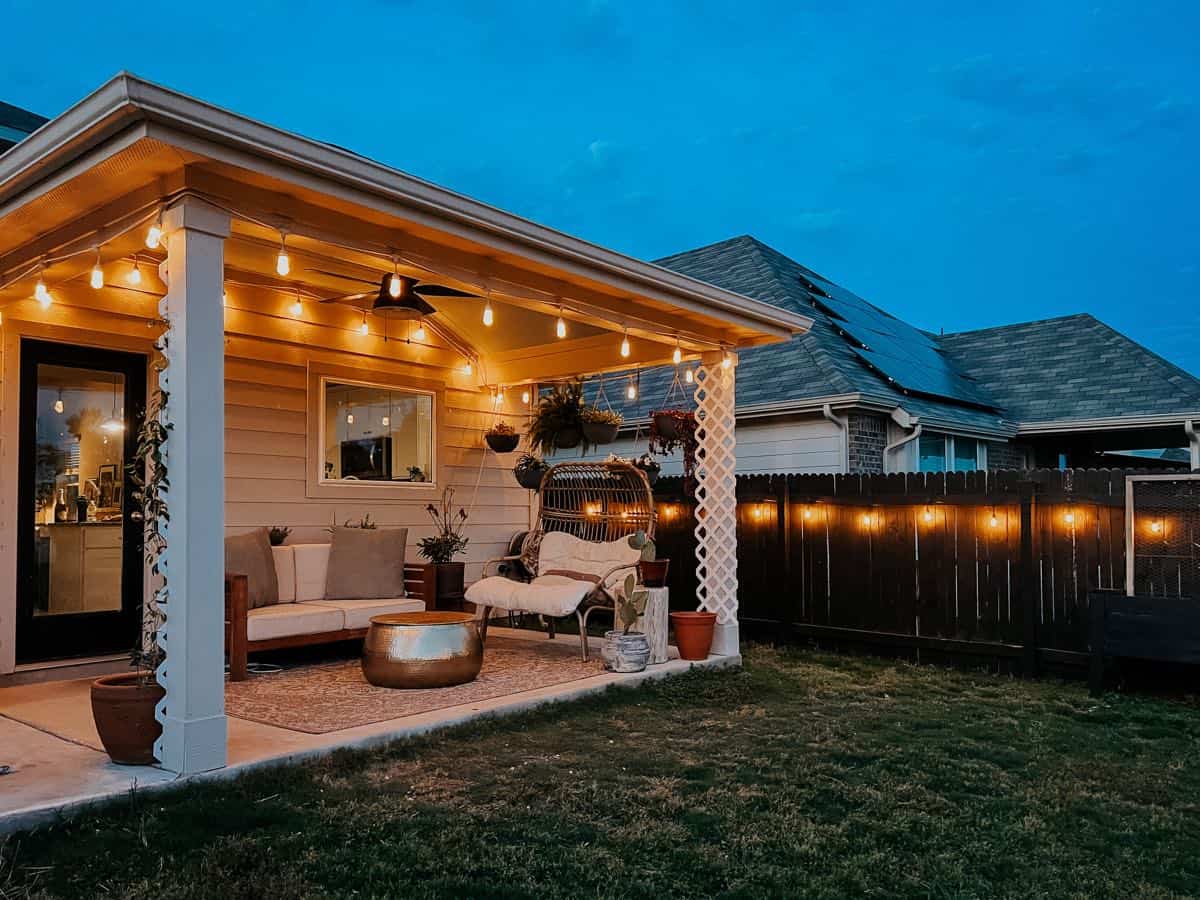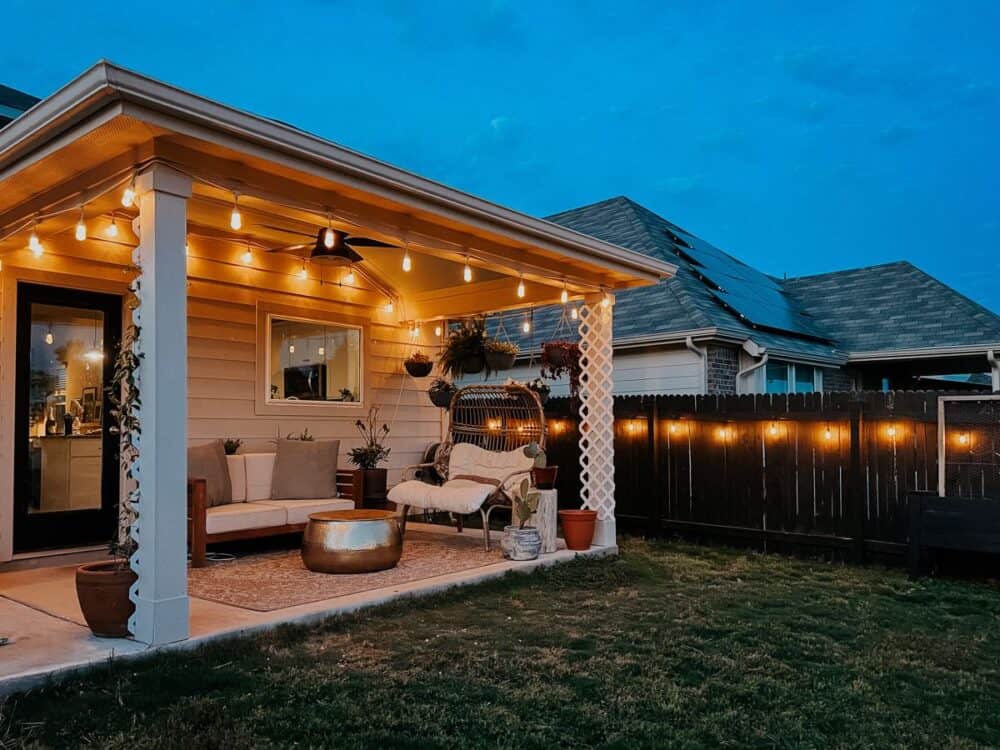 I mean…!!!!
Let's chat about how we got this done. We first fell in love with hanging string lights in the backyard at our last house. When we poured our efforts into making over that backyard, we also spent a lot of time thinking about the lighting. And…my goodness, was it ever worth it!
In that yard, we had a giant tree and a storage shed that we could string the lights between. It created the perfect little area for our pea gravel patio, and it felt more than a little bit magical.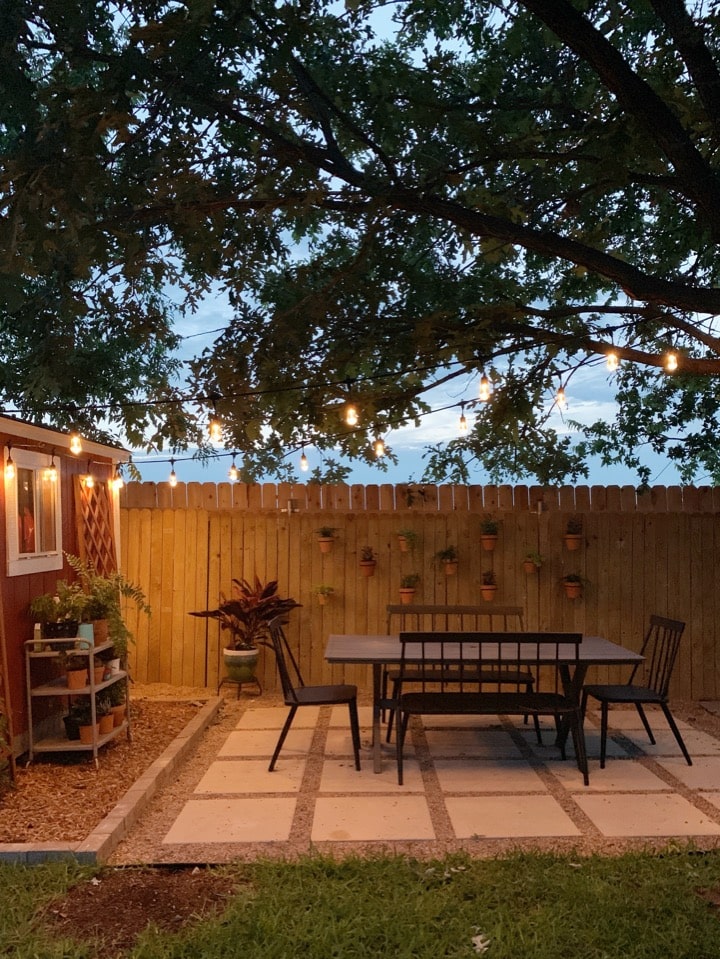 In this house, we haven't put nearly as much effort into the outdoor spaces. This is by far the smallest yard we've ever had, and it's also the newest. That means we started off with zero trees. In the two and a half years since moving in, we've planted a large red oak and three Little Gem Magnolia trees. But, the yard is still far from the cozy oasis I know it can be.
We have big plans rattling around in our heads for our yard, including flower beds and other decorations. But, we aren't quite ready to execute anything yet. So, in the meantime, we've done what we can to make it feel cozy and welcoming. And we started with lots of patio lights, that I apparently never told you about.
Choosing String Lights
Your first step is to choose what string lights you'd like to use in your backyard. We've tried a few different brands and styles and I've found the specific brand doesn't matter too terribly much. But, there are a few key things I'd recommend.
Shatter-proof bulbs for the lights
Smart home compatible – meaning, can be hooked up to your Alexa or Google Home
Comes with a remote control
We've been using these string lights for the last few years, and they're working great for us. They've held up beautifully, they look great, and they work seamlessly with our Google Home. We have them set up to turn on every night at 5:30 PM, and they turn off each evening during our "go to bed" routine. It's been the perfect solution and keeps our yard nice and well-lit all the time!
how to hang string lights on a covered patio
First up, let's address the patio. We have a great covered patio and we love sitting out here while the kids are playing, or when we have guests. We replaced the boring overhead lighting with a fan for some air circulation, and we painted the ceiling a breezy blue color.
When it comes to hanging string lights on a covered patio, it's actually really incredibly simple. All you need are some lights and some string light hooks!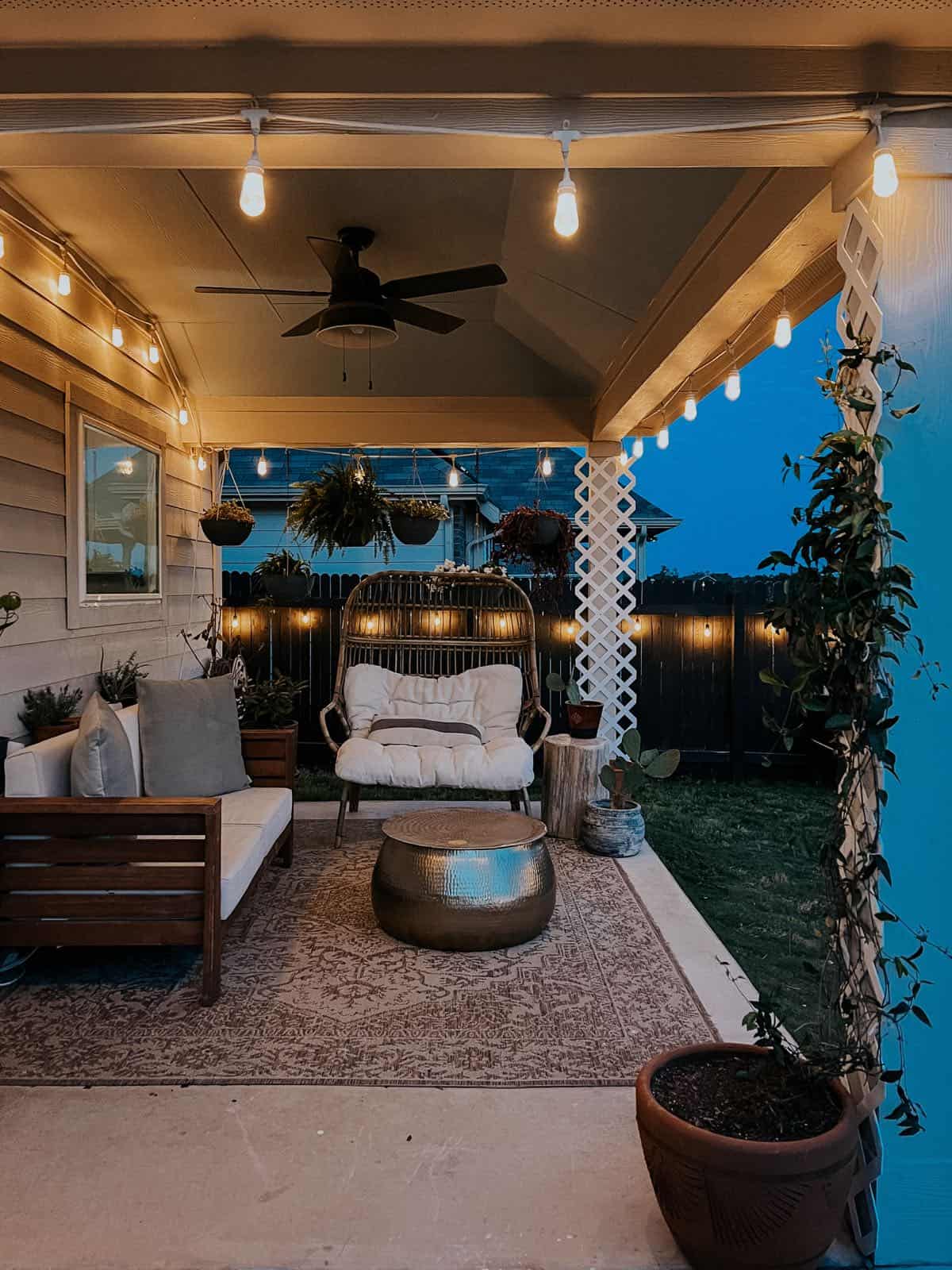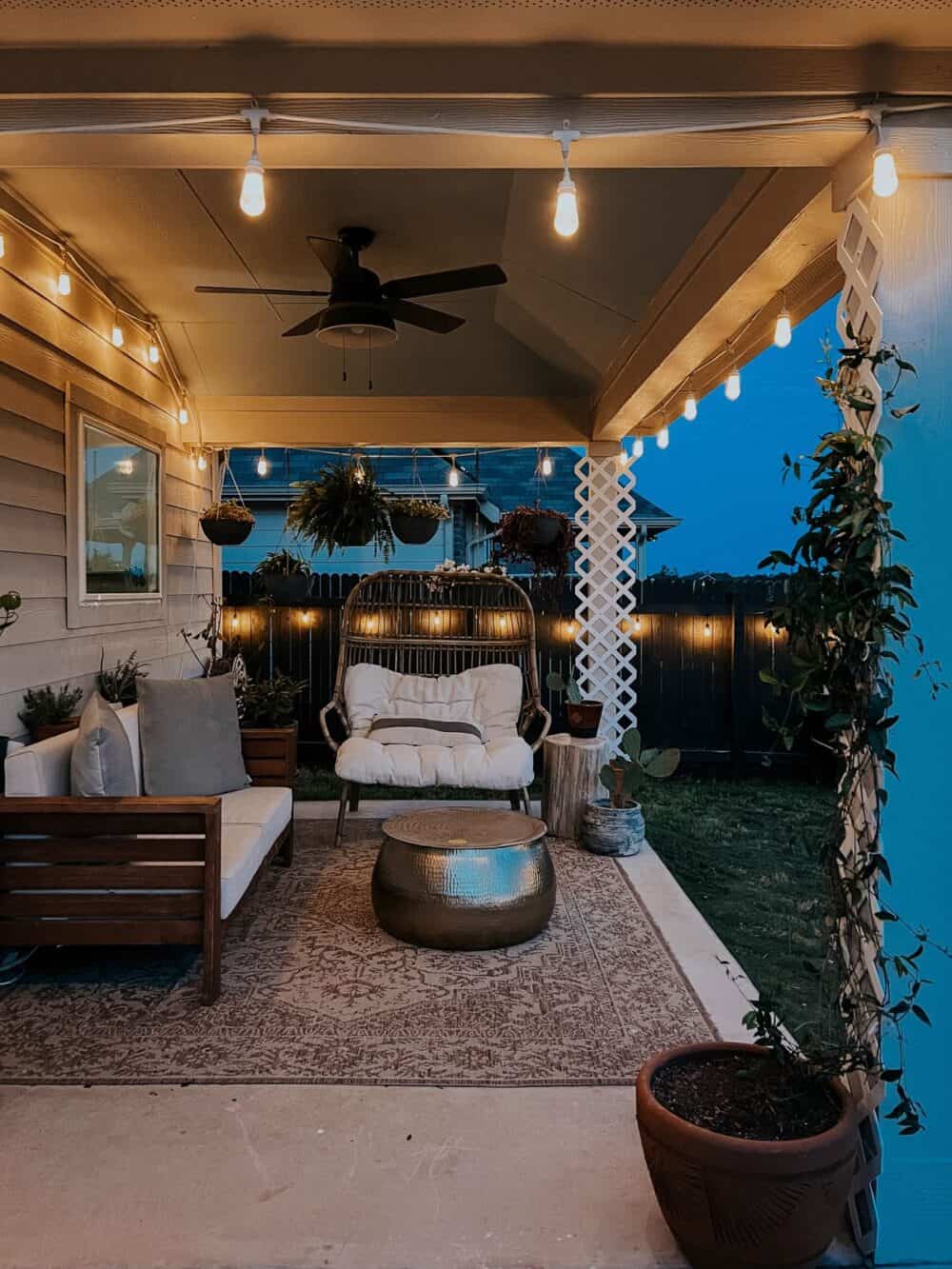 Here's what we use on our covered patio:
Our lights have Edison bulbs (or at least, the same general feel), but you can also find patio lights with globe lights or other shapes. Just choose what works best for you!
To attach the string lights to the covered patio, simply screw hooks into the ceiling (we do ours on the outside of the trim around the ceiling area) all around the patio. We did ours every few lights, you can do more or less depending on how much swag you want in your string lights.
Once your hooks are in place, start by plugging in your string lights in the nearest outlet. Ours is in the outlet behind the outdoor sofa – that way, the sofa covers up most of the ugly stuff!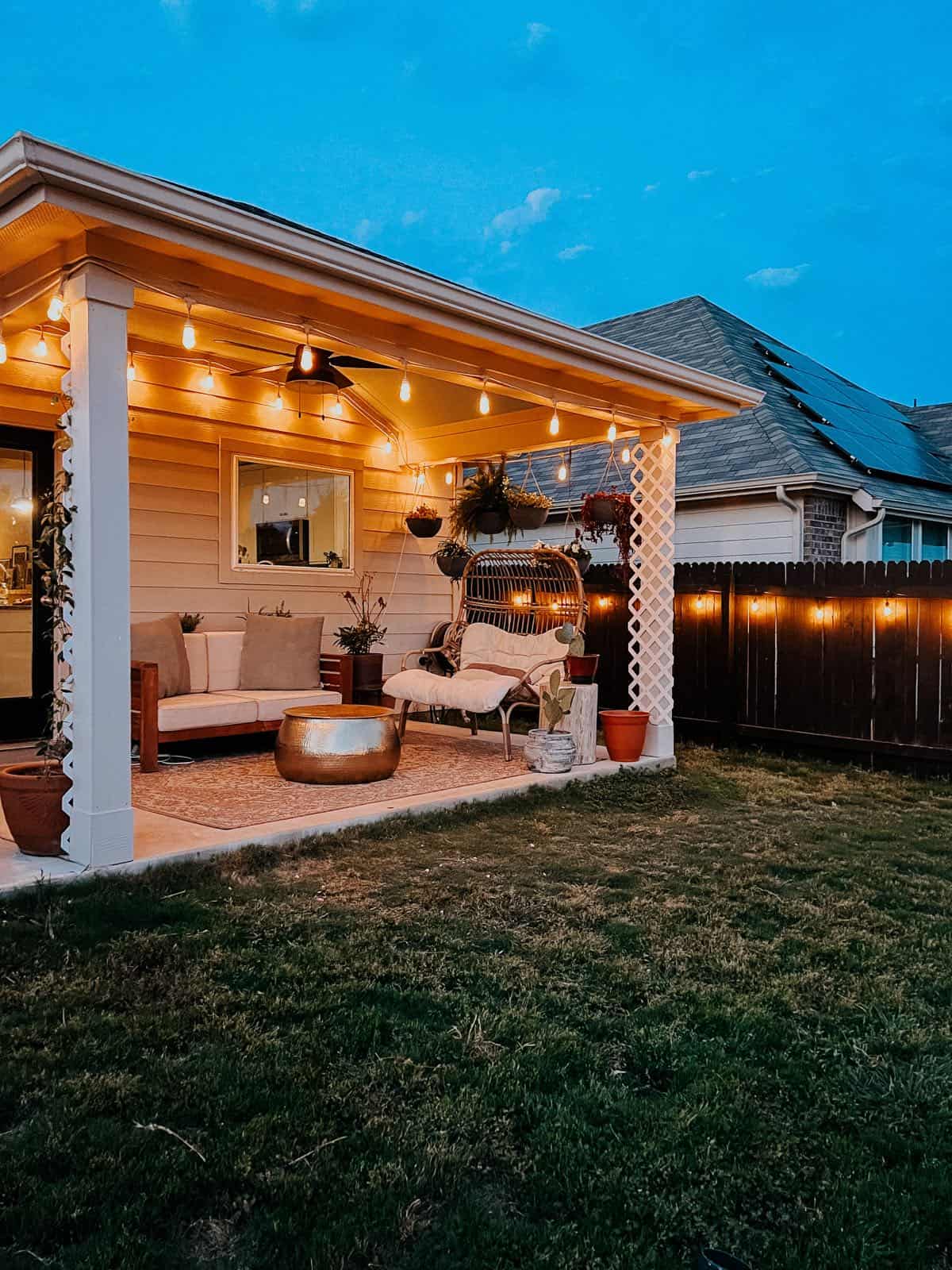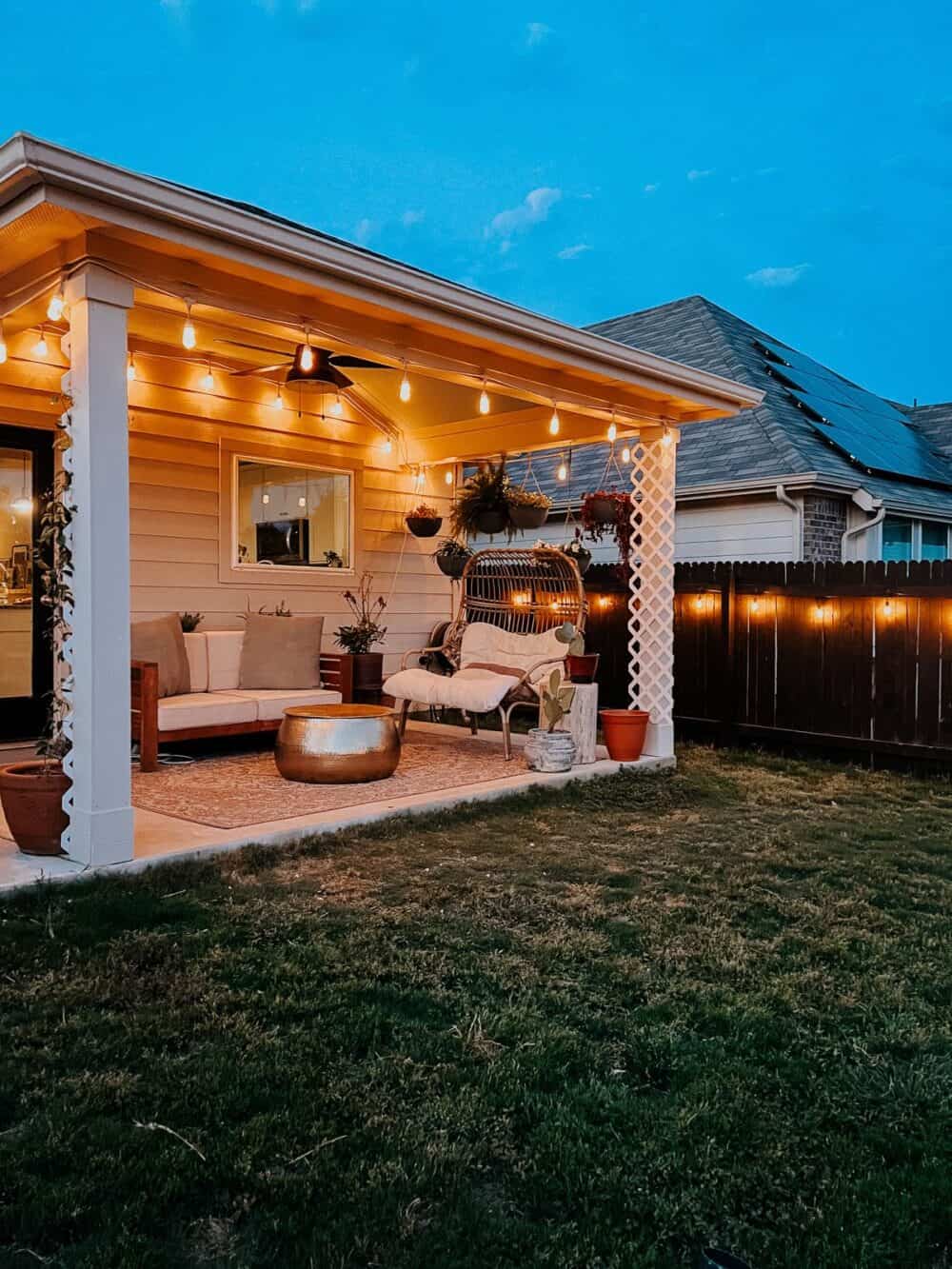 We specifically chose white lights, so they blend in nicely with the siding. So, after plugging in the lights, we strung the lights up to the first hook as inconspicuously as we could. It doesn't bother us much to see the extra cord (I honestly don't even notice it!), but here are a few solutions if you'd like it to be a little more hidden:
You can use some cord hooks to control where the cord goes.
You can use a cord cover and paint it the same color as your siding, so it'll blend right in.
Finally, you can add an extension cord to give yourself a little bit of extra "dead space" with the cord. If I was doing this, I would run the extension cord along the ground right next to the house and all the way to the corner. Then, I'd have the string lights go up the corner of the house and right to the first hook!
How to hang string lights on a fence
I love the lights on our patio, but probably my favorite part of our backyard in this house is the string lights that go all along the perimeter our back fence!
It's a small detail that adds so much and it was incredibly easy to do. This is a really great lighting idea for your backyard if you don't have any trees or don't want to add tall poles to your yard. You don't need any special equipment and it can be done in about an hour with basically the exact same strategy as before!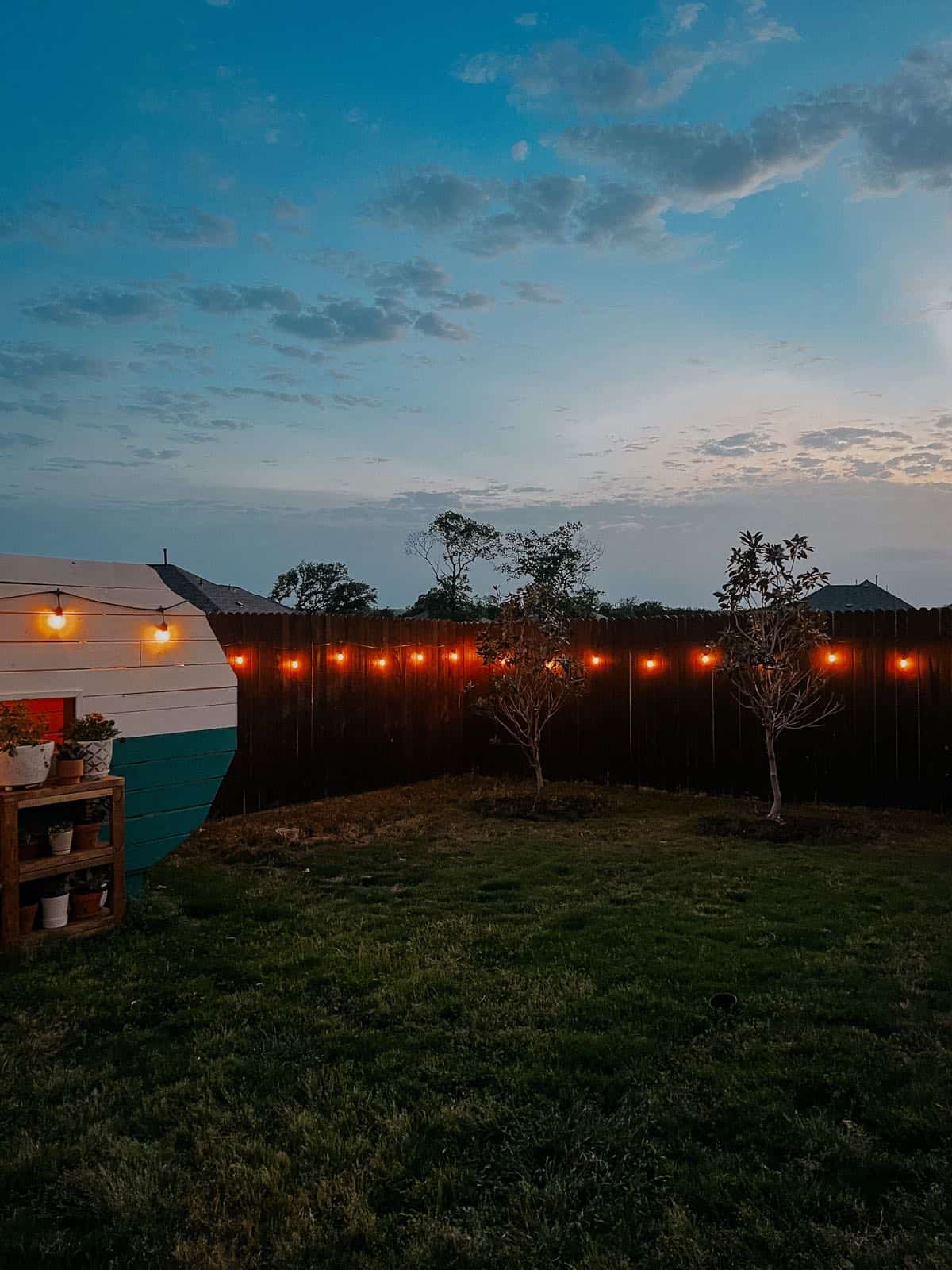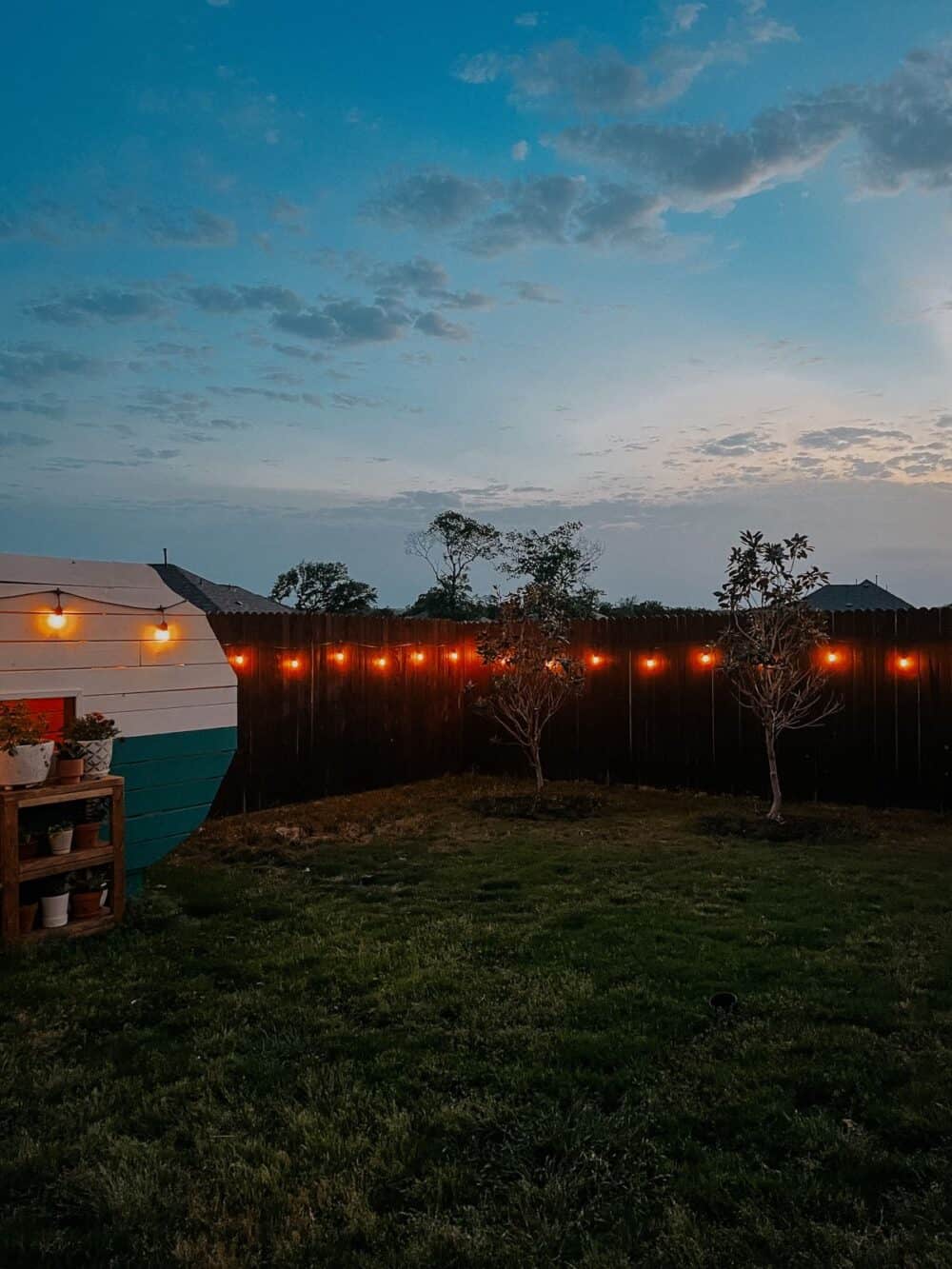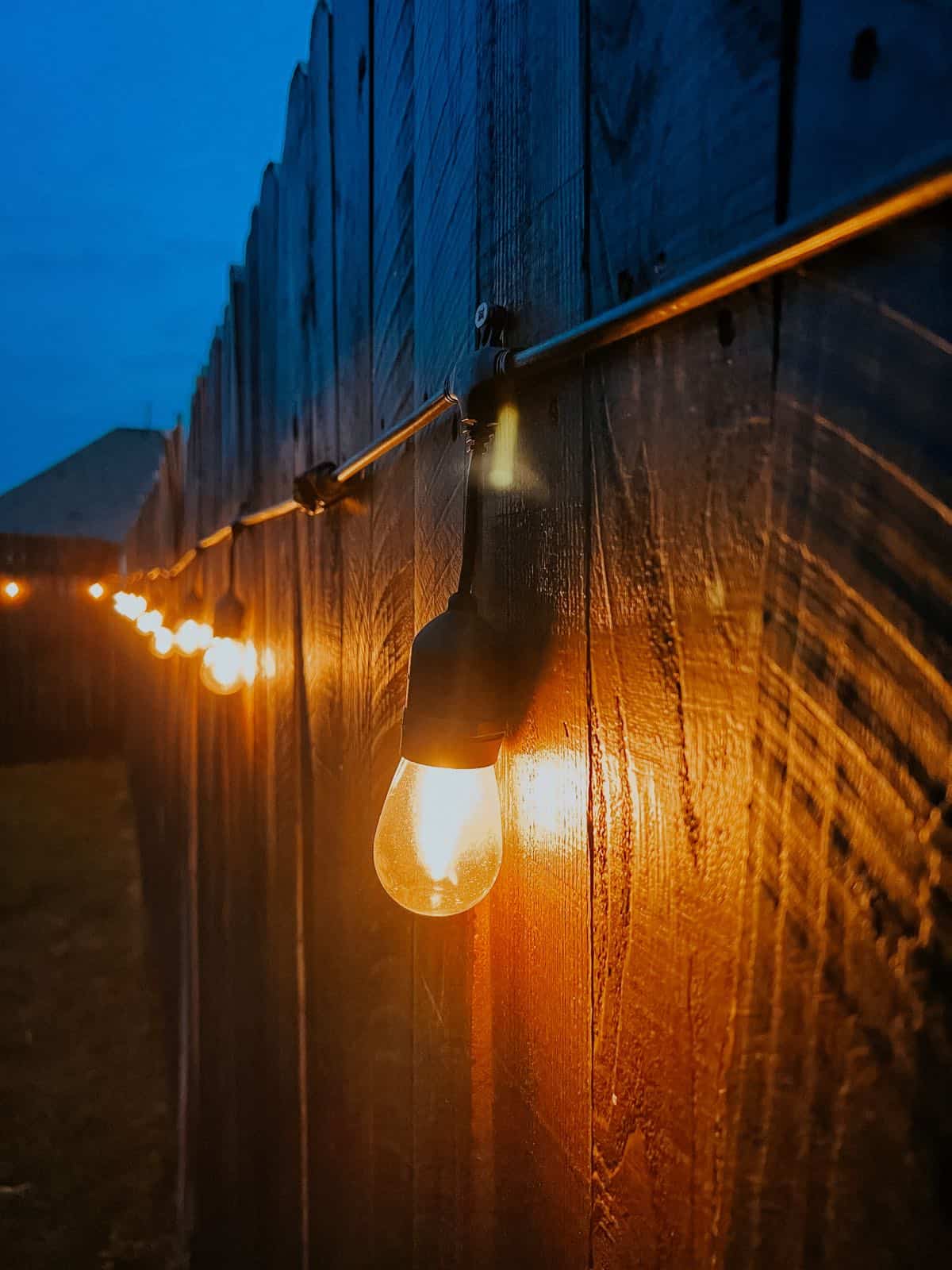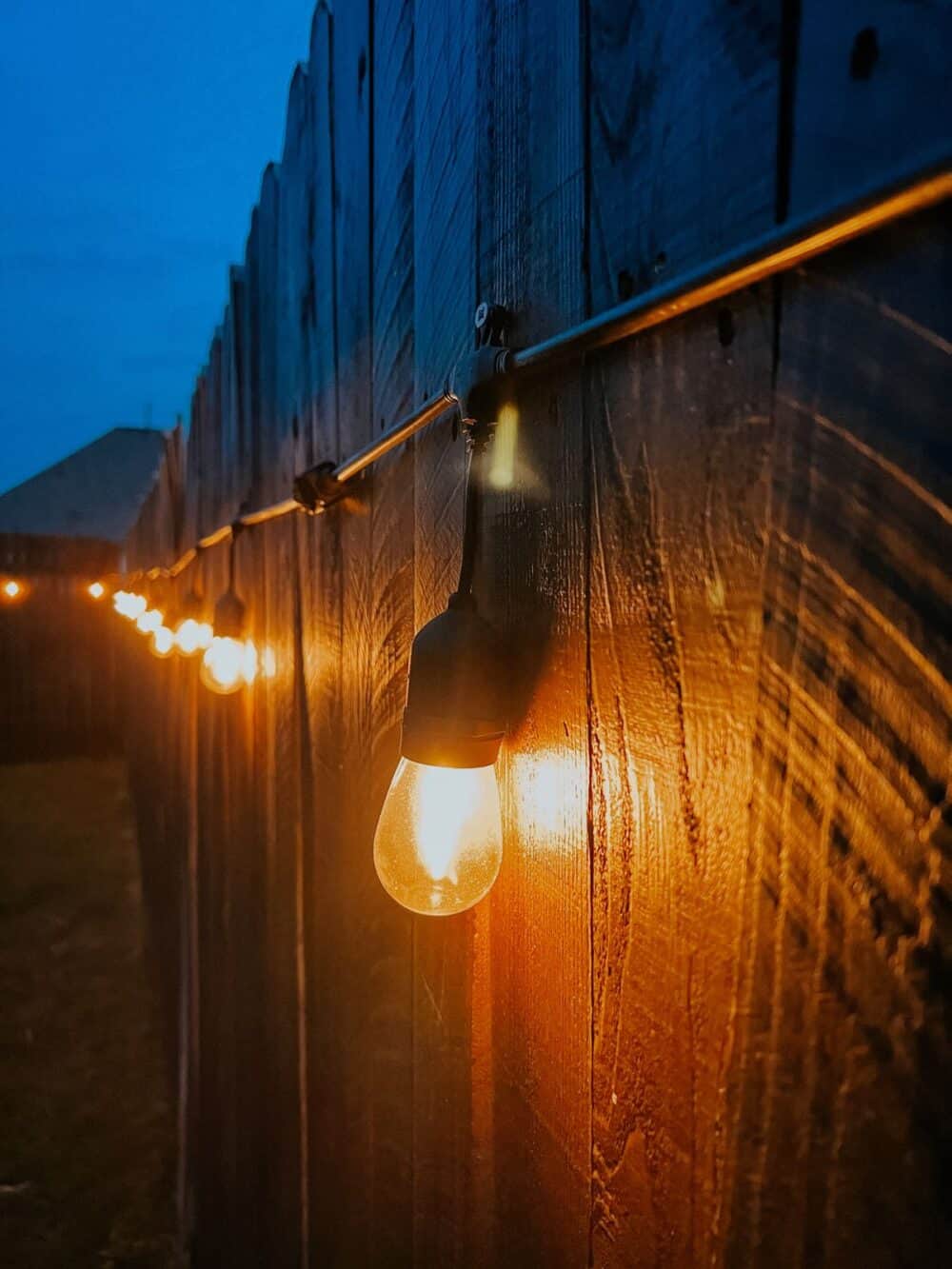 All we did to hang these string lights on our back fence is drill some screws to the fence, spaced equally all around the yard, and hang the lights from them. The lights we use have little tabs above each bulb, perfect for slipping right over a screw. Of course, you can also use hooks again here. We just liked that the screws blended right into the fence and were totally inconspicuous!
This is several strands of string lights all connected together. When you get to the side of the house, near the front of the fence, there is an extension cord connecting the lights to the plug. The lights run down the fence to the ground, then across the side yard and right into a plug up near our air conditioning unit. It's totally out of sight unless you go looking for it, because we don't really have anything on this side yard.
On the other side, the lights just end up near the gate entering our backyard.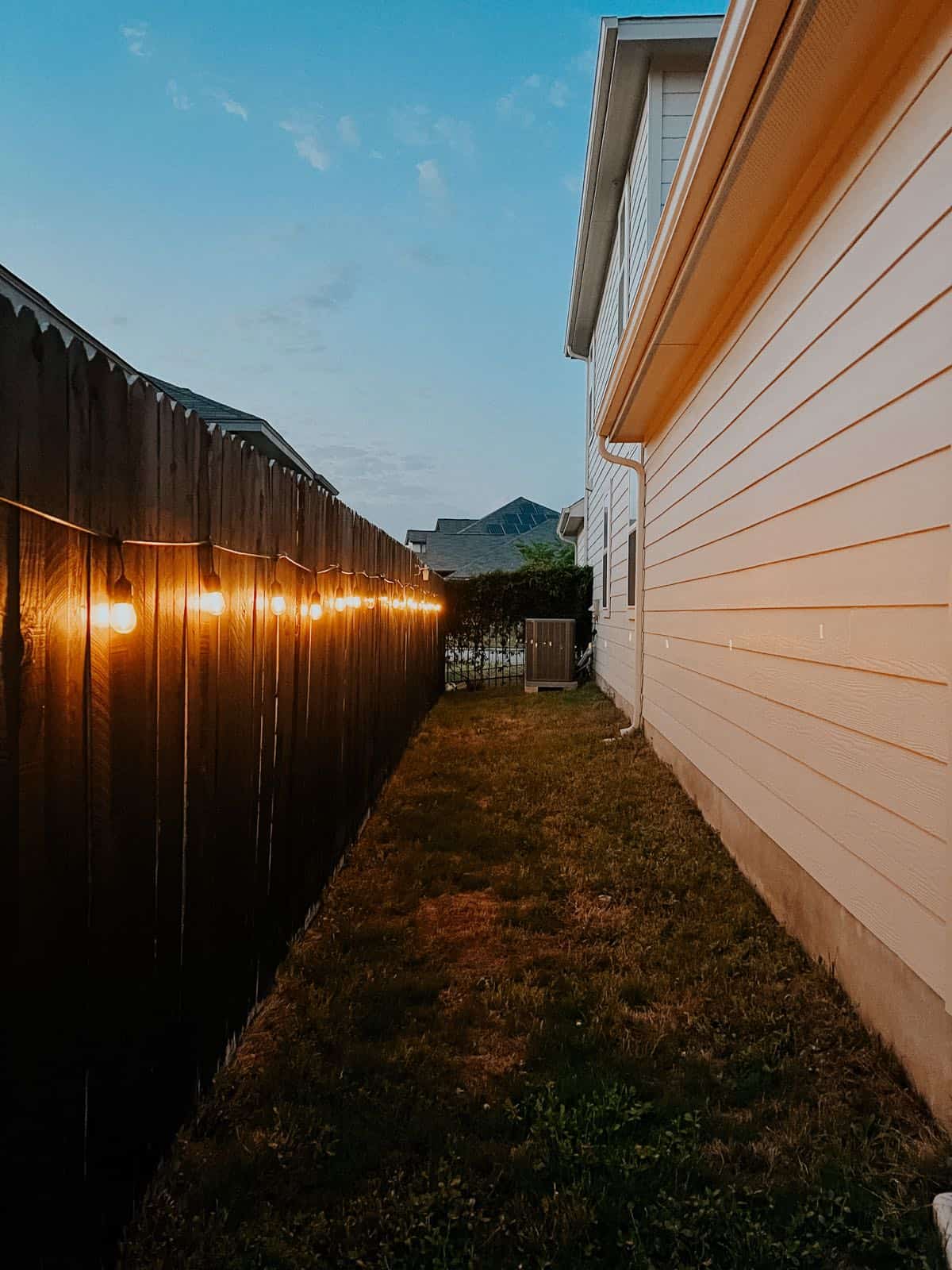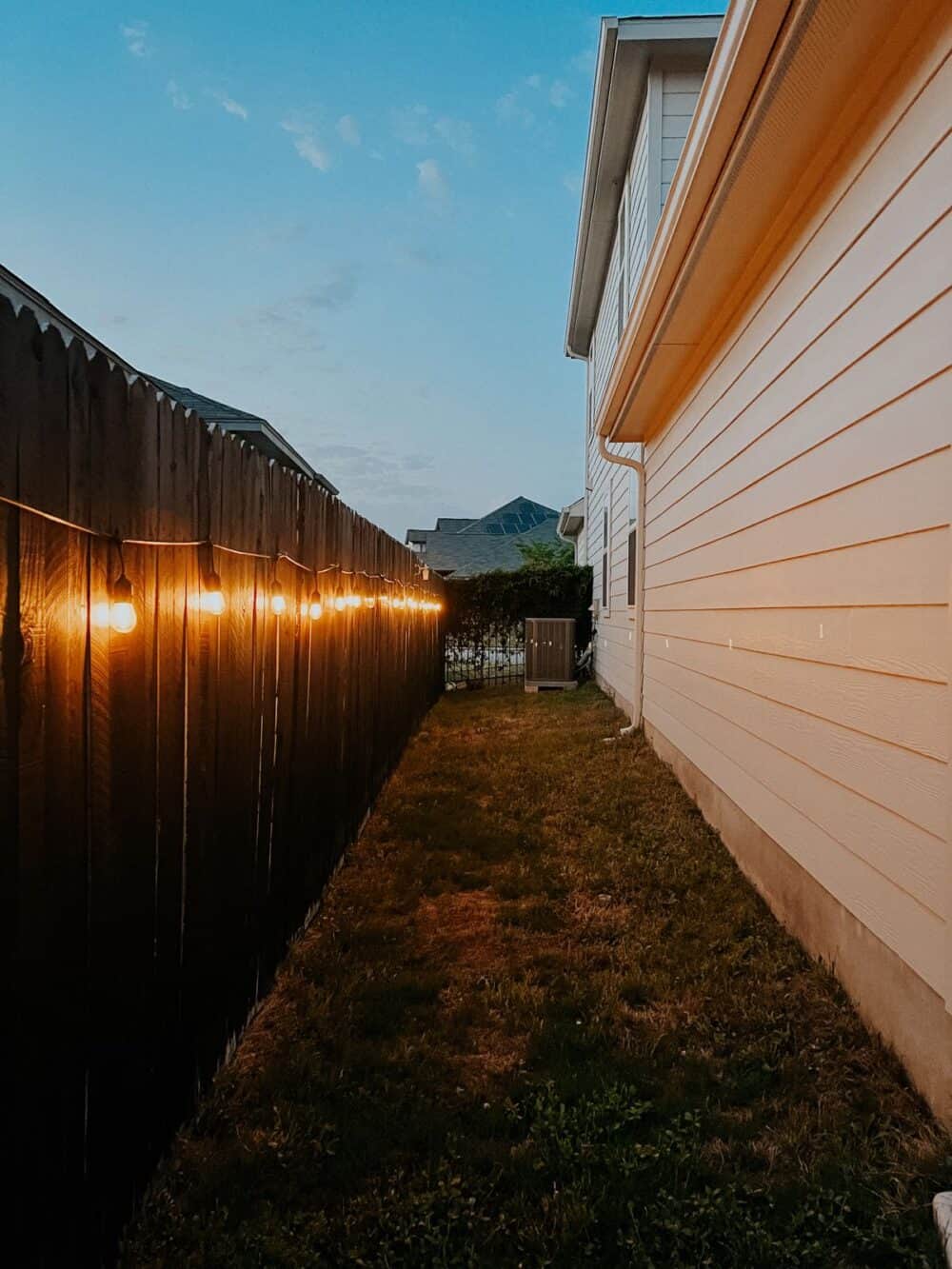 We chose black string lights for this part, because we wanted them to blend with the fence as much as possible. We have a dark stain on the fence (learn how I did it here!) and the black looks great against it! At night, the strand basically disappears and you can just see the cozy glow of the lights. It adds so much ambiance to the backyard!
our long-term plans
I don't know if this is the system we'll use for our outdoor lighting forever. Eventually, we'd love to add a pergola to the uncovered side of our patio, figure out some sort of outdoor kitchen solution, and maybe add a pea gravel patio with a fire pit. Of course, we definitely also want an outdoor dining area so we can eat al fresco, but we haven't narrowed down what that will look like yet.
We have big dreams for this tiny little backyard, and eventually that may mean that the lighting setup we have out here doesn't work. But, for now? It's the absolute perfect setup for how we use our yard, and it's so enjoyable to hang out there at night!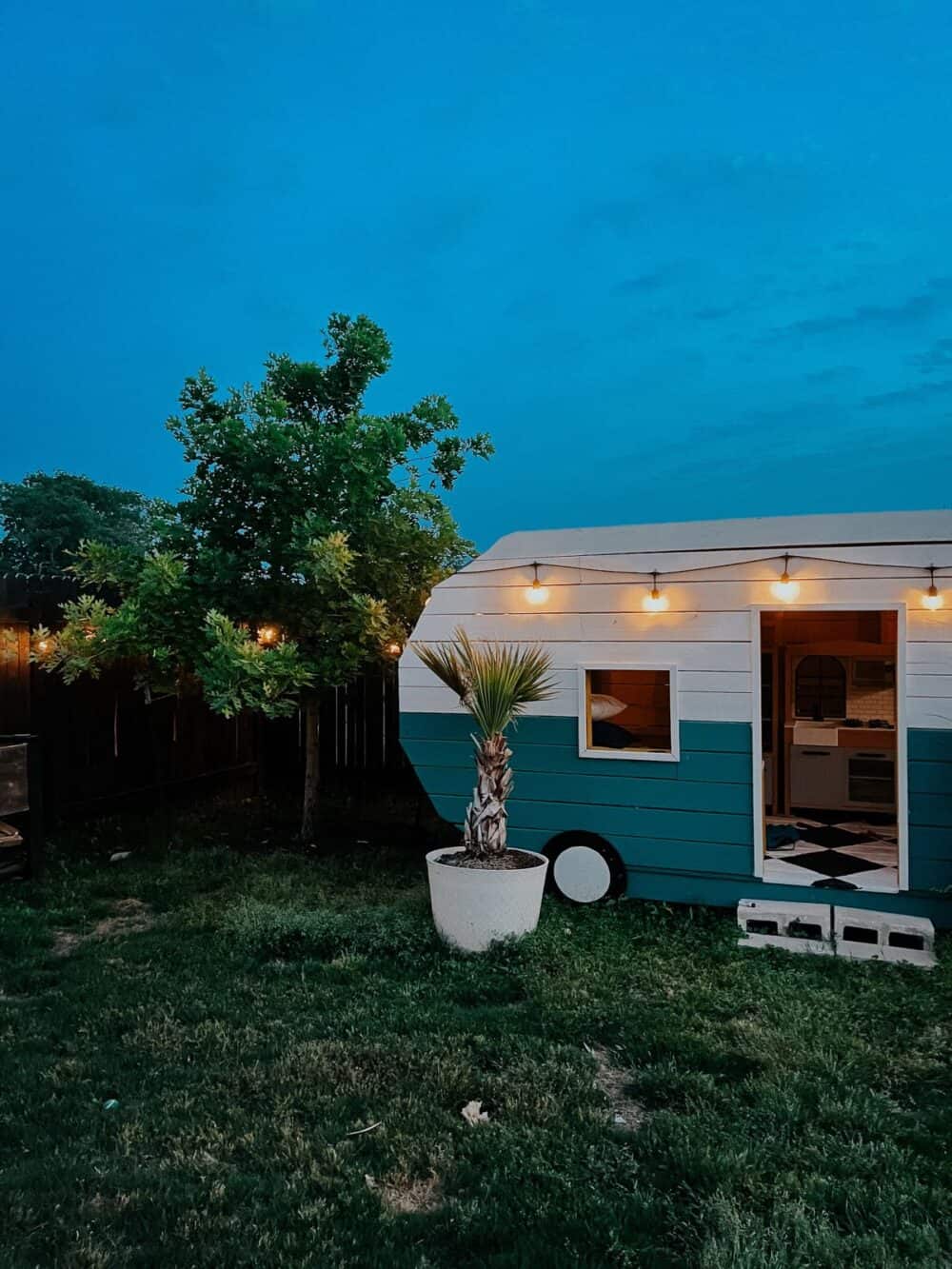 Need some other backyard ideas? Here are a few favorites: