Tips for Choosing & Installing Drywall Anchors
If you ask me, drywall anchors are one of the great mysteries of our day. In theory, I know how they work – they help hold heavy objects in drywall when there isn't an anchor to drill into. But, because they're drilled into the wall and all of their magic happens behind the wall, you don't ever actually see them work.
Until today! I've always been curious to see how drywall anchors actually work in practice. And, over the years I've had many of you ask about how to use them, as well. So today, I'm using a scrap piece of drywall to show you exactly how the process of installing drywall anchors works, and all the types. We'll look at a total of seven different styles of anchors, so you'll see a variety of styles and you're sure to find the one that works best for you.
What is an Anchor Used For?
Let's start with the basics – why would you need a drywall anchor?
Anchors are used in walls when you want to hang something on the heavy side and you aren't drilling directly into a stud. Use a stud finder (this one is my favorite) to confirm before getting started – if the wall is hollow behind where you want to drill, you'll likely need an anchor! You can skip a drywall anchor for light things like most picture frames, but anything heavier than a couple of pounds will need an anchor. Why? Because if you don't use one, the weight of the object on the wall will likely pull your nail or screw right back out!
How 7 Different Types of Drywall Anchors Work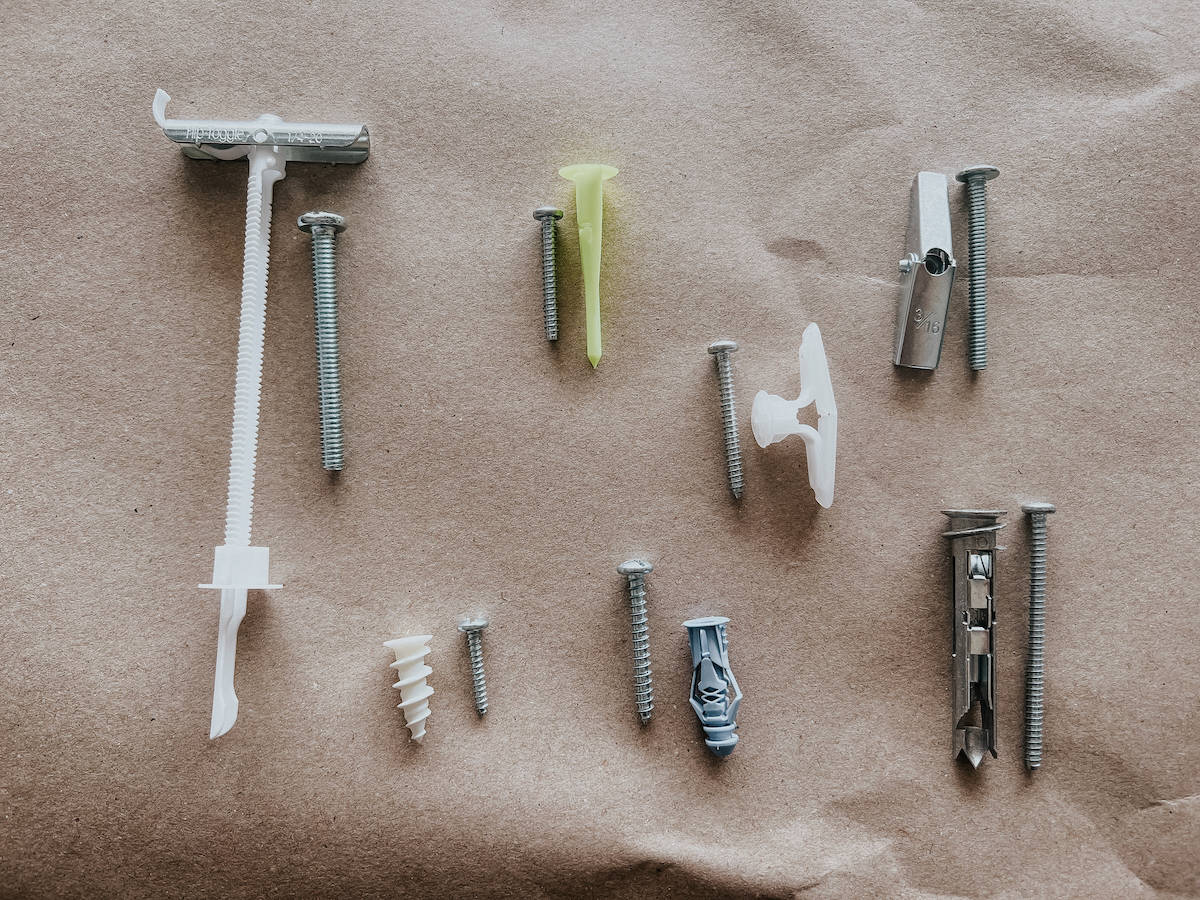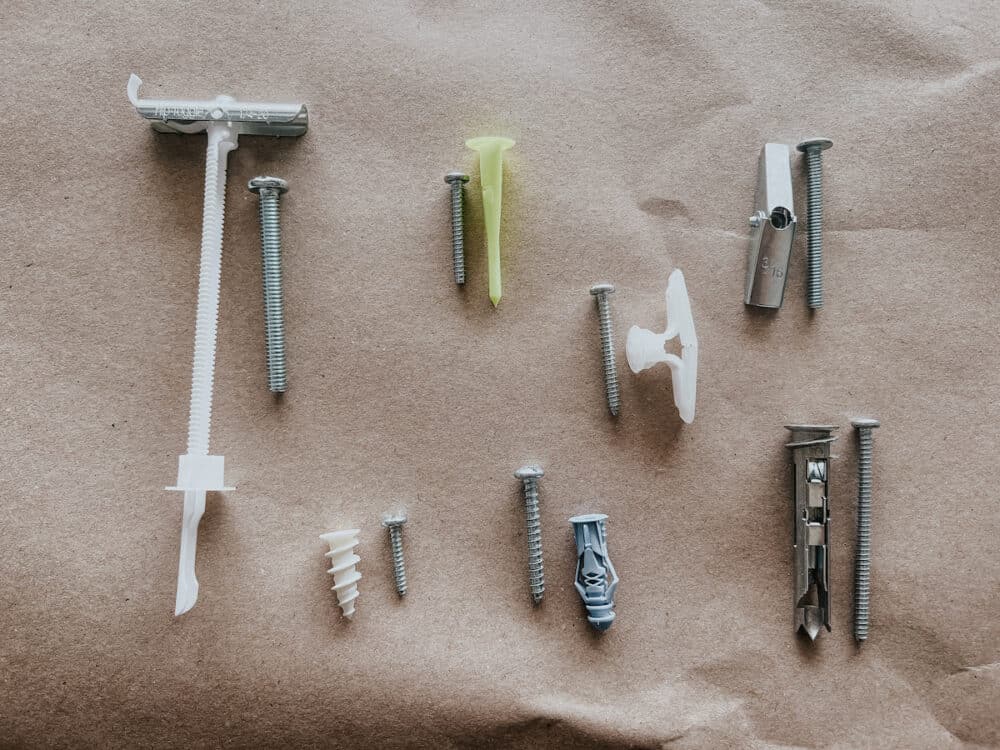 Now, let's look at all of the different drywall anchors I tried. I have seven different styles here – some of them function in largely the same way, but they're all slightly different. As you'll see, I have favorites when it comes to style, and some seem a lot sturdier than others!
Toggle Anchors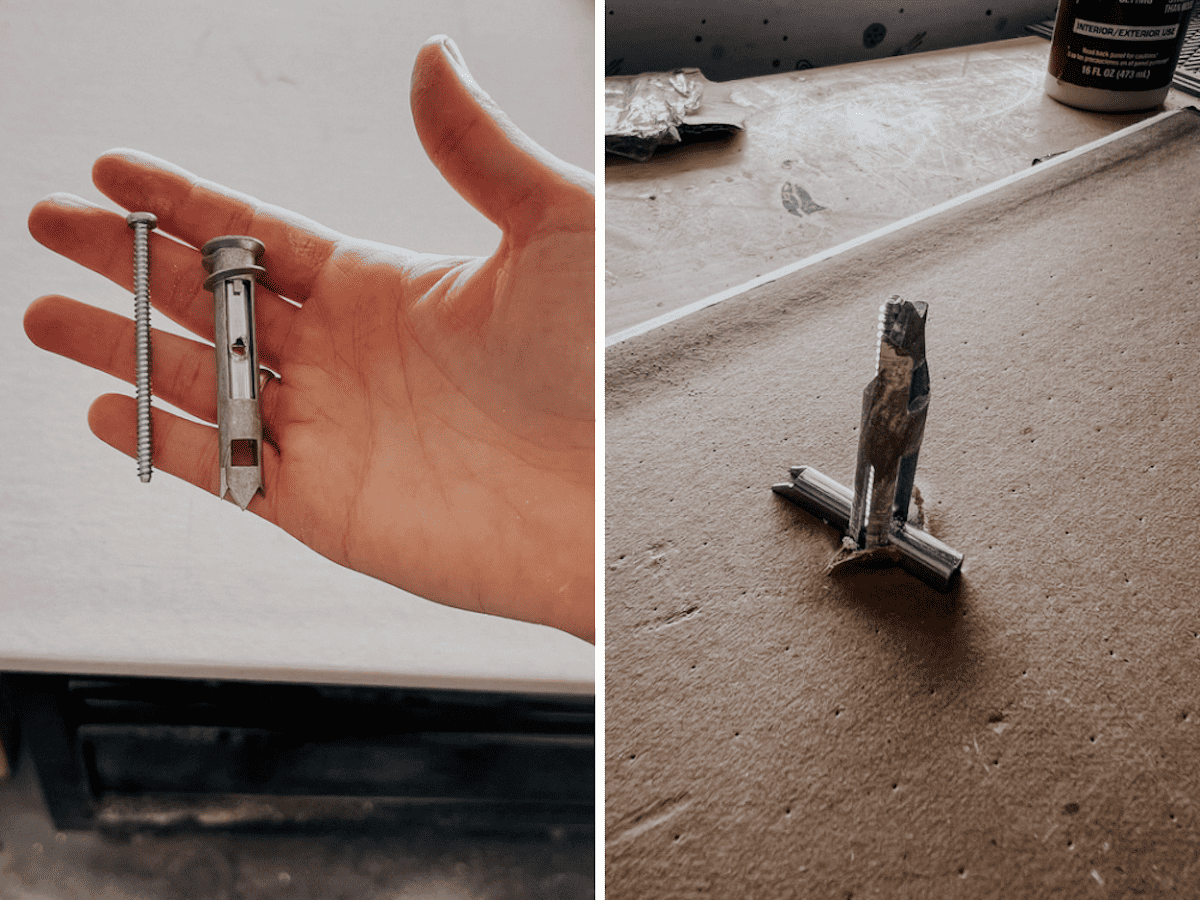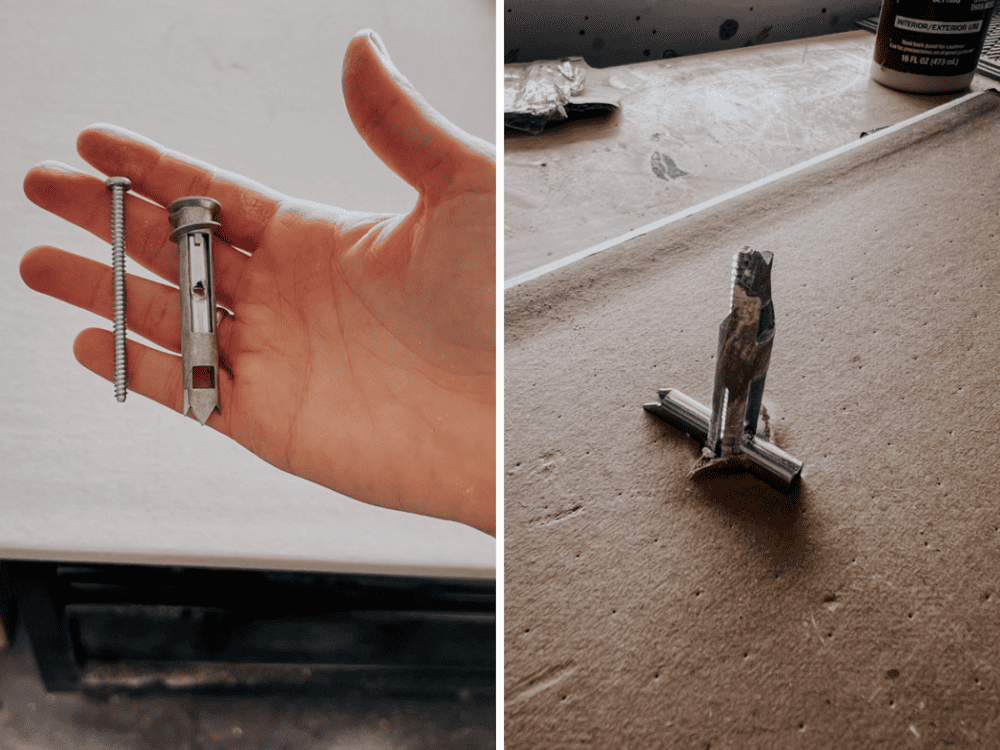 These toggle anchors can hold up to 100 pounds, and they're one of my favorite anchors around. They're easy to install – no pre-drilling required! All you have to do is screw the anchor straight into the wall, then add the screw afterwards. They create a larger hole than some other anchors would, but they're incredibly sturdy and I know I can trust the toggle feature! As you rotate the screw in, the toggle in the anchor flips out and slowly tightens against the back of the wall. I never have issues with this style of anchor, and they're a go-to for something I know I want to keep in place for a nice, long time.
Butterfly Anchors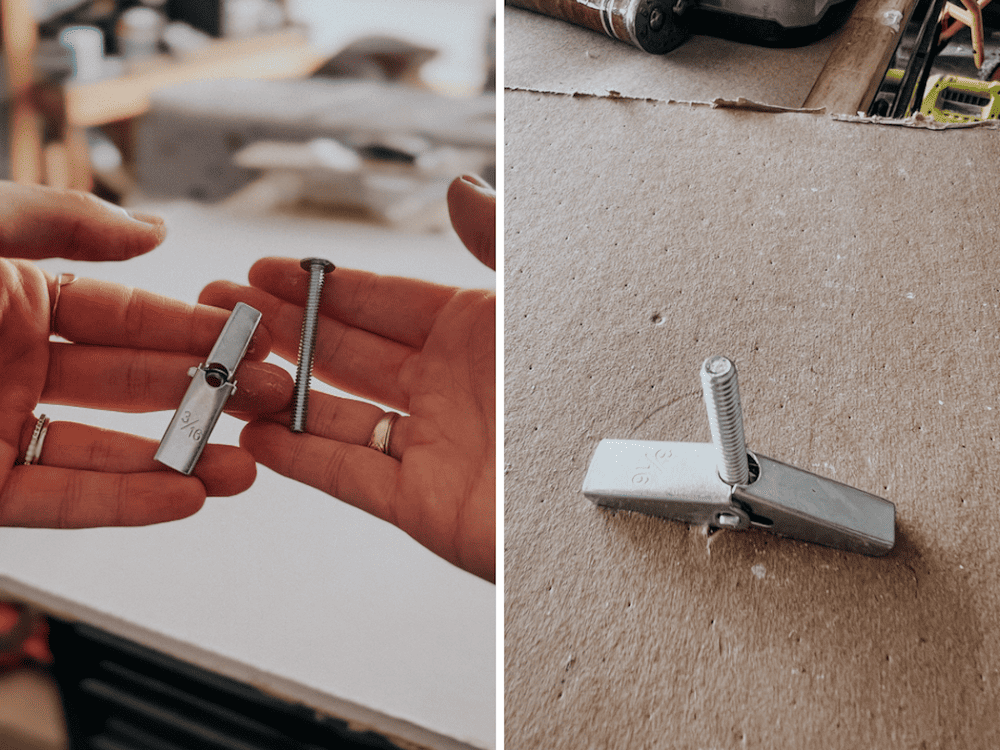 Similarly, butterfly anchors are very sturdy and simple to use. I use these most often when I'm hanging hooks in the ceiling for hanging plants or other things. They come in different sizes depending on what you need to hang, and they also tighten against the back of the wall as you screw your object in, which leaves a really strong hold. Anchors like this are always a little more intimidating to install (the hole is so big!), but I find they're much more reliable than a lot of others.
Snap-Off Anchor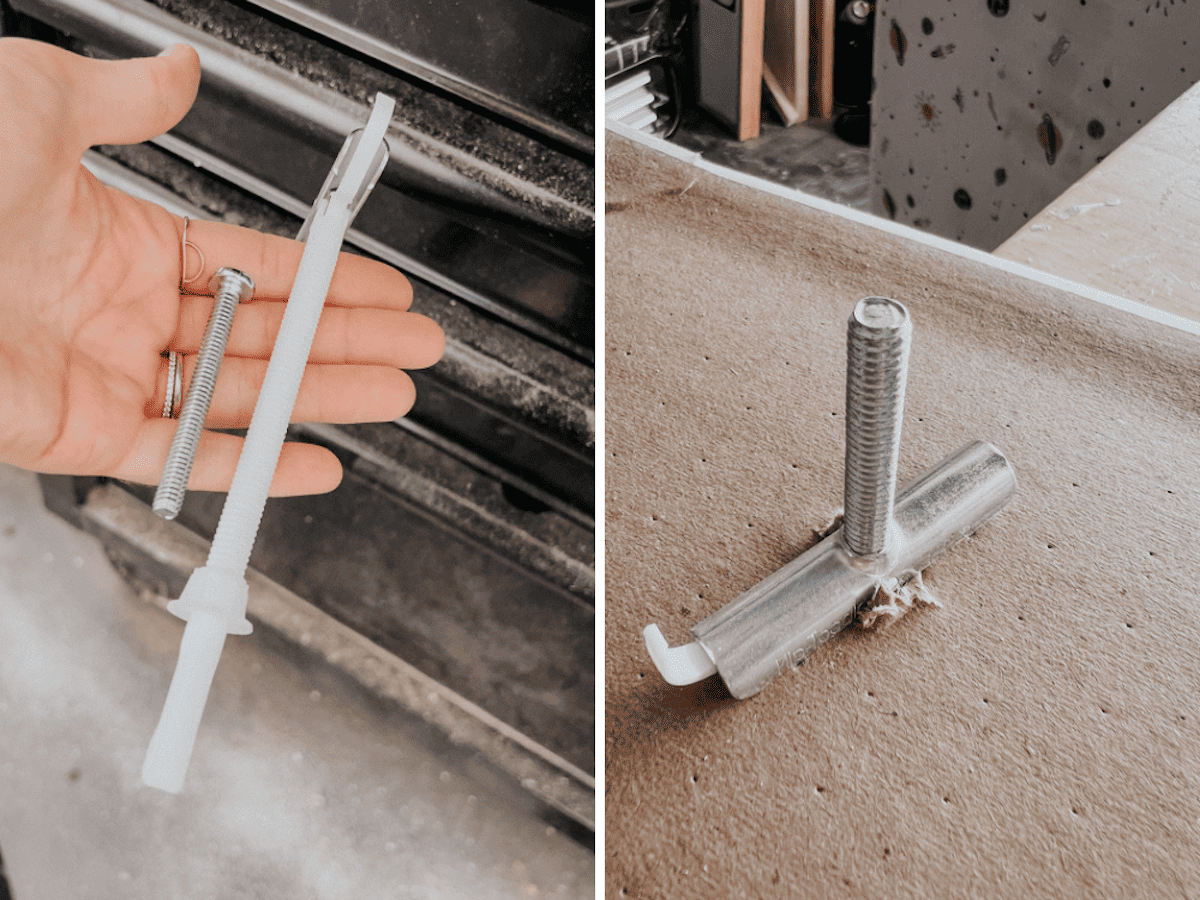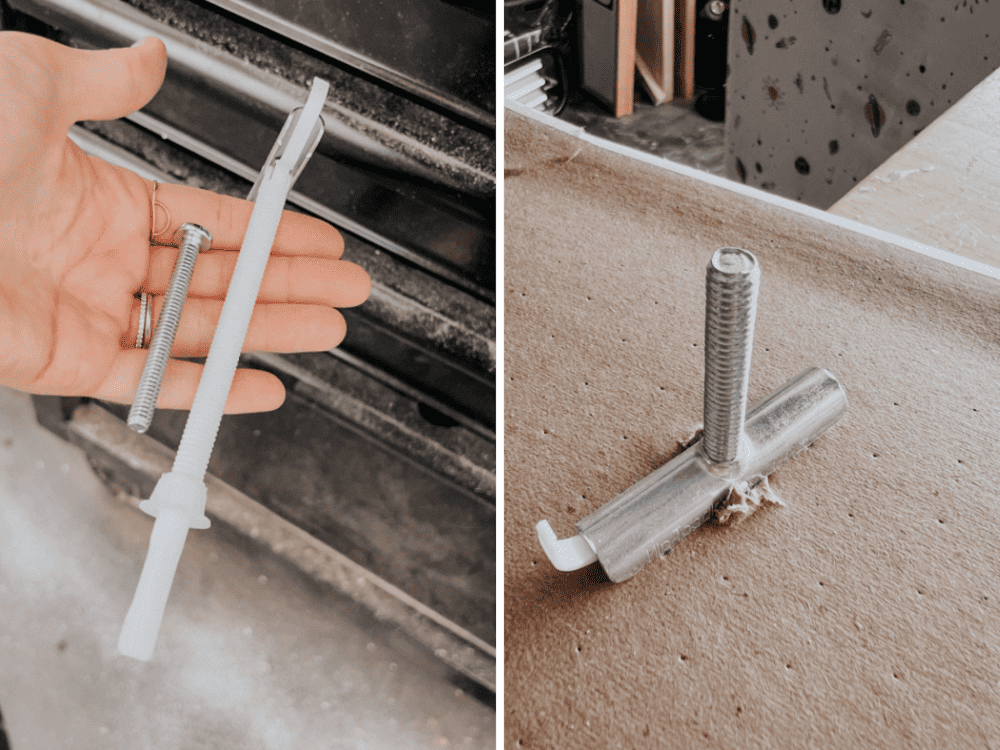 I was really intimidated by snap-off anchors for a long time because of how intense they seem. You have to drill a huge hole to install them, they're giant, and it just felt like overkill. But honestly? They're another favorite of mine! After you push the anchor through the hole in your wall, you pull the plastic part until it's tight against the wall and the toggle on the back engages. Then, you snap off the excess. It's basically the same thing as a butterfly anchor, but you tighten it against the wall before adding the screw. It's great for heavier duty objects – most can hold 250+ pounds!
Self-Drilling Plastic Anchors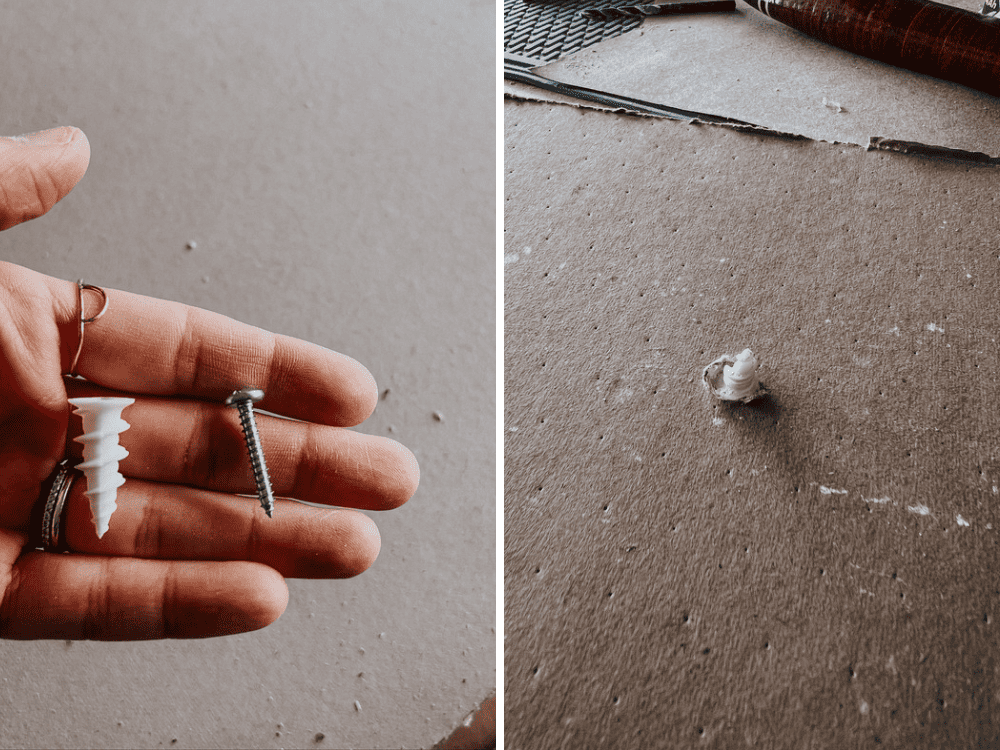 These self-drilling plastic anchors are super common and one that a lot of beginners reach for because they're so easy to use and feel approachable. They're not my favorite because of all the anchors I've used, this style are the ones that have failed me most often. They mostly hold onto the drywall through wide threads that grip tightly, rather than anything actually holding onto the other side of the drywall. They claim to hold up to 50 pounds, but I wouldn't use these for anything on the heavier side! They're fine for artwork and small mirrors, but I personally don't think I'd use them for much beyond that.
Plastic Drywall Anchors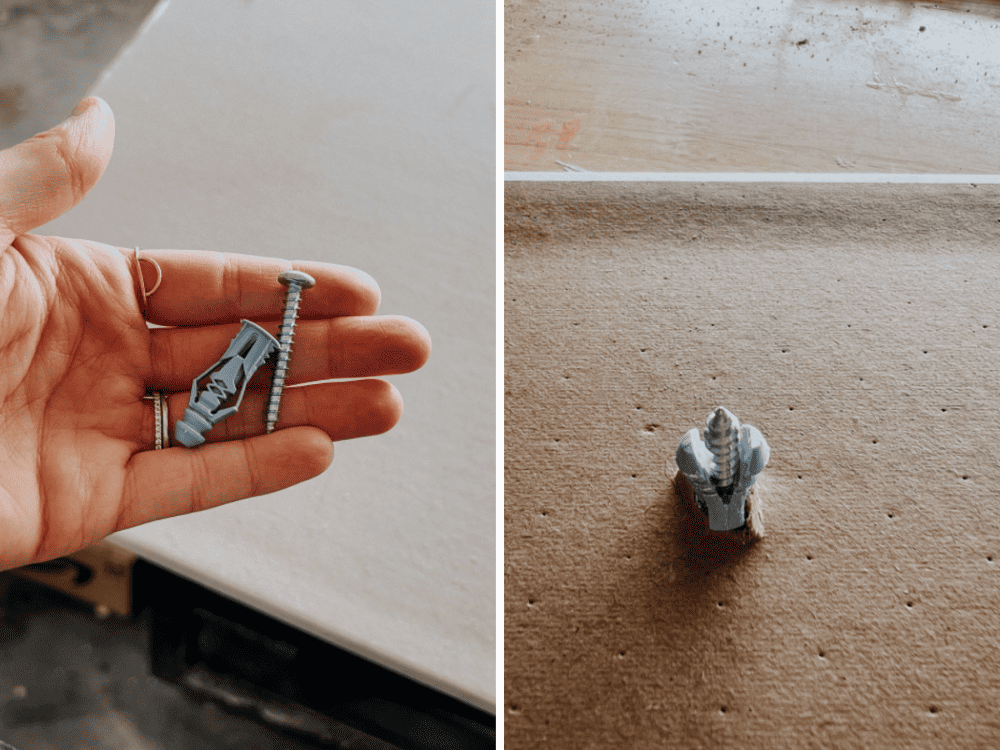 Chances are, when you think of drywall anchors, plastic anchors are the style that first comes to mind. They often come with things you hang (like curtain rods and artwork), and I think they're probably the most common type of anchor. As you drill the screw into the anchor, the back of the anchor is supposed to split open. It doesn't grab the back of the wall like a toggle bolt would, but it does open up wide enough that it shouldn't be able to come out of the wall. These aren't my favorite type of anchor (I've had instances where the screw doesn't break the back open so they don't work at all!), but they're perfectly fine!
Plastic Toggle Anchors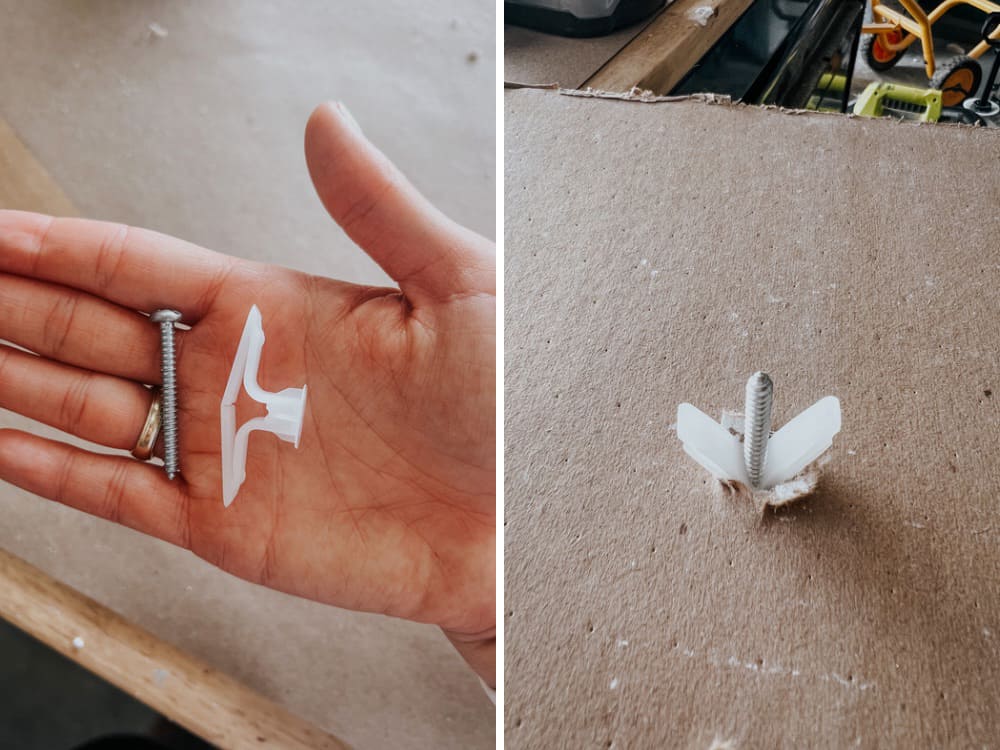 As far as plastic anchors go, these toggle anchors are probably my favorite style! If you haven't noticed, I like an anchor that really grabs onto the back of the wall! To install these, you fold them in half and push them through the hole – then, they pop back open and create a nice, wide spread that can't come through the hole again. I find them reliable, and while I'd reach for the metal version for really heavy objects, these are a really great option for just about everything.
Hammer-In Drywall Anchors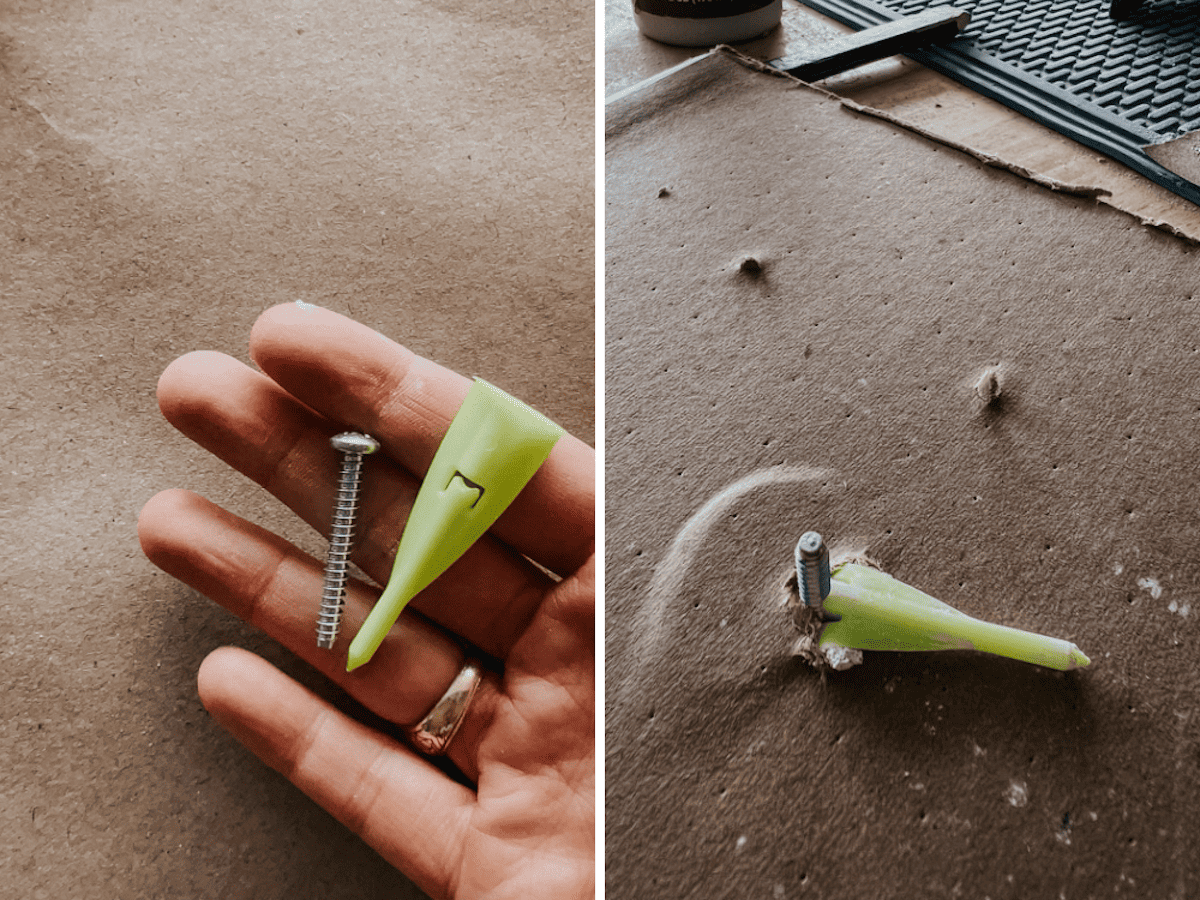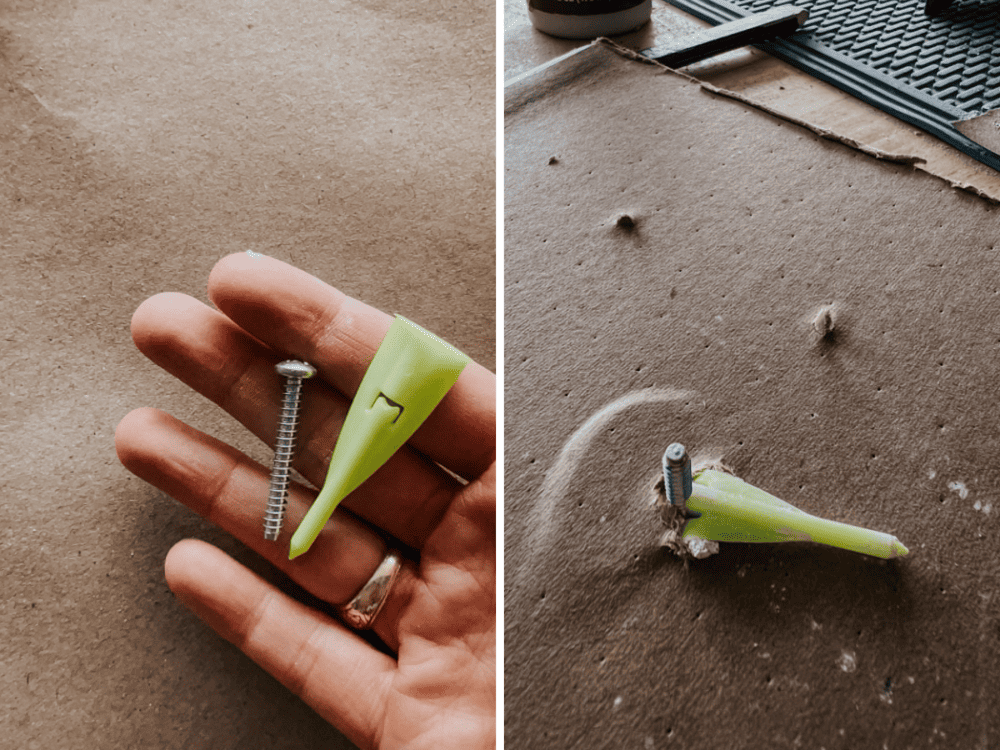 And finally, these simple hammer-in drywall anchors. These are super appealing because they're really easy to install. No pre-drilling holes, you just need to hammer the anchor directly into the wall! Once you drill the screw in, the back of the anchor breaks and lays flat against the wall, stopping it from coming back out. I can't speak to how well these work in real life because I haven't used this style before. But, it seems like a good option if you need something quick and easy, and I would definitely choose it over the self-drilling style.
Installing Drywall Anchors
Now that you've met all (or, close to all!) of the options when it comes to drywall anchors, let's do a quick tutorial on installing drywall anchors. As you can see from the above info, it really varies depending on the style of anchor you choose. But, generally speaking, the method is the same:
Start by pre-drilling a hole to fit your anchor. The packaging (or sometimes the anchor itself) will tell you what size the hole needs to be.
Push the anchor through the hole. If you're using a self-drilling anchor, you can skip step one and just drill the anchor right into the wall.
Hold up the item you're planning to hang, then drill the screw through the hanging mechanism and into the anchor.
That's it! Bask in the glow of a job well done and enjoy your newly-hung artwork or mirror or whatever.
How Do You Remove Drywall Anchors?
Most metal drywall anchors are easy to remove – simply remove the screw from the anchor, and then either unscrew the anchor from the wall (if it's self drilling) or let it fall behind the wall (if it's the butterfly style).
Plastic anchors are simple enough as well. After removing the screw, grab a razor blade and cut off the flat part of the anchor that's visible on the wall. Then, push the anchor into the wall and let it fall down into the wall cavity.
No matter what, you'll be left with a hole to patch. Click here to learn how to do that!
And that's it – everything you need to know about drywall anchors, how to choose them, and how to use 'em!
related posts
Hanging Tips & Tricks