Do you struggle to know how to hang things on your walls? This complete guide to hanging ANYTHING will answer all of your questions and give you the confidence you need to get to hanging!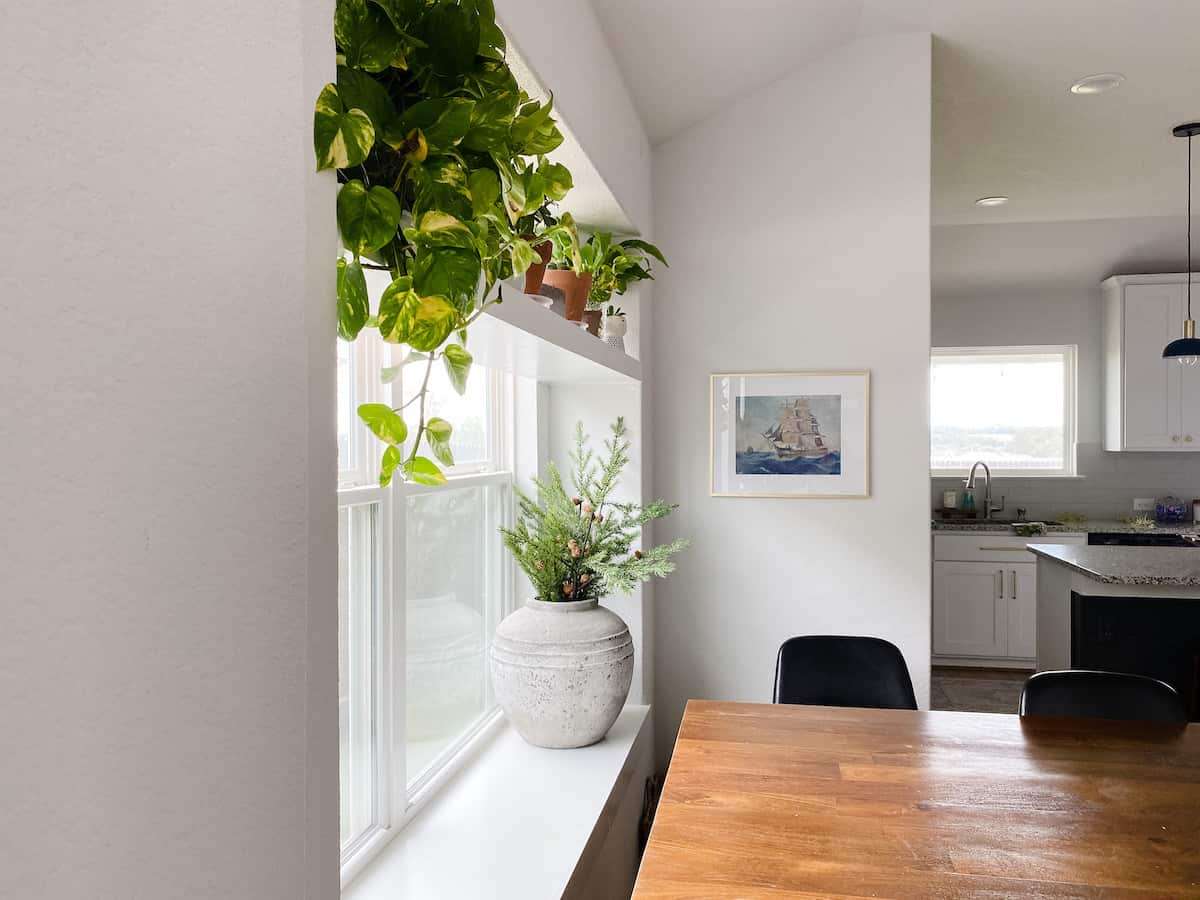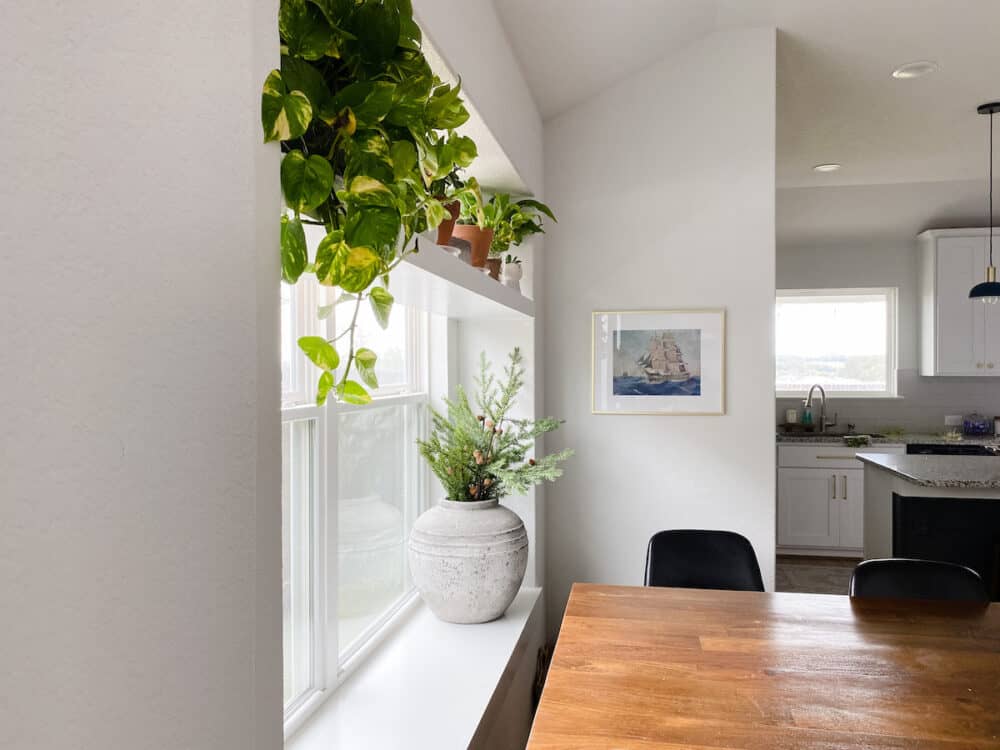 Hanging things is intimidating.
I started to say it's hard, but, honestly, it's not! It just seems hard. It requires planning and prep work and patience and I'm generally short on all three of those things, so sometimes it's a project that can feel hard when it's really very simple.
I recently asked on Instagram what your most burning super simple DIY questions are. The kind of questions you'd be almost embarrassed to ask because it just seems like everyone already knows the answer but you.
There were tons of fabulous questions that rolled in, but there was one in particular I saw over and over.
How do you hang things?
There were dozens of variations on this question. How do you hang shelves? How do you ensure art is straight? How do you know where to hang things?
So, here we are. Let's do a deep dive on how to hang anything and everything we can think of, along with all of my favorite tools and tricks to make the job easier!
How to hang anything in your home
favorite tools
Here are some of the things I recommend having on hand if you plan to hang things. You won't need all of these for every hanging job, of course, but if it's your mission to fill your home with art, shelving, and more, you'll probably want everything on this list at one point or another!
the basics: Hanging ART
Now that you know what tools are good to have at your disposal, let's dive into the specifics!
I'll note that my experience is specifically with hanging things in drywall. If you have plaster, brick, or other types of walls you'll have a slightly different experience. I'll address that below, though, so no stress!
The first thing we'll do is a very general overview of the process for hanging art. This will apply to pretty much anything, though, so once you know the basic steps you can tweak them to meet your specific needs!
STEP ONE: Determine where to hang it.
Of course, your first step is always to figure out where you want to hang something. There are no hard and fast rules for where things should go, it's just a matter of what you like. But, I can give you some general guidance to get you started.
If you're hanging something…
ABOVE A COUCH, it should be hung around 6-8 above the back of the sofa, and ideally the art should span around 1/2 to 2/3 the length of the sofa.
ABOVE A TABLE/CONSOLE, it'll look best around 4-6 above the piece.
ALONE ON A WALL, the center of your art should be around 57″-60″ from the ground.
ABOVE A BED, aim for 5-9″ above your headboard.
IN A GALLERY WALL, you'll want your spacing between photos to be anywhere from 1.5″ to 3″.
Of course, in general, rules are made to be broken! Use these numbers as a starting point, then hold the art up to the wall and see what you think. If you think it needs to go up or down, go with your gut. You're the one who has to look at it all the time, so make sure you like it!
STEP TWO: Measure and mark
Next up, you need to measure all the things to determine where to drill the holes for your piece.
Start by figuring out the general placement (see step one), and then using your stud finder to find out where the studs are. Use a pencil to lightly mark where the studs are in the walls.
If you have some wiggle room with where you place it (for example, if you can scoot your console table down three inches so that the art lines up perfectly with a stud), then I'd recommend adjusting so that you're able to drill into a stud. if not, no worries, we'll address that in a minute!
Now, you could do a whole bunch of measuring, marking, and stressing about where to drill your holes. Or, you could use the easy method.
The painter's tape hanging method!
Grab some painter's tape and place it across the back of your art. Then, grab a pencil or a screwdriver and poke holes in the tape where the screws will need to go. Poke as many holes in the tape as there will be screws.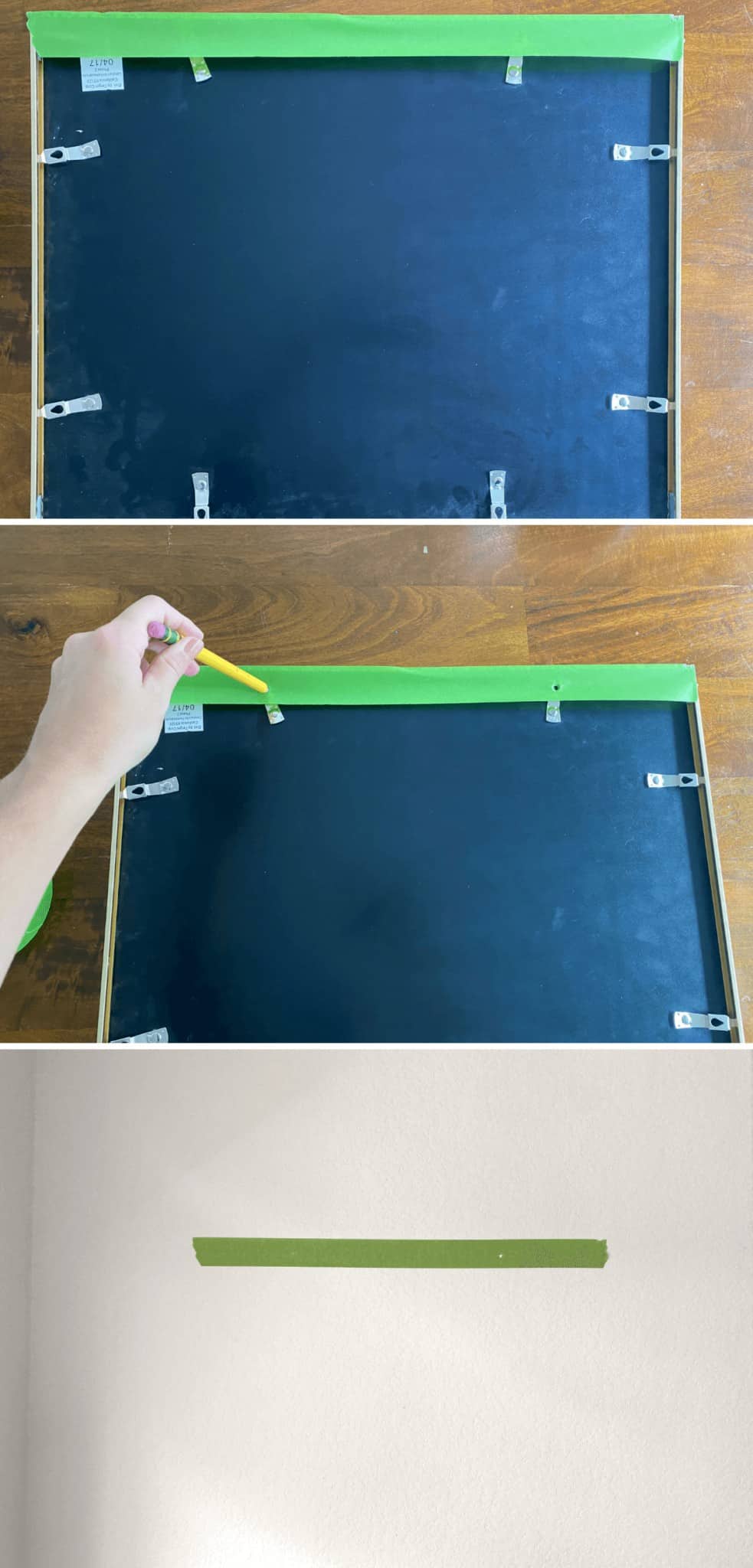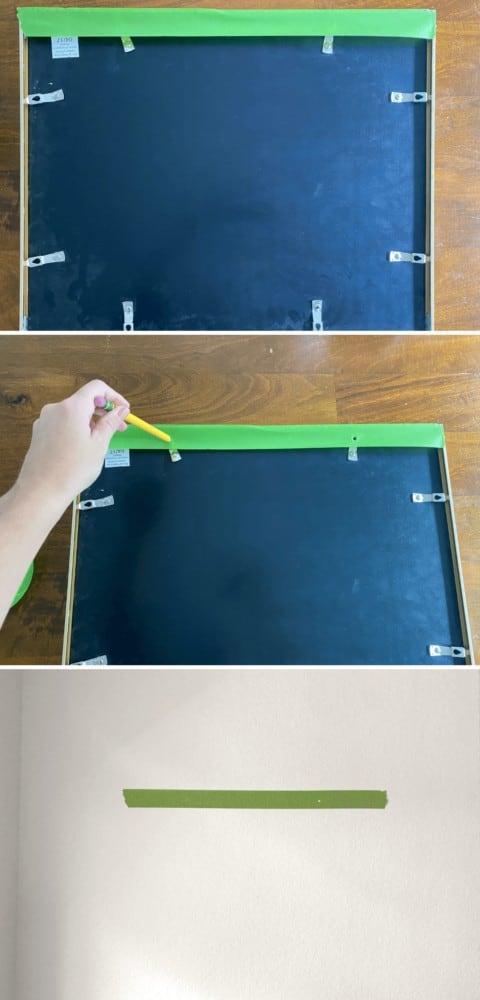 Once you've marked where the screws will need to be, pull the tape off the piece and place it on the wall at the correct height. To find this, you'll need to determine the height of the top of the piece using the guidelines from step one, then subtract the distance from the top of the piece to the hanging mechanism.
For example, let's say you're hanging a piece of art at eye level (around 57″), and the art is 36″ tall. The top of the art needs to sit at 75″ (because the center of the art needs to be 57″, so if you add half of the height of the art – 18″ – to that, you'll get 75″).
Let's say the hanging mechanism on your art sits 3 1/2″ down from the top of the art. Subtract that from 75″ to determine that your screws need to sit at 71.5″.
Got it?
Once you know how high it needs to be, place the painter's tape at the correct height and the spot you want the art to hang. Use a level to make sure you place it level on the wall.
Then, move on to step three!
STEP THREE (NO STUDS): Add anchors
If you're just hanging a piece of art that weighs less than a couple of pounds, you're fine to use a screw without an anchor (even if you can't hit a stud!). But if you're hanging something on the heavier side (or something you want to be positive won't fall off the wall), anchors are a good idea, unless you're able to drill into studs.
I won't get too into the details here because it varies depending on the anchors you're using, but I recommend that if you're a beginner you stick to these anchors that you can drill directly into the wall using your drill!
Just drill the anchors directly through the tape and into the wall. Then, you're ready to add screws!
STEP THREE (STUDS): Pre-drill holes
If you're drilling into studs, you'll want to pre-drill holes in your wall to make things easier. Grab a drill bit that's about the same width as the screws you're using and pre-drill a hole in the wall in the spot you've marked. Be sure to drill all the way until you can feel that you've gone into the stud a bit!
STEP FOUR: Add screws and hang!
Now, all that's left to do is add some screws into the holes you've drilled (or into your anchors), leaving them sticking out enough so that the hanging mechanism can catch on them, and hang your art!
ALTERNATIVE METHOD:
I think it's worth mentioning that I've started playing around with these super simple picture hangers, and they're really easy to use! They don't work with all art, but I'd keep some on hand, and if you can use it, DO IT! You literally just push it into the wall where you'd normally place a screw (like, with your hand – you don't even need a hammer!), and hang your art. It takes three seconds and it holds up fabulously. This won't work for every art piece, though, so I think it's worth knowing the full process too!
THE BASICS: HANGING SHELVING
Have a shelf to hang? Well, now that you've learned how to hang art, this will be a breeze.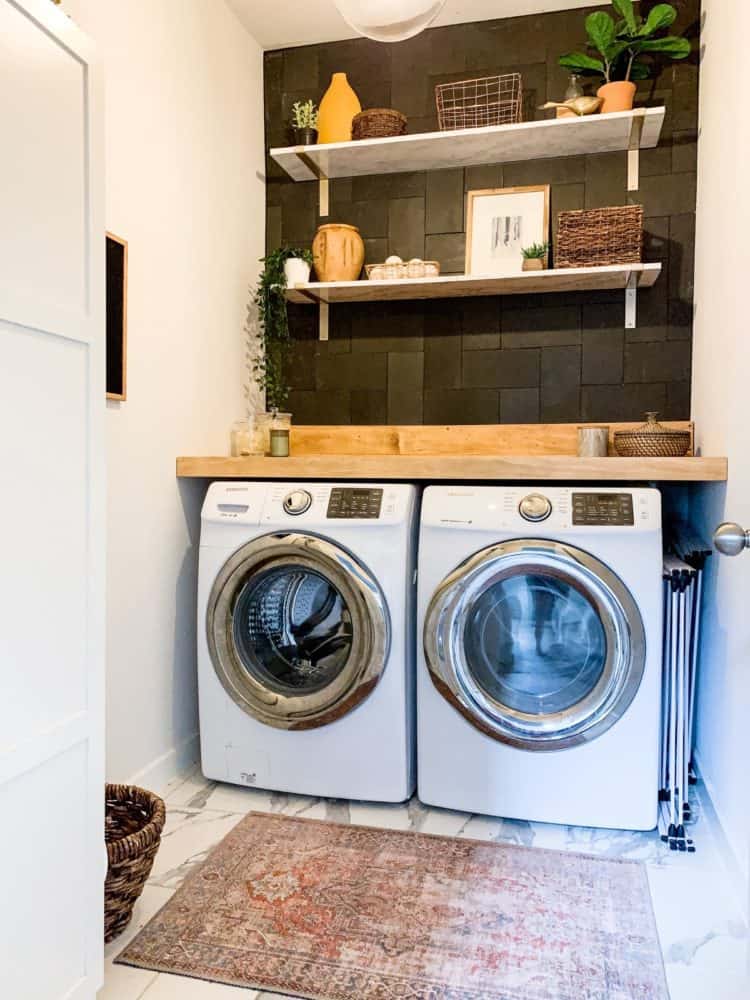 Just like with art, your first step is to determine where you'll hang it. If at all possible, you'll want the brackets for your shelves to go directly into studs – heavy duty anchors will work fine if you can't (just double-check the weight they can hold!), but studs are your best friend when it comes to shelving!
Generally speaking, your shelf should be about 4-5 feet from the ground. If it's above something, shoot for somewhere in the range of 10-12″ above the piece. Again – these rules are not hard and fast! They're just there to give you a starting point so you can tweak and adjust as needed.
STEP ONE: Measure and mark for the first bracket
I'm going to assume you're working with a shelf with brackets, here. Assuming that's the case, once you've determined the height of the top of your shelf, subtract the height of the shelf itself from that number to determine where the top of your bracket should be. For example, if you're hanging the shelf at 4′ and the shelf itself is 3″ thick, you'll want the top of your bracket at 45″ from the ground.
Find the studs in the area where you'll be hanging your shelf. Again, if at all possible, I'd recommend installing the brackets in the studs. If it's just not gonna work, use anchors that can handle a lot of weight..
Hold the bracket up in place, use a small level to make sure it's straight, and use a pen or sharp pencil to mark the wall through the holes on the bracket.
STEP TWO: Hang, then measure & hang the second bracket
Pre-drill (and install anchors, if necessary), then screw the first bracket into the wall.
Then, determine the placement for the second bracket. Bracket placement can be complicated depending on the material you're using for your shelf. This post breaks it down really well! But, generally speaking it's a good idea to place your brackets no more than 6-ish inches from the outside of your shelves.
Hold your bracket up at the appropriate distance from the first bracket, then place your long level on your first bracket and adjust the second one until they're level with one another. Mark the holes, pre-drill, and install the bracket!
STEP THREE: Add your shelf
Once your brackets are hung, you can place your shelf on top, and attach it! Most brackets have you screw into the shelf from underneath – but if there's a different method of hanging the shelf, the brackets themselves will probably come with directions!
---
And with that basic knowledge, my friends, you should be able to tweak it slightly to hang ANYTHING in your home!
I'm going to answer a few of the most frequently-asked questions below, so if you are still confused, keep reading! And, if I don't answer your question just leave a comment below so I can update the post over time.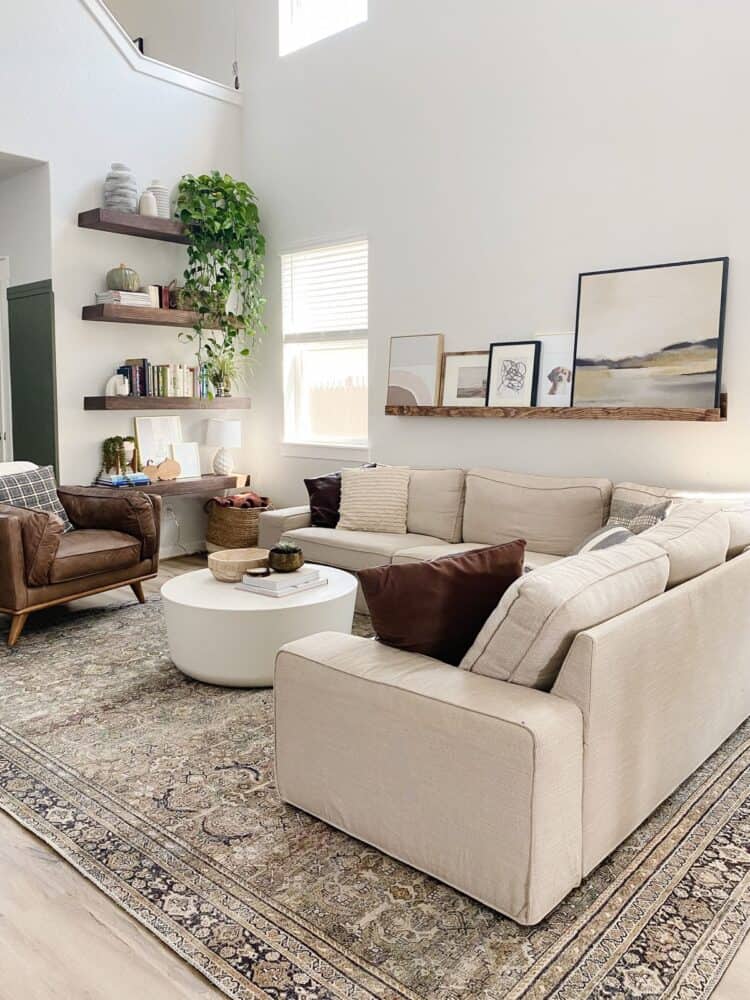 How to hang…
A television: Use a television mount! We like this one. It will come with directions for hanging, and the process is super similar to everything you've just learned here!
Groupings of art: There are no rules here, but I recommend about 1.5-3″ spacing between each piece of art. I recommend cutting pieces of newspaper or butcher paper the same size as your art and taping them to the wall in the arrangement you like before you put a single hole in the wall. Then, use the painter's tape trick to mark the holes for them!
Oddly-shaped objects: If there's a hanger on the back, it's no different than anything else! Use some painter's tape, mark the locations of the holes for the hanger, and hang that bad boy up! Oddly-shaped objects feel intimidating just because they're different, but the process is exactly the same!
A poster/unframed print: I like to make a simple DIY poster frame for mine. You can also buy one for really cheap!
Something in the ceiling: If you need a hook for a plant hanger or something like that, it's the same process as anything else! Find a ceiling joist using a stud finder, pre-drill a hole that's about the same size as your hook, and then screw it into place!
Something without a hanger: If you need to add a hanger, I usually recommend a french cleat because they're sturdy and simple to use. You can also add any other type of hanger if you have a picture hanger kit on hand! But, if it's a lightweight object, I'd honestly just recommend sticking with some Command strips!
Super heavy objects: Use anchors that can handle it! Most will have a label indicating how much weight they can hold – for example, these can handle up to 75 pounds!
Floating shelves: Click here for my tutorial for how to build and hang them!
Art above my staircase: Here's a detailed post on how we did that!
Frequently asked questions about hanging things
how do I hang things on plaster walls?
I had to do a little research myself for this one as I've never worked with plaster walls. Here's what I learned: most light art can be hung in plaster walls using just one simple screw (nails + plaster aren't usually a good combo, so stick to screws!). If you have something heavier, you'll need to use anchors, just like with drywall. The key difference is you don't want to use self-drilling anchors with plaster walls. Grab the kind that require you to pre-drill a hole and tap the anchor into place and you should be good to go!
This post has some more great information about hanging things on plaster walls!
What about brick walls/exterior walls?
You'll need a masonry bit to pre-drill your holes, and I'd recommend using these anchor screws. If possible, drill into the mortar and not the brick (it's easier to drill into, but it'll also hold up better).
For lightweight items, you can try these hard wall hangers or these brick hangers!
Isn't there a simpler approach?
Sure! For most lightweight art, you can just hammer a nail into the drywall and hang it from that. I've done this with small pieces over the years and it works just fine. But, if you have something a little more heavy duty or want to be sure it really stands up over time, you'll want to use the method I outline above.
Command Strips can also be a really great tool for smaller, lightweight art (and they're super renter-friendly!).
I made a mistake! How do I patch my drywall?
I wrote a post all about how to patch small holes in drywall right here – I promise it's simple! But, to be honest, if the art you're hanging will cover up your mistake, it's fine to leave it and wait to patch until you take the art down someday. No one will know it's there!
---
Now, go hang something on your walls!