Ahhh – it feels so nice to finally be rid of all of our carpet downstairs.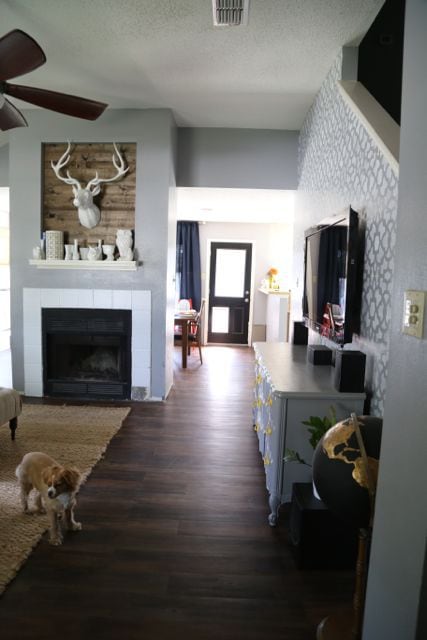 (Please excuse the baby paraphernalia. I live in a house with a 6-month old, so it's inevitable. My house definitely does not look like a magazine with no baby toys floating around, so there's no reason to pretend it does!)
We've been talking about doing this for forever and we finally got around to it a few weeks ago – for those of you who missed it when we did Jackson's room or the dining room, we're slowly going through the process of replacing the flooring throughout our house with this "luxury vinyl" flooring from Lowe's. It looks surprisingly like actual hardwood but is really peel and stick vinyl. It's incredibly affordable and easy to install, and it's super durable (which is vital when you have three dogs and a 6-month old!)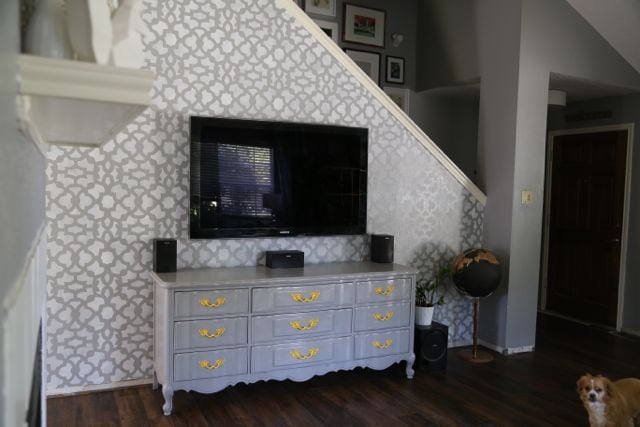 We also switched up a few other things around the living room while we were at it. Hadley was not a fan of the new flooring (it's slippery and she still has to learn how to walk on it) and so for the first few days after we installed it she hid upstairs all day long so she didn't have to step on it. We finally decided to bring in the big rug from the garage as a temporary measure to make her happy and to make the floor a little softer for Jackson. Turns out, though, we love how it looks in here and it'll probably stay for the foreseeable future. It's super sort and feels good underfoot, and it's a really easy to clean rug so it's great for a high traffic area like the living room.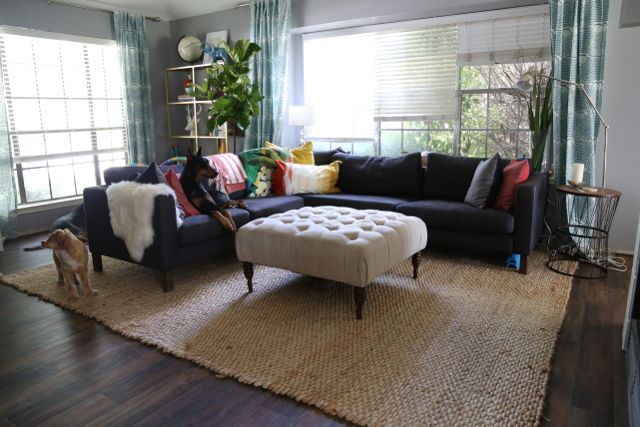 We also switched out some pillows and got a fiddle leaf fig (I'm determined not to kill this one!). We don't love the ottoman in here now with the new rug…it feels a bit too formal and out of place, but we haven't decided what we'll do about that yet. The options are to get a different rug (which we aren't sure about, since we really like this one) or replace the ottoman (which makes us sad, since we really like it and haven't had it for that long). We'll see where we land, but for now we're just happy it's looking so much better in here!
It makes me so happy to see consistent flooring again from one side of the house to the other – dealing with that carpet transition for the last few months hasn't been fun…the house feels so much more cohesive, and it immediately felt so much cleaner!
We still want to bring this flooring into the kitchen, but that'll be last on our list – we want to finish all of the upstairs first. The next step for now is to re-install baseboards in both of these rooms and to fix the fireplace – Corey accidentally knocked off one of the tiles on the wall when we were working on the flooring. We had already been planning on doing something to update the fireplace, anyways, it's just a little higher on our priority list now!
Whew, it feels good to be done with this! Now we just need to take a breather for a few weeks and then muster up the energy to tackle the baseboards – it's never a fun project, but it makes such a big difference in how finished the room looks!
What have you been working on in your home lately?